10 Best WooCommerce Alternatives For Your Store
10 Best WooCommerce Alternatives For Your Store
WooCommerce is one of the most apparent go-to options for eCommerce selling. WooCommerce, as a WordPress plugin, accelerates the act of selling online by combining several sophisticated features in an easy-to-use environment. WooCommerce, unlike other sales solutions, is an eCommerce plugin. Therefore you must have an existing website before adding payment processing capability. Fortunately, WooCommerce is relatively simple and customizable enough to fit many businesses.
Although WooCommerce is widely acknowledged as a feature-rich platform, it still lacks some functionalities that need to manage and develop your online business. Its operation is quite simple and requires a lot of customizations. It is not automatic when it comes to setting up web hosting, and the other critical problem is that your multiple tools are not linked together when making some changes on the main dashboard. As a result, if you're looking for the top 10 best WooCommerce alternatives, this article will provide you with some suggestions. So, let's dive in!
Why WooCommerce may not be suitable for your online store?
Before getting into the details, let's take a look at some popular reasons to explain why WooCommerce may not be suitable for your online store:
With WooCommerce, you are entirely essential to the operation and updating of your store. For example, if you have security plugins installed, they will warn you of security updates, but you will have to install them and manage any new conflicts. Furthermore, if you use WooCommerce, you must order your hosting, installation, upgrades, maintenance, and backups. Even if you use a hosting service that offers help, it will not be complete, and you will still need to troubleshoot the online shop on your own.
WooCommerce does not offer any formal customer support. As a result, you must use internet tools to set up your WooCommerce store and fix any difficulties. You may also seek assistance from the WooCommerce community but bear in mind that the solutions provided are not always official. Furthermore, you must contend with a poor reaction time.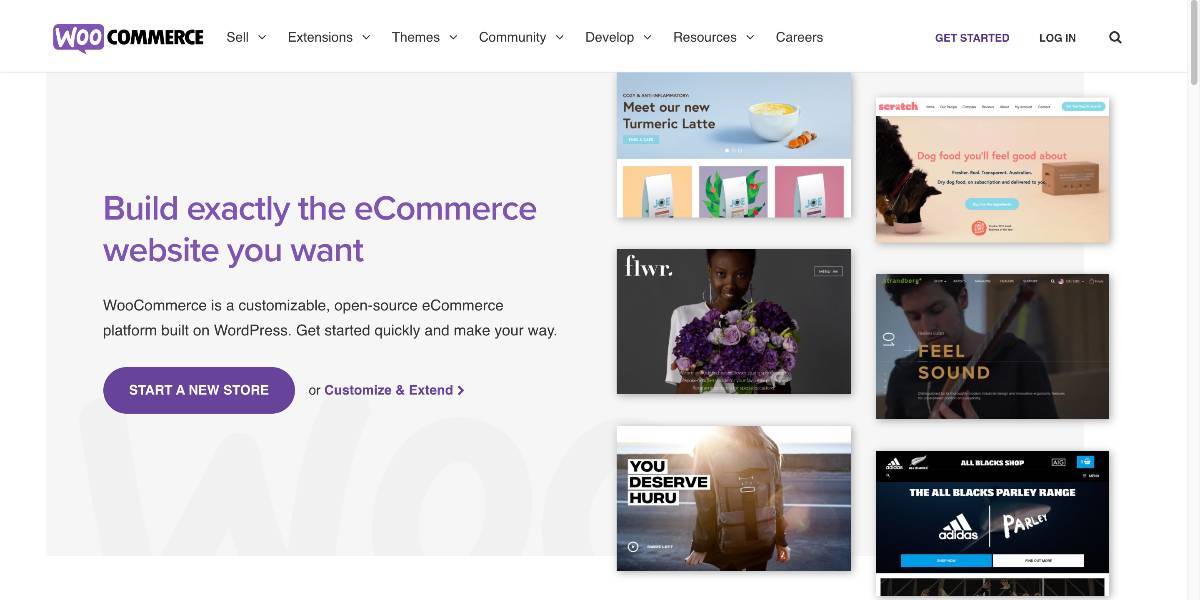 On average, it takes approximately 1 second to load a home page and 1.32 seconds to reach the cart page with an online store built on the WooCommerce platform. That performance is pretty sluggish for an eCommerce site, raising bounce rates and reducing revenues.
If you've already dealt with WordPress, WooCommerce's onboarding will be simple, and you'll be ready to sell in minutes. However, if you are a newcomer with no expertise, WooCommerce will demand a steep learning curve since you must first become acquainted with WordPress.
10 best WooCommerce alternatives for your online business
In general, a hosted solution would be appropriate if you find WooCommerce too hard to operate and would prefer a more straightforward, more user-friendly platform. While WooCommerce users must solve their problems, most hosted platforms include a support team available 24 hours a day, seven days a week by email, live chat, and phone. As a result, if you're searching for WooCommerce alternatives, a hosted platform is a reasonable proposition.
Furthermore, you don't need to set up hosting or install any software to get started with a hosted platform. Similarly, you do not need to be concerned about security concerns or version upgrades. These systems will handle everything for you. Furthermore, their user interfaces are simple and easy to use. In addition to more extraordinary customer service and simplicity of use, the hosted systems listed below outperform WooCommerce in a few other ways. Continue reading to learn about further WooCommerce options!
Magento
Magento is the first open-source platform that would be a perfect WooCommerce replacement. If you are a large-scale business owner and find WooCommerce insufficient for your web store, you might choose Magento. For eCommerce pros, this is a sophisticated and feature-rich platform. Even though Magento 2 was initially thought to be one of the most challenging systems to use, its current version has dramatically improved usability.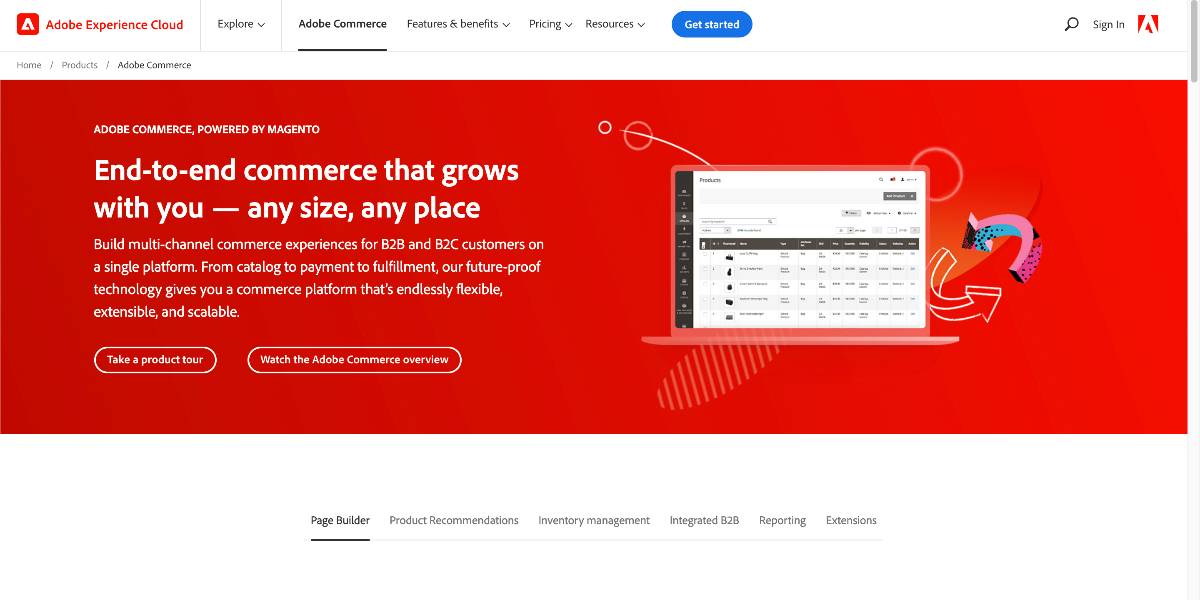 Outstanding features:
Magento provides many built-in capabilities to manage many shops and support different regions, languages, pricing, and currencies.
Magento outperforms WooCommerce in terms of reaction speed. Magento's average page load time is 665 milliseconds with high availability, whereas WooCommerce's average page load time is 776 milliseconds.
While WooCommerce is more suited to small-scale companies, Magento is better suited to large corporations.
This platform is highly secure and works well when dealing with large amounts of traffic at once.
It is well-known for its ability to handle up to 50,000 visitors per hour efficiently. In reality, Magento can handle up to 500,000 goods and tens of thousands of transactions per hour.
Price: Because Magento is more expensive than the free WooCommerce, it should only be utilized by large organizations seeking enhanced analytics reporting and merchandising enabled by artificial intelligence. Furthermore, while the Community version is free to use, the Magento Commerce edition and Enterprise Commerce Cloud are relatively expensive, with prices starting at $40,000 per year.
Shopify
Shopify is one of the top eCommerce solutions for managing all aspects of your online store. It's straightforward to set up and manage—you can dig beneath the hood if you want, but you can also maintain, tweak, and scale your business without knowing how to code. Shopify sites have the fastest load times and the best-performing checkouts on the internet. There's no need for a managed server or a third-party checkout—built-in Shopify's features are world-class.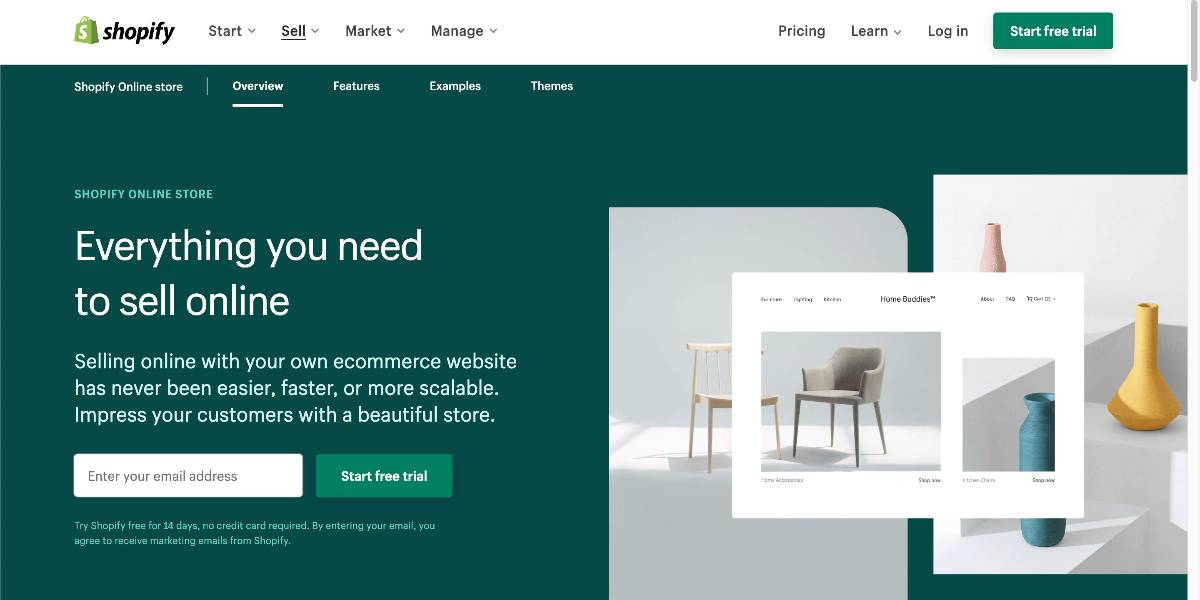 Outstanding features:
With Shopify, you don't have to be concerned about your website's security. This platform handles all security concerns in the background. You may also use two-step authentication to protect your account.
Shopify is PCI compliant by default and includes an SSL certificate with all plans. Shopify even invites individuals to uncover its security flaws on HackerOne to detect security vulnerabilities better.
Shopify has the necessary infrastructure in place to reduce load times. Shopify web pages load in 309 milliseconds on average, but Google Guidelines recommend a loading speed of 500 milliseconds.
Shopify Plus has an overall uptime of 99.98 percent, 2.97 times quicker than other SaaS systems. WooCommerce page speed, on the other hand, is dependent on your WooCommerce hosting provider.
Your Shopify online store comes with a built-in mobile commerce shopping cart. Customers may use any mobile phone or tablet to explore and buy from your business.
Learn more: Shopify vs WooCommerce
Price: Basic Shopify: $29/month; Shopify: $79/month; Advanced Shopify: $299/month; 10% off yearly plans and 20% off biennial plans when purchased in advance. Pricing can change depending on your countries. Visit Shopify's pricing page for more details.
BigCommerce
BigCommerce is another well-known brand among WooCommerce alternatives that you should explore. In comparison to WooCommerce, BigCommerce is a sophisticated platform with several built-in capabilities that outperforms WooCommerce in customer care. Even though this is a hosted platform, its open SaaS allows you to include new features and tools ready. One of the key benefits of utilizing BigCommerce is that it offers a broad range of payment methods at no extra cost; this applies to all plans.
Outstanding features:
WooCommerce, on the other hand, is primarily reliant on plugins, which may be expensive. In terms of built-in functionality, BigCommerce significantly outperforms WooCommerce.
BigCommerce enables you to deliver personalized messages and offers to specific sorts of clients. By default, it also has a built-in robust inventory management system and an abandoned cart saving feature.
This platform is also PCI certified and protects your customers' data. As a result, unlike WooCommerce, you don't have to be concerned about security risks with BigCommerce.
BigCommerce, a SaaS platform designed for rapid expansion, provides many features that provide excellent scalability.
BigCommerce also allows you to sell on Facebook, Instagram, and Pinterest. All sales earned on these platforms are sent back to your BigCommerce web store.
Learn more: BigCommerce vs WooCommerce
Price: Visit BigCommerce's pricing page for more information.
Wix
When it comes to WooCommerce alternatives, Wix is unquestionably the best option. Wix, like WordPress, is a platform best recognized for assisting users in creating free websites and blogs for their brands and enterprises. It not only helps you design websites, but it is also an excellent approach to developing an eCommerce website. Thousands of individuals select Wix, and it has grown to be one of the most potent alternatives, alongside WooCommerce and Shopify, powering millions of websites worldwide.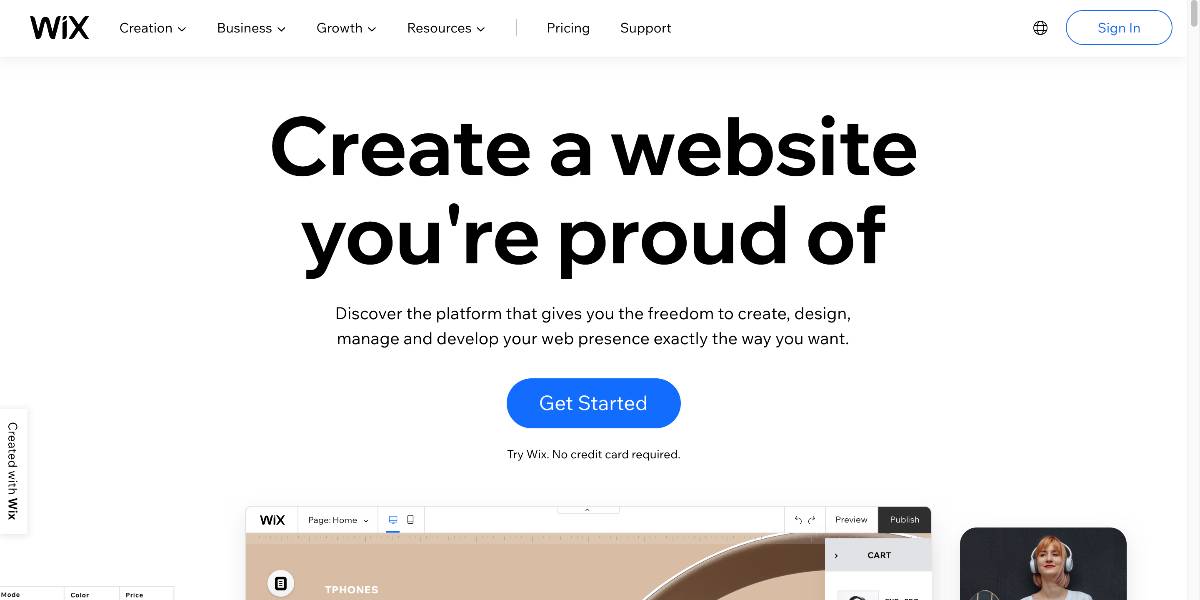 Outstanding features:
Wix is intended for non-coders and novices. You can quickly construct a gorgeous Wix website without writing a single line of code using a simple drag-and-drop builder.
Wix also lets you see how your changes affect the design of your storefront.
While WooCommerce only enables you to sell in English, Wix allows you to trade in different languages. Other languages, such as Dutch and Polish, are offered in English.
Wix is also known for providing excellent customer service via email, phone, training, tickets, and live chat. Meanwhile, if you use WooCommerce, the only options are email and tickets.
Each of Wix's plans has a distinct set of marketing tools and AI design, both of which are useful for building a robust online business.
Price: Wix's pricing is less costly and easier to manage than WooCommerce's. There are seven price options to select from, grouped into two categories: Website Premium Plan & eCommerce and Business Plans. The Unlimited plan ($22 per month) is ideal for small enterprises and entrepreneurs. It features 10GB of storage and certain premium apps for an extra fee.
Squarespace
In terms of aesthetics, Squarespace outperforms WooCommerce. Squarespace is more user-friendly and intuitive than WooCommerce. The Squarespace UI appears more polished and sophisticated, whereas the WooCommerce layout seems more crowded. Using any of their pre-built templates, you may quickly create the website or online store you like. Furthermore, you can soon alter these templates to fit your business by utilizing the drag and drop tools offered.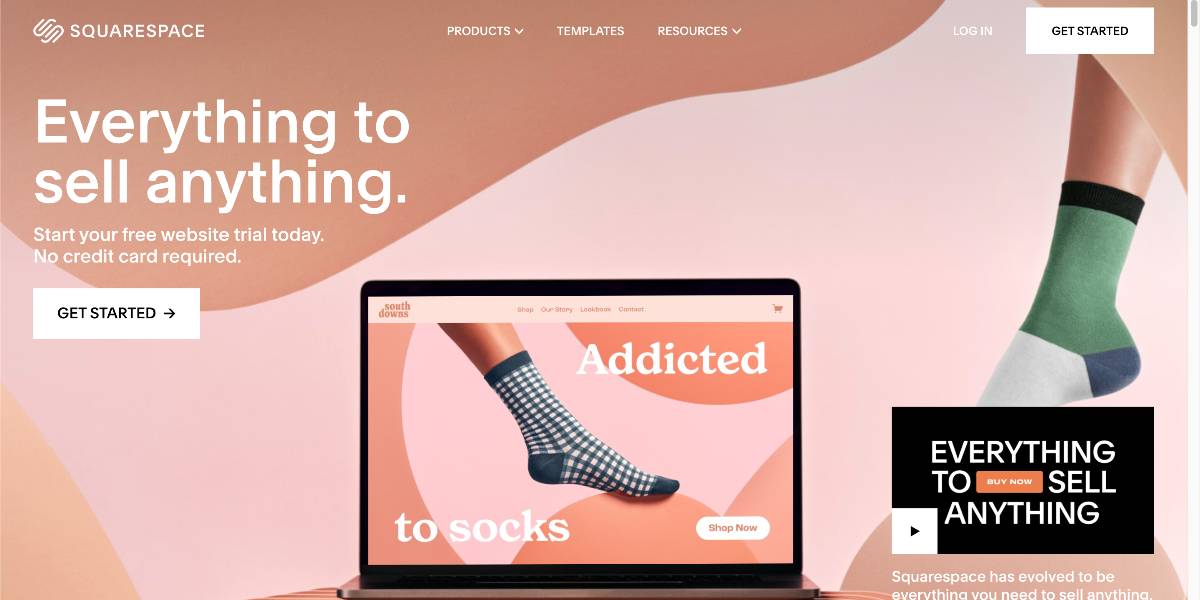 Outstanding features:
Squarespace themes are visually appealing. This platform has over 100 complex themes to choose from.
Squarespace's tools are more powerful. Its Email Campaign function, for example, provides mailing-list management, designing email campaign blasts, and automated campaigns. Furthermore, the Accelerated Mobile Pages tool lets you build simplified versions of your blog entries that will load faster on mobile devices.
Squarespace provides a sitemap automatically. However, WooCommerce requires the usage of a third-party plugin.
Another advantage of Squarespace is that, because of its excellent server infrastructure and AMP, this platform has the most outstanding overall mobile and desktop page speed performance. In contrast, WordPress, unlike Joomla, ranks at the bottom.
Squarespace, like Shopify and BigCommerce, handles security problems for you. In particular, Squarespace's HSTS (HTTP Strict Transport Security) mode aids in the security of your site.
Price: If you want to build your digital brand and reputation, the yearly fee is worth it. This option allows you to save up to 30%. For example, the Business plan costs $312 when paid monthly but only $216 annually. Squarespace's price structure is relatively transparent and focuses on specific user categories compared to other website builders.
Prestashop
Prestashop, which thousands of company owners use, is undoubtedly one of the most popular platforms for online businesses. However, that does not imply that PrestaShop is a free eCommerce solution. If you opt to download the program, you will be charged additional maintenance costs. Prestashop installation may take some time because it is an open-source platform. Prestashop provides an infinite number of customization options, allowing merchants to design their stores completely.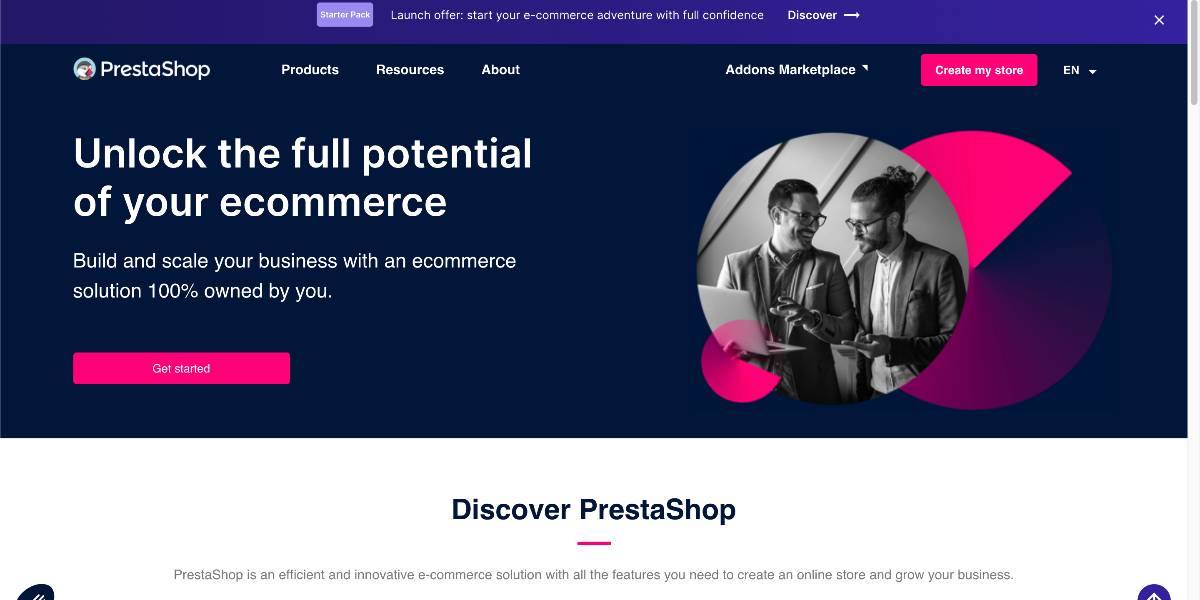 Outstanding features:
Import goods from your supplier in any format or from any file location. It can trace all sync history and evaluate outcomes without worrying about raw data modifications using an automated method.
Update clients, orders, and goods from any external system files, or export mailing lists, sales, and any other database for future use.
Conduct a thorough examination of your sales operations, Prestashop stock levels, and incoming. Merchants may utilize "take action" reports that tell you precisely what you need to do, which is far superior to merely monitoring silent data.
PrestaShop has several good built-in SEO capabilities. You may modify how the goods appear on Google search results by changing the SEO title, meta description, and URL. If required, you may also configure page redirects.
Prestashop Ads is an intelligent marketing solution that promotes all items on relevant eCommerce websites. It gives retailers the ability to advertise on Google Ads, Amazon Ads, Facebook, Instagram, and other platforms.
Price: Prestashop is free to download, and you will have a broad understanding of how the program works. As previously stated, Prestashop is not a free eCommerce solution; you must purchase hosting and modules to build your store. You'll probably end up paying for hosting services that might range from $4 to $14 each month. The entire cost of running a Prestashop store may include developer costs ranging from $50 to $80 per hour. You will also utilize a few add-ons and modules to your retail experience. The price of these extensions is relatively high compared to other platforms, ranging between $35 and $6000.
Ecwid
Ecwid varies substantially from competitors such as Shopify, Squarespace, and BigCommerce in that it is not intended to allow you to establish a standalone eCommerce website. It is instead designed to enable you to add an online store to an existing website or online presence. Ecwid allows you to display translations if you choose to create a bilingual site. It offers 53 language-specific stores dependent on the visitor's browser language. Furthermore, Ecwid does not charge any additional transaction fees when you make a sale, making it one of the more cost-effective eCommerce options for small businesses.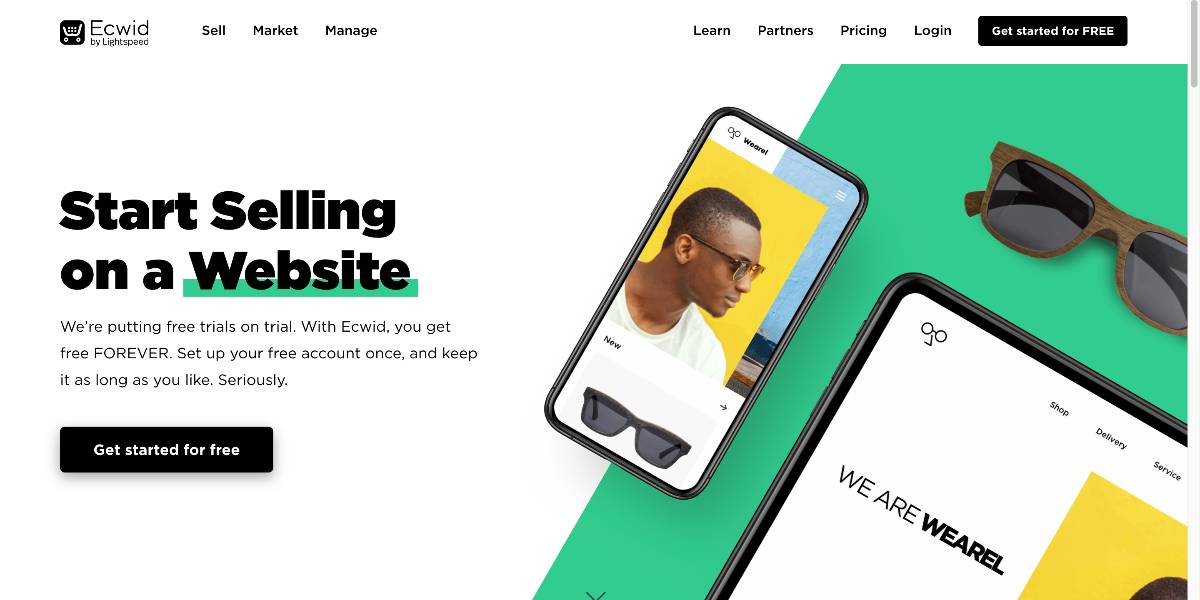 Outstanding features:
Because of Ecwid's point-of-sale (POS) functionality, you may use your Ecwid store to sell not only online but also in physical venues such as stores, market stalls, and concerts.
Ecwid supports this feature by automatically recognizing a visitor's language based on their browser settings / IP address and showing the appropriate language version.
Ecwid, like many competitors, lets you import and export data into the platform in CSV format.
Ecwid, like many other eCommerce systems, offers a variety of connectors with other web apps (through its 'app market'). The amount of integrations accessible with well-known services, on the other hand, is very restricted.
Although Ecwid has typically been a software that allows you to add an online store to an existing website, it now will enable you to create a standalone store, known as an 'Ecwid Instant Site.'
Price: Ecwid has a free plan as well as three premium subscriptions. If you sell fewer than ten items, the Free plan is ideal. Any more than that, and the Venture plan ($15 per month) is a wise decision - it's strong and well enough for the majority of small businesses to get started. You may store up to 100 goods and use all payment channels and shipping agencies. The ability to employ product variants and filters and access to eBay and other marketplaces is a clear advantage of the Business plan (which costs $35 per month).
OpenCart
OpenCart is an open-source eCommerce platform built with the PHP programming language for online enterprises. Furthermore, the OpenCart download is entirely free. This platform offers consumers website design flexibility and a modern, user-friendly dashboard interface. Multi-store creation is a common OpenCart feature that allows you to access and manage several stores from the same interface. This platform also includes eCommerce capabilities like promotion/discount services, product category administration, point accumulation for loyal consumers, and so on.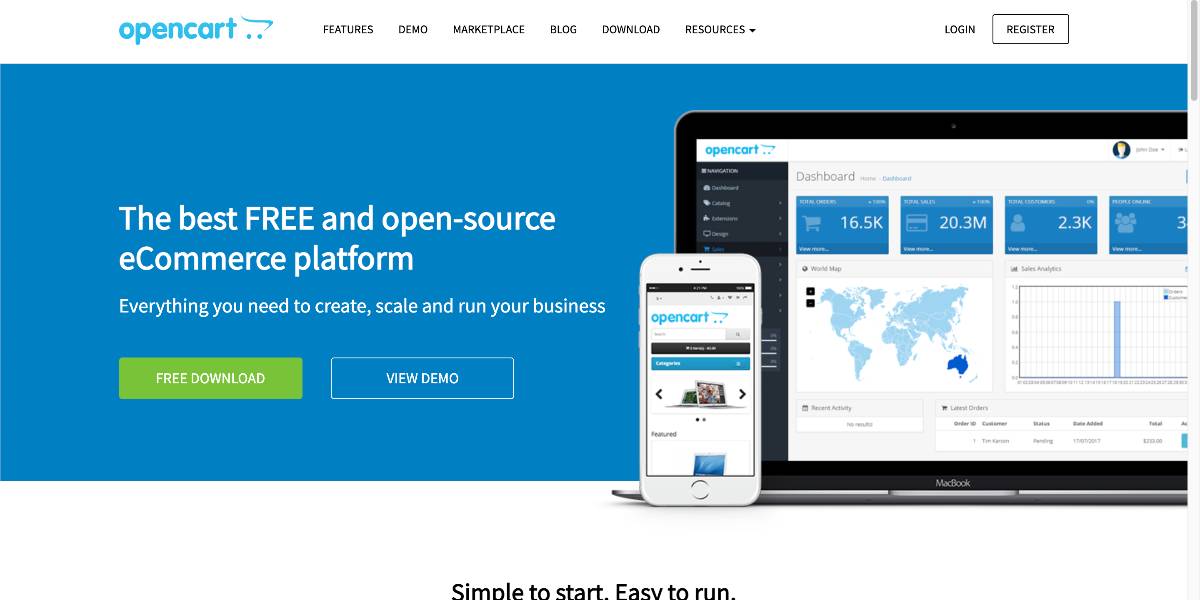 Outstanding features:
As you may be aware, Google Analytics is a tool that Google has included explicitly to OpenCart. This plugin allows you to track your website's number of transactions and income generated. You may use this tool to log your sales transactions with Google Analytics.
The OpenCart Point of Sale System (POS) is essentially a system that enables businesses to generate orders from their physical storefronts. These orders will be linked and created on the OpenCart webshop via POS connectivity.
OpenCart supports several payment options, ranging from bank transfers to online payment gateways. With the installation of OpenCart, 51 payment gateways are pre-installed.
You can add and track marketing campaigns in the Marketing area of your OpenCart dashboard. This feature assists in creating a code associated with the link and allows you to track the number of clicks and orders generated by that link. From there, you can choose where to launch a successful marketing campaign.
OpenCart comes with a plethora of features supplied out-of-the-box and over 13 000+ additional extensions that can be downloaded. Service connectors, payment providers, delivery options, social media, marketing, accounting, reporting, sales, and language packs are available.
Price: OpenCart is entirely free to download and install. However, to form an OpenCart store, you may need to pay for certain extras. OpenCart, in particular, provides three distinct price options for its Cloud version, each with a 14-day free trial and a 50% discount if you pay annually. Three grades start at £25 per month: Bronze, Silver, and Gold. Higher subscription tiers include unique benefits such as improved support and access to different retailers.
Easy Digital Downloads
Easy Digital Downloads is an ideal WordPress plugin as an option of WooCommerce's alternative. It assists users in transforming their informal blogs into brand new digital retail stores. If you intend to offer downloadable templates or other virtual products, this plugin is considered a straightforward method for your online business. A basic but customized shopping cart and purchase button, discount coupons, and analytics reporting are among the features. It also includes exceptionally rudimentary client profiles that have purchasing history. This plugin would be handy for creators and bloggers who want to start selling online.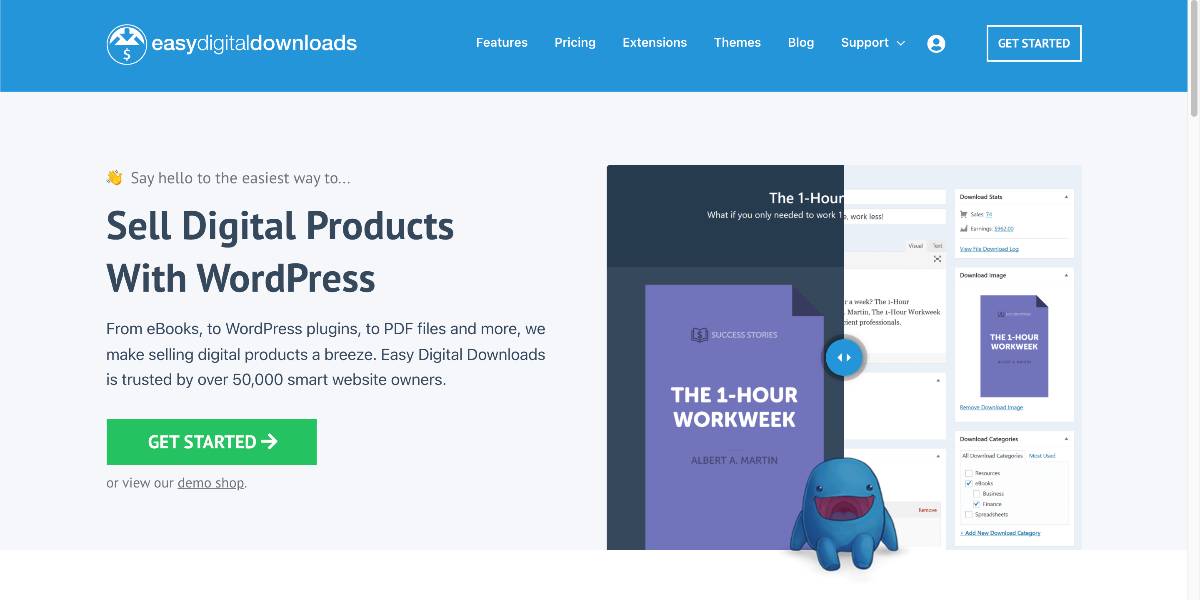 Outstanding features:
Allow your clients to use the shopping cart system to purchase numerous downloads simultaneously. The shopping cart seems smooth, with minimal page loads and well-designed cart parts.
When it comes to distributing your digital items, there are no restrictions. Allow users to download paid files indefinitely or limit file downloads based on time and attempt.
Create discount codes quickly and efficiently to entice clients to spend more. Discounts can be given in flat or percentage rates, with options for expiration, maximum usage, and more.
There is no such thing as an entire business without meticulous bookkeeping. Easy Digital Downloads has a reporting tool that allows you to simply check statistics, create custom reports, and much more.
Output a whole purchase history table that only logged-in clients may see with a single shortcode. Unauthorized users will not be able to access the system.
Price: If you only need to set up a primary digital store that takes payments via PayPal Standard and Amazon, the free edition of Easy Digital Downloads should suffice. It includes many cool features, like extensive reporting and a premade privacy policy. Easy Digital Downloads additions can be purchased separately or as a package. The four price options are Personal Pass, Extended Pass, Professional Pass, and All-Access Pass. These cost $99 per year, $199 per year, $299 per year, and $499 per year, in that order.
Square Online
Square Online simplifies eCommerce. When you join up for their digital plan, you receive a simple, accessible, and functional shop so that everyone can access a new method of selling. Like the rest of the Square portfolio, this item is designed for ease of use. You don't need prior knowledge of web design or coding to start, which is excellent news for novices. However, this implies that the Square experience may not be as advanced as options from more enterprise-focused designers.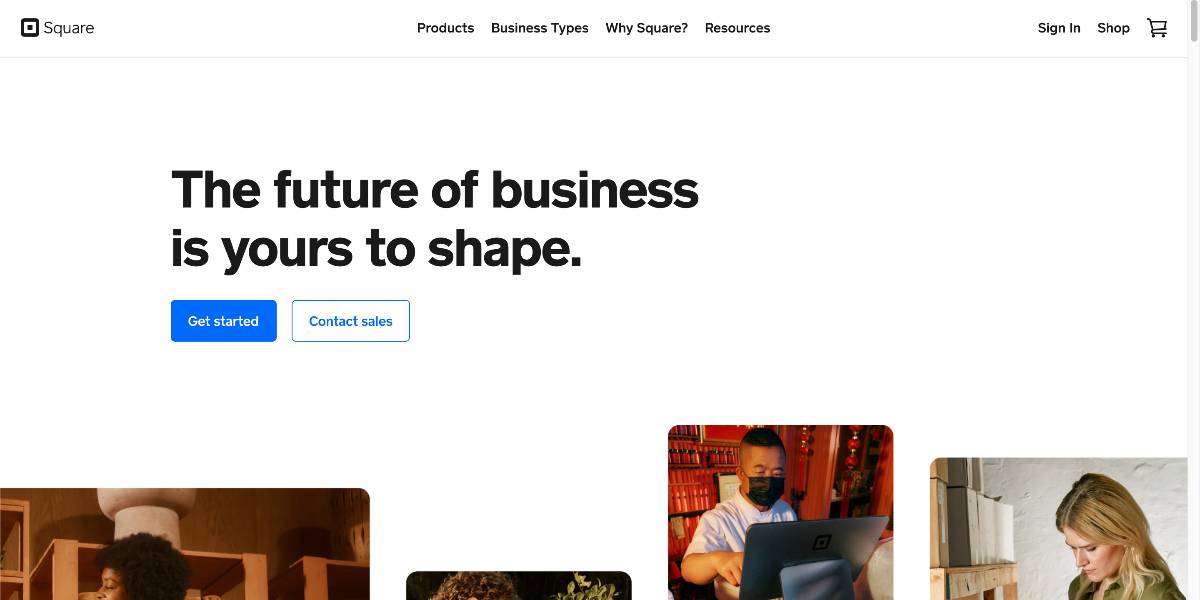 Outstanding features:
Using the Square Online system, you may sell everything from natural things to digital products, carry orders, event tickets, and more. Donations can also be accepted. However, there are some forbidden business possibilities and goods in which you cannot participate.
Square was created mainly to provide company leaders with an easy method to get online and start selling. It is simple to set up a store using various templates and themes. However, Square Online does not have as many templates like some other organizations to pick from.
The Square online shop environment will interface with various technologies, allowing you to accomplish a variety of things. So far, over 100 add-ons and third-party connectors have been made available, including those for real-time POS systems, accounting, invoicing, gift cards, loyalty, and marketing.
The excellent news about Square Online is that it will automatically sync your inventory depending on any pre-existing Square solutions you have. In other words, if you currently have a Square POS, you can just sign in to your account and begin importing things.
You'll notice with Square that there are several methods to handle your orders and make sales. If you own a restaurant, you can even allow clients to buy online and pick up their orders in person if you have a Square Point of Sale connection set up.
Price: By default, the free plan is an incredible deal. It is pretty unusual to be able to access these things for free. In our opinion, Square Online's sweet spot is the Performance plan. You pay somewhat more than the Professional program, but it's still quite reasonable at $26 per month.
Conclusion
As you can see, many WooCommerce options may or may not be suitable for you. Some of them will be determined by your location and your business requirements. At the same time, some solutions are wholly adaptable and provide a comprehensive set of features to assist you in launching your first online store ( or level-up one you already have). Take the time to go through all of these options and their benefits. Doing your studies will provide you with some relief. You want to discover a solution that allows you to focus on what is truly important: running your internet store as effectively and economically as possible.
We hope the list of the top 10 best WooCommerce alternatives will help you find the most suitable platform. Keep the following questions in mind as you consider your options: Is the cost-benefit analysis worthwhile? Is there a mobile-friendly design template available with this solution? How trustworthy is their customer service? Is there room for expansion in your company? You'll be in a better position to identify your perfect WooCommerce alternative once you've answered these questions.
New Posts
Subscribe
Stay in the know
Get special offers on the latest news from AVADA.
40k
subscribers has been joined!
Earn $10 in reward now!