How to Add Additional Variation Images in WooCommerce?
How to Add Additional Variation Images in WooCommerce?
In eCommerce, images play a crucial role in attracting people's attention and boosting sales. People are unable to touch, try, and feel the product with naked eyes, so images and videos are the only tools to help them imagine how the product will be.
Therefore, adding multiple images of each product variant will help you increase the transaction in your WooCommerce store. Unfortunately, by default, WooCommerce only allows merchants to upload one image for each variable product, which is insufficient for customers.
So, in this post, we would like to introduce to you a way to add many variation images for your WooCommerce store as well as 4 best plugins to help you implement it rapidly.
Let's get started!
How to Add Additional Variation Images in WooCommerce?
Step 1: Install & activate the plugin
Download the plugin "WooCommerce Variation Image Gallery" to your device.
In WordPress admin dashboard, navigate to Plugins and open Add New and click on the Upload button to install the plugin for your WooCommerce store.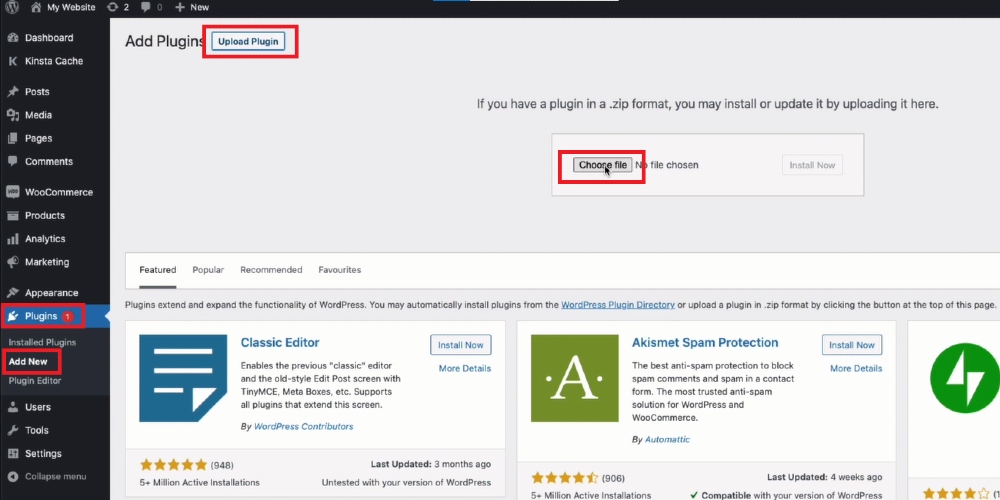 After the installation process, the Activate button will be displayed on the screen, click on it, and now you can start using this plugin for your online store.
Step 2: Open the product you want to edit
Come back WordPress admin dashboard, you need to go to Products. Then, select All Products to see all the items sold on your store and choose Edit on the product you want to add variation images.
There, scroll down to Product Data and select Variable product.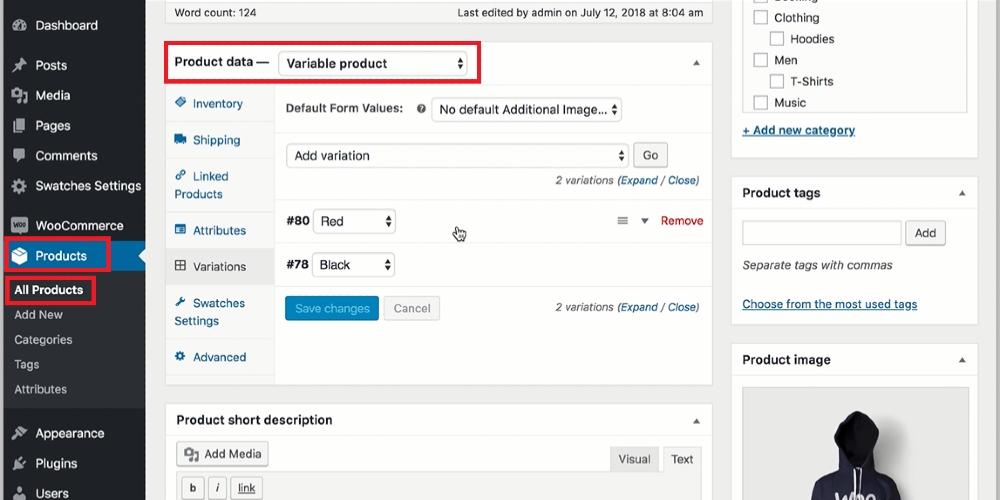 Step 3: Add additional variation images
In Product Data, open Variations and you will see all the variations of your product. Click on the variation you want to add an image and select the image icon.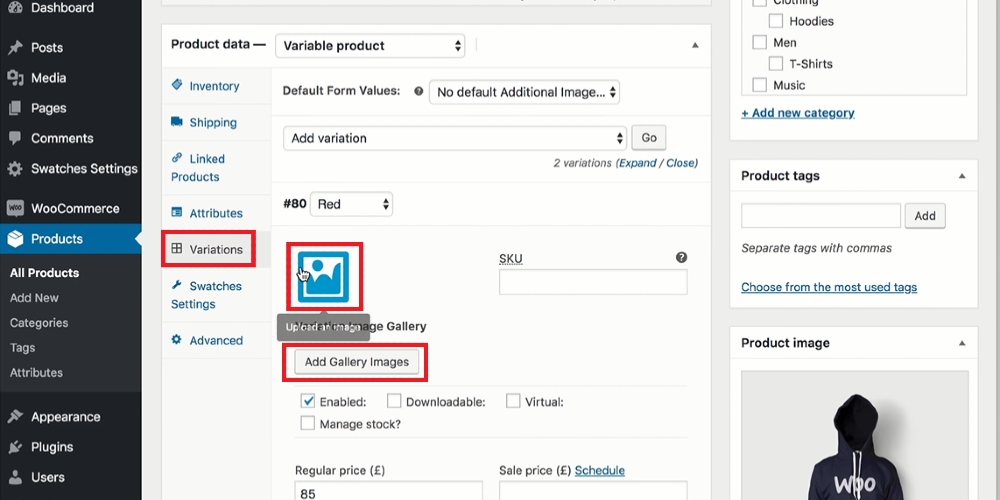 A new window will appear on the screen, enabling you to upload images from your devices or directly use the photos from the media library.
Also, you can add more than one image for each variation. After adding the first image, select the Add Gallery Images to add the second one.
Afterward, scroll down to the Save Changes button and click on it.
Likewise, you can do it with other variations.
4 Best Plugins for Adding Variation Images in WooCommerce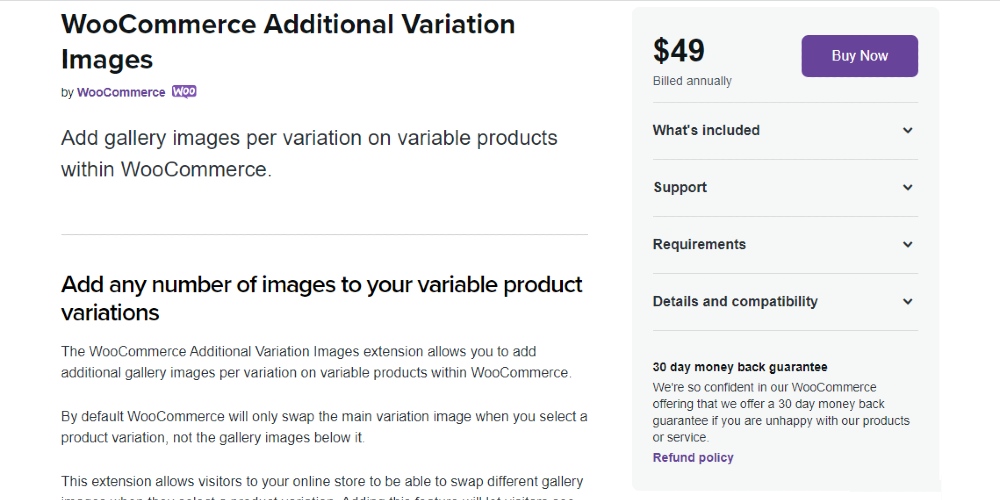 Developed by WooCommerce, WooCommerce Additional Variation is considered one of the most powerful tools for users to add images for each variable product on their WooCommerce store. Your visitors will see photos of each variant when clicking on it on the product page by exploiting this extension. Hence, instead of switching through all the product photos, they can know what the variant looks like with only one click. Moreover, there are no limits of images' quantity which allows merchants to upload as many as they want to help customers have a clear overview of their items.
Key features:
Add an image for each product variant unlimitedly
Hide other variant images when a variant is selected
Customize image with drag and drop feature
Zoom images in and out easily
Offer lightbox for variation image displays
Price: $49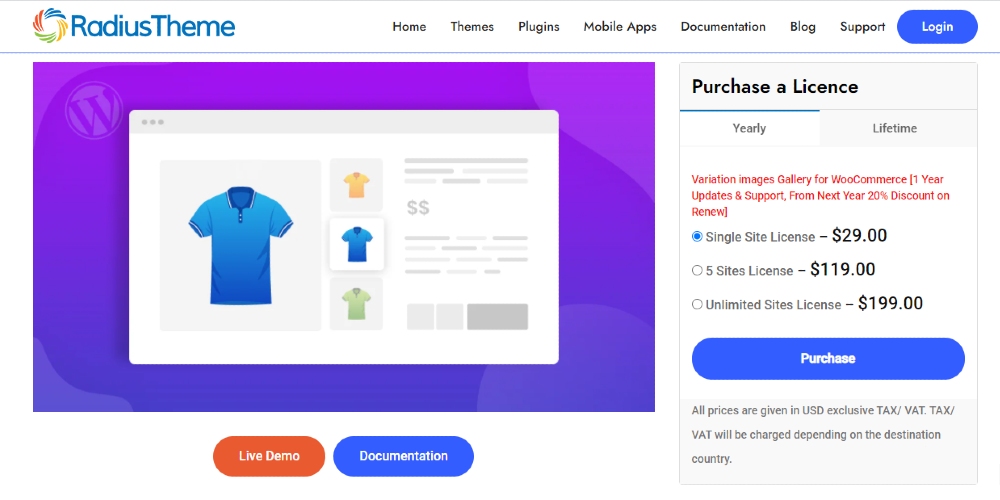 The second one in this list is Variation Image Gallery for WooCommerce - a user-friendly plugin for WooCommerce users to add images for their product variants unlimitedly. After several clicks, they can upload different photos for each variation and modify them easily with the drag and drop feature. Additionally, videos are supported on this extension, so you can simply add videos to your product variants.
Key features:
Add unlimited images for product variants
Sort images with drag and drop feature
Delete variation images easily
Support Youtube/ video/ Own video
Offer three positions for thumbnail images slider
Price: $29 ### Smart Variations Images & Swatches for WooCommerce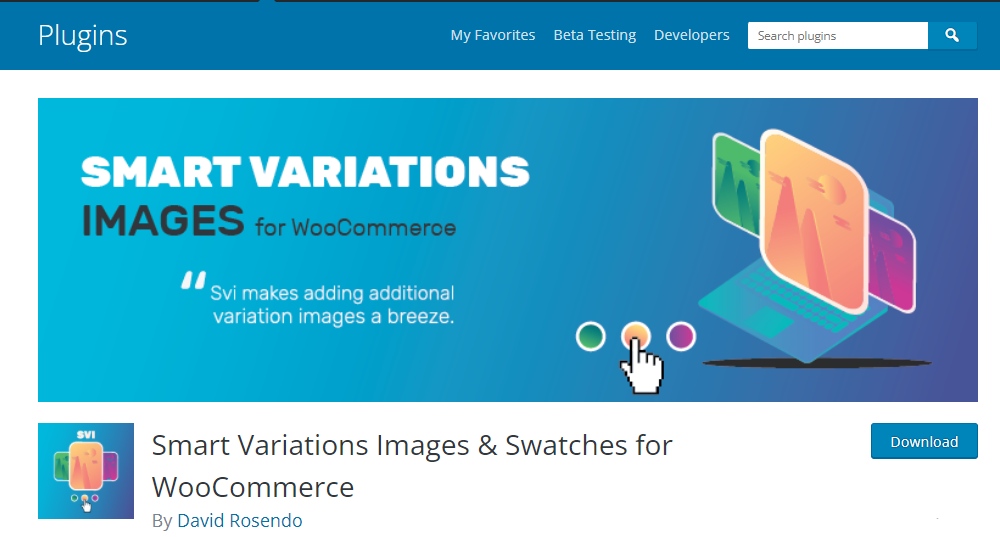 As the name suggests, Smart Variations Images & Swatches for WooCommerce is developed with a view to helping store owners add as many pictures as they want to each individual variant. Consequently, when clicking on a variant, a set of that variant will be displayed to visitors. In addition, merchants can minimize the space used for showcasing the products by using the dropdown menu.
Key features:
Add images for each variable product
Display gallery images for each variant
Display one image under variant selection
Hide thumbnail until people choose a variant
Show variations on product loop pages
Price: Free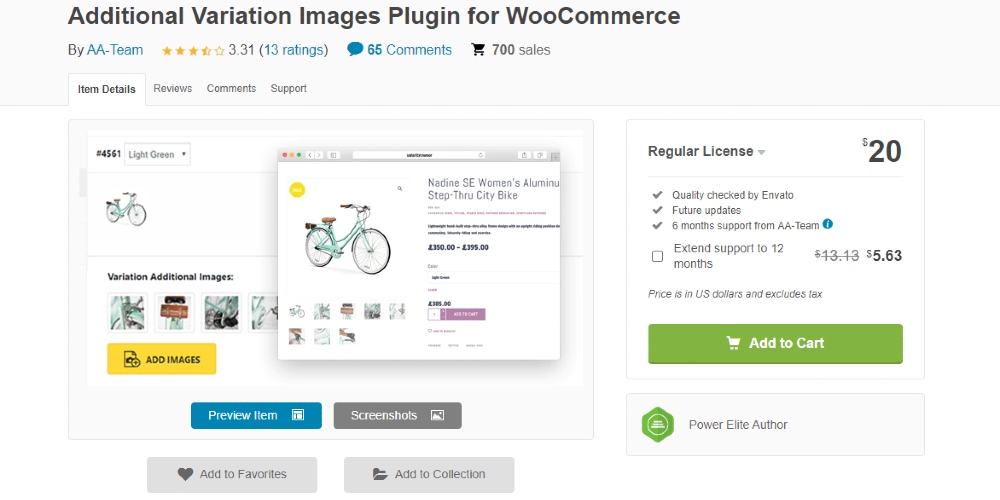 Equipped with the Additional Variation Images Plugin for WooCommerce, merchants can offer their customers a much clearer overview of their products. By adding as many photos as they want, their customers will have an opportunity to see all the aspects of the product they like. This helps increase the credibility of your product and thus boost sales and conversions. Also, this plugin enables users to select multiple images for the variant at the same time, so you will no longer waste time selecting images one by one.
Key features:
Add images to each variant with no limits
Delete images from variants easily
Select multiple images at the same time
Price: $20
Final thoughts
Overall, it is clear that adding additional variation image in WooCommerce is not difficult. Anyone, even the new view, can complete it with the help of a plugin. Also, if you are not content with the plugin we use in the instruction, let's look through the four best plugins for adding additional variation images in the WooCommerce section to find for yourself a suitable extension.
New Posts
Subscribe
Stay in the know
Get special offers on the latest news from AVADA.
40k
subscribers has been joined!
Earn $10 in reward now!