Top 9 360 Image Plugins for Your WooCommerce Store
Top 9 360 Image Plugins for Your WooCommerce Store
Have you ever thought of using 360-degree images to help remote customers see every corner of your products or even enjoy the atmosphere of your store? For online store owners, the most important thing you may be striving to do is provide your customers with as much real experience as possible. And WooCommerce users are not the exception.
The problem is, there are many panorama solutions which come mostly from developed WordPress plugins for WooCommerce store owners, and making decisions on the most suitable one may be a lengthy process because of the vast number. This is why we're here to help you make up your mind by providing you the most noticeable and clearest information about Top 9 360 Image Plugins for Your WooCommerce Store.
By the end of this blog post, you'll be able to differentiate those WooCommerce Panorama Plugins with similar names and choose the most satisfactory one for your WooCommerce store based on our recommendations.
Let's get started!
How 360 image plugins benefit your WooCommerce store
Before digging deeper into Top 9 360 Image Plugins for Your WooCommerce Store, we suggest you look through this section if you're still wondering about the investment in a Panorama addon for your WooCommerce store.
Below are the most discernible advantages of your WooCommerce business if you equip it with a 360 image plugin.
Attract customers with vivid experience: Online shopping is thought to be a boring and dry experience for some shoppers because of its lack of flexibility. All they have to face during an online shopping trip is flat pictures of the products and models (in the case of clothing). Therefore, a 360 image plugin may bring some life to the customer's purchasing experience. With the help of a panorama plugin, you can bring those strengths to a virtual space to serve your customers remotely.

Provide a multidimensional view of the products for better buying decisions: Perhaps the most frequently asked question that hinders the online shoppers from buying something online is 'How will this product look in reality?'. Well, it's easy to understand because they cannot image your products with just pictures taken from limited angles and some descriptions. This is why you may need a 360 image plugin to provide your customers with more practical observations of your products.

Especially useful for WooCommerce stores with large, detailed products: For larger items with more details, you may need a large number of pictures to help customers have a comprehensive observation of your products. However, even though you have enough pictures to serve clients' needs, it's still difficult for them to visualize the real appearance of the goods from those separate photos.

Satisfy hard-to-please clients: As a WooCommerce store owner, you may sometimes meet clients who are very hard to please, even by the best member of your Sales team. For this type of customer, the most important thing you need to build is reliability. In other words, they may require as much detailed and authentic information as possible.
If you really get into these benefits and see them as crucial factors that help you have the upper hand in this 'eCommerce game', then what are you waiting for?
Top 9 360 Image Plugins for Your WooCommerce Store
Are you ready to go through a list of Top 9 360 Image Plugins for Your WooCommerce Store with adequate information about their features, price and our suggestions?
If the answer is 'YES', let's start!
WPVR - Quality Virtual Tour Builder enables you to simply construct virtual tours with a live preview option and without any programming knowledge. On tour, it supports two sorts of hotspots. You may connect many scenes to make a comprehensive virtual tour using the Scene Type hotspots. You may use the info type hotspot to display text, picture, or video material to provide your users with extra information about the trip. This plugin lets you publish a tour on your website using a WPVR Gutenberg block, a WPVR Elementor Widget, and a shortcode. It also has keyboard and mouse capabilities for virtual tours, as well as control buttons that may be customized.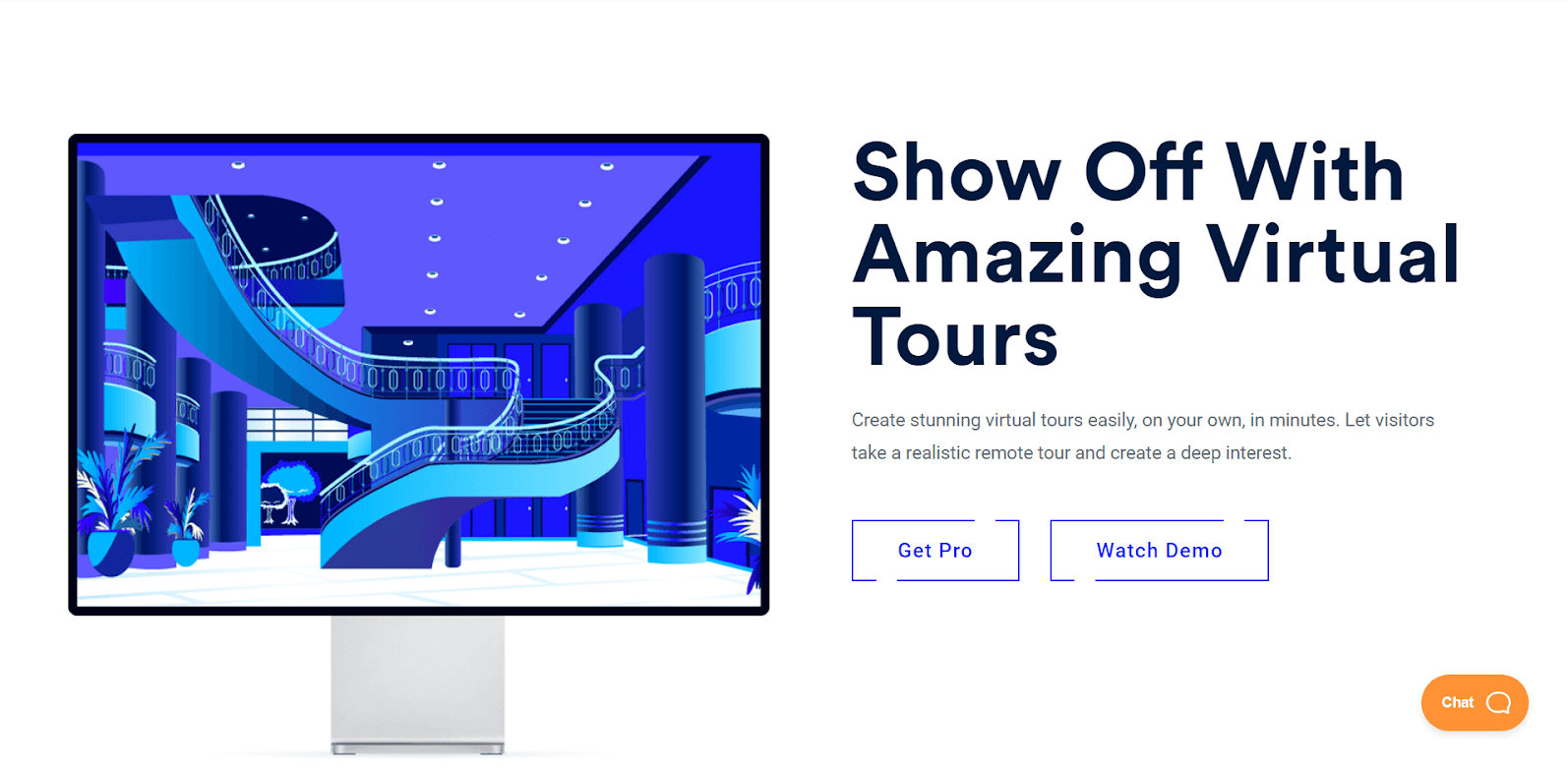 KEY FEATURES
It allows you to Duplicate tour with a single click
It provides both Mouse Scroll Control and Keyboard Control
Background Music for the tour can be added
It takes your cútomers to Default Scene via a Home Button
PRICE
WPVR has a free version available on WordPress website. However, providing you want to upgrade it to premium version to benefit from its amazing features, WPVR offers you 3 pricing plans as below.
Starter package costs you $59.99/Year for a single site.
Pro package costs you $149.99/Year 10 sites.
Agency package costs you $249.99/Year unlimited sites.
WHO SHOULD USE IT
For all the outstanding features of WP VR, it can be most suitable for WooCommerce restaurants and coffee shops which contain unique decorations and atmosphere because WP VR can help you deliver the realest experience possible so that the customers can be attracted and choose your physical stores to be their destination.
The WP-Pano WordPress plugin is used to manage the content of your krpano projects. The plugin allows you to simply incorporate material like text, galleries, and movies into your panoramas and change them. To design your virtual tours, make use of the WordPress CMS's strength and versatility. The wp-pano, on the other hand, is not a panoramic view for your virtual tour. It acts as a link between the WordPress content and the krpano panoramic viewer.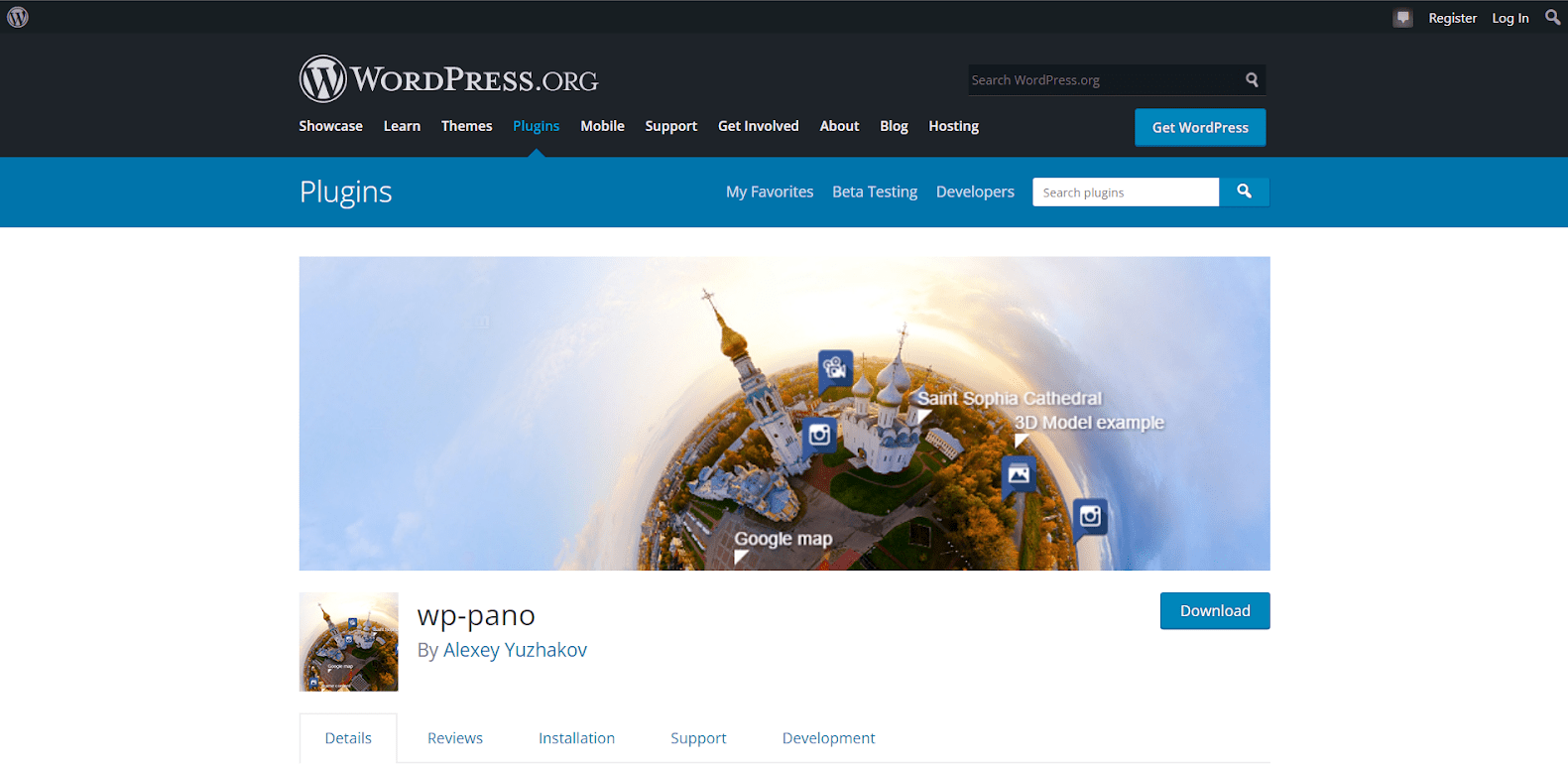 KEY FEATURES
It allows the use of PHP, JavaScript, and HTML to produce any type of content (photo galleries, video and audio, custom forms, iframe, and much more)
Window templates can be configured in a variety of ways.
Custom post types are supported.
Compatibility with other WordPress plugins is excellent.
Polylang and qTranslate X plugins are supported for translating information into any language.
PRICE
As an additional addon in your process of bringing 360 image to your WooCommerce store, WP-Pano doesn't cost you anything to own such an excellent plugin. However, if you find it effective, you can make a donation for WP-Pano.
WHO SHOULD USE IT
WP-Pano WordPress plugin is suitable for any types of WooCommerce stores as long as you already have the WordPress content and the krpano panoramic viewer. \
Magic 360 For WooCommerce allows you to display 360-degree photos in your online store and allows consumers to rotate and zoom your product images. Using the Magic zoom plus plugin, you can simply display static pictures alongside a 360-degree spin. This plugin also has a quick spin on hover, martini spin, ultra-smooth 360 spin, 360 product photography, auto spin on page load, 3D spin with square magnifier, and more features. Giving your consumers a realistic experience while seeing your items, Magic 360 For WooCommerce may significantly improve the value of your product pages. According to numerous tests, it is also believed to enhance the conversion rate of users by 27%.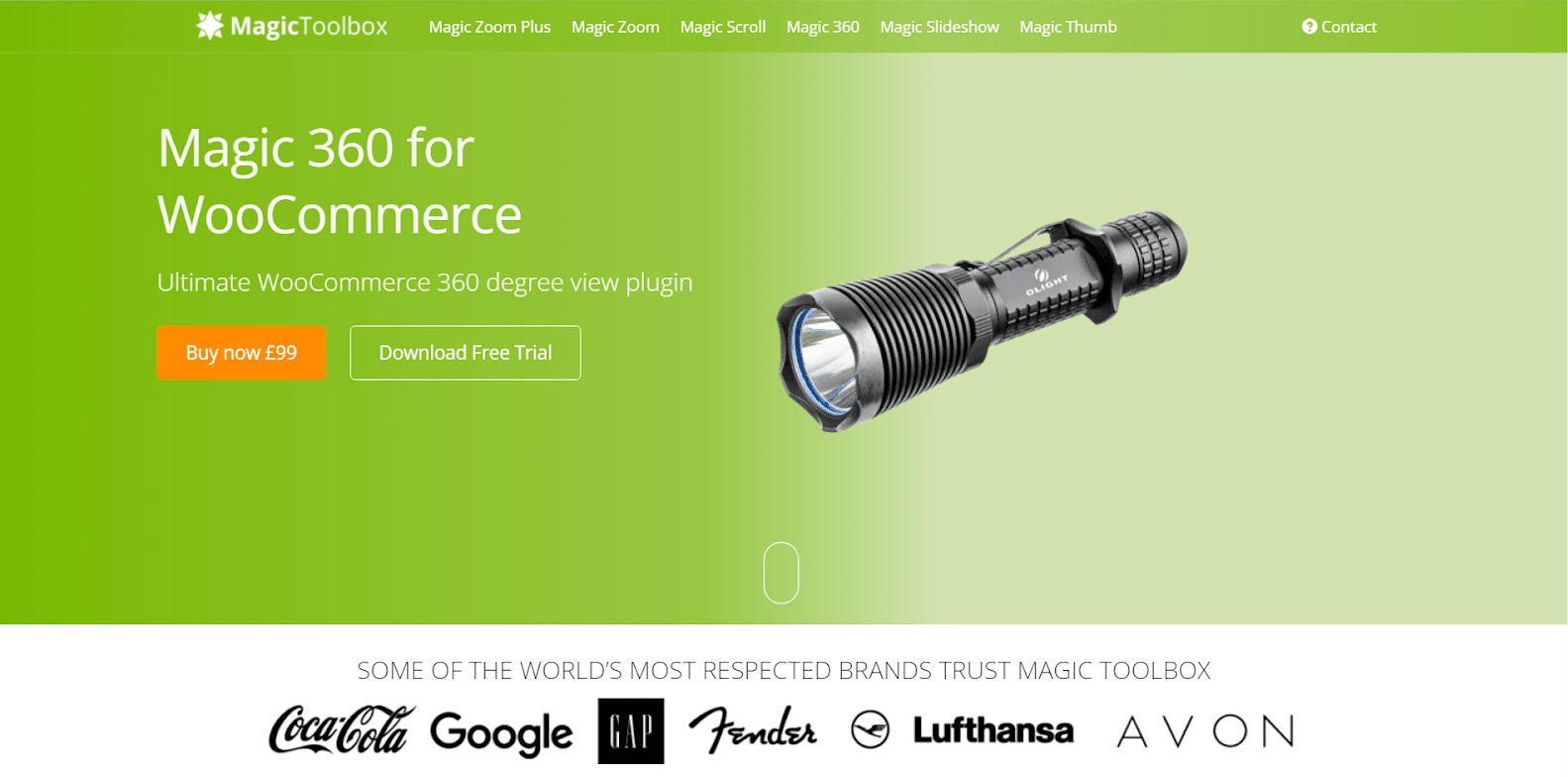 KEY FEATURES
Magic 360 is regularly updated and works with all versions of WooCommerce.
It allows you to showcase your items from every aspect and on every device; examining every detail is a thrill with Magic 360's mobile movements.
It enables you to control how Magic 360 starts up and loads pictures and Select whether to activate on page load or on request.
SEO Friendly URLs and "alt" tags are supported by Magic 360, which is really necessary to obtain the number one position in Google.
PRICE
Magic 360 For WooCommerce provides you with a long list of pricing that you can choose from. For this reason, you can easily find the most suitable plan for your WooCommerce sites.
WHO SHOULD USE IT
Magic 360 For WooCommerce seems to be useful for you if you are finding an SEO solution for your business.
The WooCommerce 360 Image plugin adds a dynamic, customizable 360 picture rotation to your online business. It has a flexible design and you may have a gorgeous picture rotation that replaces the product's prominent image by just adding some photographs to a product gallery. Other features of this plugin include mobile/touch support, navigation controls, full-screen mode, shortcode support, and so on.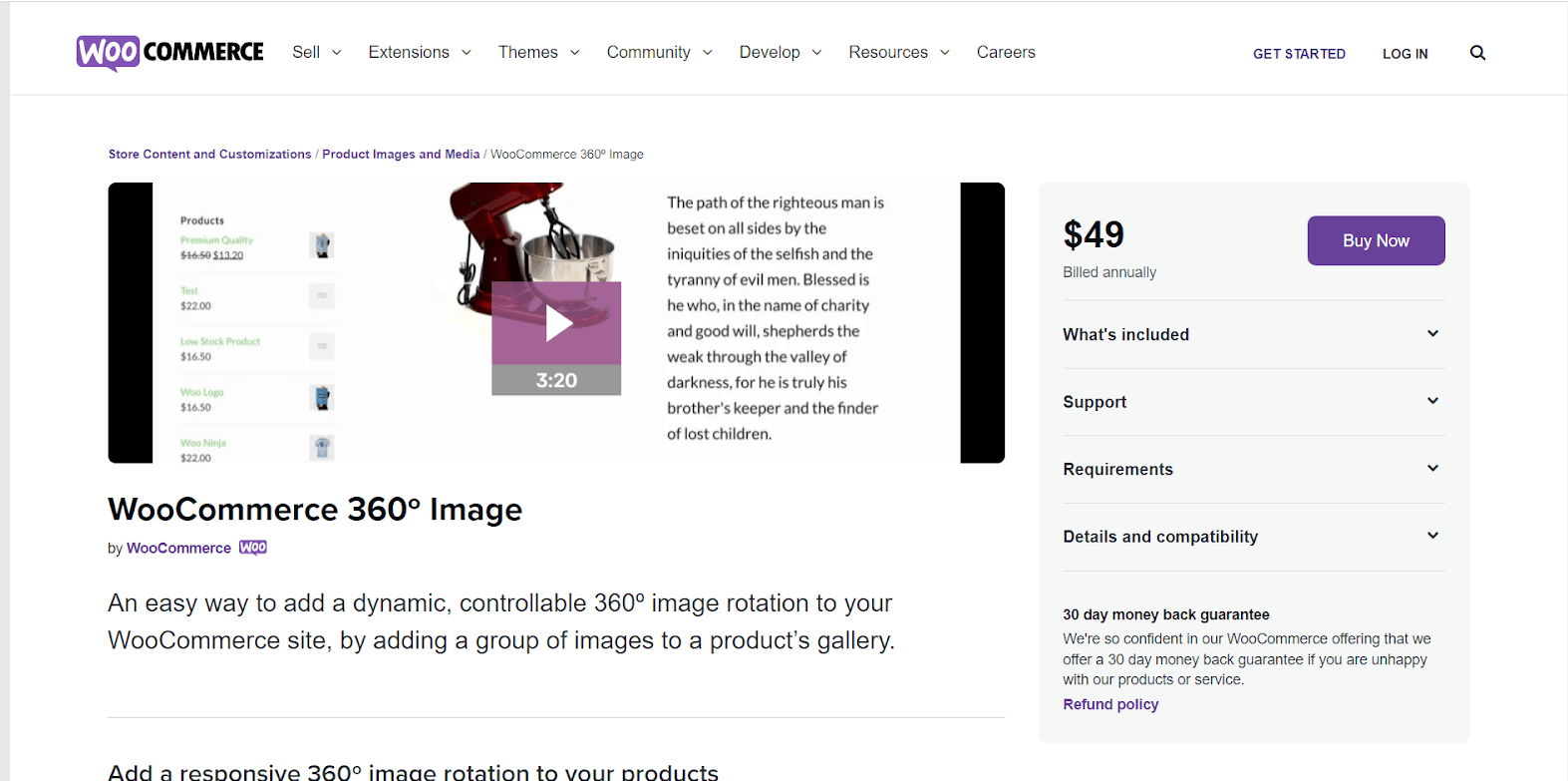 KEY FEATURES
You can drag and drop photographs into order within the Product Gallery meta box.
There is also an additional shortcode that you can use to display the image rotator wherever you like – on the same page as a product or elsewhere.
It allows you to add a full-screen view button to your 360 Image Displays.
The navigation control buttons will be enabled too.
It enables you to alter the animation's pace.
PRICE
You only have to pay $49 per year to get access to all of the outstanding features of WooCommerce 360 Image. Once you hit the Buy Now button, you will be supported by WooCommerce pricing policy, including 1-year extension updates, 1-year support and a 30-day money-back guarantee.
WHO SHOULD USE IT
WooCommerce 360 Image is a panorama plugin that is responsive to your WooCommerce store, and it can optimize the view of a single product. Therefore, it must be a good choice for WooCommerce retail outlets.
Don't mistake this plugin with the previous one, they're 2 separate WooCommerce plugins, each of which contains different features. With WooCommerce 360 Image Plugin, you can present your items from every perspective, and customers can view the features of your product simply by spinning the 360-degree image. Your customers may also utilize mouse buttons to zoom in and out of product photos, as well as scroll. It is entirely compatible with WPML and allows you to customize the role of the play button. Other capabilities of this plugin include auto-rotating 360-degree product images, enabling 360-degree one-turn on startup, and so on. Keep in mind that to get the most out of the WooCommerce 360 Image Plugin, you should organize at least 16 photographs of a product in a series and save them in a zipped directory.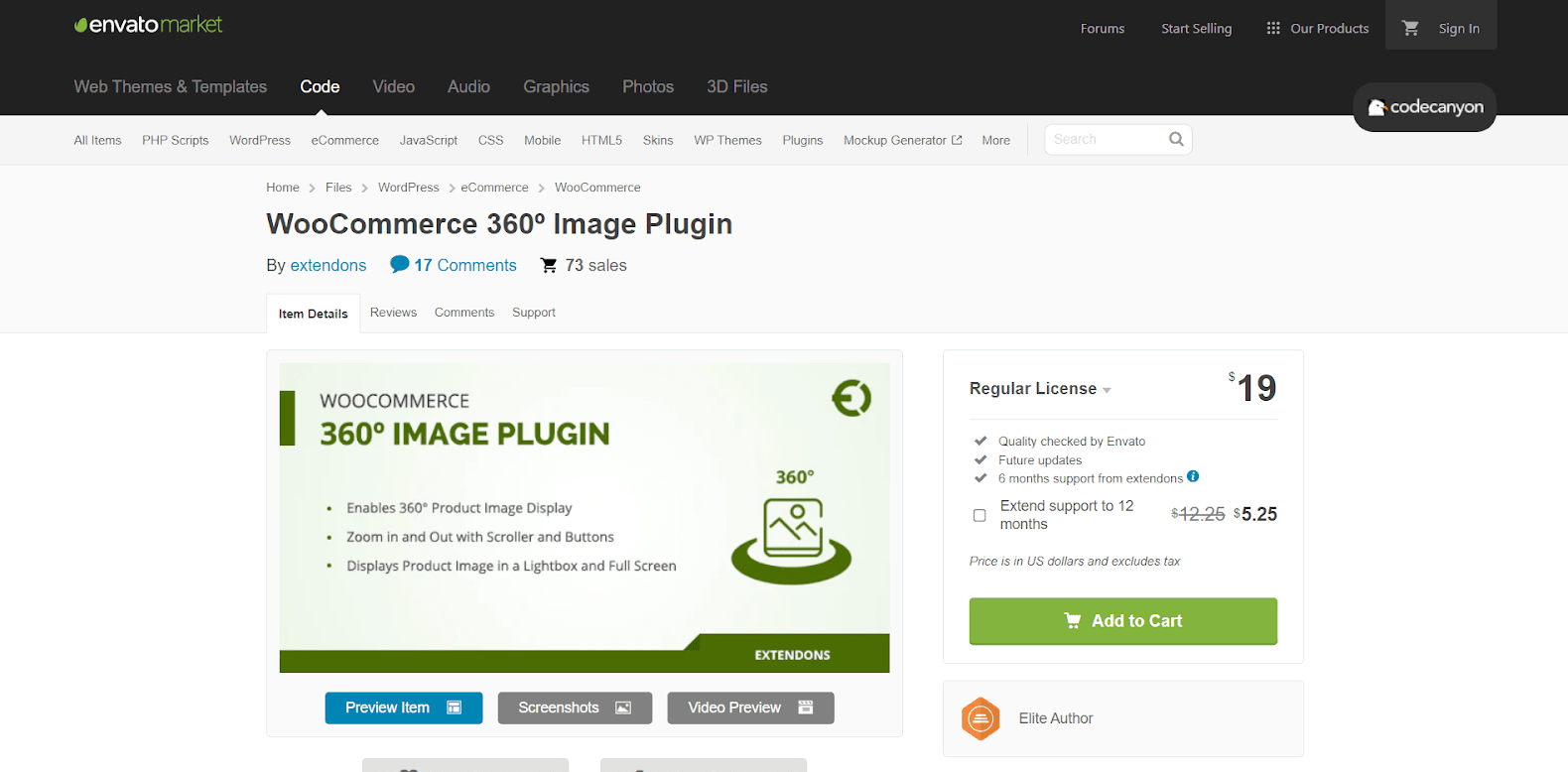 KEY FEATURES
Customers may zoom in and out of product photos by utilizing zoom in and out buttons.
The WooCommerce 360° product view plugin allows users to change the picture preview to a lightbox or full screen.
You have the option of excluding a product or category if you believe the presentation of a 360° picture is incorrect.
The WooCommerce Image 360 Plugin is now WPML compliant (WordPress Multilingual Plugin).
PRICE
WooCommerce 360 Image Plugin offers you 2 pricing plans, each of which is accompanied by Quality checked by Envato, Future updates, 6 months support from extendons.
Regular license (end users are not charged for): $19
Extended license (end users are charged for): $155
WHO SHOULD USE IT
WooCommerce 360 Image Plugin has many things in common with the previously mentioned plugin. Therefore, the suitable type of WooCommerce Store for this plugin is retail stores too.
Another WooCommerce plugin that allows Your consumers to spin a product on your WordPress site is 360 Product Rotation plugin. Because you're most likely going to use this for an online store, it's compatible with WooCommerce, which provides you with all of the tools you'll need to launch and operate an eCommerce site. It works in three easy stages, and all you have to do is: Obtain a product image. Submit the archive to WP Admin» Media»360 Views. and Just copy and paste the shortcode into any page or post on your site.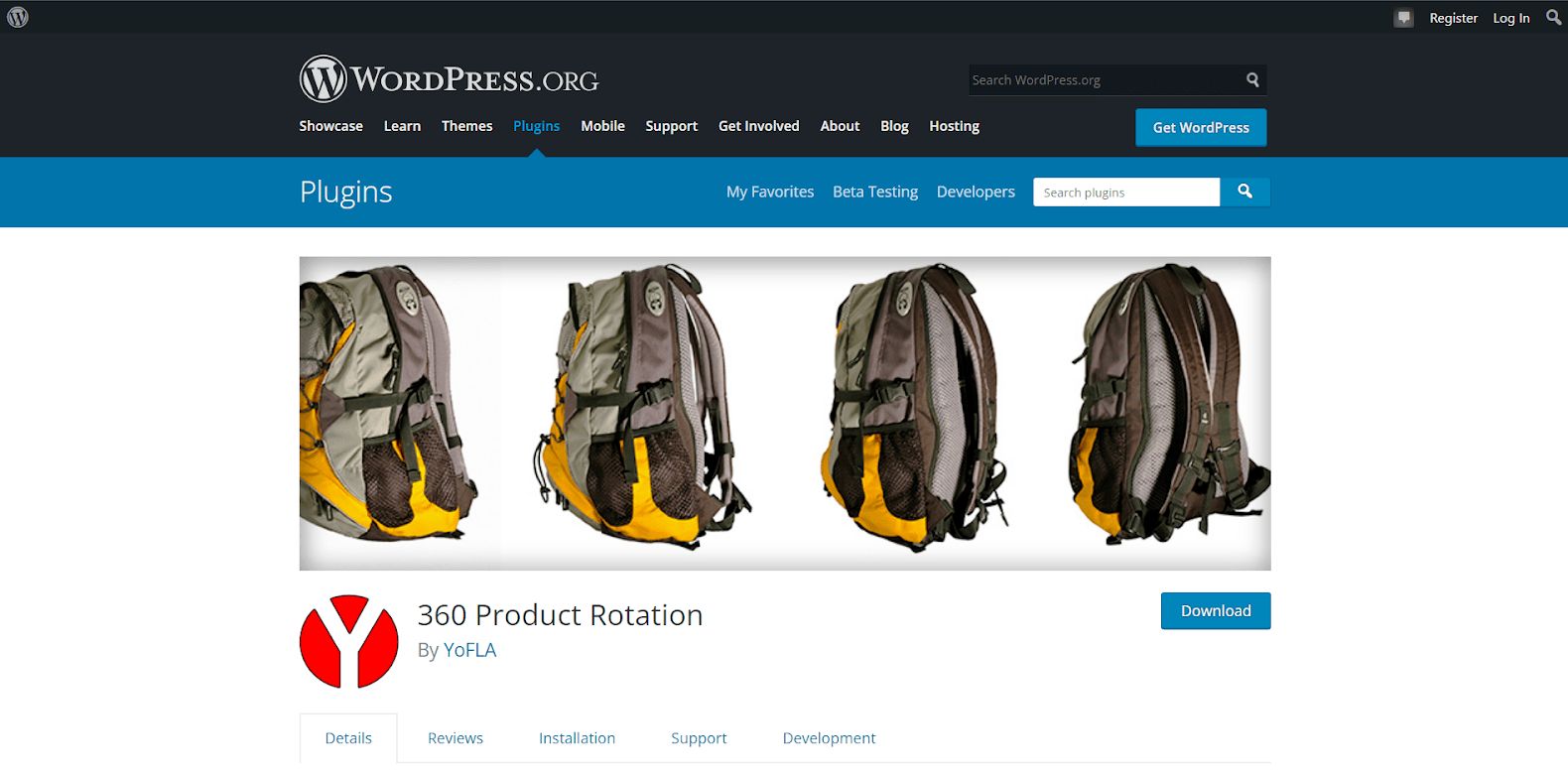 KEY FEATURES
This plugin has a responsive design, which means it will operate on any device, from giant desktop computers to tiny mobile phones.
Retina screen is supported so it can work on mobile devices.
Storefront theme is tested so it can work with Woocommerce.
It has both Cloud or Self Hosted options.
PRICE
360 Product Rotation doesn't cost you anything to own such an excellent plugin. However, to use this plugin, you need to generate a 360 view with the online 360 view creator which requires registration.
WHO SHOULD USE IT
360 Product Rotation seems to be most suitable for those WooCommerce users who are looking for a convenient but effective solution for the 360 view for their products.
iPanorama 360 is a WordPress plugin that allows you to quickly generate amazing virtual tours for customers from within the WordPress admin. The plugin includes markers that may be used to provide information about any element of the scene or to navigate to different rooms/areas. Using a well-designed tooltip system, you may supplement a scene with text, photographs, video, and other internet media resources. This plugin may be used to build interactive and virtual tours, maps, and presentations. Simply upload 360 panoramic photographs and this plugin will assist you in converting them into an excellent realistic virtual tour. This is also a responsive plugin, so it works on anything from giant PCs to small mobile phones and everything in between.
KEY FEATURES
It has a variety of scene possibilities, such as a cube, sphere, and cylinder.
You may also designate distinct places using hotspots.
Its thumbnails allow visitors to glimpse short images of your scenery.
The scene of your photographs rotates automatically when you use the autoplay option.
PRICE
You can get iPanorama 360 for free on the WordPress website.
WHO SHOULD USE IT
iPanorama 360 is recommended for WooCommerce sites that provide the view of large places such as Museums, Showrooms, Travel Agency, Art Galleries or Real Estate Agency.
Because Flat 360° Panoramic Image Viewer is a shortcode-based plugin, even those of you who are unfamiliar with technology should be able to properly utilize it on your WordPress site. There is a real time preview option, which is wonderful since it eliminates the need to save changes and modifications before seeing them; instead, you will be able to see them as you make them in real-time. Because this is a cross-browser-compatible plugin, it should operate on common web browsers such as Internet Explorer, Safari, Firefox, Opera, and others. It is also responsive, so the plugin will function on a variety of platforms such as tablets, desktops, laptops, and even phones.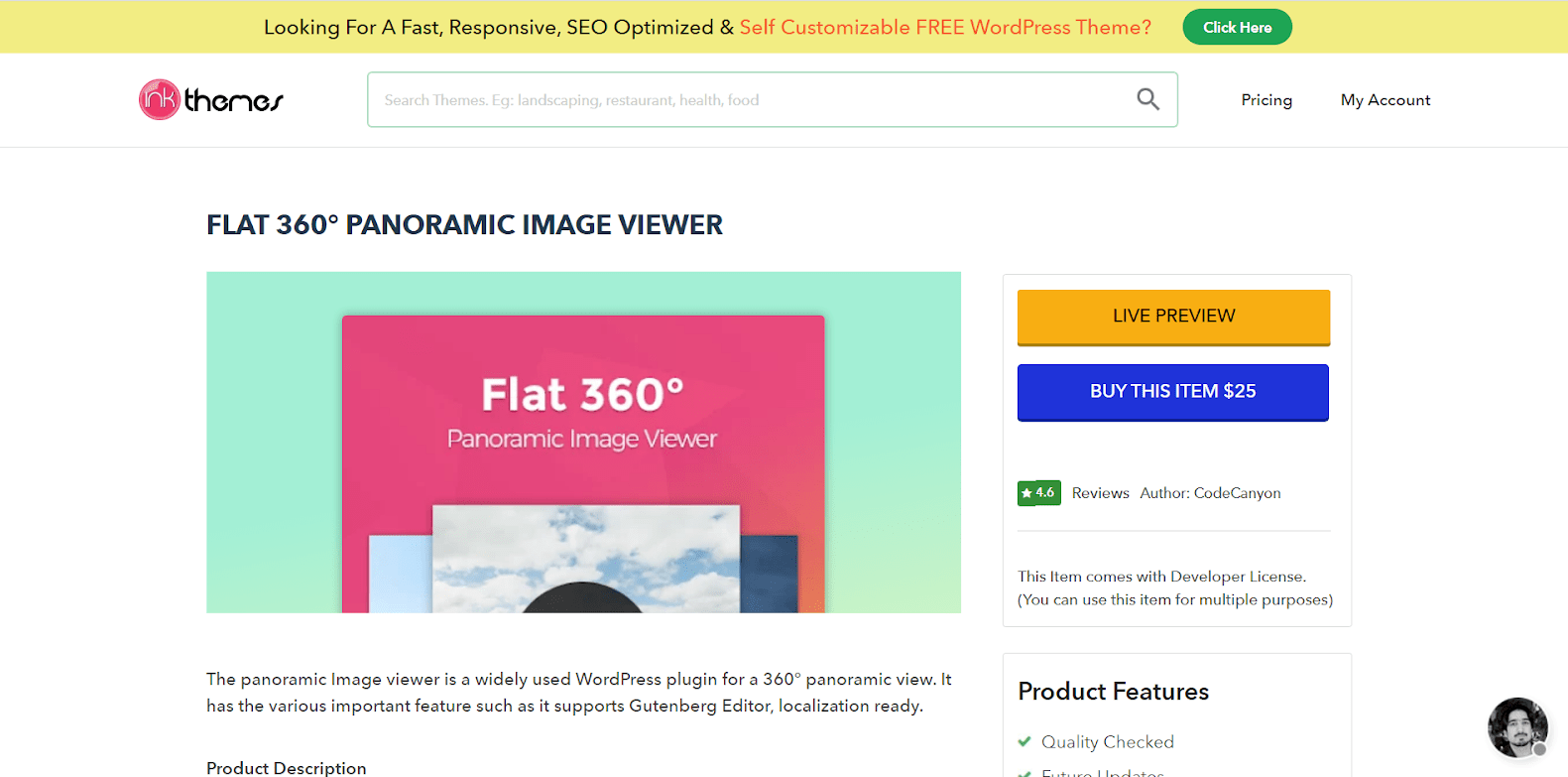 KEY FEATURES
It offers a full left-to-right rotation to exhibit a panoramic view of photographs, allowing you to present every angle of your image.
You may add a hotspot to particular areas of your image that will conduct a specified action when clicked.
It can set the container's height and width to your specifications without difficulty.
It provides a live preview that allows you to see the changes as you edit.
PRICE
You can own Flat 360° Panoramic Image Viewer with a payment of $25.
WHO SHOULD USE IT
Like many other WooCommerce 360 image plugins that can maximize a single product's view, Flat 360° Panoramic Image Viewer must be another suitable option for WooCommerce retail businesses.
We next go on to the 360 Panorama Addon, which is a plugin for the WPBakery Page Builder. You will be able to construct responsive panoramas with this plugin, allowing your site to be viewed on any device and screen size. You may construct 360-180-degree panoramas for your WordPress site's visitors to enjoy. It's a straightforward plugin to use and install, so even if you're not a computer whiz, you can create beautiful panoramas for your website. The 360 Panorama Addon is compatible with Internet Explorer 9+, Chrome, Safari, Firefox, iOS, and Android. This addon is compatible with a wide range of WordPress plugins, including WooCommerce, WPML, WP Easy cart, Easy Digital Downloads, bbPress, and others.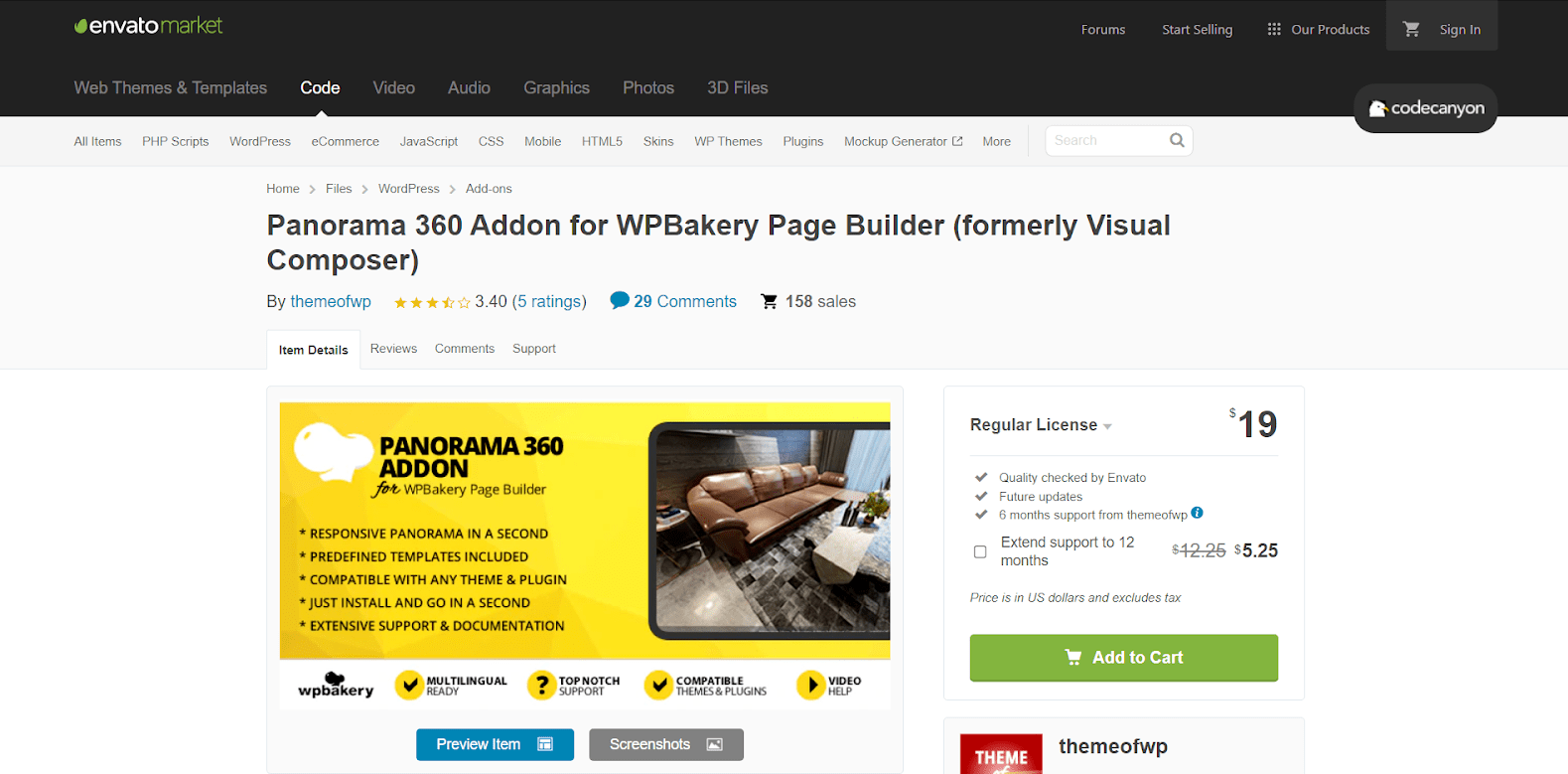 KEY FEATURES
Templates for Visual Composer are supplied.
Any gadget can use a gyroscope or cardboard.
It understands mobile devices and the gyroscope will operate automatically.
Extensive free support and documentation are available.
PRICE
Panorama 360 Addon for WPBakery Page Builder seems to be an affordable WooCommerce Plugin which only costs you $19 for Regular License and $70 for Extended License. Both pricing plans are supported with Quality checked by Envato, Future updates and 6 months support from themeofwp.
WHO SHOULD USE IT
Like iPanorama 360, Panorama 360 Addon for WPBakery Page Builder is recommended for WooCommerce sites that provide the view of large places.
Final thoughts
For all the critical advantages that you can get when owning a panorama addon for your WooCommerce store, we think it's a wise investment. Therefore, to help you in your process of making decisions on which WooCommerce Panorama Plugin to choose, we gave you a list of Top 9 360 Image Plugins for Your WooCommerce Store, each of which is bundled with an overview, a menu of key features, available pricing plans as well as our recommendation.
We hope that this blog post can help you choose your favorite 360 Image Plugin.
New Posts
Subscribe
Stay in the know
Get special offers on the latest news from AVADA.
40k
subscribers has been joined!
Earn $10 in reward now!