How to Optimize Shopify Thank you page
Last updated: December 01, 2023
A Thank you page which is shown in the checkout process is what contains the order details, shares shipment and tracking information for the customers' orders. However, it often considers a Thank you page more than what it presents as it can play a role in re-converting the customer. Normally, many stores often depend on retargeting and remarketing campaigns to increase their sales, but it is considered to be expensive. Is there still a way to re-convert a shopper while they're still on your site? Optimizing your Thank you page, of course.
So, in this article today, I will give you the elaborate information that you need to know to utilize your Shopify "Thank you" page wisely in order to understand your customers the most and increase your sales effectively.
Why is the Shopify Thank you page important?
These are the two benefits that you can reach when using the Shopify Thank you page. I believe you will enjoy it.
It's hard to acquire new customers
Acquiring target audience is now considered to be challenging for most online stores as the number of them is increasing every day. Not only that, but you also have to compete with other brands in providing the best discount for your products. There is a solution here to gain your marketing position, which is ads. It can enhance your brand awareness, then convince your customers trust your brand. However, the price for ads is considered to be quite expensive, which is hard to follow by small and medium brands.
Returning customers often spend more
As you can see, your brand can get the trust of those shoppers who have just purchased on your store for your brand and your products as well. When it comes to new shoppers, they often don't check out other products, deals, and sales in your store as much as your previous customers. People often believe that a returning customer can spend 3 times more than a first-time buyer and a loyal customer can probably spend 5 times more.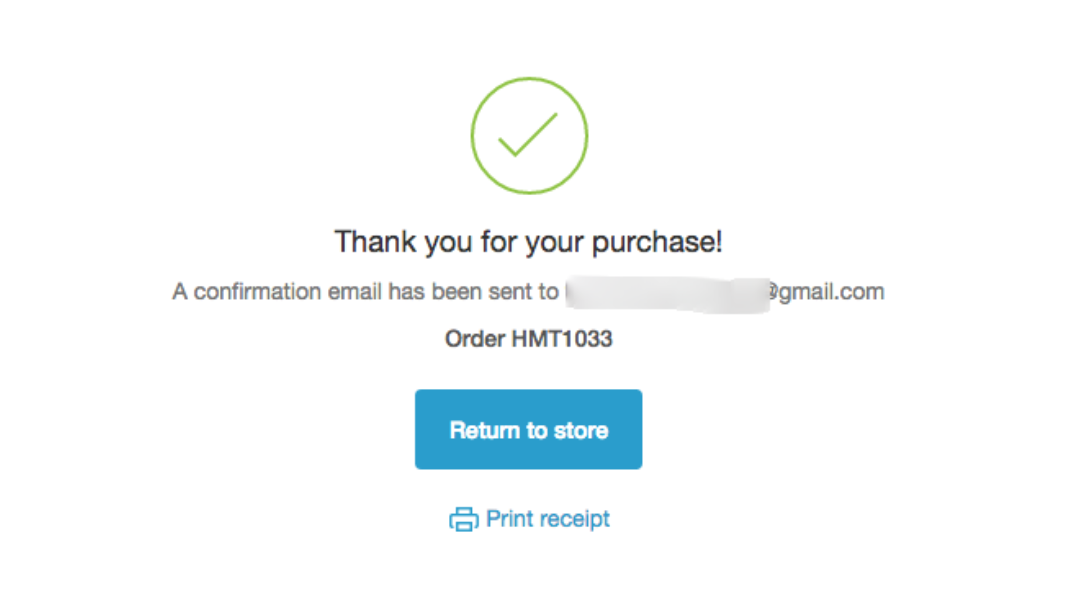 How to optimize your Shopify Thank you page:
Add survey questions
Adding qualitative survey questions, like research, is a smart way to get your business, website and marketing enhanced in quality. However, adding a survey in the customer journey can also risk having the conversion disrupted itself. So, a Thank you page here will be a great location that you can put your survey in. For example, you can just simply asked what made that person decide to sign up his account, or why did he choose to invest in your store, etc.
Boost social sharing
Imagine that you now have customers that have purchased something on your store, and if they seem to be more committed to your brand and also enjoyed the experience, then you can utilize one of those people to share things about your store. By doing this way, you can boost your social sharing by encouraging them to spread the word about your website to their friends and followers. As a result, your brand will be advertised without any fees.

Getting customers to come back
This can be understood as driving repeat purchases. Having your customers repurchase your order in the future is now the thing that most eCommerce brands want to achieve. In order to succeed in doing this, you can choose to ask for repeat orders via email marketing, but a Thank you page is much more preferable to convince your customers to come back and get another order. Also, this way can help you save an amount of time for acquiring new customers, and this can generate more revenue as well.
Upsell other products
When a customer completed a purchase on your store, they can be more likely to make another. So, upselling is considered to be a crucial part of an eCommerce strategy as it can be a key revenue driver.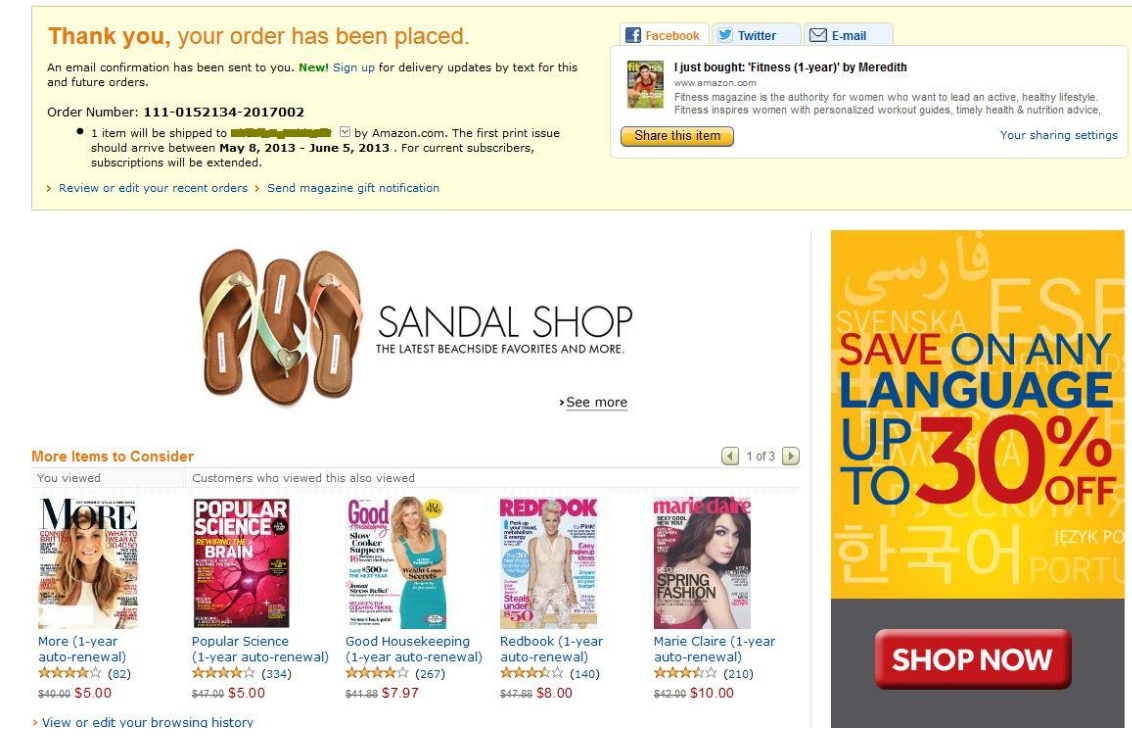 Evidence has been shown, in 2006, 35 percent of Amazon's revenue came from upsell opportunities. It's time to make your "Thank you" page become a place that provides additional products to attract your customer's attention. More specifically, you can show products that refer to your customer's previous purchase as a suggestion for them. They might be interested in these products and click on your store to view more.
Offer urgent discount with pop-up
Yes, discounts are known as an enormous part of the modern shopping experience and a "Thank you" page is an excellent place to provide an urgent discount because you know the viewer has just trusted your store to buy. A discount here will probably become a reason for them to repeat their purchases.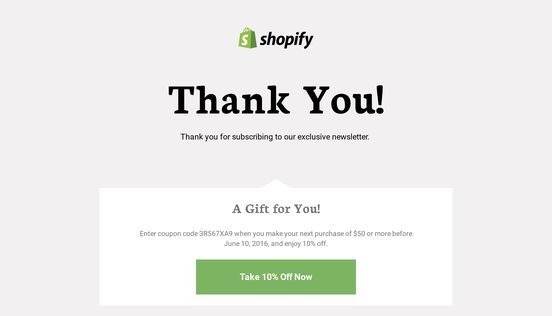 So, using pop-up in your Thank you page is a good way to utilize every factor to boost your sales. Also, it is ideal for including a coupon to a time limit so that you can encourage your customers to take action quickly.
Include video in your "Thank you" page
Again, your Thank you page is a great place to get trust from your visitor and ensure them that they have just got the right decision. So, you can offer them additional information about the brand by displaying a short video about your company and reinforce that they've made a good decision.
Using post-purchase email
It is also a fact that many customers would close their browser tab when they see the line "Thank you for your purchase". Additionally, there are many people that only read about 20 percent of the pages when they see. So, using a post-purchase email is a smart way for you to get them to follow up.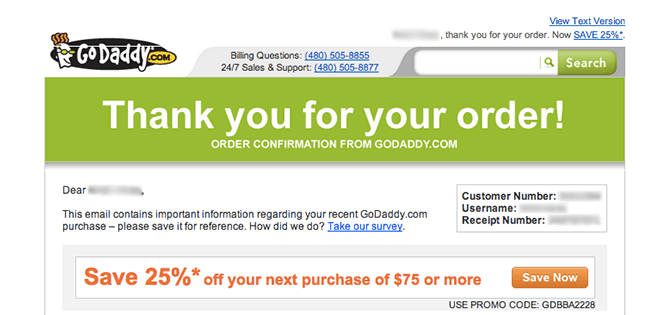 Specifically, a post-purchase email is what shows up when all products in an order are paid and completed. You are totally able to utilize any of the elements in your post-purchase emails including coupons, sharing buttons, surveys, resources, and so on. Consequently, it is another great opportunity for your customers to engage with your brand more.
Best Shopify Thank you Page Apps:
It is the fact that Shopify doesn't allow users to adjust their Thank you page. However, there are some Shopify apps that support you to customize it. With these apps, you can totally put a lot of sections like video, upselling products in your Shopify "Thank you" page so that you can show them your connection to your own customer as well as inspire brand loyalty for repurchases with your business in the future.
Knowing that our AVADA Commerce Ranking team has utilized our AVADA Commerce scores, rating reviews, search results, social metrics to give out a list of Best Shopify Thank you page Apps to play as a suggestion for you.
Read more: 7+ Best Shopify Thank You Email Apps
Conclusion
On the whole, optimizing your Thank you page is a great opportunity to turn shoppers who already trust you into repeat sales. What about you? Did you decide to have your own "Thank you" page for your store? Tell us a little bit about your experience via the comment below.
Also, if you still have any trouble with your "Thank you" page, please inform us. Our support team is always ready to help you through.
Related Posts:
---
Mike is a content writer at Avada, with a love for video games, gadgets, and software. He has been writing about the industry now for over 7 years. He likes to keep up-to-date with the latest software releases. He's also an avid reader, and he enjoys spending time outdoors with family and friends. When he's not working, you can usually find him playing video games or exploring new outdoor activities.