How to Show Dynamic Checkout Buttons on Product Pages on Shopify
Last updated: December 01, 2023
Dynamic checkout buttons are kind of shortcuts that customers can use to move directly to the checkout page without adding the products to the cart. By using these buttons, it is more time-saving and convenient for consumers to shop because they can choose the checkout method that they are familiar with. There is a note that for older versions of themes, you need to update them if you want to use dynamic checkout buttons. If you are using a theme from Shopify theme store, you can start the settings because it is currently available for all themes in store. After checking for theme version, let's dive in how to show dynamic checkout buttons on product pages on Shopify.
How to show dynamic checkout buttons on the product pages
Step 1: Go to Themes section
After sign-in the Shopify account, head to Online store and Themes respectively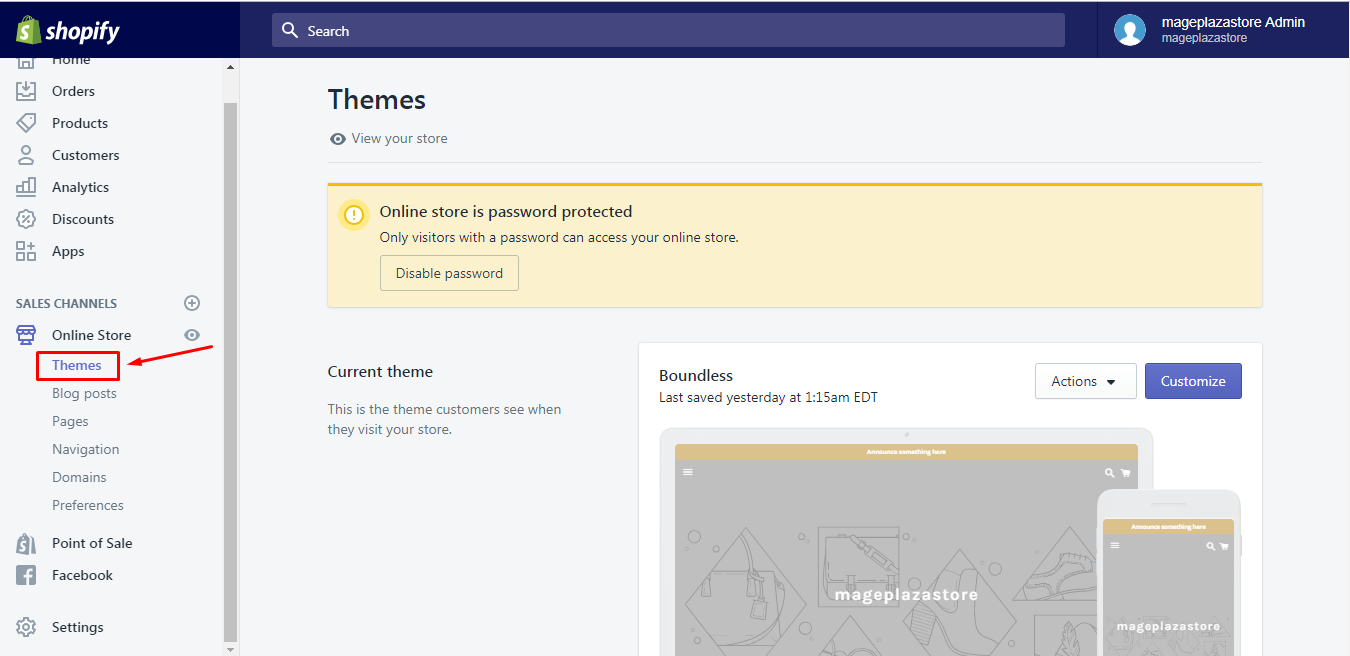 Step 2: Click Customize
Choose a theme to adjust and click on Customize. It is okay to pick a new one in the More themes section or remain what you have already published.
Step 3: Select Product pages
Select Product pages in the Home page with v symbol beside. This menu stays on the head of the page, next to your theme name, like the picture below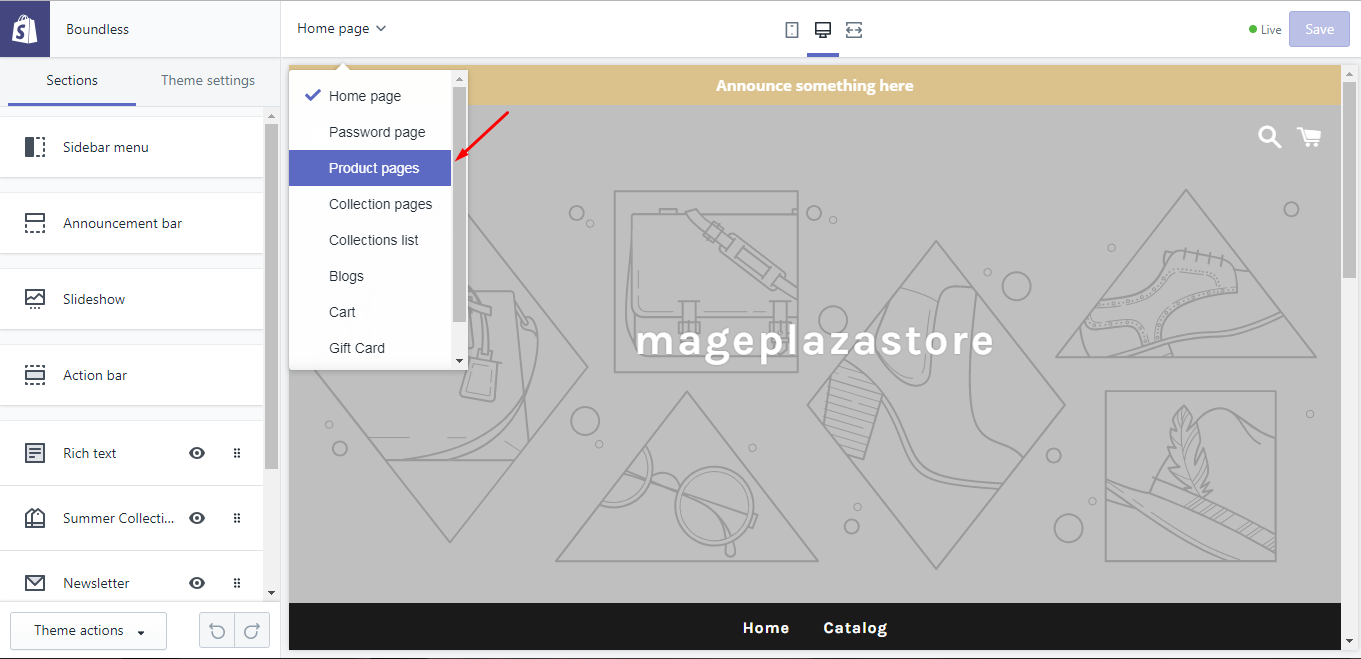 Step 4: Choose Product option
Under Section, press on the fourth option which is Product
Step 5: Show dynamic checkout buttons
In the Image style, you will see some options here for you to choose. Tick on the box beside Show dynamic checkout button to activate it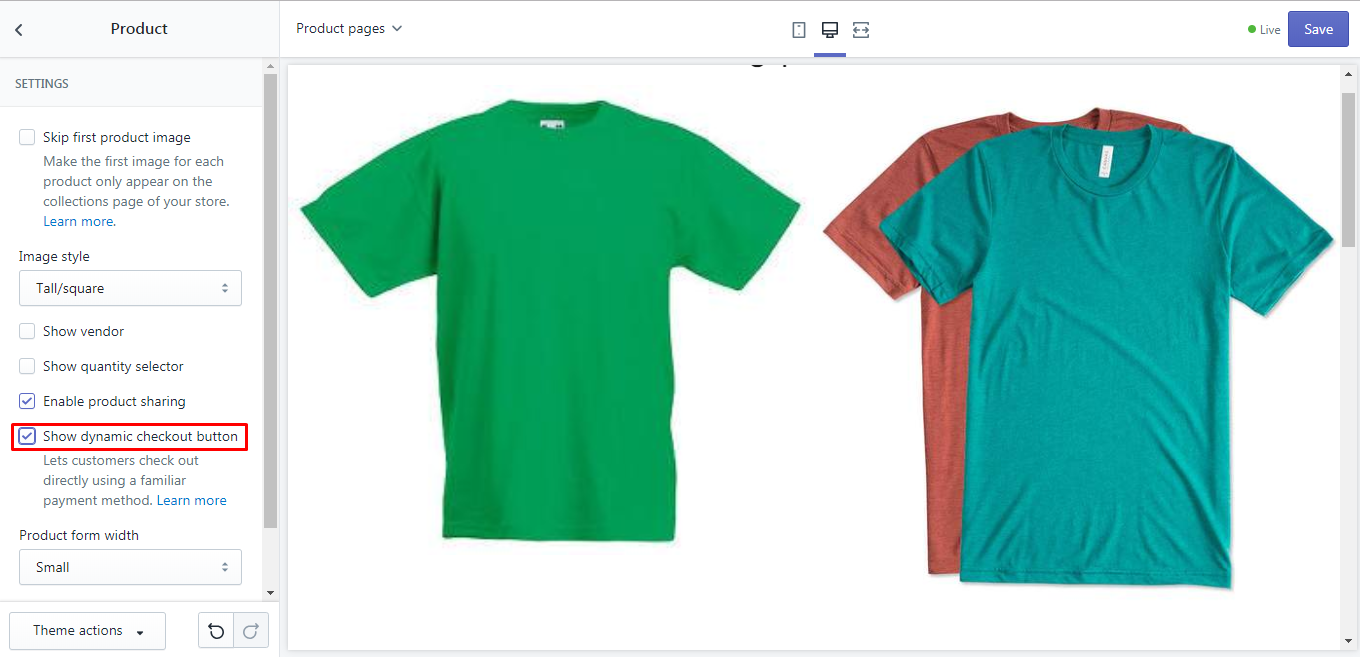 Step 6: Save product pages
Click on Save to end the action. Remember that you cannot press Save if there is no change. When the system finds a difference in settings, the Save button will turn blue and you can choose it to finish.
Learn more: How to check what shopify theme a store is using
To show dynamic checkout buttons on the product pages on iPhone (Click here)

Step 1: Open the Shopify app then select Store

Step 2: Choose Online store right below the Sales channels

Step 3: Tap Manage themes in the Themes section

Step 4: There are two parts in Themes which are the Current theme and More theme. Pick one that you want to use for your store and select Customize

Step 5: Other detailed settings for the theme will appear on your screen. Choose Product pages in the top-down menu on top of the page.

Step 6: In the settings list for Section, tap on Product

Step 7: Check on the Show dynamic checkout button.

Step 8: For completing, tap Save
To show dynamic checkout buttons on the product pages on Android (Click here)

Step 1: In the admin page of Shopify app, choose Store

Step 2: Under Sales channels, tap Online store

Step 3: Showing the checkout button is part of the theme designing that you have to click on Manage theme in the Themes

Step 4: Select the Customize button under the theme you want to use

Step 5: In the theme settings, choose Preview at the end of the screen. In this display, you will see the Home page with v icon on top then click on it and select Product pages. After that, tap on Customize to continue editing

Step 6: Press on Product in the second place of Sections options list.

Step 7: Tick on the option Show dynamic checkout button to enable it

Step 8: Tap Product on the top bar and choose Save to end the process.
Conclusion
In short, I have described to you how to show the dynamic checkout buttons on Shopify. The steps seem to be long but it is not complicated and easy to follow and practice that even low-tech people can do it. The post also contains images for each step, hence I hope it can benefit you.
Related Posts:
---
Mike is a content writer at Avada, with a love for video games, gadgets, and software. He has been writing about the industry now for over 7 years. He likes to keep up-to-date with the latest software releases. He's also an avid reader, and he enjoys spending time outdoors with family and friends. When he's not working, you can usually find him playing video games or exploring new outdoor activities.