What to Sell on eBay? Top Selling Items on eBay in 2023
eBay is one of the biggest eCommerce marketplaces in the world, providing a marketplace for users to sell items through listings and online auctions. Millions of buyers and sellers around the world gather on the site, making transactions every minute. This makes eBay a promising land to find high-profit, top-selling items and make money.
Whether you are a reseller who has a large number of products or a small business owner with little investment, eBay welcomes all with a good strategy. Curating a collection of on-demand products that are guaranteed to sell again and again will give you more control over your streams of revenue instead of hunting down new products every day.
After spending some hours researching, I can finally show you the top-selling items on eBay for you to start a fantastic new year. These items are among various categories, so you are sure to find something that piqued your interest. Let's get started!
About eBay

The original big guy of the eCommerce industry, eBay has been around since 1995. It is still growing strong by being a global marketplace for big brands, small businesses, and entrepreneurs of all sizes. Currently, eBay has 1.6 billion live listings, 183 million buyers, and 1500 cities with classified listings.
Whether an item is new or old, luxury or rare, fashionable or unique, it can be sold on eBay. The brand's mission is to be where people shop first and continue focusing on powerful search - including image recognition and voice control.
There are different types of eBay sellers. First, you have newbies or amateur resellers who sell a small number of items at a fixed price. Secondly, you have PowerSellers, who are professional sellers with experience in purchasing items, packaging products, shipping goods, and managing auctions.
Besides being a peer to peer marketplace built on auctions, there is also a "buy it now" feature for the selling format. There are advantages and disadvantages to each method. Finding the one that works best for you will depend on your individual business.
Auction selling format: You run an auction for your products for several days. You set the opening bid, and buyers will bid up from that price. When the auction closes, only the highest bidder wins. This format works great for unique, collectible items. Passionate fans will feverishly bid up the pricing, allowing sellers to pocket a nice profit.
Fixed price selling format: Also known as the "buy it now" method, this format lets sellers declare a fixed price for their items. eBay shoppers know the price and can buy immediately. This selling style is convenient and efficient like Amazon; buyers don't have to wait for the auction to end.
With the common knowledge out of the way, let's see the top-selling items on eBay.
Top selling categories on eBay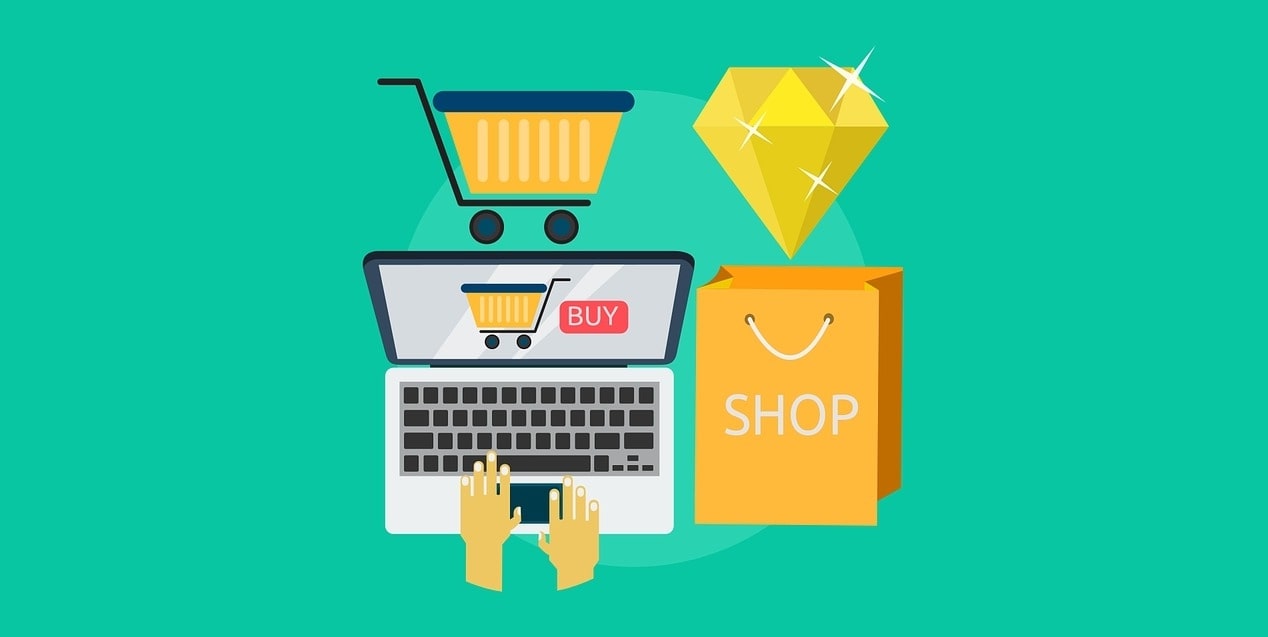 eBay has various categories with which the items get classified, such as business and industrial, clothing, shoes, accessories, crafts, books, consumer electronics, dolls and bears, home and garden, pet supplies, sporting goods, antiques, toys, collectibles, and more. In these categories, some categories are winning more in the race of sales.
To boost your revenue, adding products most purchased by consumers to your inventory is a good solution to increase your revenue. Here are some top-selling categories for you to try finding profitable items:
Mobile phone & Accessories
Much like other eCommerce platforms to sell products, mobiles and their accessories are always among the most sold products on eBay. With the growth of technology, people frequently change their phones to use the latest technology and decorate phones with the best accessories to match their personalities.
For statistical purpose, I observed that each listing of this category has an average of 666 items being sold:
65,000 sales of the glass screen protector
55,000 units of silicone case of iPhone 6,6S and 7 were sold
28,000 units of in-car phone holder are sold at an average
There is a peak in the sales of smartphones and mobile cases as the hot new products are released from popular brands like Apple and Samsung, so you can use the opportunity to increase sales.
Video Games
According to the listing research, an average of 118 items are sold in the video game list on eBay. Prices range between $4.99 and $88 with an average price of $25.23.
It is known that video games and game consoles are among the best-selling products on eBay. Whether you sell recent AAA titles at a lower cost than the street stores or want to auction a collection of classic titles on a retro console, you can always find buyers. The title game Super Mario Bros' Asian release on the NES got listed for even $25,000.
Vintage items
The online industry of vintage items has been growing at a staggering rate of 5.3% (2015 - 2020). Collectibles and vintage antiques always have a special spot for eBay buyers. You can easily attract a large number of collectors looking for items to add to their collections, such as the 80s and 90s clothing, jewelry, watches, etc.
You won't need to list a good item for too long, too. Just within a week, you can start seeing several bids for your products. Just make sure to add complete and informative descriptions to get genuine and interested buyers.
Fashion
The fashion category is cliche on every eCommerce platform. Still, it is hard to ignore since it is often the most searched one. With the change of seasons, you can make a lot of money by offering trendy and seasonal clothes. Keep an eye out for new trends and proactively stock the items before a new season arrives.
Home decor
The home decor industry is evergreen and most liked by consumers. Selling items of this category can benefit your revenue, especially when many people are staying at home looking for ways to improve their living spaces. Old wall prints, cushions, lamps, plant pots, etc. can all be sold, old or new.
Computers or tablets
Computers, laptops, and tablets have become necessary in today's time for users to accomplish their tasks better. Sales of laptops and tablets regularly increase based on fresh releases from large brands. People also look for old products to save money compared to buying new ones.
Per listing in this category has a sale number of 135. The brands that have the most popularity are Apple, Kocaso, Ghia, Samsung, Asus, etc.
Crafts
The craft category also draws a lot of attention from consumers with products like stone beads, jewelry making beads, scrapbooking, and papercrafts. The most well-known bead brands are AD Beads, Your Perfect Gifts, Crystal Beads, and Douvei. You can create your own brand of DIY crafts, then bid them on eBay to gain a profit.
Top selling items on eBay to try for your store
Knowing the categories, it is time to see some top-selling items on eBay. These products have a high number of units sold and an excellent average selling price to earn a nice chunk of margin. Let's see what they are:
Vintage watch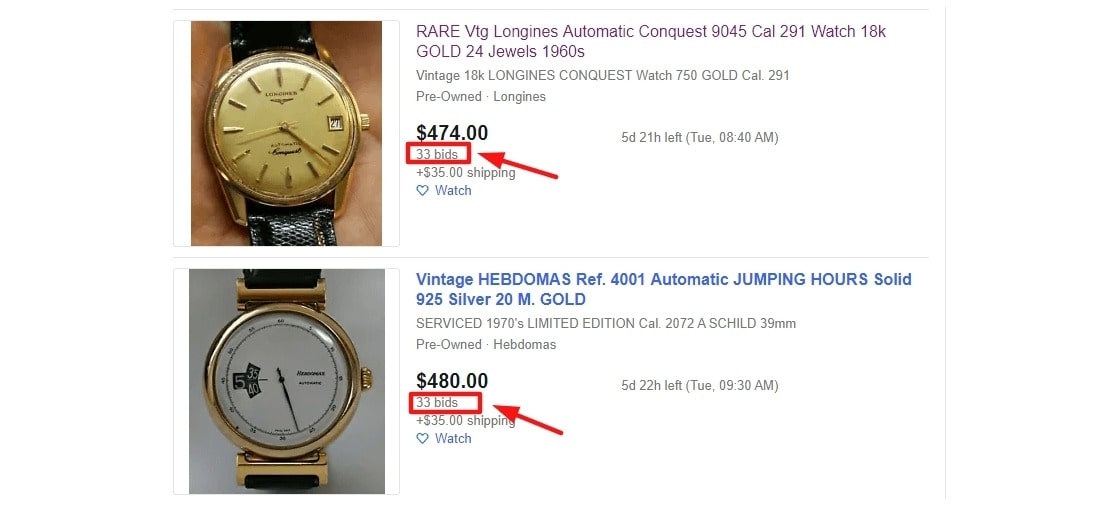 Take a look at these vintage watches that are listed for over $400 + and have received 33 bids. Whether you sell old or new watches with a vintage style, buyers on eBay always come to the site exactly for this kind of product. You can take some time finding the style that not many are selling, then see the tactic of auction or fixed price works better.
Books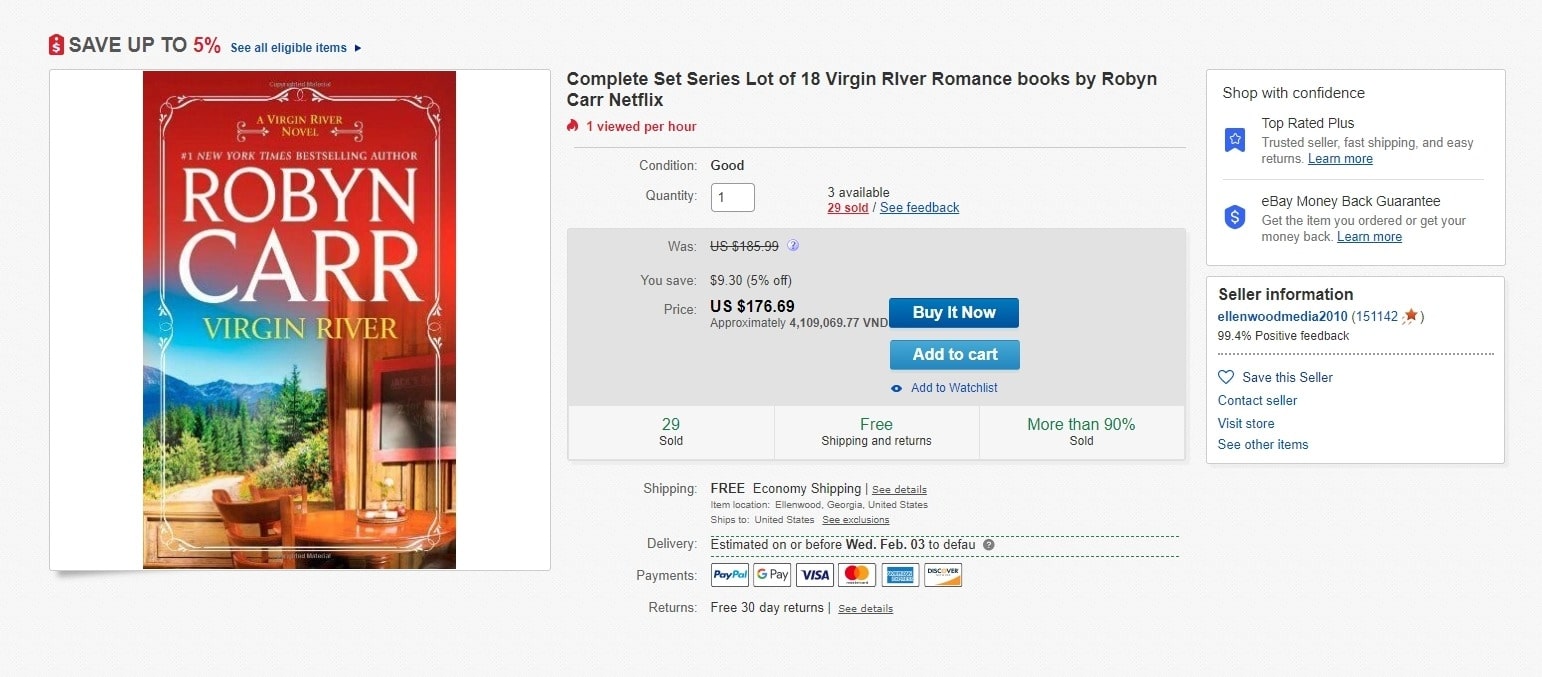 Amazon may have been the pioneer of selling books online, but bookworms have been rushing to eBay now looking for awesome books. The bidding price system makes selling any second hand or pre owned book ideal. I often buy books myself, about two to three each month from a local bookstore. So buying secondhand books can actually save me a bunch of money.
More than that, if you find a good local vendor, you can gain almost a 300% profit margin, excluding shipping. Turn out, books can be the most profitable items and easiest to sell on eBay. See how the pre-owned book in the image is almost sold out at the price of over $100?
Blu-ray discs

Yeah, this surprises me as well with the potential of Blu-ray and DVD discs. They are selling like hotcakes on eBay, especially if they are from popular franchises such as Harry Potter, Marvel, Star Wars, Friends, and more. If you can target the right audience, you can easily cash in the loyalty of die-hard fans of any series. Take some time to research what movies are the talk of the town, then print some money from their fanbase.
Trading cards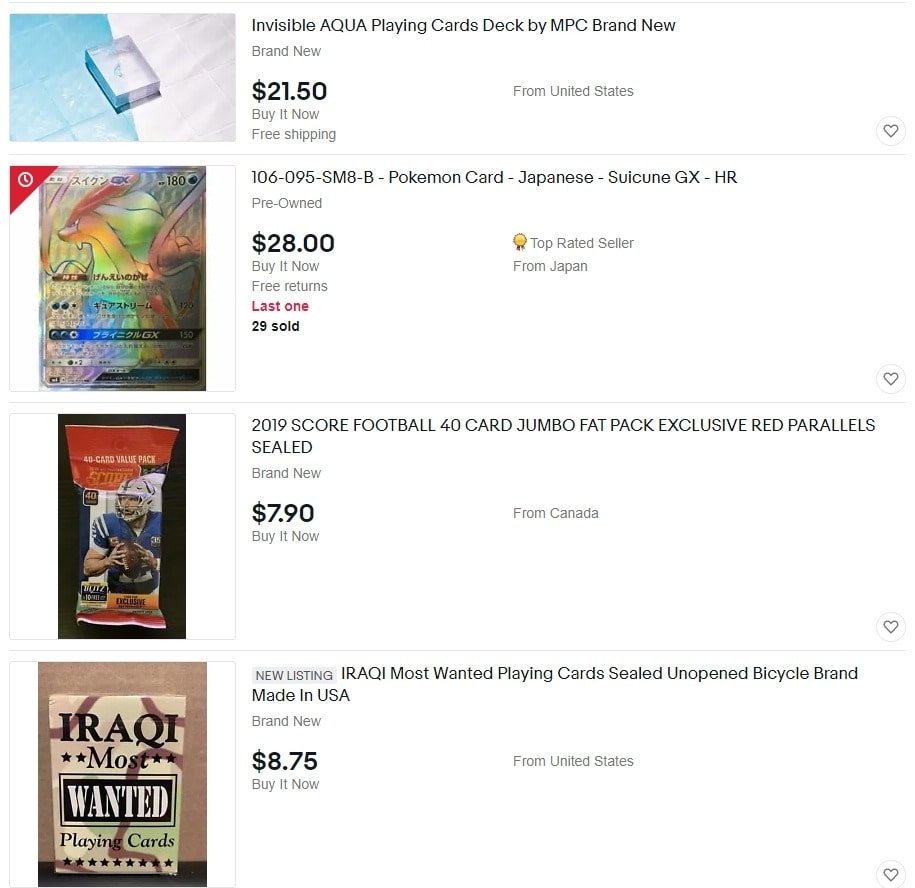 Trading cards are small paper cards that have images of famous people with text describing them. Fans of different sports and games prefer to collect these cards with their favorite characters' pictures, especially baseball fans. Now, football and NBA trading cards are also in trend. This makes it one of the top-selling items on eBay, but you will need some knowledge and experience to trade these cards because there are also game cards like Yugi Oh or Pokemon.
Folding Knives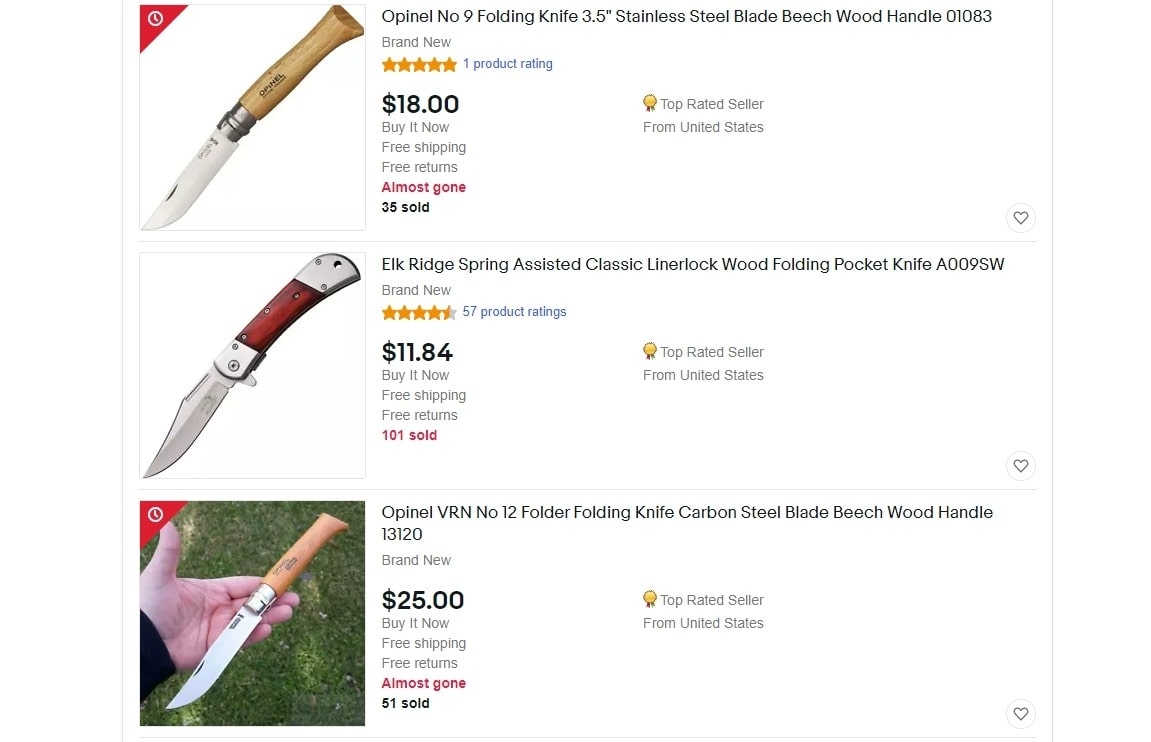 Collectible knife is one of the top items that can create impulse buying decisions, thus making it one of the most comfortable items to sell on eBay. You can get this product at a low price on AliExpress and earn up to 10x profit margin on eBay. You can also dropship the product for a low-cost selling method. Also, try offering these knives as collectibles so collectors can find your products.
Vitamins supplements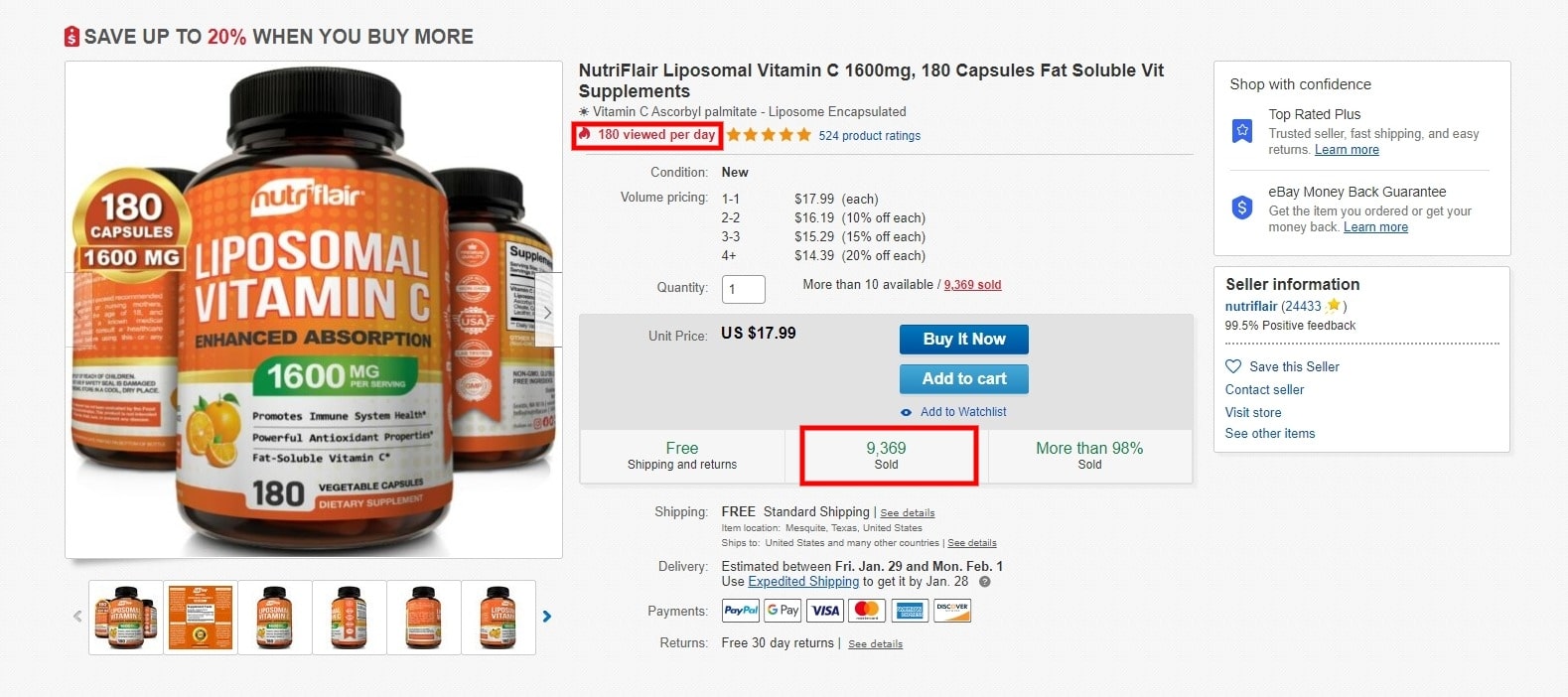 Health and beauty category is quite popular on eBay, making it one of the top-selling products. In this category, you can offer vitamin and dietary supplements, which are booming in demand. You can find supplements with specific benefits, such as for muscle, diet, weight loss, and more. Having a personal brand is my favorite approach in selling vitamin supplements on eBay, you can try it.
Controllers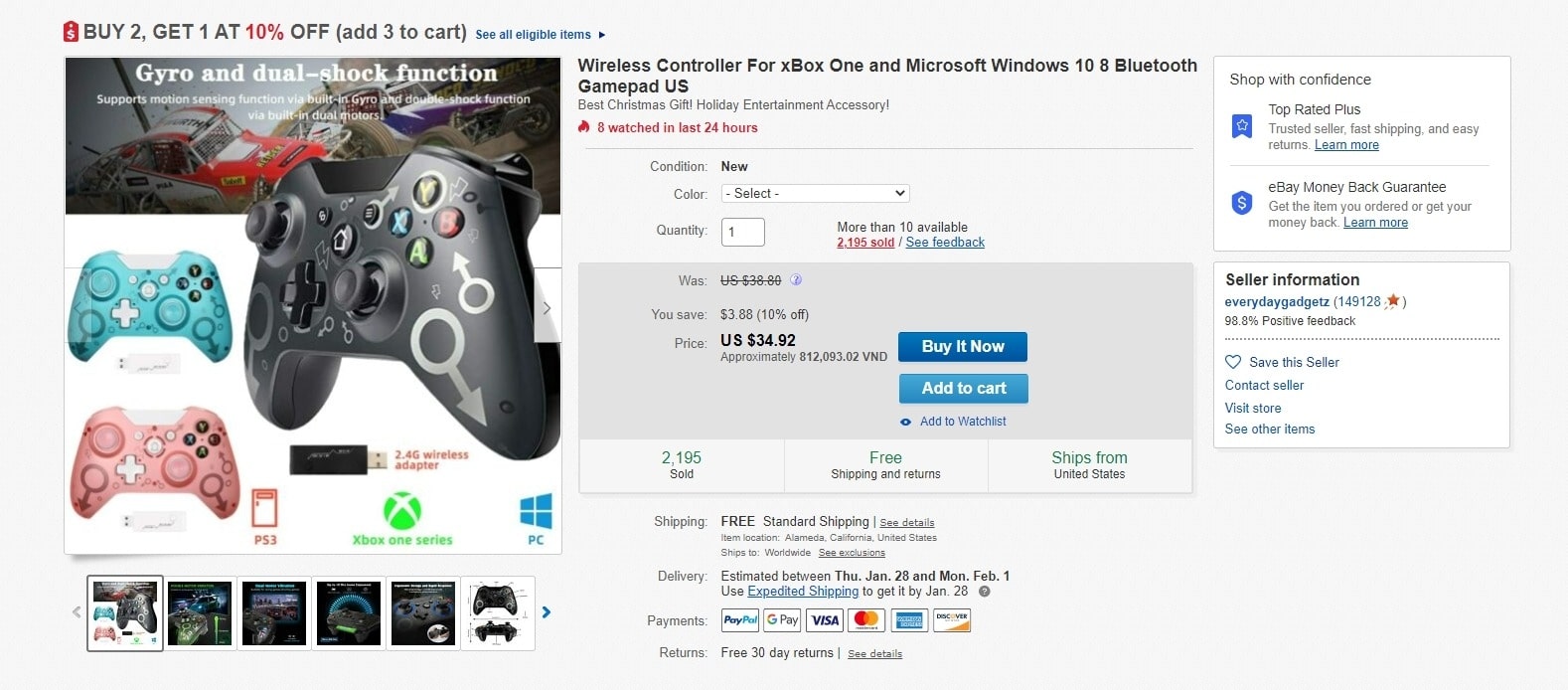 The most common game controller products are often from large console producers like Sony, Microsoft, and Nintendo, though other brands have also been doing well. The controller in the image above sold over 2,000 units, which is huge. Customized controllers are also preferable for eBay buyers since many are looking for unique items.
Comic book collectible toys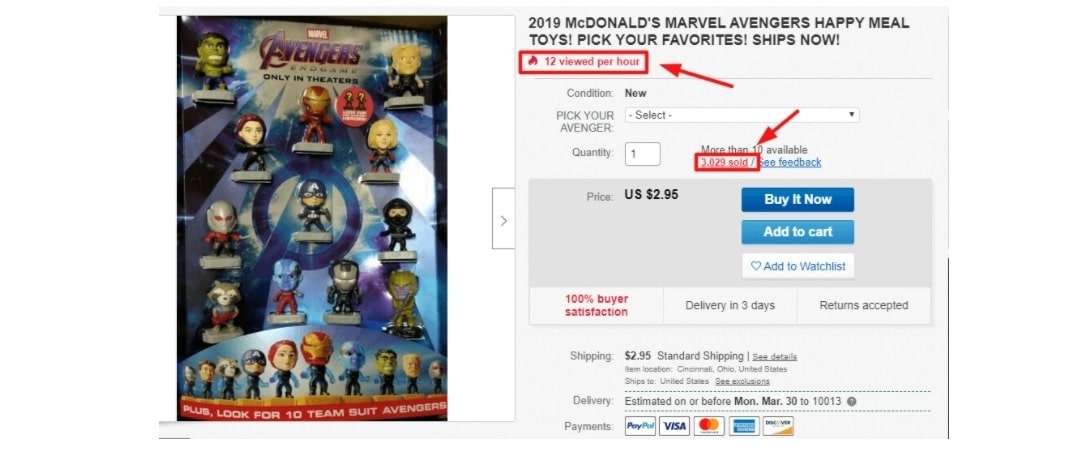 The online industry of collectibles toys has constantly been growing at a fantastic speed, generating a revenue of $2.4 billion worldwide. These collectible toys are one of the top-selling items on eBay. The popular collectibles include Model Train, Star Wars, and Hot Wheel. On the top of the list these days, Marvel collectible toys are selling like hotcakes. The Marvel Avengers Happy Meal collection above sold over 3,000 units!
Kids Chairs/Desks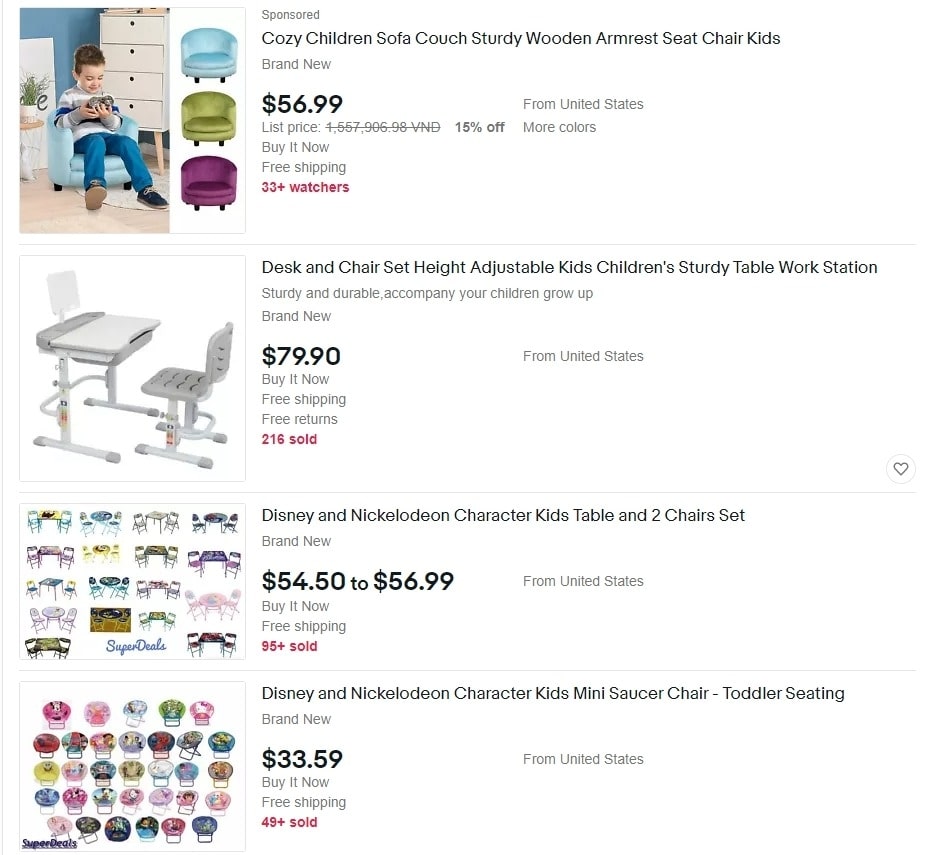 When an adult goes to work, even at home or not. In schools, offices, and homes, kids' chairs/desks are a must, which is why this category is among the top-selling items. You can make a decent amount of profit by offering unique chairs and desks for kids. Think of safe materials with many colors and popular characters to make your products noticed.
Violins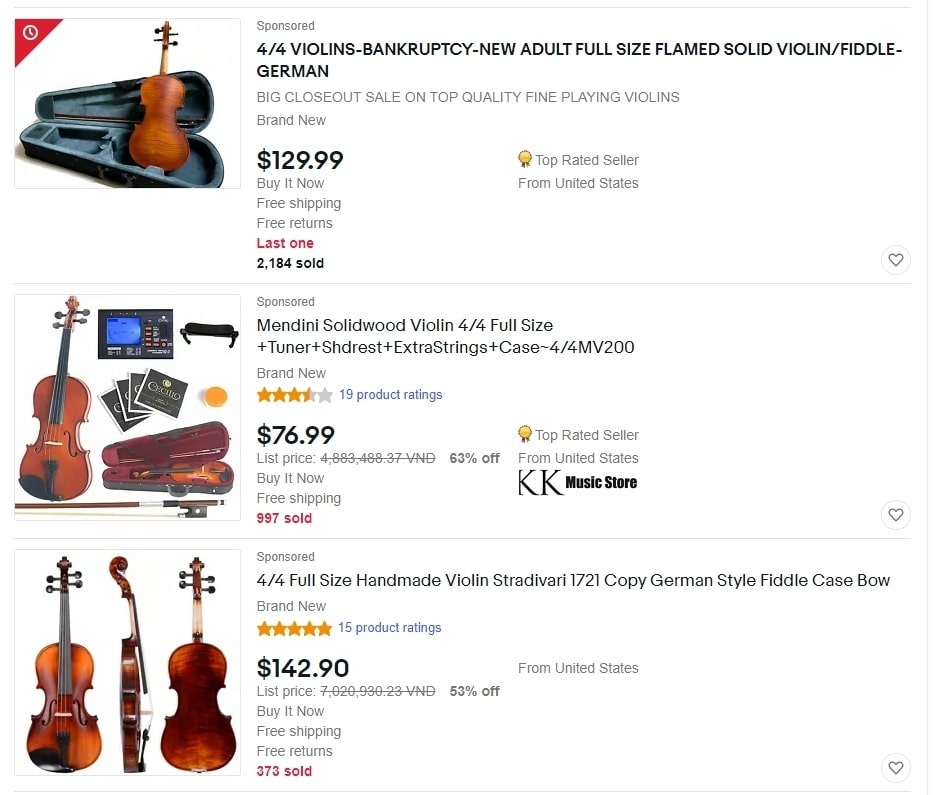 Do you have an interest in musical instruments? Awesome! Then consider selling violins on eBay. They have become an essential instrument for children and teens to learn, especially when many are at home. As many more young minds are getting more interested in violins, selling this item on eBay will generate massive revenue. See all the listings above? One violin product sold over 2,000 units! Don't pass on violins!
How to find the high profit products to sell on eBay
Alright, now you've seen some top-selling products. But, if you still want to find your own niche products, here is a simple and fool-proof strategy to find the most profitable products for your eBay store:
Select Your Category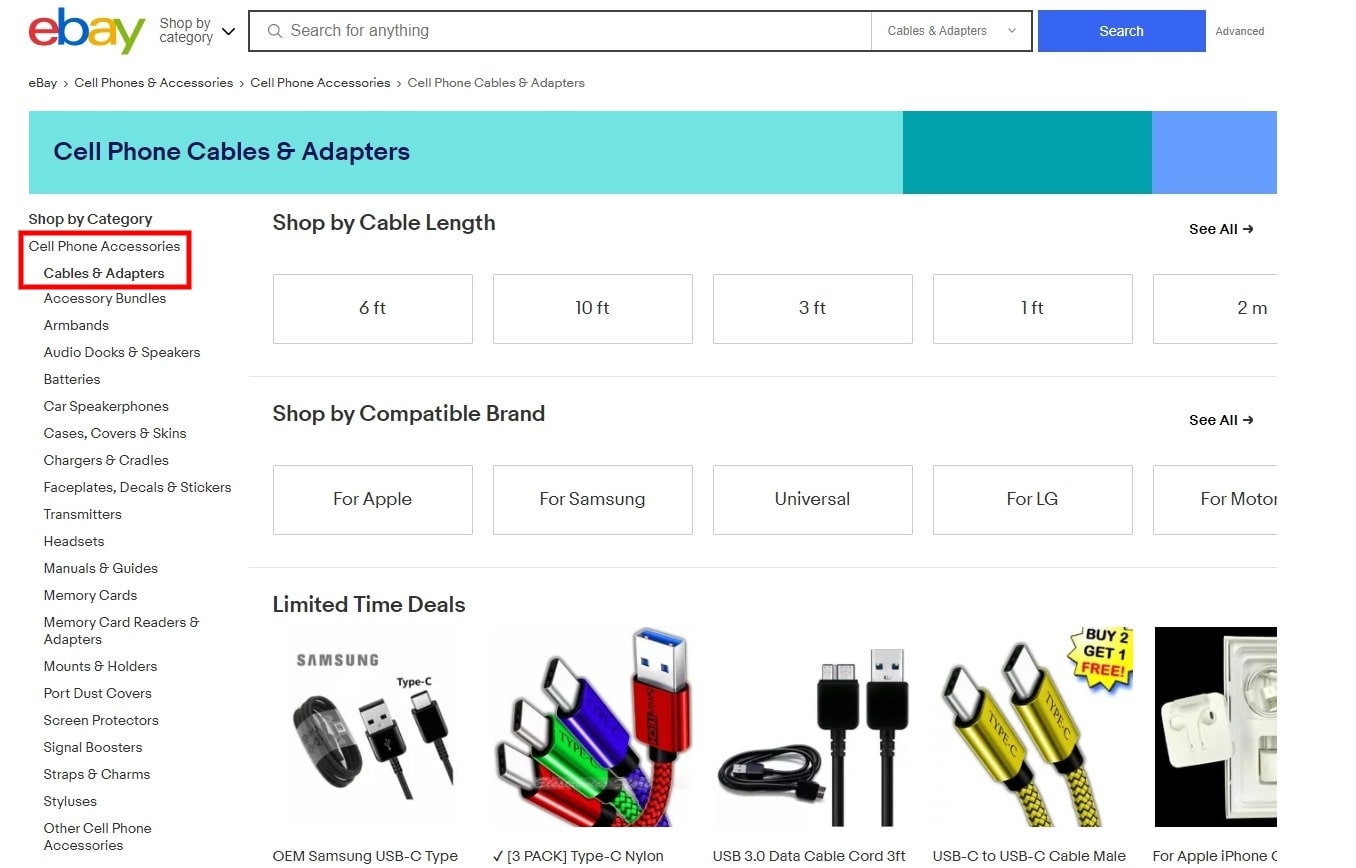 Head to eBay and try the "Shop by category" section in the upper left corner. Then, at the bottom of the drop-down box, click on "See all categories." You want to try selecting a category that you have some familiarity with. For example, I like reading news about smartphones, so I chose "Cellphones and accessories." These categories can have many levels of subcategories, so I took a step further and chose "Cables & Adaptors."
Having knowledge of a product category will help you make more informed decisions when buying and selling products on eBay. You will also know the right questions to ask the suppliers and how to check the product's quality when receiving them.
Filter the results
On the left-hand side of the search result page, you can see numerous options for filtering. First, under "Condition," choose "New", so you know you are looking at new products, rather than used ones. Next, under "Format", hit on "Buy It Now." This should remove items being sold via the auction format. Auction items are often one-time buys, like antiques found at garage sales or in someone else' attics. Unless you are a professional antique trader, a more sustainable way of selling would be with your own produced items.
Under "Delivery Options", click on "Free Shipping." Sellers on eBay all know that offering free shipping will increase their selling power. You may lose a little bit of money by free delivery, but you can sell three or four times as much product, which will easily make up for the shipping costs.
Pick your preferred products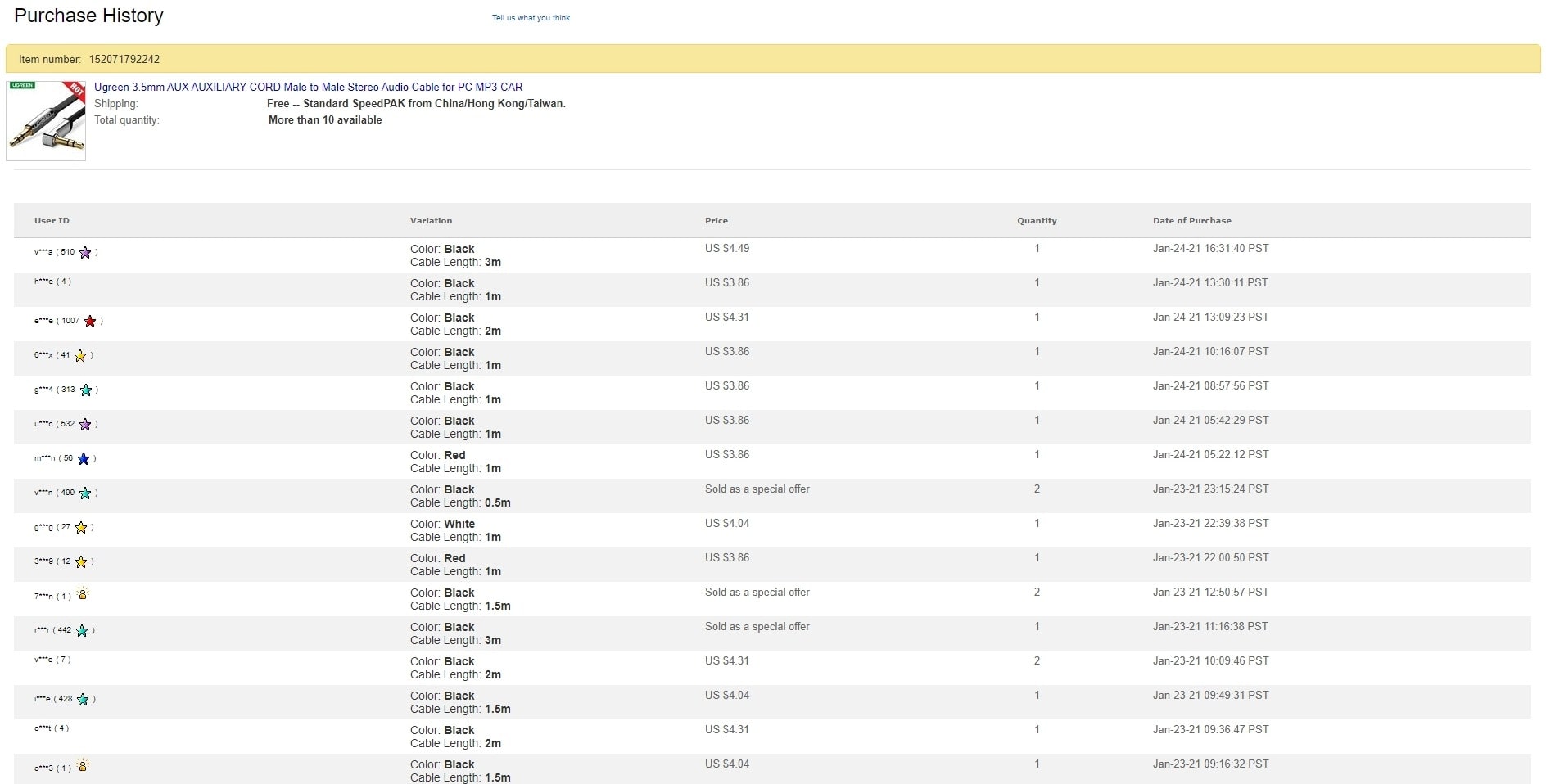 Once you've filtered out some products and are ready to select, there are a few things that you should watch out for:
Sale opportunities: You want to select products that are selling well. Try to pick listings that have sold at least more than ten items within the last 30 days. With other listings, you can click on the red "sold" button to view the purchase history, see how many products are sold, and what days.
Price: Stay away from products under $10. You are going to lose some of your revenue through fees - 10% from eBay and 5% from PayPal. Products from $15 to $75 can have you covered for the fees and still earn a profit.
Weight: The heavier the product is, the higher the shipping cost will be for your eBay store. The same for easy to break products, extra-caution in shipping and even returns can eat away at your margin.
Set up your list of top selling items
Try to pick multiple products to differentiate your eBay store. Find a handful of products in one category, then move on to another category you are familiar with and pick a few more products. Once you have a decent list of strong products with a high profitability chance, you can go with the best of the best to order from your suppliers and start selling on eBay.
Finding hot-selling and high-profit items will go a long way toward scaling your business. The best products you only have to find and order once will produce guaranteed sales time and time again. Less time spent finding new products means more time to grow your business and nurture your revenue streams in other ways.
Final advice
Knowing the top-selling items on eBay can be very helpful as you better understand what to sell. eBay is already there as a leading eCommerce platform to earn a decent profit and scale a potential online business. I hope my article helped you get some ideas on what to sell on eBay and start a successful year.
Comment below your ideas of top-selling items on eBay. I always look forward to seeing unique products' diversity. Thanks for reading, and best of luck on starting your eBay store!
New Posts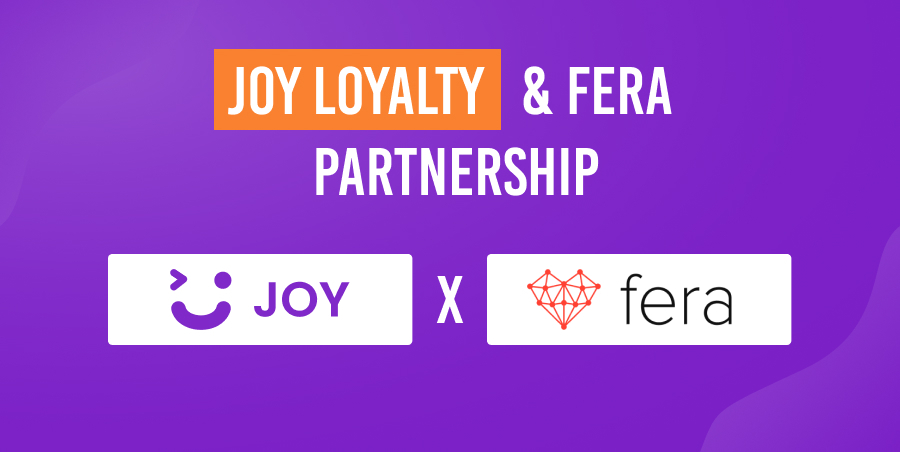 Subscribe
Stay in the know
Get special offers on the latest news from AVADA.
40k
subscribers has been joined!
Earn $10 in reward now!