What is a Good Conversion Rate for Shopify? How to improve it?
If you are a shop owner on the Shopify platform and are engaged in digital marketing, you will hear a lot about conversion rates. So what is a Good Conversion Rate for Shopify? How to improve it? will definitely be a big concern for you.
The goal of any SEO is always to increase the position on the search rankings along with improving conversion rates. Because increasing the number of conversions is the profound reason for the advent of SEO. The increase in rankings on the search results rankings is also purely to increase the number of conversions of the website. Read more on 10+ Best SEO Tips for your Shopify Store
Exclusive Offer: Get Shopify 93 days for just $3 + The Online Store Starter Kit
Start a 3-day free trial, then get Shopify 3 months for $1/month plus the premium package designed especially for new Shopify merchants!
Start Free Trial
In addition, these conversions are also evaluated as an important traffic quality indicator. Tracking and analyzing conversion rates can help SEOs evaluate the effectiveness of the SEO campaign and which keywords are generating high conversion value. An effective SEO campaign must create high conversion rates, especially the target conversion rate that SEOs aim to.
Let continue to learn more about conversion rates and the way to improve it effectively on Shopify.
Related Posts:
What exactly is conversion rate?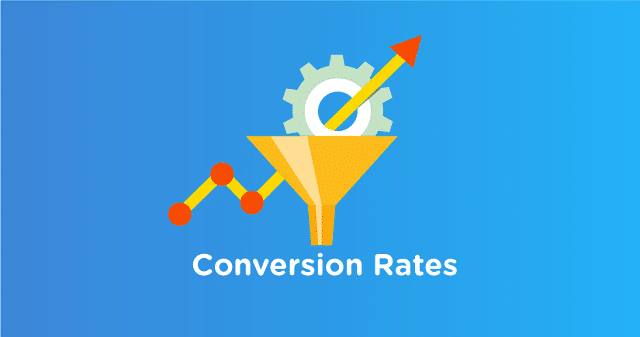 Define:
Conversion Rate, also known as conversion rate, is a formula used to compare the total number of visitors to a website with the number of whom become paying customers, subscribers or users. This ratio is converted into a percentage and is used to measure the level of customer persuasion of the website or the effectiveness of an advertising campaign.
A simple example is that you have 100 people visiting your landing page and only 5 of them make a purchase. Conversion Rate here is 5%.
Another example is that your Facebook ad campaign reaches 1,000 people of whom only 100 click on the link. Conversion Rate is 10%.
Importance of conversion rate:
This ratio is extremely useful for SEOs, especially for investors who use website traffic data to identify different marketing methods that should be used to increase sales. This conversion rate can be assessed through contact requests, calls, purchases, quotes, appointment arrangements.
Below are the roles of conversion rate:
Support for business planning:
If you know the conversion rate, planning revenue or profit becomes much more basic.
Direct impact on revenue and profit:
When you have the conversion rate data, you can evaluate the correlation with the business sector. If it is too low, it may improve. Conversely, if it is a high or fairly high number, the revenue gained can be increased by several times.
How to calculate the conversion rate?
The formula for calculating conversion rates with target conditions and traffic is calculated on the same unit of time as follows:
From the above formula, we see a great difficulty for website administrators, especially those who set multiple goals (goals) for the same conversion page, in calculating the conversion rate for that page.
For example, if you set a goal conversion for your page is the number of people who click on that page on Google Adwords, then every one visitor to the page, you have a conversion. Your conversion rate at this time is 100%.
However, if on that page you set another conversion goal, that person must buy from you, that is, there are 2 conversion goals, then if there is a visitor to the website and becomes a customer of a friend, that is, 2 conversions have been generated. At that time, the conversion rate was 200%. This will be very difficult for website administrators to assess the details of conversion types.
Therefore, the calculation of the conversion rate depends on what you define the conversion event. Besides, your traffic measurement plan is also a factor to consider when calculating conversion rates. These two things will help you calculate the conversion rate most accurately.
What's a good conversion rate for Shopify?
We must have learned about conversion rate, its role, and its importance. However, what is a good conversion rate? How can we rate it? Still, the questions need answers. So next, I'd like to make this clear.
You might be wondering if the high conversion rate is really good? And if it's low then not? Most believe that a high conversion rate is something to look forward to. However, high or low should be placed in relation to ROI (return on investment).
Suppose to increase the conversion rate, we decide to implement a discount promotion. Maybe this program will help a higher conversion rate (if reaching the same number of customers as to when not discounting), higher sales, but Profit and ROI can be lower than before. So why would you want a higher CR?
In short, making a higher CR is desirable, but it must be placed concerning the ROI - the result of any business organization.
Perhaps that is why we call it Improve, not Increase conversion rate, because it may increase without optimization.
1.75% is a good benchmark conversion number for Shopify stores. Many large stores have pushed this number higher and you will be in the top fourth group if this number exceeds 2.8%. The highest conversion rate record in Shopify is 8%.
However, it depends on many factors to decide whether or not it has to have a good ratio or if it still needs improvement. In particular, remember that expensive goods will have lower conversion rates. Besides, if you can target traffic, conversion rates may be better. For example, if you sell a Channel shirt, searches like "Where can I buy clothes from the Channel brand" will convert better (10% +). While "designer clothes" will have a moderate conversion and maybe "where I can wash clothes" won't convert at all.
Usually, for experienced shop owners, when conversion rate exceeds 2%, they will try to bring more people to their website to reduce the rate. If the conversion rate is less than 1%, they will improve the quality of the site, traffic and products to bring the conversion rate up. This will help them ensure sales performance and profitability.
How to improve the conversion rate for your Shopify store
Although the above-mentioned solutions, but from the perspective of methodology and direction rather than specific suggestions.
Here will summarize some of the ways that we think are reasonable, of course, applications in optimization related to the website (sales page, landing page, and e-commerce website).
The conversion optimization process does not have to be said to be done by working, there must be a standard "frame" to compare before and after. The "frame" includes:
Determining goals for the page you need to optimize (what you want).

There is a clear value statement for the target customer.

Identify the sales/marketing funnel related to the website.

Identify the reasons that customers hesitate, hesitate.

Know how to perform a/b testing.

Several ways you can test combinations or sequences to improve conversions.
Optimize conversion rate for E-commerce products:
One of the best ways to improve your conversion rate is to modify your offer. In other words, if your products are irresistible and other factors related to it are convenient, more people will be willing to buy it.
Here are some suggestion that you can do to optimize the conversion rate for E-commerce products
Detailed product information, clear, intuitive, attractive images.

Clearly, honestly about the goods, price, availability.

Simple steps to purchase, reduce the number of steps required, do not fill in a lot of information.

Buy button (or Call To Action) is big, clear and prominent.

Support many payment options.

Display similar products below or next to the same purpose or price range for customers to have more options.

Point out the advantages of the service: seniority, good customer service, preferential prices, exclusive distribution, free delivery.

The survey, vote right on the website to understand customers' motivations and obstacles.
Optimize conversion rate for sales page/landing page:
Once you have ensured that the products you offer to your customers are right, it's time for you to optimize your conversion rate for sales page and landing page. Here are some tips to optimize your site and increase your conversion rate:
Accessing the website is easy, not too long to be frustrating.

The language on the web is simple and clear, without mouthy

The content structure according to AIDA to convince customers, if making a sales page, you can see 13 steps to create a top-notch sales page.

Create trust: insert links for readers to easily verify information, point to reputable websites, professional web design, update content regularly.

Credential information, reliable testimonials.

Eliminate the element that distracts attention.

Compare skillfully with competitors.
Final words
To sum up, we have clarified together what is a Good Conversion Rate For Shopify and How to improve it. We hope that the article will achieve the goal of a full definition of this concept, as well as bring a proper view of the conversion rate. I hope your store has a good conversion rate and is effective for increasing profits. In particular, visit our article How To Get More Sales On Shopify or How To Make Money With Shopify to maximize profits on Shopify.
---
Mike is a content writer at Avada, with a love for video games, gadgets, and software. He has been writing about the industry now for over 7 years. He likes to keep up-to-date with the latest software releases. He's also an avid reader, and he enjoys spending time outdoors with family and friends. When he's not working, you can usually find him playing video games or exploring new outdoor activities.
New Posts
Stay in the know
Get special offers on the latest news from AVADA.