Revel POS Review 2021: Advanced POS System For Merchants Of All Size
As we all know, catering and retail industries are so competitive. For example, consumers ask for quick service, fast ordering, and equally fast delivery. As a result, a restaurant, bar, or store must complete orders, deliver on time, have their customer's choices in stock if they want to keep their customers happy. Imagine when something on your menu is out of stock, then customers would be so annoyed. What is more, the customer's loyalty programs and discounts are also necessary for stores to keep those same consumers even happier.
It seems like there is so much work for you to handle, and you can not do it on your own. That's why Revel Systems POS is created to provide you so many advanced features sets on the market with a full reporting suite, advanced inventory management, a built-in credit card processor, or almost any integration you can think about. It seems like the key solution for you, right?
But I will lead you through this thorough Revel POS Review 2021: Advanced POS System For Merchants Of All Size writing about Revel including who they are, what they do, and how much you will have to pay for it.
Let's scroll down to get started!
Revel POS: Who are they?
Revel Systems POS is known as a cloud-based iOS point-of-sale platform. It is designed as the Integrate Revel Systems to sell on more channels and manage your business more efficiently. Revel POS website describes itself as: "An intuitive point of sale for your staff. Powerful technology for your business".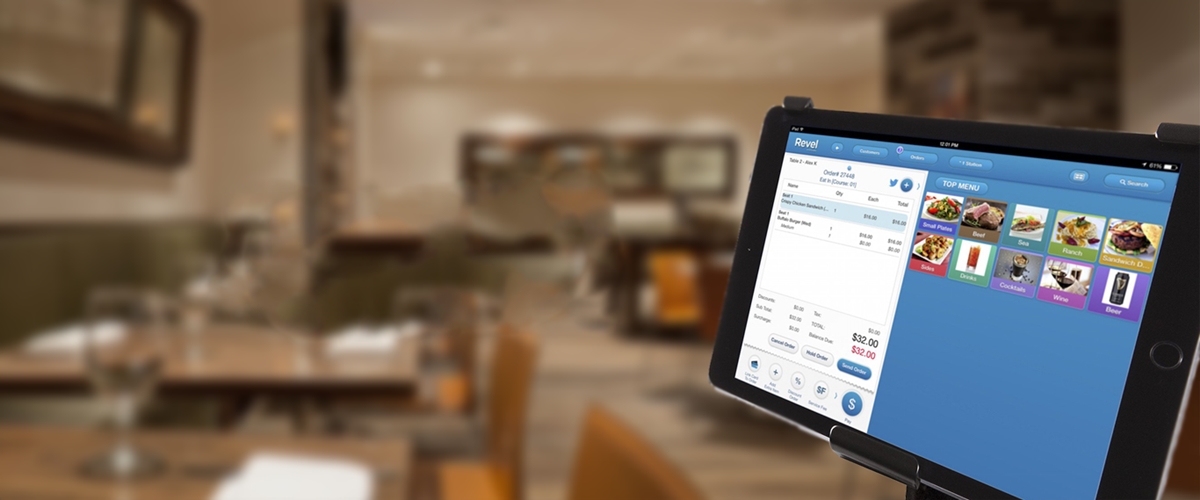 Also, Revel states that it can bring value to your business, from generating more revenue, to improving efficiencies, and even delighting your customers. With the software, you will be able to manage your inventory, customers, as well as social media by utilizing data analytics and insights to fuel your business decisions. Revel will also track your order history, customer lists, payment summaries, hourly sales figures, sales summaries, and product levels. Then, it will publish all of the data is in easy-to-read graphs and reports for you.
How to integrate Revel POS with Shopify?
It is a great idea to integrate Revel Systems and Shopify so that you can manage sales, inventory and customer data in a single location and more efficiently. But how to do that?
The simplest way is to utilize Revel Systems by Kosmos eSync app. The app is designed to automatically list products from Revel Systems in Shopify, then it will automatically sync inventory levels, also transfer sales and customer data between Revel Systems as well as Shopify. It also supports you in managing product lists, prices, inventory, sales and customer data from your online stores in Revel Systems so that you can keep track of sales and inventory across all channels.

So first, install the Revel Systems by Kosmos eSync as usual, then try on watching this detailed tutorial for connecting your Shopify store to your Revel POS. All the problems are solved!
Revel POS features review
In terms of features, Revel can offer so many features that help you with:
Fully Functional POS: Revel POS is created to be fully functional in a hotkey fashion. It allows the cashiers to tap on menu categories with drop-downs of items and modifiers to choose from. What is more, if you want to, barcode numbers can be entered into the system for scanning items. There are also a lot of tax rates, discounts, service fees, and surcharges, which can be set to add automatically or manually at the time of sale.

Revel has its "edit item" screen for cashiers to place orders to-go, for delivery, repeat items, remove items, enter discounts, enter special requests, and insert quantities as well. Also, POS enables users to void payments, allow tips, split bills, email receipts, print or reprint guest receipts, as well as enter rewards card numbers. Items that are already sent can not be edited or deleted, but they can be repeated, discounted, increased in quantity, or voided off the bill.

Real-Time Inventory: It would be so easy for you to add and manage inventory with Revel, which only asks you to add items and price. There is the style matrix available for mass entry of inventory items, which are similar but also different in color, size, or style. In addition to that, you are able to import inventory using a template, like the one listed on its support page, for example. Revel can also track inventory per ingredient and food cost reports on the ingredient level for you. For some low stock items, they are also listed in red on your inventory page with the nifty reorder buttons. Revel can even handle retail fuel sales with wet stock management.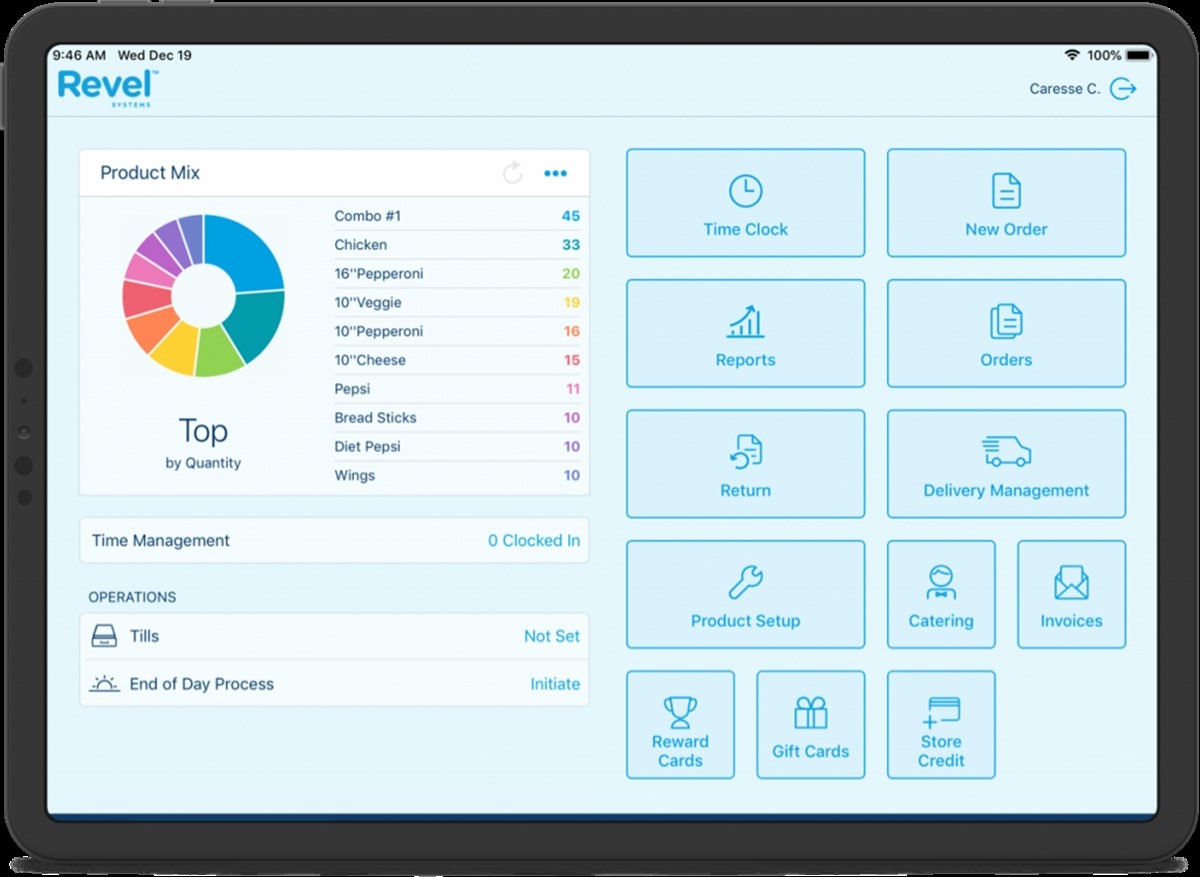 Purchase Order Management: Not only Revel helps you create POS and associate inventory with vendors, but it also helps you manage things when stock items arrive as well as being added to your inventory. When vendors only send you a portion of your stock, it also enables you to notate partial orders and finalize orders once the order is complete.
Till Management: With the Till Management features, it has the manager selection of settings tab for you to manage the cash including batch processing, over/under tills, and printable quick-view reports, and many other total cash/credit/check/gift certificates for the night, items sold, and time management for example.
Customer Management: Revel helps you track customer purchases, also your necessary customer information, like name, address, phone number, and email too. You can export the information and utilize it to create mass marketing campaigns or cross-sell other items. The table reservations can also be customized when you insert the customer preferences and send the text notifications when the customer's table is ready.
Employee Management: In this feature, each employee can have their own unique and secure PIN-activated login or swipe card to track time, employee performance, as well as the employee activity in the system. After that, you will have the employee reports created based on the number of voids, discounts, sales volume, and productivity. For each employee's responsibilities, they will be customizable with different access parameters, and the system will handle scheduling employee time.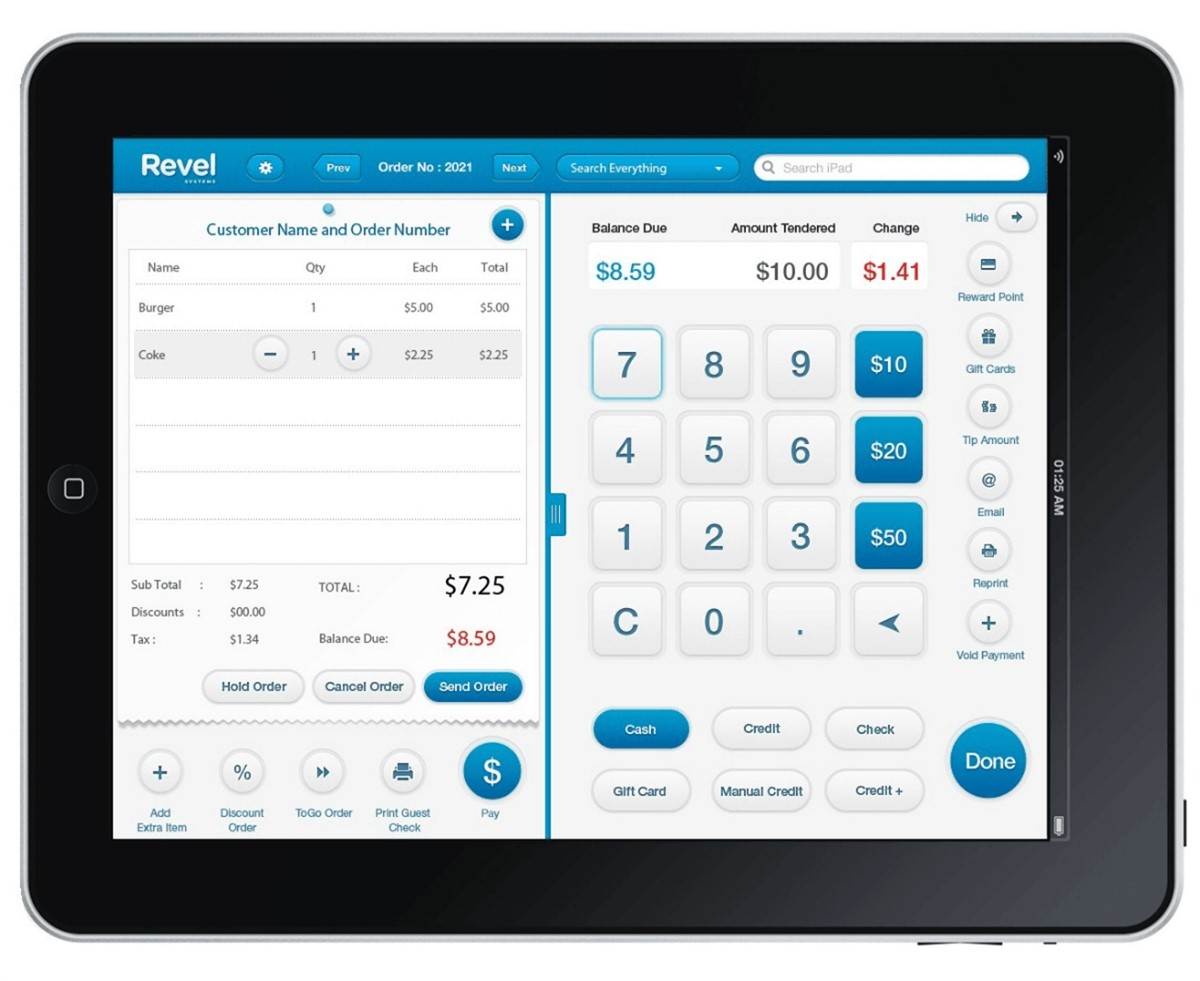 Flexible Ordering: The Revel systems are created in creative methods so that they can help your ordering easier. To go more in details, it has the tableside ordering, mobile with online ordering, and customer-facing displays available for you to use. Also, Revel has the ability to play a video on the customer-facing display every time it is idle as well.
Safe & Secure Servers: Revel's hardware, software, and network are all PCI-DSS compliant. As a result, these tools will help you protect the sensitive credit card information by encrypting it and never store it. At the same time, the Revel's data centers are PCI compliant and SAS 70 Type II certified so that you don't have to worry about the data as it is all encrypted and backed up regularly, with single location businesses operate on their database.
Product Management & Menu Building: Revel enables you to customize your menus with a large number of categories and sub-categories available to choose from. It is so easy to navigate the modifiers here when you can automatically push changes into the system instead without having to add them in a manual way.
Delivery Management: It is so convenient when you track your deliveries and orders in real-time all from your POS. You will have the system store customer information and order history for you. Then, it will automatically optimize delivery routes as well. This delivery management function would be particularly helpful for pizza delivery services because you can track the driver via Google Maps as Revel has already integrated it.
Others: There are still so many other amazing features on Revel POS that you still can read out more and utilize on its website, for example, Intelligent Reporting Suite, Kitchen Display System, or Loyalty & Gift Cards and many more. If all features above are exactly what you want to have, then you can start the very first step with Revel now.
Revel POS CRM functions review
CRM, which is also known as Customer Relationship Management, is a tool to allow businesses to keep track of their customers and their customer preferences. With this method, you will be able to enhance your profit margins, at the same time, build your customer relationships. In order to create a better experience for customers, CRM has the technology available so that you can organize and synchronize customer information with sales, marketing, customer service, and technical support as well.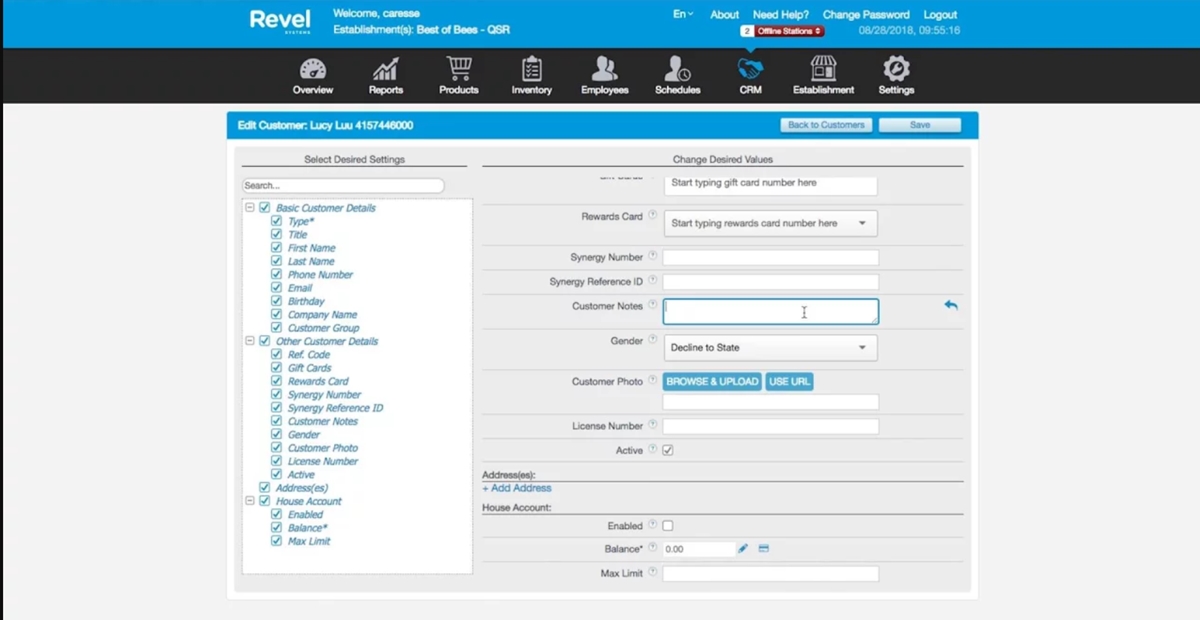 When CRM is in Revel's Point-of-Sale, it enables business owners to make the most of their customer data by providing some Revel's CRM Capabilitiesin keeping track of:
Customer name.
Customer address, together with different billing and shipping addresses.
Customer email.
Information from the gift card and loyalty program, including points accrual.
Call names, which are personalized call names (for pickup orders).
Comprehensive order history.
Notes section for adding customer details like allergies or aversions.
All the CRM information will be displayed on the Revel's backend management suite for businesses to export data to a reporting platform of their choice, which also has popular CRM solutions for you, like Salesforce, Magento, and Sugar CRM.
Revel POS pricing review
There are three pricing structures available on Revel POS:
1. Software
For each terminal, Revel costs you as low as $99 per month, which is billed annually. However, you can also get a 3-year contract option if you want to pay less. For this plan, you'll get:
Employee management tools
An intuitive POS
Inventory management tools
Reporting and analytics
With these functions, it will help you grow your customer database so much easier. You will be able to input new customers inside of the Management Console or directly to your POS when customers buy from you. Also, you can update these customer profiles on the fly like having details about birthdays, loyalty programs, or whatever else you want to keep track of included.
What is more, customer profiles can be set up if you want to. After that, Revel will track their purchases and consumer behavior to offer you more precise insight into the buying habits of your consumers. What is a great help in customizing specific discounts and other marketing materials to better engage with your loyal shoppers, right?
2. Processing
This "Processing" plan is more about paying a flat fee when you process your payments. You will get supported in:
Processing all card types
Apple Pay readiness
EMV-friendliness
Access to Revel's in-house support team
Online reporting and statements
For more information on the price or anything of this plan, I suggest you contact them directly.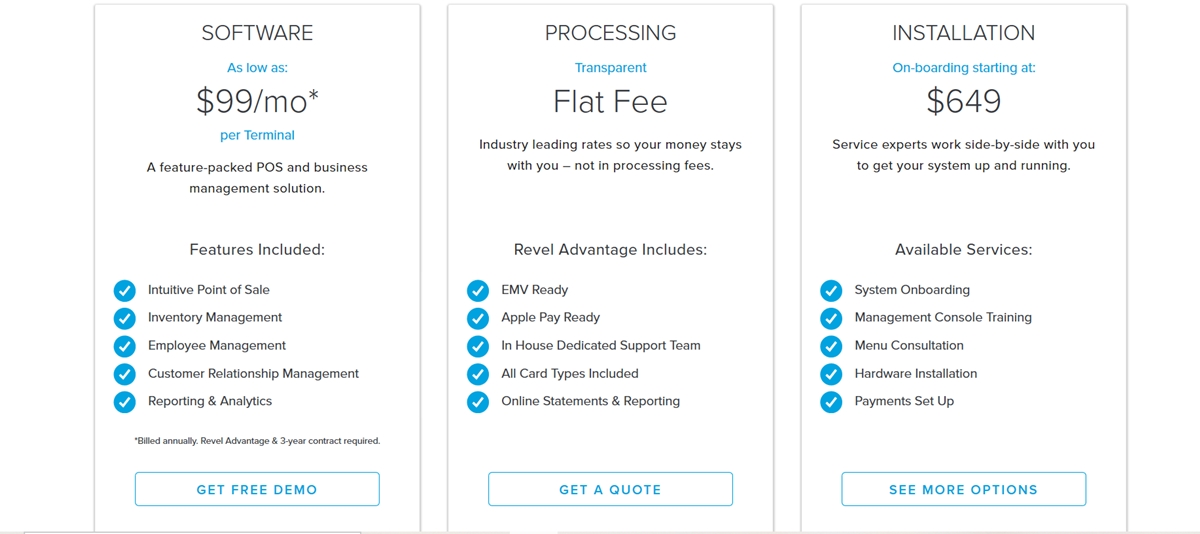 3. Installation
This "Installation" plan will cost you 649 dollars, with the selling point of a Revel expert to work with you side-by-side to get the entire system up and running. This includes:
Help with hardware installation
Management Console training
A menu consultation
Help with setting up your payments
System onboarding
All three plans include the following:
24/7 support via live web chat or over the phone.
'Always On' mode
Automatic product updates (for free)
Personalized onboarding
A secure cloud backup
Revel POS customers support review
Revel utilizes so many methods to bring customers its 24/7 support. You can get the phone access to call up and ask your questions and queries, including issues to do with sales and billing. Also, you are able to email their customer care team directly or submit a request for help through a ticketing system.
There is also remote when one of the Revel tech team members accesses your device remotely for troubleshooting in case you have a technical problem to help. It also exists in the blog form with a wide range of articles. For example, it could be "Maximizing Your Point of Sale During the Holiday Season", "Understanding the Digital Customer Journey" and many more. You can go to the Resource Center for more information that is current and relevant to both users and potential customers.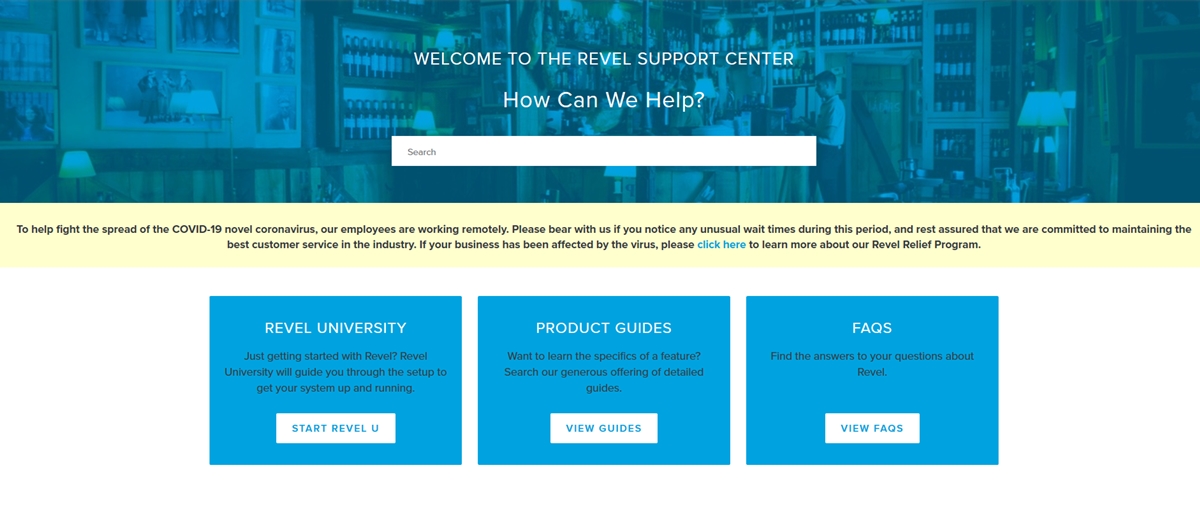 Plus, there are also live chat and an FAQ section available for you to type in your question to find a hopeful solution. Their FAQ's are helpfully divided into the following areas:
Products FAQ
Account FAQ
iPad POS FAQ
Add-ons FAQ
Hardware FAQ
Reports FAQ
Payments FAQ
Last but not least, Revel also owns a social media presence, which includes LinkedIn, Facebook, Twitter, and Instagram for users to follow and to stay informed of all their latest company updates.
Revel POS ease of use
Compatible hardware
Revel works with Apple devices only including iPad Air, Air 2, Mini 3, and 4, and iPad Pro. You are able to purchase all the hardware you want through Revel or use your own existing equipment, it can be a package on its site that comes with an iPad, payment device, POS stand, router, printer, and a cash drawer, or you can purchase items individually. It has a large collection of niche items as well, which are caller ID boxes and scales. Before doing so, you should make a double-check with Revel's preconfigured hardware list so that you can make sure that you're investing in system-compatible peripherals.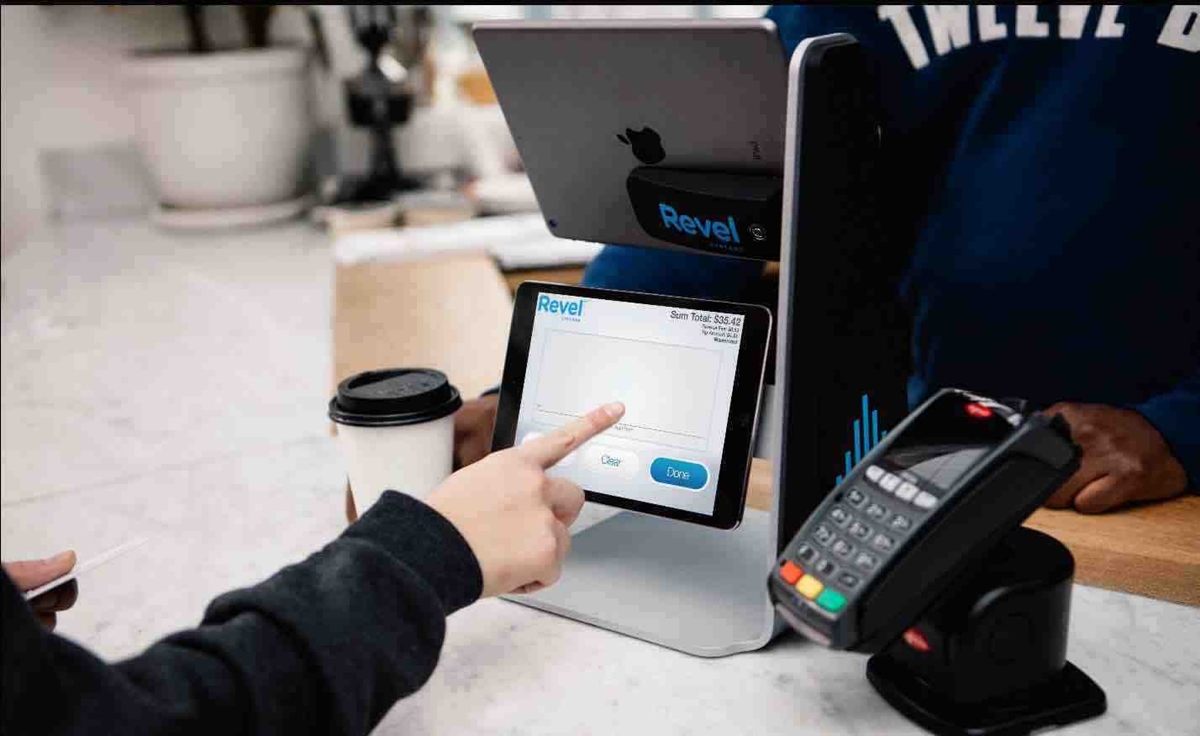 Integration
Revel owns an open API and lots of third-party integration partners. It categorizes integration partners into 13 categories, which are marketing, payment gateways, CRM services, eCommerce, accounting, and data aggregators. Based on the features, you can which is best for your business. Below are some of the more popular integrations they have to offer:
Payments: Zapier, Apple Pay, Bitcoin, PayPal, Braintree
Accounting: QuickBooks, Xero
Add-Ons: customer-facing display, digital menu board, and kitchen display system
Employee management: Homebase, DTT, Deputy,
eCommerce/mobile ordering: Shopify, Chowly, Zuppler, Open DIning
Compatible credit card processors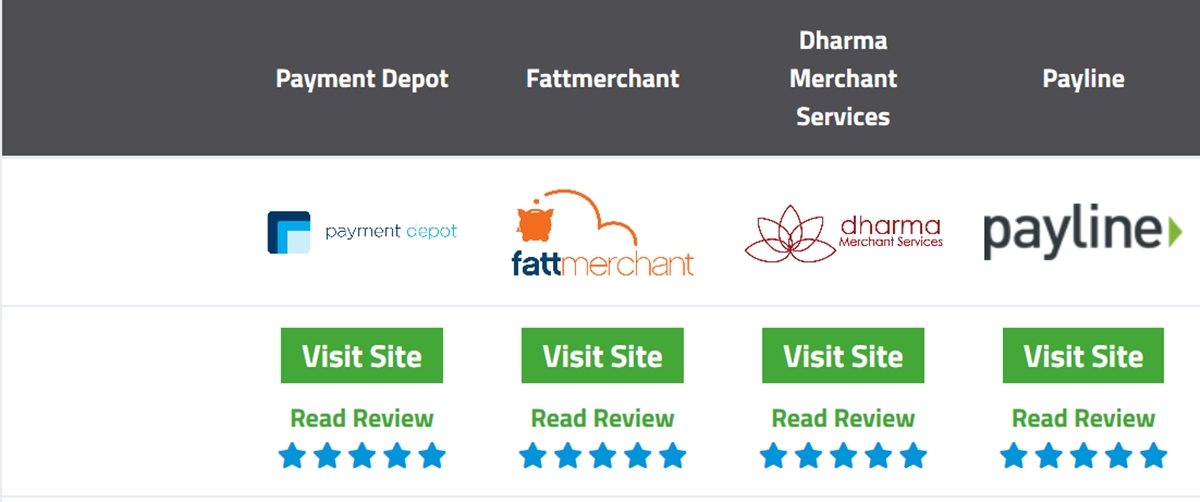 Revel has introduced its own processing system. It integrates directly with the software and provides a rate of 2.49 percent with $0.15 for transactions. In case you want a specific existing processor, or can find a better rate, Revel still enables you to integrate with so many other companies. The company website lists third-party integrations for gateway payment processors and payment processors in the marketplace section. The list of compatible payment processors are Moneris, Adyen, and Tyro. For gateways, Revel supports USAePayand FreedomPay as well.
Final review of Revel POS
Pros and Cons
Revel might seem expensive from the very first glance if you compared it to some of its competitors. This might be different for some people, so it is necessary for us to weigh up its key pros and cons to decide a final review.
Pros:

Given access to a kiosk
Provided with easy to follow guides available
Great customer support
Bring robust integrations
Helpful analytics and reporting tools
Several languages available for use, which are English, French, German, Italian, Polish, Spanish, and Thai
Access to 'Always On' mode
Enable real-time inventory management

Cons:

Harder to set up than plug and play solutions
High price
No free option available
No free trial for users to try on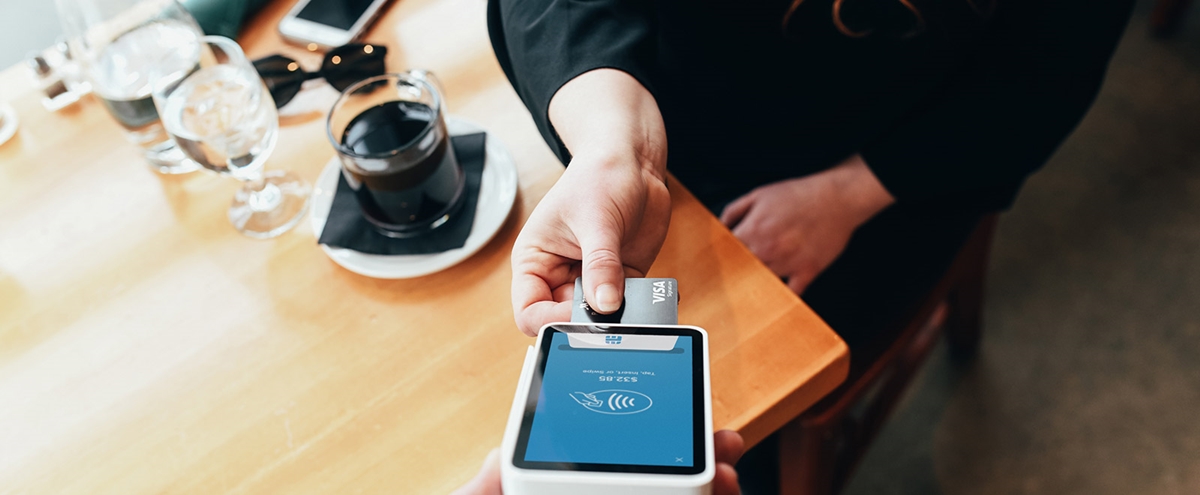 Who is Revel POS for?
Look at the first example that I have mentioned, Revel is designed to aim at restaurants, bars, pizza places, and retail software development establishments alike. You might know some of its famous clients such as Cake Supplies, Cinnabon, CurryUp Now, Fired Pie, Smoothie King, Ginger Elizabeth, and Proposition Chicken.
Its offer is split into four areas:
Quick Service as it aims to provide a top-notch customer experience for catering businesses where fast service is important, like coffee shops, fast food joints, frozen yogurt bars, bakeries, and delis for example.
Restaurant & Bar, especially those busy ones with a high volume of stock and customer turnover.
Retail, such as some related retail outlets such as wineries, bakeries, and other businesses that sell their products at events and breweries. Revel will be so helpful in alleviating its stress and streamlines business operations.
Pizza, this is a match because Revel has an entire POS system and fast track nature of such establishments, and the ability for you to manage your inventory and avoid running out of any ingredients as well as keep track of your customers.
Conclusion
On the whole, Revel is not the cheapest outfit on offer, but it has a wide range of third party integrations, which are all worth the money. Nevertheless, it may still are somehow expensive for smaller businesses that are still working to boost their profits. But it is clear that Ravel is advanced software that offers an impressive suite of tools for taking care and retail establishments of all different sizes.
So now, I hope that you have all the details you need to decide whether or not Revel is the right POS solution for your business after reading this Revel POS Review 2021 review. If there are any parts that you still can not understand, please let us know, we will explain all the way for you.
You Might Also Like:
---
Mike is a content writer at Avada, with a love for video games, gadgets, and software. He has been writing about the industry now for over 7 years. He likes to keep up-to-date with the latest software releases. He's also an avid reader, and he enjoys spending time outdoors with family and friends. When he's not working, you can usually find him playing video games or exploring new outdoor activities.
New Posts
Stay in the know
Get special offers on the latest news from AVADA.