Klaviyo vs. Mailchimp - An overall comparison
It is a fact that email marketing often dominates social networks when it comes to open rates and clicks. According to Monetate, the email marketing system delivers the highest conversions than any digital channel, like Facebook or Twitter. Today, many profitable online retailers use eCommerce email marketing platforms to extend the brand and fulfill their business objectives. Choosing a tool to allocate your time and resources can be difficult when so many email marketing solutions are available. And it can also be a difficult and frustrating task to choose one that suits your needs, as well as your budget.
Programs such as Klaviyo and Mailchimp offer all of the instruments you want for building email templates, constructing automatic workflows, establishing email funnels, and improving customer experience. Therefore, these resources allow smaller operations and solopreneurs to develop winning marketing strategies instead of recruiting the entire marketing team. This article will compare Klaviyo and Mailchimp in depth to figure out which of them will give you a better balloon for a buck raise.
Overview of Klaviyo and Mailchimp
About Klaviyo
Klaviyo is a user-friendly, unified, and cloud-based marketing framework, which helps e-commerce marketers target, customize and track their marketing campaigns accurately and easily, especially e-mail campaigns. It allows data segmentation from existing e-commerce systems like POS and other marketing tools without relying on conventional tools.
The efficient and easy-to-use marketing system provides segmentation, web monitoring, instant responses, user profiles 360 degrees, drag and drop templates, reporting, and one-click integrations. The marketing system includes a wide range of implementations. The efficient segmentation capabilities ensure that the correct message is transmitted at the right time to the right customers. This removes devaluation from the equation and lets companies target what their customer needs, based on real data, including recent sales and website monitoring.
About Mailchimp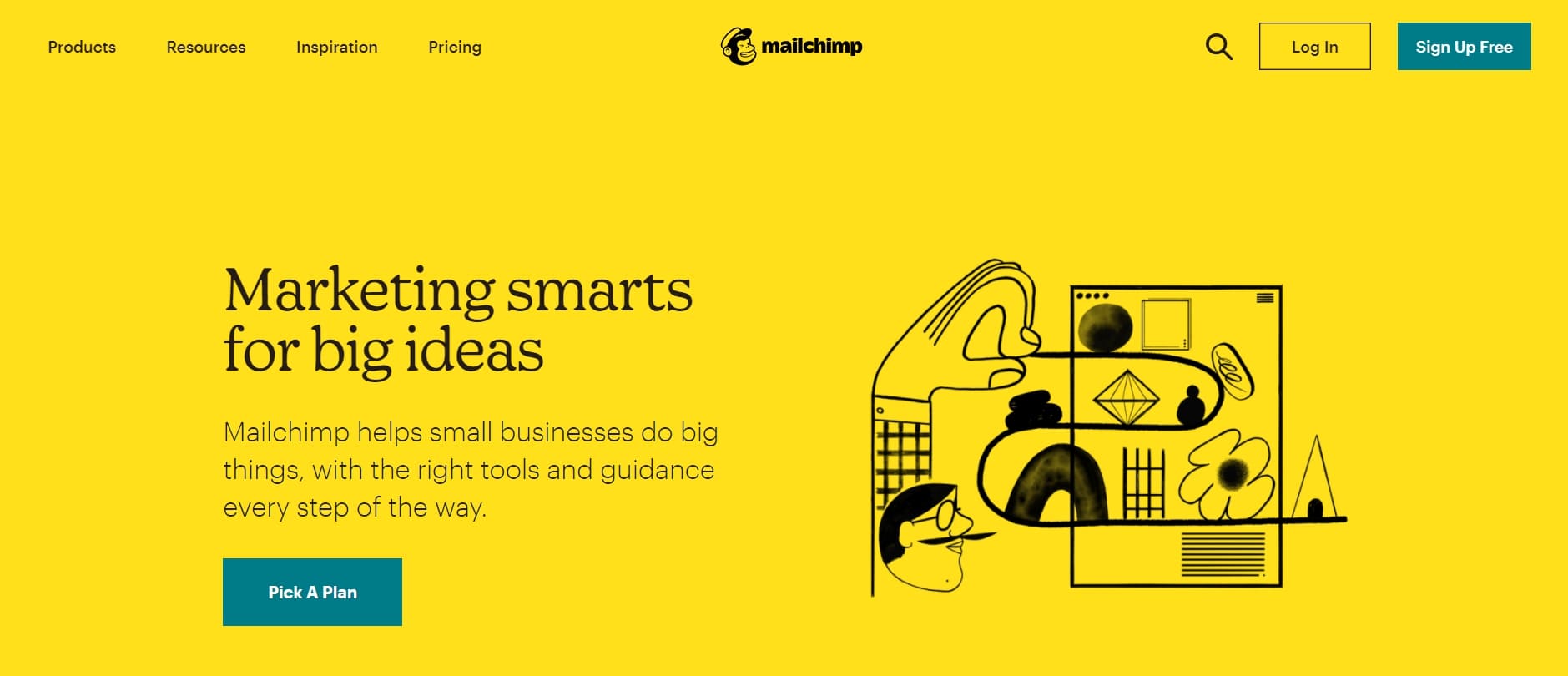 MailChimp is a popular email marketing provider that gives attractive plans for small companies and entrepreneurs and also provides large amounts of emails to big businesses and corporations. Popular for its low-cost business strategies, MailChimp now provides business-enhancing analysis and solid technological solutions, allowing consumers to use email conveniently to keep in contact with their clients and potential customers, quickly and reliably advertise their goods and services and convert leads into real sales. MailChimp is a powerhouse in the market of email marketing solutions, simple to use and relatively cheap.
With MailChimp, ad and email campaigns can be quickly created, carried out, and analyzed. The system helps you to monitor customers, create custom reports, display clicks and progress rates, track your emails and make promotions completely visible. You can choose or build your custom templates from a selection of pre-designed templates.
Some key differences to consider
While Klaviyo and Mailchimp are similar, the distinctions between the two are discrete. These differences will make one of these platforms more fitting than another for your company. The primary functionalities of Klaviyo and Mailchimp vary somewhat. In essence, you can build, design, and automate email funnels on both platforms. Through this article, you will get a better view of which of these platforms is the perfect fit for your marketing campaigns.
Segmentation
Email segmentation relates to the division of your email list into smaller categories. This makes it so much easier to approach individual clients with content customized to their needs. You will send emails that are different from those of your loyal customers. And you're much more likely to give someone new to your mailing list a welcoming email, and a discount to a hard-minded follower of your company. There is no point in sending the same email in the list.
Klaviyo
You can segment your contact list with Klaviyo to submit separate related emails based on the individual interests and behavior of your customers. These lists automatically refresh to keep you from spending time manually editing lists.
You are automatically promoted to draw up lists from the contacts you have imported when you sign up for Klaviyo. The following titles are available for your lists: engaged, unengaged, and new subscribers. To segment the list according to how the prospect is engaging with your brand, you can get details from your Shopify account, or whatever CRM you are using. Users can concentrate on specific events and achieve improved outcomes by using the website of a contact to send emails based on actions or merge and remove segments for a wider targeting range.
Your filtered segmentation list might somewhat look like this:
"People who only purchase at full price"
"People who buy a specific product"
"People who only purchase with coupons and discounts"
Mailchimp
With MailChimp, communication in the section is focused on gathered data, such as location or registration source. Compared to Klaviyo, there is rather a lack of Mailchimp segmentation methods. While you can split your audience into smaller lists, with the segmentation you can't get as precise as with Klaviyo. That is to say because there is no activity monitoring.
MailChimp's preconstructed segments are focused on campaign operation, buying history, and more and are available to help you meet similar contacts. Progressive segmenting lets you merge data and create more detailed segments by adding nesting conditions. It should also be noted that Mailchimp counts subscribers who appear as separate contacts on various lists. This means that your contact availability may end up being used much faster, and you may be required for an upgrade.
***Winner: Klaviyo
It is obvious that MailChimp's segmentation feature is not taken as deeply as Klaviyo. MailChimp cannot even supply the customers with tags. No deep dive, no special activity monitoring – and certainly no incorporation with the Facebook audience. While Klaviyo provides what you need to create concrete contacts with your audience, MailChimp does nothing practically to you in comparison.
Automation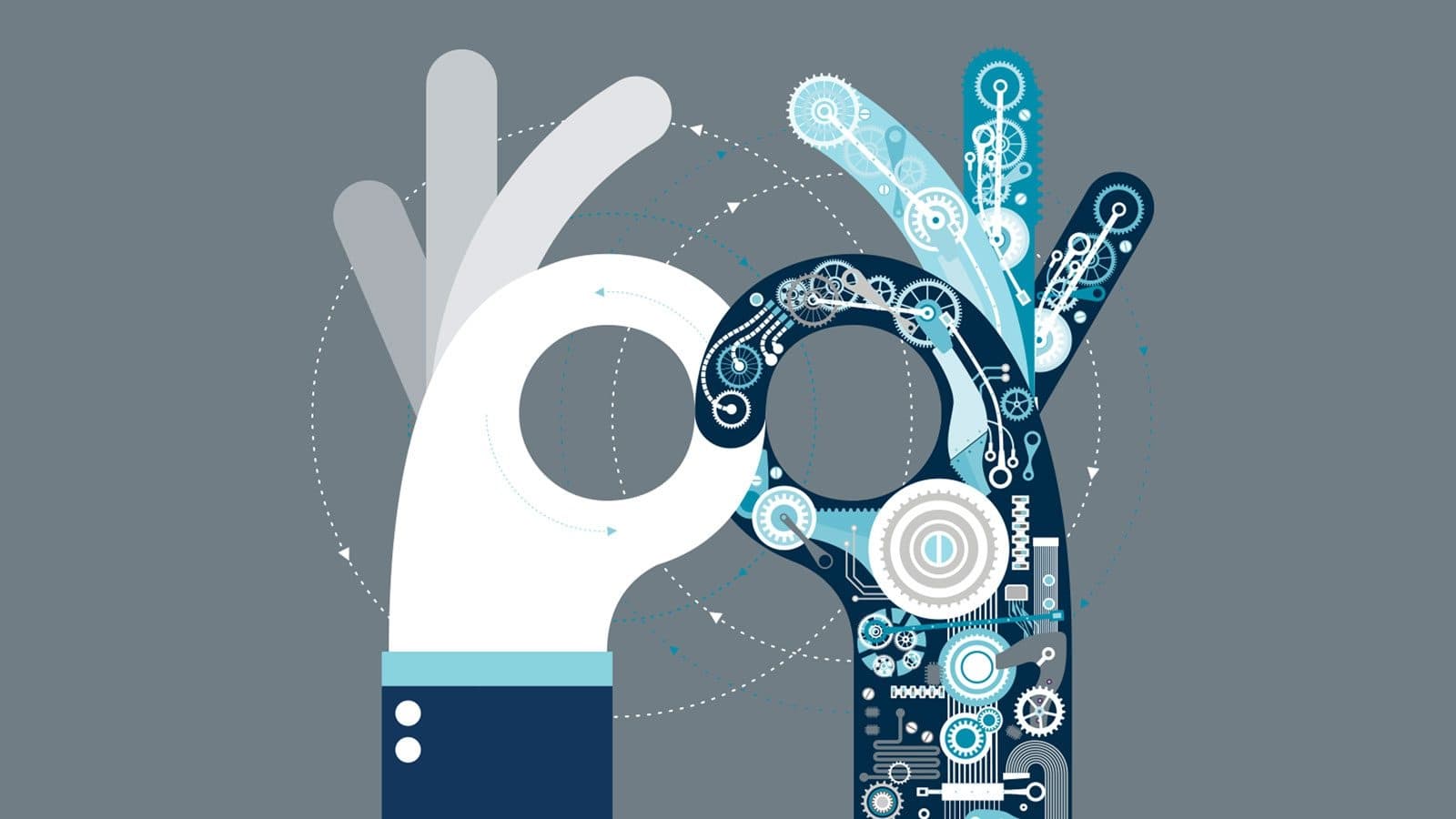 Klaviyo
With Klaviyo, you can build and execute your ideal customer journey from A to Z. From the wide variety of email workflows, you can pick and begin with a prototype that is simple to use. This covers everything from discarded cart documents to birthday wishes, thank-you messages, and order tracking notifications. You can edit the template, create a new template from scratch or add a whole new project just by clicking on these options. Based on consumer behavior, you can also create frameworks with many paths.
The A/B testing capabilities of Klaviyo enable merchants to monitor different subject lines, material styles, and times to enhance efficiency and boost engagement. To configure emails based on customer consistency, life cycle process, brand loyalty, Klavyo utilizes behavioral data, consumer data, and integrated data.
Mailchimp
Based on the marketing priorities, Mailchimp makes setting up workflows quick. The automation features are unexpectedly impressive, simple to use, and effective compared to its low cost. MailChimp provides welcome automation, date-based automation (for individuals to be contacted on a given date), behavioral (app-driven interaction-based), and RSS email automation.
Like Klaviyo, you can use MailChimp to automate abandoned cart emails, quality reviews, order notices, and replacement addresses. MailChimp leverages user participation and connectivity to deliver personalized emails and automatic communications. However, these automation features are only offered in the paid plans.
***Winner: Klaviyo
Klaviyo helps eCommerce sellers, like whether they are involved in a promotion, or visiting the web, to generate automatic induced emails based on customer's behavior.
The limited emphasis of MailChimp on email marketing hampers the automation capacities of the tool. Unlike Klaviyo, MailChimp provides simple email automation, such as abandoned cart and retargeting features.
Audience data management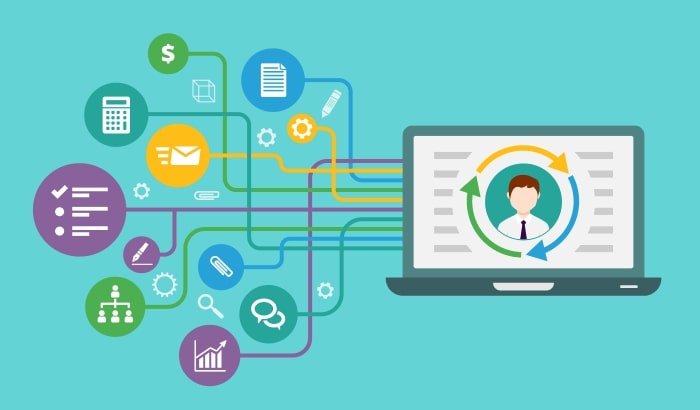 Klaviyo
Native integrations of Klaviyo help you without hidden costs to capture unrestricted data on your eCommerce website. Klaviyo makes it possible for you to explicitly integrate with another platform if you use a custom platform that is not in the Klaviyo integration list.
Any contact with an eCommerce CRM tracks consumer data centralization and allows marketers to see and appreciate the behavior and activities of a contact. You should use these consumer data and predictive analysis from Klaviyo to create a tailored experience for prospects, leaders, and consumers. Also, Klaviyo especially designed the data science features to accelerate the development of eCommerce businesses.
MailChimp
Like Klaviyo, MailChimp centrally stores all details of your contacts. Both tools provide identifiers to help companies gain useful visibility into their audiences. You can create tags for your contacts and lists with MailChimp, while Klaviyo can mark campaigns, collections, flows, and tag sections.
***Winner: Klaviyo
Analytics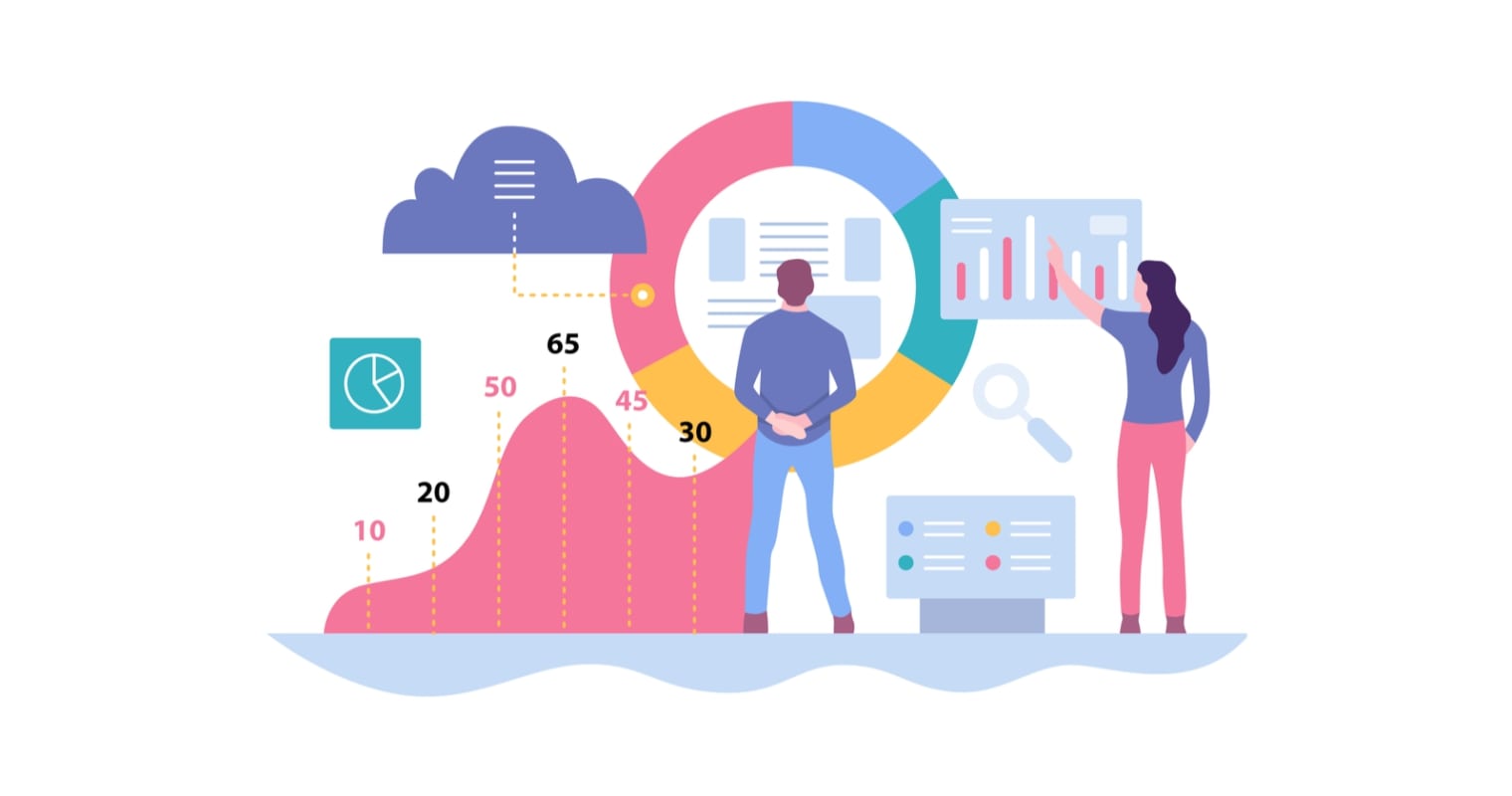 Klaviyo
Klaviyo gives you an overview of a few metrics with just a few clicks, which provide good insights into how your emails operate. The monitoring and research tools from Klaviyo's eCommerce applications allow sellers to evaluate measures beyond available prices and clicks. You see how much money your campaigns have generated, how much you have compared current and past results, see event patterns, and more. Details can be shown as either a line graph map or as regular figures.
Klaviyo demonstrates even in real-time what customers do. This means that, as people click on newsletters, you can see which campaigns are purchasing and which buyers are the most valuable - as they are. Klaviyo also provides functionality for A/B testing. This helps you pick and compare campaigns depending on a given measure to see which campaigns have a better performance.
MailChimp
Mailchimp provides a streamlined documentation and analysis approach in comparison to Klaviyo. With all the simple analytics you need Mailchimp provides you. On your campaign website, you can see this at a glance. You will also dig through the details more closely to see if one email series relative to another operates.
Industry benchmarks are presented in email reports that enable sellers to measure essential indicators for their competition, such as open rate, clicks and unsubscribe rates. Like Klaviyo, MailChimp monitors how much money a campaign has generated and what a client has bought since the campaign was first launched.
Although Mailchimp does not benefit from predictive analysis like Klaviyo, all of the efficiency indicators that you use to formulate a good campaign are still available. You can also assess A/B depending on the content and subject line of your text. Multivariate evaluations are required for more explorations of the outcomes of the various workflows in Mailchimp's most advanced pricing plans.
***Winner: Quite a tie
Overall, MailChimp is a monitoring and analysis solution that is very simple to use. It's a lot smoother than Klaviyo, but it isn't as overwhelming for newcomers as well. There is a lot of significant next-level functionality, not to mention, to take the report forward. Klaviyo could be the most complete with automatic integrations with current marketing platforms and predictive data for super-advanced monitoring and analysis. But MailChimp doesn't come back much.
Ease of use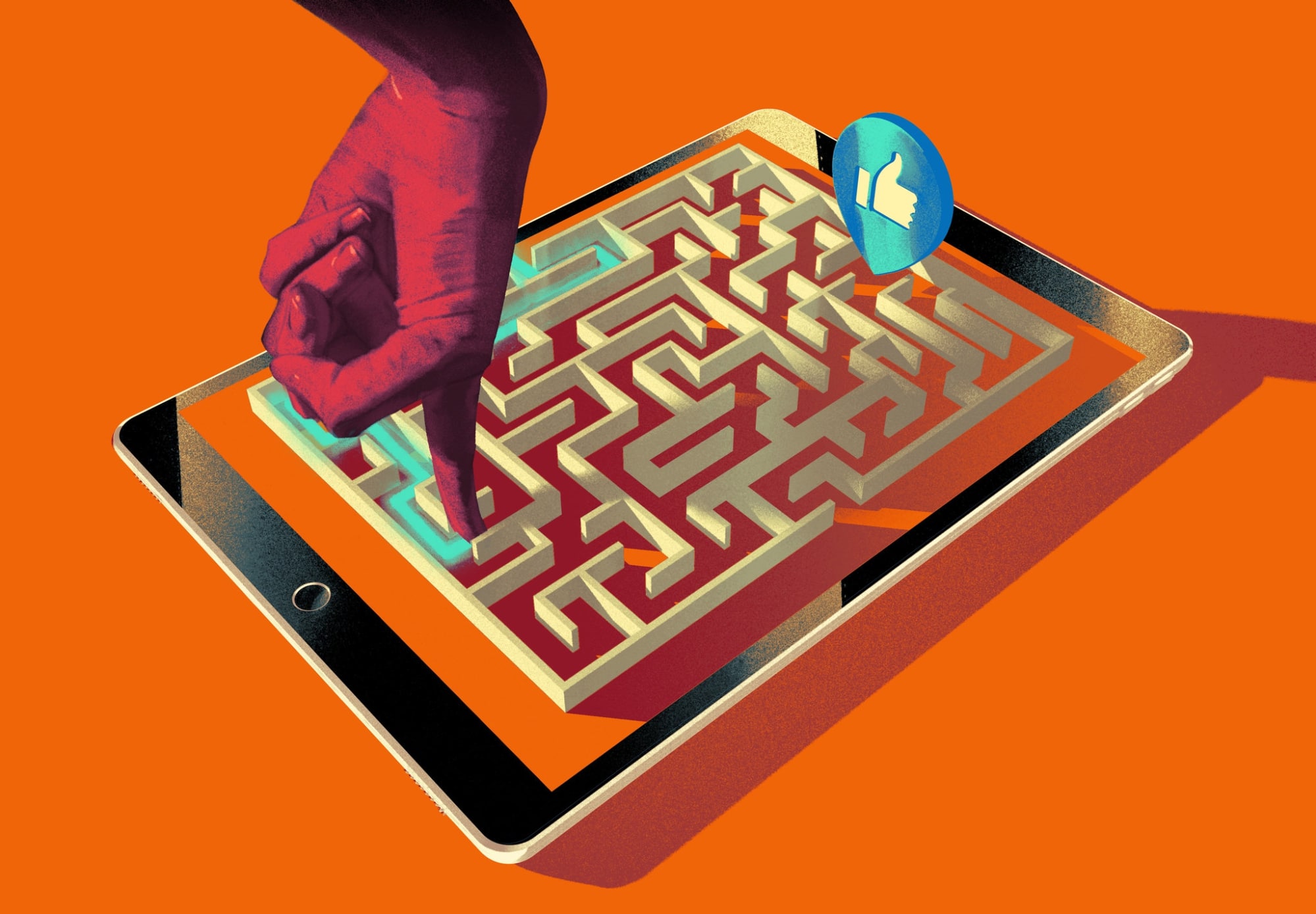 Klaviyo
Klaviyo is one of the market's most powerful automation technologies. This gives a much-needed summary of the marketing plans but features a lot of challenges. Klaviyo also presents many possibilities until perfected. Klaviyo also seamlessly connects to your eCommerce site, so you don't have to go from one tab to the next to get the details.
Klaviyo also has a drag and drop functional editor for assembling automatic workflows and creating email templates for marketing campaigns. Furthermore, it is incredibly simple to set up an account with just 3 steps.
MailChimp
Unlike Klaviyo, the dashboard Mailchimp is much faster and limited to key features. However, it is not so much in competition with Klaviyo if you seek in-depth data collection and analytics.
Mailchimp also has a wide variety of flexible email models that are conveniently adaptable. Using the email drag and drop editor you can change them as you wish. Any of these models actually include the "barebones," so you can literally create pretty emails from scratch. The editing dashboard has many options for design. Each feature slots up easily and automatically so that you can submit professional emails at any time.
***Winner: MailChimp
Overall, the game falls at MailChimp's side. This platform is unbelievably intuitive, making it easy to use, particularly with novice email marketers. By contrast, Klaviyo is in danger of being a little daunting and thus has a much higher learning curve.
Integrations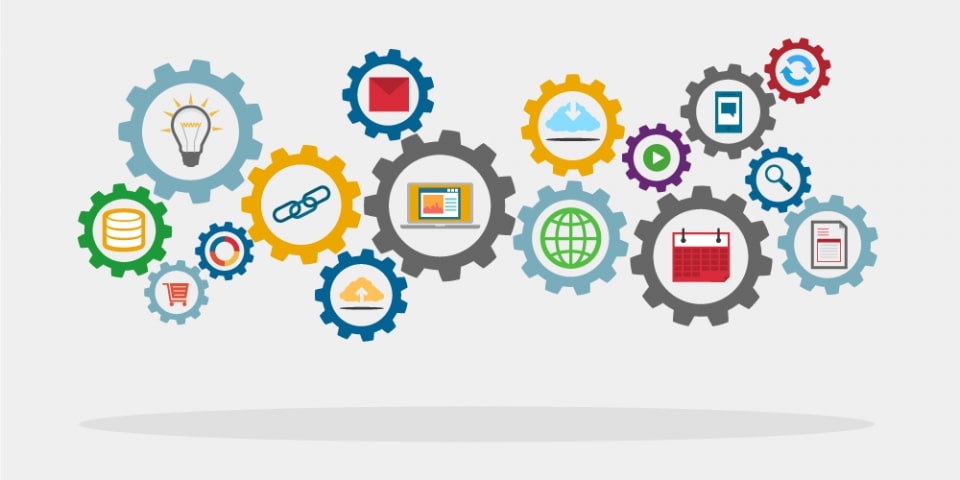 Klaviyo
Klaviyo does a decent job of collecting data from other marketing and CRM platforms. Klaviyo also integrates effortlessly with every major e-commerce site, including Shopify, Magento, and BigCommerce. However, the number of Klaviyo integrations is only around 100+, which is comparatively small compared to MailChimp.
MailChimp
MailChimp has over 250 integrations - correlating with its not-so-surprising popularity among users.
Although it is extraordinary, one of the most important integrations is missing: Shopify. This integration is no longer accessible, so merchants need to rethink other email marketing resources. To connect your Shopify store to your MailChimp account, you will need to use a third-party platform.
***Winner: MailChimp
Overall, with its overwhelming amount of integrations, Mailchimp trumpet Klaviyo. However, you might turn to Klaviyo if you want a near integration with Shopify because, as I said before, Mailchimp doesn't give anything. If you're after a certain integration, the simplest option is to approach your platforms to see if they have one specifically.
Customer support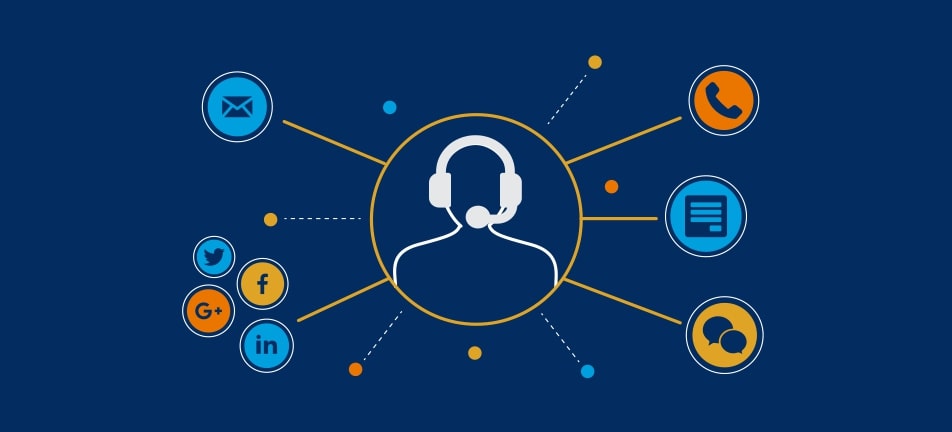 Klaviyo
Klaviyo does not provide any assistance for the phone, but you can rely on help from 9 am to 5 pm ET (Eastern Time), Monday to Friday, via e-mail and live chat. Remember, however, that only email assistance is available if you use Klaviyo's free package.
There are a host of useful tools available on their website. This includes the guidebook 'Getting Started' and videos and instructions on demand. The online support center also offers FAQs and more information about the functionality of the site.
MailChimp
Mailchimp supports 24/7 emails and live-chat in the Essentials package. But you also unlock telephone assistance if you are on the Premium package. However, you don't have much support to rely on if you use their free plan.
Mailchimp, though, provides a wide variety of website services. They give a summary of their tools and marketing advice, which is in Spanish, French, German, Portuguese, and not just English.
***Winner: A tie
In general, both programs give outstanding service to clients. Mailchimp provides you with the benefit of telephone support in its Premium package, but the plan is pretty pricey.
Pricing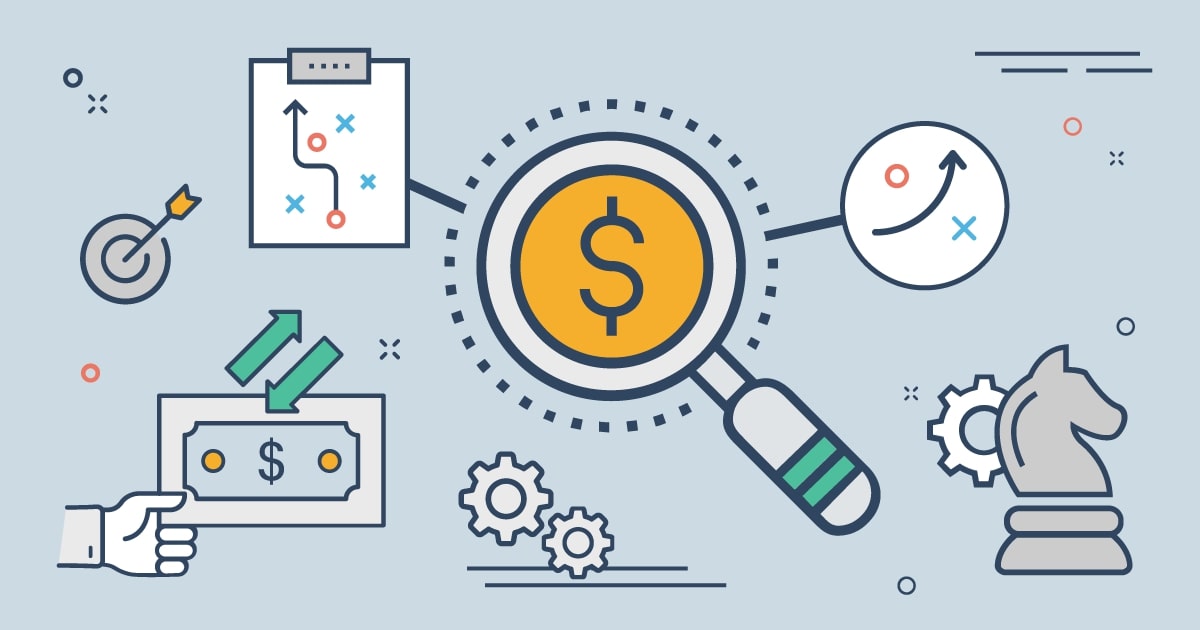 Klaviyo
The pricing of Klaviyo depends on whether you want to include email, SMS, or all of its services. The costs are totally adjustable and depend on the number of contacts that you need to stay in touch with. You don't have to think about any annual contracts or undisclosed payments, because you can determine the costs by going to the website and selecting your number of contacts.
Klaviyo's email facilities are free for up to 250 contacts. It allows you to send up to 250 contacts a limit of 500 emails. You are asked to update after you hit this threshold. You can upload and sync your information, personalize emails and templates, and experience many other Klaviyo features through this free account.
Klaviyo's calculated price is relatively higher than MailChimp. Take an example of a 10,000-contact subscription. While Mailchimp only costs $99, Klaviyo will charge you $150. However, you can receive many other attractive bonuses that MailChimp does not offer, including:
Unlimited monthly email sends
SMS text messages
Segment reports
Phone push notifications
Smart Send Time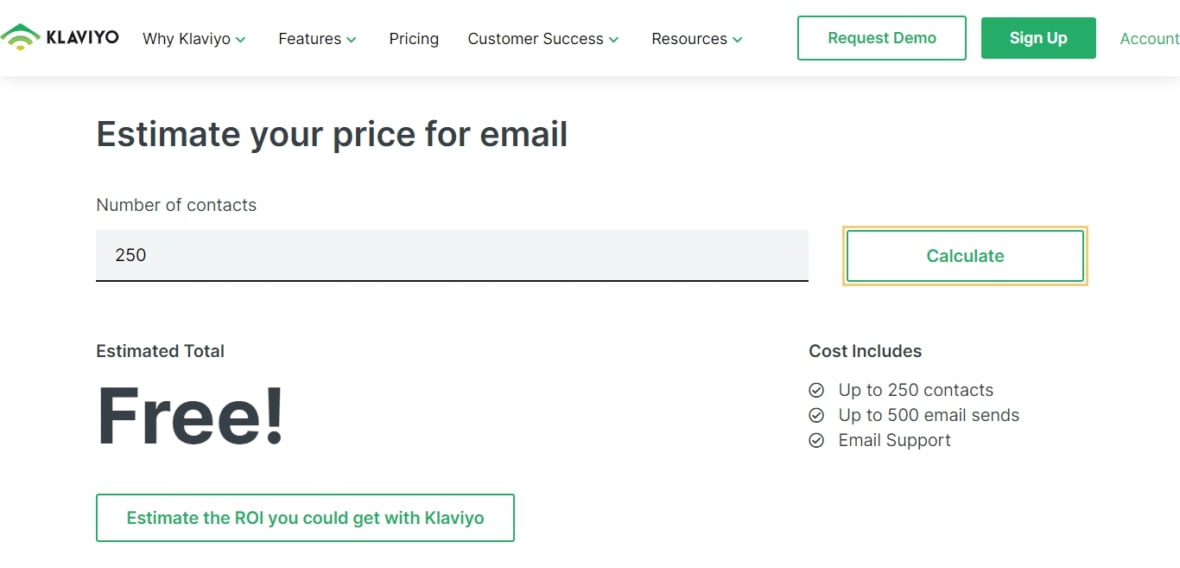 MailChimp
At first sight, Mailchimp rates look like typical SaaS subscriptions (Software-as-a-Service). Four options, including one free program, are available.
Up to 2,000 contacts in a single audience are available for the free account. You can get access to Mailchimp's marketing CRM, the online domain of Mailchimp, the forms, the landing pages, the website administrator, and the production assistant.
The Essentials plan begins with $9.99 a month (if your mailing list includes 500 contacts). Up to 50,000 contacts will be reached for up to three viewers. You can estimate the costs on the Mailchimp website if you need additional contacts on this step. The Essential package unlocks features such as multi-stage trips, email models, customizable branding, A/B testing, 24/7 email access, and live chat assistance.
The Standard Package provides more features, ranging from $14.99 a month (up to 500 contacts) to up to 100 000 contacts in five audiences. Moreover, with branching points, you can access the customer journey generator. You can also maximize sending times and use actions, customized templates, and interactive content in your messages.
The Premium Package starts at $299 a month which has a 10k contact maximum of 200,000 contacts for unlimited viewers. It comes with advanced segmentation, multi-variant monitoring, optimization, unlimited seats, role-based accessibility, and support for telephone systems.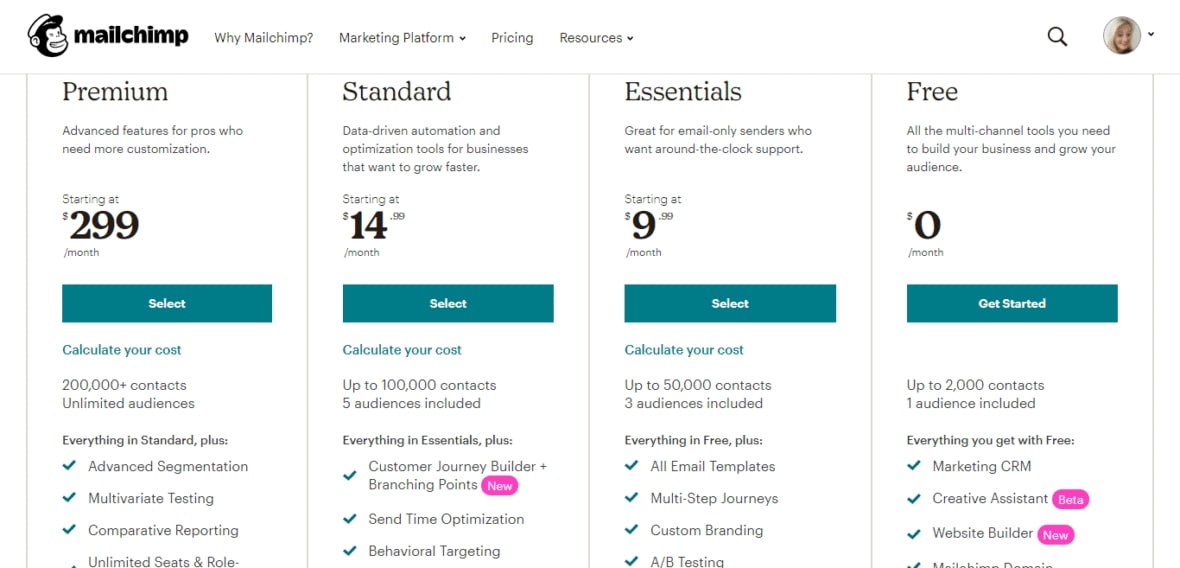 ***Winner: A tie
The price of Klavyyo is transparent and fair if you're looking for a pay-as-go operation. Meanwhile, you would need Mailchimp to update to higher - cost levels to optimize its capabilities. But it's usually less pricey than Klaviyo. Whilst Klaviyo has more advanced features, Mailchimp is the right option to find a mid-budget approach that works.
Klaviyo vs. Mailchimp - Who wins?
Both Klaviyo and Mailchimp provide a wide variety of marketing automation functions, but it is true that these two tools will continue to compete. Neither Klaviyo nor Mailchimp are the most economical choices on the market if you are unfamiliar with the email marketing system. But surely they are among the most trusted and well-established.
Mailchimp is a perfect solution for those looking to rely on email marketing. Normally, it's safer for content-based enterprises than eCommerce because it doesn't work that well for online retail sites. MailChimp has done a great and complete job intuitively at less costly pricing.
In general, Klaviyo is the right pick if you want access to advanced functionality and want to explore data analytics in-depth. Their workflow, segmentation, and monitoring instruments are among the finest in the sector. Klaviyo has been developed for eCommerce vendors and its robust integrations show that this is without any doubt the case. But Klaviyo is the most costly choice overall.
Some Klaviyo and MailChimp alternatives to optimize your email marketing
Avada Email Marketing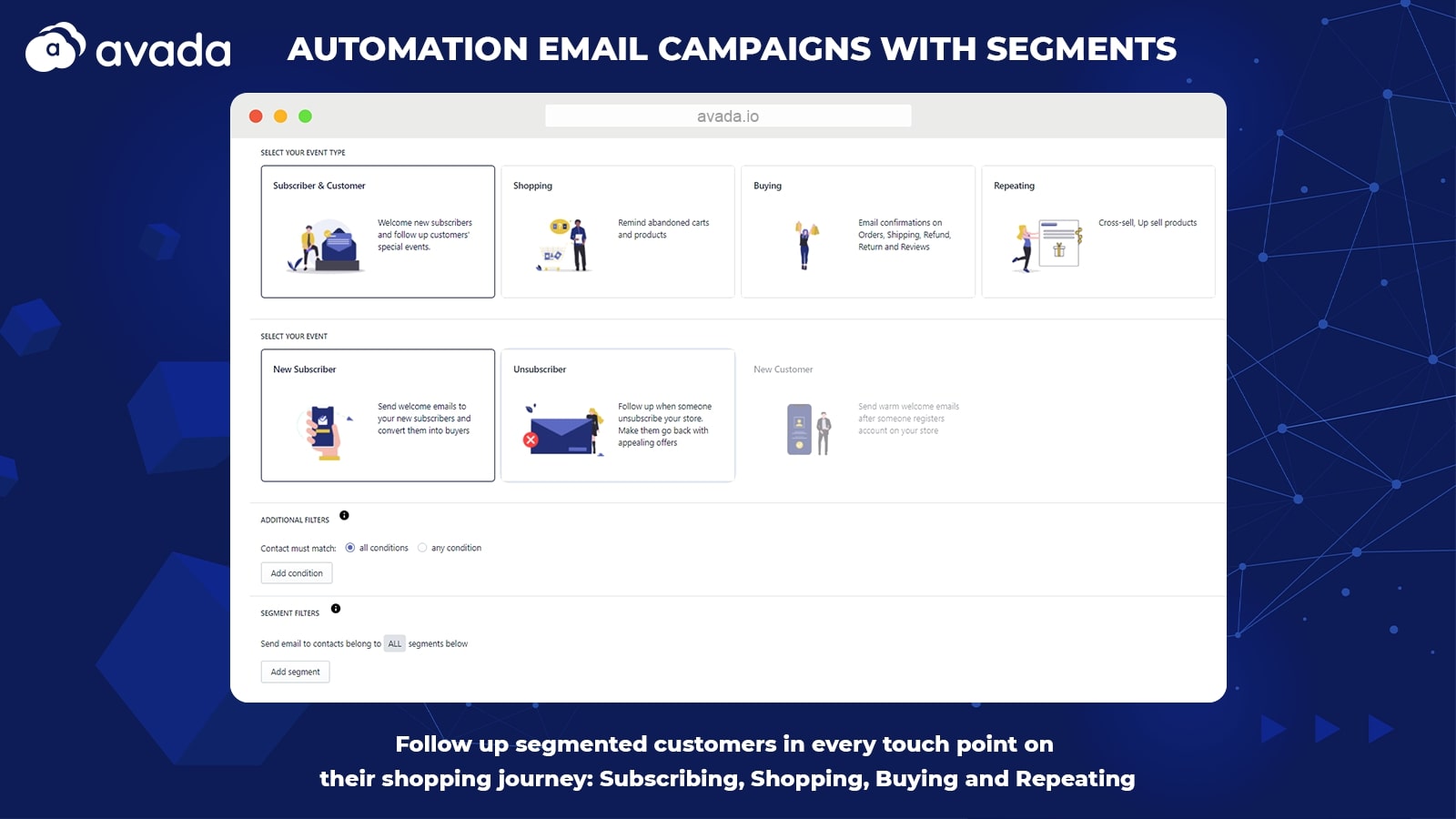 Avada Email Marketing is an ideal and most practical approach for companies to convert customers and create long-term relationships with customers across many email marketing applications. Avada's email marketing is built to refine abandoned carts and remind visitors to buy them rapidly.
AVADA Email marketing is easy to use, even for non-technical people, with its user-friendly and responsive interface. The application provides e-mail templates that fit well and ready to run so that people with minimum designing skills can take advantage of them. In addition, your contacts with automated data from your Shopify store can be handled quickly. Segments and targeted segments of your emails will allow you to produce the best possible outcomes.
Key features
Abandoned Cart Email/ Abandoned Cart Recovery
New Subscribers
Transactional emails
Cross-sell, Upsell Emails
Segmentation
Workflow split
Ready-to-use email templates
Newsletter Popup, Add-to-cart popup, Spin to Win
Reports
Auto-sync customers data via CSS, TXT
Pricing plans
*Free plan
15,000 emails/month
1,000 contacts
Newsletter
Forms: Popups, Spin to win
Basic Automation Flows
Limited Reports
*Pro plan - $9/month
Unlimited emails per month
1,000+ contacts
Advanced features
Advanced Automations
Advanced Reports
Branding Removable
Email & Chat Support
Sendinblue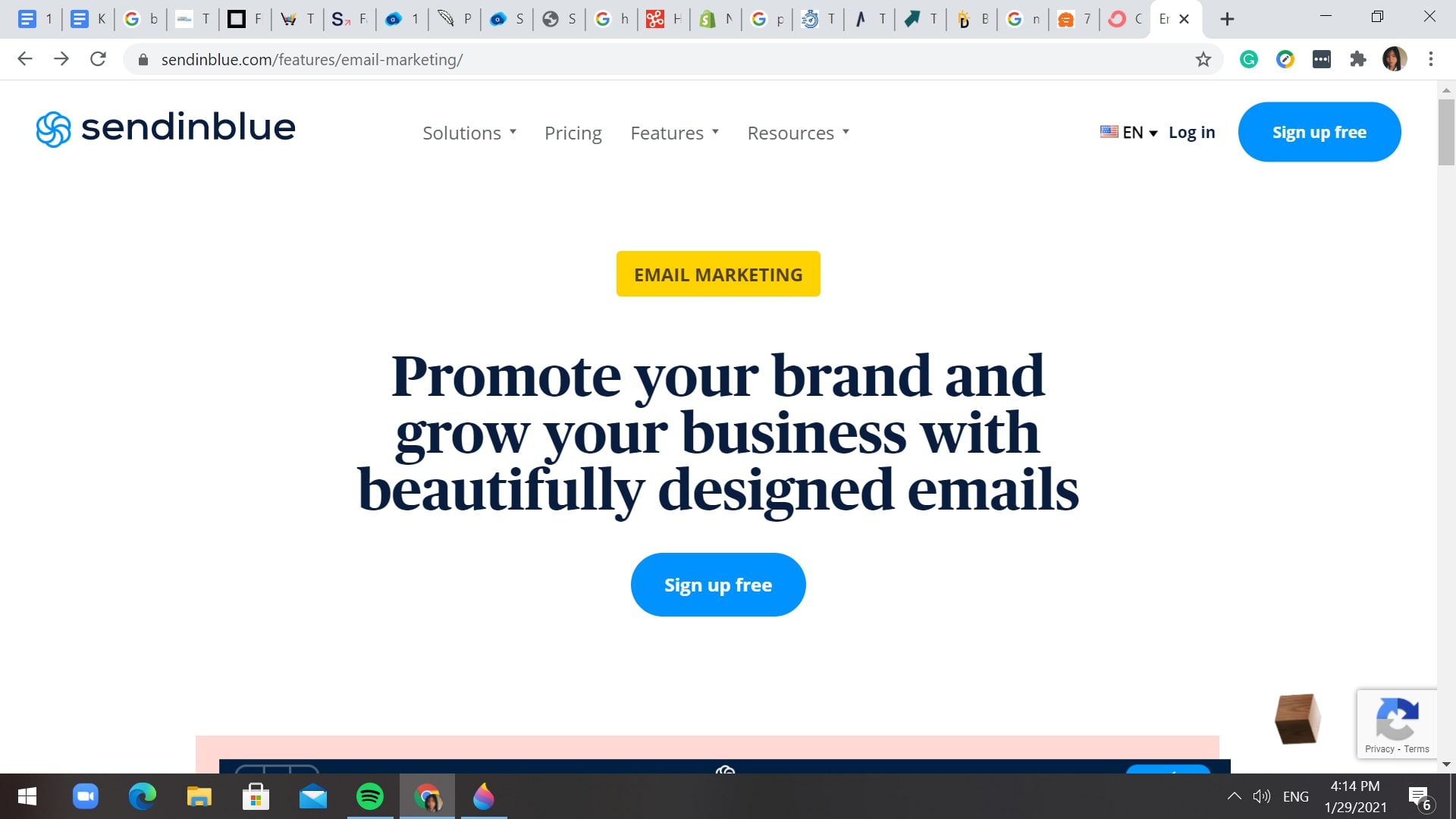 Sendinblue is a strong company email marketing and SMS marketing service. It has effective tools for designing emails, integration of email marketing, SMS promotions, landing pages, Facebook advertising, live chat, and much more.
You can deliver emails to a targeted public based on user activity, using your custom marketing automation solution. It comes with a prototype builder that's simple to use and perfect email delivery to improve the marketing strategies. With other features like SMS marketing and live chat apps, SendinBlue is an ideal alternative to Mailchimp. They also have fairer price options and an ever-free package for company owners.
Key features
Various email templates
Personalized email marketing
Intuitive drag and drop feature
Small segment lists
A/B testing and advanced statistics
machine learning-powered send time optimization
Pricing plans
Sendinblue offers 4 pricing plans mainly based on your need of email volume and advanced features. The larger the email volume you opt for, the more attractive the price you will get. For the Enterprise version with the most advanced features, you will have to quote the price. See more details of the feature lists below.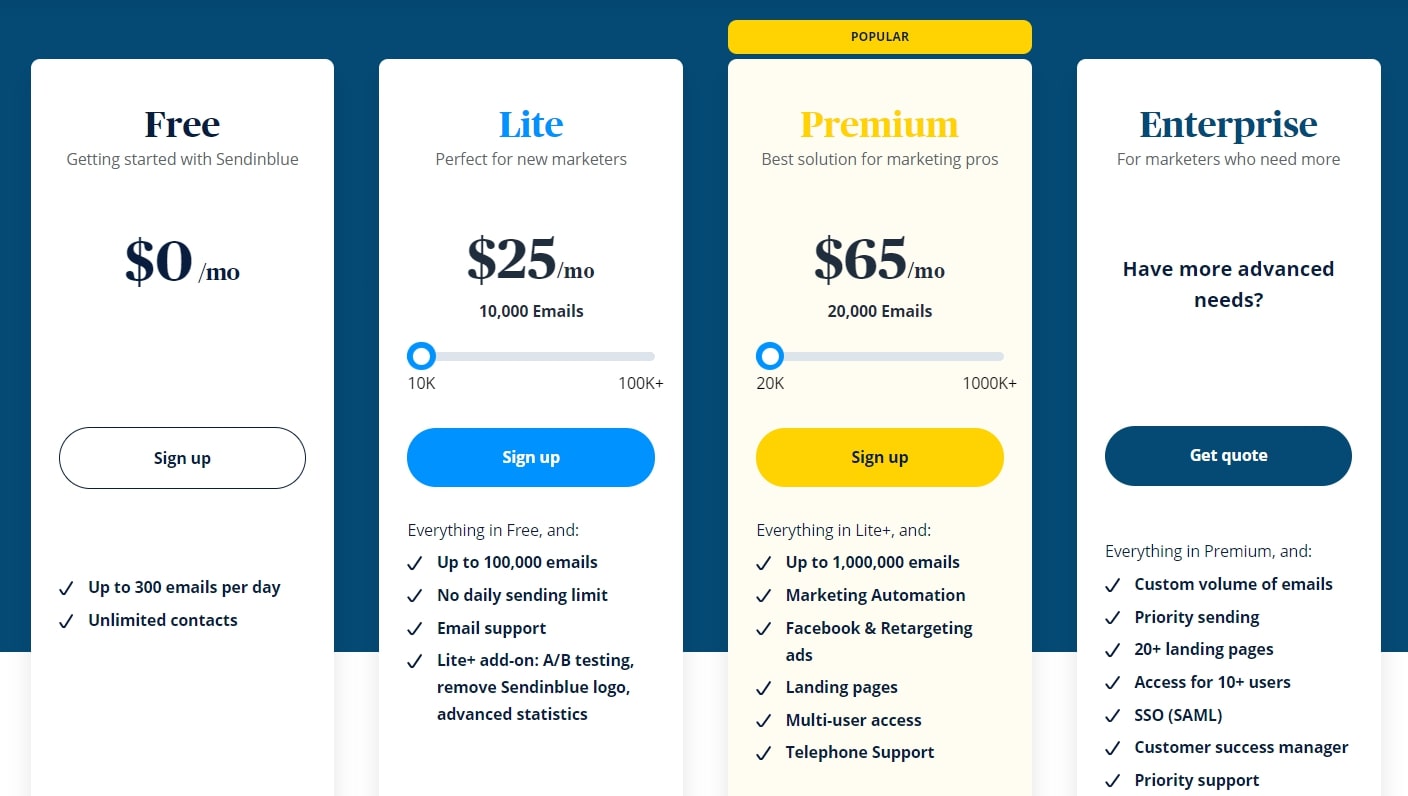 ConvertKit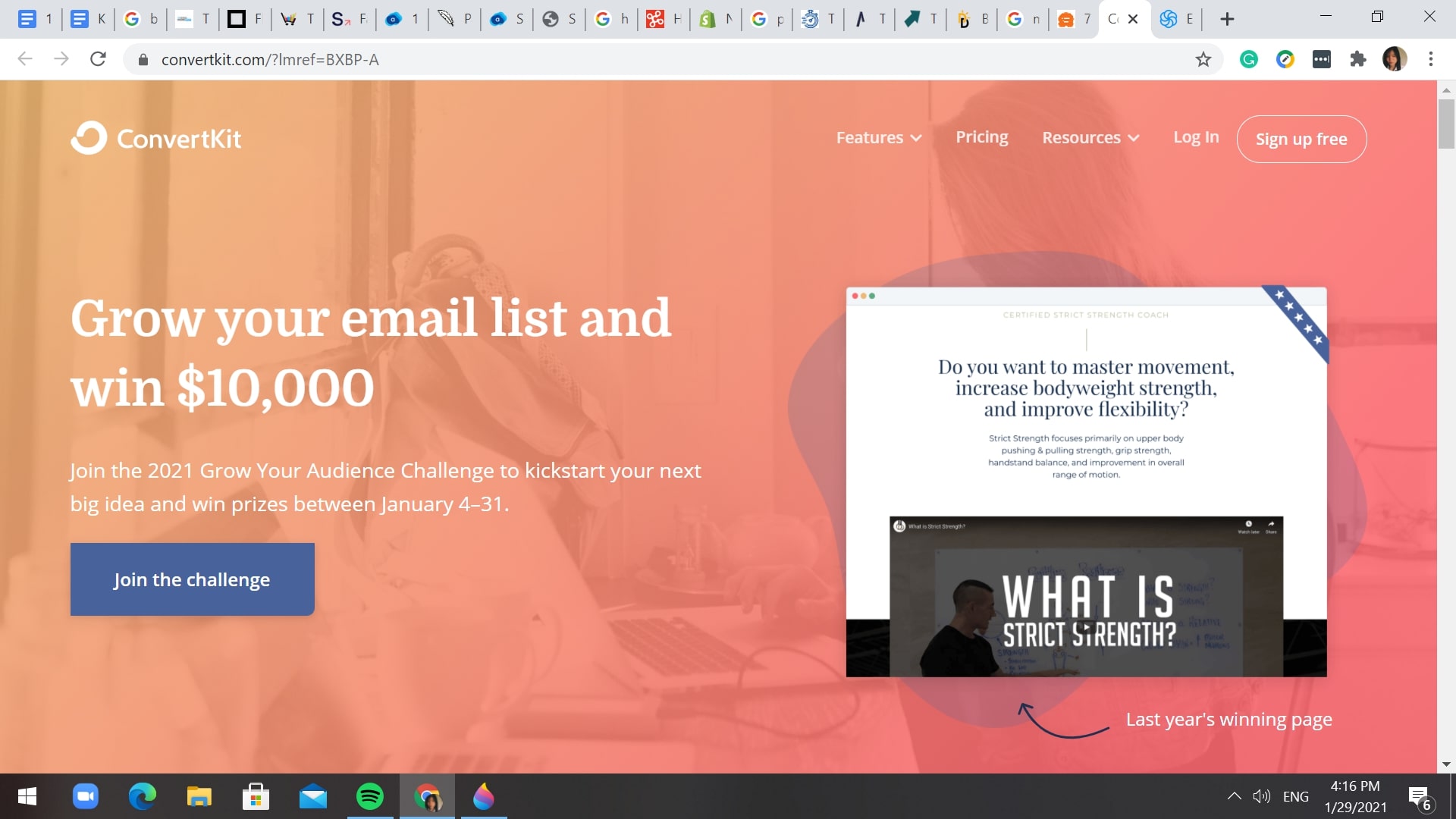 ConvertKit is a popular email marketing platform that prioritizes ease of use by bloggers, authors, and developers. ConvertKit provides simple automation with a drag and drops list-builder allowing you to submit automatic user behavior-based emails. You may also segment your contacts with tags on the basis of your e-mail experiences. They have stunning landing page models and personalized e-mail listing alternative types.
With a wide variety of common CRM applications, ConvertKit incorporates tools for lead generation, such as OptinMonster, WooCommerce, and Shopify eCommerce sites, etc.
Key features
Simple, beautiful email templates
Send email broadcasts and automated emails in 3 steps
Beautiful sign-up forms and landing pages
Subscriber-based tag and segments
A/B testing and statistics
Pricing plans
ConvertKit's prices are suggested based on the number of subscribers your company is currently having. The larger your subscriber volume is, the more advanced features you will be recommended. There is also a free plan with basic features for companies with up to 1000 subscribers.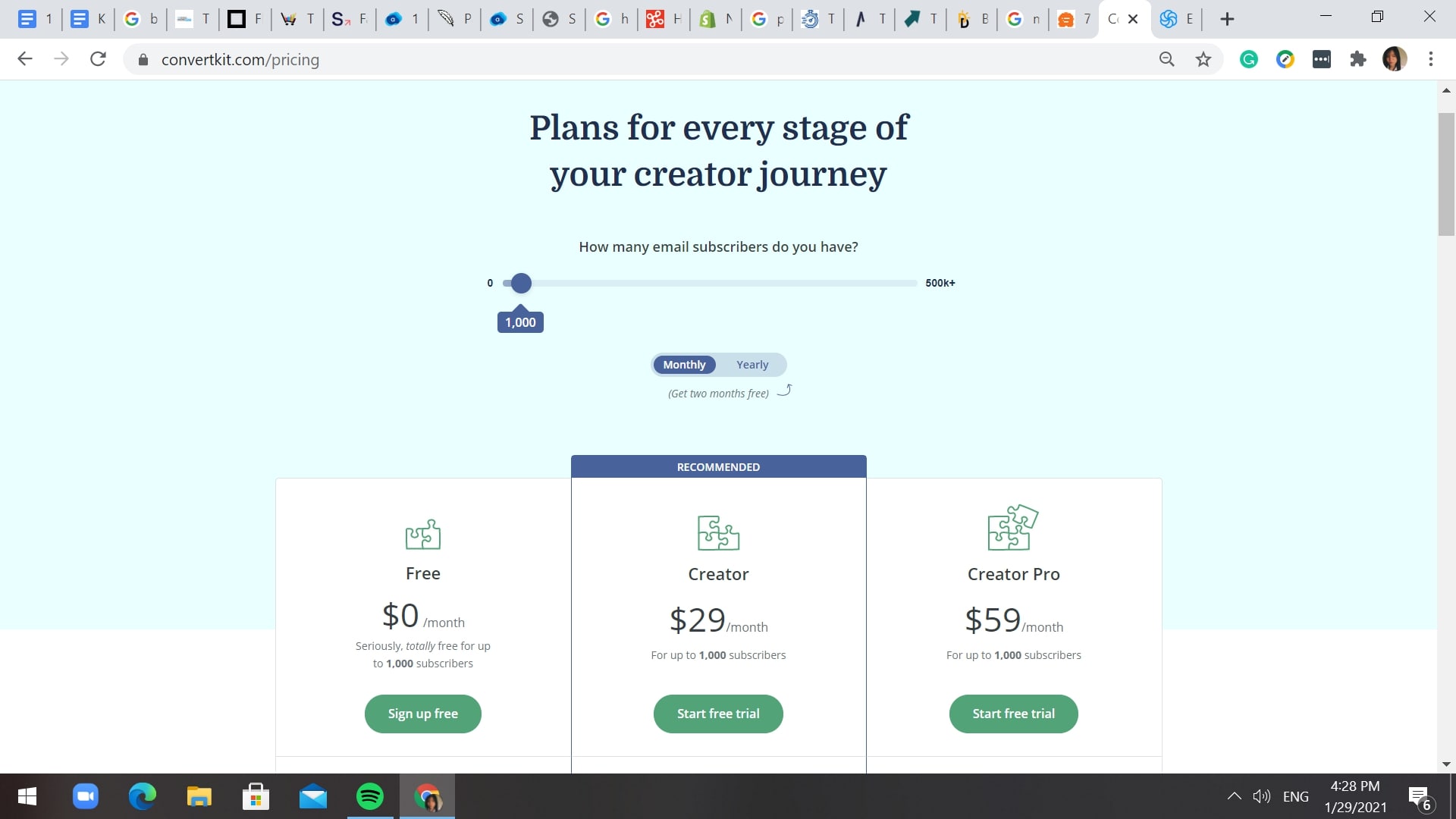 Drip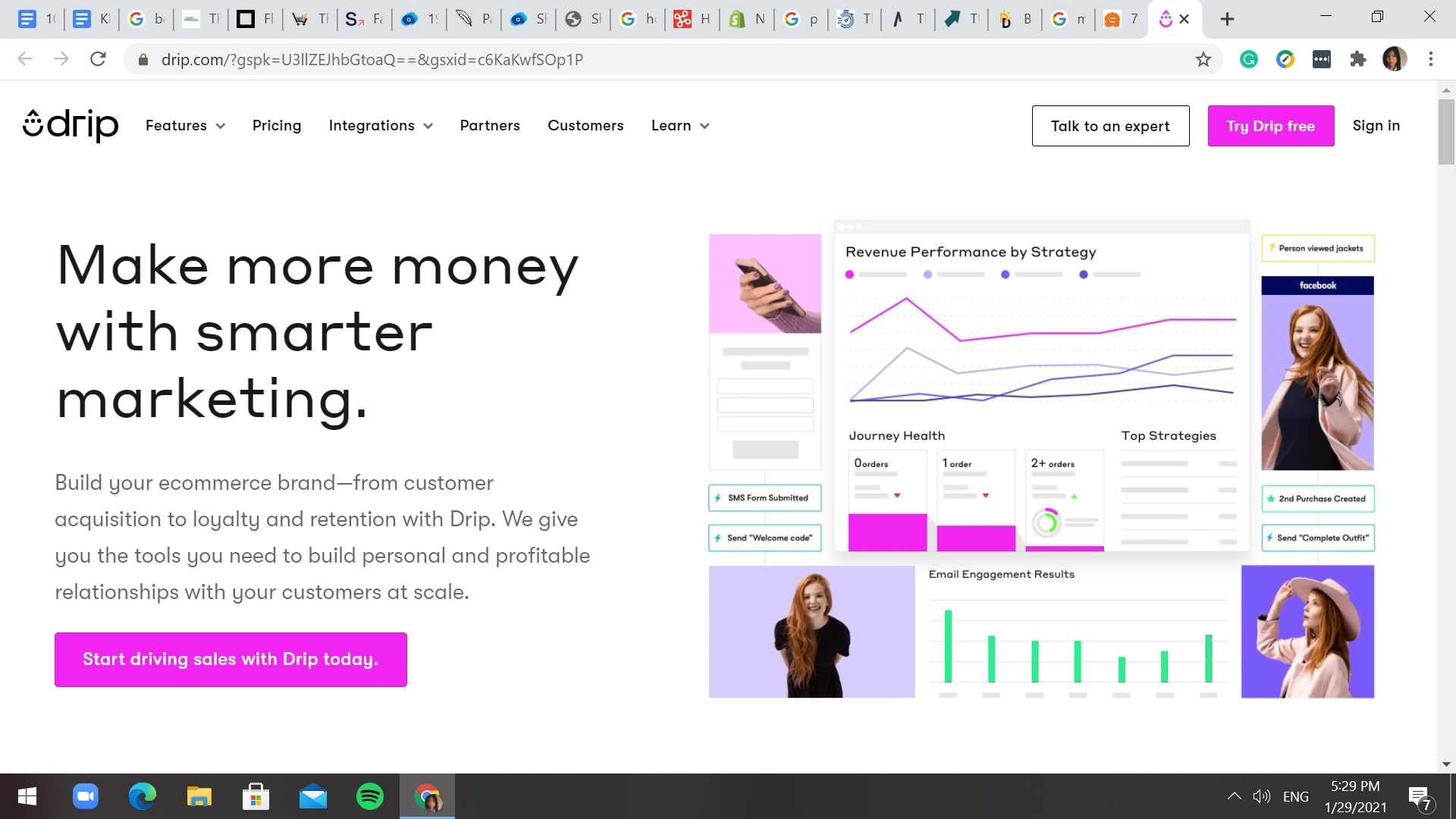 For eCommerce stores, Drip is a popular e-mail marketing automation service. It provides multi-channel touchpoints for reaching customers through e-mails and social media account interaction.
It allows users to monitor their website contact. It is possible to capture and store user data in tags, events, and custom fields. It also immediately hits consumers based on their actions during the journey to purchasing at the most influential moment. You can use customers' data to generate personalized coupon codes, product reviews, price drop alerts, and more with enhanced customization.
If you want to integrate your email marketing program with an eCommerce solution such as WooCommerce, BigCommerce, or Shopify, then Drip is the perfect option with multiple revenue-boosting integrations.
Key features
Contact monitoring
Personalized data analysis
Unlimited contact list
Pricing plans
Drip's prices start around $19/month.
Final words
Mailchimp and Klaviyo sound like platforms for email marketing, but they are not like each other when it comes to features. It is important to consider the functionality, advantages, and variations of Klaviyo vs. MailChimp in order to ensure that the tool is in your eCommerce needs.
If you have a modest budget and are searching for something clear and quick with a regular analytical method, go to Mailchimp. Mailchimp is the best option if you want to create a DIY email and do not search for comprehensive integrations. If you want to have modern integrations and want a wider range of marketing tools, especially for an e-commerce store, Klaviyo is the best for you. While Klaviyo is recommended for many of our customers, we understand that companies have different needs. What may be really successful for one organization might not be a fit for another.
New Posts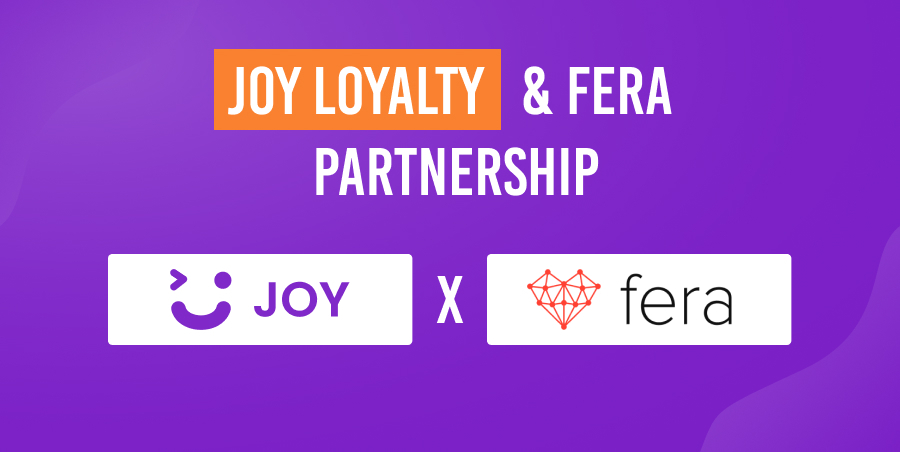 Subscribe
Stay in the know
Get special offers on the latest news from AVADA.
40k
subscribers has been joined!
Earn $10 in reward now!