Inventory Source Reviews: Features, Pricing, Pros & Cons
The ever-evolving eCommerce landscape plays a critical role in our everyday lives. It's redefining how we shop and how we buy things around the world. Over the years, the sector has expanded in leaps and bounds, providing more possibilities for both buyers and sellers to participate in commercial activities.
This profound growth, along with the new business model of dropshipping, has provided everyone with an opportunity to do business. If you are a dropshipping novice or a specialist, having an efficient inventory management tool may make a huge difference in the success of your online store.
In that regard, Inventory Source is a one-stop shop for all your dropshipping needs. In this article, I will provide you with an in-depth review of Inventory Source. You will learn how Investor Source functions and what functionality the platform provides, as well as how much it would cost you. Now let's jump right into the details.
What is Inventory Source?

Launched back in 2003, Inventory Source is one of the largest providers of dropshipping data solutions in the world. This tool enables you to find your suppliers, manage your inventory, and allow you to be productive, as well as to automate tons of dropshipping tasks to make your day-to-day running of a dropshipping store easier.
Inventory Source is one of the veterans in the drop-shipping industry and has managed to retain its position as a reliable way to automate the goods and services. The platform brings thousands of items within the pressing of a button. With access to a free Integrated dropshipping supplier database, this tool will link you to specialty supplies no matter what your niche is.
Inventory Source's Pros and Cons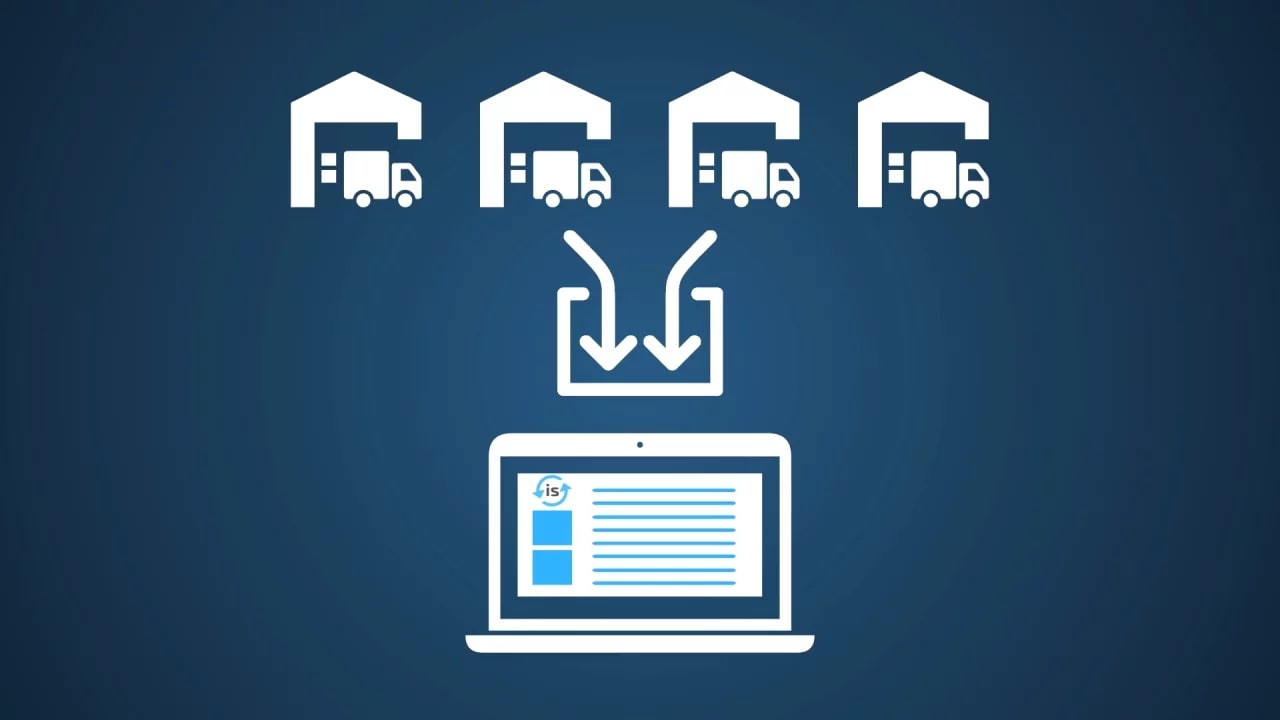 Pros
Flexible Services: Inventory Source provides a range of services, ranging from inventory and order automation to TurnKey and Shopify drove personal storefronts, and you can pick and choose which ones you would like to receive.
Vast Product Selection: Inventory Source places hundreds of top manufacturers and over 1,000,000 products at your fingertips and can help you identify products or distributors that are not on their current list of suppliers.
Inventory and Order Automation: Inventory Source updates your inventory with the latest records from your suppliers in real-time, and now the company also forwards orders to suppliers and syncs shipment information with customers automatically.
Free Access Account: Inventory Source lets you use a free account for as long as you want, so you can see the vendor directory, the community features, and more before you start selling.
Cons
Separate Fee Per Supplier: The most basic plan requires you to connect one supplier's product feed to one sales platform, but you'll need to pay extra fees if you buy products from many suppliers or sell them in several marketplaces – and these costs will add up quickly.
No Market Analysis Tools: unlike many of its rivals, Inventory Source will not help you discover competition or calculate the profitability of your offerings, among other functions.
Inventory Source Features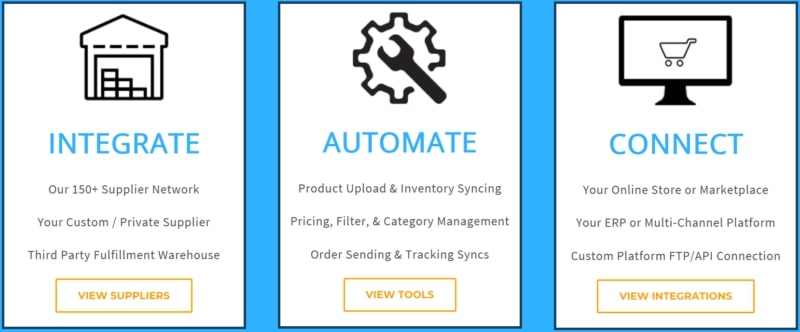 Inventory Source provides tons of features that can make operating a dropshipping store a piece of cake.
Full-Automation
Undoubtedly, what makes Inventory Source a valuable tool is that it is completely made for automation. With its proprietary apps, you don't have to continuously check your business site to complete manual tasks. In other words, Inventory Source helps you to set up a completely automated website that can, in turn, run in autopilot mode.
Users can select between their Inventory Automation Service or Full Automation Service, depending on their needs. Inventory Automation helps you to automatically synchronize the inventory and product details of your dropshipping suppliers to your website.
The Full Automation Service, on the other hand, offers you the option to automatically route orders to your suppliers. In addition, you can also automatically synchronize order tracking to both your store and the customer.
Full-Product Data
Inventory Source truly stands out with its offering of automatic full product data integration synchronization and product uploads. Compared to other dropshipping solutions that only include inventory synchronization, this functionality is particularly useful for business owners. You can combine data and construct categories based on images, brand names, weights, and other main metrics.
Full product data integration also helps you to streamline the inclusion of any new suppliers. You can easily browse through the products of the supplier and filter them to meet your specific needs.
In addition, you can also turn on alerts when new goods appear in the feed of the supplier. By using its automation software, you can streamline new SKU uploads and import the latest products on your website without any manual intervention.
Pre-Built Supplier Directory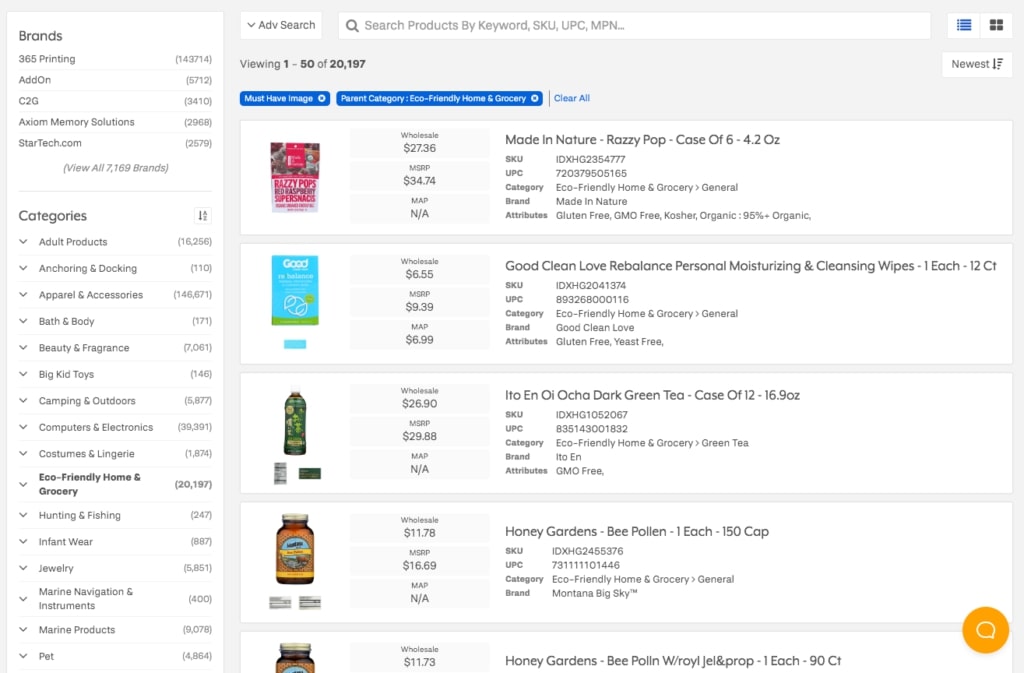 One of the most helpful tools for a dropshipping company is the supplier directory. Inventory Source offers an extensive list of suppliers consisting of over 230 supplier integrations to its users. It encompasses a broad variety of product categories, such as electronics, home appliances, pet supplies, outdoor equipment, and more. They also focus on bringing in exclusive and high-quality brands that can help your eCommerce business thrive.
Whether it's a supplier who wants to connect your inventory management to a shopper or a retailer who wants to automate sales tunnels, Inventory Source establishes a direct link by eliminating a middleman. In effect, it prevents manual errors and other common mistakes that often occur during data transfers.
You can easily find support from popular brands. The software also provides support for leading eCommerce platforms, including WordPress, Shopify, Magento, and other eCommerce platforms. This wide range of options for integration can ensure a smooth operation of your dropshipping business.
Extra Integrations
Another advantage of using Inventory Source for your dropshipping business is that you can also access third-party software providers from within the platform. For instance:
US Direct: US Direct is one of such features that gives you instant access to over 200,000 dropshipping products. From access to suppliers to acquiring approvals, US Direct solves a lot of challenges. Users can integrate US Direct with their Inventory Source account and take advantage of its features in a burden-free way.

FLXPoint: FLXPoint is another software provider designed specifically for small business needs. For example, FLXPoint gives you the option of including private suppliers, sales reporting, invoice reconciliation, and B2B management.
24/7 Customer Support
As is the case for all suppliers of eCommerce, it is important to determine the availability of customer service. When you're going to drop, not only do you need to provide support yourself, but you also need to receive it. As such, Inventory Source ensures that a dedicated customer service team is available to you at all times.
Account support is offered through e-mail or scheduled calls. If you have technical problems, you can use maintenance help tickets. If you're new to dropshipping, the service also offers guides, video tutorials, and other educational resources to help you set up your company.
Inventory Source Pricing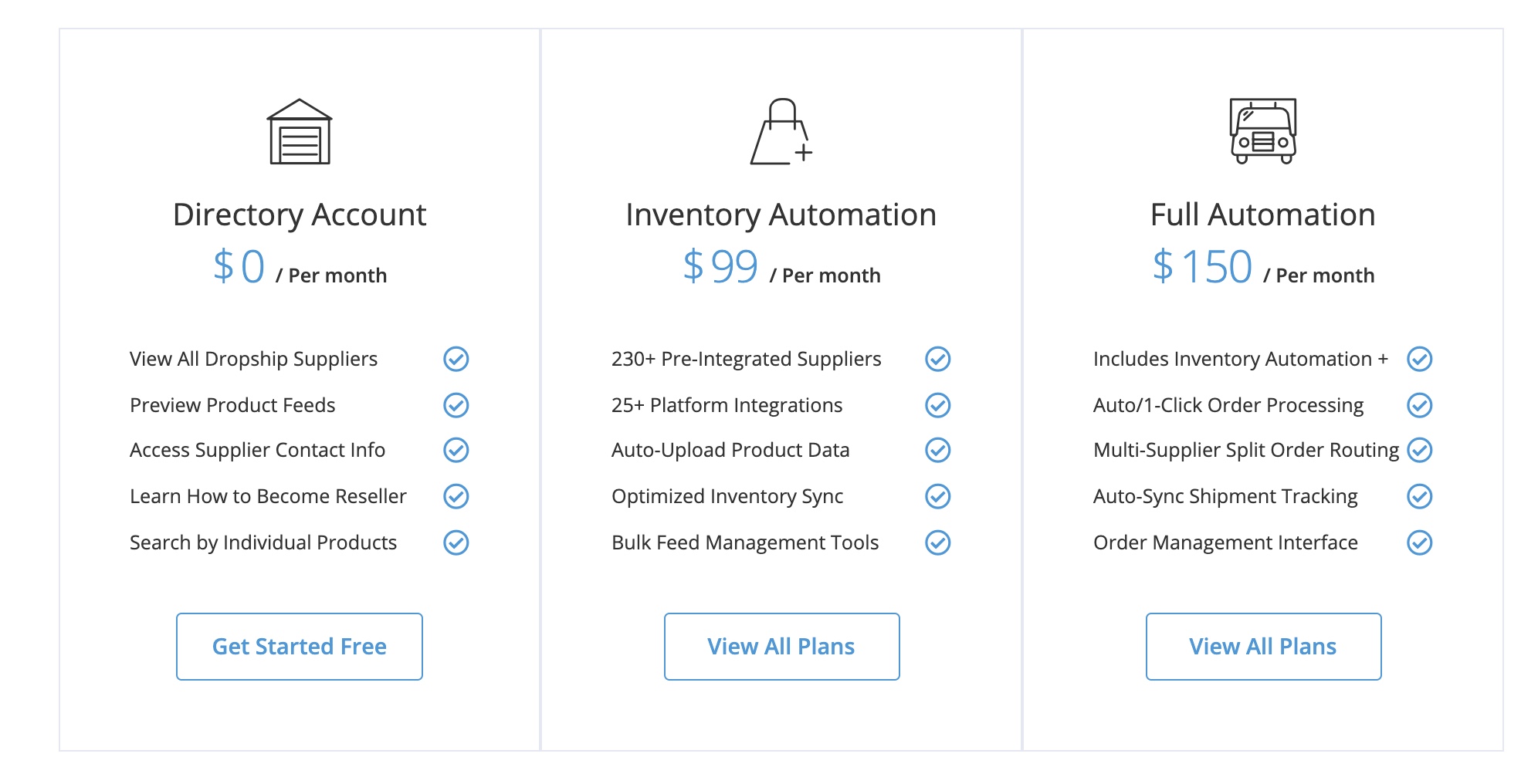 As beneficial as Investor Source can be for your long-term drop-shipping needs, it is crucial that you evaluate the pricing structure of the platform before you sign up. At the end of the day, the plan you choose will depend on the size and needs of your business. The good news is Inventory Source has a flexible pricing structure – allowing you to select a plan that best suits your business needs.
Free Directory Account
Investor Source offers a free plan that may be sufficient depending on the size of your business. It won't cost you anything to build a free Directory Account that gives you access to a range of platform features. This includes a list of dropshipping vendors, contact information as well as a preview of the goods.
However, while this package is branded as free, it is simply a trial, to the point that you would need to upgrade if you want to have access to its full suite of services. The main benefit here is that Inventory Source offers supplier information free of charge, irrespective of the pricing plan you select. So, if you're considering the service for what it does best, then there are a few different automation plans to choose from.
Inventory Automation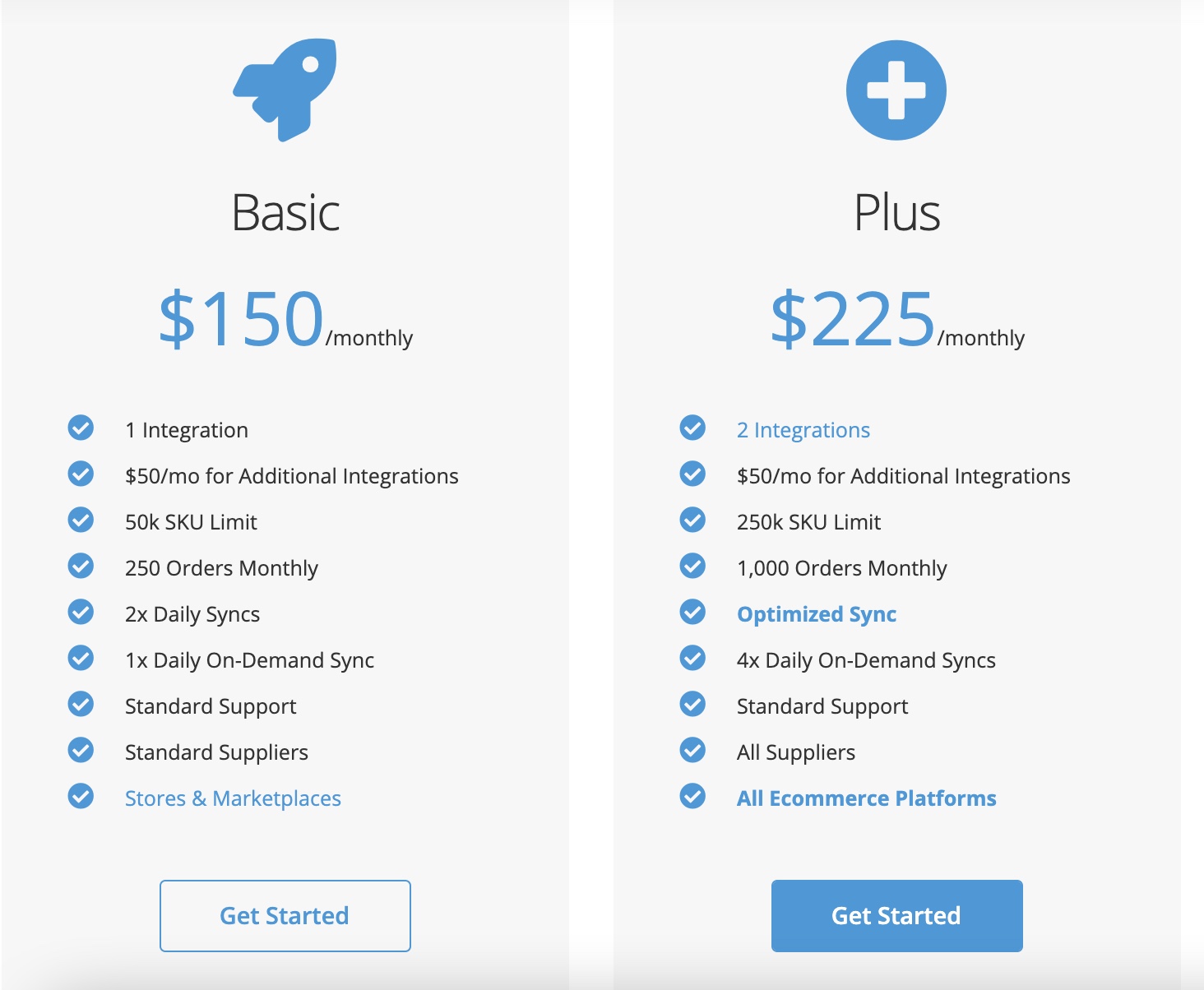 Inventory Automation has two popular plans, a Basic plan at $99 per month and a Plus plan at $125 per month.
The Basic Plan provides a single integration with product and inventory synchronization. It also has a limit of 50,000 for SKUs and a fee of $50 per month for additional integrations. If you're just starting out in the dropshipping world, this strategy is probably going to work best for you.
The Plus Package has two integrations and $25 for additional connections. It also increases the SKU cap to 250,000 and provides two integrations. If you end up forming ties with more than one supplier and grow your business further, you may want to take a look at the Plus plan.
It's worth remembering that Inventory Automation's features only handle inventory syncing. This means while the availability of goods will be handled automatically, you will also need to make sure that they are in stock. You would also need to make order processing simpler manually and check each order before you submit the details to your supplier. If you want to take advantage of the full suite of what Inventory Source provides, you may need to consider upgrading to the Full Automation (most expensive plan) at $150/month.
Full Automation
If you are a competent dropshipper with sophisticated business needs, then Full Automation is likely to be the way forward. In addition to product automation, you can also obtain a multi-supplier order routing facility along with automated order processing. Shipment monitoring synchronization is a perfect addition to track where shipments come from and handle them effectively.
The Basic Full Automation Package will cost you $150 per month, while the Plus Full Automation option will cost you $225 per month. In all plans, you have to pay an extra $50 a month for new integrations. If you want a full-fledged Dropship Management Platform, then Inventory Source provides FLXpoint enterprise-level services. This plan starts at $399 a month, but you're going to have an eCommerce website that mostly runs on its own.
E-Commerce Integrations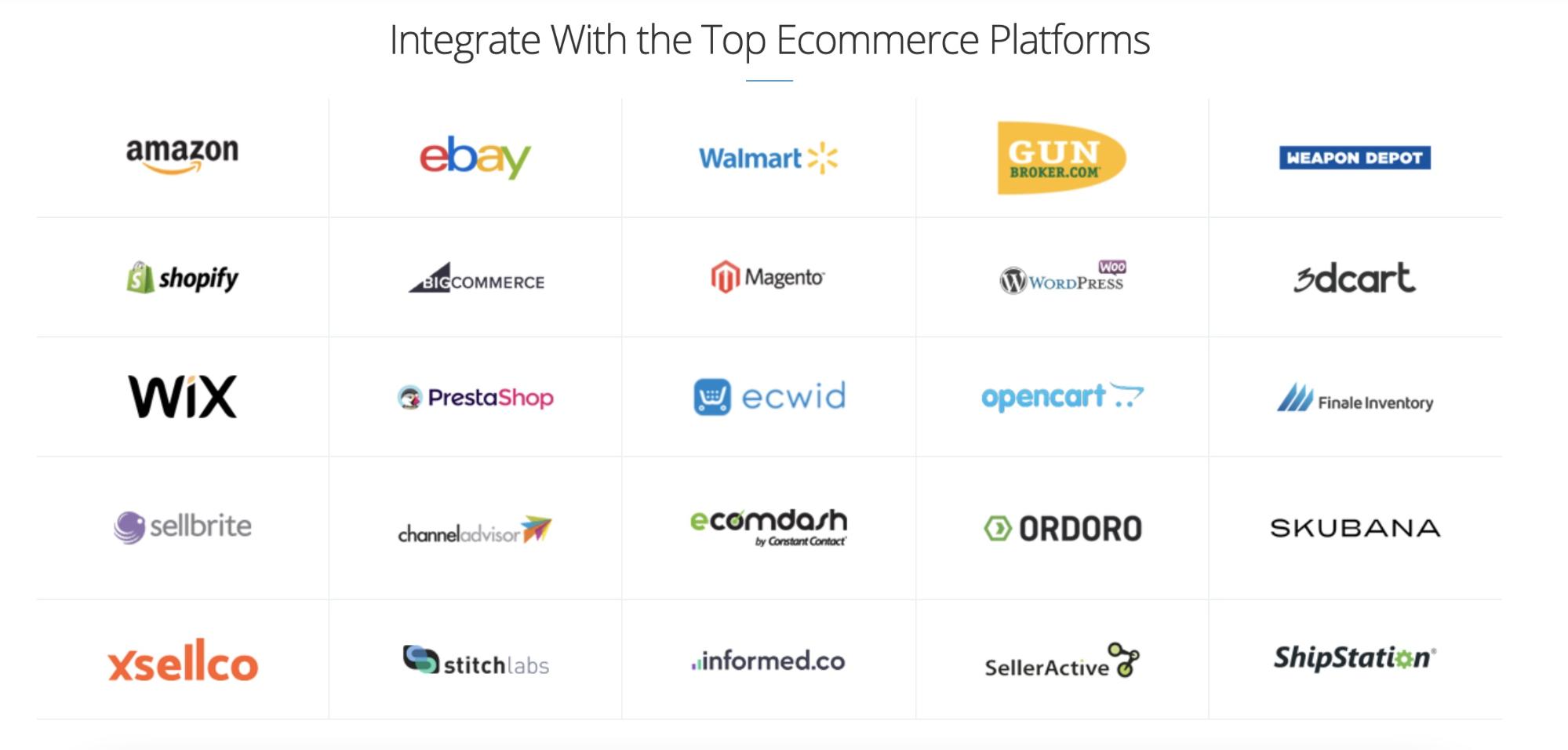 Inventory Source currently operates over 33 sales platforms, including some of the most successful eCommerce sites. You will also find dedicated applications on these sites that will help you integrate the two services seamlessly.
Inventory Source on Shopify
With this app, you can conveniently add items to your Shopify store and list more than 20+ eCommerce marketplaces. It delivers all the functionality of Inventory Source, such as auto-uploading of product data and synchronization of shipment monitoring. The app also connects with BigCommerce, eBay, Amazon, Walmart, Amazon UK, and other distribution platforms without a need for an intermediary app.
Integrated Supplier Network
The integrated supply network helps you find reputable wholesale suppliers free of charge. You may also take advantage of the US Direct application to find exclusive goods from trusted US suppliers. Other solutions include the automation and customization of drop-shipping, including product uploading and continuous monitoring of all aspects of your site maintenance.
Custom Integrations
If Inventory Source does not integrate with your preferred sales channel, the team can also provide you with custom integration. The provider mentions that a custom request will help you bring your SKU to the next level to help you build a plan that fits all your business needs.
What products can you sell using Inventory Source?
Inventory Source provides over 2 million items in 25 different categories. You can sell clothing, home goods, gardening equipment, soaps, costumes, office & school supplies, toys, and more!
Some of their most popular categories include:
Baby, Kids & Toys
Adult Products & Lingerie
Fashion Apparel & Jewelry
Bath, Body & Fragrances
Fishing & Hunting
Consumer Electronics
Pet Products & Supplies
Survival, Tactical & Camping
Vitamins & Supplements
How can you sell products using Inventory Source?
Create an Inventory Source account
Log in to your account
Browse the supplier directory
Carefully select the most suitable suppliers for your business
Once you've decided which suppliers to partner with, click the "Integrate this Supplier" button
Select your sales channel
Pick an automation plan (if you haven't)
Review your plan details
Complete the purchase
Set up your store and run!
Final Words
With all the great features it provides, Inventory Source can guarantee you a smooth drop-shipping experience. From simple inventory management to personalized integrations, they include resources that can drive your online store to new heights.
It goes without saying, however, that those who can afford Full Automation plans will earn the most incentives. Those with limited budgets can find additional integrations and order allocations costly. But if you can live with the constraints, it's always worth looking at cheaper plans. Inventory Source isn't without its flaws, but the pros certainly overwhelm the cons! I hope this article has provided you with valuable information about Inventory Sources. Please feel free to leave comments below for a further discussion on this topic.
New Posts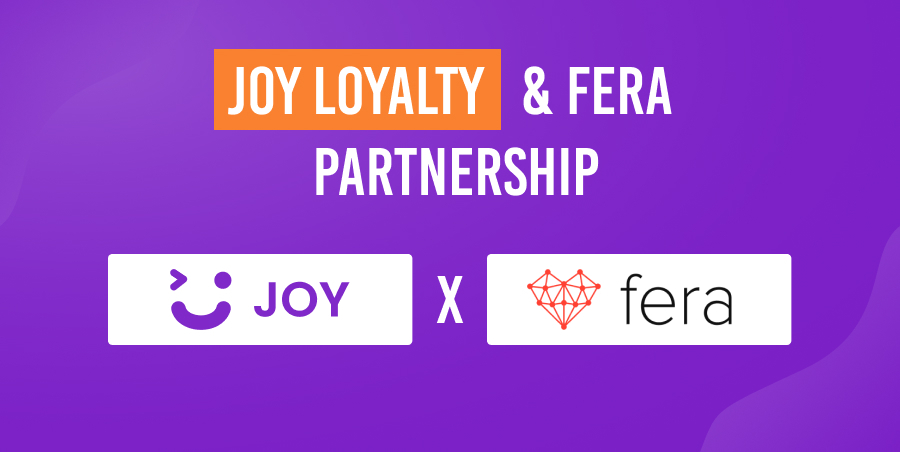 Subscribe
Stay in the know
Get special offers on the latest news from AVADA.
40k
subscribers has been joined!
Earn $10 in reward now!