How to Sell on Sears Marketplace - A Basic Guide for New Merchants
If you own an e-commerce business, you're probably aware of how sites like eBay and Amazon operate. You could be selling them right now or have done so in the past. However, these aren't the only options to consider. Even if you don't believe it, the Sears.com online marketplace is worth checking out!
Despite the fact that Sears is closing numerous physical shops across the country, the company's online marketplace is expanding. Sears marketplace receives around 20 million monthly visitors. In comparison to Amazon's two billion monthly visitors, that's a drop in the bucket for vendors like you on Sears.com.
If you're considering advertising your products on the Sears marketplace, there are a few things you should know before you get started. We'll explain why selling on Sears Marketplace can help you grow your eCommerce business, as well as how to get started.
About Sears Marketplace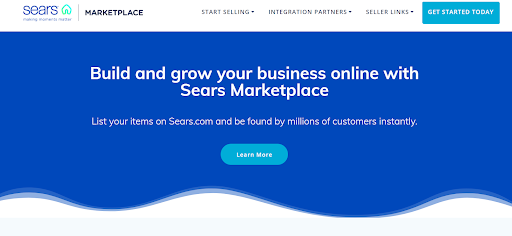 With the Sears Marketplace, you can sell your products and advertise them on Sears' website while also making money online. You can use big-name firms' websites to sell your products to customers who visit them, such as Walmart Marketplace or Target+.
If you sell your products on Sears, you'll reach 20 million monthly visitors to Sears.com as well as all of the Sears Mobile users. In-store kiosks allow you to be seen in any Sears store across the country, giving you even more exposure. Innovators like yourself can sell their items on the Sears Holdings Corporation website family thanks to the Sears Marketplace. There is no telling how many new clients your business will gain as a result of using social media.
The way Sears operates is very similar to the way Amazon does. You compete with Sears for customers' business. Sears may not know about all of the products you add. Sears penalizes you for participating in their marketplace by taking a portion of your transactions and charging you a tiny monthly charge. In general, it's an easy process.
In the same way that Amazon offers fulfillment services, Sears Marketplace does as well. Also, transaction costs and storage space are tacked on top of your low monthly rate. Your Sears.com orders are then packaged and shipped by Sears at no additional cost to you. You can outsource fulfillment to a third party if you don't have the fulfillment infrastructure or staff to handle it on your own.
How to register for Sears Marketplace
To begin selling on the Sears Marketplace, you'll need a Sears Seller Account, which you can either already have or create. To sell your products on Sears' marketplace, you'll need your Sears Seller Account credentials. In order to sell on Sears, Amazon, and eBay at the same time, you'll need an inventory and order management solution that can seamlessly sync and update your products on all of those sites.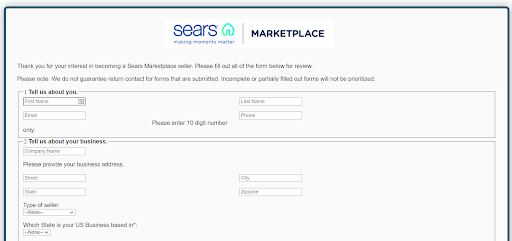 Complete the Sears Marketplace registration form.
Make sure your address is correct (you must have a U.S.-based business address)
Verify the company's information (you must have an EIN or SSN registered to a U.S. address)
Follow these simple steps and you'll be selling on Sears' website in no time.
How to make money on Sears
Sears has three applications available on their platform: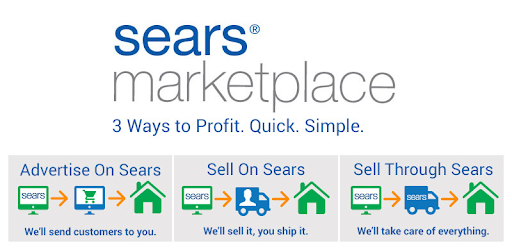 Sell directly on Sears
You put in the time and effort to market your products when you use Sell on Sears Marketplace to do so. If you go with this option, you'll be able to post product listings on Sears' website and sell such items.
Sears fulfills consumer orders for your products. You'll receive a paper prepared by the system outlining the order's specifics. Order fulfillment and shipment to the customer are entirely your responsibility from that point forward.
If you go with this option, you'll have to handle all of the fulfillment and shipping yourself. Sears will just take care of processing your orders, leaving you to take care of the rest.
Sell through Sears
For those who wish to sell their items but don't have the time to devote to handling orders, Sears' Sell through Sears, also known as Fulfilled by Sears, is an excellent solution.
You ship your merchandise to Sears' warehouse via the Sell through Sears service. Sears will inventory and store your items once they arrive. A Sears order will be filled and shipped to clients after it is received. Sears will fulfill orders from their warehouse.
If you choose this option, you'll also have to pay a monthly storage cost of $39.99 plus storage fees ranging from $0.45 to $0.60 per cubic foot.
Advertise on Sears
The final choice is to use Sears to advertise your business. To reach a large audience of shoppers on Sears' site and get them interested in your products, advertise with Sears. It's a great method to show off your company's unique products and services to your target market.
You can run three different types of ads on Sears' website:
Display ads: To reach consumers looking for products on certain pages, such as appliances or electronics, you can use display ads. You can reach your target audience with this advertising because they're already shopping for similar products to the ones you're selling.
Featured ads: Featured product advertisements allow you to promote certain products in search results by placing advertising next to them. These advertisements are more visible, which gives you the opportunity to reach a larger audience. The added benefit is that you only pay when customers click through to your product pages from your ad.
Brand ads: Promote your products by putting on a show with brand showcases that promote your product lines, special offers, and more. These commercials give you the opportunity to inform and excite potential customers about your business and its offerings. For this type of advertising, Sears has two packages available: silver and gold.
You can promote to potential customers by utilizing any of these methods.
Some considerations before selling with Sears
Product categories
Every market has a specific set of customers. Even on Amazon, there are things that you should avoid trying to sell. The same is true for Sears.
Products available from Sears include those in the following groups and more:
Appliances
Baby
Beauty products/Clothing
Electronics & Computer Technology
Home entertainment, fitness & sports, and sports
Jewelry Garden & Lawn Products
Shoes
Tools
Toys and video games
Uniforms & Work Wear
eBay integration
Sears Marketplace allows eBay vendors to list their goods for sale. You sell your things on eBay if you have an eBay store.
Customers will check out on Sears, but payment will be handled by eBay if you utilize an eBay shop on this platform. Both Sears and eBay will send customers a confirmation of their order.
Customers will have to contact eBay's customer support department if they have any order concerns with the Sears eBay store.
Sears guarantee policy
Sears offers a guarantee ensuring customers receive their goods correctly. Customers who receive an order that is incorrect or not what they expected can seek a refund of up to $2500 with this assurance.
Sears promises a refund for any of the following:
Broken, incomplete, or incorrect orders
Faulty orders or orders that don't meet the customer's expectations
Orders that arrived three days after the estimated delivery date
Orders are shipped out a month after they were placed
The following rules apply if you choose to sell on Sears Marketplace. Sears prefers that sellers take care of problems before customers do. You'll want to take care of any order issues as soon as possible so customers don't have to contact Sears. Customers will have a better impression of your brand as a result, which will lead to more repeat business.
Policy on refunds and returns
If you are unhappy with your purchase for any reason, you can return it for a refund using the Sears Marketplace return policy. You are free to create your own return policy, but keep in mind that it must adhere to the guidelines outlined above. A 30-day return period is required if you sell shoes and your consumer has 30 days to return them to Sears.
Items that are damaged, defective, or different from what the consumer requested must be returned without any restocking fee or partial refund for sellers. All returns must have a U.S. return address or allow the consumer to dispose of the item if he agrees to it.
The restocking cost might be as high as 15% in particular categories and circumstances. Visit Sears' return policy website for more information.
Pricing for categories
In order to join the Sears Marketplace program, you must pay $39.99 per month for an unlimited number of orders and gain access to seller support services. Depending on the product type, sellers may be charged a commission fee as well. Each item sold by Sears generates a commission for the retailer. From 8 to 20 percent of the sale, the commission is earned. Sears Marketplace offers a breakdown of categories and the commission fees associated with each.
Below are the commission rates associated with some typical categories sold on Sears.
| Categories | Commission Rate |
| --- | --- |
| Appliances | 15% |
| Baby | 15% |
| Beauty | 15% |
| Clothing | 15% |
| Consumer Electronics | 7% Hardware, 8% everything else |
| Fitness & Sports | 15% |
| Health & Wellness | 15% |
| Outdoor Living | 15% |
| Shoes | 15% |
| Tools | 15% |
| Toys & Games | 15% |
| Workwear & Uniforms | 15% |
Why should merchants sell on Sears?
Sears doesn't sell everything, but they do have a wide range of products to choose from. There are numerous possibilities to be found there. As a marketplace, Sears offers you the best opportunity to sell a wide range of products. A larger market, Walmart, does not have as many restrictions on who can sell there. Even though Best Buy is a bigger store, its selection is significantly more narrow. Start selling gadgets only if you have a small business.
With Sears, your products will be seen by the 20 million people who visit Sears.com each month, in addition to everyone who uses the Sears Mobile app. In addition, Sears stores across the country will be able to see you because of their in-store kiosks. This is a lot of publicity for a small business.
Another benefit of shopping at Sears is that you are not required to make a long-term commitment. Because the Sears platform is a monthly fee, you have complete control over when and how much you sell. You don't have to sign a long-term contract with Sears, so you can keep selling for as long as you like.
Final Words
Even though the Sears marketplace isn't as well-known as some of the other marketplaces, you shouldn't discount it completely. Because you won't have as many competitors as you would on other marketplaces, it can be a useful addition to your present sales channels. To join, go to the Sears Marketplace and follow the instructions. They'll help you all the way through it. However, do not forget this crucial point.
New Posts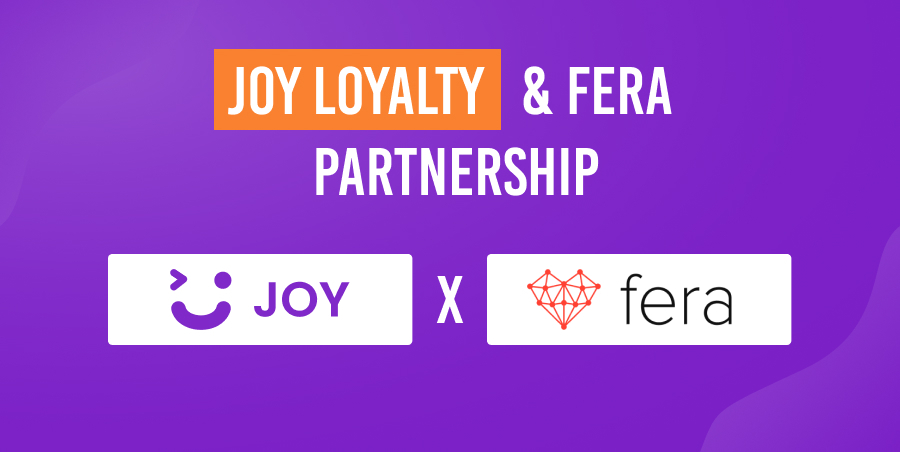 Subscribe
Stay in the know
Get special offers on the latest news from AVADA.
40k
subscribers has been joined!
Earn $10 in reward now!