10+ Best Free Hurrify Alternatives & Competitors for e-Commerce stores
It may be a successful tactic to build a sense of urgent need that helps shoppers decide more readily concerning a purchase they consider. There are many ways to use urgency as a promotional tool – displaying, for example, low stock levels – so we'll discuss the use of countdown timers here.
Countdown timers are a simple visual indicator that consumers must take actions within a given timeframe if they want a product. This could be counting down to or for a deal such as the same day delivery before the close of the sales time. A countdown timer is a valid tool for any Shopify store that will significantly boost conversion and sales.
Of all the countdown timer apps designed for e-Commerce, Hurrify has long been a prominent name that is highly ranked by users and professionals for its comprehensive feature package. However, the app still has some limitations and charges a certain fee to install. To make sure you can get the most optimal countdown timer app, this article will give you a list of free Hurrify alternatives to help you drive sales with zero costs.
How scarcity can help drive sales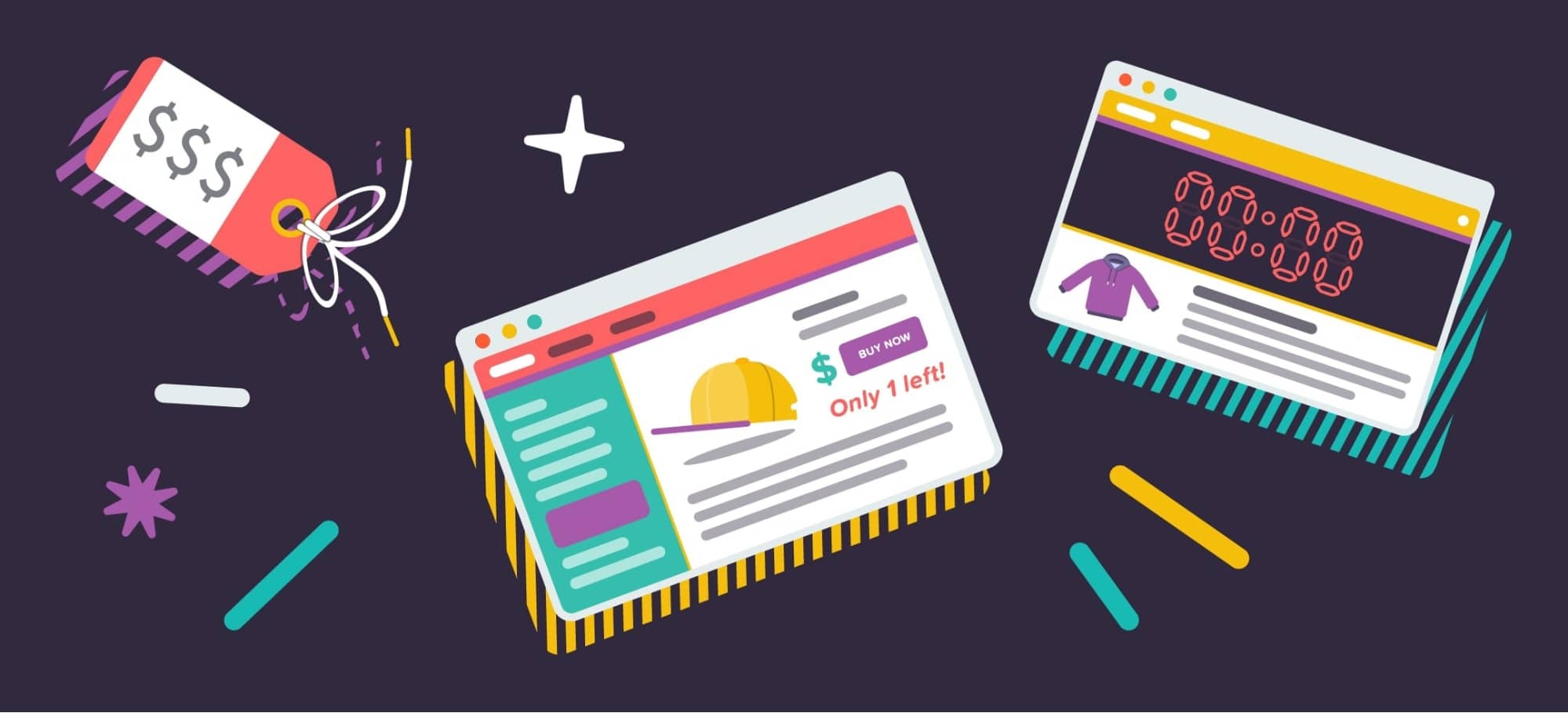 Tactics of urgency and scarcity will help to improve the profits of your shop. When you use scarcity, the buyer will feel that the availability of items is limited and that the items have to be bought. Urgency is a time-based technique that makes consumers worry that they will struggle to order under short time frames.
With strategies of scarcity, consumers are encouraged to consume goods because everyone else is purchasing them. The product was checked by others, which helps the consumer feel like it is a good purchase. Shop owners can create scarcity artificially by only creating an exclusive VIP service, or selling fewer goods to former customers.
Customers are desperately obliged to purchase goods as time passes on. A countdown timer can sometimes be found on the web page or an instantly flash sale one day. The timer gives consumers a sense of urgency, which in essence, leads to well-known psychology, namely a sense of loss and concern that something is significant is lacking or FOMO (fear of missing out). The traditional approach to shortage hinders the willingness of us to think rationally and forces us to do something now. Thus, intelligent advertisers should make us feel good when we are at it with our hard-earned money.
FOMO discusses the fear of losing any chance or social interaction, which is, in turn, the source of many people who search for email and social websites
Read more: Use Artificial Scarcity in marketing
How a countdown timer should be used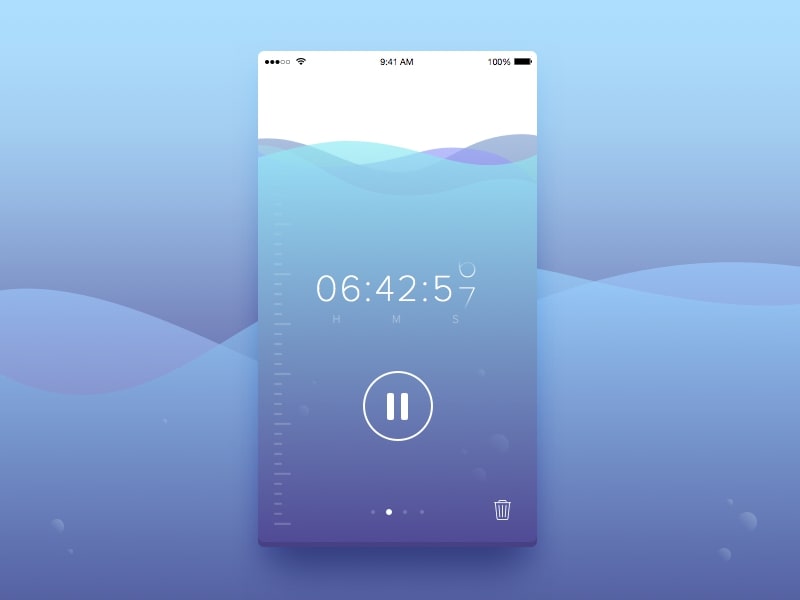 Be informative and relative
Timers should only include important, useful information. A countdown timer is intended to sell more, but should not appear meaningless. Each timer should give the consumer added value. It should support the consumer rather than merely view this as a sales tactic. For instance, consumers may be worried about their Thanksgiving delivery arrival, and the countdown timers will help show the detail as thoroughly as possible.
Be honest
The emergency created by countdown timers works well so that false deadlines can be used to drive out sales. This strategy, however, involves the possibility of angering clients and reducing opportunities to return to the platform. Your consumers could otherwise be frustrated.
Be moderate
This strategy is not to be overused or consumers' trust in the provided information would be compromised. It only succeeds if consumers value the information they get. Imagine the terror of seeing that "'just 1 hour left' being seen on every product list - Your visitors may feel like your business is about to go out because they don't have an inventory to sell.
About Hurrify Countdown Timer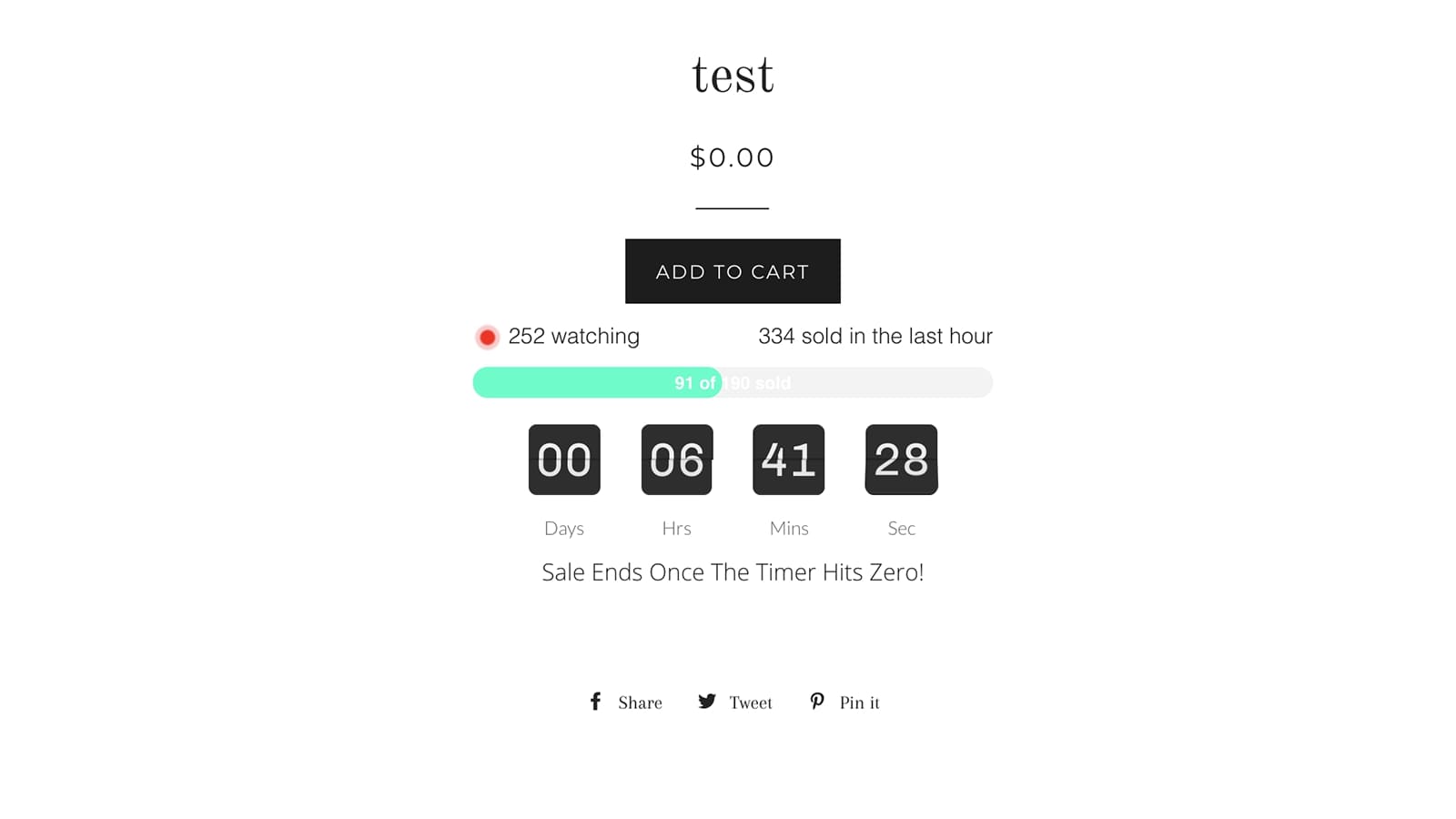 Hurrify is a genius by developer Yousef Khalidi, one of the best Shopify software programming parties. It has some valuable features which can help you dramatically improve your conversions. Two impressive types are provided by Hurrify, which resets as the clock comes to zero. New functions, including countdown timer text, have also been introduced, allowing you to embed a promo or message with the timepiece. A countdown time bar can also be used on Hurrify product pages. No more than as a timer, it is possible to apply emergency & shortage messages to the countdown time bar.
In addition, you can now build scarcity with the awesome progress bar available in Hurrify. The advance bar indicates the number of units sold that decline with the timer or the number of consumers who purchased the increasing items. And most of all, the best Hurrify help team to fix all the problems easily and in a few hours. It might not be the best Shopify program, but it's not the least of the top applications out there.
However, Hurrify will charge you an amount of $6.99 per month after a 7-day free trial. The price is quite affordable, but it may still appear as an arising cost for e-commerce startups that are low on budget. Besides, there are several other free countdown timer alternatives with equivalent quality and features on the market to diversify your considerations. Below are 12 top-listed free Hurrify alternatives to boost conversions with minimum costs.
Best 10 free Hurrify alternatives to drive sales with zero costs
Countdown Sales Timer by Pixel Union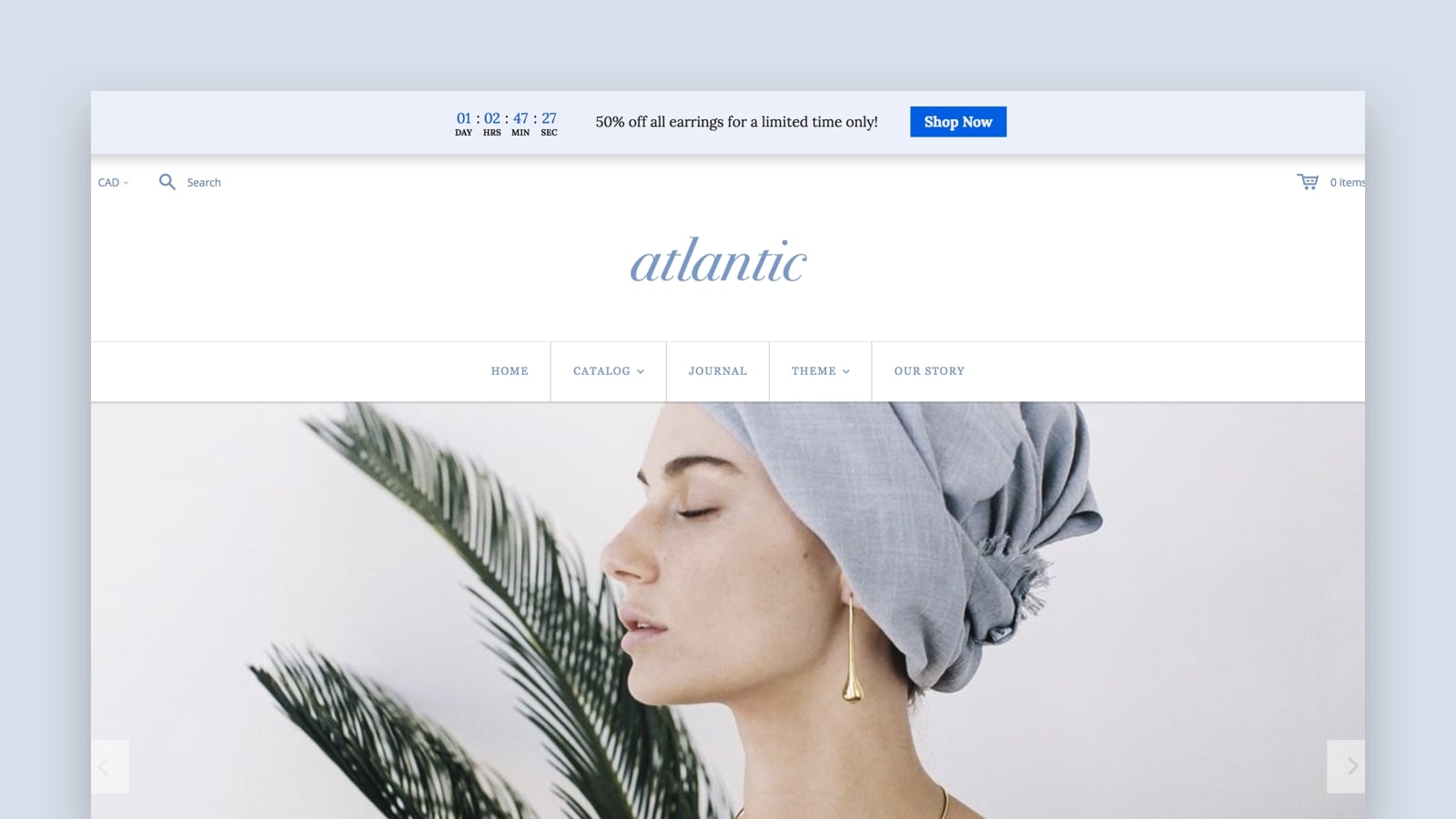 Countdown Sales Timer helps you to add a countdown to generate excitement and to boost sales rapidly and conveniently in real-time. It is made by the Pixel Union Shopify interface experts and encompasses a variety of countdown timer topics intended to boost conversions.
This app has a range of handy features that can help improve sales. This program will also be used for any of the sales and promotions, including flash sales, seasonal sales, launch of goods, time limits, future promotional offers, recurring same-day sales, and other time deals. Moreover, you can select separate countdown timer subjects from Pixel Union. In addition, you can also configure the fonts, colors, and buttons for your Shopify store. Countdown Sales Timer also offers instant installation with no tricky code required to help you create sharp-looking countdown timers within seconds.
Key features
Customizable themes available
Instant installation
Available for various types of sales and promotions
Pricing plans
Free plan
Publish 1 timer at a time
Choose from 6 themes
Premium plan - $5.99/month
Publish unlimited timers
Choose from 17 themes
Create your own themes
Recurring daily timers
Advanced targeting
Performance tracking
Countdown Timer by Powr.io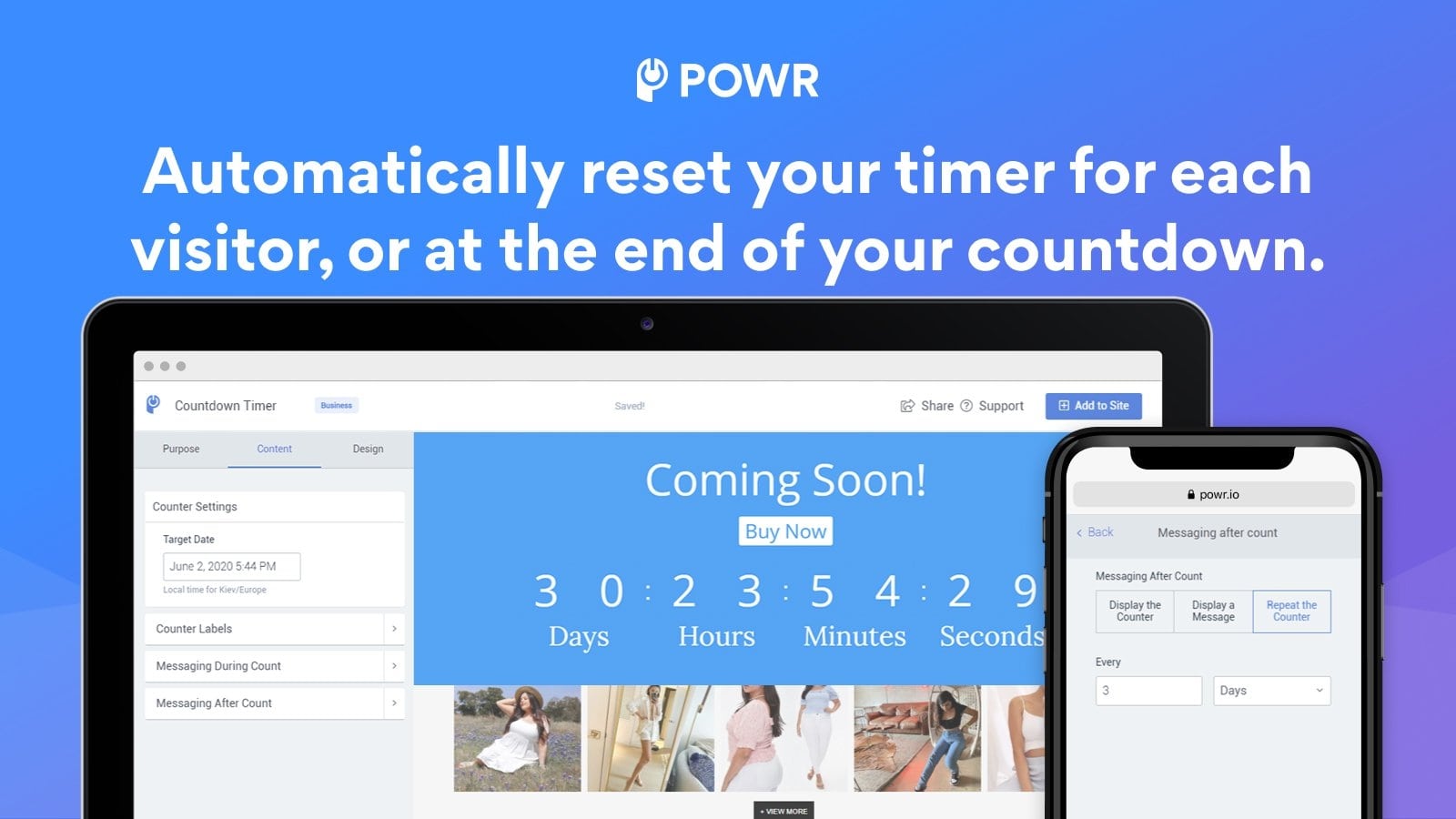 The Countdown Timer software is an invention created by leading POWr.io developers. The development team is known for its variety of eCommerce applications, including social media applications, conversions, help, payments, etc.
This application was specifically designed to establish urgency in eCommerce shops with time pages, landing pages and homepages displayed almost everywhere. The incredibly adaptable countdown time timer software helps the owners of eStore to announce the start and end of sales/promotions.
The program uses the principles of behavioral psychology, which encourages consumers to inform that a sale or offer ends after a prescribed duration. Besides the countdown, the number of individuals purchasing a product may also be used. Extensive customization also enables vendors to design, color, and redimension the countdown system.
Key features
Display the remaining years, days, hours, and minutes of a special deal or sale event.
Customize fonts, colors, backgrounds, animations easily without development knowledge
Mobile responsive timers
Supports text in any language
POWR apps integrate with many platforms such as Mail chimp, YouTube, Vimeo, Facebook, Instagram, Twitter, Pinterest, and more! Beeketing alternative
Pricing plans
Countdown Years, Days, Hours & Seconds
Starter Plan - $4.99/month
Remove POWR Branding
Custom Content After Count
Custom Button
Hide Days/Hours/Minutes
Advanced Animation Effects
Automatically Repeat Timer
Pro Plan - $11.99/month
All features from the Starter plan
Countdown Per Visitor
Count Up Per Visitor
Custom CSS
Business Plan - $79.99/month
All features from the Pro plan
Free Business Upgrade for All 50 POWR Apps
Conversion Plus by Varinode, inc.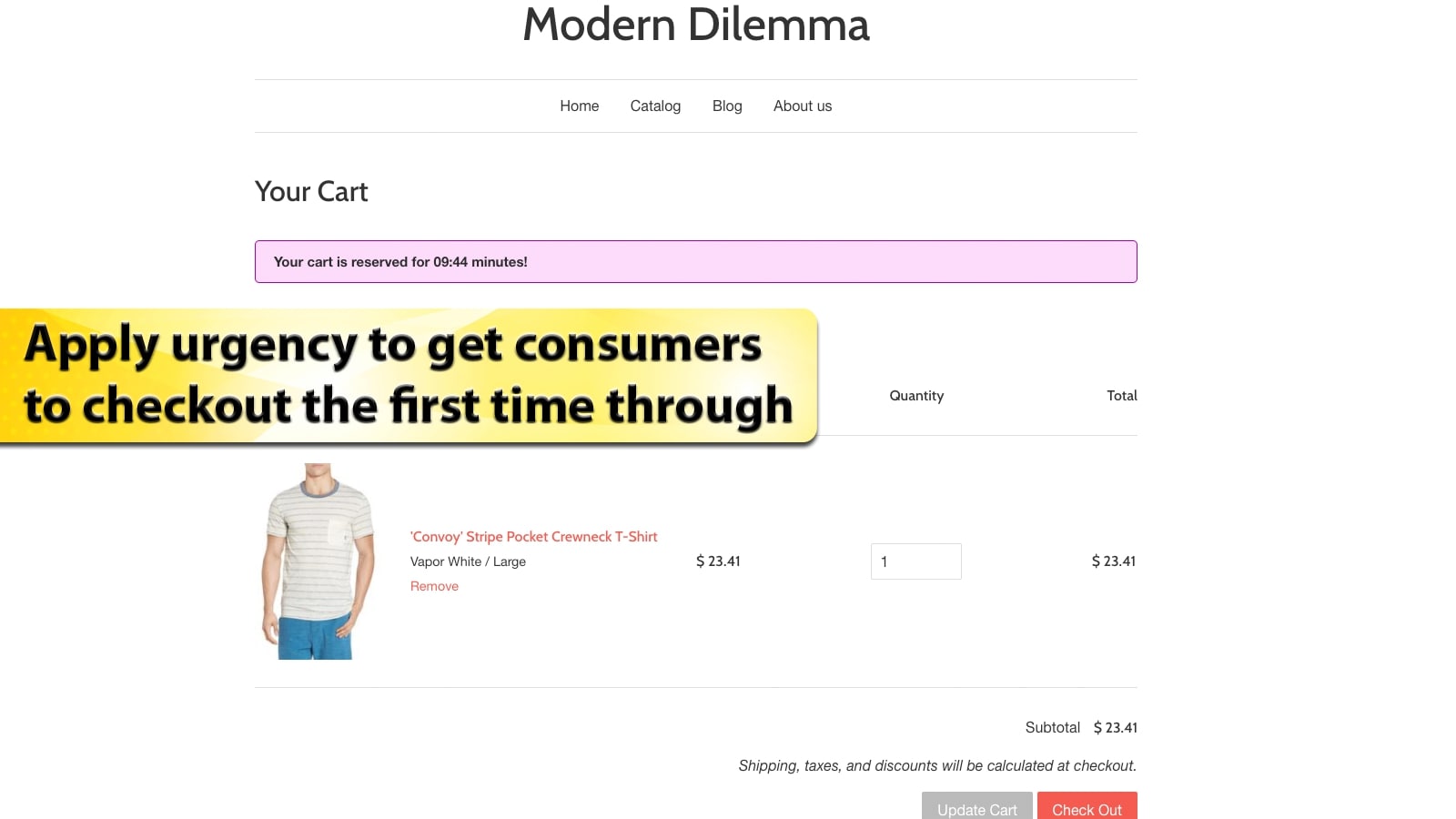 Conversion Plus, which was created by the Varinode, Inc. team, is helpful software that displays a timer on product pages to generate a sense of urgency which can help boost stores' sales. With no costs charged for download and use this app acts as an enthusiastic supporter of the store to make a bigger profit. Shop owners are allowed not merely to set each online cart's countdown timer, but also to change the activities flexibly after the time limit expires. This method allows consumers to improve their purchase certainty and make their orders easier during the check-out process. In this application with many different languages, which is suitable for even international users, language configuration is also needed. Furthermore, the Conversion Plus app will also automatically match the theme with stores' branding in order to provide each and every user with an optimum experience, which is compatible with a wide range of digital devices.
Conversion Plus is designed with a user-friendly interface that is responsive to various devices. The app is also easy to install which requires no advanced programming techniques to get it running.
Key features
Responsive in all devices including desktop, tablet, and mobile
Free plan available to reduce operating costs
Multi-language support.
Modify the look and feel to match your theme.
No App branding for a professional look
Easy installation - No programming required.
Timer display on the Cart page, pop-up/drawers, and Checkout pages
Keep true inventory reservations
Pricing plans
Starter plan - FREE
A countdown timer on the cart page
Customize timer duration, text, & look
Clear cart on-expiry
International Language Support
Support on mobile devices
Bronze plan - $6.99/month
All features included in the Starter Plan
A countdown timer on Cart Drawer/Pop-ups
Inventory Reservation
A countdown timer on Checkout pages
Widgetic (Countdown Timer)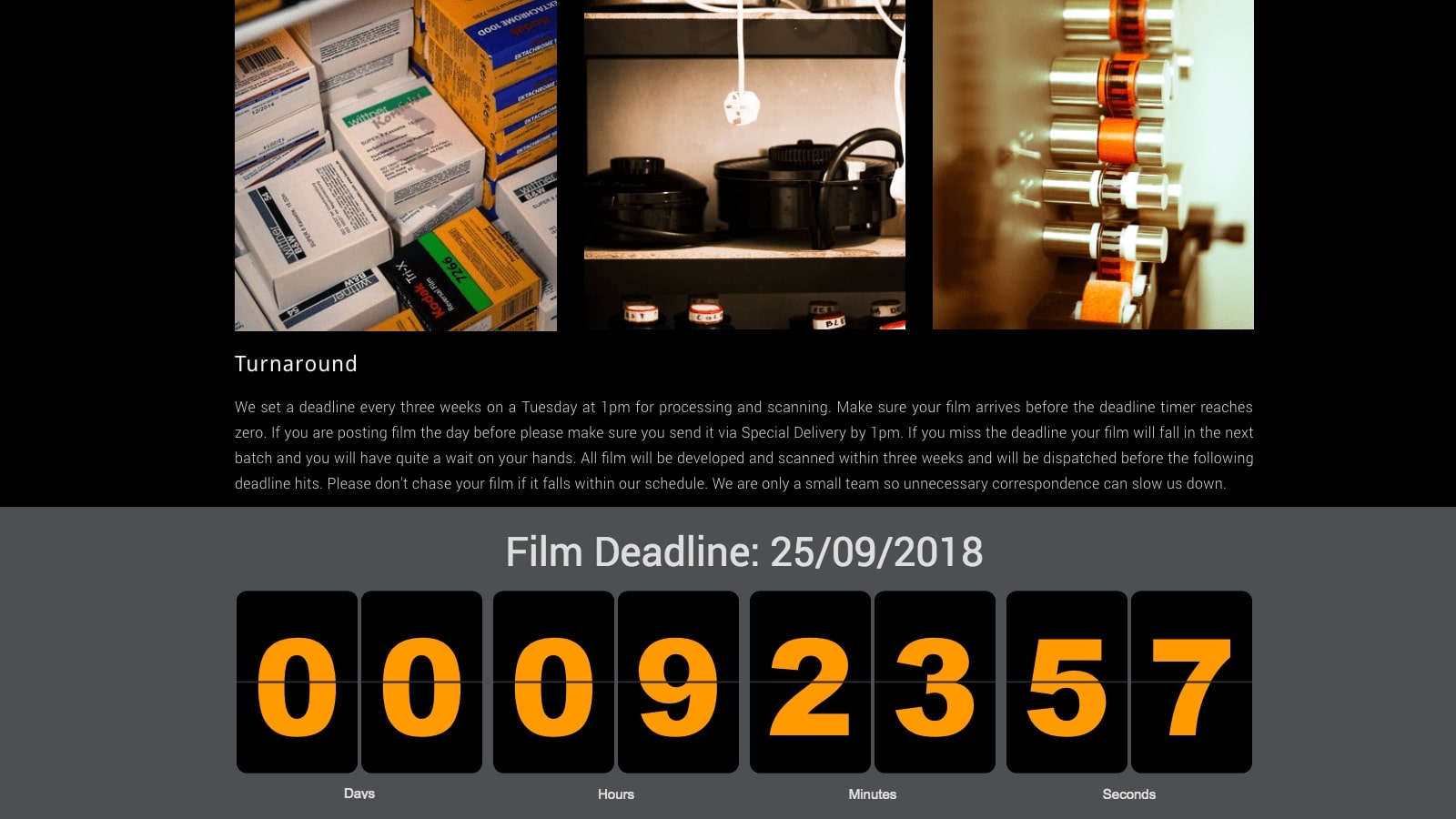 Widgetic (Countdown Timer) becomes a great countdown app to make Shopify stores more confident about shopping decisions and increase the profits of shops. This software provides competitive rates than most for free download and use and saves investment expenses for the owners of the stores. It allows them to set up a countdown timer for hot occasions, such as vacation sales, which makes consumers choose to shop cheaper, but decent items.
Moreover, traders will adjust the call-to-action relation by themselves, so that at various times their purpose may be fulfilled. As time expires, the following letter to clients relies on shop owners adapting the font, design, and graphics to flexibly modify it. Finally, it is possible to develop the Widgetic (Countdown Timer) program to be compatible with the branding of any store, because it can surely deliver the best interface ever for consumers.
Key features
Make your timer start over, enabling an automatic loop with a buffer after each loop ends.
Customize the style to fit the website look
Customize the Time Up Message for a personal experience.
Responsive design for tablet, mobile, and desktop
Count down from various events or up from any date.
Adjust the CTA link.
Pricing plan
Widgetic is completely FREE to install.
Product Countdown Pro by App1pro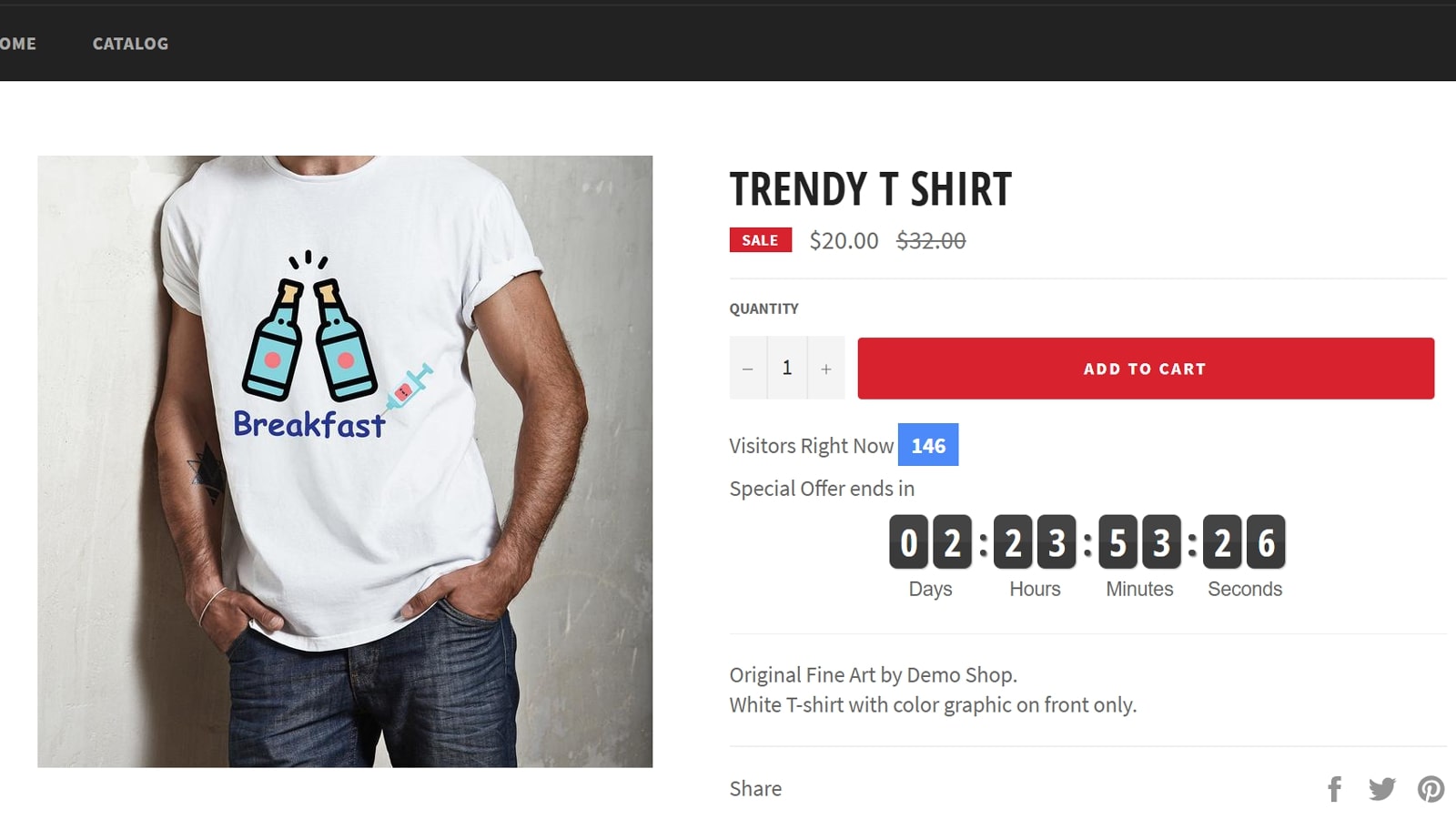 Product Countdown Pro from App1pro is an application that displays a countdown to a sense of urgency in order to maximize revenue. This app has some key features that your store can use.
First, the software is supposed to be compliant with different Shopify themes if incompatibilities are observed. Installation of Product Countdown Pro is made easy with no advanced programming skills required. Store owners will just have to direct to the "Installation Guide" page to get the snipper code, then move to the Settings page to customize your setting. When your setting is done, just go to the main Dashboard, search, and select the product to add a timer, edit the time period, then click "save" to complete the process. To alert technical support personnel, click on the "Help" button on the Admin App Tab.
Furthermore, it contains unregulated templates that can be conveniently adapted. You can pick or build your own prototype, which already existed. There are available technical support staff who will answer your questions and address them within 24 hours. This app also offers free plans to use. You can now download it for free in seven days before you plan to pay if you want to enjoy the full functionality of a paid account.
Key features
Compatible with different themes
Unlimited customizable templates available
Free and fast support
Responsive to mobile devices
Pricing plans
Free plan
Auto-renew timer
Hide timer when the time is expired
Cache on (Optimize for speed)
Use free templates
10 timers
Premium plan - $5/month
Auto-renew timer
Hide timer when the time is expired
Use premium templates
Customize templates
Up to 1000 timers
Enterprise plan - $10/month
Auto-renew timer
Hide timer when the time is expired
Use premium templates
Customize template
Unlimited timers
Sales Countdown Timer Bar 2.0 by SpurIT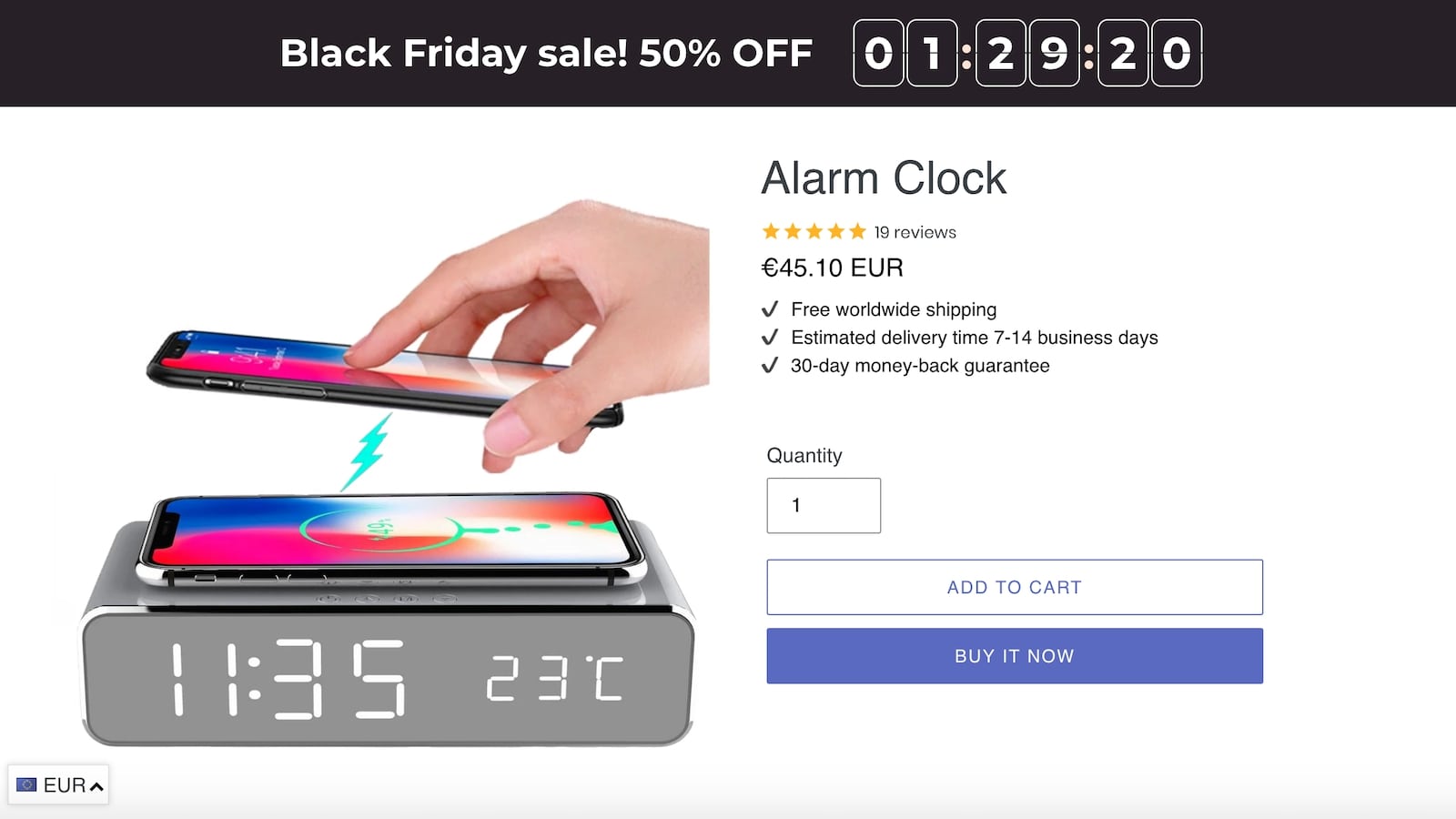 In order to improve consumer buyer preference, SpurIT Sales Countdown Timer Bar 2.0 is given to the online shop with the countdown timer. SCTB provides the Shop 2 separate settings, scheduled or fixed-length, which allow the timer to be used individually for sets, unique items, or the homepage. In addition, it delivers a super cool versatile adaptation to edit color size/RGB which font/background and can be entirely equipped with the interface of the store.
The software supports automated restart of the countdown time after the end date. It will position the timepiece at the bottom of the header, or on a product page as an integrated widget. Finally, with 4 steps to mount the timer on the website, SCTB is very simple to use. SpurIT also provides super-fast customer service to consumers with an estimated response time of 42 seconds.
Key features
Fully customizable countdown bar with multiple color/font/size changes
Responsive on mobile devices
Compatible with any themes
2 types: scheduled or fixed-length countdown timer
Auto-restart on the end date
Countdown sales notifications for specific products or collections
Pricing plans
Free plan
Use a timer for 1 product or specific page FOR FREE
Scheduled and fixed-length countdown timers
Individual timers
Unlimited plan - $8.95/month
Manage timers for an unlimited number of products/specific pages
All Free Plan features
Priority support - $17.95/month
Up to 3 h/month of customizations
Dedicated manager
Priority queue to get support
Assistance to set up the app
All from the Unlimited Plan
Countdown Timer Bar by Hextom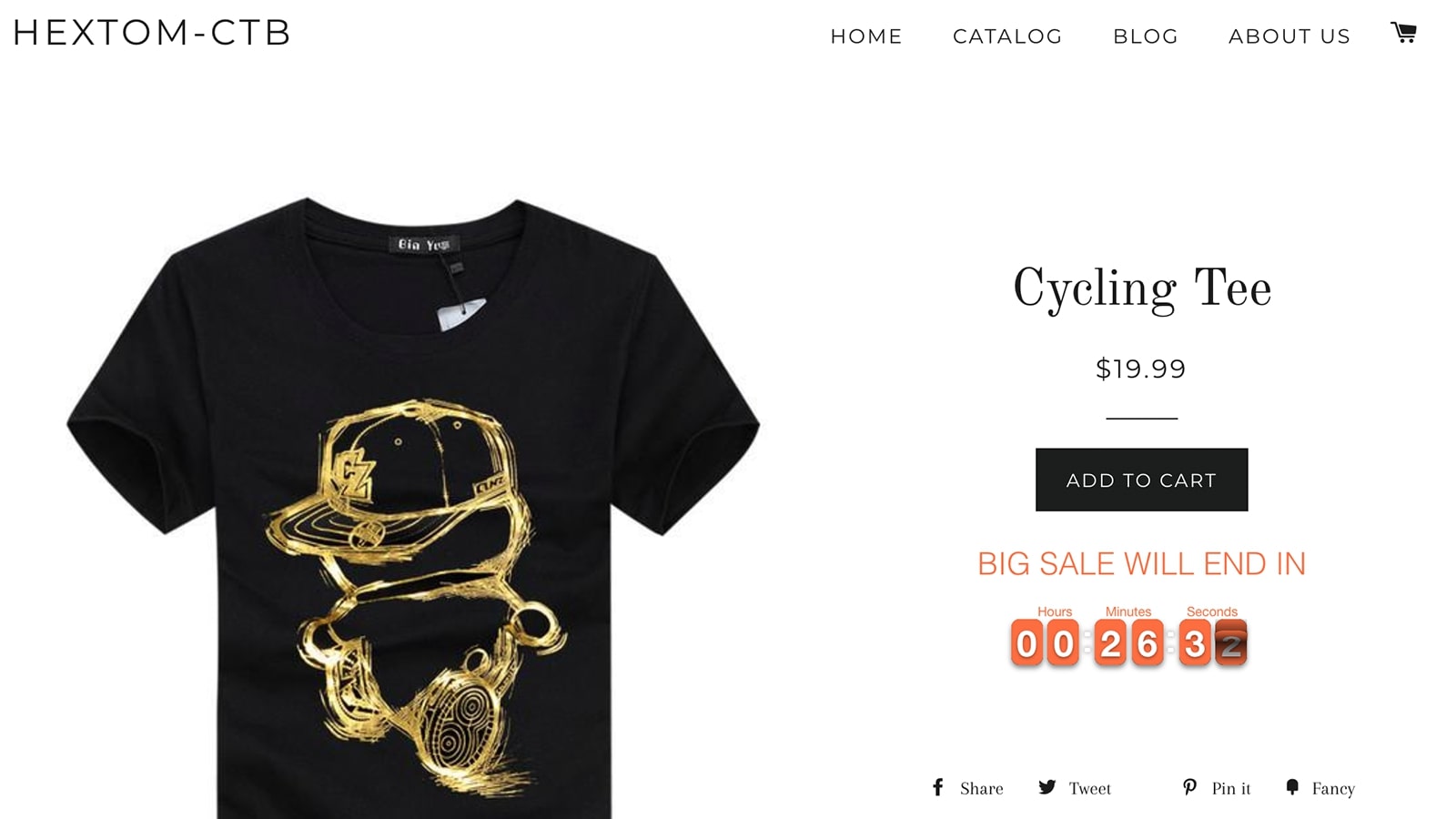 It is necessary to increase dedication, boost the conversion rate, provide assistance in optimization of mobile conversion, and even focus on customer loyalty. Countdown Timer Bar by Hextom does everything to generate urgency by showing clocks, including a product list, a landing page, and a homepage virtually everywhere. All timers can be customized to signal the start and end of sales.
Use behavioral psychology to inspire consumers in contracts and campaigns, to hold them up on time limits, and to show them the number of people who have actually ordered a product, other pleased shoppers. This app tells them. You can play timer style and change color and scale, synchronize with the brand and optimize the effect with the contrast. The software supports the language of the text and can view a personalized coupon or discount code message or buttons.
Key features
Multiple types of countdown timers
Geo-Target displaying different promotions based on visitors' location
Fully responsive with various screen sizes
Auto-scheduling features
Highly customizable emojis, colors, fonts, and promotion page position displays
Pricing plans
Free plan
Event-based timer
Display at any desired position
Device targeting
Page targeting
Links added to bars
Emoji support on bars
Premium plan - $9.99/month
Free plan plus
Unlimited active bars
Daily, weekly, recurring timers
Geo-targeting
Social/UTM targeting
Bar background images
SMART Scarcity Countdown Timer by Skup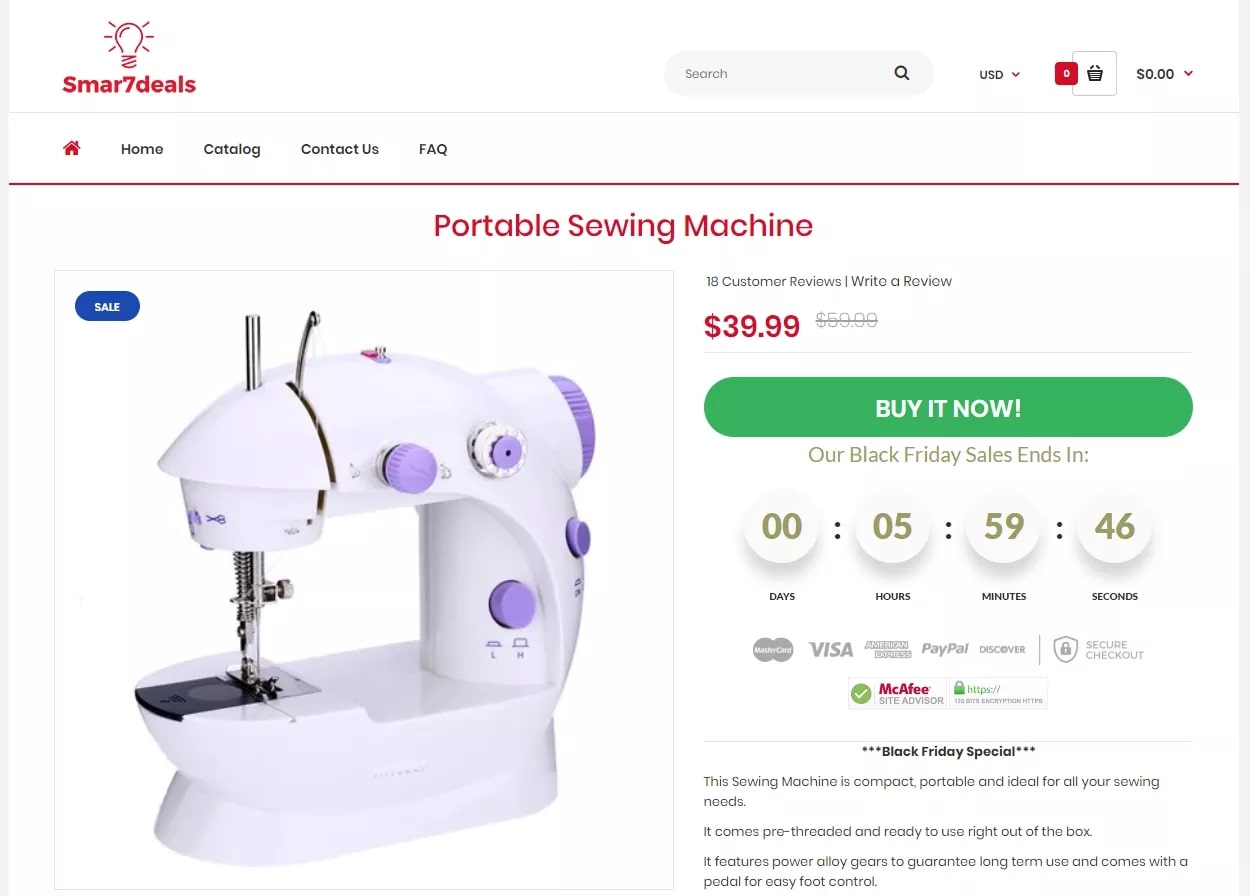 SMART Scarcity concerns urgency and scarcity, and it pulls all the stops in order to maximize conversion rates so that no real technological abilities are needed. By using the psychological influence of the scarcity threat on your goods in a simple, eye-pleasing, and clear method, you can effectively raise sales and average visitor experience. It offers several features and some of them allow you to do several things concurrently, including the complicated timekeeping setup, ensuring each one must not be set up individually.
At any turn, SMART Scarcity gives you options, including the option between evergreen and standard timers, various models to fit every business model, and the counter for individual artifacts or whole product sets. We're also confident you like the special sticky timer that still alerts consumers of how important it is to sell and scarce the goods.
Key features
Using psychological approaches to increase conversion
Set up a regular timer and pick up end dates
Various templates to match your website look
A sticky timer to remind scarcity
Pricing plan
SMART Scarcity is completely FREE to install.
Ultimate Scarcity Pro by Softpulse Infotech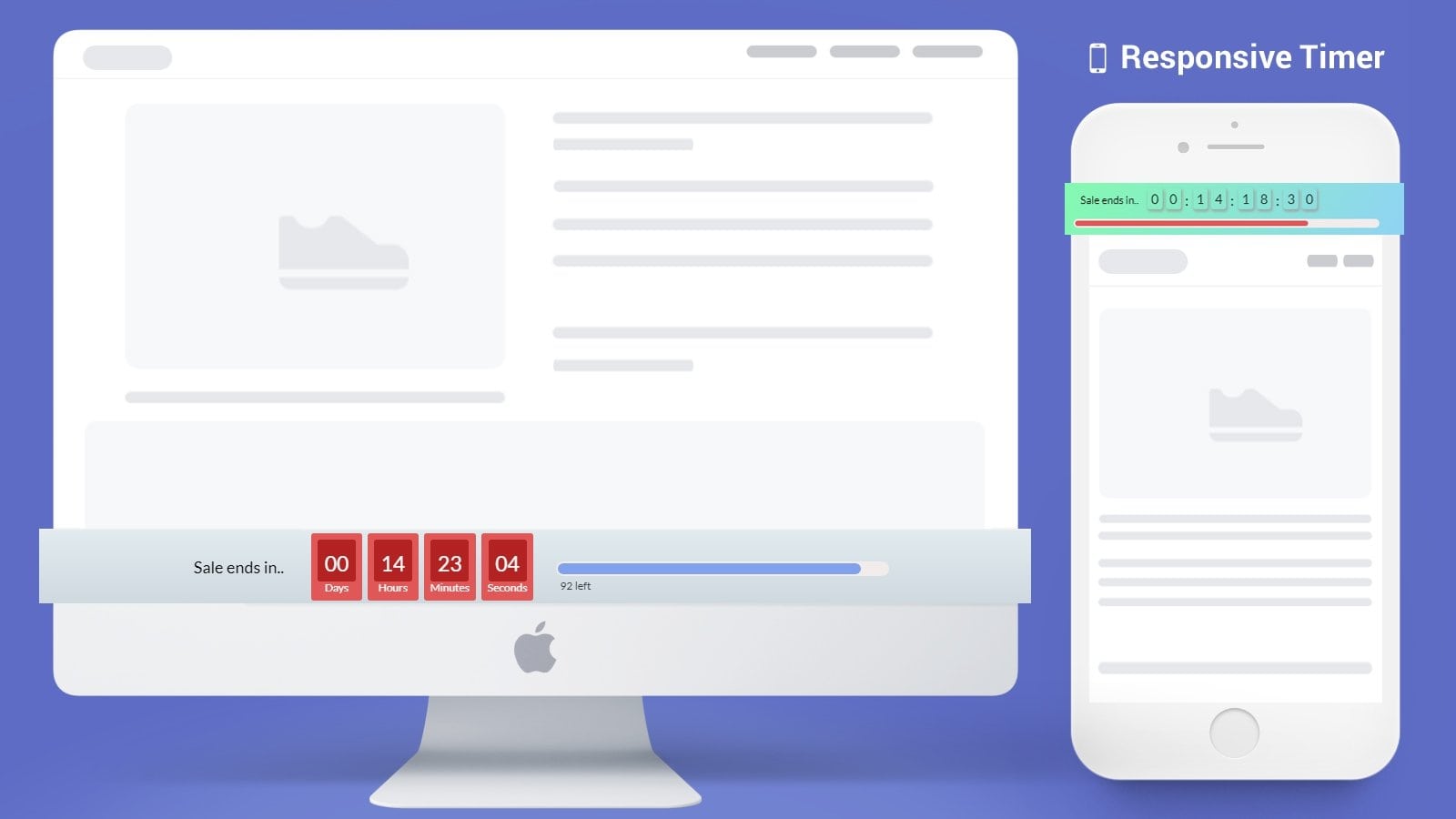 Ultimate Scarcity Pro is an application developed by Infotech Softpulse to help shop owners boost profits by driving consumers to purchase with countdown timers faster. This software helps you to easily choose from several premade types and models to build and adjust the look of your countdown timer to suit your shop and draw the interest of your customers.
You may also create a coupon code and define a timeline for it to arrive and have it before the customers to make a feeling of pressure, make a buy, raise transaction rates and improve store sales. You can also view the overall number of visitors and the total amount of quantities delivered, which strengthens the trust that your consumers have in purchasing your goods and therefore increases their customer commitment.
Key features
Various countdown timer types customized by specials dates/seasons
Multiple templates
Stock bar & timer
Social proof activities display on the store
Recent sales popup display
Cart reservation bar available
Pricing plans
Free plan
Countdown Timer
Stock bar & timer
Social Proof
Cart reservation bar
Offer/Stock running out a bar for cart items
Sales Pop
Announcement Header Bar
Premium plan - $8.99/month
All Standard Features
Order Within / Get it By – NEW
Premium Templates
Remove Softpulse logo
3 Days Free Trial
Pushdaddy Countdown Timer by pushdaddy.com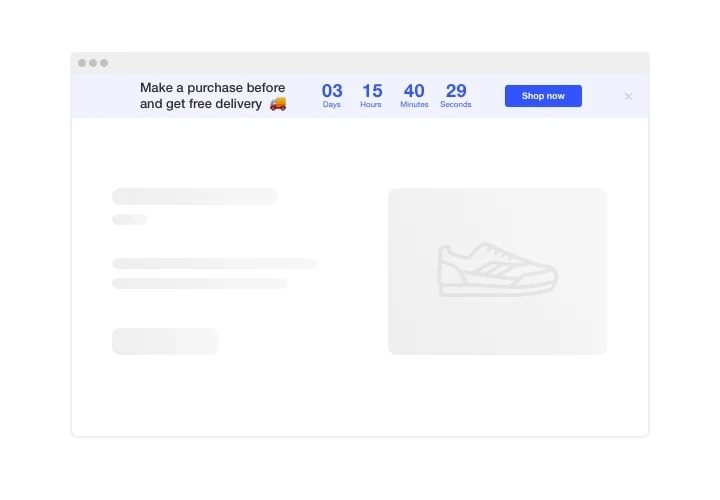 Pushdaddy Countdown Timer lets you build anticipation and raise your revenue in real-time easily and comfortably. It is easy to install this program with no programming knowledge needed. You may easily configure the banner according to your desire and trigger the banner in your shop after it has been mounted.
The software provides a range of realistic features to boost sales. This software is also used to support and market purchases. Furthermore, you can set the fonts, colors, and buttons for your Shop. The global countdown timer boosts urgent sales. It's a perfect way to illustrate your sales marketing. There are also ways for deciding the pages are removed by having URLs such as homepages, lists, or product pages.
Key features
Countdown timers for various promotion types
Auto-scheduling feature
Supports unlimited active bars
Geo-target, display different promotions based on the visitors' country
Options to define the pages to display
Highly configurable fonts and colors
Optimized for all screen sizes (tablet, mobile, desktop)
Pricing plan
Pushdaddy Countdown Timer is completely FREE to install.
Final words
Deep inside human beings, experiments reveal that they fear losing, rather than seek to win. We are only permitted to operate where the possible lack of a critical resource is under threat of scarcity. This is why countdown timers are viewed as a straightforward hint that does not frustrate consumers by the apps on our list.
However, if you do not like the look and sound of a countdown timer, it's quickly corrected with some tweaking, as everyone is really easy to customize and offers ample setup choices to change them whatever you consider appropriate. That's why it's essential to choose a countdown timer that is highly customizable while keeping your spending under budget control. Of all the countdown timers designed for e-commerce (and specifically Shopify), Hurrify has always been a stand-out receiving good reviews and references, but the software still requires an amount of monthly free to install. Above is our suggested list of the 10 best free Hurrify alternatives that offer you an equivalent feature list without spending a buck on it.
New Posts
Stay in the know
Get special offers on the latest news from AVADA.