11 Black Friday Email Marketing Tips for Your Inspiration
The Covid-19 pandemic has changed how online businesses profit from Black Friday.
Gone are the days of waiting in line outside storefronts in the cold. In 2021 and beyond, the majority of Black Friday transactions are expected to take place online.
And that affords online business owners, like you, a chance to drive more sales and profits - providing you are sending good Black Friday emails. In this post, we will share 11 Black Friday email marketing tips that you can learn to make more from your campaigns.
What should you expect from Black Friday this year?
Due to the pandemic, a changing E-commerce environment, as well as evolving owned marketing channels, the following trends can be expected for the upcoming holiday season:
Significantly more people will shop online. This will bring more opportunities for E-commerce businesses as well as higher competition.

E-commerce promotions will start much earlier than Black Friday itself. Last year, due to the Covid-19 pandemic, retailers pushed their sales earlier than ever to create a safer shopping experience and avoid shipping delays. While we cannot say exactly what will happen this year, we do expect the trend of earlier online sales to stay.

Businesses will take advantage of different marketing channels. Retailers will reinforce their email marketing communication with other marketing channels, such as SMS and web push notifications. These channels are actually getting more and more popular, and lots of retailers see new potential opportunities there.
11 Black Friday email marketing tips for your inspiration
1. Build your Black Friday email list
If you haven't had an email subscriber list, you should create one right away. To make your email marketing fruitful, you need to grow your email list with subscribers that are interested in your upcoming offers.
This is especially true in the holiday season, as Black Friday is the biggest shopping week of the year. Even more, those customers who have already bought from you will be more likely to buy again, so building an email list becomes much more necessary.
If you would like to boost your subscriber list, you should try to improve on the urgency as well as offerings for your products. Actually, this should be done before Black Friday really happens.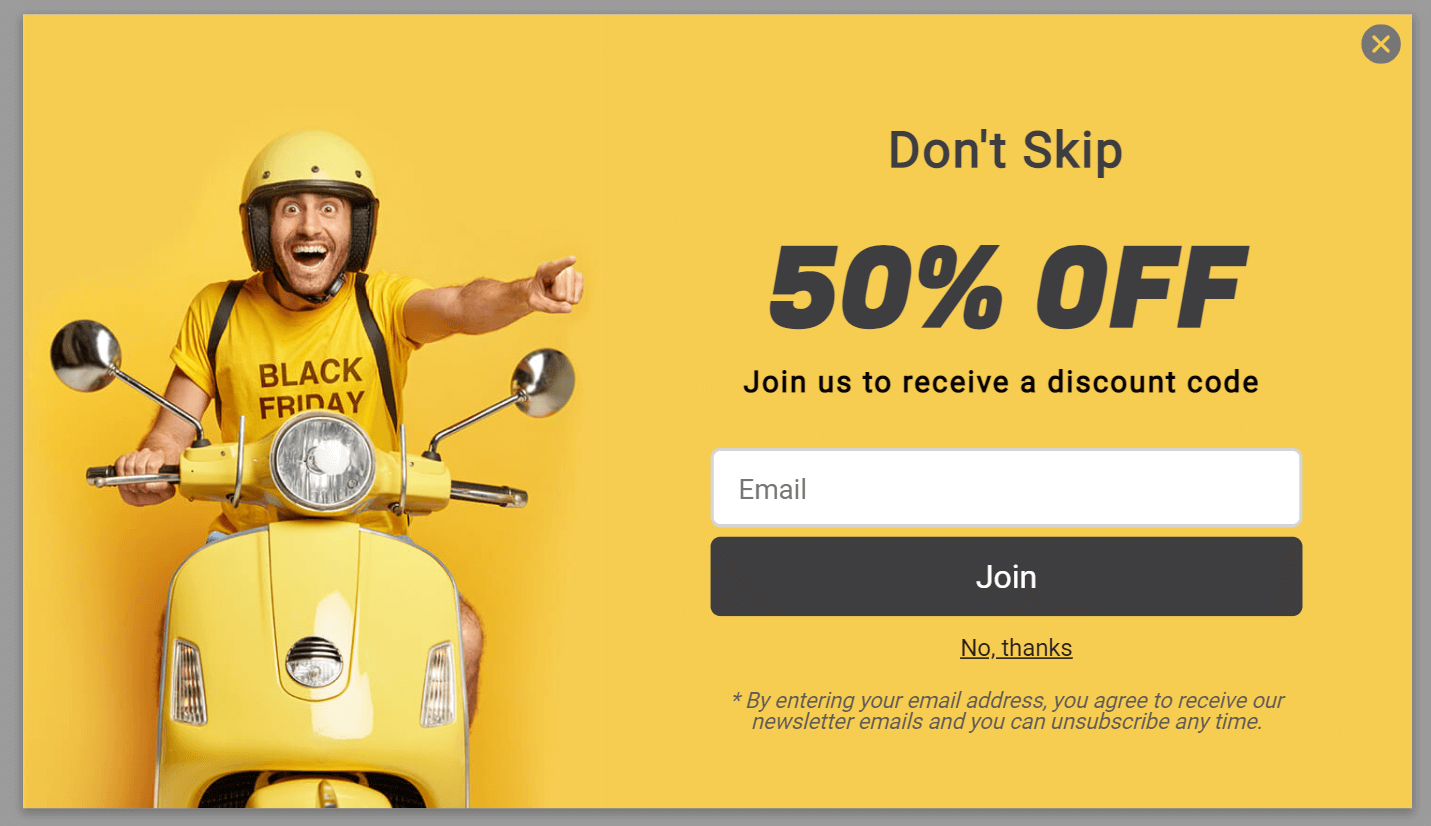 You can also set up a special landing page to grab visitors' emails from, for instance, your advertising campaigns, social media ads, etc. These updates will make you more competitive and help you stand out, especially if you start your promotions earlier.
2. Experiment with timing
Thousands of online stores compete for shoppers' attention on Black Friday. Unsurprisingly, customers become numb during the shopping weekend after receiving the same type of marketing messages over and over again.
This year, try changing your timing - dramatically or slightly - so your messages don't get lost among a million other distractors. How early or late will be up to you.
Option 1: Act early
Small or big - everyone is doing Black Friday.
Fortunately, there are creative ways to grab your prospects' attention before they are exhausted by E-commerce giants' Black Friday messages. Acting early is an effective way of doing this, and Wool and the Gang knows this strategy better than anyone.
Instead of waiting for Friday, the brand starts its sale already on Thursday and owns the days by calling it "Black Thursday." This way, they have a good headstart in their subscribers' inboxes (and wallets).
Generally, Black Friday emails consist of a simple sale announcement together with a scarcity-driven CTA. Nevertheless, Wool and the Gang really does something different in the remainder of its email:
They suggest products that are on sale, so you'll know where to start shopping. It is a smart tactic that can help convert your subscribers who don't know what to buy.
Option 2: Act late
Catching early birds is one tactic to increase your Black Friday sales - and converting latecomers is another. As customers associate the word "Black Friday" with unmissable offers, you can use it during the year to imply too-good-to-miss deals. Let's look at this email from Doggyloot: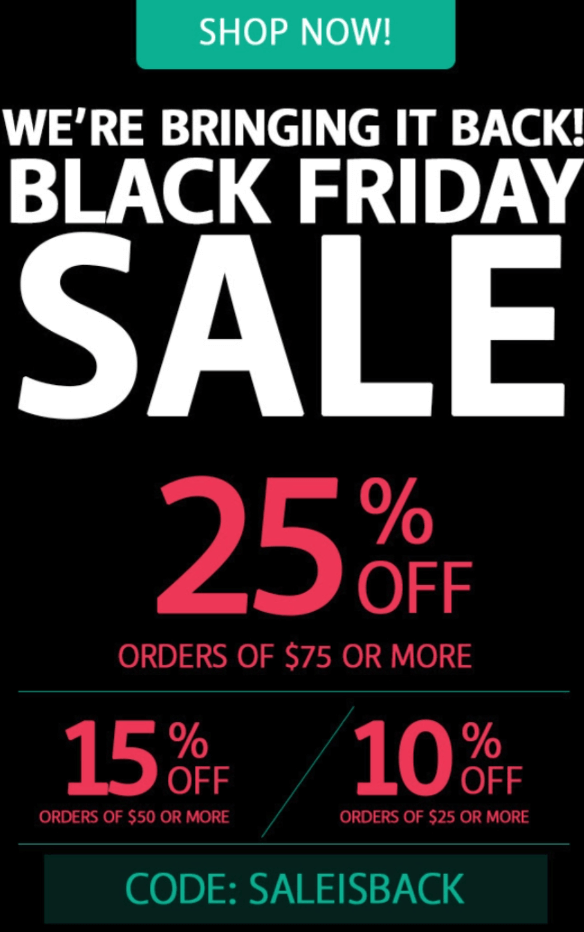 By claiming that they're bringing Black Friday back, they suggest that great offers are awaiting their customers. Although the company's offers don't go beyond 25%, they successfully create a perception of Black Friday.
If you are reading this outside of the typical Black Friday schedule or if you want to stand out among the crowd, try running your own Black Friday by acting early or late.
3. Make your email subject line stand out
Black Friday is not really a battle of discounting, it is a battle of attention.
If you desire to win this battle, your first target should be getting noticed in your subscribers' inboxes. And crafting well-written email subject lines is the first condition to it.
Check this email from Chubbies: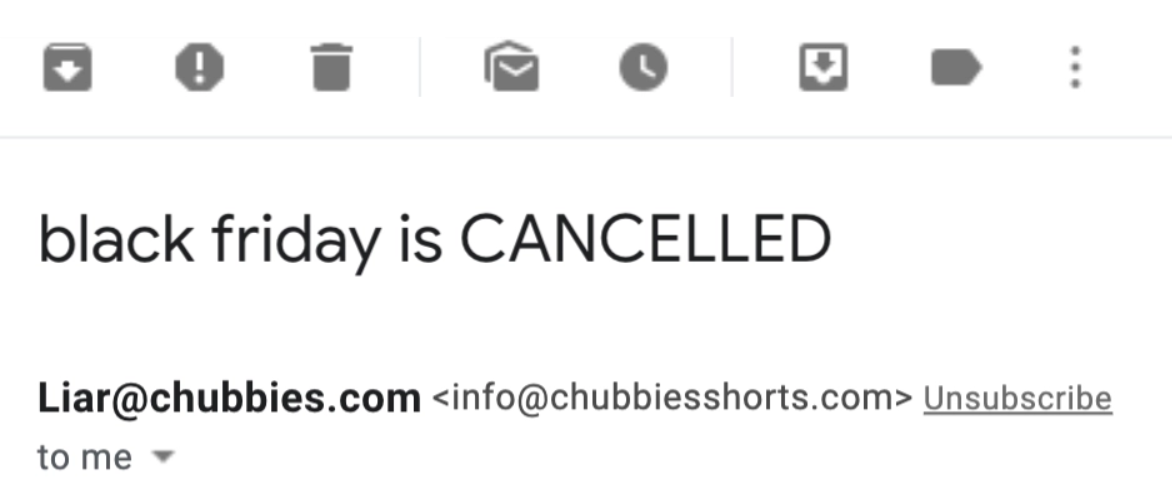 Known for its humorous tone, the brand sends an email that certainly stands out in your inbox. If you are wondering how and why Chubbies canceled Black Friday, you have to open the email. Also, notice the hilarious sender address - "[email protected]"
Another impressive subject line comes from Away. Positioning its products as superior to Black Friday, the brand implies that they are canceling Black Friday, similar to Chubbies.

Knowing that their subscribers are looking for a sale announcement in their Black Friday email, they explain why they do not do Black Friday, instead: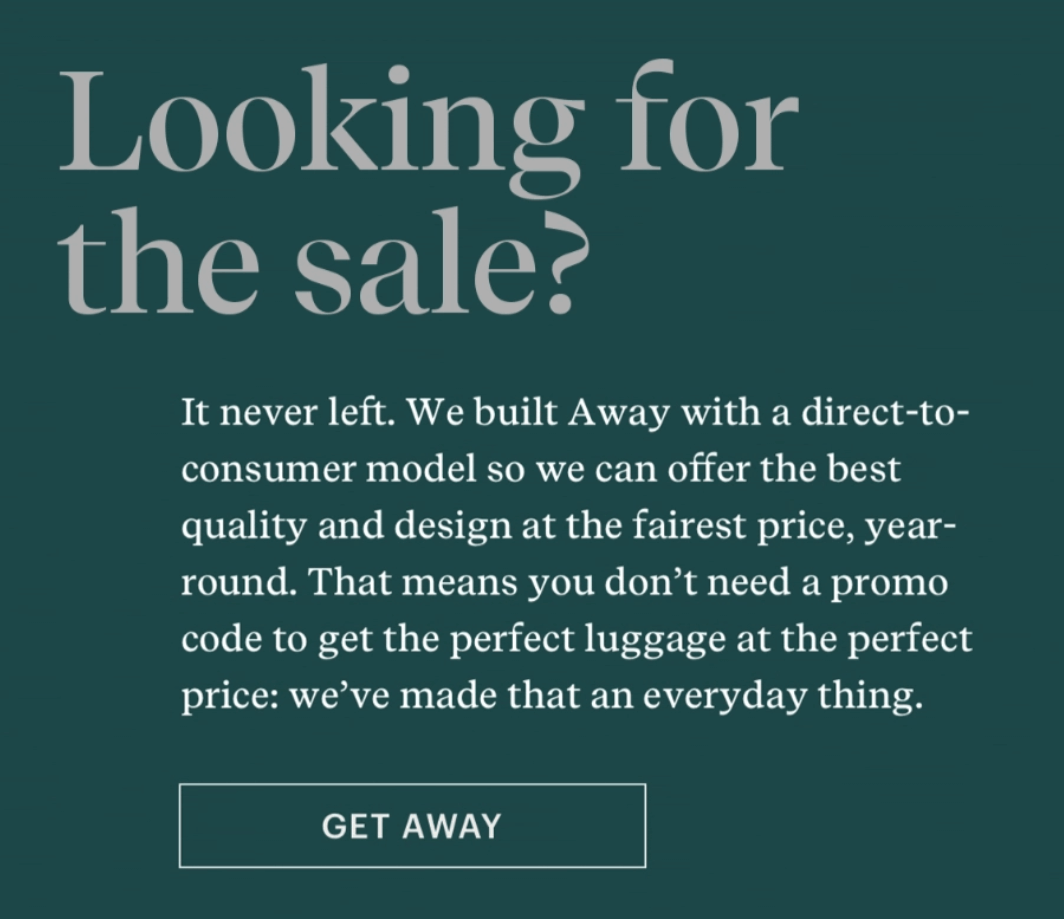 Explaining why they do not discount their products this holiday makes the company's hand stronger. Their prospective customers will now associate good prices with high quality, not only one day a year, but all the time. This is an excellent strategy and a curiosity-evoking subject line, whether or not you are running a Black Friday sale.
4. Make your sale memorable
Your online store may offer the best deals and the fastest delivery options, but you won't be the only one making these claims.
While every single online retailer is fighting over your prospects' attention, the competition gets even much more fierce during Black Friday. It is not easy for customers either. They have to navigate through different online stores, make comparisons, and then create shopping lists to buy their favorite products before they sell out.
This is a great chance for you to stand out and make your E-commerce site memorable on Black Friday. Let's see how Glossier does that in their Black Friday emails.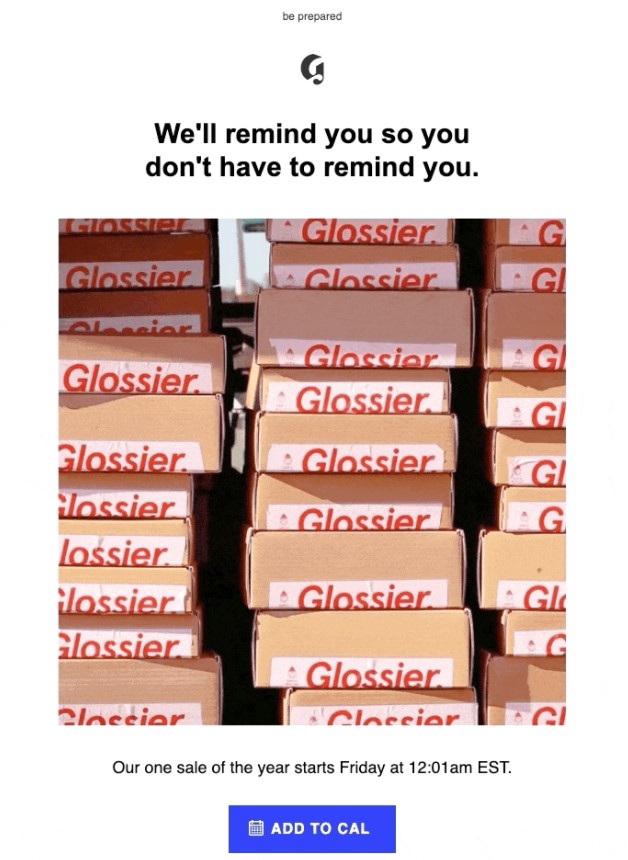 Sometime before Black Friday, the company sends their subscribers this email and helps them to "be prepared." Besides writing down the big sale's beginning date and time, the brand gives you the choice to add the event to your own calendar by hitting the "Add to Cal" button. When downloading the .ics file in the email and adding the event to your calendar, you'll see: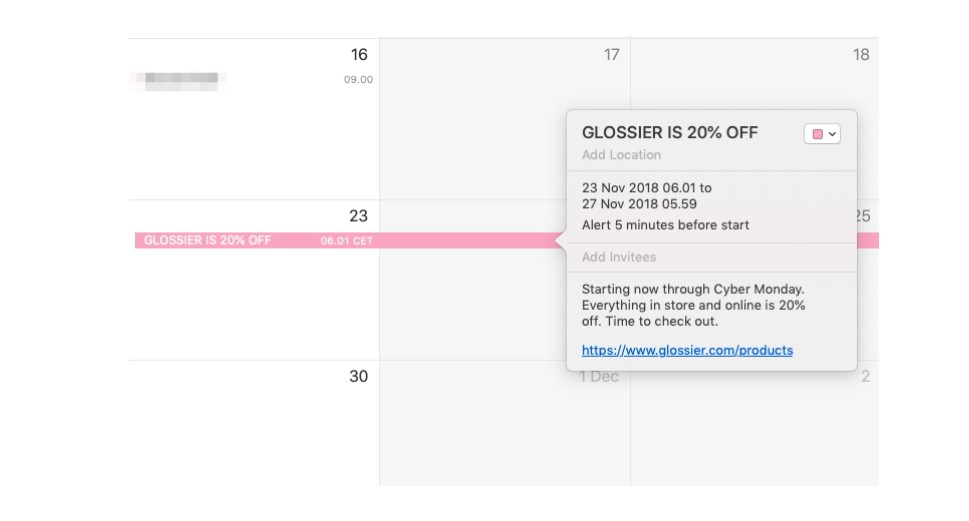 To make the Black Friday shopping experience even smoother, Glossier adds a link to its website so you don't have to think twice. With this selfless-looking email, the brand successfully stays top-of-mind during a busy shopping season, and undoubtedly increases their email conversions.
This is a simple yet efficient tactic that your business can implement in and out of Black Friday.
5. Create urgency
When it comes to email marketing engagement, a sense of urgency becomes a powerful tool to employ. You can introduce a timer or even some kind of scarcity, so your recipients understand that there is a limit to the great deals you will be offering.
For instance, Banana Republic reminded its subscribers to hurry up and take action, given the limited quantities of products it had remaining in stock.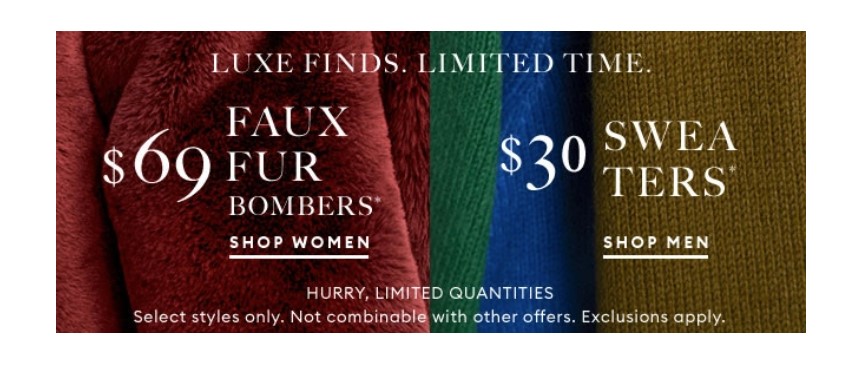 As always, urgency and scarcity are most effective when they are genuine. Avoid lying when marketing during Black Friday, and in general, for that matter.
6. Use the element of surprise
Surprises are exciting, but they are also a powerful marketing tool when used right.
While many online stores kill the element of surprise by adding their Black Friday discounts to their email subject lines, there are a handful of successful retailers that know the magic of surprises. These brands really stand out in busy Black Friday inboxes and get their emails opened.
Happy Socks is one of the best examples:

Instead of telling you that you will receive X% off, the brand teases its Black Friday offer by motivating you to get excited because you are getting a discount.
Even though numbers typically perform well in subject lines, avoiding them is a smart tactic if you really want to be different on Black Friday. That is why Happy Socks hides its discount amount, which urges you to open the email…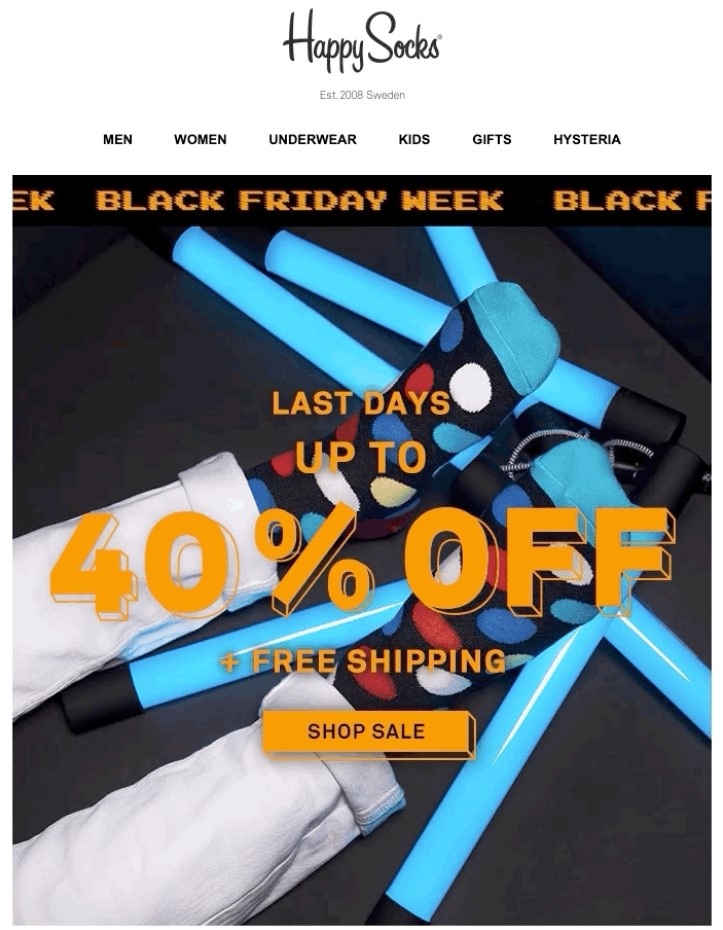 … and find out that you are getting 40% off (plus free shipping).
Death Wish Coffee is another company using the element of surprise in their Black Friday emails, but they take it one step further. They send a curiosity-evoking email that says, "Here's your random gift code."
And this is what its email looks like:
The brand sends you a random unique code, which you can use during checkout in order to see how much it is worth, and adds another layer of surprise. In other words, you need to click through the email, add several products to your cart, and then move to checkout to see your surprise gift.
This is a clever tactic to make your Black Friday offers more appealing. Furthermore, it will boost your email opens, and encourage more subscribers to visit your online store and move to checkout.
7. Offer more incentives
You might think that Black Friday is only about discounting. To an extent, you are right. Customers are expecting a compelling discount during the Black Friday weekend, but that is not all.
Black Friday is an excellent time to go beyond discounts and offer more incentives to your customers, such as bonuses, free shipping, or returns.
Estee Lauder understands this well and offers its customers additional benefits:
The brand combines Black Friday deals with its loyalty program and gives 2x more points for purchases made on this day. It is a great way to increase the number of your loyalty program members as well as Black Friday customers (and it costs you zero dollars.)
8. Consider adding more channels into your strategy
You should consider adding text messages into your Black Friday communication. Studies show that outreaching your audience via 3 or more marketing channels can bring up to 90% higher customer retention.
Ideally, you can add these channels to your welcome workflow or automated abandoned cart workflow. Let's see the example created by AVADA Marketing Automation right below: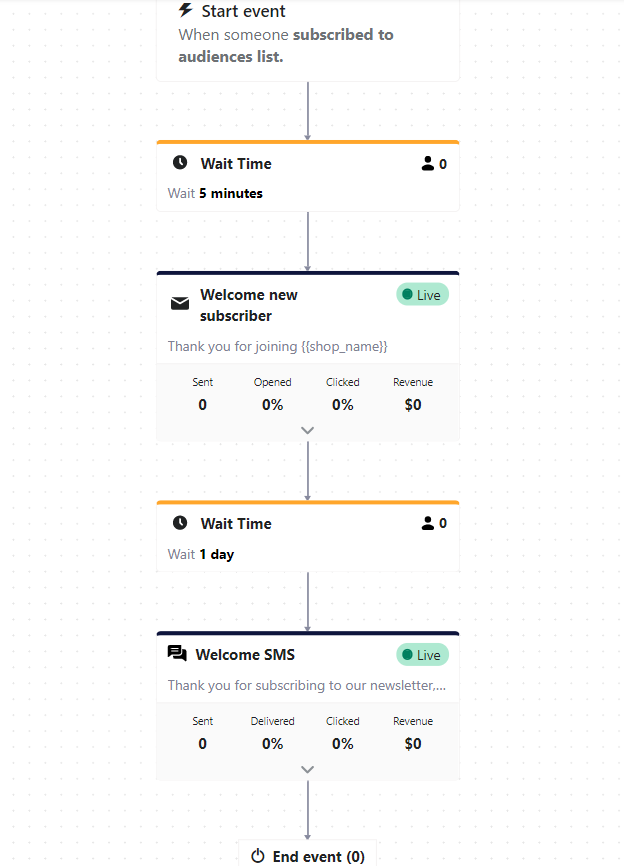 AVADA Marketing Automation lets you create effective automated workflows, so you can spend your money and efforts on other essential tasks. You can also customize your workflow to make it personal and efficient. Amazingly, the platform offers a free plan for you to try.
EXPLORE AVADA MARKETING AUTOMATION NOW
9. Tease your next campaign
As we said before, Black Friday starts long before Friday. However, it doesn't end on Friday either. If you desire to make the most out of the holiday shopping season, try teasing your next shopping day when Black Friday ends.
You can start promoting a local holiday, Cyber Monday, or Christmas, and hint that a compelling offer is around the corner.
When Black Friday is over, Man Crates teases its Cyber Monday sale with a funny tone. With the subject line of "Our Black Friday deal just refuses to quit," this is how the email looks:
The brand lets you know that they extend their Black Friday sale into Cyber Monday - the online shopping day of the year. This way, the brand converts the prospects that they couldn't convince on Black Friday and boosts their overall sales.
Madsen Cycles is another company that leverages the post-Black Friday period:
However, instead of joining the Cyber Monday bandwagon, the company celebrates Small Business Saturday, which fits their brand better. In the email, they inform you that even when you missed their Black Friday sale, you are in luck. To show you the reason why they are doing Small Business Saturday, they introduce you to their family as well as how they built their small businesses.
No matter what your next email campaign is about, make sure to tease it after Black Friday, so you can convert the prospects that didn't buy from you at this time. However, be careful when extending your sale. If you overdo it, you will lose credibility.
10. Optimize for mobile
Here's the thing: customers love shopping on their mobile devices. About $2.9 billion worth of sales happened on a mobile phone in 2019. This should come as no surprise, and researchers expect that number to grow in upcoming years.
So, it is a good idea to assume that most of your consumers will open your emails on a mobile device. Make sure that your Black Friday emails are optimized for mobile, which means:
Keeping your messages quite copy-free (light on words to prevent clutter), so they are easy to read and ingest on smaller screens
Ensuring quick-loading visuals
Using mobile device detection in order to push customers to an optimized version of your website
11. Don't forget your signature
Including your signature will allow you to stand out and easily be identified in the inbox, especially during a noisy period like Black Friday.
There is actually no single recipe to craft a perfect Black Friday email. The main idea here is to ensure that recipients recognize you when they receive your email. If they open and read it in the crowd of other promotional emails, you've done your part well.
We recommend that your brand identity (logo, style, voice, images, subject lines) is clearly visible in your promotional emails. It will really increase the chance of grabbing your reader's attention. Learn how to create an email signature right here.
Skyrocket your sales with Black Friday email campaigns
Whether you are looking for creative Black Friday email campaign ideas or new angles to boost your Black Friday promotions, we hope you found some quick wins to apply to your business this year.
So, which one of these tips will you try this Black Friday? Or do you have any other Black Friday email marketing tips? Feel free to share with us to discuss more!
New Posts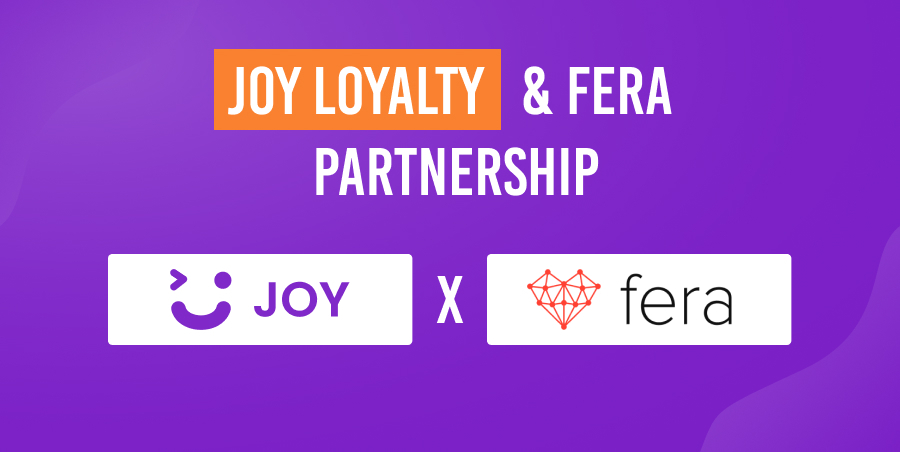 Subscribe
Stay in the know
Get special offers on the latest news from AVADA.
40k
subscribers has been joined!
Earn $10 in reward now!