6+ Best Welcome Emails to Attract New Subscribers
A welcome email is a perfect opportunity to leave a great first impression on your new email subscribers. This can signal the beginning of a long-term relationship and move your prospects forward in their buyer's journey.
Best of all, your subscribers really want and expect to see welcome emails in their inboxes. That's why welcome emails often enjoy higher open rates than other emails.
Studies show that welcome emails have an average of 50% open rate, which is 86% more effective than regular newsletters. In your welcome email, you can introduce your brand and values, attract new subscribers with special discounts, get clicks to your best-selling products, and many more.
So, in this blog post, we'll share 6+ best welcome emails to attract new subscribers and explain why they are successful. Let's get going!
What is a welcome email?
First and foremost, a welcome email is the first email that new subscribers receive after signing up for your email list.
Typically, welcome emails confirm that someone successfully joined your list, and deliver an incentive that was promised to them upon signup, such as a lead magnet or a discount code.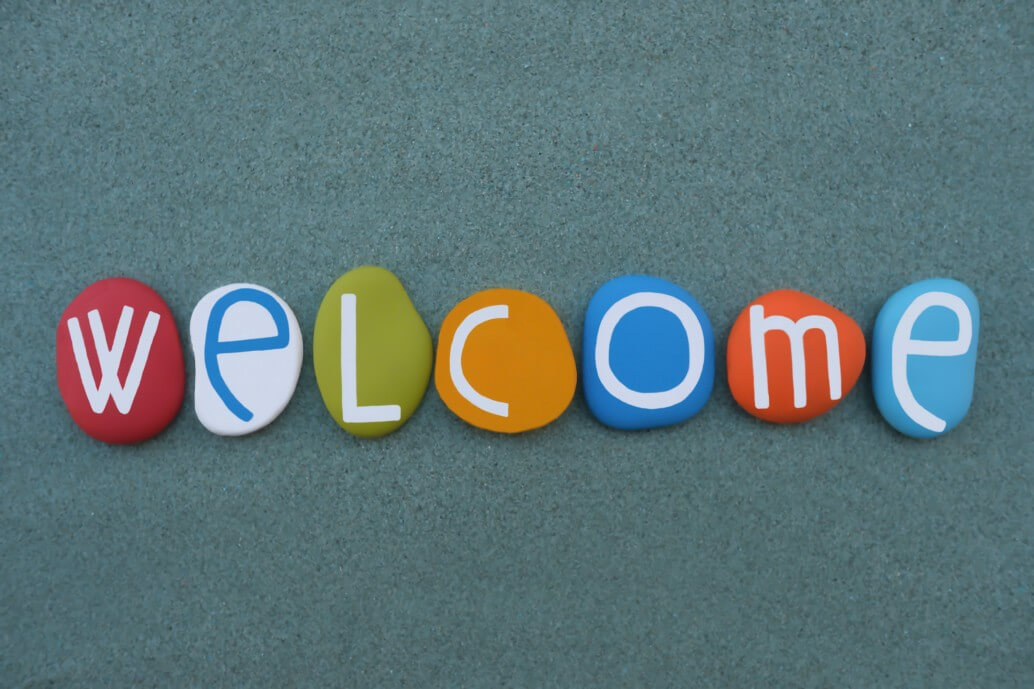 When implemented correctly, welcome emails can work more than a simple confirmation message. Let's explore 6+ brands that get welcome emails right!
6+ best welcome emails to attract new subscribers
1. Use clear steps to onboard
It is usually much easier to absorb information when it's clearly structured. 1-2-3 steps are an excellent solution when you have more than one thing to say, or you want to encourage a new subscriber to take certain actions. A great example comes from Airbnb.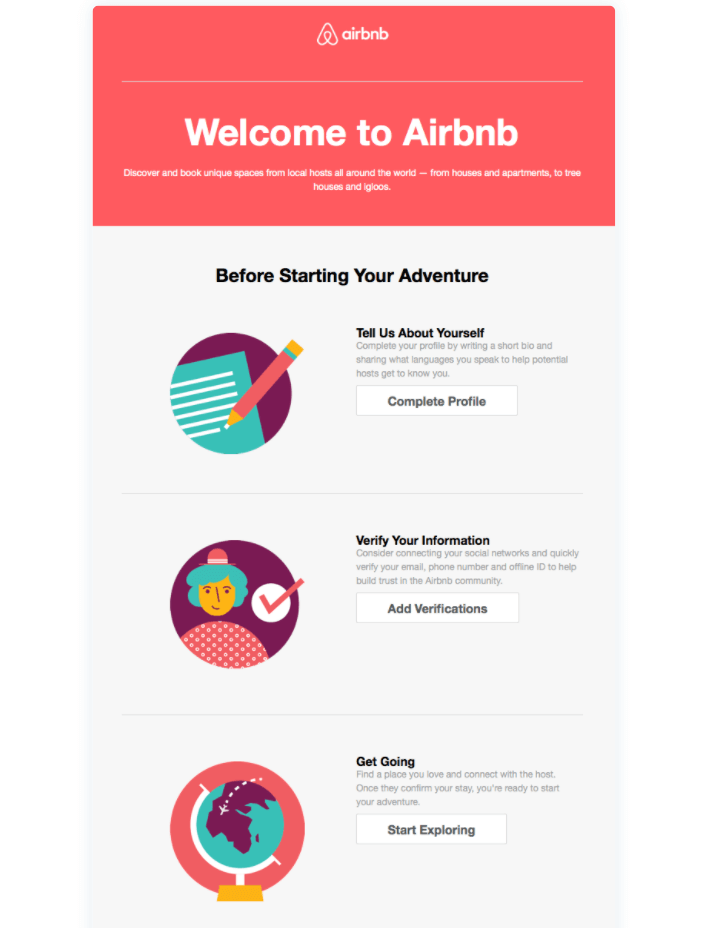 In this welcome email, Airbnb encourages their subscribers to complete their profile through 3 steps. After the signup process, you can address them again to collect some information about the site as well as the benefits of completing their profile.
2. Tell a story
If you welcome new subscribers to the fold, it is good to introduce them to your history and core messages.
As a species, we humans often love to tell and hear stories. Storytelling engages our interest and inspires the imagination, to the point that people are 22 times more likely to remember stories when compared to facts and figures alone.
You can take advantage of this by introducing yourself to new subscribers in an intriguing narrative form. Let's look at this example from The Body Shop.
The brand welcomes you to the tribe, creating a sense of community for its new subscribers.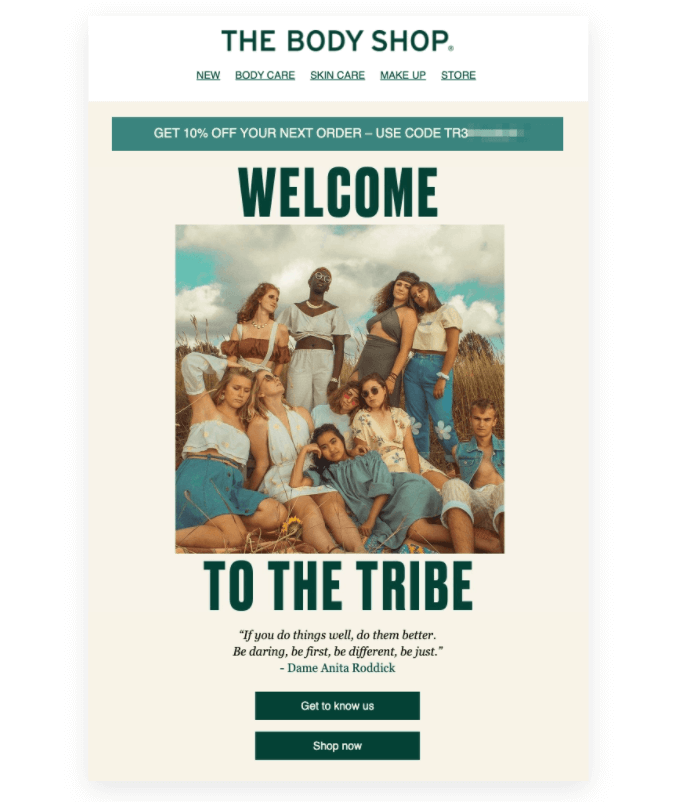 Then, with a quote, the brand smoothly transitions into its story. The Body Shop explains its value proposition in the context of a story. It is not the story of how the brand grew and reached millions of customers, but how they devoted themselves to resolving environmental and social issues year by year.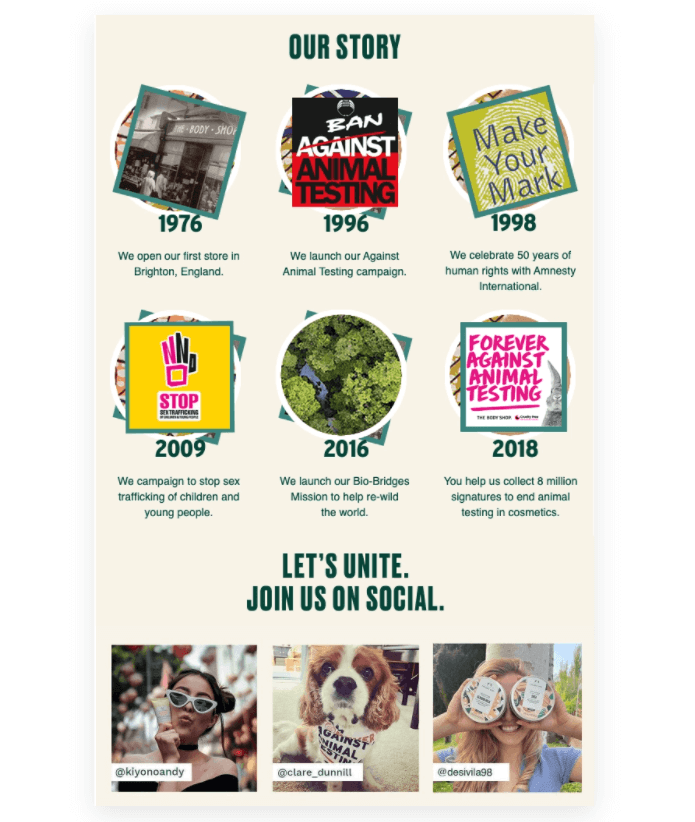 As a new subscriber, now you also feel like a part of the brand's good cause and its tribe. This is the perfect time for The Body Shop to invite you to its social profiles.
You can also see the language of solidarity here. The brand uses "Let's Unite" instead of "Follow Us On Social Media." The use of consumer photos also contributes to the feeling of a community. The Body Shop uses its welcome email to introduce its brand story and invites you to be a part of a long-term relationship.
3. Explain your products/ services
It is dangerous to assume that your subscribers understand what your company is and does, just simply because they joined your list through a footer opt-in form.
In its welcome email, The Sill, a plant delivery brand, finds the perfect balance by explaining its platform and setting expectations without overwhelming new subscribers with too much information.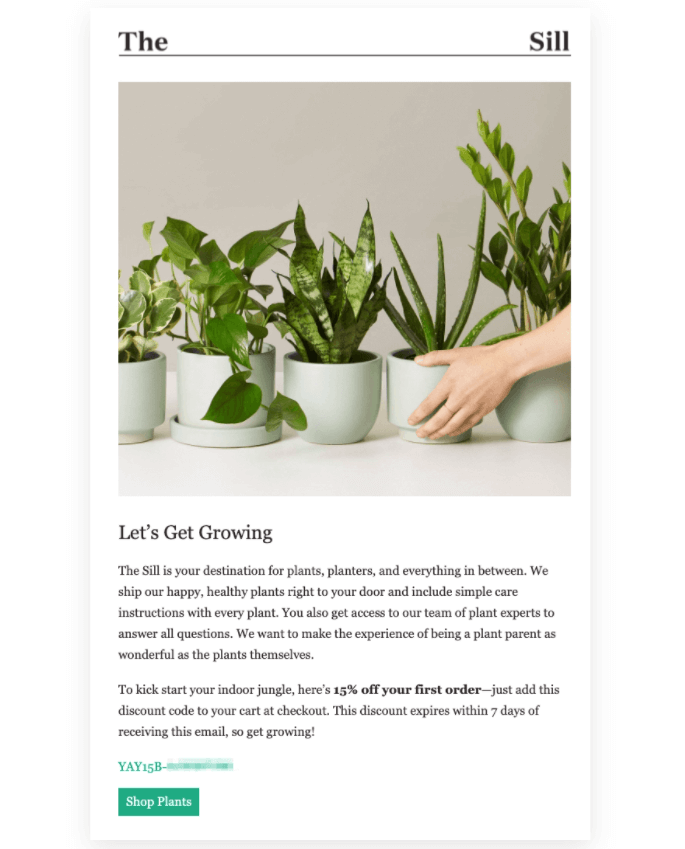 The brand starts with a simple definition of what it offers. Next, it offers you a 15% welcome discount that is only valid for seven days. The urgency of the limited-time offer is a smart strategy to capitalize on new subscribers' enthusiasm.
Something more exciting happens in the last part of its email. The Sill includes video content to educate new subscribers on how to shop for houseplants.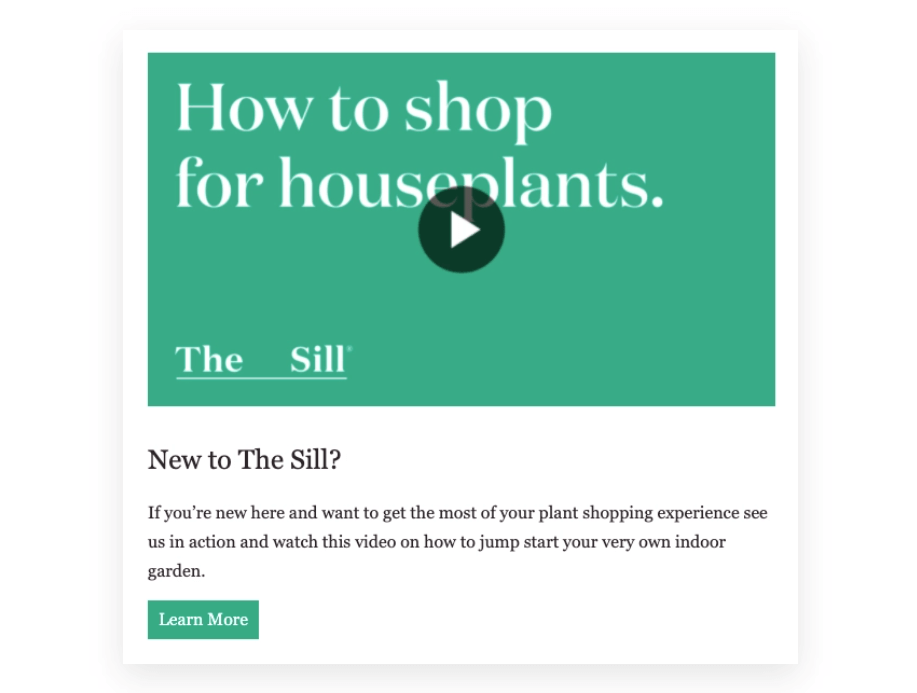 When you click the video, the brand takes you to its landing page, where it recommends beginner-friendly products. Then, it teaches you how to shop with a video walkthrough of its online store.
If you're operating in a niche like The Sill, helping out your prospects in welcome emails can be a wise investment.
4. Make it personal
In real life, the people that create the greatest first impressions are often the ones that are welcoming, friendly, and polite. Why should it be any different when creating your welcome email?
Vinomofo does a great job of that. Its subject line is simple and friendly that goes a step further by mentioning the recipient by name.
We know personalizing emails this way is nothing new. However, you would be surprised how few brands are using such a simple tactic in their welcome emails.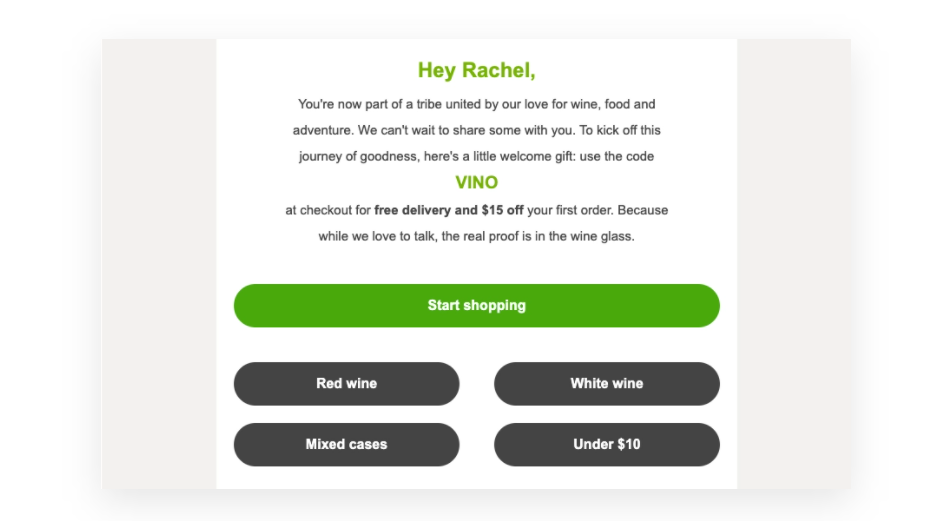 The body of the email still continues the personalization trend. As well as addressing the recipient by name, Vinomofo creates a sense of community in its copy, announcing that the recipient is part of their "tribe."
By making your subscribers feel like an integral part of something bigger, they are more likely to feel invested in your brand, and even become your loyal customers.
5. Offer a deal
By offering a discount or some kind of incentive, you can create goodwill between your brand and new subscribers. It can also break the ice for the first purchase.
For instance, Modkat's email welcomes new subscribers, briefly introduces the brand's mission, and offers a deal with a clear CTA button.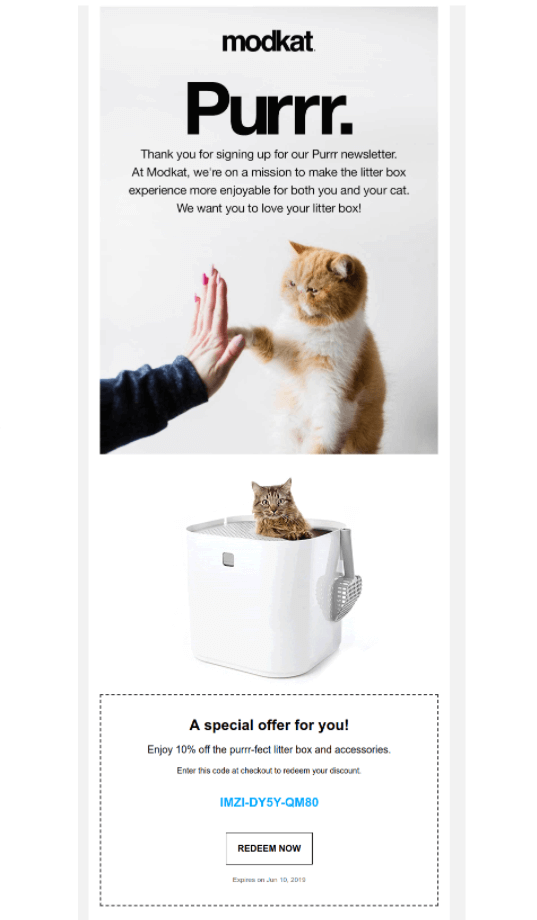 Besides, you shouldn't underestimate the CTA button.
Once you have an almost perfect welcome email design, it's time to look once again at your CTA button. Does it really reflect what you expect your subscribers to do? Is it clear and in a convenient click position? Don't place the CTA button at the very end of your email. It should be visibly placed on the screen without the need to scroll. Make it short, simple, and bright.
6. Recommend products
If you desire to start your subscribers on the path to buying right from the beginning, there is no better way than to recommend several products that they might want to buy.
Obviously, it is unlikely that you'll have collected enough information from new subscribers to give them personal, targeted recommendations, so this is a valuable opportunity to try something different.
Fenty Beauty nudges its prospects towards the checkout by including a few best-selling products in its welcome email.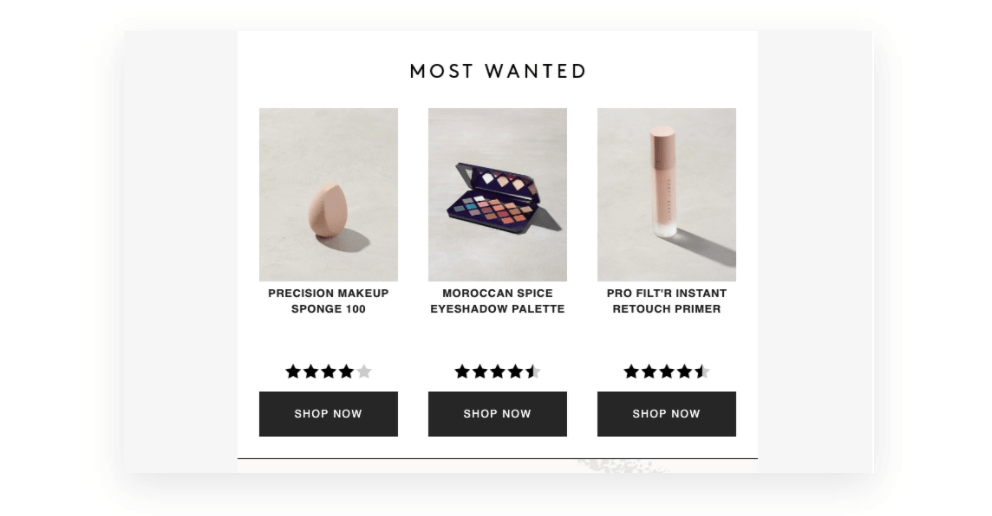 These products not only come with implicit social proof as best-sellers but also come with ratings from real customers.
Adding reviews, ratings, or testimonials to your recommendations can actually boost trustworthiness a lot. Including authentic and tempting product recommendations right in your welcome email is a creative strategy to onboard your subscribers and increase conversions right from the outset.
7. Provide social proof
Adding reviews from customers is one way to offer social proof of your products' or services' quality to your subscribers, but it is not the only way.
Boll & Branch takes a unique approach to testimonials by adding quotes from well-known magazines and journalism websites.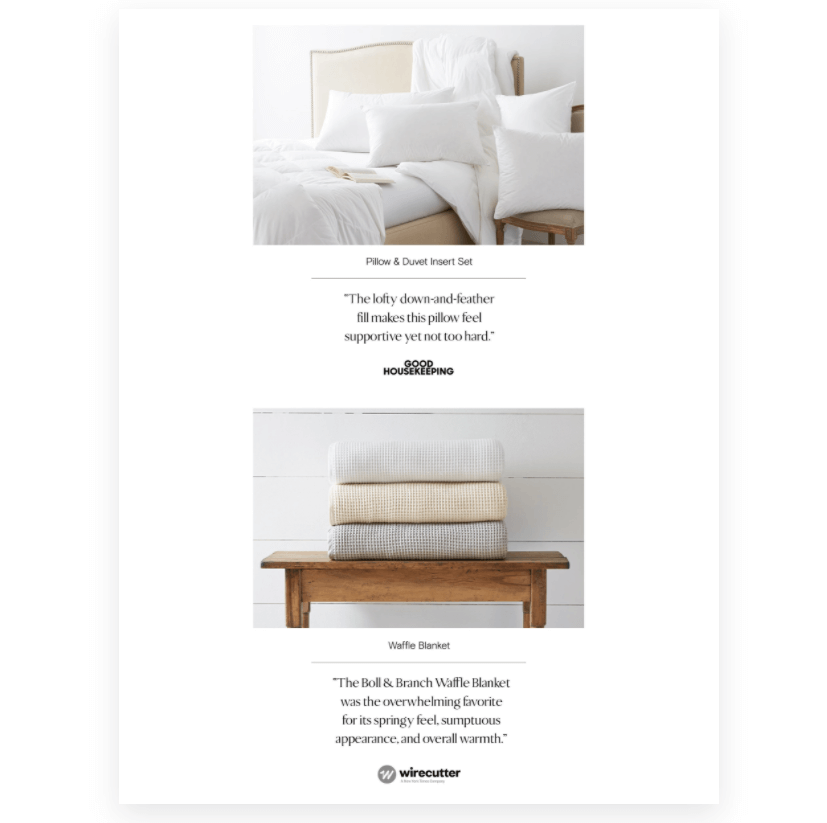 These testimonials are particular to specific products in their range, and exactly detail what is excellent about each of them. We generally trust publications like these to write reviews that are honest and well-researched. That means they hold a lot of authority in our minds about which products/ services we should invest in.
Media approval acts as a form of social proof that cannot be matched by consumer reviews, making testimonials like the ones above an excellent way to persuade your subscribers to add your products to their shopping cart.
8. Engage with social media
If you're using social media as part of your marketing strategy, then why not engage subscribers in your social media platforms right from the start?
One business that does this quite well is Nasty Gal, the apparel brand. Their welcome email ends with this part, inviting subscribers to follow them on Instagram.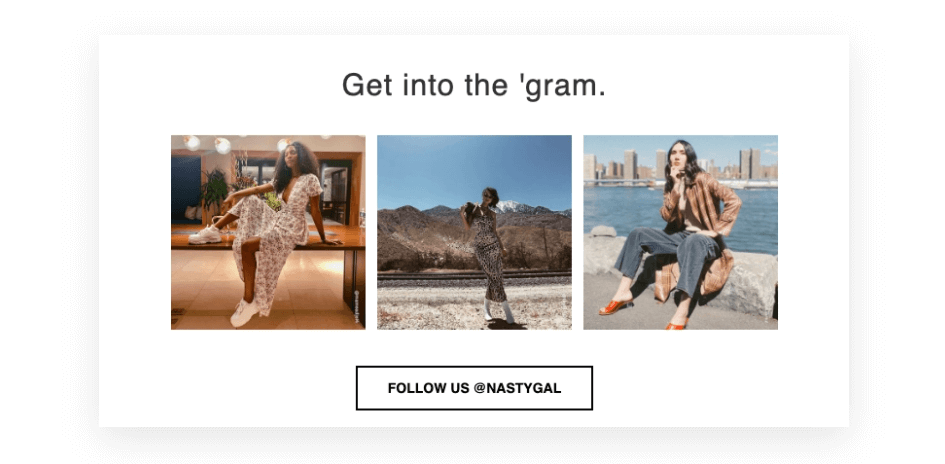 Typically, social media and word of mouth have been a big part of Nasty Gal's growth strategy. Their posts include both their own content and content from customers and Instagram influencers, making it a prime place to impress new subscribers. Following a brand on social media platforms is easy, and importantly, free, so it is worth considering if you are looking to boost your online engagement.
9. Say thank you
Lastly, perhaps comes the most vital strategy: saying thank you.
Signing up to your email list may seem like a simple thing to do, but by investing their time as well as inbox space in your brand, your subscribers are really doing you a huge favor.
Aerie has done this very well. Their email subject line alone puts a smile on your face.

This appreciative and cheery tone continues in the email copy.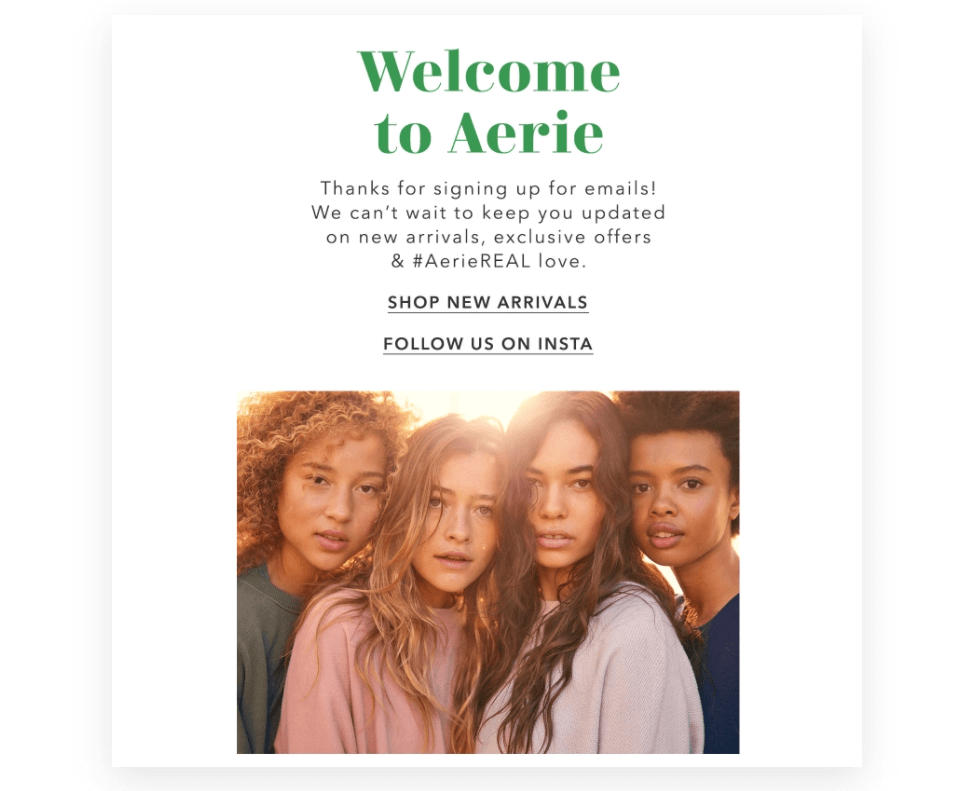 This welcome email may not be as sales-forward as some other examples, but its simplicity is part of the charm.
When I read it, I truly believed that the brand is grateful that I subscribed and is excited to show me some of their content. And that is enough to turn me into a loyal customer.
The bottom line
A well-crafted welcome email is essential for onboarding new subscribers and making the all-important initial connection. However, you shouldn't think that you have to include everything above to make it work.
Instead, take time to think about what you want to say as a brand, and what you actually want your recipients to take away from your first interaction.
Also, think about what emails you will send them next, and how you want your relationship to continue, then use that to shape your content and tone.
So, which strategy would you like to use first? Do you have any other favorite welcome emails? Don't hesitate to share with us! And don't forget that AVADA Commerce is always here to help you with your email marketing campaigns!
New Posts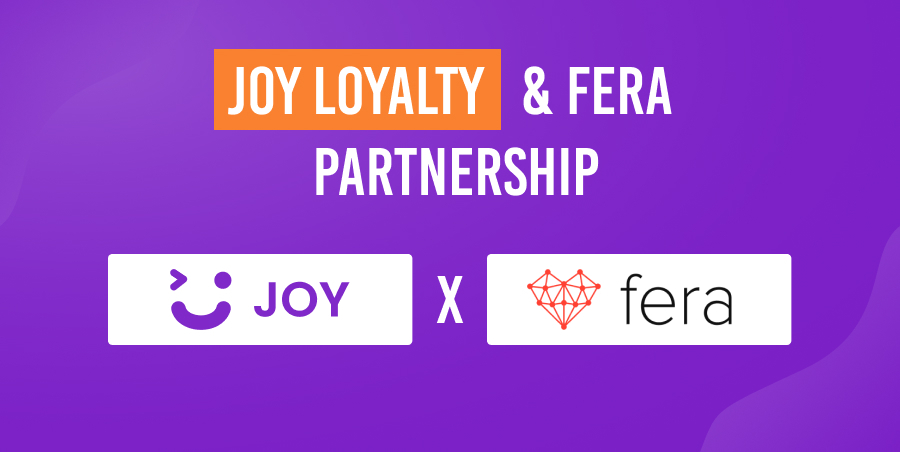 Subscribe
Stay in the know
Get special offers on the latest news from AVADA.
40k
subscribers has been joined!
Earn $10 in reward now!