10 Advanced Content Promotion Strategies to Drive More Traffic
Content marketing is already famous for effectively attracting customers, a lot of them while showing your brand identity. It costs 62% less than other marketing methods, yet generate 3x the amount of leads.
But just because you make content, it doesn't mean anyone will see it. They need to know that the content exists in the first place.
If you want your content to bring maximum value, it is critical to find opportunities to engage the audience. That is why we bring you the top 10 advanced content promotion strategies to make people read, share, and talk about your content.
What is content promotion?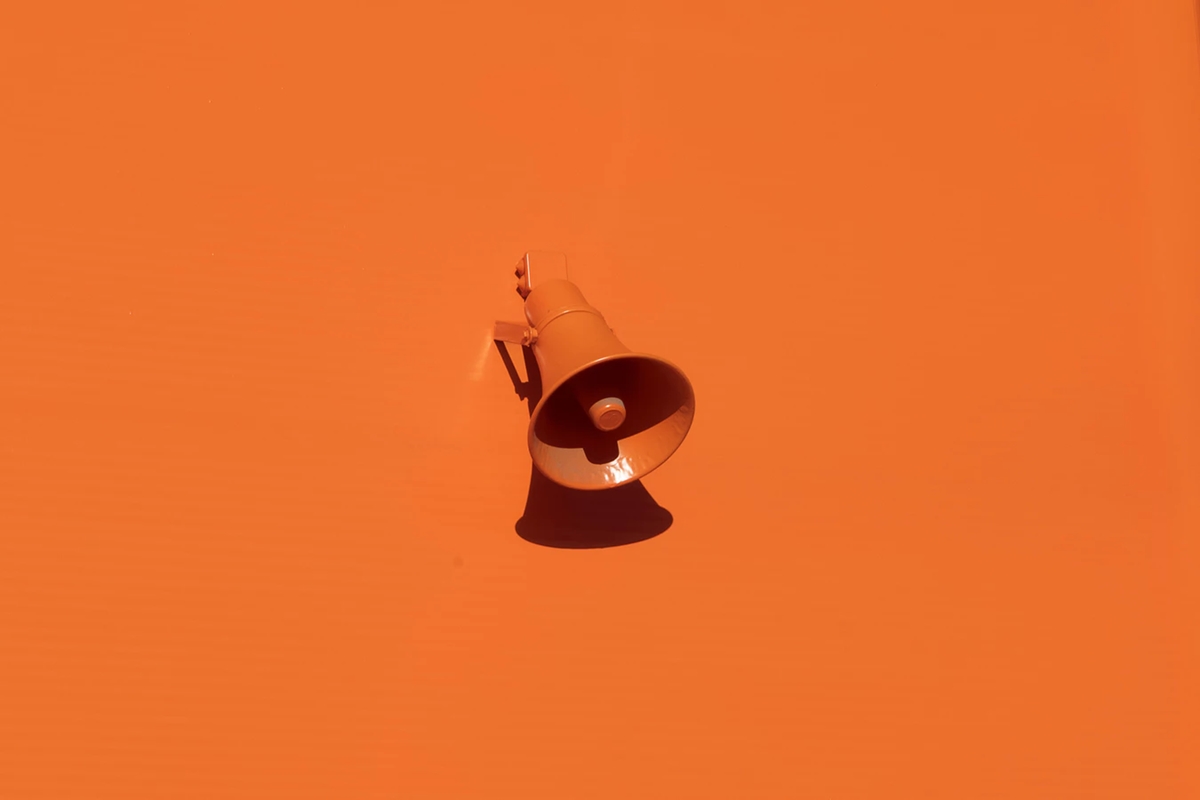 In 2019, Ahrefs found that 91% of content on the internet doesn't get any traffic from Google at all. So in order to be in the rest 9%, you need to distribute your content seriously.
Basically, content promotion is the act of distributing blog posts and other resources via all channels that you can access, including both paid and organic channels. This is to reach a large number of appropriate audiences and aim for driving conversion.
In other words, you engage your customers with epic content and push them from awareness and inspiration to take action, and ultimately purchase.
Your tools are varied: pay-per-click advertisement, influencer outreach, guest blogging, PR, social media, email marketing, and much more.
Why you need content promotion strategies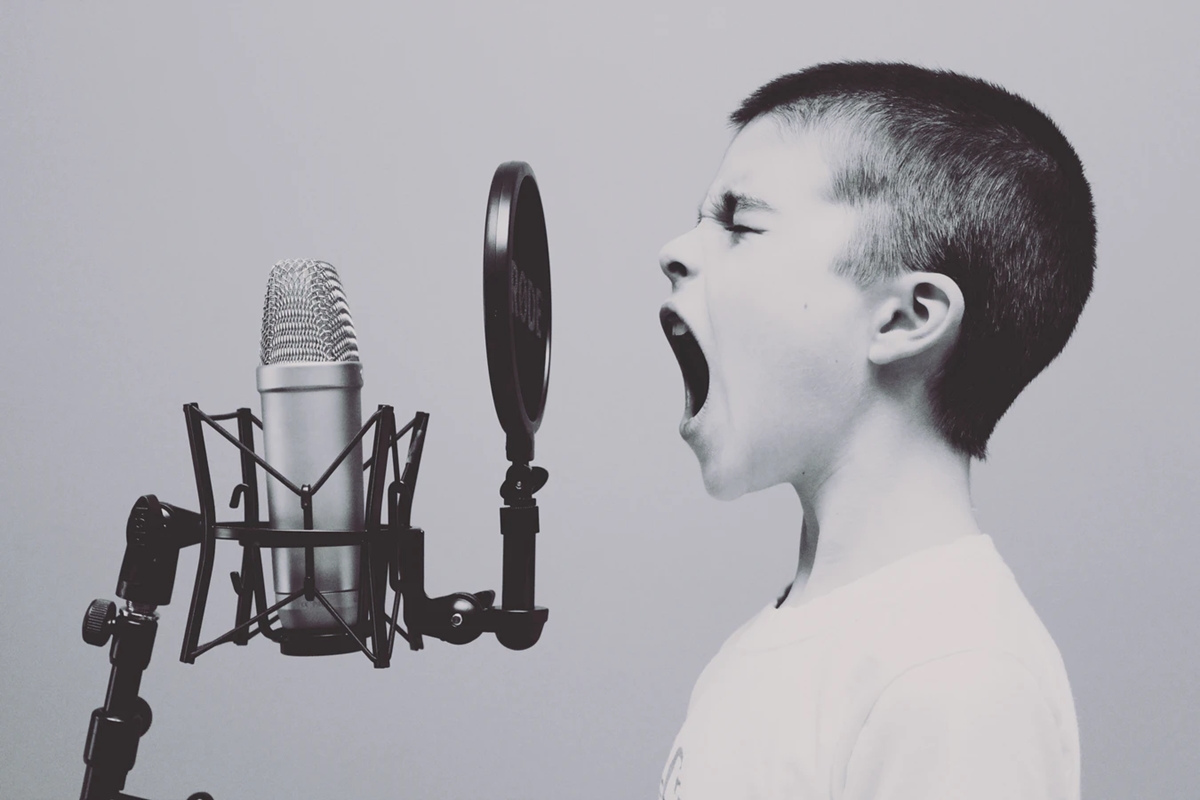 First, you need to know that there are three types of channels to promote your content:
Owned Media: These are platforms that you own, they give the first impression of your content
Earned Media: People engage with your content on social media and other platforms, which leads to more organic exposure.
Paid Media: As the name, you pay for advertisements to get extra exposure, and your content can be shown to internet users on sites they browse.
In the current social media landscape, content promotion strategies will have your content seen on all these channels, utilizing the capacity of your thoughtful content.
All of the benefits of promoting content can be listed as:
Creates brand recognition and awareness: Your owned media content represents your business and the goal that you are pursuing. Sharing them on multiple platforms spreads your brand cool image, and make it easier for others to find and share.
Enable you into conversations: If someone does an internet search on the product or service that you sell, your content promotion makes the brand name appear. Just like that, you got yourself some talking about why you appear there. Sharing on social media works the same way.
Make it easier for people to share about your brand: When it is there for others to see, sharing can be easier. This gets you in front of a whole new crowd of people.
With those benefits out of the question, let's get to the next section.
10 advanced content promotion strategies (with examples)
Ready to set the stage to promote your amazing content? We will go through 10 advanced content promotion strategy (and examples) to maximize the reach and impact to your target audience.
1. Involve influencers to promote content
Influencers are a popular promoting strategy and more brands are using it more than ever. However, if you treat it as something you only do after you publish your content, there is a missing opportunity.
Influencers are often seen as experts in their fields and can give valuable knowledge on how content should be shaped to reach max potential.
So you can design a system to work with them that looks like this:
Determine you're creating content on topics that your industry is interested in.
Find which influencers are suitable to promote the content once it is finished.
Ask for comment or examples from them and improve the content
Invite them to review the final draft before publishing the content (This helps them feel entitled and more excited to share your content later).
Voila Norbert is one of the email finder tools that you can use to find influencers' emails easier. Once you have published your content, reach out to the influencers and show some appreciation for their contribution.
Ask them to read, share, and link to your content if they can. Then, ask if you can contact them again in the future.
This thoughtful tactic can be really effective and make your campaign process way more efficiently.
Lenovo built connections through a partnership with a well-known mommy influencer Killeen to promote their new YOGA PRO 3 Ultrabook laptop. She shared on her blog and social media about how she managed her work, business, a newborn child easily using the Lenovo Ultrabook.

The campaign received a huge amount of shares and comments, which proves even big brands are trying to be more connected through the little things. So you can do it too!
2. Participate in content sharing communities
Publishing content only on your site may not be enough to get the expected level of engagement. You have to find ways to get your content to a bigger number of audiences.
Content sharing communities are great to amplify your voice. Anyone have a chance to share content with many like-minded individuals who submit and consume similar content pieces.
Some popular communities can be named as:
Some of these sites are free and paid, but you should choose the place based on where your target audiences are active. Then, learn the languages and join to be a part of them!
By time and effort, your content will be treated as valuable contributions, not self-promotion.
Beardbrand is an online business that sells products specifically for beards. So they went to r/beards on Reddit and started researching.

They made posts about beard oil with information explanations in the form of short bulleted lists. And best of all, no links to their site was mentioned.
They answered all of the comments, which were mostly questions about beard caring. This brings Beardbrand a success in joining the community while promoting the content about their own business and products.
3. Update and expand existing posts
Older contents which are regularly updated into new formats are 74% more likely to receive positive results. Repurposing your content breathes a new perspective into past works, makes your brand more interesting.
And you got some good information on what people already liked, rather than to start from scratch and come up with a whole new set of ideas.
For even greater benefit, take the time to transform old content into 10x more contents, providing a deeper look with a new infographic, videos, e-books, blog posts, research, or other methods.
This is called evergreen content, and all businesses can take advantage of this to make their content relevant for a longer time.
You should put a strategy to select and refresh your content once in a while:
Add a monthly review date on your calendar to look through old posts for the update or renew opportunities.
Subscribe for news in your industry and quickly adapt the trends to your older content.
While creating content, make note if you see an opportunity to expand further in the future.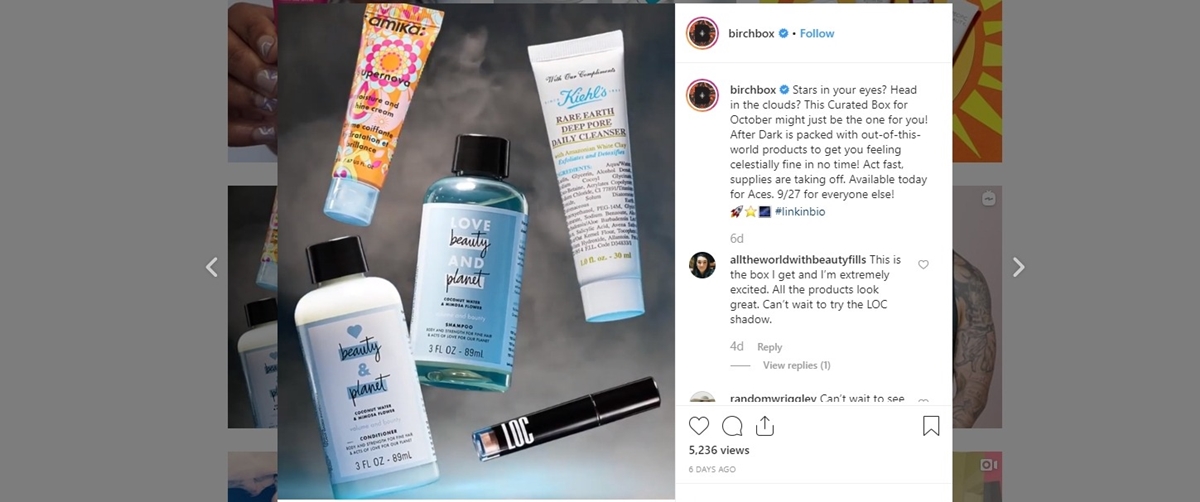 The most common renewal can be making new short videos for Instagram or Facebook which leads to your site for new prospects, like BirchBox doing here reminding the audience to check their bio to get the beauty items.
4. Using user-generated content
Facebook and Instagram were once great at generating organic reach for brands, but that is not the case anymore. The cost is increasing, and the effect is decreasing.
So you need to promote your content better, using your own customers to share your content and talk about your business on social channels.
One simple way is allowing your customers to share feedback and experience on social channels. Let them spread the words on how it feels to use your products or services, and why you solved their problem.
Something personal like that always sparks likes and comments, and you can reshare those posts on your owned media channels as well.
Here is a process to let your customers do the promotion for you:
Ask your customers (nicely) to give feedback and share their thoughts with a specific hashtag while mentioning your brand name.
Have some rewards for the best content or most liked, share customers with an incentive or benefit like coupon, discount, early access.
Use social tools like Flockler to gather and analyze content, then identify the most engaged and influential users.
Amplify those users by share, comment, or like, and resonate why their contents work so well.
Build your own tribe of customers, and create campaigns to co-create content together with your audience.
See how The Social Shop by GlassesUSA highlights all of the images from their happy customers worldwide right on their website and tag the related products in the images to make it easier to purchase.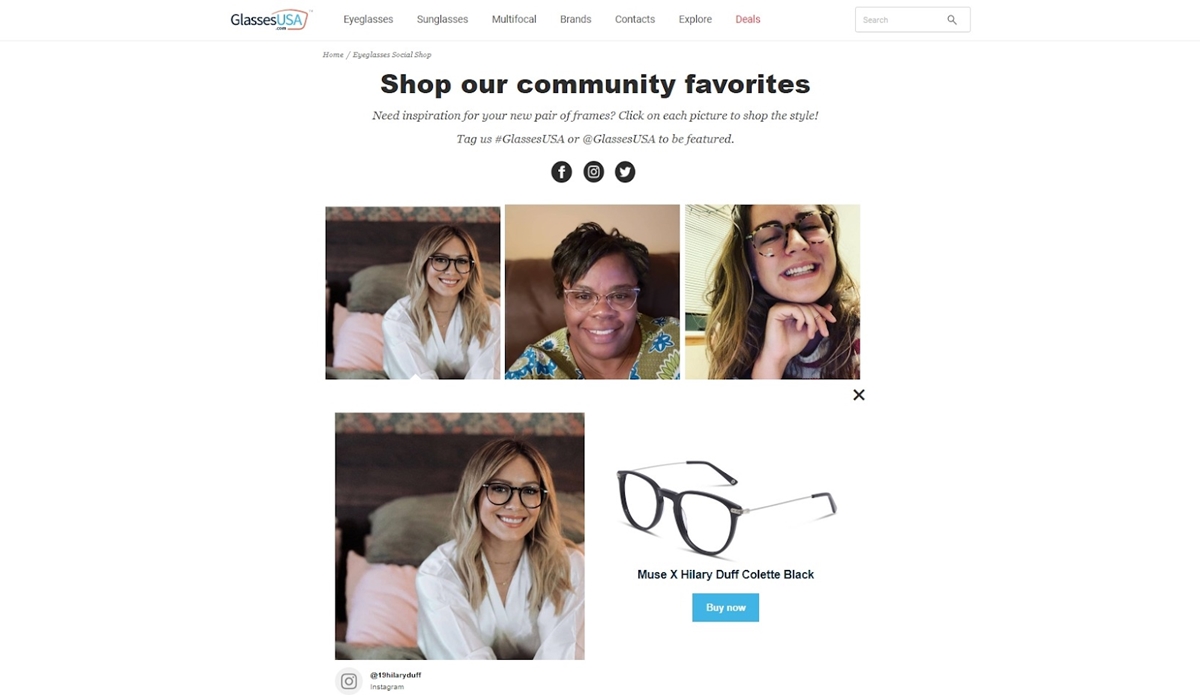 It shows appreciation to customers for their feedback, while increasing your conversion rate and sales. It can't sound better than that!
5. Have a budget for paid promotion
There are plenty of free options to promote your content. But if you have some budget, paid promotion is still the fastest way to get your content in front of the target audience.
One strategy you can apply is to ad your most evergreen blog posts - the posts that have received the most traffic over time - to people that have visited your website in the past 30 days.
This gives an opportunity to build brand loyalty while providing visitors with great content suitable for their past consumption.
An important aspect of online advertising is targeting, so you need tailored content for different groups of prospects, based on age, geographic location, gender, interests…
You can check out the average cost per click of Facebook Ads in the chart below from WordStream to see if the budget you are spending on your industry is normal.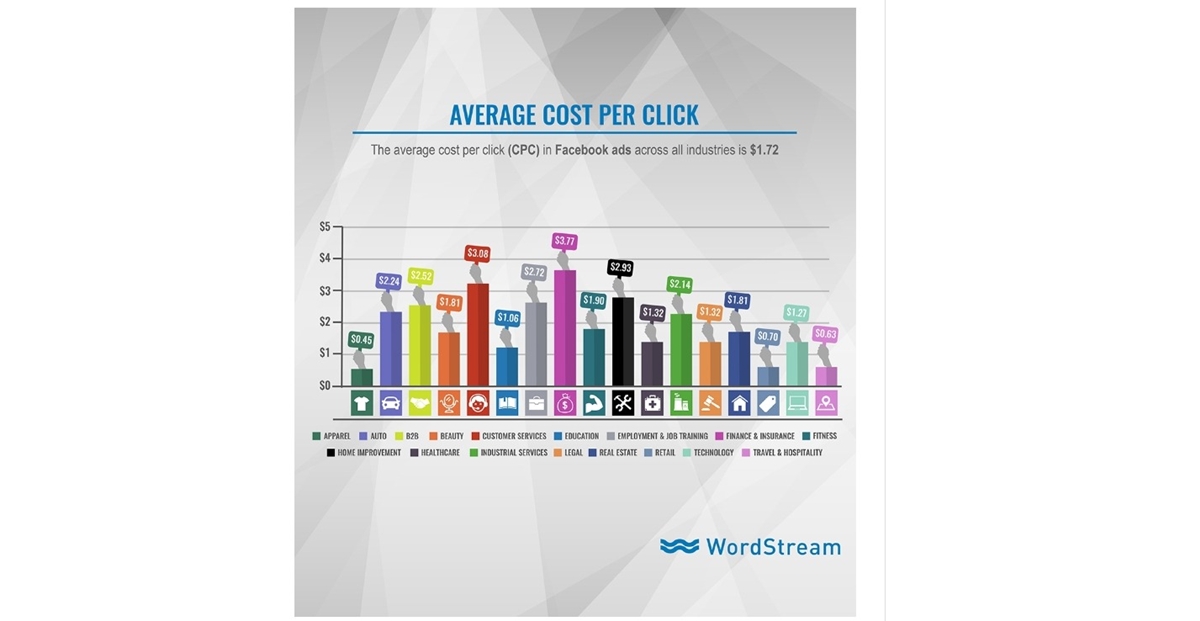 And see how they approach digital as based on detailed information about visitors, these can be accessed through cookies.


But if you just started your business and don't think you got the budget for this yet, spend some time to create personas for groups of the audience first. Then you can come back with paid promotion when you got the budget.
6. Constantly refresh retargeting ad creative
The more ad remarketing impressions someone sees, the higher the conversion rate will be. Remarketing ads are good for you to create new traffic for your content.
The problem is: people get tired with the same ad over and over again.
The trick here is to continually cycle through ads examples to test and find the best working for you. You can create the ad image with Canva, or have a designer make the background template. A/B testing small elements like background colors to keep your ads fresh and engaged.
The same method should be applied for remarketing campaigns that aim at different groups of audiences. For example, leads who've downloaded an eBook and who've picked up your sales call are different and should not be in a group.
They are at different levels of interest. The first group should have ads that lead to a sales call or phone numbers given. The second group can be persuaded to purchase more relevant items.
The logical system of this sound like detailed work, but it is worth to set up and run ads like this to be more effective. You are taking your prospects through step by step, with progressing commitment to turn into customers.
Check out how Scoro changes just a tiny little detail in design to see how they can gain the most out of their ads.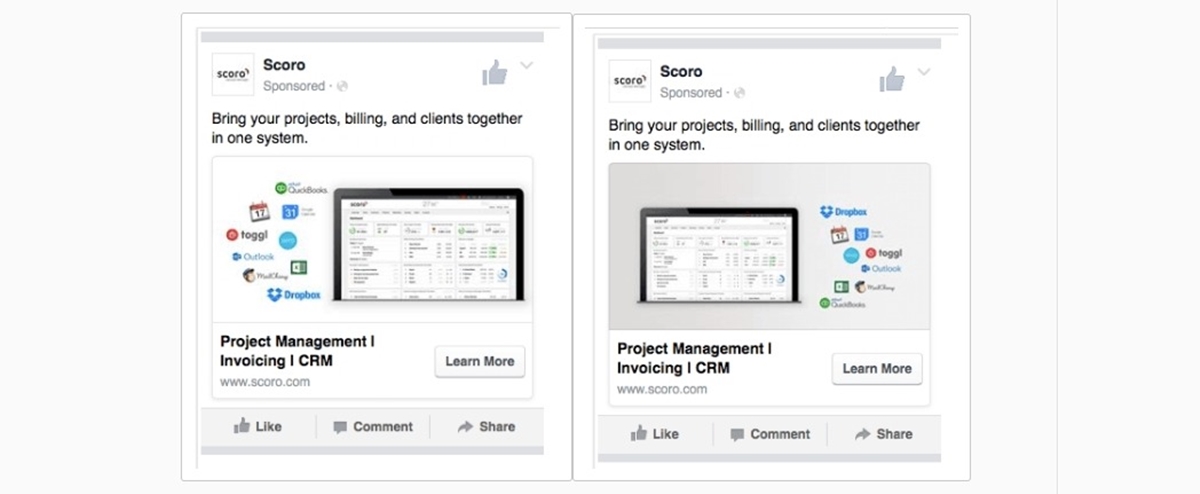 7. Make content interactive
One advantage that eCommerce has is interactive technology. 90% of consumers reportedly say that they want more visual and interactive content, like experience at a real physical store.
Interactive content is a great way to connect with the audience through the sales funnel. At the top of the funnel, you can use content like surveys, quizzes, giveaway. While at the bottom of the funnel, make more connections with chatbots, upsells, checkout interactions.
You can also have fun and make some games or one of a kind surveys to engage with the audience, and give them rewards for participation.
Sephora uses augmented reality as an app to build brand awareness. This app allows users to apply virtual makeup to their own image and see the result.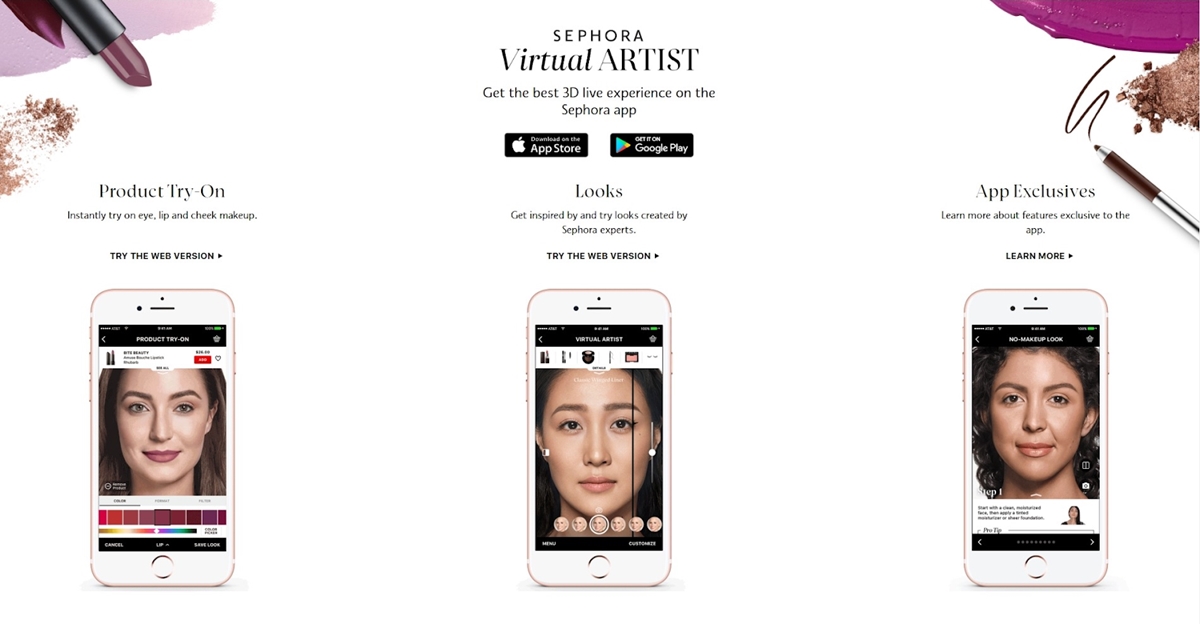 8. Publish hard copies of the content
How long has it been since you touched a magazine? What if you can now access that magazine from anywhere?
That is exactly what an eCommerce business can do with their content, combines them into a beautiful magazine and publish both online and offline.
From a content marketing point of view, magazines can serve these four purposes:
Firstly, magazines provide inspirational resources for your marketing and sales team to share on social channels, newsletters, and other social media channels.
Second, if the content is optimized, magazines can drive traffic from search engines.
Third, magazines inspire readers to share your brand stories on social media channels.
Lastly, magazines can encourage users to take action like directing readers to an email subscription or product pages and driving conversions.
Also, magazines can be great promotional gifts once in a while for loyal customers, and increase brand loyalty.
Finnish Design Shop, a webshop specialized in Nordic design furniture, made a beautiful magazine on the web and off we to provide the latest trends and colors in the industry.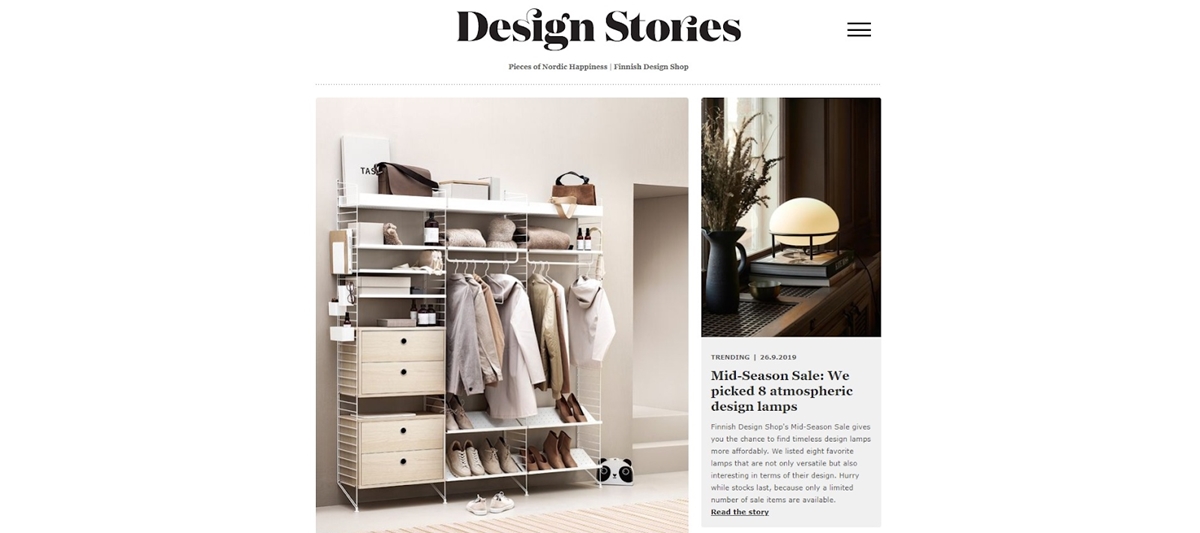 9. Embrace video marketing
Video marketing is expected to account for more than 80% of all internet traffic by 2019. And while every big company is adding YouTube and Facebook videos to their marketing strategy, small eCommerce businesses have been doing that for a long time.
These days, you have access to free tools to start like Lumen5, which makes it really easy to create compelling videos without learning so hard about film editing. In case you want more features, Adobe Premiere is a popular paid video editor.
Based on the nature of your content, you may decide which length of videos that suits you best.
The shorter, the more impressive the video should be. While more informative videos can be longer and get more engagement. Whatever they are, video content is more likely to generate shares and reactions, as well as lasting value.
Watch how Nine Line humorously (while looking serious) showcases their new line of hoodies in this 30-second video, and not a single word needed to persuade someone to share this.
10. Engage in new promotion opportunities
Your content not only provides highly relevant and useful information for your readers, but it can also bring new opportunities in many other areas.
If you manage to produce great quality content, you can get:
Introduced on top-tier websites
Participating in conferences in your industry
Invitations to appear on podcasts
Join webinars with many influencers
Even book publishing chance
The outcomes can be an indirect promotion for your content, but surely improve brand awareness and make your business more impactful.
However, these can only happen when you create quality content with a clear purpose. From there you can build relationships and create promotion opportunities beyond your dreams.
Final advice
That is all for our article folks, those are 10 advanced content promotion strategies that any of you can apply for your eCommerce business. Apply correctly, and your content can fly high into the radar of a large number of the target audience.
Wish you all best of luck to grow your online business, we look forward to hearing from you. Leave comments below if you have any questions or sharing.
---
Sam Nguyen is the CEO and founder of Avada Commerce, an e-commerce solution provider headquartered in Singapore. Sam aims to support more than a million online businesses to grow and develop.
New Posts
Stay in the know
Get special offers on the latest news from AVADA.