6 Ecommerce Abandoned Cart Email Strategies To Recover Lost Sales
Running a profitable eCommerce store demands many things. You need to excel in marketing products, managing inventory, attracting website visitors, etc. However, there is one underrated factor that we have seen many business owners overlook - abandoned carts.
There will always be shoppers who add your products to their cart but don't complete the purchase. And for many, it is one of the biggest leaks in the sales funnel. It is frustrating, too, knowing that you spent a lot of money to gain their attention but no strong buying intention.
What if you have a cost-effective strategy to target these cart abandoners and recover the lost revenue?
By having an abandoned cart email strategy, you can combat this phenomenon, win back those lost sales, and ultimately convert more visitors.
Throughout this article, we will introduce you to the best strategies to implement, plus valuable resources to craft your own campaigns. Let's get started!
What is an abandoned cart email strategy?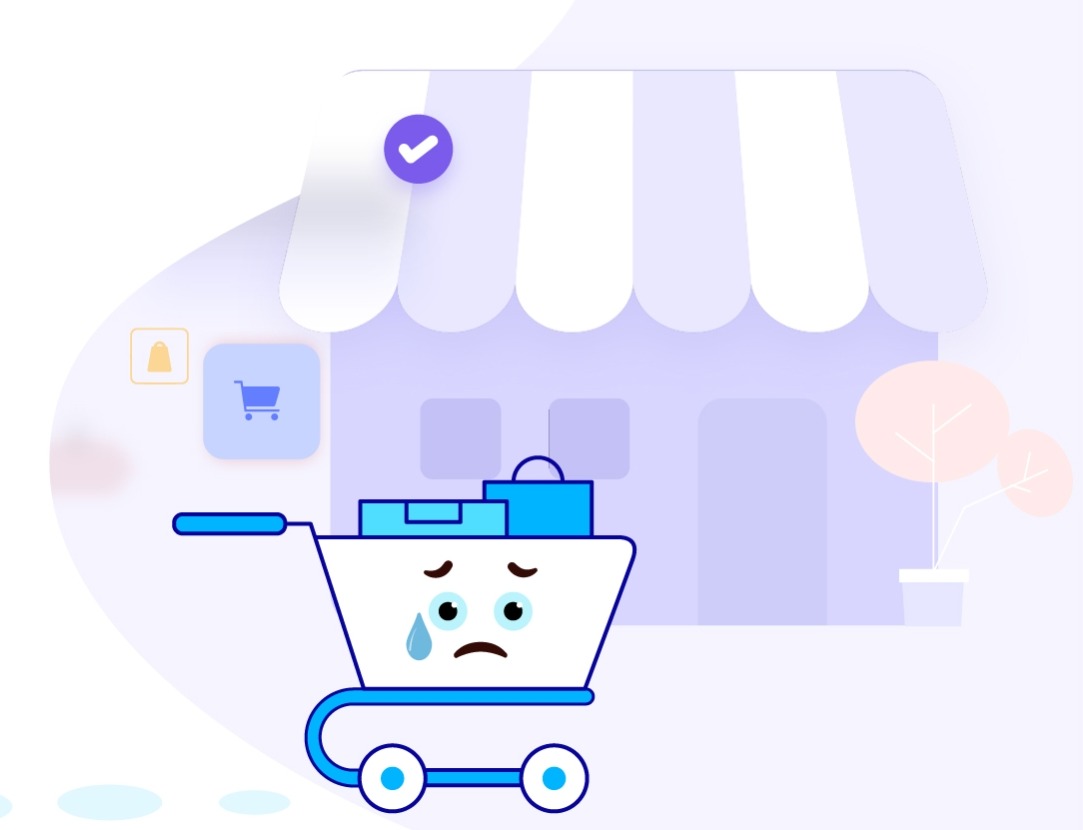 Cart abandonment happens when a visitor of your eCommerce website adds one or more items to the shopping cart but then leaves without completing their order.
In the world of eCommerce, this is all too prevalent. Statista reports that the average cart abandonment rate across all eCommerce industries is 79.17 percent. While it is difficult to identify the precise cost of cart abandonment to the eCommerce business, experts estimate that it costs an astounding $18 billion in lost sales each year for all online stores combined.
When you consider the amount of time, energy, and money put in these unsuccessful initiatives, $18 billion seems fair.
To tackle this problem, an abandoned cart email strategy, as one of many abandoned cart strategies, is how businesses can use follow-up email to remind buyers of items inside their cart, eventually enticing them to come back and make the purchase they were already very close to.
More than that, an abandoned cart email strategy provides a way for you to tackle buyer's problems such as shipping cost, account creation, or security concerns. Also, you will be able to improve your eCommerce experience if you include a way to collect feedback in your strategy.
For more information, you should read our article on shopping cart abandonment to understand why shoppers leave their carts and other ways to tackle the problem.
Top abandoned cart email strategies for eCommerce
Because cart abandonment is a problem for many online stores, people often use a set email tactics and actions to tackle with shoppers. To rise from the competition, you will need to come up with some creative strategies to send compelling cart abandonment emails and remove all barriers of purchasing.
Through careful research, here are my top abandoned cart email strategies that eCommerce stores should use (the ones that even when your competitors copy, they won't be able to generate the same results).
1. Structure your email copy well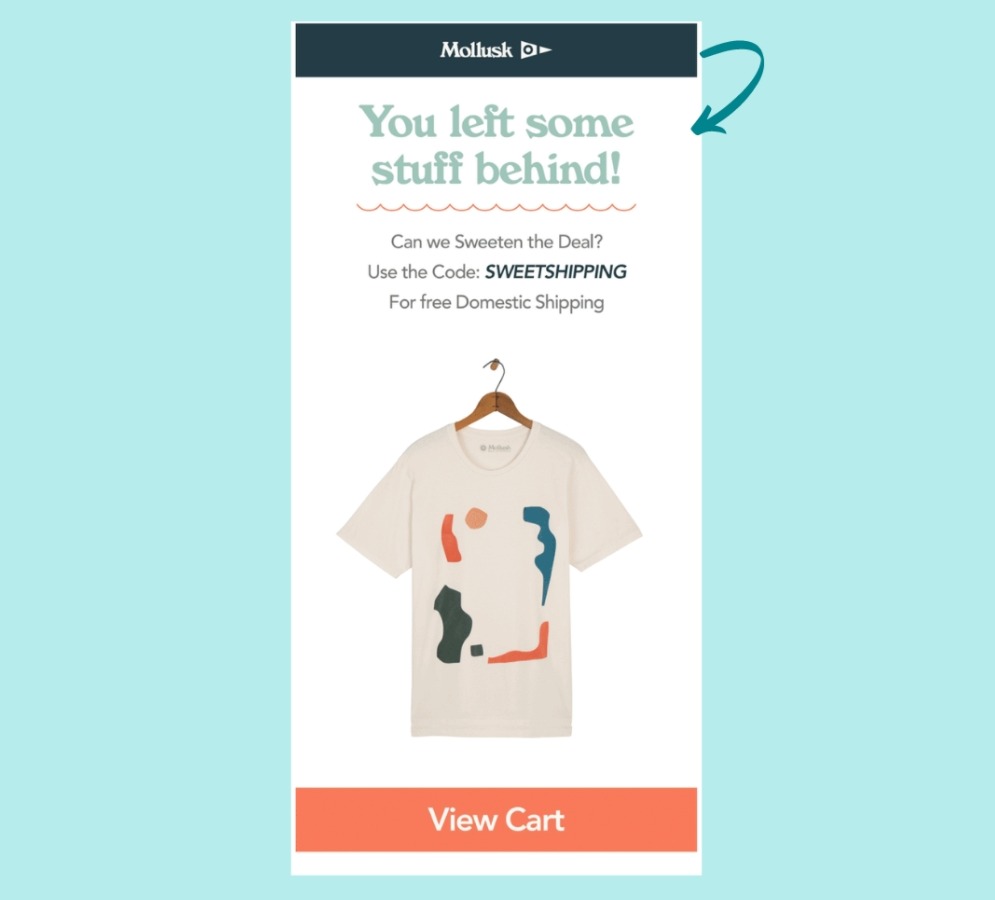 A captivating abandoned email copy practically compels users to return to your site and complete their transaction. Though it is difficult to predict customer behavior and email usability, you can certainly study it and gain valuable user insights.
Some of the requirements for a good abandoned cart email are as follows:
A catchy title (or subject line)

Excellent graphics and pictures

Copy that is compelling
When It comes to playing with the structure of the email's copy, make sure that you know your main objective of the email - making users complete their purchases.
You need to understand that your recipients did show interest in the product they left behind, but for some reason could not complete the purchase. So your copy will oblige them to return and finish buying the product. This mindset will be the guideline that your email copy needs.
Also, don't forget about your email's CTA (call to action) button. The best way to use CTAs is to keep them simple. As in really simple. A clear, low-friction call-to-action fulfills the objective well. Don't be overly aggressive with your CTA messaging, and don't come out as too authoritative. Furthermore, you should not simply fill your entire email with many CTAs.
The most typical CTA phrases are "Return to Cart," "Check Your Favorites Again," "Complete Your Order," and so on.
An engaging email copy contains all of the key ingredients while being uncomplicated and easy on the viewer's eyes. These abandoned cart emails have a better probability of re-engaging the consumer and convincing them to complete the purchase. Also, you will strengthen your branding by keeping a good and consistent copy.
2. Try highlighting just one single product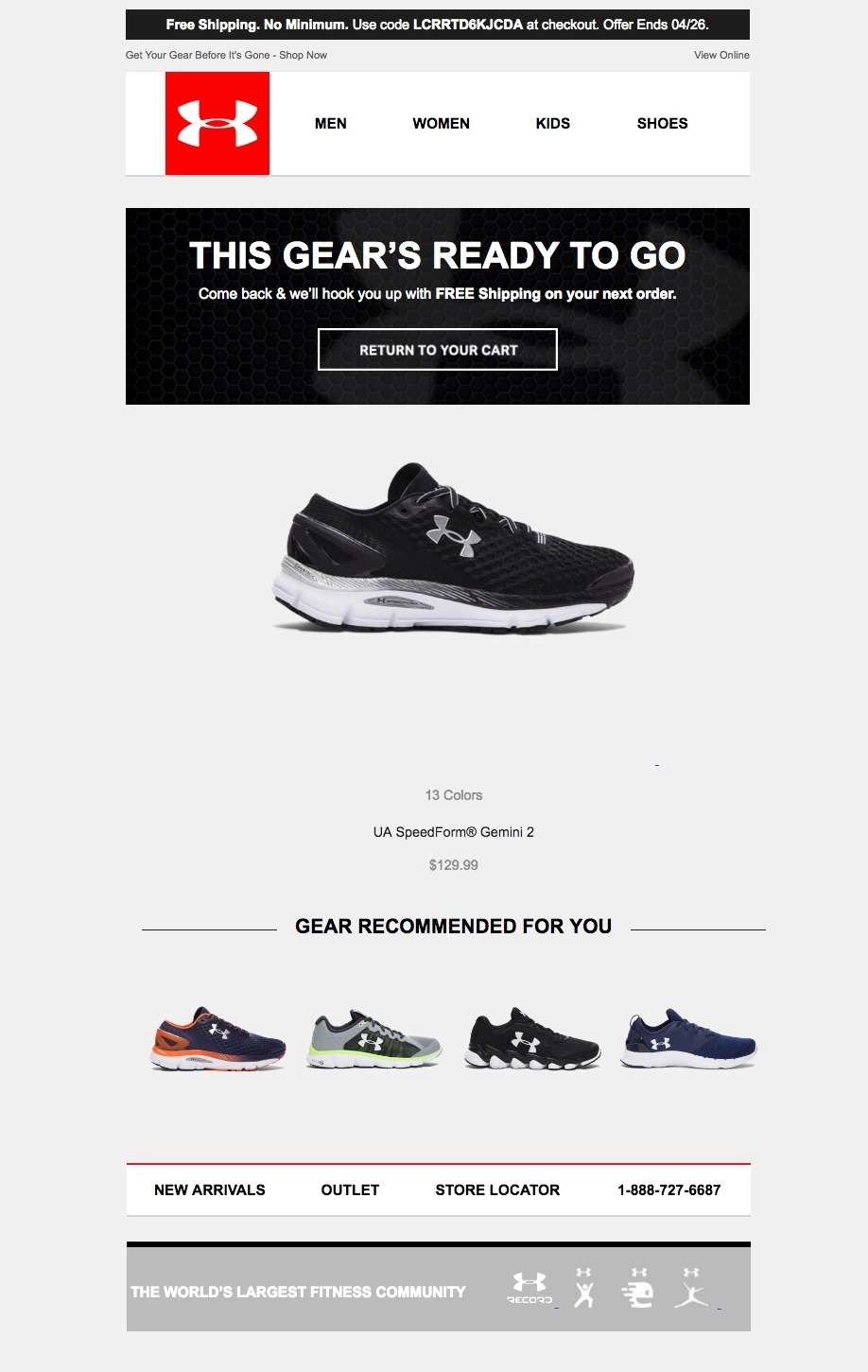 Many online customers now engage in a digital version of window shopping, adding various things to their cart for future consideration.
It's safe to infer, however, that when someone adds ten very identical things to their cart, they don't have equal purchasing intention for all of them.
Most abandoned cart emails, on the other hand, often remind the customer of all of the products in the cart, diluting the impact of your communication.
Instead of using that short period to re-market and re-sell your consumer on a single product (ideally the one they are most likely to buy), you (and others) use it across ten different products.
I'd like you to consider what a one-on-one conversation with that consumer may look like and how you might apply some fundamental sales concepts to boost your conversion rate. Here are three ways to turn your abandoned cart email into a better sales pitch:
Use at least part of your cart abandonment email campaign to sell one single product, and then really throw the spotlight on that product. The simplest method to accomplish this is to place your best-selling/highest-rated product in the cart, as it has converted for many of your previous customers.

Once you've narrowed your emphasis to a particular product, highlight some of its major benefits. Instead of utilizing generic marketing content that is relevant to your brand, you can highlight the product's unique selling propositions (USPs).

Along with that, use your marketing language to emphasize on why the customer should complete their purchase. You can also provide some objectivity by adding recent product reviews. The combination of your and your potential customer's words will provide your prospective customer with all of the information they need to make an informed purchasing decision.
When you follow the steps above to create your abandoned email, the result can be striking.
3. Include social proof for more credibility
Gaining the trust of your customers and audience is a major objective for every organization. It establishes the foundation for a healthy business-customer relationship and fosters a positive bond. Users are more likely to be convinced and eventually convert if you have earned their trust.
It is highly advised that you include product reviews and ratings in your abandoned basket emails. This social proof tells users that they are in good company and will be purchasing a validated product that is trusted by many others.
When 94% of consumers said that positive reviews make them more likely to use a business, you have a huge opportunity.
Here are two ways to do that with your email marketing campaigns:
Contain a list of the products that were left in the cart: These emails include all of the expected information, such as the product name, image, and price. You may make your products more appealing by including the number of reviews as well as the average rating. Seeing something like "Rating: 4.64/5 (67 Reviews)" can give you an instant dose of FOMO and make buyers want to make that purchase right away.

Remind your customers that they have high-rated items in their shopping basket. You can enhance your open rates by including the star rating (of the highest rated product in the cart) in the subject line (something like "There are best-seller products in your cart!").
4. Make use of loyalty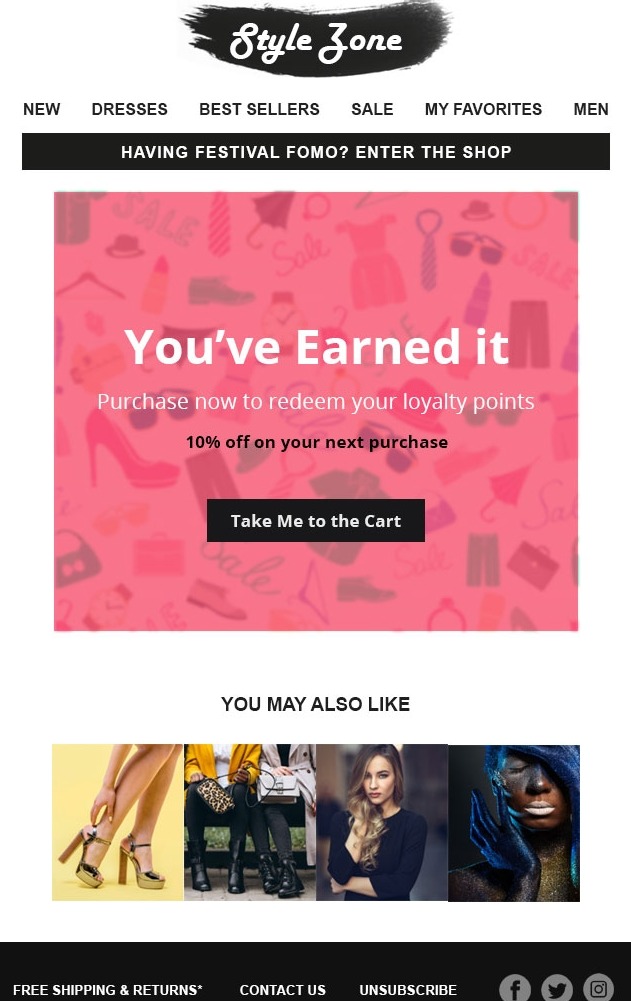 One of the most common tactics for recovering abandoned carts at the moment is to add a discount coupon, but because it's such a common technique, many of the customers have come to expect it.
Discounts eventually reduce your profit margins and lose their effectiveness over time. The greater danger here is that frequent discounting devalues your goods over time. And when it comes to your most loyal consumers, discounts are particularly counter-intuitive.
The better way to do this is to make use of your loyalty or rewards program. Here is how you can apply this abandoned cart email strategy:
Create a loyalty program for your customers: What you want to determine is the number of points a member needs to get the reward (for example, a 10% discount). You can calculate this based on the average order value of your customers.

Create a segment for loyal customers in your email marketing app: This segment should include customers based on their spending. For example, when customers pay more than 200$, they get 100 points and a %10 discount.

Create an email campaign for the segment: This segment should receive different emails from average customers. You shouldn't say they receive a discount, instead highlighting the fact that they have loyalty points that they can apply for a 10% off their cart.
Not only will this tactic convert well, your recovery rate will be boosted as well without you sounding like giving a discount to every cart abandoner. You are instead inviting your loyal customers to spend the points they have earned. This will also encourage your website visitors to create an account to see their points balance and the loyalty program.
5. Optimize your emails for mobile
When it comes to abandoned cart emails, providing a decent user experience on mobile becomes even more critical. We would say it's critical for all types of emails, but since so many are checking their mails on smartphones, you'd better apply this strategy for a better open rate.
With the rise of smartphones, email open rates on mobile have surpassed email open rates on desktop. As a result, brands must optimize their emails for re not doing it, you can gain an advantage for your abandoned cart email by doing this.
When you send someone an email, there's a good chance they'll check it on their phone first. And if it isn't mobile-friendly, you'll lose a potential consumer right away.
Here is a list of things you can do to improve the appearance of your abandoned cart emails on mobile:
Put your key content and call-to-action (CTA) at the top of the page and make it easy to browse.

A responsive design within a single column is ideal.

Use photos and graphics that are mobile-friendly and don't take long to load.

To cover up incompatible fonts and retain design consistency, use email-safe fonts with a good fallback font.

Include a descriptive alt text for the photos for users who block images. Especially when graphics are used to express your point.

Include a CTA button that follows the scroll to achieve a high recovery rate.
Smartphones are increasingly being used to access email. An abandoned cart strategy for mobile email provides you a competitive advantage and makes your communications more attractive.
6. Maintain a long-term relationship
Many eCommerce stores quickly set up abandoned cart emails for first-time shoppers, but this can be counterproductive. With compliance laws like GDPR and DMARC, it is essential that you get consent from consumers before sending marketing emails.
So, we can agree that a smaller and more engaged email list will win over a bigger email list but disengaged audience. You should make sure that your abandoned cart email strategy focuses on people who want to receive messages from you, as well as intend to buy from you.
The context you should consider is that it is not always possible for the buyer to make a purchase immediately away.
Perhaps they should save up a little more, or they are purchasing a gift that they will only need later.
In certain circumstances, you want to keep the connection open until they are ready to make a purchase. One method is to include a final email in your abandoned cart email sequence inviting your prospect to instead join your mailing list for other deals.
This way, they may not purchase the cart, but you can trigger other automated campaigns for them, such as regular newsletters, new promotions, relevant products, or simply wish them a happy birthday.
Because, at the end of the day, it's even more beneficial to keep you on top of the consumers' minds and at some point, a part of them will start making purchases anyway. You can consider this "indirect abandoned cart recovery" strategy.
Additional resources for abandoned cart emails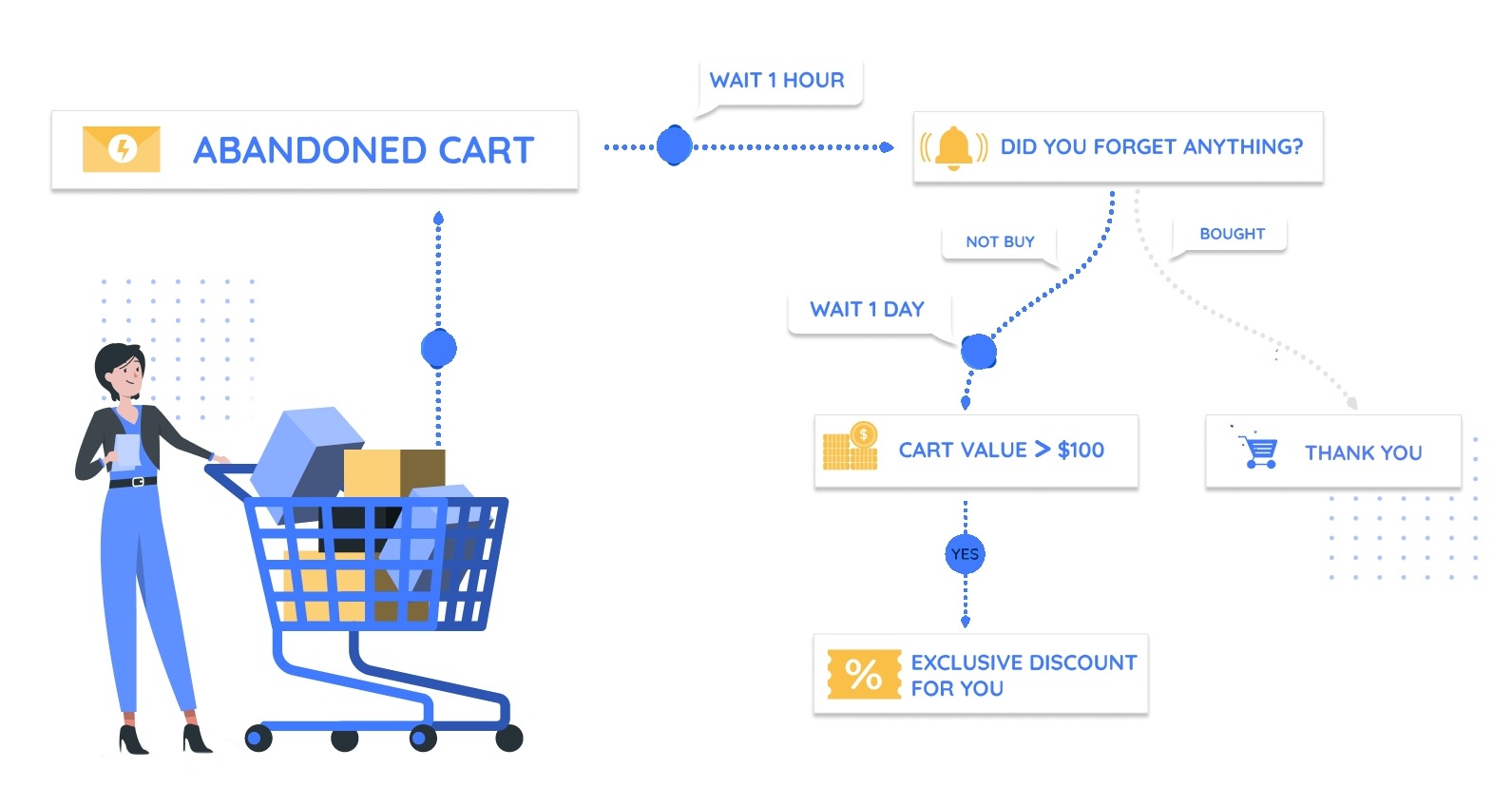 Here at AVADA, we just love to explore more on abandoned carts. In fact, our abandoned cart email template inside AVADA Marketing Automation is one of the most used for our users. By using our email editor, they can design emails with reviews, upselling items, coupons, etc. to increase the recovery rate.
So, the first resource that you should consider for your abandoned cart strategy is AVADA Marketing Automation - a powerful email and SMS marketing platform that allows you to create automated campaigns with highly-customization. With the help of segmentation and valuable data, you will be able to implement your cart abandonment email strategy without a sweat.
Also, check out these other articles:
Final words
Having a strategy is often just the first step. There will be many things that you should look out to improve your abandoned cart email campaigns and increase the recovery rate. Following up on lost sales is critical for an eCommerce brand, and we're sure if you have read this far, you have more than enough will to make your brand a success.
Start implementing your own abandoned cart email strategy today, and tell us your result in the comment section. If we miss out on any strategy that you are using, we'd love to know too! Anyway, thanks for reading, and best of luck with your email campaigns!
New Posts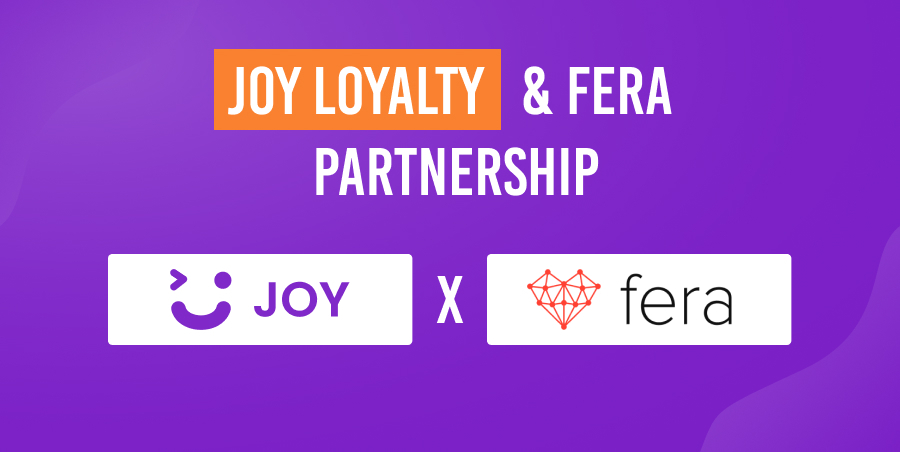 Subscribe
Stay in the know
Get special offers on the latest news from AVADA.
40k
subscribers has been joined!
Earn $10 in reward now!