10 Awesome Shopify Abandoned Cart Email Templates to boost sales
About 75 percent of people leave their shopping carts online, which means every 3 out of every four people in your eCommerce store adds something to cart and leaves without paying you.
However, that's not all the fact because you can have about 10 percent of them come back to buy your goods by setting up a cart recovery email without any hard work. The average rate of opened emails is about 15 and even up to 63 percent of all.
So, are you sending out abandoned cart emails when your visitors quit some of your goods? If you haven't done this yet, there would be a considerable amount of missed income. If you are a store owner, for sure, you will want to do something about it.
If you haven't heard of an abandoned cart, don't be a worry. In our 10 Awesome Shopify abandoned cart email templates to boost sales article, I will help you figure out what its role is and the 10 best templates of abandoned cart emails to help you get a great deal in increasing sales and grow your business. Let's dive in!
Exclusive Offer: Get Shopify 93 days for just $3 + The Online Store Starter Kit
Start a 3-day free trial, then get Shopify 3 months for $1/month plus the premium package designed especially for new Shopify merchants!
Start Free Trial
What is an abandoned cart email?
The customers added products to their cart but failed to check out for some reason will have themself an abandoned cart email like this: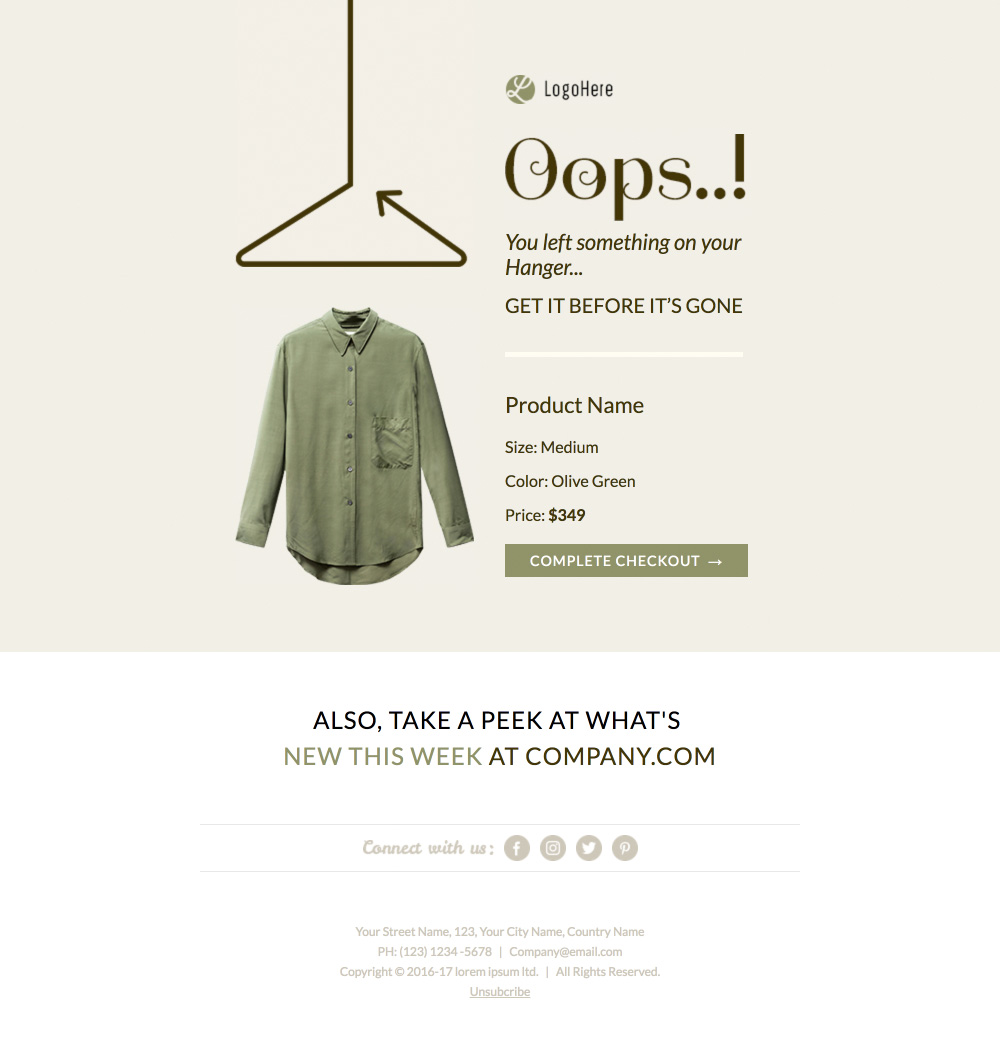 So, an abandoned cart email is a follow-up message, which is delivered to the one who leaves a website without buying the products in their online shopping cart. Normally, abandoned cart emails are for those who leave a part-way through checkout behind, and store owners can recover around 10% of lost revenue by these emails.
The reason can be different due to each user because the action might not be intentional. For example, because the website has a technical error, or due to the complexity of the process, or because it keeps timing out. That is why an abandoned cart email aims to expose the abandoned products to the customers and convince them to complete the process.
Read more:
Why you should send abandoned cart emails
Are you wondering about the actual benefit of setting abandoned cart emails? Yes, as you can see there was a mind-numbing 75 percent of shoppers that abandon their carts, which costs online retailers around 260 billion dollars in lost revenue annually.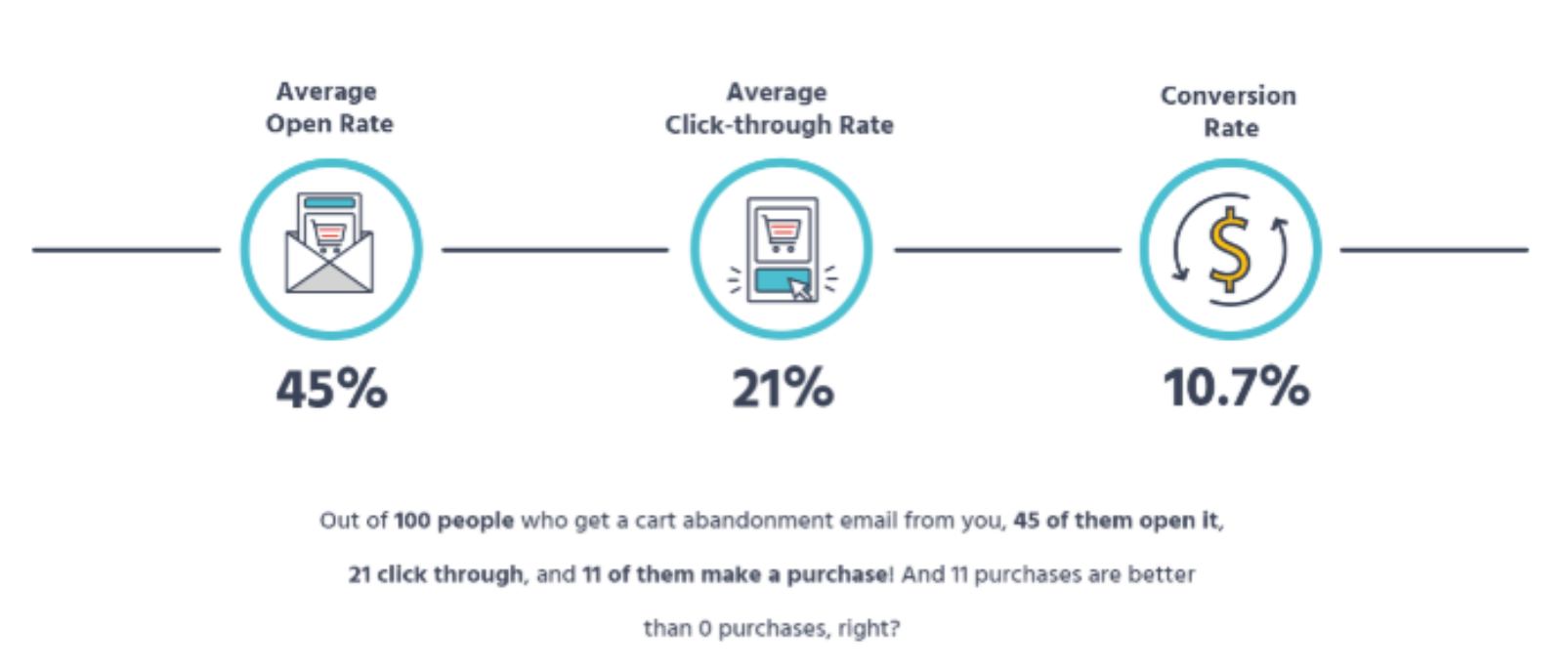 However, the thing is, there is around 75 percent of people who leave their carts usually plan to come back, that's why we should send the abandoned cart emails to jog their memory. Here is the abandoned cart statistics:
45% of all cart abandonment emails are opened
21% of all cart abandonment emails are clicked
50% of those clicks lead to a recovered purchase back on site
So, one of the key tactics is to consider shoppers to deal with their abandoned cart that is the abandoned cart email strategy. Up to 80% of retailers fail to take measures to deal with "almost" customers. Hence, sending abandoned cart email can be your edge to take a step ahead in the competition. Do you know what are the emails supposed to look like? If not, you will start figuring it out!
Free 1:1 Shopify consultation & 30-day all-app trial FREE
Shopify Plus Strategy and Consultation
Personalized E-commerce Solutions
Conversion Rate Boosting Techniques
Inventory Management Hacks
Types of abandoned cart email templates
1. Free shipping email template
Walker Sands have done a survey and claim that 79 percent of US consumers expect free shipping to be included while shopping online. So, there would be many people who leave a cart if they don't get the 'free shipping' offer in their orders.
The opportunity for you here is to create an abandoned cart recovery email that focuses on 'free shipping', just like Huckberry did when that put a big, bold headline does the job. That is it!. Play yourself as the readers' role, they will only see the headline, code, and the CTA. You can use this template when the shipping can be provided for free to everyone who leaves a cart but every eCommerce store cannot do the same, or when you want to only use this shipping policy to selected people.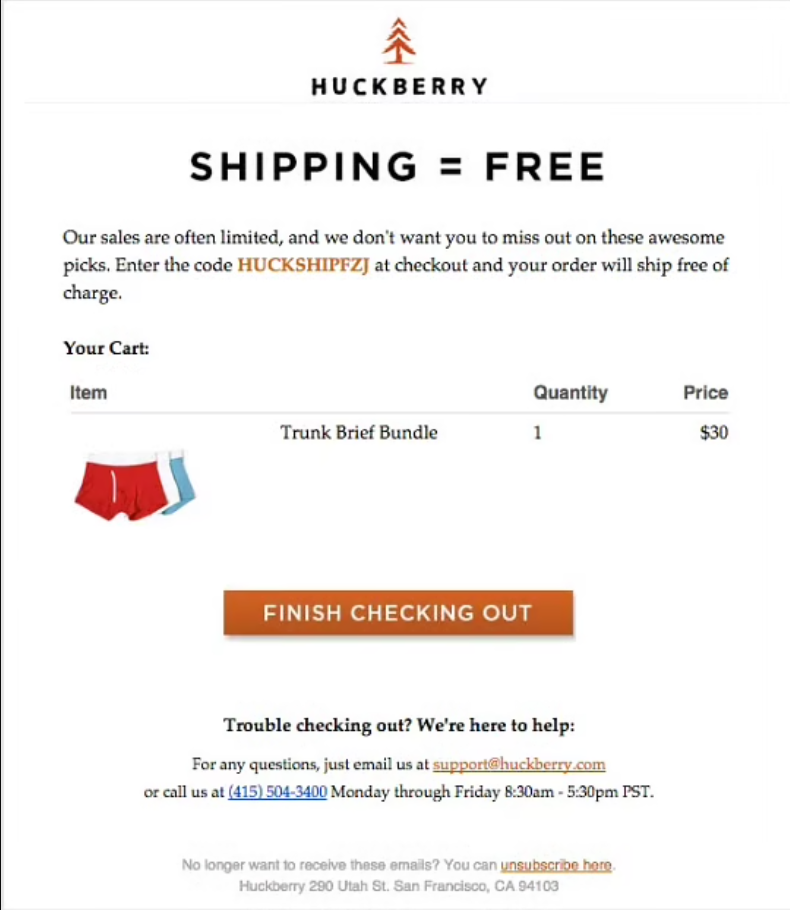 The following sample email template, in this case, will be helpful:
[Name] , your items can be shipped for FREE!
Did you know that your shopping cart is eligible for free shipping on our store?
Not everyone can have this offer. Lucky you! Simply copy-paste this code XXXXXXXXX and get your package delivered in no time.
[cart details]
CHECKOUT MY CART
Issues? Just call us at [pphone no] or send an email at [email ID].
2. Grab the offer email template
Next to free shipping, what users like the most are discounts. So why don't we capitalize on it? Just look at the way Saatchi Art has done it when they can catch what a consumer asks for. Klaviyo has put the $-based discounts perform better with the highest ROI compared to percentage-based discounts. Nice work!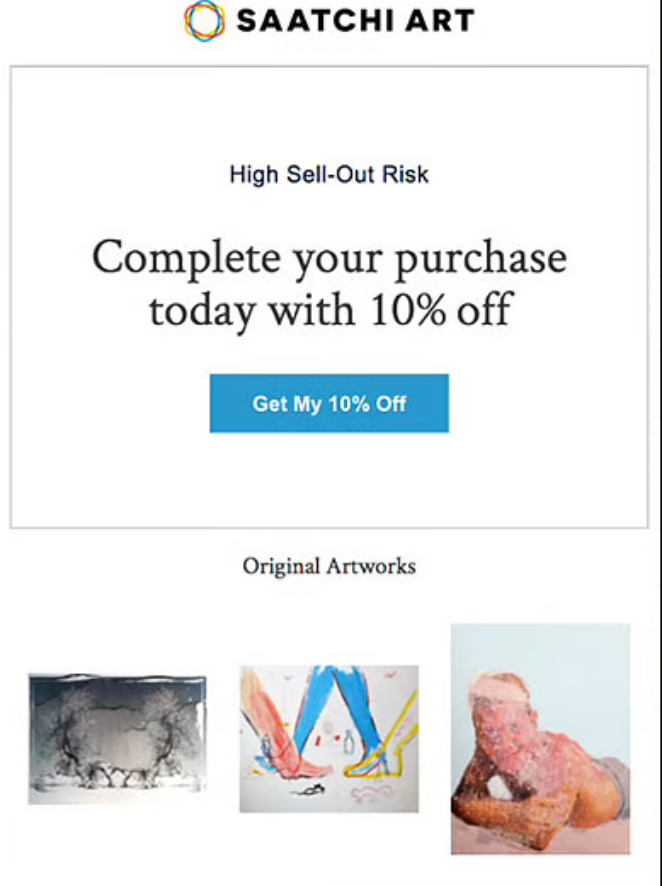 Sample abandoned cart sample email template 2
Come back! Claim your $5 off.
Where have you been?
You should have been around. It's raining discounts. Never mind. Better late than never. Your cart awaits you at the checkout with a $5 discount tag on it.
[cart details]
CLAIM MY DISCOUNT
P.S. If the discount coupon doesn't work, notify us. We will resolve it.
3. The final countdown email template
When there is barely any time left for the customer to go with your Shopify cart abandonment recovery process, this template would be perfect for it. In the example below, the email from Grammarly says "Only 2 Days Left!". However, will this make individuals excited or arise their attention in a person reading the email?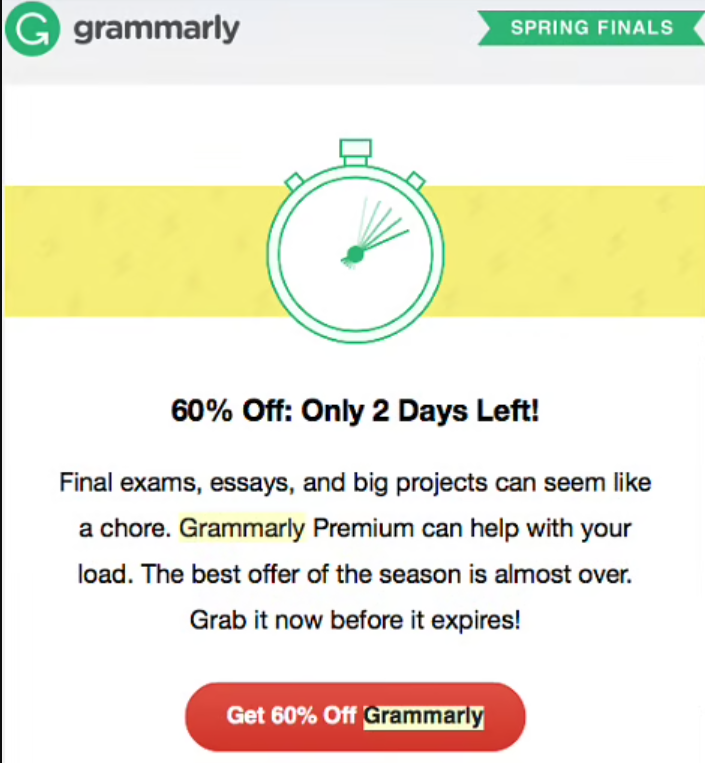 I assume it needs to be considered more because the time is static if we add only a number. The FOMO strategy will work better if we include the clock ticking in the countdown timer like in the following abandoned cart email. When consumers see the time running out, they will be likely to act immediately and even faster than anticipated.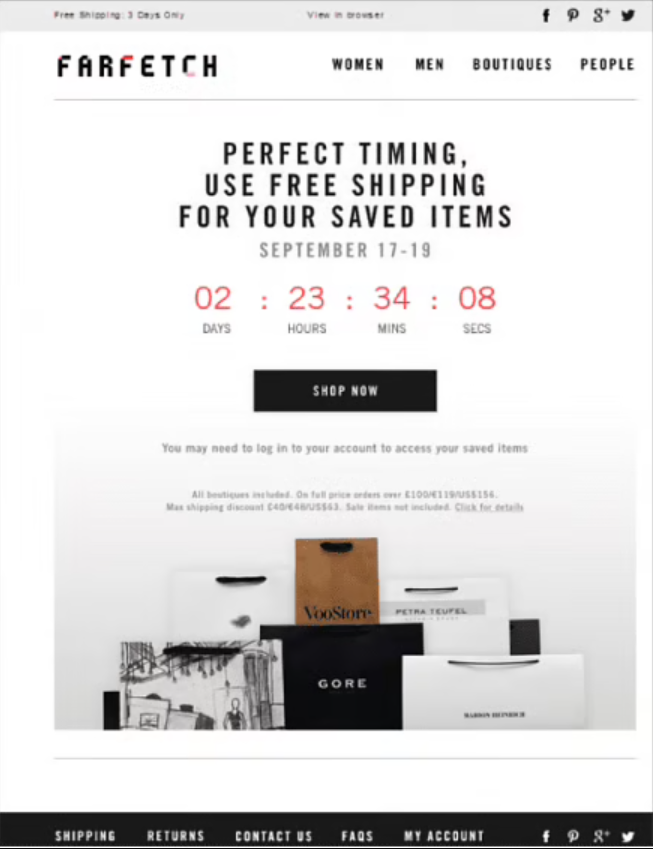 Abandoned cart sample email template 3
[Name], It is either now or never.
Did you leave something behind?
Oh yes, you did. A large number of your favorites that you had wished to own for long. You were almost there the last time.
Now, THIS is YOUR chance. The clock is ticking and we can't hold them any further. The online rush is just over the top.
[countdown timer]
[cart details]
GRAB YOUR CART AND GET YOUR OWN [ITEM NAME] NOW!
Don't miss this once-in-a-lifetime chance!
4. Check these email templates out
In this abandoned cart recovery email template, the phrase 'check these out' will personalize the recommendations to make the customer shop for more. You will put the recommended products under the category of cross-selling or upselling.
With this abandoned cart recovery email template, you will put the recommendations with other picks for the customer to ensure that the sale happens. You can utilize this template in three ways to suggest:
As an alternative solution to the item in the cart
As a complementary product (cross-sell)
As a bundled purchase together with other items (upsell)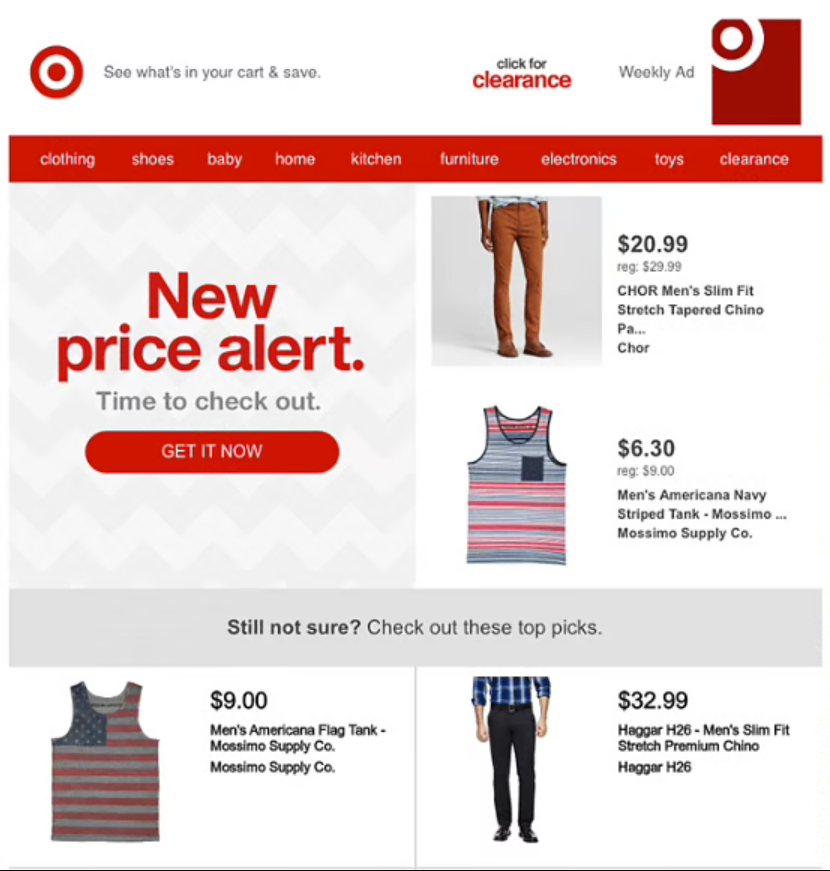 Abandoned cart sample email template 4
Where have you been?
Hi [Name],
It has been a while since you left your shopping bag all alone. All his friends have been checked out pretty soon and he stays there, waiting for your come back.
Return and show him some love. Just a click would do and he is all yours.
GO FOR IT
[cart details]
GET MY BAG
Here are some recommendations. Just for you.
[personalized product recommendations]
Are you having trouble checking out? Email us at [email ID] or give us a call at [phone number]
5. See what people say email template
To level up the sales for the eCommerce sector, reviews and testimonials will have a great role in it. There was data that proved 88 percent of consumers decide based on reviews to make a purchase. Hence, including it in an abandoned cart recovery email template is a great idea to bring back customers and recover the lost sales.
In an example from The Old Farmer's Store, they have input reviews, star ratings, and testimonials to the email to make an even better influence on the consumers when they are verified by the eCommerce store. And you can even make it more trustful by having a badge saying 'Verified Buyer''.
The following sample email template, in this case, will be really useful:
Hey [Name], we are putting your shopping bag up for sale.
Did that subject line send across nerves?
Don't be a worry. We are not so mean to do that to you. The sale is on and catching up faster than ever. Your shopping bag is at risk of getting away from you.
GET IT NOW!
[cart details]
GO AHEAD!
What do customers think about this product?
[testimonial 1]
[testimonial 2]
6. Is your wi-fi ok?
There is another idea that you should ponder to deliver to your abandoned cart shoppers, which is asking them the question, "Is your wi-fi ok?". This question can do a really good job of standing out from the norm and the fact is that there might be Internet problems, which makes your shopper abandon their cart. However, just remember that you do mention the product they have abandoned and utilized a good incentive and call-to-action to push the shopper to convert.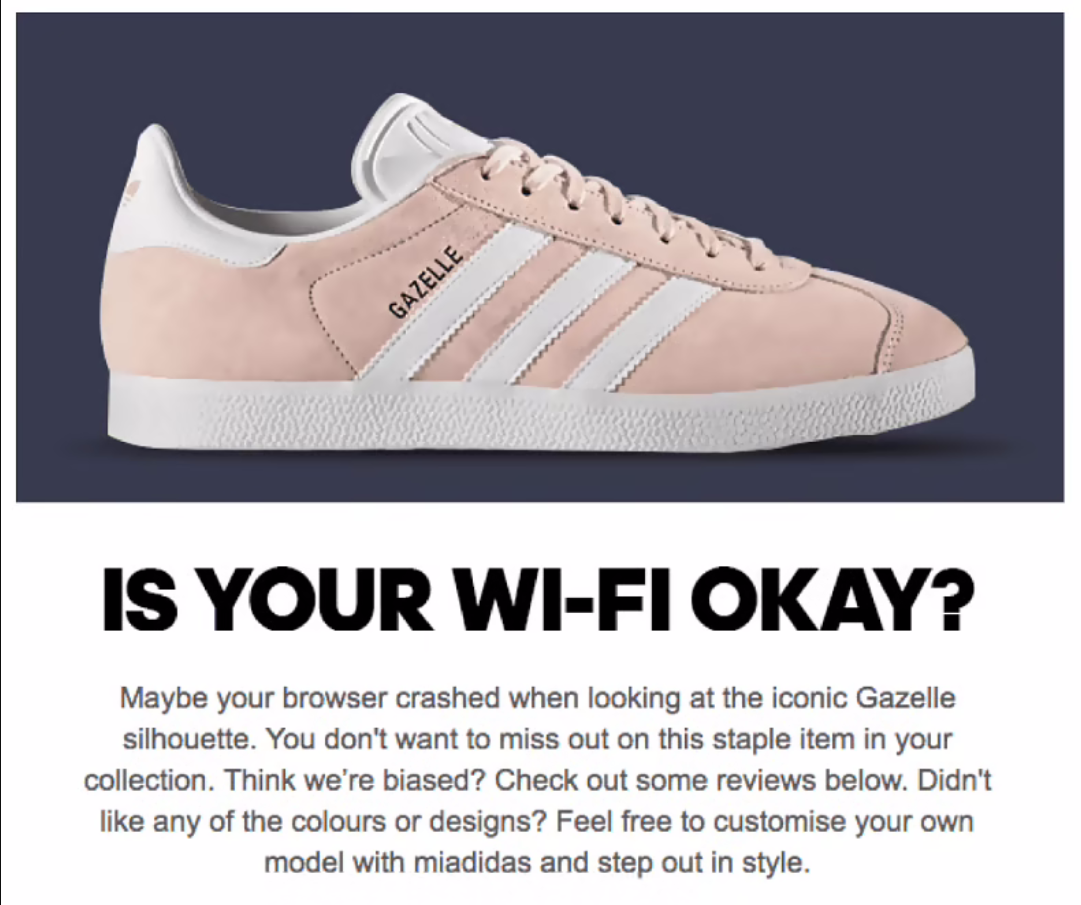 How to create a winning abandoned cart email template for Shopify
If you want to have a winning abandoned cart email template for Shopify, then timing really matters for it. According to one research from SaleCycle's, the timing affects conversion rate in emails:
In less than one hour had an average number of 3% conversion rate
Withing an hour late, it was the sweet spot for having an average 6.3% conversion rate
After 24 hours, a basket was abandoned will fulfill on the average number of a 2.5% conversion rate
With a timed series of three cart recovery emails, it would be the most productive way to convert customers from a 'maybe' into a 'yes'.
While designing an abandoned cart email campaign, you should keep in mind these things:
Ensure that every email in your series is special and outstanding
Pay attention to only one or two different strategies each email
In case you want to provide some discount coupon codes, just wait and add it until the last email in your series.
For example, this series of emails from Casper has sent the consumers this email within an hour when she is wondering whether to buy a mattress: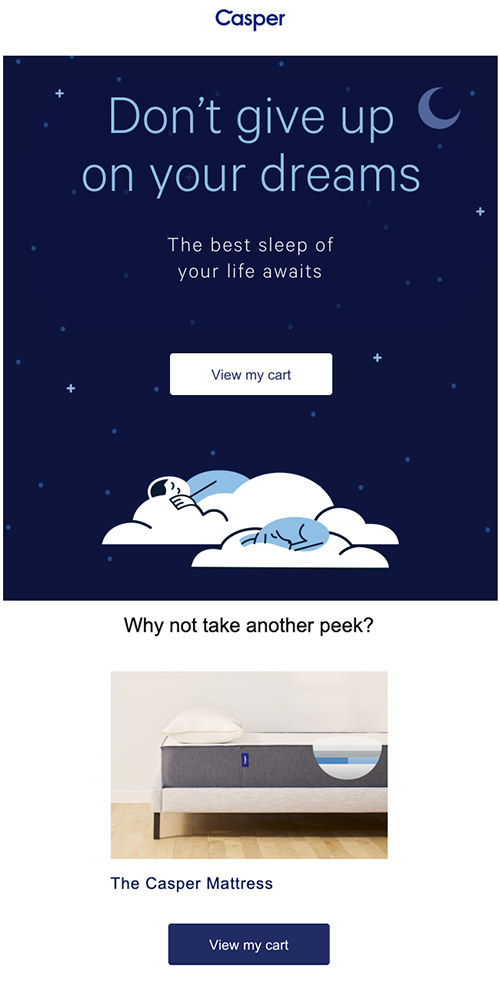 This email simply focuses on reminding her that she forgot my online shopping cart by mentioning:
Multiple clear CTAs
Simple design with charming graphics
What she left in the shopping cart
Within a day later, she got this follow-up email: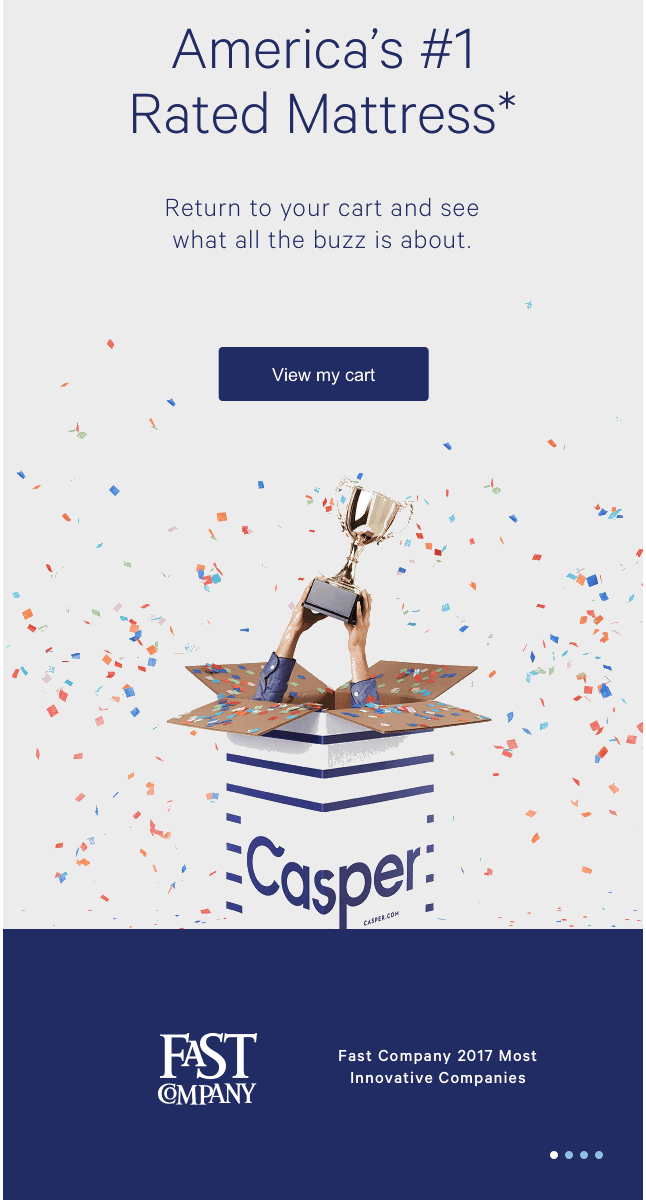 This time, Casper chose a recovery strategy to display their great reviews, they try to address concerns that the consumer might have which stop her from buying. And then, after another twenty-four hours, they finished their series with this third email: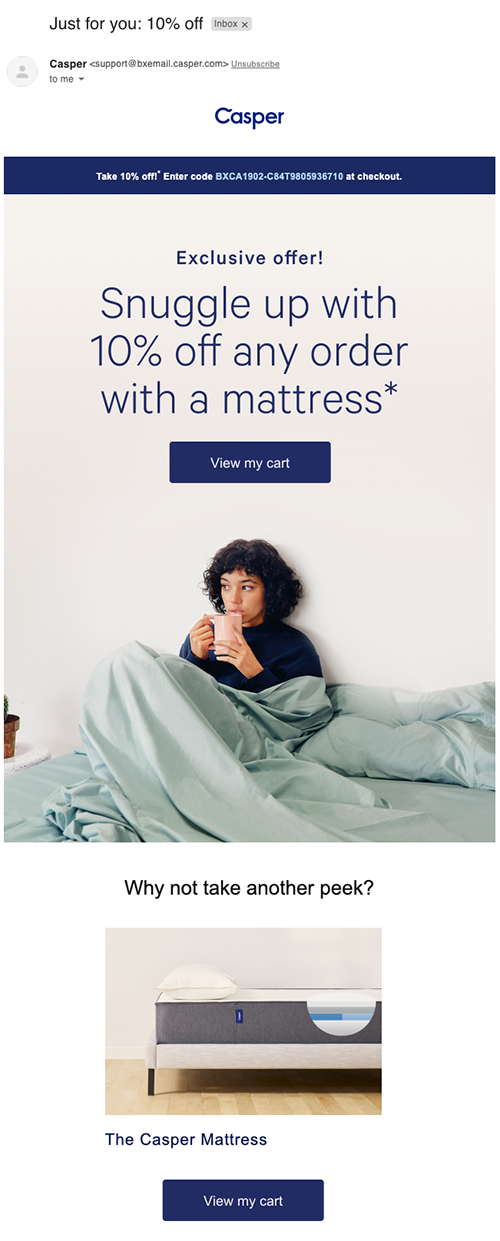 Overall, this smart series of abandoned cart emails that you can see from the example that Casper has:
Showed the consumer what she had left in their cart.
Selected a proper design using a real person to make the user feel herself of being that cozy.
Provided a discount incentive in their emails.
10 Awesome abandoned cart email templates for your Shopify store
1. Amazon
Amazon is considered as the world's largest online retailer, which is made of a good bet following Amazon's lead. It's quite prominent that Amazon utilizes a simple abandoned cart email template that can apply for any of their stores. Also, they send abandoned search emails related to what you have been looking at.
After reviewing thí email templates, we really liked it as Amazon has done a really good job in:
Making a very simple email but really gets straight to the point.
Reminding you where you were shopping.
Embedding a photo of the product left in the shopping cart as a reminder.
Linking the item in the email so that the recipient can head straight to checkout, deleting barriers to completing the purchase.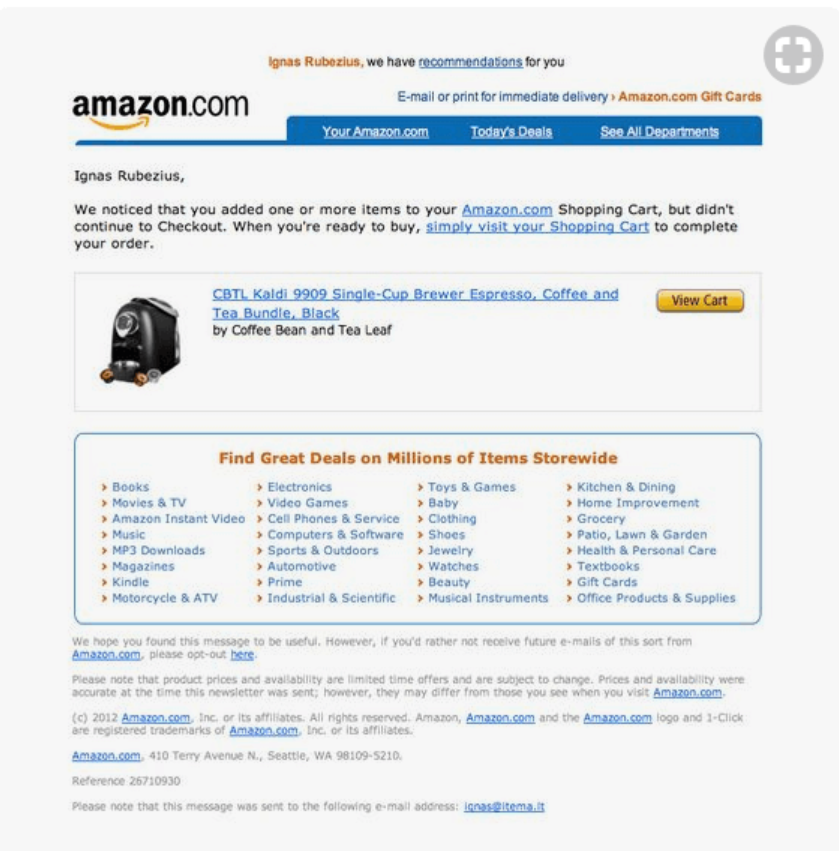 However, there is something we don't like:
The bottom of the email is chaos, it is not necessary to add all of those Amazon links.
In some cases, it is better to see an incentive for completing the purchase, like a discount for example.
2. Monabello
Monabello.com is a brand that sells accessories for smartphones, and I will give you the example of their series using three abandoned cart emails. They have subject lines of Cart Recovery Series that say:
Still, Shopping? You have items left in your cart.
Don't miss out! Your chosen items are selling out very quickly.
Final reminder: what about the items in your cart?
From April to October, this Cart Recovery feature has successfully brought 29.5 percent growth for all orders through the Omnisend channel and 26,5 percent in revenue. What is more, the statics below can prove how effective this campaign is
The Open Rate: 43.31%
Conversion rate: 1.8%
Range of subscribers: 5000-10000
One hour after the cart was abandoned, this first email was sent.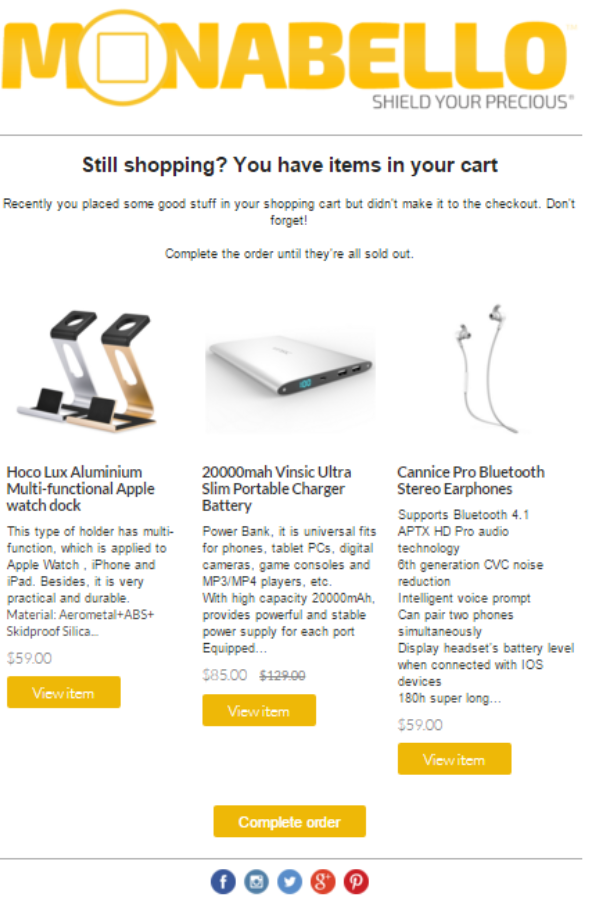 12 hours after the abandonment, this second email was sent.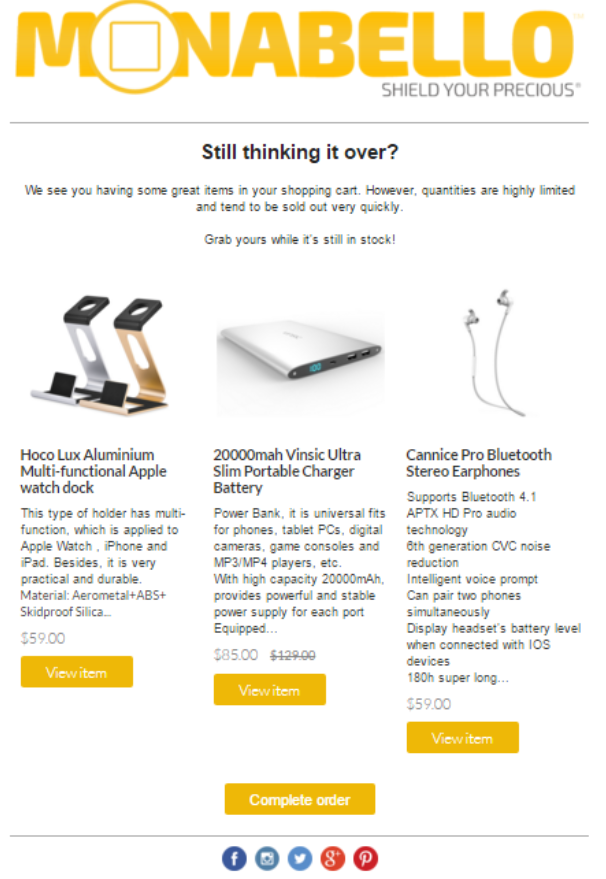 24 hours after the abandonment, the third email was sent that provides a 15% discount as an incentive to buy to make the entire series effective.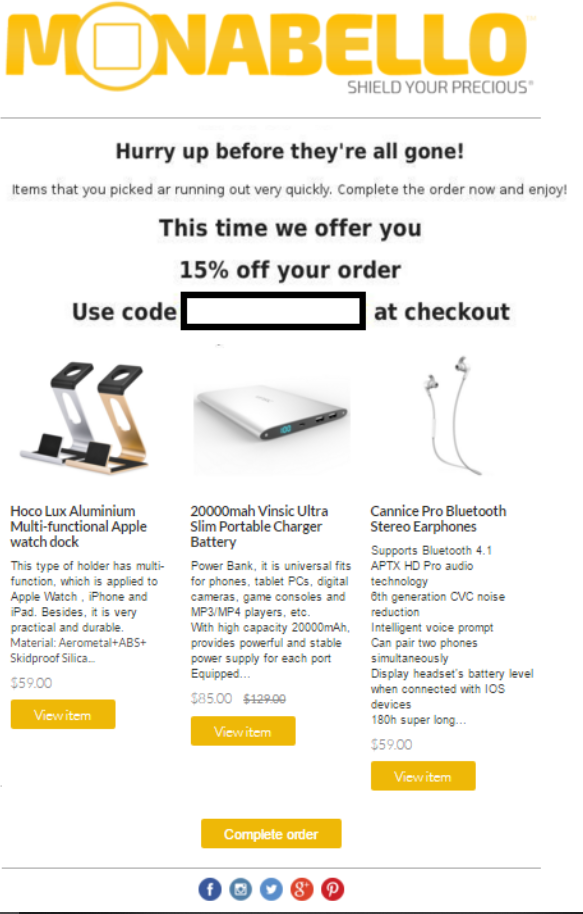 3. Asos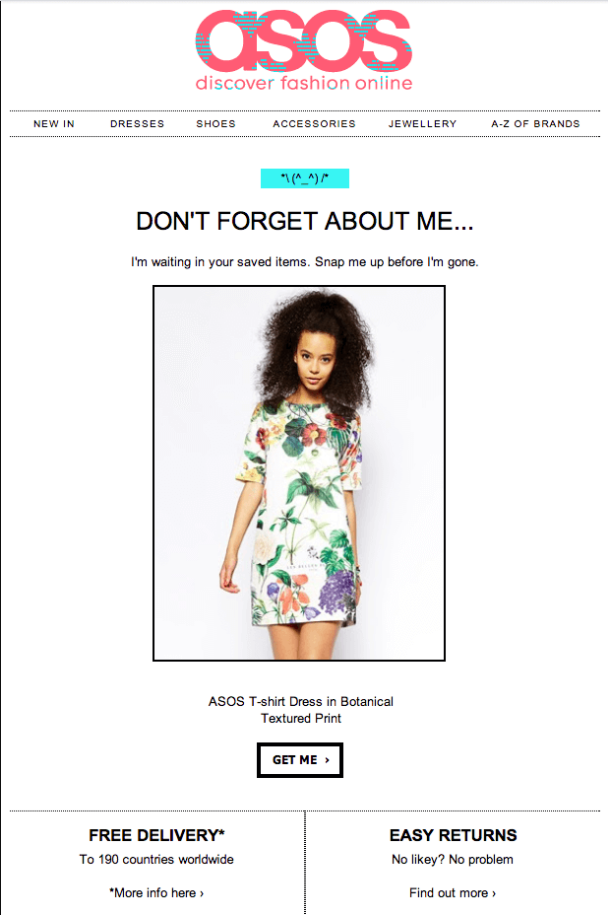 Asos has a very simple abandoned cart email template above, but I assume it is a very excellent one because:
With this email, ASOS has nailed brand recognition when it is designed based on the store's homepage.
Some playful sense of humor in the headline and copy were also added, which makes the messaging on-brand. The ASOS marketers absolutely catch what to do with their buyer personas.
The email composes of a photo of the product in the cart to get into the recipient's memory with a visual.
The email reminds recipients that they provide free delivery and customer can easily return items in case there are problems. This can move away from the risk of completing the sale, which will help with conversions.
4. Case of Mine
In the abandoned cart email from Case of Mine, the subject lines that said:
Still, shopping? Your favorites have left behind…
All you have to do is – say YES!
Sleep well while something left behind?
The brand Case of mine has cold accessories for mobile devices, cars, home, and many more. It launched a series of abandoned cart emails six months ago and has an impressive conversion rate for the 1st email, which is 4.5%. Thanks to the series of follow-up emails, there are 23.15% of abandoners head back to the store and 9.7% of all them made a purchase.
The Open Rate: 1st email — 47.22%; 2nd email — 45.49%; 3rd email — 41.07%
Conversion rate: 1st email — 4.5%; 2nd email — 3.4%; 3rd email — 2.1%
Range of subscribers: 10000-25000
One hour after the cart was abandoned, this first email was sent.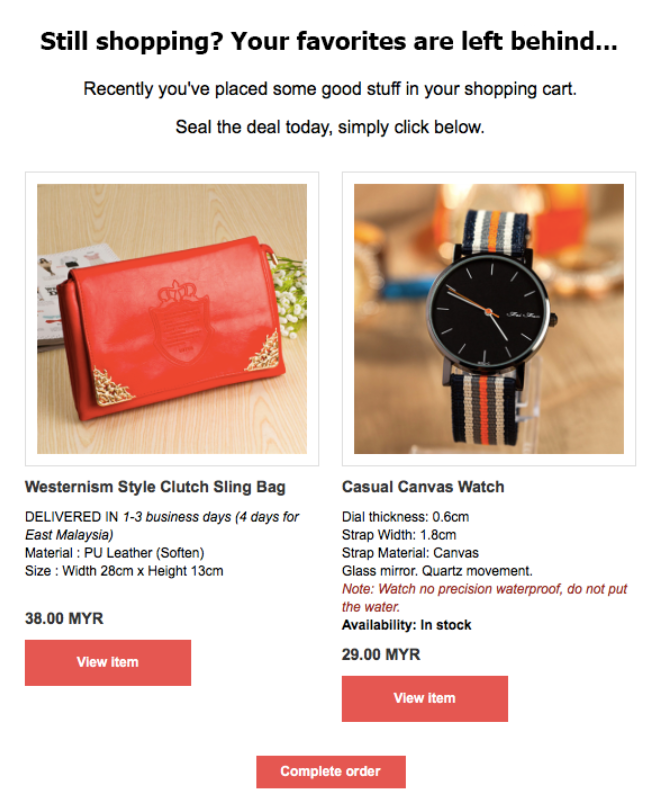 12 hours after the cart was abandoned, this first email was sent.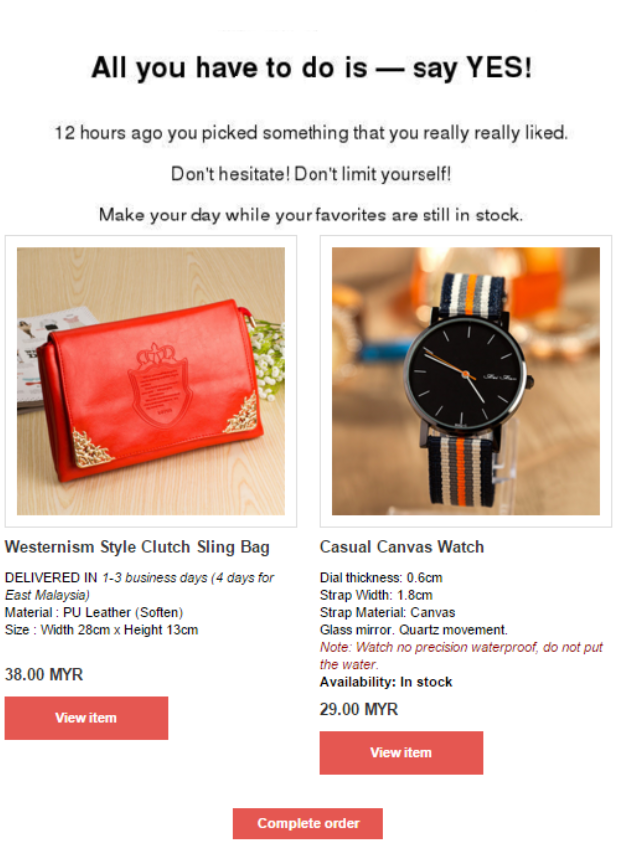 24 hours after the cart was abandoned, this first email was sent, we can also see that discount is also provided.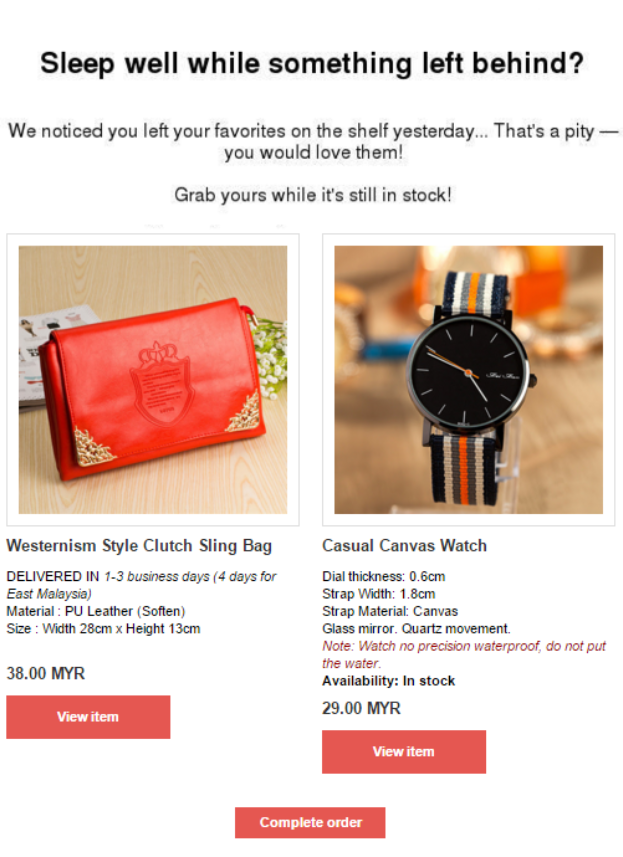 5. Barkbox
In the Barkbox's abandoned cart email, it has succeeded in bringing the fun into living by showing:
The GIF of a thrilled dog getting the order is absolutely perfect for the audience and guaranteed to draw the attention.
In order to reawaken recipients' interest, Barkbox also a reminder of what's inside a typical Barkbox.
The email also shows a cute sentence: "show your dog some run", which will absolutely melt any dog owner's heart.
There are 2 identical calls to action at the top and bottom of the email.
One cart expiry was added, which is usually a good marketing tactic, to warn about the trigger action based on urgency.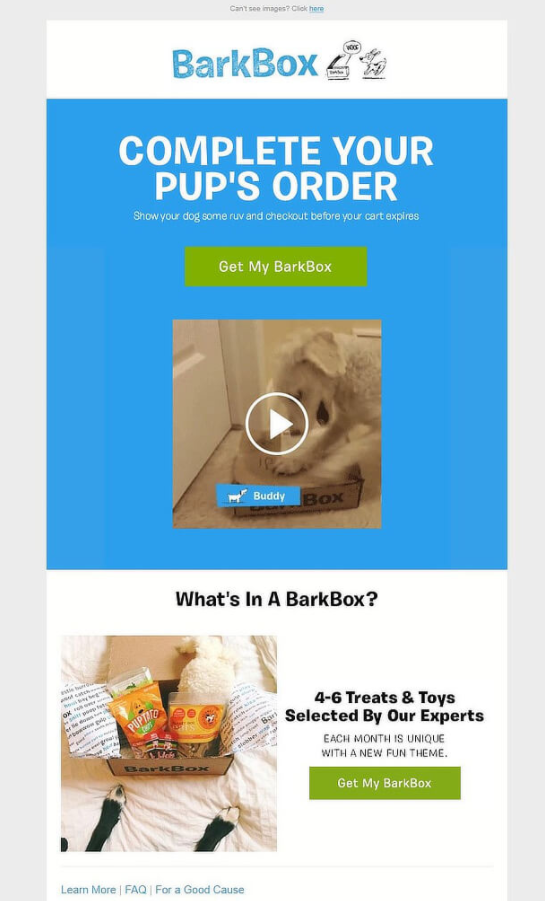 However, if the Barkbox has the recipient ordered to make it more personal to improve the personalization of the email to make sales, then that would be great.
6. Google
Google, the brand that is no longer strange to us has been so famous for keeping things simple. Below is the cart abandonment email for a Google Photo Book, which is no exception:
The email has a photo from the book, and some photos to effectively get attention.
The subject line alerts the recipient about the next stage in the process.
The CTA is basic and easy-to-understand.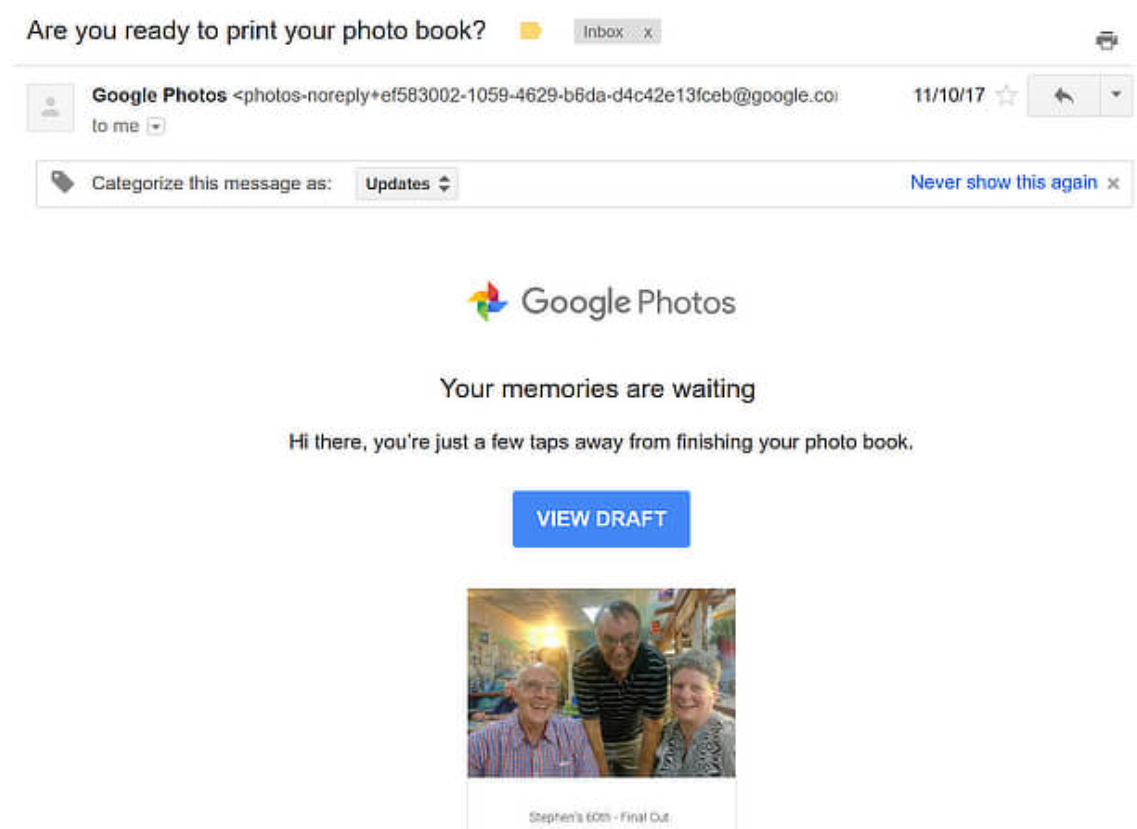 However, in my opinion, I think this email is almost too minimal and it also needs a bigger photo to get more attention.
7. Mostly Music
This MostlyMusic.com brand is the first online, at the same time, the biggest Jewish music retailer in the world. Active eCommerce marketing has been taken from this brand o implement as it launches 12 promotional emails campaigns, and supplement them with email automation emails – welcome, cart recovery, and customer re-activation emails every month.
We can see from the email that it has:
A reminder about browsing the store and embedding the favorite products to the cart.
Photos and a short description of the abandoned products are added automatically from the store.
Easy-to-see call-to-action buttons.
If the owners add a brand logo and customize the colors of the email that would be so branded!
Cart Recovery Series emails are the same, with similar copywriting. The 5% discount also a great way to boost sales in the third email. Their single Cart Recovery email looks like: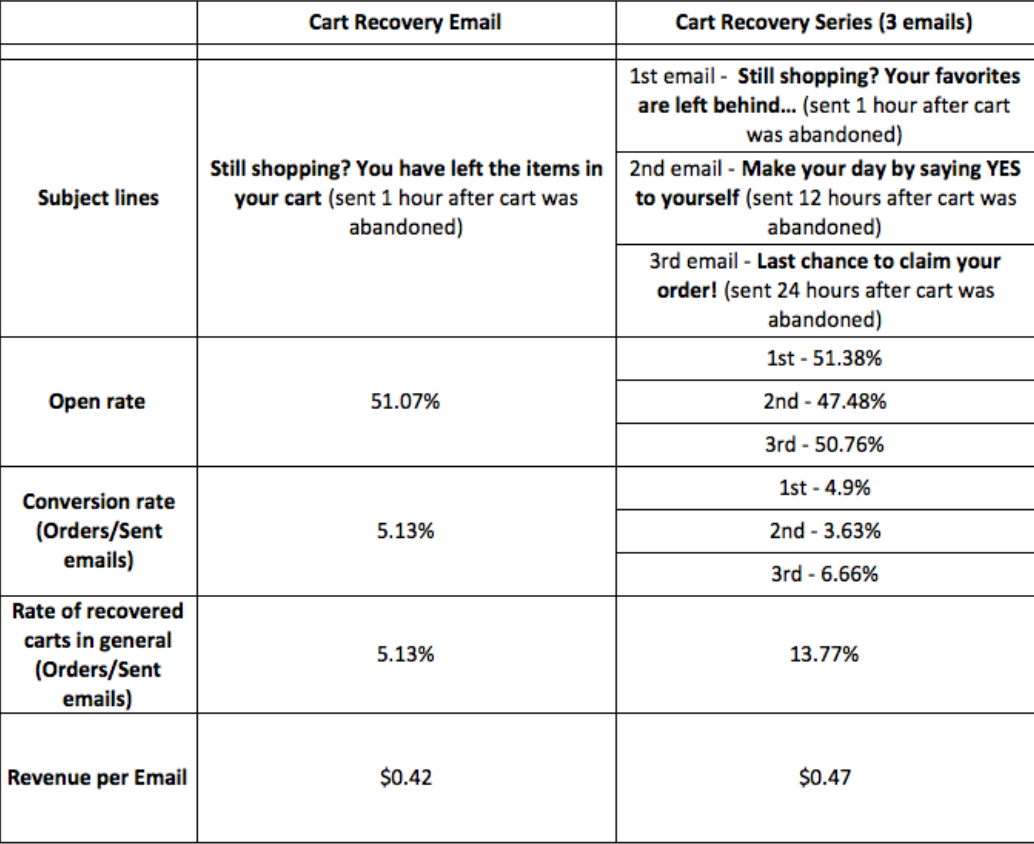 Here are the results for this campaign:
Range of Subscribers: 50,000 – 75,000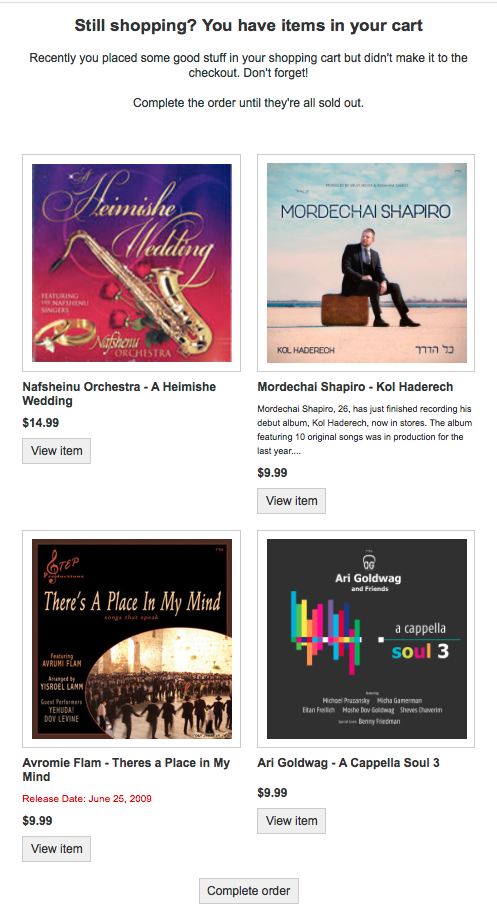 8. Hayneedle
For shopping cart abandoners of home furnishings retailer, you should visit this great example from Hayneedle as they have:
The email features an incentive discount in the subject line and first image.
There is a reminder included showing what is in the cart.
The CTA points out the advantage of fulfilling the order.
Their images of related items are on point, which is exactly what the user expects while considering buying a product.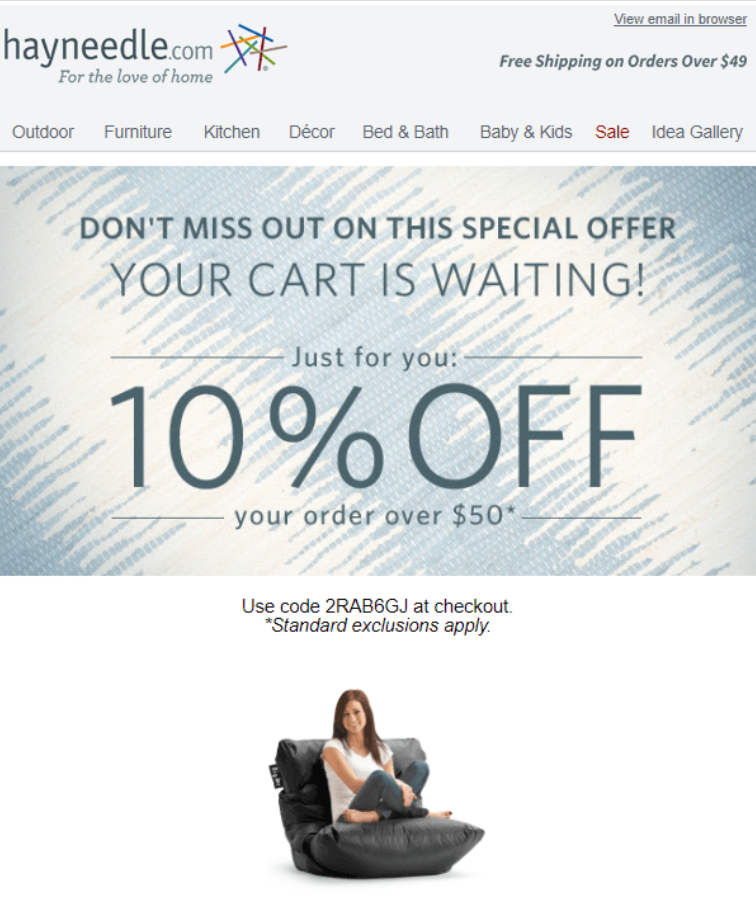 9. Jessops
This abandoned cart email examples from photography company Jessops has paid attention to a more visual approach. As you can see:
Killer images are added to have every version shows up really eye-catching right at the top.
The "snap up your basket" CTA is photography, which I think will absolutely attract the audience.
The email has images of the products in the basket added, followed by a regular CTA.
A reminder about free delivery was also added as an incentive to fulfill the order.
The bottom of the email composes of boxes featuring other Jessops Academy highlights, and a lot of payment options. They all show why the recipients should be there right at the moment.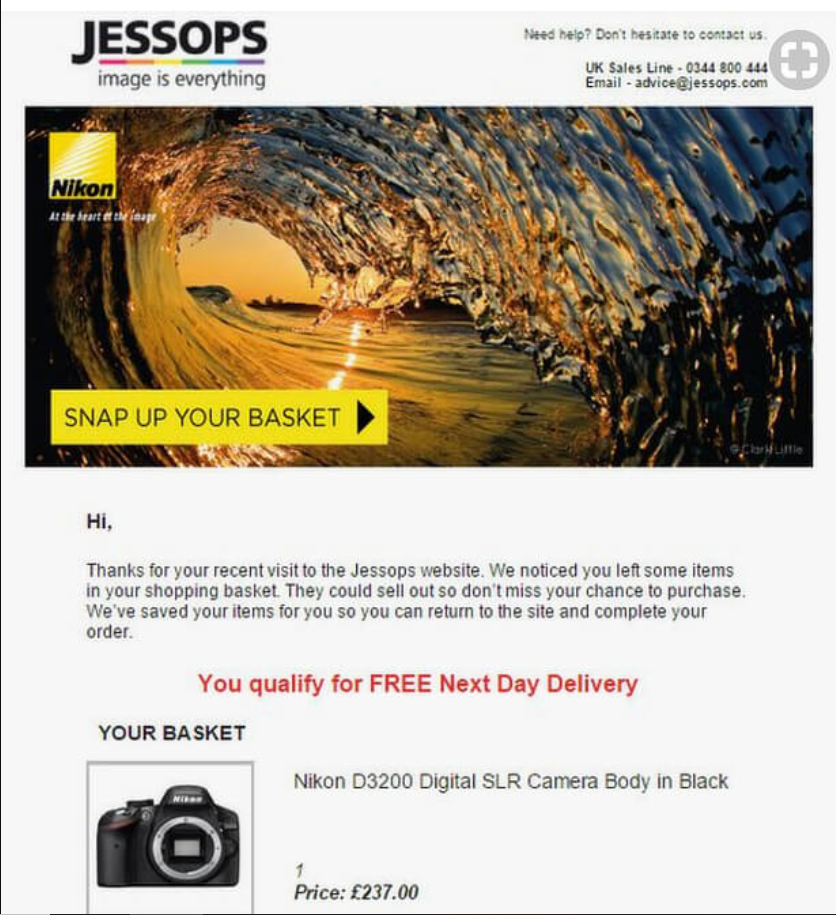 However, it would be nicer for a shopper to have the name in the email to get their attention even more.
10. Russell Brunson
In this example, we have seen four emails in the sequence, and this is how we like from the first one.
The subject line attracts to the emotions, which attempts to create more excitement.
The copy is friendly, it is just like one person talking to another.
A big, bold, unmissable CTA was included to complete the order.
The email copy makes the recipients feel and see what is provided in the deal.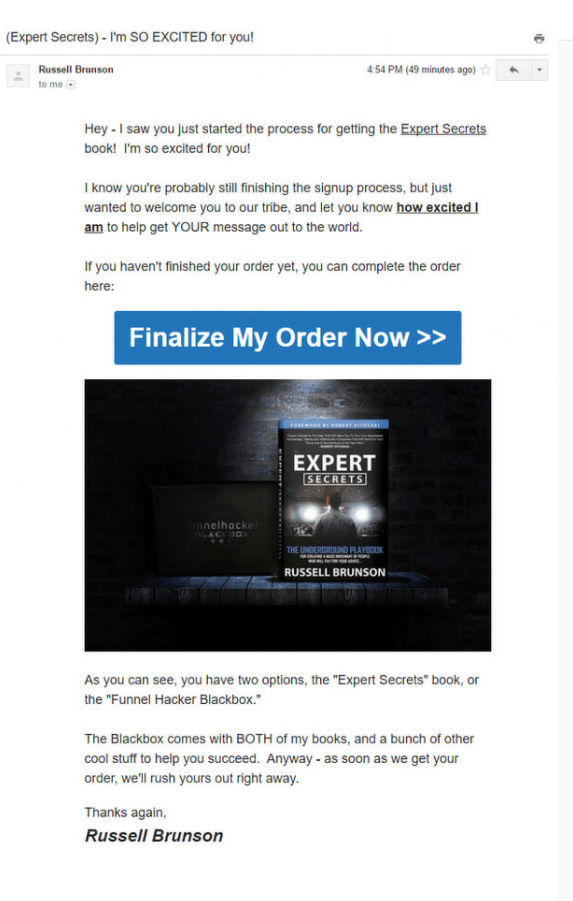 Nevertheless, this email has been personalized yet as the recipient has not offered a name.
Related posts:
Final thoughts
Recovering sales might take your time and effort, and you might need to be patient and stick to a good strategy to achieve your purpose. So far, we have mentioned what abandoned cart emails are exactly, types of abandoned cart email templates as well as how to create a winning abandoned cart email template for Shopify.
---
Sam Nguyen is the CEO and founder of Avada Commerce, an e-commerce solution provider headquartered in Singapore. Sam aims to support more than a million online businesses to grow and develop.
New Posts
Stay in the know
Get special offers on the latest news from AVADA.