Top 20 Best BigCommerce templates FREE & Premium in 2021
Last updated: September 01, 2023
Consumers are busier than ever before in today's modern world. Just think about how many times have you been to a website and then abandoned your cart or changed tabs when you suddenly remembered an update or you had to run errands?
Rather than battling the complexities of a busy consumer's lifestyle, advertisers must pique their interest from the very beginning. How can you do it? The answer lays in the layout of the website. If the text or structure of a website is unappealing, 38% of users will abandon it.
When seeking to refurbish or redesign your website layout, you'll need to consider the price, customization and efficiency, UX functionality, and overall design management.
Ecommerce templates are becoming increasingly popular options for online retailers. These solutions come with a pre-designed layout and interface that can be tweaked to give the company the best brand experience possible. We have compiled a comprehensive list of all the best BigCommerce templates and models to assist you in finding the one that suits your needs.
But first, let's get to know what is BigCommerce.
What is BigCommerce?
The company was founded in 2009 and had 600+ employees with headquarters in Austin, Texas. Its features include customer groups and segmentation, search engine optimization, web hosting, and more
What is BigCommerce, exactly? BigCommerce's goal is to assist retailers in increasing sales at any stage of their company. To put it another way, BigCommerce is: built for expansion so merchants can achieve their goals without compromising; designed for high performance to enable companies to scale smoothly with reliable technology, both in terms of time and money.
They have the industry's best total cost of ownership (TCO), allowing retailers to increase sales and invest in winning customers. BigCommerce is a privately-owned technology firm that offers a software-as-a-service (SaaS) eCommerce network
What is a BigCommerce template?
A pre-built eCommerce store design that any brands can implement on their eCommerce platform to have the best available user interface for consumers is known as an eCommerce template.
Using an eCommerce theme can help save money for online businesses because they no longer have to spend on web design and development.
If you seek to build a fascinating, UX-friendly site without having to study coding or spend money on recruiting an agency, using a BigCommerce template is one way to go.
What to consider when choosing a BigCommerce template?
1. Is it similar to the websites of competitors?
You face the risk of appearing like your competitors if you choose a typical template. Each template should be different. Pay careful attention to the customization options when selecting a theme or template to apply to your BigCommerce sites.
2. Customization limitations
Implementing a pre-built template has several drawbacks. You may restrict yourself to certain UX features depending on the theme or framework. Before you start designing your BigCommerce site, make sure you know what your template is capable of.
3. Ease of use
You should not have to be a software designer to establish and use the template. Most templates integrate with a one click, and can be easily dragged and dropped. The simplicity means a significant cost saving whether you have in-house developers or outsource them.
The open API, on the other hand, allows developers and programmers to modify almost every aspect of the shop by altering the HTML and CSS code to match the brand's styles. All developers are familiar with these languages, and the themes are intuitive and simple to use.
20 Best BigCommerce templates to use
Ecommerce templates are getting more and more common among online retailers. These approaches have a pre-designed layout and design that can be adjusted to provide the best possible user experience for the business. To help you choose the right one, we have curated a detailed list of all the best BigCommerce templates and models.
1. Tribes
Introducing the Tribes Sport BigCommerce Theme – Your Ultimate E-commerce Companion for Sports and Recreation! Elevate your online store with a dynamic and immersive shopping experience that captures the essence of the great outdoors and active lifestyle. With its cutting-edge design and seamless functionality, Tribes Sport is tailored to empower your brand and engage your customers like never before.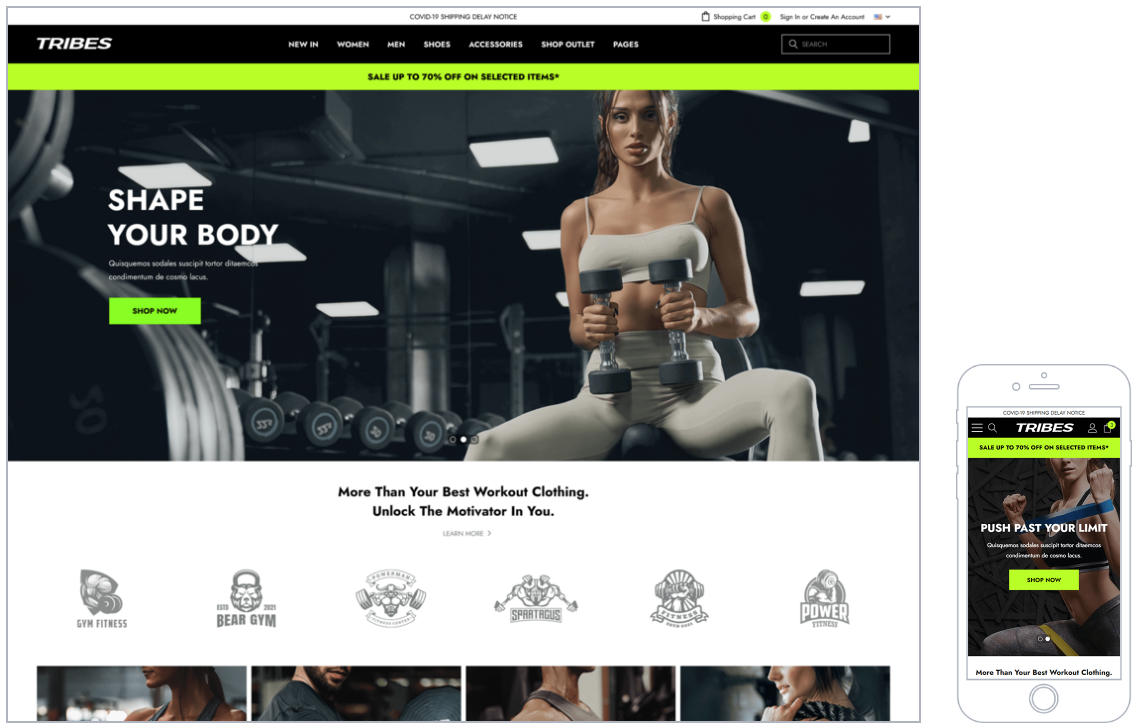 Transform your online store into a vibrant hub for sports and recreation enthusiasts with the Tribes Sport BigCommerce Theme.
Find out Tribes demo here.
2. Sneak
You might be asking yourself if your website is the best version it can be, and the answer you are looking for is Sneak. It beats expectations in terms of website design for accessories, sportswear, and clothing. The visual link between the product and the brand name will help your store stand out against hundreds of other shoe stores. Three primary colors dominate the design: reddish-orange, whitish-grey, and elegant black, creating a professional sense to anyone who sees it.
Sneak keeps it straightforward with a stencil interface and has a great dynamic style. There is an infinite number of color combinations to choose from, allowing you to make your brand memorable and unique. On top of that, tons of tools are readily available to assist you in making the right impact on Google.
Pricing:
Regular license: $129
Extended license: $3750
3. Makali
Makali is dominant with a visually pleasing style that will aid in the expansion of your online store. Its sleek classic theme and clean architecture offer the ideal backdrop for your items. Its bright and clean appearance will guide your shoppers to the checkout.
The advanced mega menus, ajax cart, and a seamless image swipe for your items are the key features of this style.
Since the Makali template is entirely responsive, you can be confident that guests would have a wonderful time browsing your shop with whatever devices they use.
Pricing:
Regular license: $119
Extended license: $900
4. Roots Original
Roots is suitable for medium to large product catalogs because of its focus on search and flexible navigation programming. It can cater to a wide range of company styles and immediately make your online store look professional, thanks to its clean, functional nature. Roots Original also puts a heavy emphasis on discounts and sales programs, being responsive with whatever devices your visitors use
The sticky header that shrinks in size as the user scrolls, the versatile product grid that adjusts to a range of image proportions, the clear filter view on mobile, and the free customer support are among the strengths of Roots Original.
5. Beautica
Beautica is built to offer a relaxed and easy shopping experience, as well as all the most recent products for all customers, with a beautiful balance of clean and professional layout. The theme is perfect for cosmetics, but it also works well for fashion, designer clothing, handbags, and shoe stores.
Beautica has a super stylish style with a product image swap option, drop-down login bars, and even a product label section for those needing a higher-quality website. You can play around with brand sliders, and banners too!
Specifically, Beautica offers premium features, including Advanced Mega Menu, Product Image Swap, Instagram Module, Drop-down registration, LookBook Page, Product Labels, Lazy Loading Images, Brand Slider, Extra space for Promotion Text, Banners, and more. They all came up with an almost flawless template, deserving of your consideration.
How about its responsiveness? Using Responsive Web Design (RWD) on the Bootstrap platform would ensure that the shop looks great on all devices, including desktops, iPhones, iPads, smartphones, tablets, and more. This responsiveness would provide the consumers with the best shopping experience possible, regardless of the gadgets they use or where they are.
Pricing:
Regular license: $139
Extended license: $3750
6. AP Alaska
Ap Alaska is a BigCommerce theme that is super responsive. AP Alaska has a versatile style that can be adjusted to fit any device (Desktop, laptop, tablet, and mobile phone). The designers of AP Alaska cater the template to a wide range of products, from fashion, presents, cosmetics, apparel, luggage, and multi-stores. Alaska is a one-of-a-kind, totally responsive BigCommerce theme.
Colors, sliders, flags, and composition have been expertly combined to make Ap Alaska a visually appealing template. Ap Alaska uses full-width sliders and various banners to display new arrivals and promotional events, allowing you to reach out to your customers right away.
Ap Alaska responsive BigCommerce theme will highlight your items with its colorful backdrop and tidy interface. Customers can easily find information such as promotions or Coupon Codes by using social media and blogs.
Ap Alaska is powered by the stencil BigCommerce system, which is at the heart of all modernized BigCommerce theme templates these days. Alaska supports both CSS3 and HTML5, as well as base, font-awesome, and several other features that aid in the development of sophisticated web pages
All in all, Alaska is a responsive BigCommerce theme with many built-in features, including a versatile admin dashboard and theme editor, making it so easy for customers to navigate the web.
Pricing:
Regular license: $139
Extended license: $3250
7. Vault
Vault comes in three different styles for you to choose from: cool, bright, and natural.
Vault is a high-quality free theme that helps BigCommerce shop owners quickly and conveniently develop a welcoming and fascinating storefront. Vault's advanced Store Design features grant you the strength and versatility to add images and text banners to your homepage without modifying codes.
Because of the clear layout, iconic font, and color highlights, Vault has a cleaner appearance that makes it easier to read. You can adjust the design of virtually any feature in the theme using the built-in color pickers. Vault comes with a built-in super menu that is ideal for massive menus and is flexible enough to accommodate both small and large catalogs while maintaining a streamlined and elegant look.
8. BeoShop
BeoShop is a strong and quick BigCommerce theme. It includes a homepage slider, brand carousel, feature product carousels, media platforms widgets, and a wish list, among other things. There are several theme variants available, each with pre-made settings to help you get started right off the bat.
With this premium responsive theme, you can improve the consistency and SEO of your website. The template offers featured products carousel, main page slider, Twitter widget, and so much more. You can also give your customers the option of creating their own wish lists.
Just like other templates, BeoShop is responsive and guaranteed to look fascinating on all kinds of screens and devices. All in all, BeoShop is an excellent choice for BigCommerce's site.
Pricing:
Regular license: $99
Extended license: $1500
9. AP Coolstuff
Ap Coolstuff is a BigCommerce theme that is completely sensitive. It is so versatile that can be adjusted to fit any device (Desktop, laptop, tablet, and mobile phone). AP Coolstuff is designed with an intuitive interface and sleek styling, allowing you to quickly configure your shop and install a theme. Ap Coolstuff has used a perfect and lovely mix of color, slider, banners, and style to pique visitors' interests. This sensitive design includes a full-width slider and a large banner to display new arrivals and promotional events, allowing you to reach out to your customers right away.
In addition, Ap Coolstuff was fueled by the BigCommerce stencil framework. The theme has a seamless sense thanks to features like Swipe, Animations, and sleek slider elements. You can develop your shop in a variety of designs and formats, and you can even tweak it to your needs. The theme comes with its own theme control panel, which is both strong and intuitive and offers various options for managing your shop and customizing your website, such as Live Theme Editor, inventory management, and channel manager from the BigCommerce dashboard.
Pricing:
Regular license: $86
Extended license: $3250
10. Geneva
Geneva is designed with a bold and modern style that features top-of-the-line products and carefully selected boutique collections. Geneva lets your goods tell your brand's story in fascinating details with its editorial design aesthetic, long scroll feature, and emphasis on large, high-resolution photos, personalized Check-Out, Complex Search Filtering, and Cart Suggested Products.
Geneva is available in four different styles: bold, grey, pastel, and colorful.
Pricing: Start with $175
11. LifeStyle
LifeStyle is a flexible theme designed to highlight the brand and style. Navigating through the template is easy and entertaining thanks to the customizable fly-out and top menus. Store Design settings in Lifestyle are simple to use and allow you to quickly and efficiently customize elements like fonts, colors, headers, and footers.
If you like this one, you may also enjoy its sibling templates.
12. Capacity
Capacity is a popular BigCommerce template because it places a strong emphasis on navigation, search, and overall user experience. The sleek design allows it to show a vast number of inventories in an appealing manner. Products can be displayed in a grid or a list format. To enrich their product descriptions, shop owners can use high-resolution photographs or videos.
Capacity has everything you need to stand out online, including a personalized checkout to make shopping more accessible to Google analytics for your eCommerce shop. You can even allow customers to save their preferred payment methods for a smoother checkout next time.
13. Shop Town
Shop Town is a BigCommerce multipurpose theme built on the stencil platform. It is entirely customizable and can be used by any kind of online store. Your stores will stand out thanks to its zoom magnifier and additional image slider.
Shop Town can cater to different kinds of products: mega store, makeup, cosmetics, clothes, food, furniture, toys, car, equipment, lingerie, wine, cat, book, kids, and accessories store. It is a multipurpose BigCommerce template based on the stencil system.
Shop Town also has a versatile theme that any kind of online store can use. It will look great on any devices, with its clean and contemporary style. All the subpages can be customized to your needs.
Shoptown will show you all the advantages of going premium if you want more than the basics of a free theme. You get top-notch support from the theme's developers, as well as a slew of useful features, including an ultra-responsive template and a product easy view option.
14. Fortune
Fortune. is built for small to medium-sized businesses with high-volume sales. The full-width photographs displayed in full color are the most eye-catching feature of the design. With powerful calls-to-action, this theme is designed to gather product feedback quickly. Fortune has a plethora of fonts, colors, product grids, and other customizable tools to fit any shop owner's needs.
Fortune appeals to us because of its minimalist approach, which means that everything on your website remains clean no matter what you are trying to do in your company. All four models available, including minimal, contrast, bright, highlight, look awesome.
Pricing:
Regular license: $99
Extended license: $320
15. Minimal
Minimal stand out from other BigCommerce themes. You can keep your customers up to date by putting your online store's news on the front and center of your website. Testimonials also make customers feel more secure, which leads to increased purchases.
Minimal is a brilliant choice if you want to offer a high-quality website with a beautiful BigCommerce stencil. If you're a novice, there are plenty of options for customizing the account, as well as documentation and video tutorials to guide you.
16. AP shoes world
AP Shoes World template is fully responsive and has high-resolution graphics. The template can be conveniently personalized to fit any device, allowing consumers to shop with their smartphones in hand.
The template has a multi-currency feature that will enable consumers to convert the price of every commodity into their desired currency. The product tabs section is a must-have to setup product blocks and product descriptions in a clean way.
This responsive theme has a lot of flexibility, which we truly appreciate. There are many ways to make your online store look fantastic, with functionalities built especially for eCommerce themes, such as stock marketing and inventory management and a custom navigation menu.
Pricing:
Regular license: $86
Extended license: $3250
17. Jewellery
Extensive inventories and jewelry shops always go together, which is why the BigCommerce template was designed to cater specifically to these types of stores. Product grids, advanced search, advanced refine search, carousels, and sidebar categories are also included.
It's also a versatile style that any kind of online shop can use. With its clean and contemporary style, the Jewellery BigCommerce theme looks great. Many of the subpages can be personalized to your needs.
Jewelry has it all, whether you need quick drop-down menus for your customers, a high-performance editor, or simply premium support. You can also make changes to your shopping cart, much as in Shopify.
Pricing:
Regular license: $99
Extended license: $2400
18. Runway
Runway is a gallery theme designed for high-end stores. Runway helps create a lasting first impression with full-width photographs, clean sidebar navigation, and homepage functionality to facilitate customer interaction. Stylish and elegant, Runway acts as an ideal backdrop for your high-end brands. This premium theme is available in four different styles: bold, minimal, warm, and light, readily available for your stores.
Pricing: Starting at $100
19. eMartica
Is it challenging to find a template that will set your shop apart from the hundreds of other retail models available? Are you looking for something totally exclusive that also has a clean appearance and a professional layout?
Please take a look at eMartica – Premium Responsive Supermarket BigCommerce Template to find the solution. Each Homepage Block entices the consumers with a clean and appealing display that allows them to quickly find the most popular items at first glance. The template can be perfectly mixed and matched to display a vast range of items and categories.
Let's take a look at some of the fantastic features that eMartica provides: Many Dynamic Blocks on the homepage offer you a lot of options for promoting goods and programs: Product Labels, Product Image Swap, Brand Slider, Extra space for Promotion Text, Banners, etc. Advanced Mega Menu Module, Ajax Popup For Login & Registration, Product Labels, Product Image Swap, Brand Slider, Extra space for Promotion Text, Banners, etc. All of them are deserving of your consideration.
Using the Bootstrap platform and Responsive Web Design (RWD) would ensure that the shop looks great on all devices, including desktops, iPhones, iPads, smartphones, tablets, and more. This responsiveness would provide the consumers with the best shopping experience possible, regardless of the gadgets they use or where they are.
eMartica is a very flexible template that can match other Stores such as Car Parts, Mega Marts, Clothes, Electronics, Apparel, Furniture, Sporting Good, etc. eMartica is all you need to render your website better.
Pricing:
Regular license: $139
Extended license: $3750
20. Supermarket
Supermarket is a mobile-friendly responsive theme. This theme has great features like sidebar left navigation and multiple items by category block, which is great for stores with a lot of products. Supermarket is available in three colors: yellow, blue, and pink. The homepage provides an image carousel, bestseller list section, and featured products in structured tabs. The Supermarket theme is simple to set up and requires no technological knowledge.
Supermarket Yellow is UI/UX optimized, ensuring you can have a more excellent overall experience to your audience. With the instant load feature, you can speed up your website, and the website can predict what visitors may like to look at next.
How to choose the right template for your website?
1. Determine the most essential UX elements
A beautiful website does not mean increased conversion. When shopping online, today's customers demand sophisticated UX features.
Take a step back and consider your options. What are the most critical UX features for your company?
Here are some features that should be built into your design from scratch.
Mobile-friendly features
Easy checkout.
Features for cross-selling and upselling (e.g., best-selling products, recommended items).
Clean coding and a full-width interface.
Quick load time – on any device.
Plug-in functionality with eCommerce.
Search and navigation with a guide (e.g., mega menu).
Product detail variation features.
2. Keeping up with the latest UX design patterns
If you choose to use an eCommerce template, you want to be certain your brand remained at the top of UX new styles.
BigCommerce makes it simple to uncover website design patterns – and will still hold you up to date – so you shouldn't have to go looking for this knowledge.
Ecomm.design is another excellent platform for competitor analysis and other website design ideas. You can filter by platform, categorization, technology, and traffic. You will learn what technology or functionality is behind the designs you want in this website.
3. Consider your content marketing plan
Once you've planned out your UX features, you'll need to consider your content strategy.
You may be wondering why it matters to the nature of your website.
Knowing what kind of materials that you'll be presenting on your platform will help the company figure out the themes and formats perfect for it.
Consider the following information materials:
Content created by users (UGC).
Blog posts.
Social networking
Photos and videos of the items.
Featured images.
4. Study competitors' websites
Want to stand out from the competition? Look around to see what's already available.
You'll learn two things from looking at the websites of your rivals. To begin, you'll gain an understanding of what features are needed in your industry. Second, you might figure out what to avoid.
5. Where can you host your templates?
You have two choices when it comes to hosting the templates
Use an eCommerce portal to host your website.
Use a content management system (CMS), such as WordPress, to host the website.
One choice might be better than the other, depending on the platform or CMS you choose to use.
BigCommerce, Shopify, OpenCart, and WooCommerce are some of the most popular eCommerce sites that deliver themes and frameworks.
WordPress eCommerce themes are the most common when it comes to using a CMS.
Keep in mind that if you're going to use WordPress for eCommerce, you'll need to use something like BigCommerce or WooCommerce. BigCommerce will host the website for you, while WooCommerce will require you to pay for hosting (such as BlueHost).
Final thoughts
Today's consumers want an optimized user experience – coupled with innovative features, functionality, and beautiful design – at every stage of the buying journey. This expectation means that now more than ever, eCommerce themes and designs are critical to the growth of your online store.
It shouldn't be frustrating or difficult to handle an essential aspect of your eCommerce growth. Templates help save money, effort, and stress while promoting creativity, versatility, communication, and conversion.
As a result of reading this article, you now know:
What exactly are eCommerce themes and templates?
What are the advantages of using templates?
What factors do you consider when choosing a theme for your online store?
What are the best eCommerce themes available right now?
How and why are companies operating effectively with themes and templates?
It's high time for you to choose a theme for your online stores, bring it to life and thrive.
---
Roger has over 4 years of experience in SEO. While in college, he started learning about SEO and showed a passion for the field. Right after graduation, he embarked on SEO projects and achieved great success. After years of working, he has learned deeply about SEO. Currently, he is the SEO team leader at avada.io