How to Migrate Magento to Bigcommerce?
How to Migrate Magento to Bigcommerce?
BigCommerce has gained an increasing reputation for its competitive advantages over other platforms. People are fond of its customizability and scalability, which are also two critical elements to make BigCommerce outstand its competitors. It is a trend that more and more Magento stores are migrating to BigCommerce ones since we can earn tons of benefits from it.
In case you are currently struggling with a Magento store and seeking a more effortless and supportive one, one BigCommerce store will be perfect for your need and expectation. Follow our detailed instructions on how to migrate Magento to BigCommerce, and you will find this migration as easy as a piece of cake.
How to migrate Magento to BigCommerce?
Step 1: Pre-setup process
1. Implement to back up your Magento's data
It is mandatory to backup your data on Magento before migrating to BigCommerce. It helps to create a data copy and preserve important things. And, it is also useful in avoiding loss due to an unexpected interruption while the migration process. So, what you need to do with it? Stick to our careful below instruction, and let's get started!
1.1. Log in to the Admin Panel and go to Systems, choose Tools, then click Backups
1.2. Choose backup options
Consider what type of your data is, then you will opt for a proper option to backup your data. In general, there are three options:
Database Backup: This enables users to create a copy or a duplicate of your database in the event of crashes related to the primary database. Therefore, it is a smart way to restore and protect any database.

Database & Media Backup: To be literal, this kind of option refers to the creation of required media sets. And, if you select to back up in this way, it means the backup is written to a media set.

System backup: It aims at backing up files, system-specific data, or operating systems. So, in case the primary data is lost, deleted, or corrupted, this system backup creates a data substitute.
1.3. Activate your maintenance mode
When you are processing the backup, do not forget to activate your maintenance mode. It represents a temporary notification of the error to your customers. Thus, they know that your site is not currently working and will not make any purchase of your products. To turn it on, click the checkbox. As soon as you finish the backup, the maintenance mode automatically deactivates. Then, customers can keep placing an order from your site as usual.
1.4. Finish backup
After you complete all the above activities, you receive a notification as well as a backup list. They appear on a table like below and indicate you finally finish the backup process.
2. Launch your BigCommerce store
It is time to create your BigCommerce store once you have completed backup the necessary data successfully. Before starting the migration, sign up for your account on BigCommerce by following the below form. The registration requires no attached strings or credit card. Especially, you can experience a trail of 15 days with BigCommerce to get acquainted with it and explore amazing new functions.
The next step involves an input of your existing or proposed store name. You also need to write a brief of general information related to your business and products in this part. Next, you will navigate to the dashboard section of your BigCommerce store, where you understand how an eCommerce site is built.
Though BigCommerce offers a variety of advanced features, it is not vital to take them into consideration while setting up and launching the stores yet. A bonus point is you can get all-day-and-all-night support from the support team of BigCommerce through chat or phone. If you need any assistance, they are willing to support you at any time.
Step 2: Implement the migration from Magento to BigCommerce
There are myriad ways to perform a migration. But here, we suggest using a tool known as LitExtension, which enables your migration to be easier.
1. Sign up for one LitExtension account
What you are supposed to do first is to register an account from the homepage of LitExtension. Once you finish the setup, keep going by signing in to begin the migration to BigCommerce.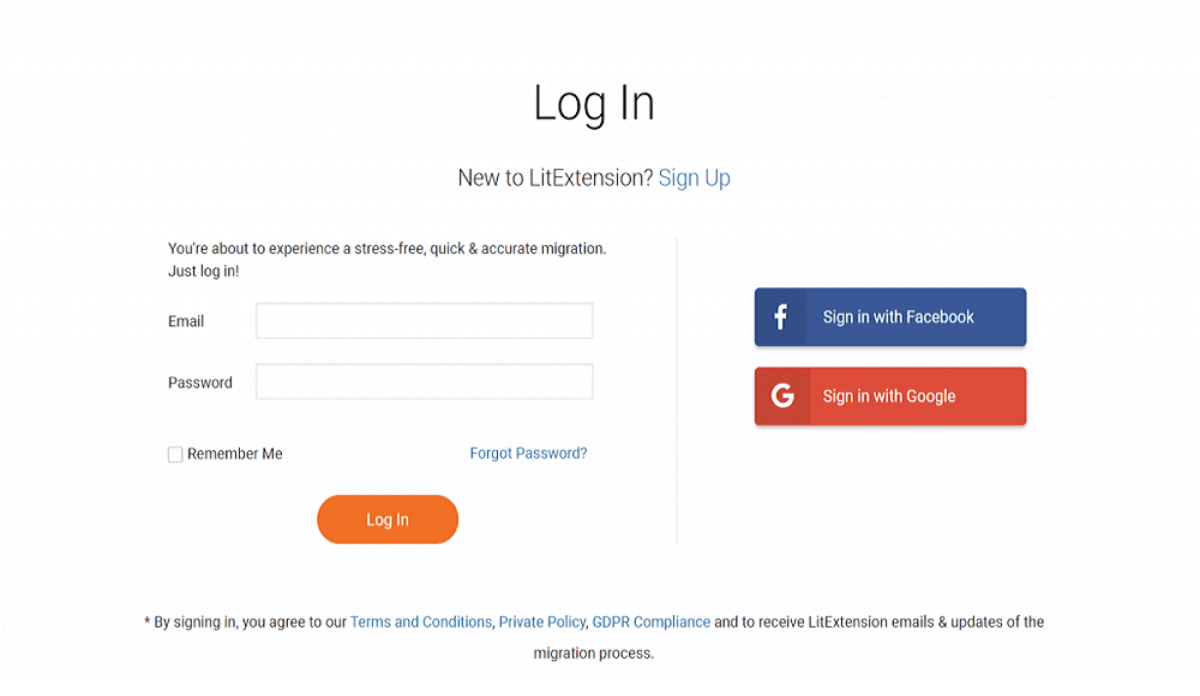 2. Enter the required information, including Target Cart and Source Cart
With the account you have registered, navigate to the button "Create New Migration" and click it. Then, you will go to the setup page where you fill in the information of your Magento's Source Store, including the store URL. At this step, be noted that you must download the connector as well as install it to the Source Cart. This helps to retrieve all data of your previous store.
When the Source Cart is done, move to your Target Cart section. There, you see a drop-down list. First, select BigCommerce on that list and fill in the URL of your store. Furthermore, to complete this migration, you also provide additional information about Username/Client ID, API token, and API Path. Check out the below image so that you can follow it easily and correctly.
Take into account the Advanced Settings section, then Order Notifications. A must-remember note for you is that you DO NOT choose any options which are available in a box named "Email customer when". If you tick the box, the App will NOT be prevented from sending emails of notification to your customers while migrating process.
3. Choose entities and extra options
One of the greatest things this tool offer is an opportunity to choose which entities you wish to migrate to BigCommerce from Magento. You can perform a transference involving key data such as orders, customer data, and products. Whether they are several certain data or all together, that's what you can decide on your own.
Besides the chance to choose entities, you are also likely to extend some potentials of your migration with the assistance of Additional Options. This allows you to preserve product IDs that are on the Target Store or HTML Tags in a category. In addition, the potential of matching Customer Group, Order Status, and Languages is also a perfect thing to do to ensure consistency in your BigCommerce store.
4. Perform full migration
Although you can run an official migration, you are still advised to try Demo first. This helps you to recognize how its system operates.
A demo migration exerts a limitation of around 20 entities; whereas, the protocol bears an exact resemblance to the official migration. Once you have completed selecting entities, coupled with additional options, you can pre-run by clicking Start Free Demo Migration".
While migrating at a demo mode, you can notice the status of data transfer. It takes this test transfer an around-20-minute period. This time mostly depends on how many entities that you are going to migrate. It might be a bit boring to wait for the demo to finish, so take some free time to enjoy some coffee, for example. As soon as this process is totally complete, an email of result notification will reach out to you.
If you do not want to try a demo, you could choose "Skip Demo Migration". This leads you to perform a full migration immediately. Like your demo version, the official process also runs implicitly on its server. Similarly, you also receive an announcement as the migration is done.
Step 3: After installment
1. Check results of the migration
You have finished transferring all of your data from Magento to BigCommerce. But, are you confident with what you have done? If no, this checking process is necessary for you. What you need to check and how you can check, consider our below list:
Make sure that every product in your store displays not only front-end but also back-end.
Re-check to see if your products are in line with their categories as well as the onsite search.
Scrutinize all links which lead to the footer, header, menus, and inside your store's pages.
Try a demo by sampling an order in your BigCommerce store.
By checking these activities carefully, you can make sure your store can run effectively on BigCommerce, and there are no negative effects at all.
2. Pick up themes
For all online stores, the theme plays an indispensable role. What customers view first is the overall appearance that your BigCommerce owns. That is why an appealing theme can make them delve into the content as well as the products of that site. There is no denying that theme can prove if your online store is important and worthy or not.
Now, there are up to 12 themes available on BigCommerce that cost you no penny. In addition to these free themes, this platform also offers more than 100 options which charge users an amount ranging from $145 to approximately $236 for each. In particular, those themes are extremely approachable and require no effort to customize.
However, the unconformity in structures of the two platforms makes it impossible to migrate themes from Magento to BigCommerce stores. There is one solution. You just need to customize the new theme to make it similar to the old ones. Or, you can create a brand-new appearance for your new BigCommerce store.
3. Set up shipping and tax settings
An online store cannot exist without installing shipping as well as tax settings. Shipping options and tax rates are two important indicators to let customers how their products will be delivered and how the calculation of taxes is. Hence, when you check your new store on BigCommerce, do not forget to set up tax and shipping settings.
Tax settings: Approach Store Setup, choose Tax, then keep scrolling down and you could see Edit, which is next to section Tax settings. Click it to begin customization.

Shipping settings: To enable this, choose Store Setup and select Shipping. You can add the origin address as well as additional shipping services that you are about to offer.
4. Install payment methods
Installing payment methods are of paramount importance for BigCommerce stores to operate. With this migration to the BigCommerce platform, it offers users up to 65 payment gateways. Especially, the international integration has become more closer with popular mobile and digital wallets, encompassing PayPal, Amazon Pay, Apple Pay, and so on.
Those BigCommerce plans bring about an advantage over the other platforms in the way that they do not charge a fee for transactions, other than the rates of credit cards. Nevertheless, setting up a higher and better plan will lessen this fee.
In case you have just migrated to BigCommerce, there are quite a few payment gateways available for your new store. To view what they are, approach Store Setup, then navigate to Payments and choose "Online Payment Methods". At this step, determine the kind of payment you want and select "Setup". Afterward, click "Save" to save what you have done with settings and credentials. Finally, you have successfully installed your payment method for the new BigCommerce store.
5. Configure new data
You should bear in mind that the operation of your Magento store is still running during the process of migration to BigCommerce. Accordingly, the first-timer customers, along with new orders will still be placed while you are executing the migration to BigCommerce. So, you might be confused about how to cope with these new data. Do not worry anymore; some services exist to help you work with these kinds of data, and they are Re-migration, Smart Update, and Data Migration.
The service of Re-migration offers you another opportunity to migrate the data one more time. Thus, there is no need to be on the edge of your seat about configuring new data.
The service of Smart Update, as its name states, lets you update the edited data and migrate them to the new BigCommerce store during or right after this migration.
The service of Data Migration enables you to transfer data that are newly added or newly appeared during or right after your migration.
6. Switch DNS and modify domain
Once you have completed building your new store, an update that will then navigate to another IP address is a requisite for any DNS settings. The thing you need to do now is to contact your previous hosting providers because they know exactly what the best option is.
7. Proceed a purchase
Right after the launching of your ideal BigCommerce store, don't hesitate to test an order to accomplish purchasing experience of your customers. With this test, you can have a deeper understanding of what customers need in placing an order for your products. Thus, you will be able to assess further improvement. And, this does the trick for necessary adjustments, thereby creating a more efficient and pleasant journey.
To make this instruction clearer, we have listed some different kinds of demo that you can test:
You can test a failed or successful transaction
You might choose to cancel or refund an order
You could partially fulfill or totally fulfill a purchase
You can save a complete order
Why should you migrate Magento to BigCommerce?
The increasing number of migrations from Magento to BigCommerce has been going on. This proves a worldwide recognition for BigCommerce in every corner of the world. With its availability for establishing companies or launching online stores, BigCommerce meets your needs and expectations. Being simple, advanced, optimal integration and up to date, this platform puts forward outstanding built-in features for its users.
Countless ultimate benefits, along with a 15-day trial, it becomes the cheapest and best eCommerce software for everyone. Read more on reasons why you should perform an immediate migration from Magento to BigCommerce.
1. Avanced options:
BigCommerce is always coming up with advanced options to boost your online store and business. This is to say, you can make use of them to control your store easier. With the easy-to-use interface, this platform offers an intuitive dashboard, managing orders, products, and returns.
Its filtering options work well with your store's pricing, reviews, categories, as well as brands. One of the most remarkable features lies in the "Quick Search Bar", allowing you to access easily, then managing your products regardless of any ongoing change effects.
Popularly known as a platform of being customer concentric, BigCommerce is extremely supportive in segmenting customers into different groups determined by product access, promotion, pricing, and so on.
2. SEO-friendly function
Promoting an eCommerce business is not a piece of cake in the current situation of competitive space. To thrive your business, optimizing your BigCommerce store becomes a critical mission to meet search engines' changing algorithms. One more benefit BigCommerce provides is its SEO-friendly features. So, the latest SEO practices are applied to drive the growth of your store.
3. Mobile-friendly templates and themes
Templates and themes are of utmost importance to improve the overall appearance of your store. A wide range of templates and themes are available on BigCommerce. They work great on every mobile device, which increases the purchase rates for your store.
The statistics show that up to 71% of shopping carts are abandoned due to poorly optimized mobile displays. Therefore, if you can utilize this cutting-edge feature of BigCommerce, you could grow your online store quickly.
4. Built-in analytics and marketing tools
If it had to tell the difference between BigCommerce and other platforms, it is the ready built-in analytics and marketing tools on BigCommerce. In the meantime, other platforms require users to integrate a third-party platform to provide analytics and marketing methods.
The question is what you can do with BigCommerce about these built-in features. Of course, you can sell many gift vouchers, are provided with amazing cart-level discounts, and coupon codes. More than that, you can publish and launch effective marketing campaigns through email.
Additionally, you gain rich analytics, letting you exert impactful and impressive business insights. These are data-driven as well as enhance the conversion rates of your store.
5. All-day-and-night customer support
BigCommerce is famous for its wonderful customer service with a supportive team. It is such a rewarding platform that numerous services are provided to satisfy users. From the shorter waiting time and dedicated support team to 24/7 availability, BigCommerce has truly won our hearts.
Conclusion
The latest trend has been happening with increasing migration to BigCommerce. If you are still considering choosing an eCommerce site to go for, BigCommerce should be on top of your decision. With its out-of-this-world features, any online store on this platform undoubtedly bears fruit. Go ahead with your store and raise any doubt and unclear points to us. Share it with anyone who is concerned!
New Posts
January 31, 2021
February 08, 2021
February 17, 2021
Subscribe
Stay in the know
Get special offers on the latest news from AVADA.
40k
subscribers has been joined!
Earn $10 in reward now!