How to Integrate BigCommerce with Wordpress?
Last updated: September 01, 2023
WordPress has long been known as a content management system. However, you can approach BigCommerce for WordPress in which you are enabled to use the advantages of both and get rid of their limitations.
In fact, BigCommerce for WordPress is essential for not only sellers but also developers. In this post, we will show you more about this integration and its importance and an in-depth guide to integrate BigCommerce with WordPress.
Let's dive in!
What is BigCommerce for Wordpress plugin?
As you may all know, WordPress is a free and open-source content management system that is used by approximately 40% of all websites all over the world. There are two reasons that explain why WordPress is widely known. The first one is that you can easily change themes and plugins to modify your website as thousands of them are on WordPress. Moreover, it is easy for merchants to use WordPress. They can operate their stores' websites without worrying about the complicated code or paying money for someone to take care of the website code for them.
When it comes to BigCommerce, it is a Software as a Service (SaaS) for building online stores that merchants trust in more than 150 countries. BigCommerce enables you to run Amazon, eBay, Facebook, and Pinterest stores, including adding products, uploading photos, process orders, creating pages, creating discount coupons, and more. Therefore, new brands whose businesses are growing fast will choose BigCommerce as a solution to expand their market.
However, WordPress does have some limitations, which leads to the development of BigCommerce for WordPress plugin, where each platform does what it does best. BigCommerce for WordPress plugin combines WordPress's flexible content management system and BigCommerce's robust and fully-equipped engine.
BigCommerce for Wordpress Requirements
In order to add the BigCommerce for WordPress plugin, you need to prepare the following:
A WordPress blog or site
Change the WordPress permalink setting to Post name
Install and activate the BigCommerce for WordPress plugin on your blog or site
A BigCommerce store (if you have not had one, you can use a trial store that the plugin creates for you)
Aarrange your store's shipping, payments, and tax settings so that customers will be able to finish their orders (do not worry if you forget about these settings as the plugin will check and send you a cautioning)
Initiate and live your store
Optimized One-Page Checkout enabled in Checkout Settings
If you are using Embedded Checkout, make sure that there is an SSL certificate for your WordPress site
Why is integrating BigCommerce with Wordpress important?
When integrating BigCommerce with WordPress, the BigCommerce platform will make up for WordPress's week points and vice versa. For example, while writing a blog about your products, you can put a list of your products in the middle of the post easily, which will make readers more likely to buy the products you are mentioning in the blog.
Moreover, this BigCommerce for WordPress plugin can increase your SEO's efficiency as the content and the products are included in one URL. It also makes it easier for you to track your store at any point because the traffic is no longer divided into separate sites.
What just mentioned above are some general benefits of integrating BigCommerce with WordPress. Now, let's explore the specific advantages for retailers and developers.
Benefits for retailers
There are 5 greatest benefits retailers can take from this BigCommerce for WordPress plugin:
Smooth experience with both trading and content
Merchants are enabled to approach robust eCommerce software, which is crucial for their online stores to evolve without disturbing the users' experience on your site.
Outstanding ability to extend eCommerce
Integrating BigCommerce with WordPress will make it possible for you to move the trading part from WordPress admin to BigCommerce so that retailers will not be bothered by the back-end and can ascend the eCommerce functionality when there is a need.

Innovative commerce performance
As BigCommerce has an ecological community of apps and a sizable list of fully-equipped methods of payment and shipping, you can quickly combine existing themes and site experience with end on commerce capabilities to create an eCommerce option that is suitable for your business requirement.
Encourage more secure eCommerce and peace of mind
Retailers are enabled to provide their customers with an excellent website experience without taking handling and maintaining PCI compliance into account, which is due to BigCommerce's assurance of a secure, PCI-compliant checkout.
Available and advanced AMP
With BigCommerce for WordPress plugin, WordPress's basic means of superseding template files will help you adapt unique designs, including AMP paged. Moreover, it also helps you turn your sites into AMP-friendly commerce experiences by boosting your WordPress's speed with BigCommerce plugin sites with AMP.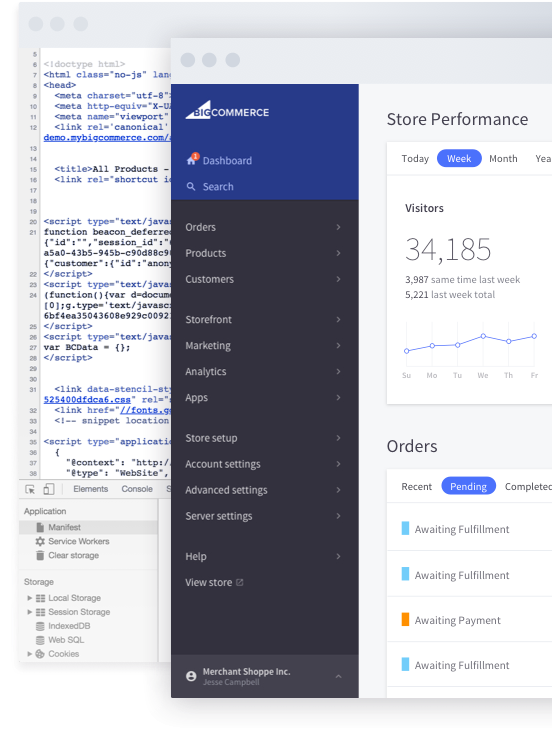 Benefits for developers
WordPress's values preservation
From day one, the BigCommerce for WordPress plugin has been made the WordPress way. It is set out to bring more meaning, construct it with WordPress experts, and enable developers to make their own. This integration between WordPress and BigCommerce is believed to express the WordPress values of acknowledgment, involvement, and uniqueness.
Everything is on your own
As iFrames is not required, you can freely approach all the documents to do anything you want. With the BigCommerce integration, you can now move a duplicate of the product catalog to a strong commerce system without making any changes, which means your business on WordPress is ready to start. All you need to do is add the BigCommerce for WordPress plugin and set up whatever you want for the site experience.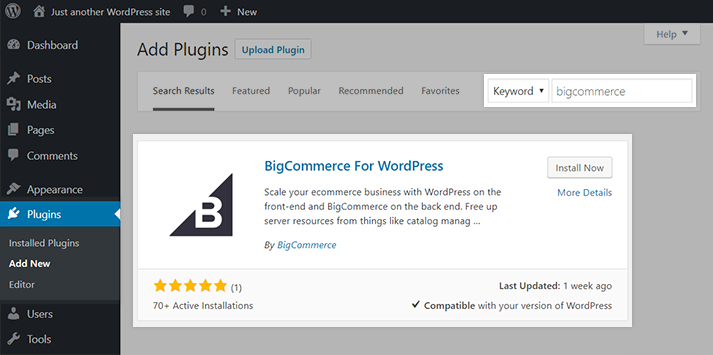 Access unlimitedly to main plugin files
The BigCommerce for WordPress plugin is suitable for WordPress's usual means of superseding template files so that you can easily turn a normal design into a unique one. Moreover, you can modify your site's detail to fit the customers' needs without concerning plugin updates.
Step-by-step guide to install BigCommerce for Wordpress
The following steps will guide you to install BigCommerce for WordPress:
Step 1: Sign in to your WordPress account, tap on the "Plugins" option on the left side then choose "Add new".
Step 2: Type "BigCommerce" to do a search
Step 3: When the result for "BigCommerce for WordPress" is shown, click on the "Install Now" button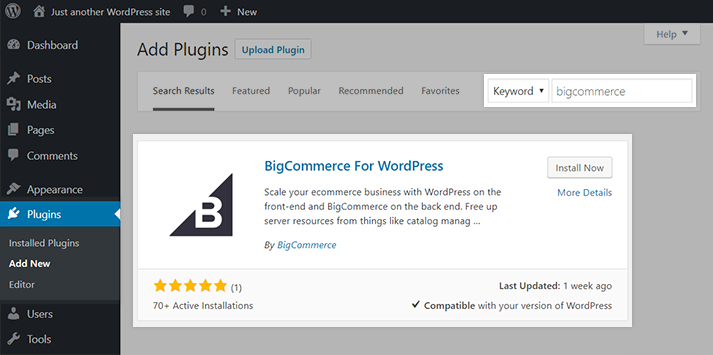 Step 4: After installing the plugin, choose "Activate"
Step 5: The BigCommerce for WordPress plugin is now on the "Plugins" site of your WordPress.
You can now see a notification that says, "Please connect to your BigCommerce account to start using products". Then tap on the "Get Started" next to the notification.
Step 6: Choose "Connect My Account" if you have had a BigCommerce account or choose "Create New Account" if you have not had one.
If you connect your account, click "Log in" and enter your account information. Choose "Confirm" to allow the app to get access to your store. If you are new to BigCommerce, you need to provide the app with some details to create a store. After that, choose "Confirm" to allow the app to access your store.
Step 7: At this step, you'll create a "Channel Name". In the "Channel Settings" area, open "Select Channel" and click on "Create a New Channel", then you enter your own channel name.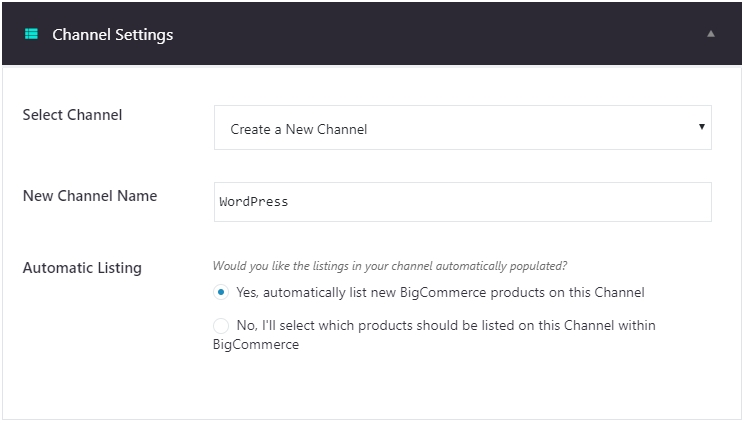 This channel will be used to recognize your WordPress site when checking orders or listing products. Your products can either be listed by the system or by yourself.
After finishing your channel creation, WordPress will automatically sync the information from your BigCommerce store (It often takes you about two minutes).
Setting up BigCommerce for Wordpress
Once you finish your installation, let's have a glance at the settings:
Product sync
As there are always changes in your stores, this product sync option will help you with this. You will decide how often your products list is updated with your WordPress site. You do not have to sync all your products as the system will enable you to choose some particular products.
Cart & Checkout
The "Enable Cart" option will make your customers' shopping experience become more convenient than ever. It allows buyers to add many items to their cart before checkout instead of finishing one by one item.
Another brilliant option is "Enable Embedded Checkout". If "Enable Embedded Checkout" is activated, customers will not be redirected to your BigCommerce checkout page as they will be able to pay for their orders on your WordPress site. However, one thing needs to be done before this "Enable Embedded Checkout" activation. You must make sure that your WordPress site has an SSL certificate to enable this option.
Conclusion
Above are the crucial things that you need to know about the BigCommerce for WordPress plugin, a combination that will help you a lot with your online business. This plugin supports both merchants who want to focus on growing a huge eCommerce store and merchants who want to attract a loyal audience. Therefore, integrating BigCommerce with WordPress will seamlessly turn your existing site into a robust selling platform. Hope you will find this article helpful and support you in your online business.
---
Roger has over 4 years of experience in SEO. While in college, he started learning about SEO and showed a passion for the field. Right after graduation, he embarked on SEO projects and achieved great success. After years of working, he has learned deeply about SEO. Currently, he is the SEO team leader at avada.io