What, Where & How to hire BigCommerce Seo Experts?
What, Where & How to hire BigCommerce Seo Experts?
SEO is essential for any online business aiming to increase organic traffic. However, not every business owners are expert in coding and content writing. Therefore, many shops decide to approach an SEO agency or SEO expert to have them do it.
In What, Where & How to hire BigCommerce SEO experts? post, we will target those who are about to hire an SEO expert to boost the organic traffic. We will cover all things you need to know, ranging from the importance of SEO, in-depth guide on how to hire an SEO expert to what to ask an eCommerce SEO expert.
If you are looking for the same thing, this post is for you. Let's dive in!
What is BigCommerce SEO?
SEO means Search engine optimization. Simply put, SEO is the process of developing a website in increasing its possible to see for relevant searches. If your pages are more likely to appear in search results, you have more chances to gain attention and attract potential customers so that they will visit your stores more and make more purchases.
Why is hiring a BigCommerce SEO expert important?
SEO is rewarding but challenging. Even when you have experience and background knowledge in marketing and search engine optimization, SEO is still complex and what you need is a BigCommerce SEO expert to help you take care of technical aspects and creative content.
Optimizing a website, including a product page, online store, or blog requires many factors. Only an SEO expert can understand all of them and bring about the idea of ranking higher. A good SEO expert who has experienced relevant to the market you are in will not only help you with a higher rank in the search results but also increased traffic, more conversions, and more. Also, they will point out all areas of your SEO on an understandable level.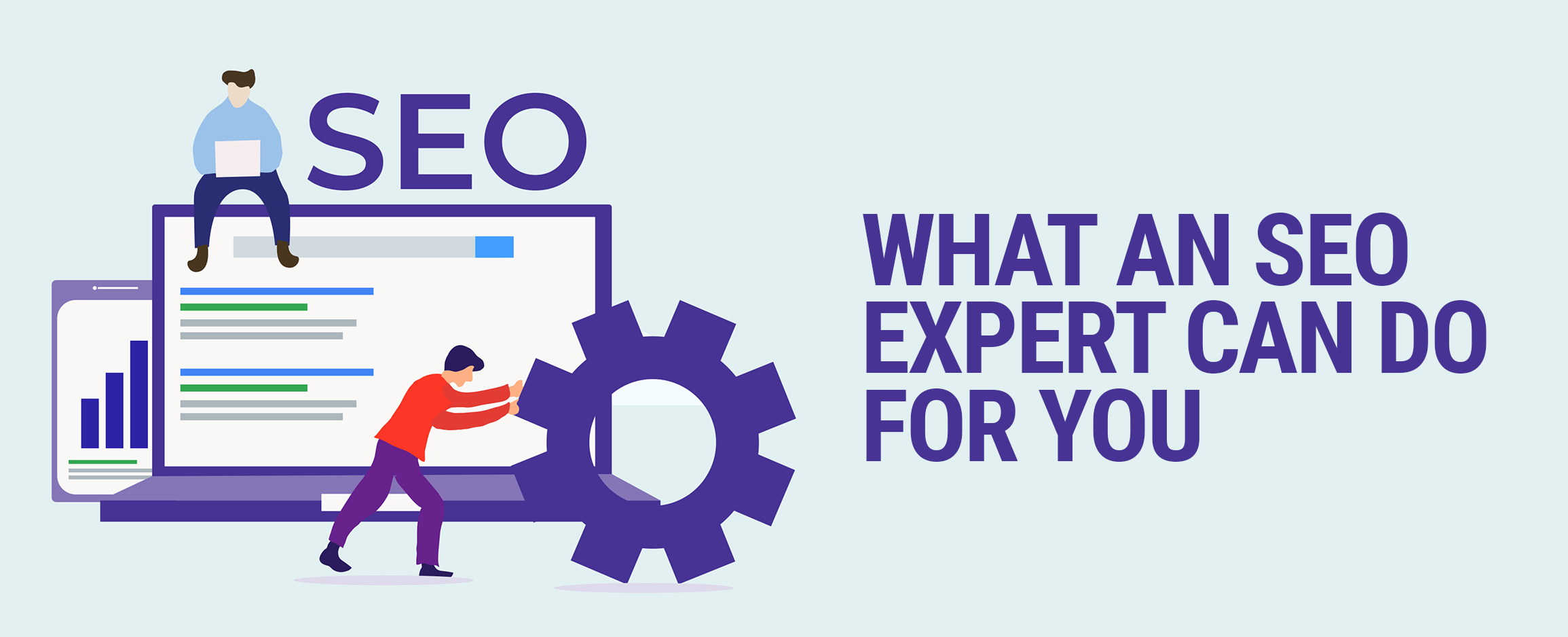 What's more, spending time on hiring an SEO expert means having years of experience in ranking websites at your disposal.
Remember that eCommerce is a quick-changing market in which all business owners have to adapt to the new environments and adjust to suit customers' expectations and demands. Hiring an SEO expert will help you adapt to these changes by basing on trusted data and create a suitable strategy rather than just adding keywords many times on articles.
To sum up, SEO has a fantastic ROI. If you take advantage of it well, the results will worth your money. So, hiring a real professional in SEO is a good idea to improve the navigation system, increase the site speed, improve the product descriptions, refine the keywords, and more. While it is undeniably important, only when you invest in the right experts or agencies will you get such results?
Common risks to avoid when choosing a BigCommerce SEO expert
An SEO imposter
Among multiple SEO experts, besides those who can probably help you out with your troubles, there are also many imposters who claim themselves as SEO experts without any experience or knowledge. Before choosing the right agency or expert to work with, you should know how to protect yourself from these untrustworthy people. Take a look at the following characteristics which are common for an SEO imposter:
Lack of experience: SEO is a major requiring time and effort. Those who have less than two years in the SEO industry could probably be SEO imposters. Make sure you can see examples of what they worked on in the past before deciding. To point out whether this expert is experienced or not, get the business cards and look for them on LinkedIn to know more about them. If you don't see any information proving that they have done SEO tasks before, don't waste time finding more about them.

Not enough information: Take a look at their bio, if they don't include their contact information, social media channels, or Google local listings, they might be an imposter. If an experienced expert is looking for customers, he or she will surely add in their contacts as well as social proof via reviews or number of followers to prove his or her reliability.

Spotless SEO: If you cannot find them easily or if their design is badly organized, they might be SEO imposters. They are just trying to take advantage of websites that are seeking fast and cheap support.

Cold calls: If an agency or expert calls you without introducing yourself formally about itself, don't choose his or her since this "expert" is just trying to increase the number, not the quality.
Fake performance guarantees
As you know, organic traffic and search are decided by proprietary search engine algorithms. What's more, SEO is a long-term process. Don't expect to get a high result after some weeks. If any agency or expert promises that they can bring about a huge revenue, links, or visits, it's a red flag. Remember that an SEO expert will help identify opportunities and optimizations to increase qualified traffic to your online store, not show off performance guarantees. Make sure they have explained their campaigns and how they work before deciding to choose them. Let's look at the following performance guarantees which fake SEO experts often show to convince their customers:
Ranking: Well, guaranteeing rankings is impossible. An expert can just predict, not assure #1 rankings in the top Google or Bing search.

Exact number of new links: No one can guarantee the correct number of new links after launching a strategy. If anyone claims that, I'm sure he is lying or he is paying link lined up. So, there's no reason you should continue.

Visits: Again, this factor cannot be accurately pointed but just predicted.

Conversions: SEO will help increase the sales of your business but no one can know correctly how many conversions you will have.
Great deals from established foreign agencies
If you have searched out there to find an SEO agency, you will see that working with a foreign agency is a great deal thanks to differing exchange rates and going market prices. Many people misunderstand that foreign agencies will bring about higher results since they will spend less but receive experts with more experience. However, the fact is that the more you pay, the more you get.
Domestic offerings tend to be more expensive but they have high-quality SEO experts who can surely improve the optimization and eCommerce website of your companies. Established foreign agencies seem to be a good deal that may lead to inexperienced experts. Which means you are just wasting time and money instead of saving. In some cases, hiring foreign SEO experts is really a good deal. However, be sure you talk to references carefully and ask the right queries.
Great but unsuitable experts
In fact, experienced experts are not suitable for everyone. Whether it is suitable depends on the suitability. Set your objectives and consider whether they are aligned with what the agencies offer. Don't approach an expensive expert and believe that he will surely bring about high results. As long as you know what to expect, you can sign a deal with the right partner.
How to choose and hire BigCommerce SEO experts?
When hiring BigCommerce SEO experts, it's kinda similar to when you are choosing an employee or business partner. After listing down potential SEO experts and getting rid of all possible red flags, let's ask them the following questions to find the best one for your demand.
Have you ever done similar works before? What are they?
Asking this question not only helps you find out more about experts' experience in the SEO industry but also shows you whether your objectives match what they are offering. If the potential SEO expert you are asking has much experience in the F&B market and you are providing clothing items, you will face many troubles.
What's more, each industry has its own difficulties. The right SEO experts are those who have eCommerce experience relevant to your products because they will know what to do, what to look out for, how to get traffic, and more. In fact, the SEO expert can still help you no matter what items you are selling. However, if they have done something similar before, the SEO process will run more smoothly. Share with them what you are offering, if they have experience with this, they will probably show you some examples as well as references.
If you are selling unique products or in special markets and hardly find an SEO expert having experience with similar tasks, don't worry since a great expert can still help you. In this case, focus on the adaptability characteristic of your experts.
What will you do to utilize link building?
As you know, links are important to measure whether the SEO strategy is effective or not. For those who are great SEO experts, getting many links is not their goal but approaching link building to expedite the process or other websites to find yours.
On the other hand, when approaching link building, backlinks can easily incur a Google penalty. Many SEO agencies make use of sketchy backlinks to bring about quick results without long-term gain.
Besides, there are still many legitimate solutions to use quality links. It's all about having relevant content that people want to look at and read. While the content will depend on many factors, not only SEO experts, still need to have a proper answer to your question. If their answers are about two following factors, you can believe their ways are legitimate:
Content marketing: One of the most reliable ways is creating informative and useful articles. If you have an effective plan with not only product listing content but also blogs, white papers, LinkedIn posts, your store will be promoted on social media and more industry leaders will see and share your works.

Promotions: It's also an effective way to boost your online store. When you have a big sale or huge discounts, you can approach relevant websites to ask them if your sale information can be told to their audiences.
As we mentioned before, the content marketing strategy will rely on many sides including SEO experts and your business. Your business can probably take care of the writing work so SEO experts are those helping out with the creative work.
To know more about how they handle the creative work, you should dig into who will be the person writing the content for you. They can have former journalists who are good at the content or they outsource to a foreign content farm.
Remember to ask them to show you their performances via some examples of content. Put yourself under the position of a customer and read their articles, do you find them informative, engaging, and persuasive?
How do you execute SEO in alignment with my objectives?
Don't respect an SEO expert who will focus on keywords, create structured menus, and strong interlinking. The effective strategy will be made by those who understand the situation and create solutions for it.
First, get rid of those who are running huge projects without getting executive sign-off from your list. Then, set up your objectives, contact your experts to know how they will help you approach these objectives. Your goals should include the following:
Short-term or long-term goals: What do you want your website to become? Do you want a specific product page to rank high? or Do you want to get the best possible SEO results on your website?
Technological situation: You should also tell your SEO experts what you have and what you are working with ranging from CMS to engineering resources. In this way, SEO experts can bring about suitable strategies.
Budget: It's a must! Don't let SEO experts introduce themselves and multiple strategies before telling them you cannot pay that high. What about clearly showing out how much you can pay first and let them sell you on what they can do to fit this amount of money.
Conclusion
To sum up, SEO and hiring an SEO expert are all important, especially when you are not able to create an effective SEO strategy. When choosing an eCommerce SEO agency or expert, you should be as careful as when you hire an employee or consider a business partner.
List out the possible options, interview each one, get a list of references, contact them and make sure your goals match with what the experts can offer. No matter how big your business is, remember to improve your knowledge as much as possible so that you will know which agency or expert can help you the most.
Hopefully, we have given you enough information on SEO, the SEO expert hiring process, and how to choose the suitable SEO expert for your business. If you have any questions, be free to leave a comment for us in the section below. We promise to reply as soon as possible. Remember to visit us for more updated topics.
Good luck with your business and SEO strategies!
New Posts
January 31, 2021
February 08, 2021
February 17, 2021
Subscribe
Stay in the know
Get special offers on the latest news from AVADA.
40k
subscribers has been joined!
Earn $10 in reward now!