The 40+ Best BigCommerce Premium Themes in 2021
Last updated: September 01, 2023
If you want to market a product or service online, you'll need a robust, reliable digital platform.
BigCommerce is a forum for building functioning retail shops and eCommerce domains.
There are several different types of themes available, and picking the right one is imperative if you want to have an appealing shop that converts well.
Check out our BigCommerce analysis to read more about this site.
Here's a roundup of the top 40 plus BigCommerce trends for 2021 to help you create the shop you've always wanted.
1. Sneak
You might be asking yourself what the best fit for your website's design is, and the answer is Sneak.
It beats expectations in terms of website architecture for accessories, sporting goods, and clothing.
The visual connection between the product and the brand name will help your store stand out against hundreds of other shoe stores.
Three primary colors dominate the design: reddish-orange, whitish-grey, and luxurious black.
The color scheme maintains a professional appearance. Sneak keeps it simple with a stencil interface and has a beautiful dynamic style.
There is an infinite number of color combinations to choose from, allowing your brand to be distinguishable.
2. Broolynk
Are you looking for the right Fashion style to go with your website? You've come to the right place.
For all of your fashion store needs, Brooklynk has developed a chic BigCommerce style.
It acknowledges the significance of making a strong first impression, which is why the theme incorporates full-width slideshow banners and the most iconic blocks on the homepage.
Additionally, Booklynk has a lot to give the modern shop owner, such as a stencil framework, a beautiful dynamic style, and the ability to switch between grid and list options.
It has a professional appearance and tone to it. There's also an Instagram module to connect your social media accounts.
Brooklynk BigCommerce Theme is the way to go if you want to give your eCommerce shop a trendy makeover.
3. Beautica
Beautica is a sleek and trendy template that is ideal for fashion and beauty shops.
An enhanced mega menu, Instagram module, dropdown registration, LookBook tab, product labels, lazy loading photos, logo slider, and several other premium features are included in the theme.
Beautica has a comfortable and pleasant shopping experience for customers, with the right balance between two main elements: clean and professional.
The style is perfect for makeup, but it also works well for high-end jewellery, designer clothing, handbags, and shoe stores.
Beautica is a quick and easy theme with fully personalized functions. It's robust, so rest assured, it'll look great on every screen.
4. Revo
If you're looking for a flexible and sensitive style, check out the Revo theme.
The Revo theme is simple to configure and runs on the Stencil platform.
It contains mega menus, product labels, countdowns, live searching, and more in four premade demonstrations. This theme was also made to optimize loading speed.
With 25+ exclusive homepage styles, 5+ mobile-specific formats, multi-vendor support, and lots of versatile theme choices, Revo makes it easy to develop and maintain an online shopping website.
Furthermore, the latest One Click Demo Import feature helps you quickly build a complete website that looks just like the demo in just a few minutes.
5. Foundry Warm
Foundry Warm allows you to create the exact shop of your dreams. Foundry's minimal, grid-based architecture is easy to set up and adapts to highlight the goods and brand, making it the essence of versatility.
Foundry is the right style to get the store up and running—and converting—today.
It's accessible to shoppers across a wide range of industries. Foundry Warm is one of our top picks because of its usability.
The grid-based interface is straightforward and adapts to your brand's preferences when presenting your products.
Complex search filtering, customized checkout, fast add-to-cart, and other features are available.
6. Sarah Market
Sarah Market – Large Grocery Store BigCommerce Theme is a fast-loading multi-purpose BigCommerce theme that is clean and well-designed.
The Stencil is used to create this super-fast loading and SEO-friendly style, ideal for big stores, supermarkets, and convenience stores.
Powerful Theme Options, SASS, CSS Foundation, Detailed User Guide, and Excellent Technical Support are only a few of the responsive website design features.
This style performs well in sales because it has optimized for well-organized product types.
Carousel, Column, Grid, and Products by Category are all options for displaying products. It also allows multi-languages and multi-currencies.
7. BeoShop
BeoShop is a adaptive and quick BigCommerce theme. There are numerous theme variants available, each with pre-made presets to help you get started right away.
It includes a homepage slider, brand carousel, feature product carousels, social media widgets, and a wish list, among other things.
With this premium responsive theme, you can boost the efficiency and SEO of your website.
A featured items carousel, homepage slider, Twitter widget, and many more are included in the theme.
You should also give your customers the option of creating their wish lists. This is an excellent choice for BigCommerce's eCommerce site.
8. AP Alaska
The Alaska theme has a clear and concise style. It's appropriate for any kind of store.
Several homepage templates, a dynamic admin screen, mega menus, several product layouts, quick preview of products, and other features are included in the theme to help you sell additional items.
Alaska displays customer feedback directly on the web tab. With the built-in feedback system, you can easily handle the responses.
Another essential advantage of the Alaska theme is that it provides resources to help you convert your shop into something that can draw search engines' focus. This means more market chances.
9. Electronics Supermarket Responsive BigCommerce Theme
Electronics Supermarket is a high speed-loading and stable BigCommerce theme for electronics stores.
There is no need for hosting or scripting, and installation is as easy as a mouse click.
You still have the ability to customize the theme variations. Get a custom Header, Footer, Sleek Slider, Hot News Sliders, MegaMenu, Diverse Banner Designs, Products Carousel, and Theme features
This template also includes Unlimited Colors and Web Navigation for the Electronics Supermarket Theme.
There are a few main features that can help your company, currently, namely: Bestselling Products in Grid – List – Carousel; Categories Set; Products by Category; Products by Category with Sorting Tabs; New, Featured, Bestselling Products Tabs.
10. Paralbag
The Stencil-based Parallax BigCommerce Theme is consistent with the new BigCommerce technologies.
The concept of Paralbag focuses on being clean, minimalistic, and technical. It was created primarily for a fashion store that sells handbags, accessories, watches, and jewellery.
The parallax page functions give the page a modern and impressive appearance.
The theme comes with a user guide, is simple to mount, and can be effortlessly personalized.
The various features would ensure that your web store is adaptable. The Paralbag theme supports language translations, multi-currencies, and all of BigCommerce's other tools.
Paralbag's support staff is eager to assist you in establishing a profitable enterprise.
11. LaParis
The LaParis style is elegantly designed. It has a gorgeous featured picture in the header region and many innovative formats that allow you to view your items in several ways.
The theme is mobile-friendly and simple to modify. A feature list, grid, carousel view, an Instagram widget, and several different header types are also available.
Whether you're a Parisian or not, LaParis can't go wrong for you. It ensures an eCommerce approach that aids in the marketing and sales of your online stores.
12. Shop Town
Shop Town is a BigCommerce multipurpose theme built on the stencil platform.
It is entirely customizable and can be used by any form of online store.
Shoptown will bring you all the advantages of going premium if you want to go above the free theme's fundamentals.
You get top-notch support from the theme's developers, as well as a slew of useful features, including an ultra-responsive theme and a product easy view option.
13. ClickBoom
ClickBoom is a new responsive web theme by Bigcommerce Stencil Framework.
It's a BigCommerce style that's fresh, tidy, and professional. This theme is highly versatile, with many customizable choices, and it can be used to create any kind of online shop.
You can also apply this theme template for boutiques, high-tech shops, electronics, accessories, and so on.
The ClickBoom theme has a lot of helpful functionality. Powerful Admin Dashboard, Visual Theme Editor, Google AMP Support, Bootstrap 4.x, Advanced MegaMenu, Unlimited Color Options, Top Deal Support, Sticky Navigation, Product Slider, Photoswipe & Zoom, SEO Optimization are just a few of them.
14. Branchy
The Branchy theme is yet another Stencil BigCommerce template that can be used by a number of online shops. The concept is scalable and can be easily tailored to fit your brand.
Zoom magnifier with picture slider, vertical mega menu, cart dropdown, product filters, and live search are some notable features.
15. Modez
The product is still the most critical feature of any online store, regardless of the type.
Modez provides a range of choices for arranging and showcasing the items. You will provide blocks for new items, favorite products, and bestsellers.
Both of the blocks may be set up as a grid, a carousel, or a list of columns. Modez allows you the right to pick what fits best for your BigCommerce shop.
Modez is a BigCommerce theme that blends the stencil system with a strong CSS base and many powerful choices.
You can experiment a lot with the mega menus to get the feel of it, and there is plenty of guidance to get you started.
16. Minimal
The use of a latest news and testimonial block are two features that make Minimal stand out from other BigCommerce themes.
You will keep your customers up to date by bringing your online store's current news front and center.
Testimonials also make customers feel more secure, which leads to increased purchases.
Minimal is a brilliant alternative if you want to offer a high-quality website with a beautiful BigCommerce stencil.
If you're a novice, there are plenty of options for customizing the account, as well as documentation and video tutorials to guide you.
17. Febzy
Febzy – Multi-Purpose Stencil BigCommerce Theme has a trendy look and a lot of pre-made pages to help you get your shop up and running fast.
It's mobile-friendly and easy to customize. The theme includes an easy view and zoom option for products and product filters, premade blog pages, and more.
18. Qrack
Qrack theme includes many premade color swatches as well as an animated slideshow to highlight your best-selling products.
The theme provides built-in social media functionality as well as efficient product filters to help your consumers discover just what they're searching for.
The smoothly animated slideshow creates a unique atmosphere. A few useful features are Homepage Slider, Featured Products Carousel, Compare Products, Product Color Swatches, Unlimited Color Schemes, Brand Carousel, Instagram & Twitter Widget, Layered Navigation Filters, and Quick View.
19. AP Strollik Responsive BigCommerce Theme
AP Strollik is a BigCommerce theme designed specifically for e-commerce stores.
The new BigCommerce Stencil Framework was used to create this BigCommerce style.
Unique Interface Sample, MegaMenu, 360° Product Viewer, Quickview Goods, Review Products, Page Category, Product Detail, Swipe, Animation, and Sleek Slider, and Free Color are all included in the AP Strollik Responsive BigCommerce Theme Template.
20. eMarket
The eMarket theme has an advanced mega menu, making it ideal for major businesses.
It's flexible, and you can change everything about it, from the fonts to the colors.
The theme comes with three different homepage styles and several different product view choices. It was also made to maximize loading speed.
21. Razor
For electronics retailers, the Razor theme is ideal. You can quickly change the fonts, colours and apply your branding to the theme.
You have many options for showing your items. It comes with an advanced super menu and built-in icons to make your shop look even better.
22. Baggies
Do you need a strong BigCommerce theme to launch your online store?
Baggies theme is a beautiful, fully customizable platform solution that can take the online shop to new heights.
Use this theme to build the dream website. Brand contrast and quick view are two of the highlight functions.
This theme is all about delivering fantastic eCommerce experiences. Baggie has you covered, whether you're trying to combine with Google Amp for a superior smartphone experience or simply refresh your checkout experience.
23. AP Shoes World
AP Shoes World is fully personalized and has high-resolution graphics.
It can be conveniently personalized to fit any unit, allowing consumers to shop even with their smartphones in hand.
The site has a multi-currency feature that allows consumers to translate every commodity's price into their desired currency.
In case you want to design a tidy product block and product descriptions, the product tabs segment is a must-have.
This responsive theme has a lot of flexibility, which we recommend.
24. Jewellery
The agile, lightweight, and smooth style is just what you need.
Jewelry Stencil Responsive BigCommerce Theme comes with a lot of useful features and is very simple to customize.
Mega Menu in two formats, Responsive Slideshow for displaying beautiful images with personalized captions, New-Featured-Popular Products, Brands Carousel, Blog Posts, Banner Styles, Configurable Block Sections, Header, Footer, Powerful Theme Options, Fonts & Colors Customization, and Detailed User Guide are all included.
Multi-languages, multi-currencies, full-screen slideshows, and product widgets are all supported by Jewelry, one of the best BigCommerce themes.
Start with the Jewelry style, then tailor it to suit your needs and increase your store's sales.
25. Furnicom
Interior design, architecture, and furniture stores would enjoy Furnicom style.
Since it's so responsive, you can be confident that your store would look amazing on every platform.
Any part of your shop can be customized, and the theme includes a visual theme editor and a product slider.
26. Materient Smart Watches
Materient Smart Watches have a sleek, beautiful style that is intended to be a revolutionary message.
A neatly organized interface is achieved by dividing the homepage into color blocks. The items are illustrated to boost sales. Sometimes less is more, you know.
This sensitive BigCommerce style will work for you even though you don't sell smartwatches.
The style is adaptable enough to fit any technology site that seeks a sleek aesthetic.
27. eMartica
eMartica is distinct from other BigCommerce themes, but it retains a tidy and professional look.
The homepage block, which conveniently shows the hottest items, is the first thing the consumer sees.
The architecture is well-balanced, allowing a wide range of items and divisions to be shown.
This theme has a lot to offer, from super menus to grid and list toggle options and Ajax pop-up plugins for registration and pop-up tools.
This is the style to use if you want to keep the viewers interested.
28. CAROS
Caros is a perfect alternative if you own a car parts shop. It has a bold style that allows you to showcase your items in a variety of ways.
There are three different homepage templates and three different product page layouts to pick from.
A super menu, a newsletter pop-up, and product upsells are all included.
29. Pi Bags
Do you own a bag shop and want to show your bags in the best way possible? Pi Bags is the BigCommerce style for you, so look no further.
The large banners used to display the contents you want your customers to see first set Pi Bags apart.
With its extensive customization options, the Pi Bags theme resembles several WordPress themes.
There are no restrictions on the colors you can use, and there are several homepage templates. All that is left is pick one.
30. Lookz
Lookz is a multi-purpose BigCommerce style that works well for clothes, accessories, watches, furniture, car, tools, lingerie, clothing, cosmetics, and sports.
It has a simple and contemporary style. Both subpages can be personalized. Unlimited banners and sliders, various portfolio layouts, and different gallery layouts are just a couple of the enjoyable interface features.
This premium Bigcommerce theme is a decent option if you don't want to use extensions to update your website.
You won't have any trouble playing with zooming features and sliders to help you grow your company.
31. Catchy
This theme has a minimalist style that emphasizes your brands. Catchy theme's style is mobile-friendly 'and adaptable to any kind of shop.
It contains all of the functionality that an online store needs. Catchy is appropriate for mega shops, electronic stores, jewelry stores, makeup stores, fashion designer clothing stores, cosmetics stores, furniture stores, home appliances stores, children's stores, and multi-purpose stores.
It's also a versatile style that any kind of online shop can use. The Catchy Theme is available in three different layouts and has a cool color scheme.
Many of the subpages can be personalized. It has an excellent, clean, and professional appearance.
32. Venture Bright
Venture Bright is a theme for online retailers that are rapidly expanding. It's adaptable and can accommodate wide catalogs of a diverse variety of items.
The theme involves noticeable product feedback and a sleek and elegant style that gives the shop an industrial feel.
Depending on whether you want a wet, dark, or cool theme, many Venture options can be selected.
This means that you won't look the same as your rivals, even though you have the same stencil themes.
33. Cornerstone
Three responsive design combinations are included with the Cornerstone theme.
Each theme is designed to accommodate vast product catalogs. To fit your logo, you can change your store's fonts, colors, and overall look.
There are bright, bold, and warm choices depending on the needs of your shop.
Cornerstone light aims to make companies and brands stand out. You could use cornerstone warm instead if you want to build a friendly website.
Alternatively, you can simply play around with various color variations.
34. Mega Shop
Mega Shop is a great theme for big retailers and supermarkets. It has a responsive interface and a robust admin panel that allows you to personalize the shop.
Vertical super menu, zoom magnifier, and enhanced search are only a few of the fun features.
It is appropriate for electronic retailers, beauty shops, accessory stores, megastores, and multi-purpose online stores.
It's also a versatile style that any kind of online shop can use. With its preset color combinations, this theme can make your store look good everywhere. It has a refreshing, polished, and professional appearance.
35. Fortune
Fortune is built for high-volume small to medium-sized businesses. The full-width photographs displayed in full view are the most eye-catching feature of the design.
With iconic calls-to-action features, this template is made to gather product feedback quickly.
Fortune has a plethora of fonts, colours, product grids, and other customizable tools to fit any shop owner's needs.
Fortune has a plethora of fonts, colours, product grids, and other customizable tools to fit any shop owner's needs.
Fortune is appealing because of its minimalist approach, which means that no matter what you're trying to do in your company, everything on your website remains clean and precise.
36. Brixton
Brixton is best for retailers with a lot of inventory, but it can be used with any size shop.
This style involves specialized product reference tables and left-hand animated menus.
The product pages make it easier to communicate the advantages and advantages of the products, contributing to improved sales.
Brixton is aiming for a high exchange rate. It has a more straightforward add-to-cart shopping system that lets consumers get through the checkout process quicker.
Brixton Luxe is a very brandable style, which means you can apply your logos and colors at every point on your site and give your guests a cohesive experience.
37. Supermarket Yellow
Supermarket Yellow is a mobile-friendly interactive theme. This theme has fantastic features like sidebar left navigation and numerous items by category block, which is great for stores with many products.
Supermarket is available in three colors: yellow, brown, and pink. A picture carousel, bestselling segment, and featured items are all arranged in tabs on the homepage.
The Supermarket theme is simple to set up and requires no technical knowledge.
Supermarket Yellow is UI/UX streamlined, ensuring you can have a more satisfying overall experience for your audience.
38. Arcade Natural
Arcade Natural is a visually appealing style that is intended to increase sales. In-depth product comparisons, prominently featured consumer feedback, and broad call-to-action buttons pique the consumers' curiosity and lead them through the shopping process.
Arcade is as brandable as it is versatile, with various navigation modes and adjustable colors.
Arcade Natural has accessible customer service and a plethora of valuable tools, such as a permanent cart, product images, product filtering, and even cart tips. Support for Google AMP is also available.
39. LifeStyle
Lifestyle is an elegant, retro & vintage-inspired theme for portfolio and online retail stores.
This theme features a beautiful hipster style design, excellent typography & readability, and a rich options panel.
Lifestyle is based on the "no sidebar" layout, has a big header image and flexible navigation menu.
This BigCommerce theme template is SEO-friendly, mobile-friendly, and retina-ready. It can be translated (with additional font support) into German, French, Spanish, Italian, Russian, Turkish, Korean, Portuguese, and Chinese.
40. Merchant Bold
Merchant is a multi-purpose theme with four different presets for different types of e-commerce sites.
A frontpage gallery is used in all combinations to illustrate the most recent or best-selling pieces.
Customers can conveniently select their preferred product thanks to automated search filters and product comparison options.
Merchant is ideal for those looking for a scalable, genuinely flexible scheme. The simple design will adapt and evolve with your business.
There are also various features to learn, such as one-page checkouts and product filtering.
41. Peak Standard
Peak Standard is a capable BigCommerce theme for high-volume industry websites. This template can be used in a number of industries due to its clear, clean nature.
In the slideshow, you can advertise the most recent events, best-selling brands, or new arrivals.
The site's highly responsive nature makes it easy to use on mobile devices. Customers will get a closer look at the goods with high-resolution photographs.
Peak has you covered when it comes to great theme choices that make web design easier.
This powerful theme includes free theme updates, customer service, massive navigation options, and many more.
42. Capacity Warm
Capacity Warm is a popular BigCommerce template because it places a strong emphasis on navigation, search, and overall user experience.
The sleek architecture enables it to show a vast amount of inventories in a pleasing manner.
Products can be presented in a grid or a list format. To enrich their product descriptions, shop owners should use high-resolution photographs or videos.
Capacity Warm has everything you need to have a solid online presence and beat every other competitor, including a personalized checkout to make shopping more accessible to Google Analytics for your eCommerce shop.
Customers will also save their favorite payment methods for a smoother checkout the next time.
43. Hera Light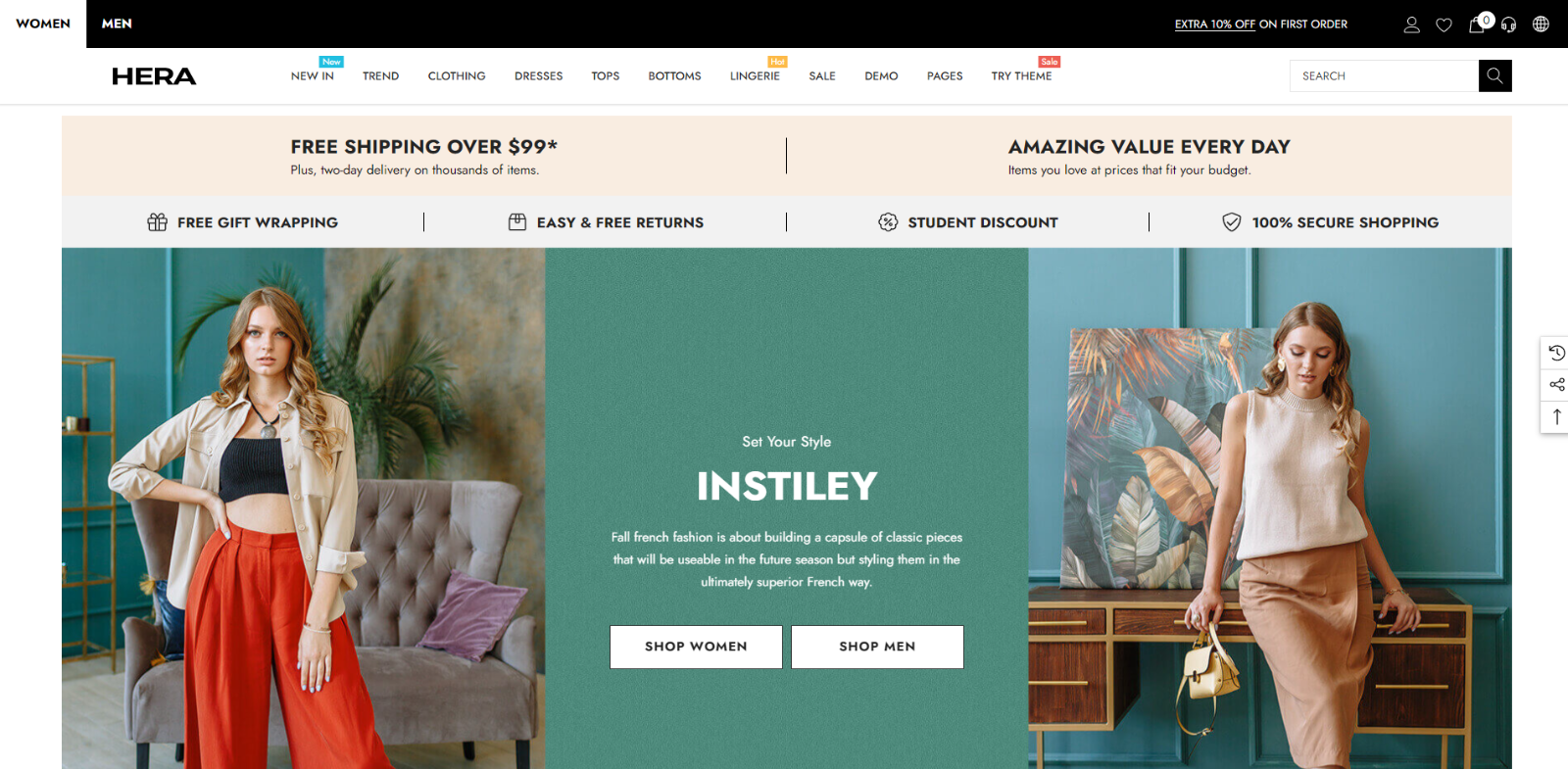 Elevate your online fashion boutique with the captivating Hera Light - Fashion BigCommerce Theme from HaloThemes.
Step onto the virtual runway of elegance and style as this meticulously designed theme seamlessly fuses aesthetics with functionality.
Engage fashion-forward shoppers with a visually appealing design that caters to their sense of sophistication.
With responsive adaptability across all devices, Hera Light ensures an immersive shopping experience whether your customers browse from desktop, tablet, or mobile.
---
Roger has over 4 years of experience in SEO. While in college, he started learning about SEO and showed a passion for the field. Right after graduation, he embarked on SEO projects and achieved great success. After years of working, he has learned deeply about SEO. Currently, he is the SEO team leader at avada.io