How to Create WooCommerce Product Carousel?
How to Create WooCommerce Product Carousel?
Brands may produce content for their social media audience in various methods and forms, but some are more suited to particular campaigns and objectives than others. Carousel advertisements provide you more room to inform the viewers about your narrative, service, and goods since you may fill up to 10 carousel cards with the material. Its total versatility will allow you to incorporate any information, allowing you to tell your message the most creatively.
This article will explain How to create a WooCommerce product carousel. We will inform you in two different ways, along with some additional plugins to boost the total performance of your product pages.
The Benefits of Using a Product Carousel
A carousel ad is a type of ad that allows you to show at least two and up to ten pictures, videos, headlines, links, or CTAs (calls to action) in one unit. Any active business may use this function on Facebook or Instagram, and it can assist a company or brand reach its advertising goals. Here are some crucial benefits of using a product carousel:
The carousel will allow you to present your product from several perspectives and locations, provide additional information, and highlight many possible features.
Product carousel offers an increase in website traffic, which would boost income and operational efficiency by using a less expensive type of advertising.
It may also explain the benefits of your service to clients and how the service can be utilized, all in an interactive, creative carousel ad.
Each carousel card can focus on a different product or service aspect, giving a simple to browse a crystal clear overview.
You may provide visitors an insight into the background and narrative of the product or service in issue by using innovative and exciting content.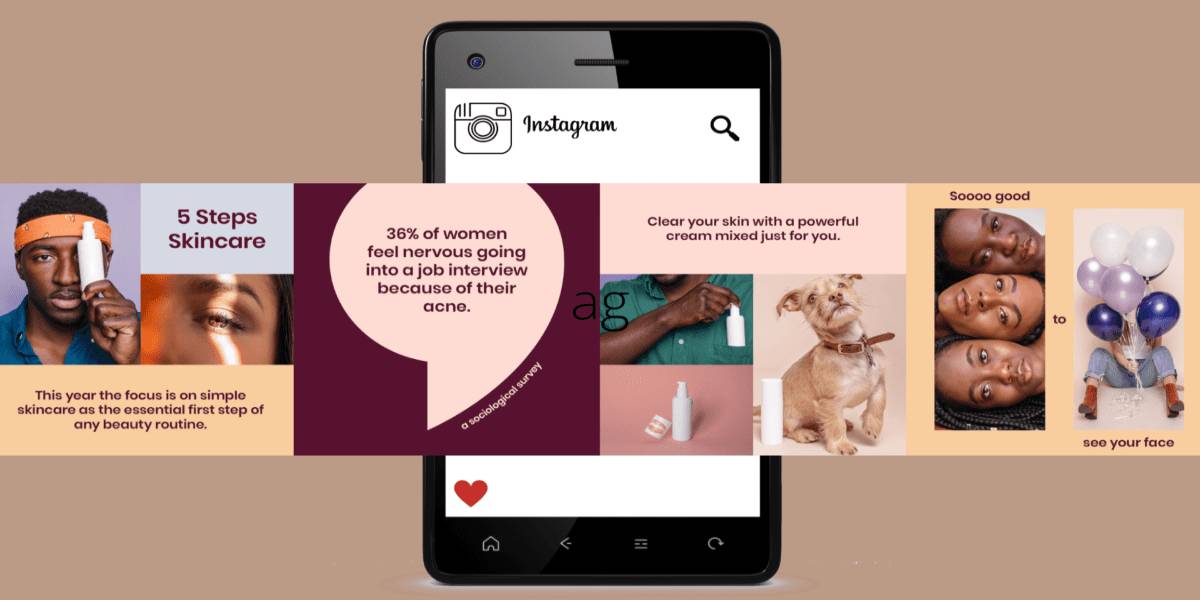 How to Create WooCommerce Product Carousel by Using Third-Party Plugins
WooCommerce does not provide any built-in functionality to create a product carousel. However, you can use a variety of plugins to add sliders to your WordPress site. For an online business, you will want something that comes compatible to work with WooCommerce. With that in mind, let us take a look at two of the most popular carousel plugins, one is free, and the other is at a reasonable price.
Method 1: Product Slider for WooCommerce
Product Slider for WooCommerce is one of those plugins whose name almost tells you all you need to know about it. You may use this plugin to create a slider or a product carousel out of your WooCommerce items. You may create as many sliders as you want and use customizable shortcodes to add them to any page, post, or custom design. Every product slider you make is entirely editable. That means you can customize its appearance, behavior, autoplay settings, and whether it supports swiping on mobile devices, among other things.
Step 1: Add a new product slider
After installing and activating the plugin in the WooCommerce extension store, you will see a new Product Slider tab appear in your WordPress dashboard. Go ahead and click on the Add New option button to open the Add New Slider window. This is where you can add the title of the product carousel along with an overview of the ways you can add it to your website. Fill in your title and move to step 2.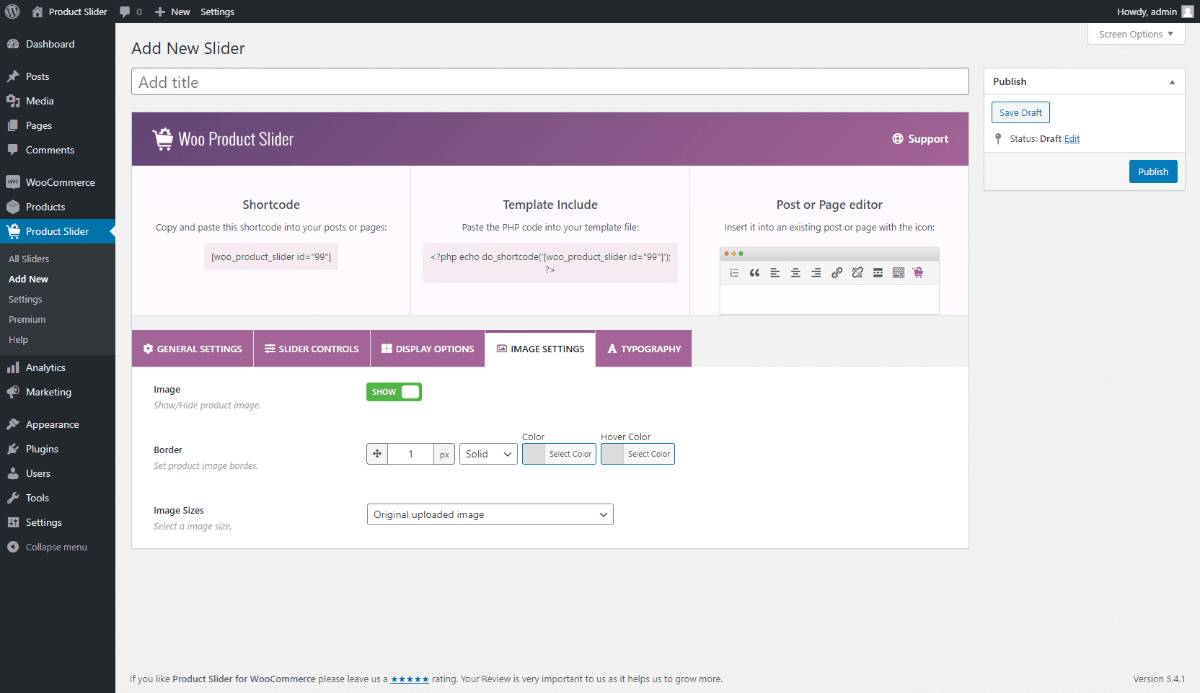 Step 2: Customize your product carousel.
Once you finish adding the title, scroll down to the General Settings section. There will be many types of carousel and sliders along with free layout and theme. Theme number one offers a minimalistic style which is effective for social platforms such as Facebook and Instagram. On the other hand, Theme number two will be compatible with the Google ads. Click on the appropriate theme to your advertising strategy and navigate to the Filter Products section.

You can select which type of products you want to display on your new carousel in the Filter Products section. The free version only offers you to tag the latest products. If you want more components on your slider, you will need to update to the pro version.

Step 3: Edit the Slider Controls tab
After selecting your products, head to the Slider Controls tab on your dashboard. To create a standard style of a product carousel, you will need to enable navigation arrow and pagination. Moreover, disabling the autoplay setting is also necessary.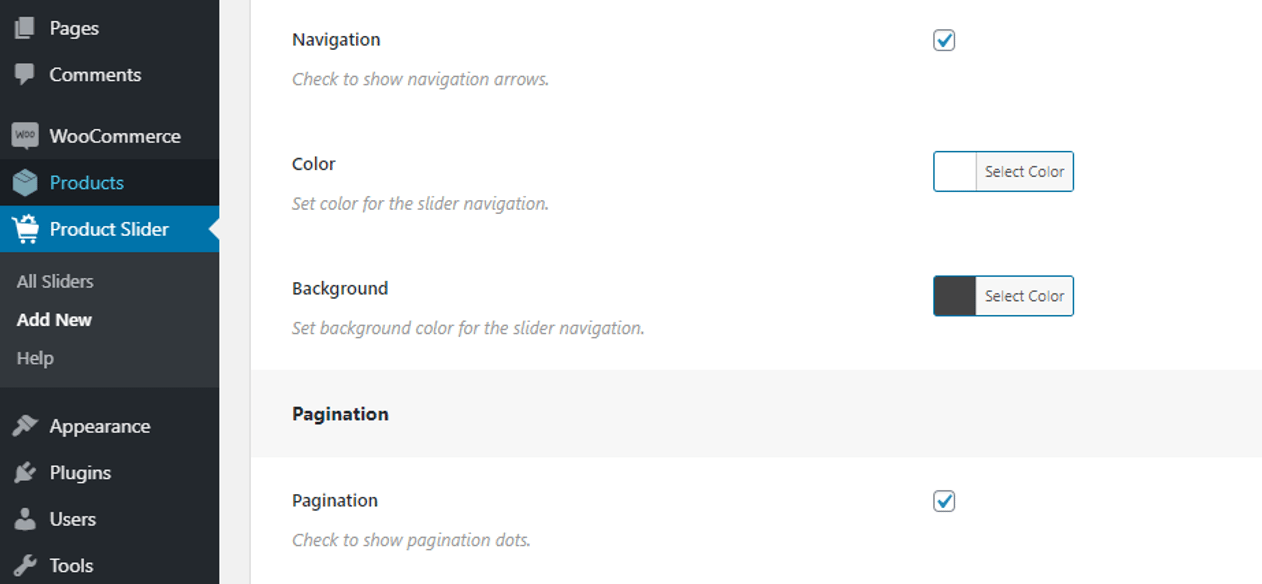 The other default settings are acceptable for your browsing experience, so we recommend you keep them all. You may also enable touch swiping and mouse dragging for even more natural navigation.

Step 4: Set up Display Options
Finally, moving onto the Display Options page. This is where you can customize your carousel with different colors for prices and discounts. In the free version of the plugin, there are no typography options. Therefore, your product carousel is now ready to go. You can save a product slider and then copy and paste the shortcode from the top of the setup screen into a Shortcode block on any website to publish it.

Method 2: WordPress Carousel Pro
The second choice for you to create a product carousel in WooCommerce is using the multi-purpose plugin called WordPress Carousel Pro. Although you have to pay about $99 for a yearly license, its outstanding features will not let you down.
Step 1: Install and activate the plugin.
Like other extensions, installing and activating WordPress Carousel Pro is simple. Log in to your WordPress dashboard and navigate to the Plugins tab. Select the Add New option and choose the Upload Plugin option. Upload the zipped file of the plugin and wait for the uploading process for a moment. When everything is ready, click on the Install Now & Activate button, and you are good to go.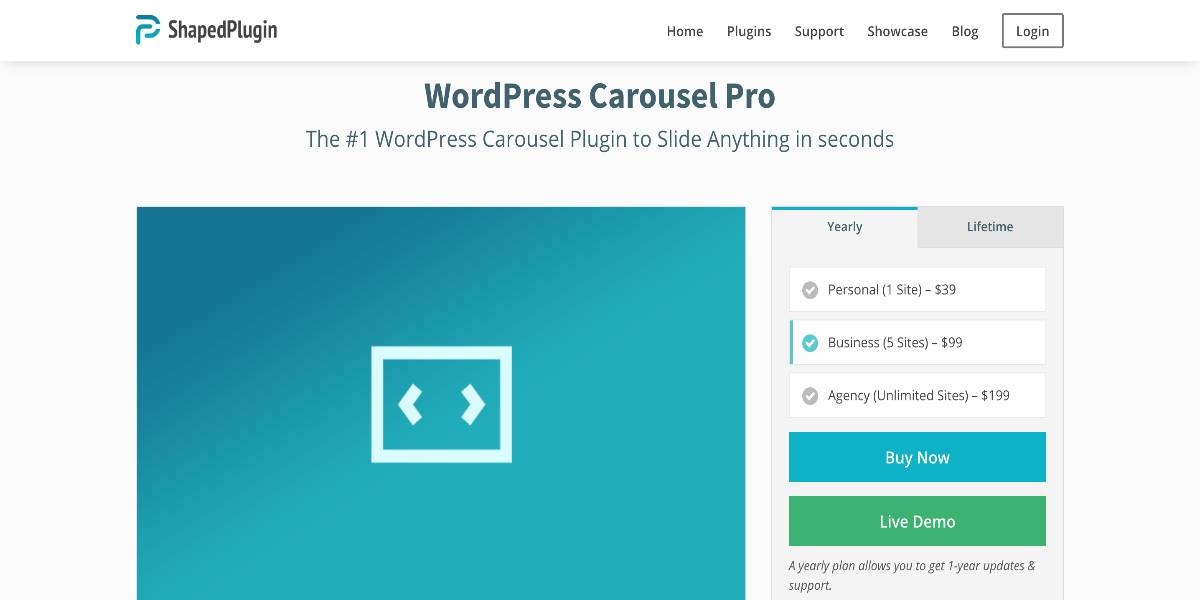 Step 2: Set up a WooCommerce Product Carousel
The WP Carousel Pro menu will appear once the WordPress Carousel Pro plugin has been installed and activated. So, select the Add New option from the menu. As a result, an interface with several configuration fields will appear. Go ahead and give the carousel a title now. After that, select the Woo Product option. You will also have the option of filtering the products. You may choose products from the latest products, product categories, or specific products. Usually, people tend to select the latest products option.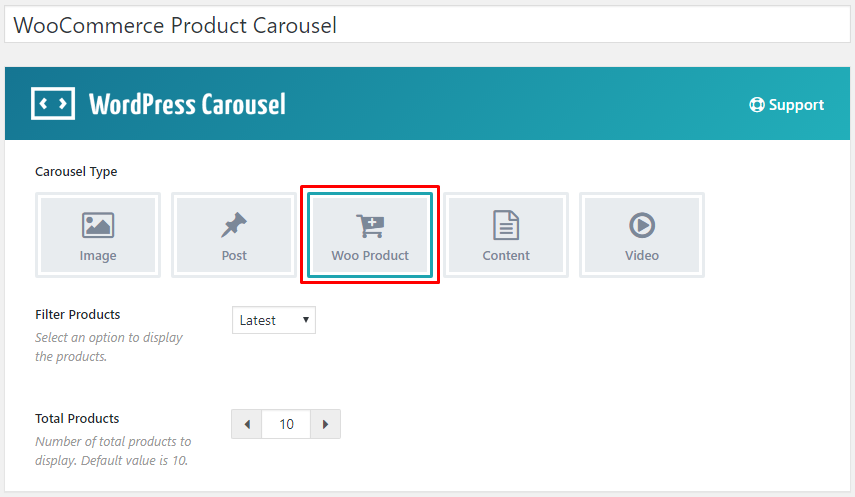 Step 3: Customize your new product carousel.
If you want to make a unique product carousel, you can also select the category or specific option. After picking the category option, you will see two different setting boxes. You can choose the category to display in the first box. You may also choose from a variety of types. On the other hand, the second box allows you to keep the conditional relationship between the specified categories. Everything appears to be as in the image below.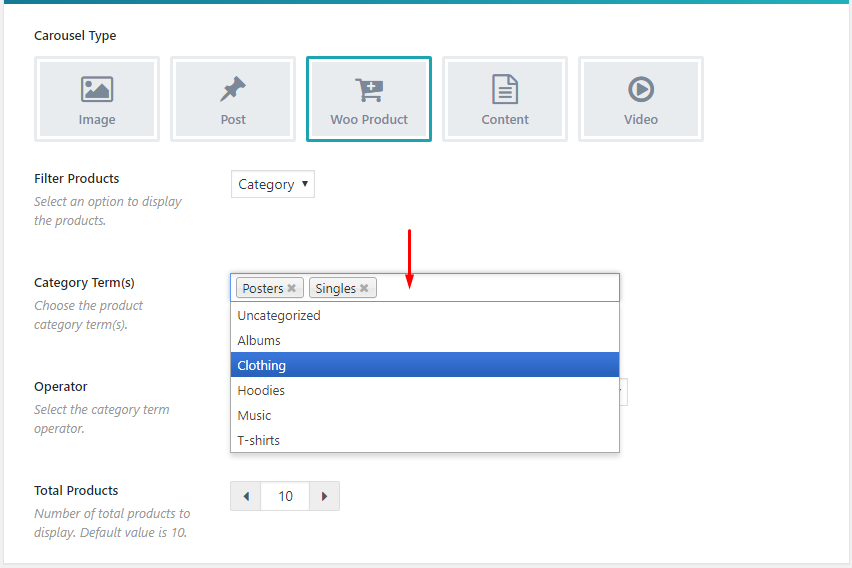 You may also highlight specific goods rather than a category or the most recent products. As a result, you must pick the Specific option for the product filter selectable choice. Consequently, you will see a field where you can select specific products based on your requirements. It appears to be similar to the interface below.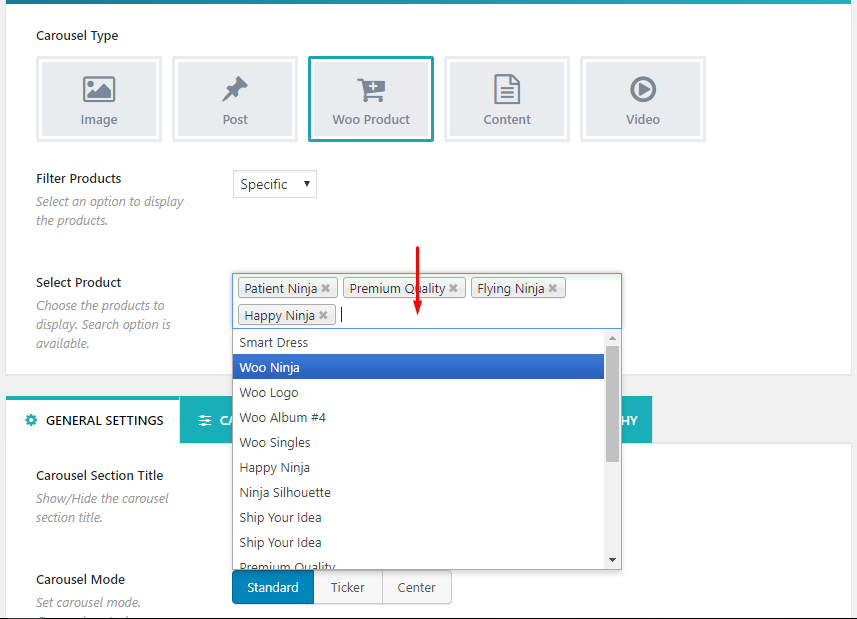 Step 4: Display the new product carousel.
When you successfully create a new product carousel, the final step is to display the image carousel on your expected platforms. You will find a smart shortcode to reveal the carousel wherever you need it. As a result, copy the shortcode and paste it into the appropriate places.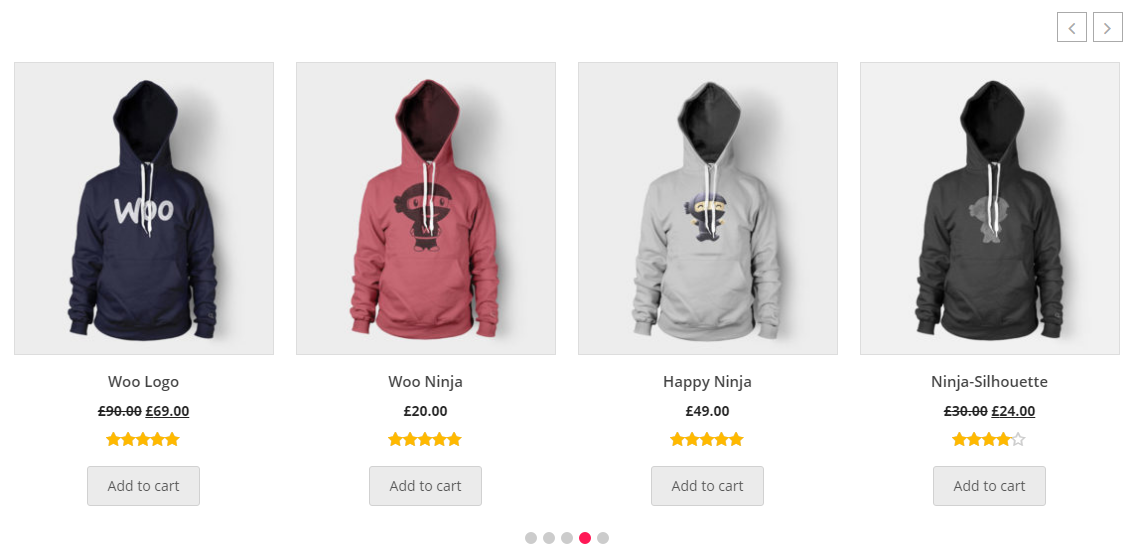 Other Plugins For A Better Woocommerce Product Carousel
PickPlugins Product Slider for WooCommerce
If you want additional functionality in your product sliders, PickPlugins Product Slider for WooCommerce is an excellent option. This plugin has it all, including an autoplay function with adjustable speeds, hover effects, and more when it comes to slider animations. One drawback of this plugin is that it does not provide many choices for customizing the styles of your sliders. However, it offers some components that you may use to enhance items that are on sale or discounted. You have less control over the appearance of the text for your items, though.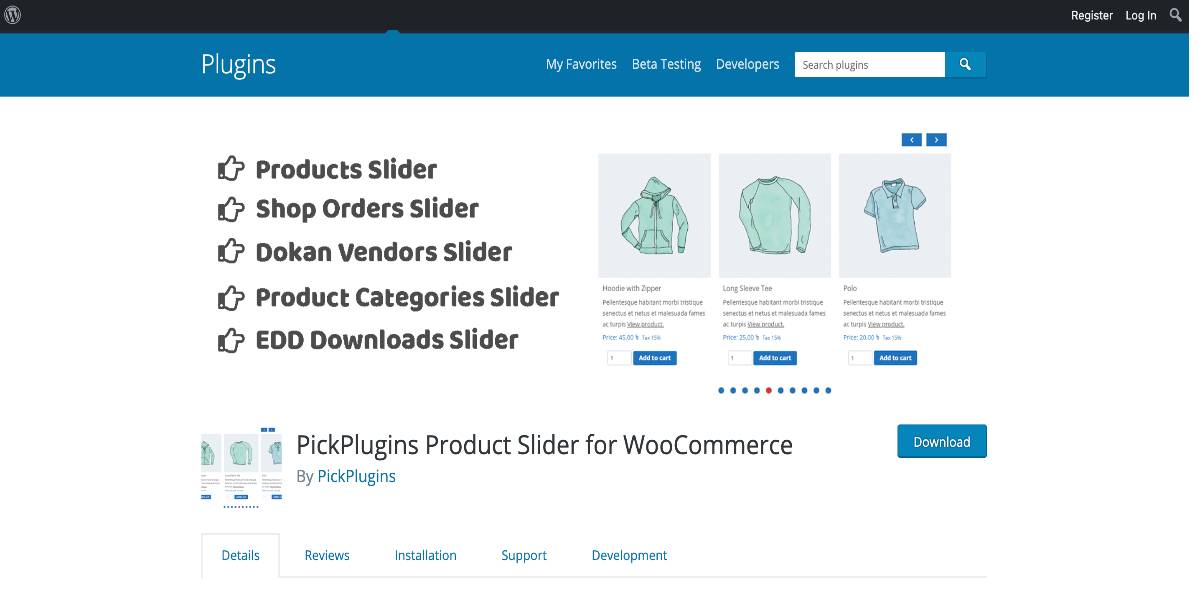 Outstanding features:
Customize several product carousels for different devices like mobile, tablet, and desktop.
Automatically slide your product on the carousel to display and perform to potential customers.
Provide the hideout of stock features to prevent overselling.
Customize ribbons for each carousel, including background color, text color, height, width, and background image.
Offer multiple choices of selecting product categories or tags to query products.
Price: This plugin is 100% free for WooCommerce users.
WooSlider by WooCommerce
WooSlider is a premium and sophisticated product carousel plugin created by WooCommerce. With this plugin, you can easily add responsive product sliders to your online store. This plugin's setup is basic and straightforward. Even an amateur may easily add sliders with little to no experience. Transitions, directions, sliding speeds, and pagination controls are just a few of the options available in WooSlider to let you manage every element of your carousel and slideshow.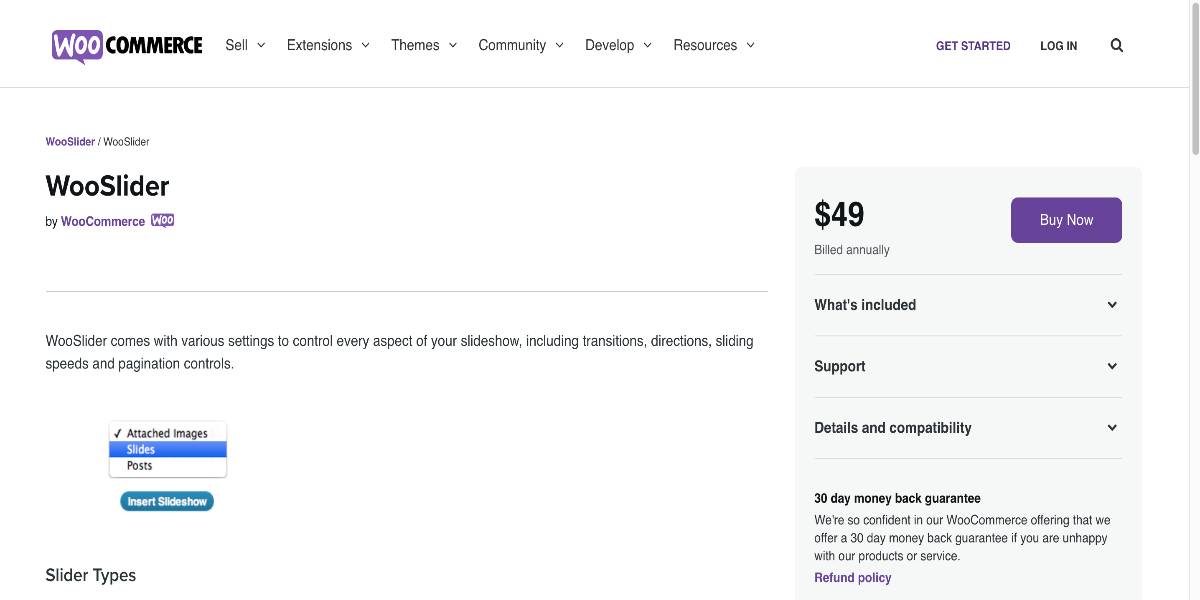 Outstanding features:
Provide various product carousel layouts.
Enable the "Play/Pause" feature that is suitable for events.
Display and animate slideshows automatically with beautiful custom themes.
Offer various settings and customization options.
Easy to customize carousel with minimal styling and CSS.
Price: The plugin is $49 per year and includes one year of customer support and plugin upgrades. A 30-day money-back guarantee is also included with the package.
All-In-One Product Slider Carousel for WooCommerce
All-In-One Product Slider Carousel is an excellent product slider for WooCommerce-powered websites. This plugin will assist store owners in improving sales by enticing clients to purchase products stylishly. Installing and using this plugin is as simple as other plugins. The greatest thing about this plugin is it comes with preloaded all settings. It means that there are no prerequisites for the user. This plugin takes advantage of WordPress's shortcode future, which allows you to print a slider anywhere on a page or in a post. You can even utilize shortcode in your PHP theme files.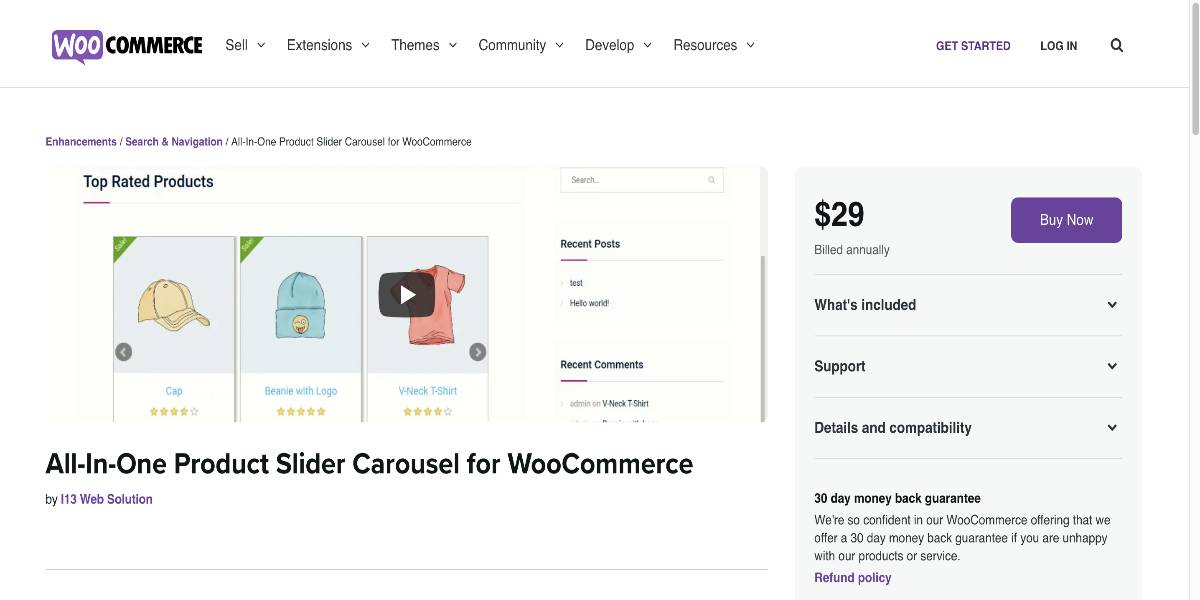 Outstanding features:
Provide a responsive design with three unique themes for the carousel.
Offer unlimited sliders with the ability to show and hide prices, ratings, and Add to cart button.
Support multiple types of slider, including horizontal, vertical, ticker, and so much more.
Create a product carousel available for featured, on sale, new, and custom selected products.
Price: The plugin is $29 per year and includes one year of customer support and plugin upgrades. A 30-day money-back guarantee is also included with the package.
Conclusion
There is no doubt that a product carousel is a wonderful method to promote certain goods on your WooCommerce site and improve sales and conversions. We've only included the most popular and most acceptable options on the market.
We hope that this article will explain carefully How to create a WooCommerce product carousel. Not all plugins have the same capabilities; each one has its own set of features. You may select the plugin that best suits your requirements and budget to peak your sales!
New Posts
Subscribe
Stay in the know
Get special offers on the latest news from AVADA.
40k
subscribers has been joined!
Earn $10 in reward now!