How to Add Bulk Variations in WooCommerce?
Last updated: September 01, 2023
To offer customers more options, each product is often sold with more than one variant. However, with hundreds of variations displayed on the virtual store, adding variations one by one will waste lots of time.
Consequently, in this post, we will introduce you to a method to add multiple variants in bulk with the help of a plugin as well as 3 mighty plugins for adding bulk variations in WooCommerce.
How to add bulk variations in WooCommerce?
Step 1: Install & activate the plugin
Download the plugin " ELEX WooCommerce Advanced Bulk Edit Products, Prices & Attributes" to your device.
In your WordPress admin dashboard, navigate to Plugins and open Add New. There, click on the Upload button to install the plugin you have just downloaded for your WooCommerce store.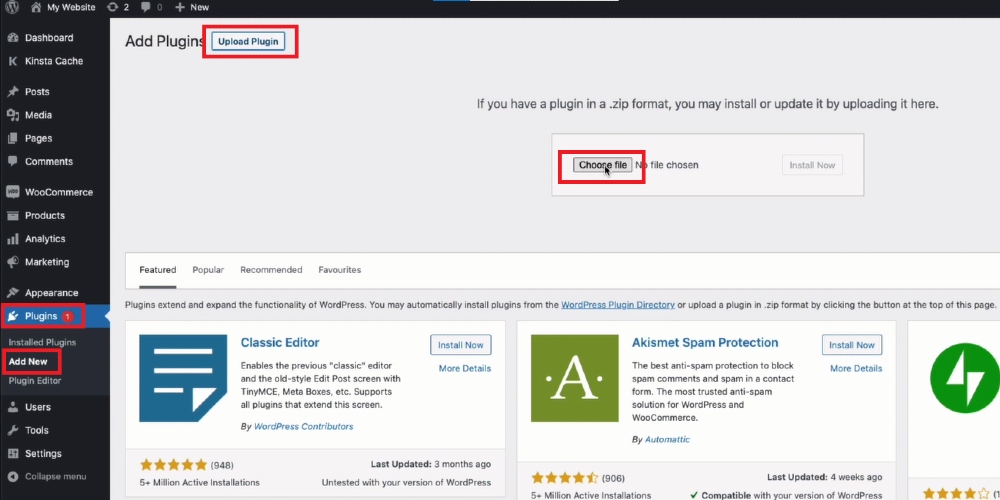 After the installation, select the Activate button and you can start using this plugin for your store..
Step 2: Filter variable products
In the WordPress dashboard, go to WooCommerce and open Bulk Edit Products.
In Bulk Edit Products, you need to select Variable (Parent) as the product types you want to upload.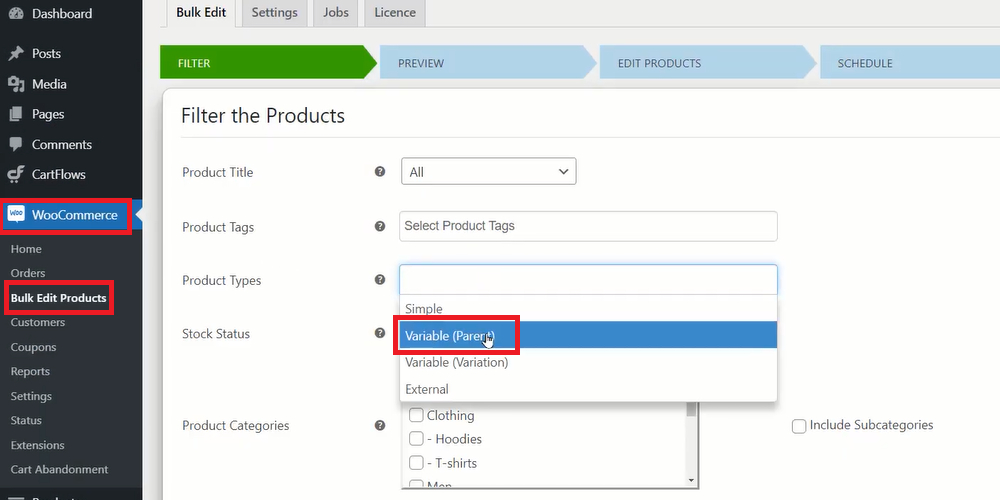 Then, scroll down and select the Preview Filtered Products.
Step 3: Select variable products
A new window will appear on the screen, and you need to unselect the variable products you don't want to add.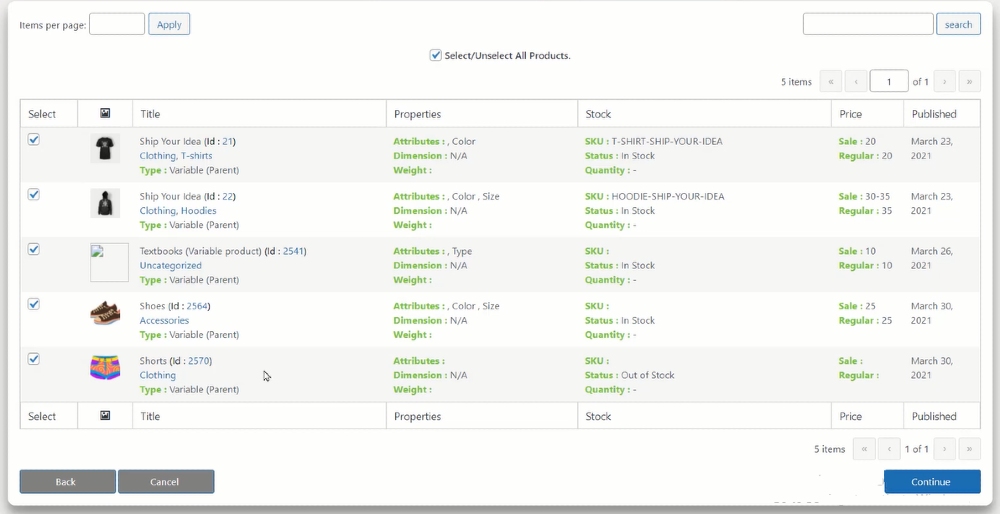 Afterwards, select Continue to move to the next step.
Step 4: Add bulk variations
Scroll down to Create Variations and tick on the box to enable it to create variations.
Then, the sections of Variation Regular Price and Variation Sale Price will be displayed on the screen. Set the price you want for your products. Finally, click on Finish and your variations are uploaded in bulk for your WooCommerce store.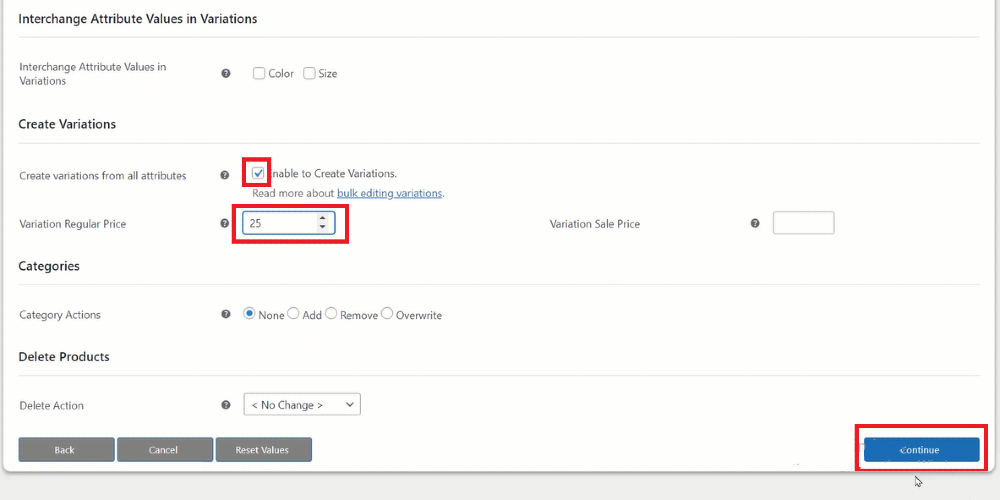 3 Best plugins for adding bulk variations in WooCommerce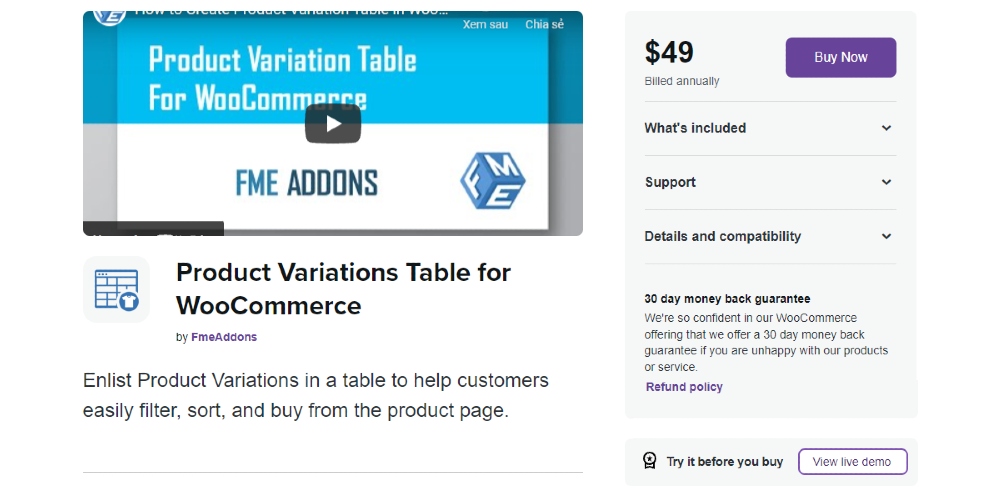 Developed by FME Addons, Product Variations Table for WooCommerce is a powerful tool to add variations in bulk. This extension empowers users to add product attributes and variations then display them in a table. Users can also customize the table layout to make sure that it suits their store theme's style. More than that, it provides them with the filter features that allow merchants to filter and save time selecting the products they want.
Key features:
Display product variations in a table
Add specific attributes and variations to the table
Filter products for faster search
Customize table layout
Extract product variations in CSV, Excel, PDF, or print format
Price: $49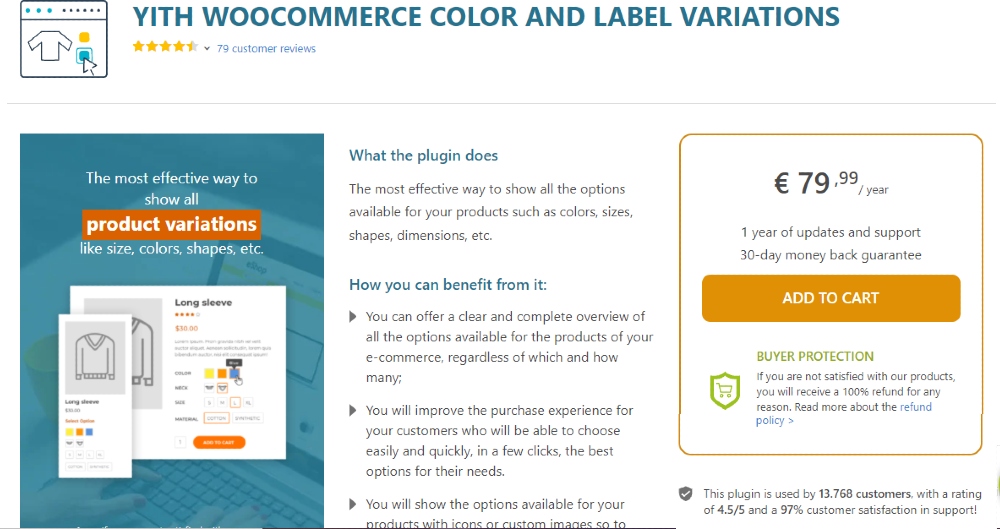 To add multiple product variations in bulk, YITH WooCommerce Color and Label Variations is a smart option for merchants in WooCommerce. This plugin enables users to add as many variations as they want, so they can save lots of time for uploading the variable products. In addition, you can customize the product variation button by changing your own images, swatches, logos.
Key features:
Add product variations in bulk
Customize product variation image, colors, labels, etc.
Add customizable tooltips to specific product variations and attributes
Create image attribute
Offer overview on all options available of the product
Price: € 79,99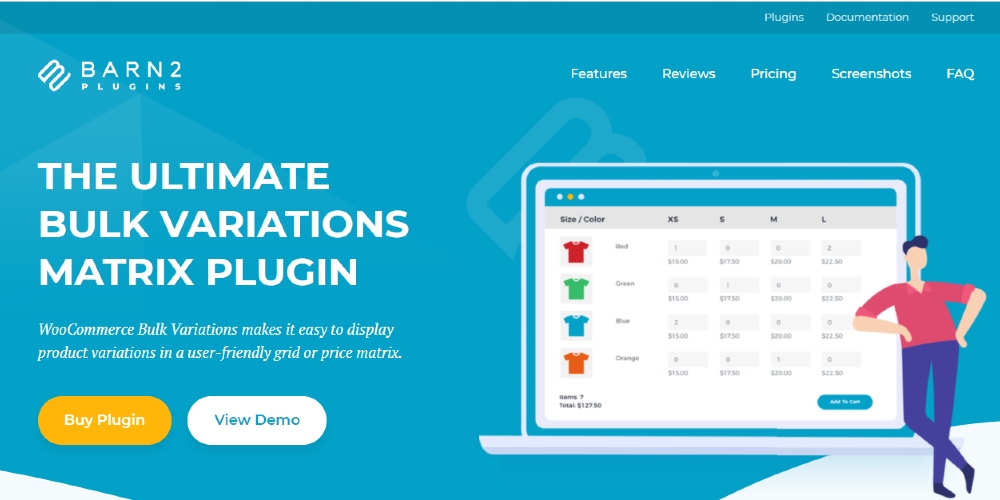 Another plugin for users to add product variations in bulk is The Ultimate Bulk Variations Matrix Plugin. The extension of Barn2 offers users the ability to add and display plenty of product variations in a grid with ease. More than that, users are allowed to showcase all the variations, attribute details, and differences, comparable prices and features which help it easier for customers to compare among different products and select the most suitable for them.
Key features:
Add product variations in bulk
Display multiple product variations in a grid
Offer two unique grid designs
Show all variation product attributes, quantity, stock information, and prices
Allows customers to select different quantities and variations to buy
Price: $79
Final thoughts
Anyone, even freshers, can add multiple variations in bulk for their WooCommerce store with the plugin. Moreover, besides the plugin used in the instruction, you can exploit the three others we recommend. Hope that you will succeed in adding bulk variations and attract more customers to your store.
---
Roger has over 4 years of experience in SEO. While in college, he started learning about SEO and showed a passion for the field. Right after graduation, he embarked on SEO projects and achieved great success. After years of working, he has learned deeply about SEO. Currently, he is the SEO team leader at avada.io