Top 11+ Best Shopify Blogs to Follow in 2023
Mastering Shopify can be a daunting task, especially if you just start stepping into the E-commerce world because the platform is huge. Although you can learn about Shopify on your own slowly and intuitively because the platform is built with non-tech savvy users in mind. It will help you tremendously if there are sources that can provide you with valuable content (such as how-to guides, or tips and tricks) written especially for Shopify.
That is what this article is all about. I have looked for 11 Shopify blogs that will offer you lots and lots of guides on how to master the platform in no time. You will learn about all sorts of necessary knowledge on how to execute sales, marketing, customer service, etc. and that will help you to grow your business efficiently and effectively.
All right, that's enough for the introduction, and now let's get right into the details!
1. The Shopify Blog:
Wanting to learn about Shopify? There's no better place to go than its own blog. The Shopify Blog is a library of insightful content built up by Shopify. It contains tons of tips on SEO optimization, how you can make the most out of immediate promotions, or inspiring examples of successful Shopify-powered businesses worldwide.
What's great about The Shopify Blog is its content is based on real-life examples, so there will be no business buzzwords, but only practical tips that work.
2. AVADA: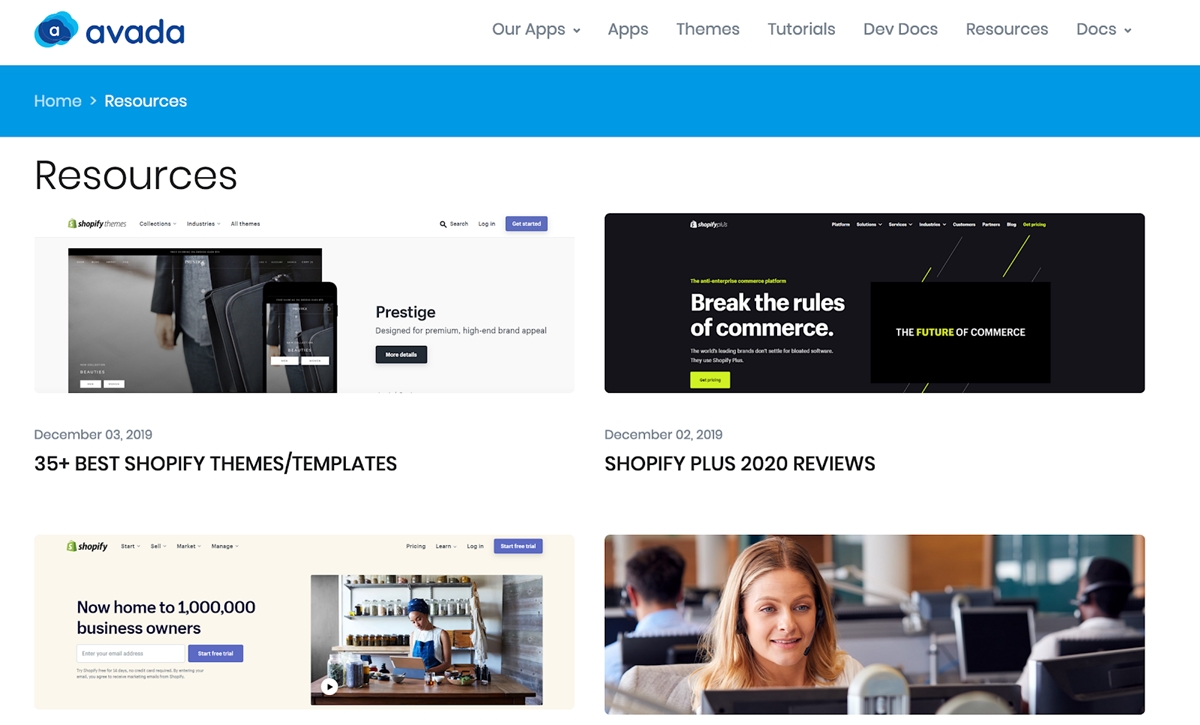 Is it okay to hype our own content hub The AVADA Blog here? I'm sure it is because our content is freakin' great! Our content is all easy-to-consume how-to guides that you will have no difficulty bringing them into use.
We have been spending tons and tons of time building up this library of content that will equip you with practical knowledge to build your Shopify business from scratch up, and our content is Shopify-dedicated. We don't write about any other platform because focus is the only way to make something truly great.
You don't know how to run Facebook ads. Our ultimate Facebook ads guide will teach you from scratch.
You don't know how to run Google ads. Visit our Comprehensive Guide To Using Google Adwords
You're struggling to find a unique name for your brand. This How to name your brand article will teach you everything you need to know about naming brands.
Whatever guide you need to develop your business, there should be an article in our content hub that will help you solve your problem, and if there is not, please leave a comment below and subscribe, the article you request will land in your email in no time!
3. Printful: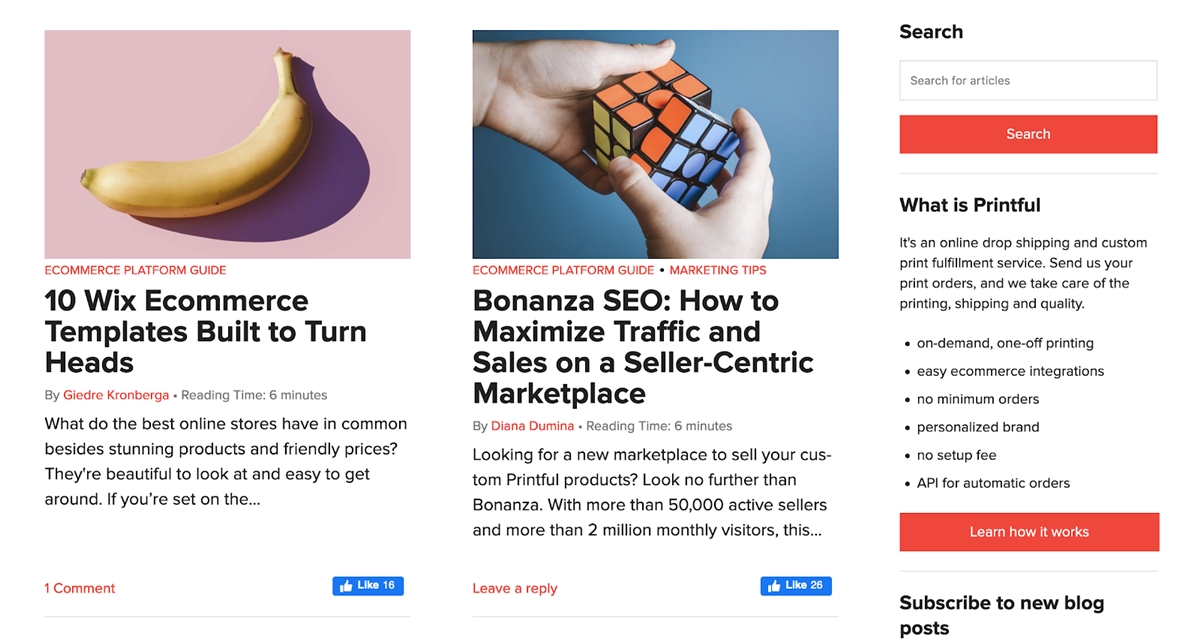 One post at a time, Printful will help you master the art of Ecommerce. What Printful has to offer you the most is marketing tips no matter whether you are a savvy or a beginner, there will be insights from their article that will help you market your business to the public.
Printful is a custom print fulfillment service, so if you are in the fashion industry, they have Style & Trends section dedicated to style and trends.
Scout their blog, and you will find lots of gems!
4. The Genie Lab: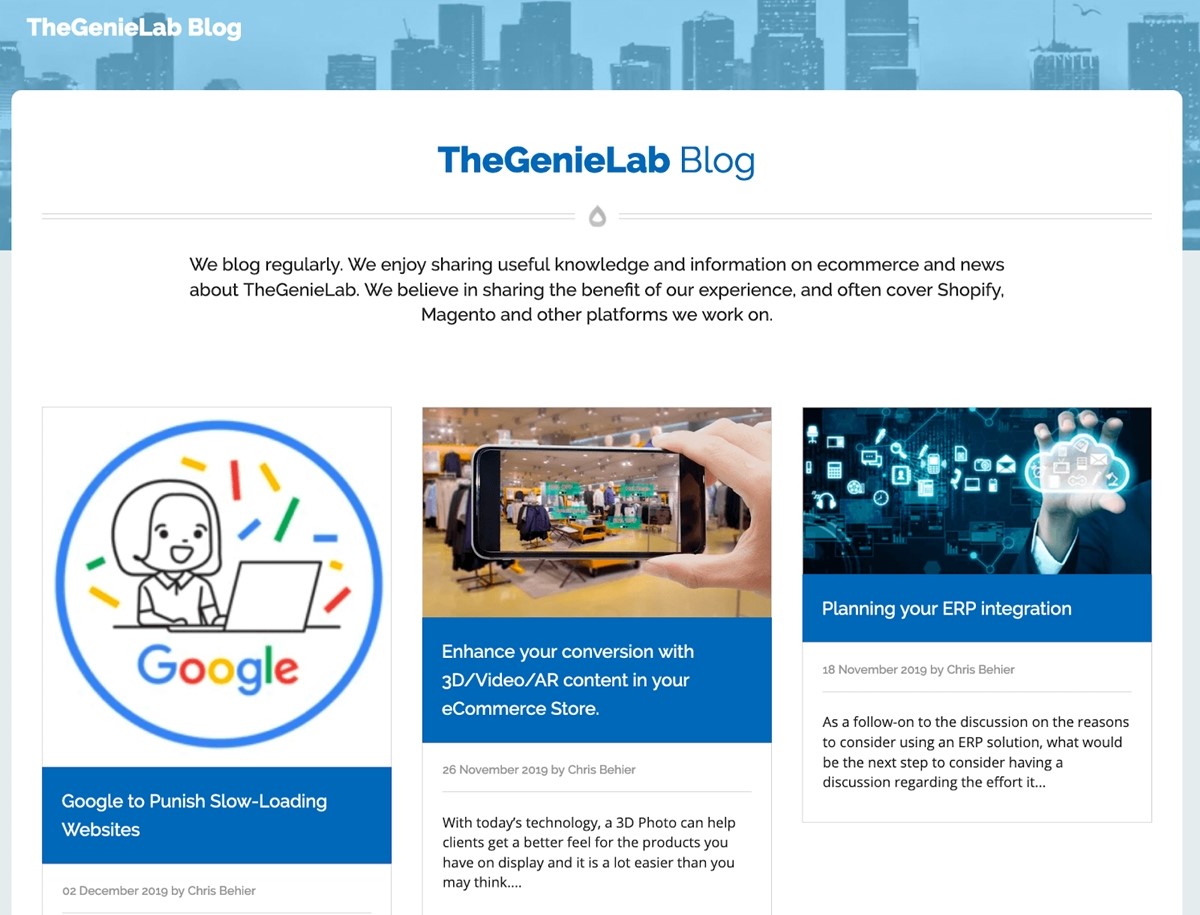 The Genie Lab is an agency that helps entrepreneurs grow businesses. They specialize in web design and development, and they are also experts in app development and API integrations.
Genie Lab blog is updated frequently, and its content focuses primarily on the technical matters of building a business such as security, apps, loading speed, etc., but that is not the only thing they're blogging about. You will find valuable content about other Ecommerce topics such as marketing and sales. Have a look at their blog and discover it for yourself. Also, you should sign up for their newsletters so that you won't miss out on their insightful content.
5. Little Stream Software:
Little Stream Software's blog writes about a wide range of topics regarding Shopify Ecommerce such as cart abandonment, or how to use free samples to attract repeat purchases. What I don't really like about this it is full of words and without any imagery. This makes reading seem more tiring, but there are lots of insights and tips to learn from, so it's worth the struggle.
6. Ecommerce Platform: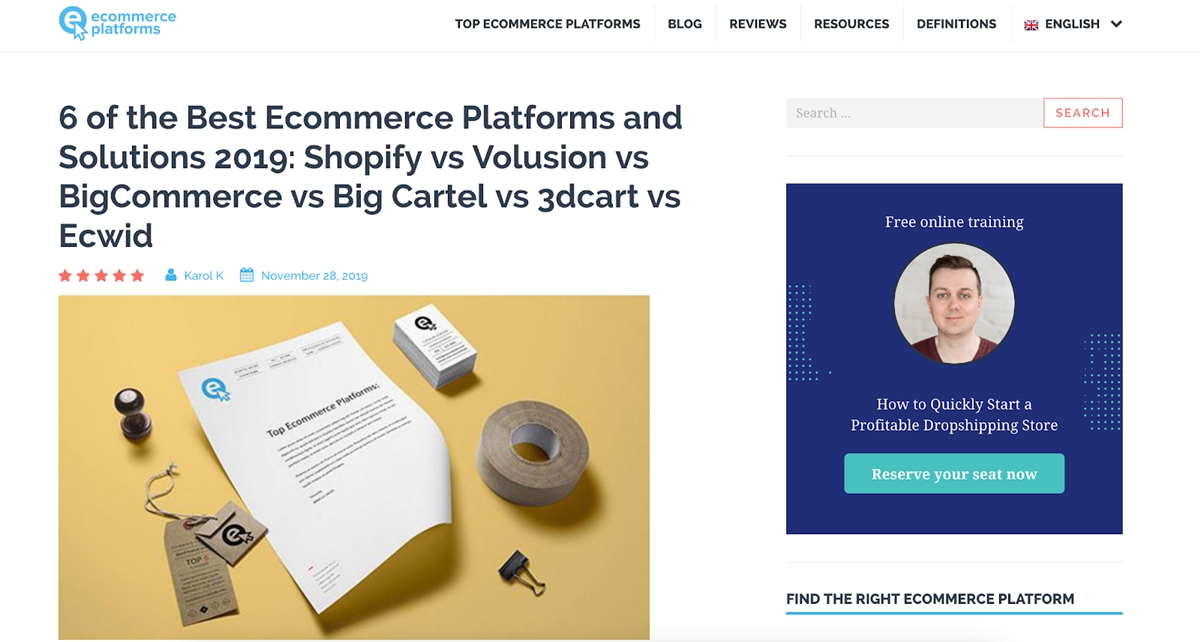 Ecommerce Platform's content hub is huge. There are a wide variety of topics about Shopify and Ecommerce as a whole in this blog that you can learn from. The very one thing that Ecommerce Platform is amazing at is reviewing. They have been reviewing pretty much everything that is related to Ecommerce. They compare Ecommerce hosted platforms such as Shopify, Square and Wix (and many others) against each other so that you can find out which one suits you most.
They also have reviews on payment methods, chatting tools, apps, so on and so forth. So, if you ever need a review about something related to Ecommerce, check out Ecommerce Platform's blog, you will find your answer.
7. Make a Hubsite: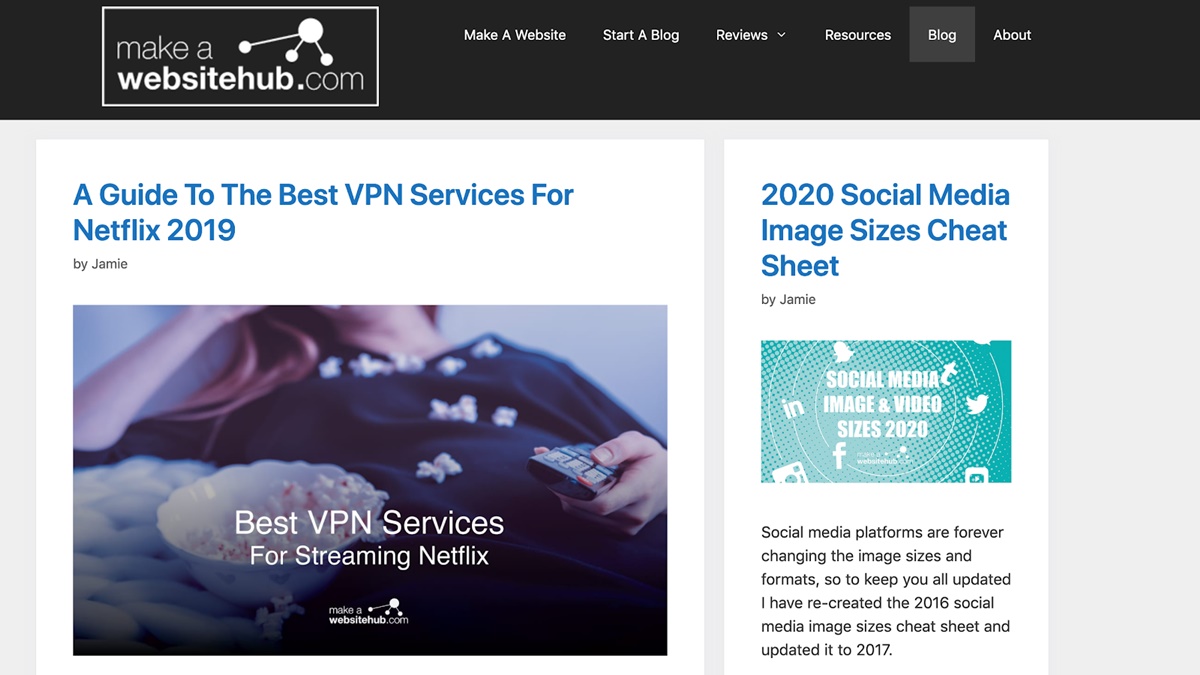 Make a Hubsite is another resourceful blog that you can learn from. What I love about this blog is that they organize their content very well by categorizing it into many different groups such as domain and web hosting, website platforms, or making money online. Have a look at their resources; I believe you will learn a ton from them!
8. We Make Website: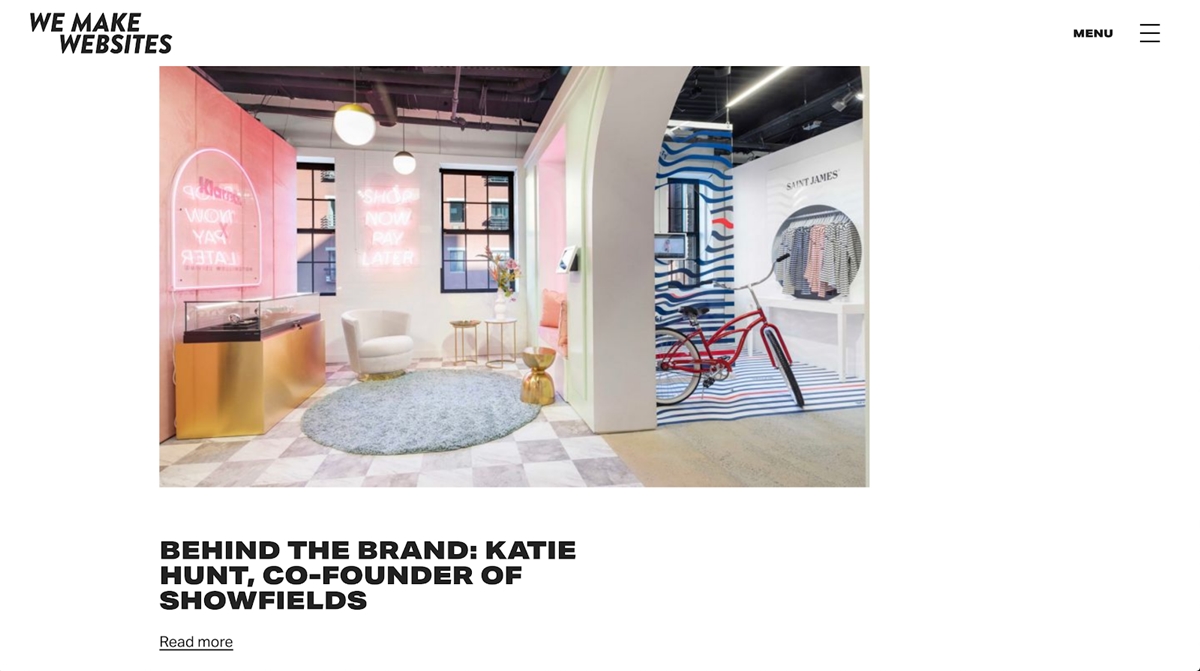 We make Website is an amazing blog about web design. You will find many tips and tricks on how to improve your website outlook. You can also learn about how to boost your conversion rates, how to use apps to improve your customer experience and many more from this blog. Go check it out and grab your pieces of practical advice!
9. Aeolida:

As you can see right there, Aeolidia has a huge library of content of different topics, and it is very well organized with categorization. Their articles are very insightful and easy to understand, even if you are a beginner. Go check this blog out, and you will realize that they offer pretty much all the knowledge that you need to lift a brand from scratch. I adore their branding section!
10. Wordtracker: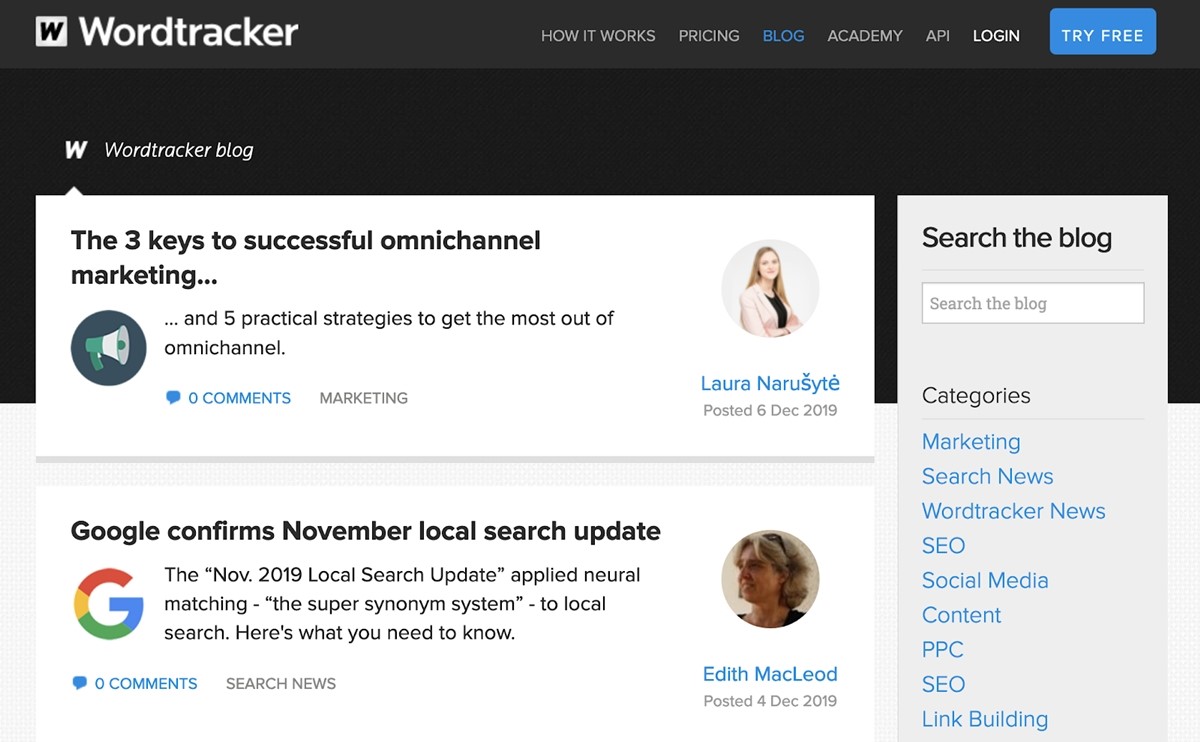 Wordtracker's blog specializes in marketing for online stores, "7 tips to build a killer email marketing list" and "8 simple tactics that top influencers & brands use on Instagram" are among their marketing articles. They also write about many other topics such as optimization, data or video making. Go check them out!
Final words
There's a ton to follow, right? I hope you will spend some time each day to read content from these 11 Shopify blogs so you can keep up with the newest tips, tricks and how-to guides on how to develop a Shopify Business effectively and efficiently. And make sure you sign up for their newsletters so you don't miss anything valuable.
If you know any other blogs about Shopify Ecommerce that I have not mentioned, please leave a comment below. Thanks! :)
New Posts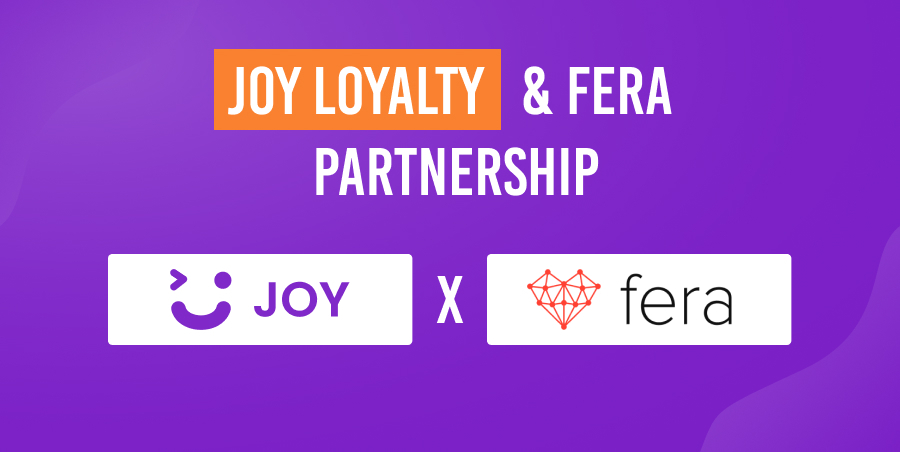 Subscribe
Stay in the know
Get special offers on the latest news from AVADA.
40k
subscribers has been joined!
Earn $10 in reward now!