8+ Best Seguno Alternatives & Competitors in 2023
Email marketing is easily one of the best ways to improve your Shopify store's revenues. For every $1 you spend on email marketing, you can earn $44 revenue in return, based on research. For the past decade, despite the rise of digital channels, email marketing has remained its status as the most cost-effective way to market your brand online.
Fortunately, Shopify owners have a rich app market to find email marketing services with features for target recipients, automation workflows, font customization, email templates, and more. Among those, Seguno rises as a popular email marketing automation software with many cool features. However, it has its weaknesses that store owners may find unsuitable for their businesses.
If you have uses Seguno and are looking for good alternatives, this is the article for you. I have curated a list of the best Seguno alternatives and competitors with details on their best features and pricing. Take a look, and you may find yourself a perfect email marketing app to start the new year!
Seguno introduction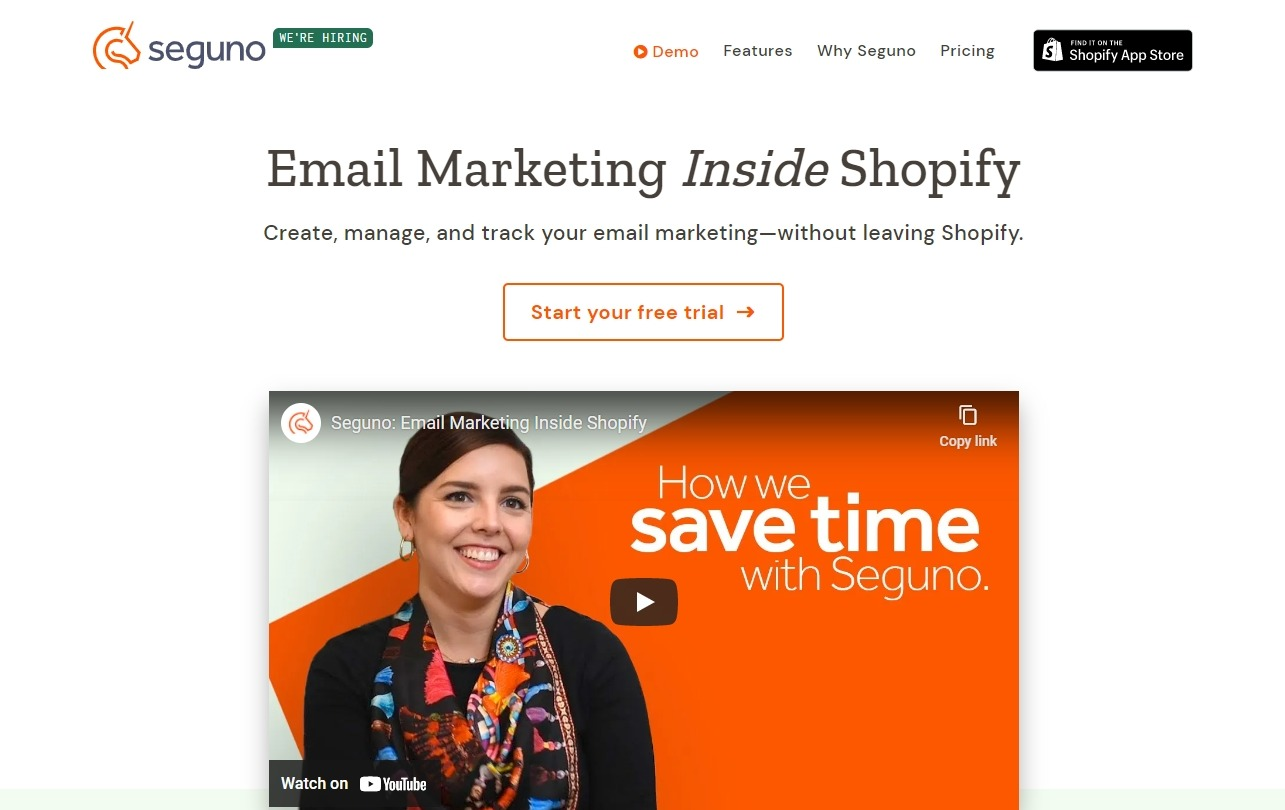 Seguno is an email marketing automation app with a primary focus on the Shopify eCommerce platform.
Seguno has an official app on the Shopify app store for instant integration into your store. It allows users to target and segment customers and see data on revenue coming from each email campaign. Emails can also recommend products based on what customers have viewed in the past, and the email creator has some templates to make sure that the email looks professional.
Many of Seguno's features are migrated into your Shopify dashboard when installed so you can work from just one module. It's a nice feature to sync data between the two apps, like including a discount code that you can place in an email and offer it through the online store as well.
That said, Seguno has three biggest disadvantages that can turn users away from using the app, even after having bought a paid plan:
Support: When you install an app on the Shopify app store, you should be able to expect support in case you need help or don't understand a feature. Many users have raised concerns of the waiting time for Seguno team to respond to users. On their homepage, I could find an email address and Help Center, but no option for live chat or direct call. Some Seguno alternatives can provide a better support with more immediate response time, helping users in need more quickly.

Features: Seguno was built with small companies in mind, helping them build automated small campaigns with little learning curve. However, Segun may lack necessary features when a business gets bigger with an expanded email list, since the number of email templates and customization capabilities still needs more improvement.

Pricing: Seguno has a simple pricing model which uses subscriber counts to dictate how much users should pay. However, this is a drawback for small companies too because if they experience sudden growth, they will see a sudden spike in email marketing cost as well. For example: users only need to pay $10 per month for 1,000 subscribers, but with 50,000 subscribers, users would have to pay $500 per month. Seguno competitors in this list have a better pricing model which will increase gradually and logically with the email list, which doesn't break the bank for a small business.
Best Seguno alternatives & competitors
Since there are literally hundreds of email marketing tools available on the market right now, it can be hard for you to pick a good alternative for Seguno. So I have hand picked the best Seguno alternatives and competitors in this section, especially for Shopify store owners. Each has its own pros and cons but offers a better solution for email marketing that you can find on Seguno. Let's check them out!
1. AVADA Email Marketing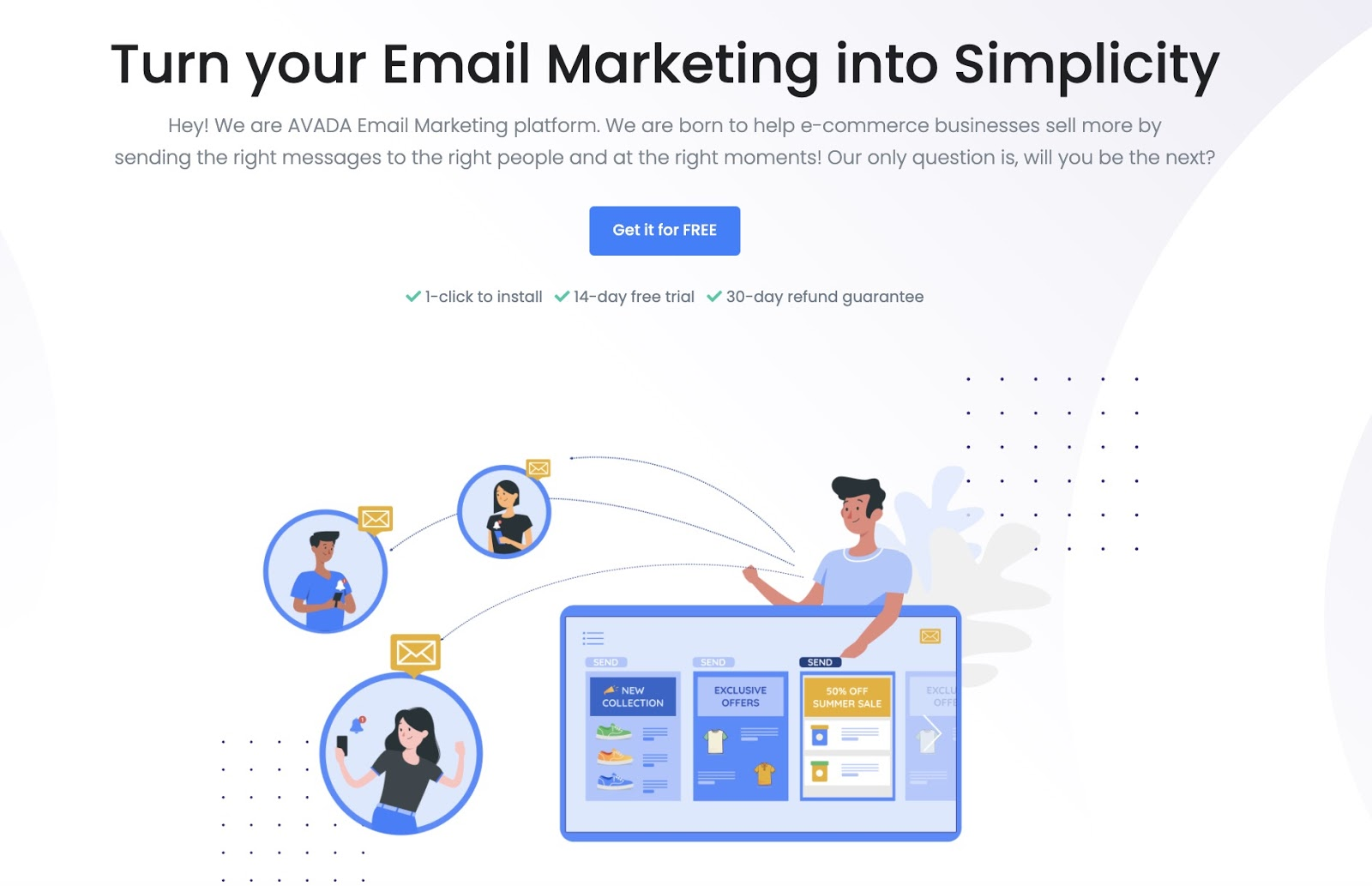 As a newly developed and reliable email marketing platform, AVADA Email Marketing is a great alternative to Seguno. The solution lets you customize each element of your emails by dragging and dropping or by HTML codes so you can edit down to the level of pixels. You also have all the features you need to run a successful email marketing campaigns at any stage of your business, such as:
Audience segmentation
Email templates for different occasions
SMS marketing
Workflow split
Abandoned Cart Recovery email
Cross-sell, Upsell Emails
Newsletter Popup
Spin to Win
In-depth reports
Auto-sync customer data
Different from other email marketing tools in this list, AVADA Email Marketing has built in lead magnets in forms of popup and spin to win, completing your strategy of growing the email list. You can customize these lead magnets to suit your brand's website and expect a constant rise in the number of subscribers through time.
There is also a feature for SMS marketing, expanding considerably the reach of a business. When you combine SMS with email marketing, you can make sure that your campaign has the best channels to contact consumers.
Pricing:
AVADA Email Marketing's pricing is free to start using with up to 1,000 contacts and 15,000 emails per month. For the Pro plan, you can send unlimited emails to 1,000+ contacts per month. Compared to using Seguno with $500 for 50,000 contacts, you only have to pay $277 per month by using AVADA Email Marketing. If your email list is larger than 200,000 contacts, you can contact to have a custom pricing. From the Pro plan, you will have live chat support and even prioritized live chat support for the Enterprise level.
Reviews:
The reviews for AVADA Email Marketing on the Shopify app store is great too with it having a 4.9 star rating at the moment. The app is also suitable for stores on other platforms, and it has actually gained trust from more than 37,000 merchants worldwide. If you need an easy to use email marketing app with great features, look no further than AVADA Email Marketing
2. Omnisend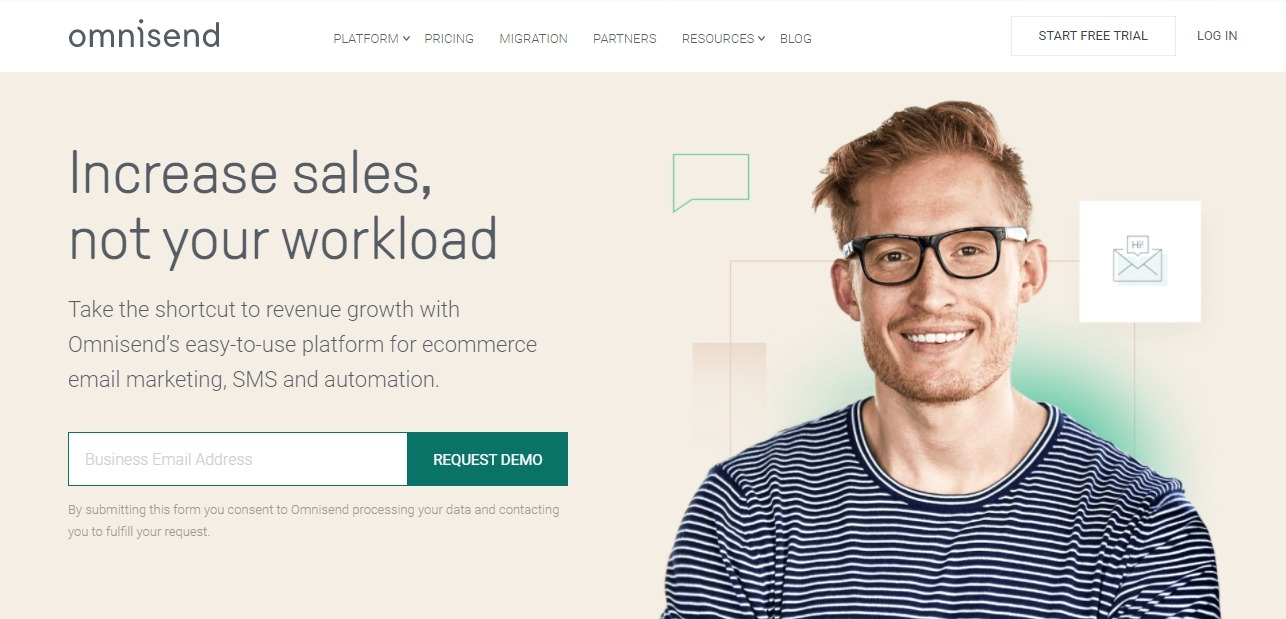 Omnisend email marketing platform combines multiple marketing tools into one for Shopify store owners to have a robust email solution. You get access to standard email marketing, along with a drag-and-drop email builder and coupon modules that can sync with your in-store items.
Omnisend also has an SMS marketing automation but with an additional fee. For email marketing, Omnisend has all the essential eCommerce automation features, from abandoned shopping cart email to transactional messages. You can improve your email effectiveness by targeting the right groups and building newsletters for your blog posts.
Pricing:
Like other apps, Omnisend prices vary based on the number of contacts a store has and whether users use a monthly or yearly plan. The prices get higher for more subscribers and the number of emails to send. Here is the complete pricing:
Free - $ 0 to send 15,000 emails per month. This includes email sign-up forms, pop-ups, email campaigns and reports. Automation is not included.
Standard - $ 16 per month to send 15,000 emails per month, including SMS campaigns, email automation, audience segmentation, and 24/7 support.
Pro - $ 99 per month to send 15,000 emails per month, including web push notifications, Google customer matching, Facebook custom audience, priority support and advanced reporting.
Business - Custom pricing to send unlimited email per month, including email account migration, custom IP address, dedicated account manager, and support for sending capabilities.
For example: If you have 50,000 subscribers on your list, you would need to pay $680 per month if you use Omnisend
Reviews:
The overall rating for Omnisend is 4.7 stars on the Shopify app store. Most of the reviews are positive, however, some users found the pricing to be too expensive and left complaints on the product page.
3. Klaviyo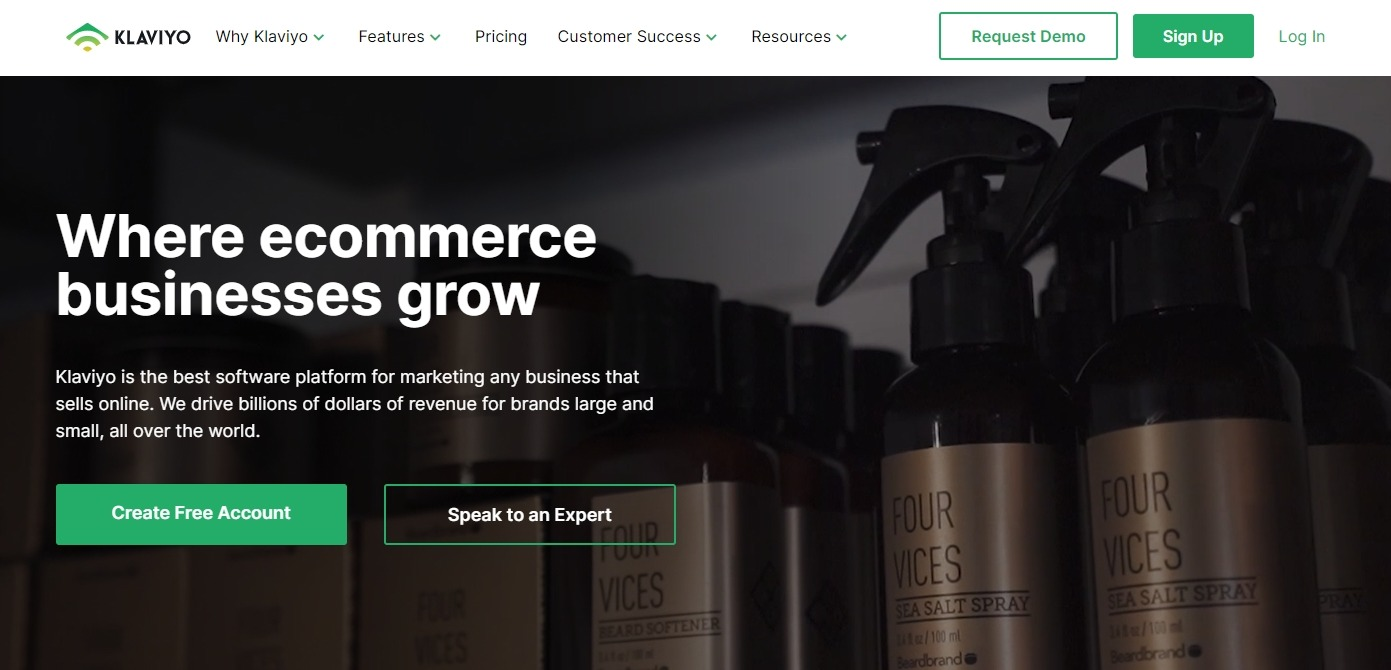 Klaviyo provides an email marketing platform for growing your brand and analyzing the data gained from the email marketing efforts. This is a highly reputable data-heavy solution in the eCommerce world, seen most automated devices focus on sending alerts for shipped products, abandoned carts, and returns.
Klaviyo is suitable for Shopify store owners, along with options for WooCommerce, BigCommerce, and more. It also has pop-up forms to convert visitors, while the customer profile is convenient to capture information and use that data to make better marketing decisions.
Pricing:
Klaviyo offers both SMS and email marketing. Email packages' pricings are calculated based on the number of contacts you have, while SMS packages are calculated based on the number of messages sent.
Here are the detailed pricing for Kalviyo:
Free - $0 for up to 250 contacts and sending 500 emails. Email support is provided.
$20/month for up to 500 contacts and sending unlimited emails. Email and chat support is included.
$30/month for up to 1,000 contacts and everything from the previous plan.
$45/month for up to 1,500 contacts and everything in the previous plan.
$700/month for up to 50,000 contacts and sending 500,000 emails.
As you can see, for 50,000 contacts, you would have to pay $700 per month, which is by far the most expensive option in our list.
Reviews:
Klavyio has an overall rating of 4.3 stars on Shopify app store. This is relatively low and I saw many user complaints about slow service or unfriendly user interface. One thing that lets me down is that Klavyio didn't respond to bad reviews on their product page, which can leave a bad impression on the company's handling of complaints.
4. Privy

Privy offers Shopify store owners a comprehensive set of tools for pop-up coupons, email marketing, advertisements and SMS messaging. The app also has modules for best-sellers and shopping cart recovery to increase profits and bring people back to your store.
Once installed, Privy would sync your products with premade coupons, pop-ups, and email marketing campaigns. Your conversion process starts with pop-up templates that show up on your storefront and convert visitors into email subscribers. Then, automated email campaigns made with Privy would send out your newsletters and promotions.
Pricing:
Privy has a straightforward pricing plan in which each conversion tool is sold separately. Each of the plans increases in price based on the number of contacts you have. Since this article focuses on email marketing, here is the base price for the Privy email plans:
$13/month for up to 1,000 contacts, including newsletters, promotions, abandoned shopping carts, coupon reminders, automated email sequences, order tracking, and unlimited email sending.
$15/month for up to 2,000 contacts, including everything from previous plans.
$55/month for up to 10,000 contacts. There are pricing packages below this and above this one.
$255/month to have an eCommerce trainer and supports up to 50,000 contacts.
The Privy Convert package (for pop-ups) is free to start using with up to 5,000 pageviews per month. Privy Text starts at $10 per month to send up to 600 texts per month to 1 contact.
Reviews:
On the Shopify app store, Privy is currently having a 4.6 star overall rating, having mostly complaints about their pricing model which can get confused sometimes for people using multiple services together. I get it, though, since setting up an email marketing campaign often involves using popup forms. If users suddenly see more cost because of this, they may walk away thinking they are paying more than they need to.
5. Sendinblue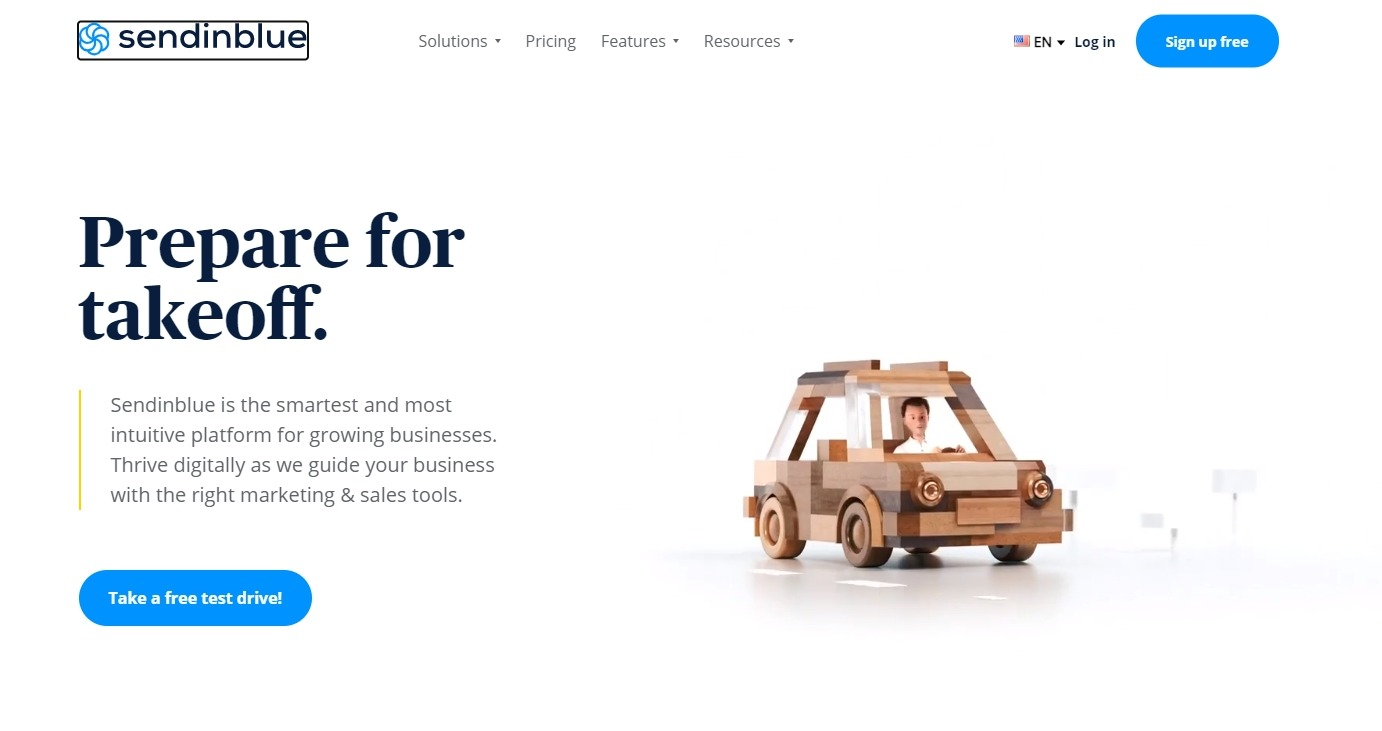 Sendinblue is known for making it easy for users to synchronize contacts and collect data to send that information to your customers. Multichannel communication is great for transactional emails and viewing your email data on the backend of your Shopify store.
Shopify and Sendinblue work well together to send automated emails campaigns based on what customers bought on your website and whether they are coming back to buy more or not. However, the interface isn't as clean and modern as other competitors on the list, but you can still create automated workflows and choose professional-looking templates
Pricing:
Sendinblue has a free plan and several other options to choose from based on the number of emails you plan to send. Here's what you will pay if you subscribe to Sendinblue:
Free - $0/month for up to 300 emails per day and unlimited contacts. Features are limited, but you still have access to transactional email and some marketing automation processes.
Lite - From $25/month for 10,000 emails sent each month and no daily sending limit. Adding elements like A/B testing and advanced stats to your dashboard. The price increases as you add more to themonthly sending limit.
Premiums - From $65 per month for 20,000 emails sent. The price will go up to add more emails. Some of the new features are landing pages, phone customer support, multi-user access, marketing automation, and retargeting ads.
Enterprise - Custom price for new features like priority sending, a customer success manager, premium user access, and the option to customize your email quota.
SMS sending is also available if you use Sendinblue. Prices seem to change from time to time, but the rough estimate is around $1 per 100 messages.
Reviews:
The reviews for Sendinblue are a bit bad, in my opinion, as they only have a 3.9 star rating on the Shopify app store. There are some complaints about the app being slow and unresponsive. I don't see the team responding to negative feedback as well. I hope they can improve their customer service in the future.
6. Consistent Cart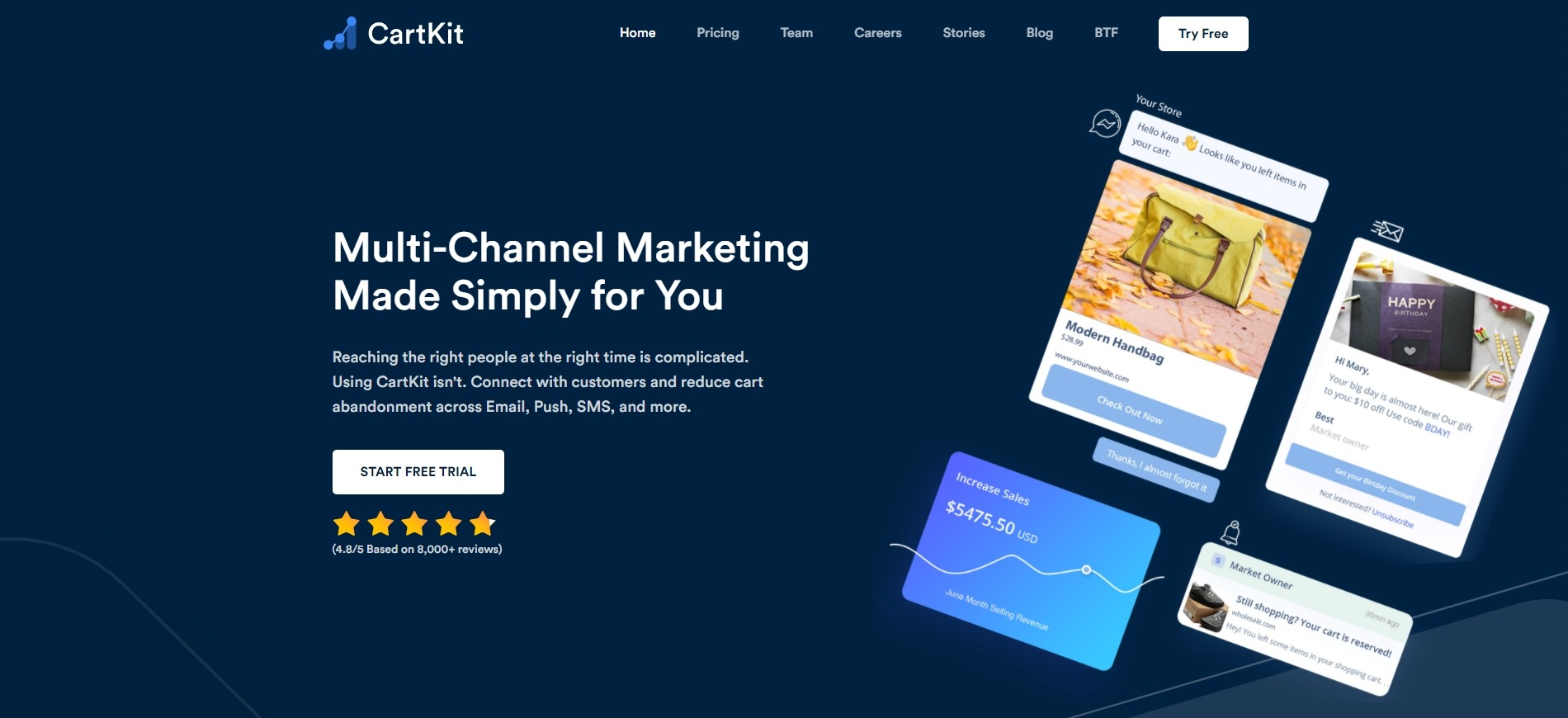 Consistent Cart covers many functions outside of email, including Facebook Messenger marketing, push notification marketing, and more.
The many aspects of email marketing it has makes it a great option for your website. For example, the app can send Happy Birthday emails including coupons to help convert customers on their special days. Alternatively, you can create cart abandonment email campaigns to get customers back, or send thank you emails to improve sales.
One of the best aspects of this app is that it includes a detailed information pop-up about recent sales made on your store. This creates a fear of missing out on your online store's visitors and can improve in-store conversions. If you want to try this feature for free on your website, you can check out our app AVADA Sales pop.
Pricing:
Basic: Free to install but no feature for email marketing
Pro - $29/month to have abandoned cart emails, popup, sale pop, email notifications, happy birthday emails, thank you emails, email editor, and more. The more extra sales you gain, the higher the price gets.
Reviews:
Consistent Cart has an overall rating of 4.8 star rating on the Shopify app store and is a good alternative to Segnuno because it provides more tools to convert visitors and has a more friendly interface. However, its email marketing still needs some improvement in my opinion.
7. CM Commerce Email Marketing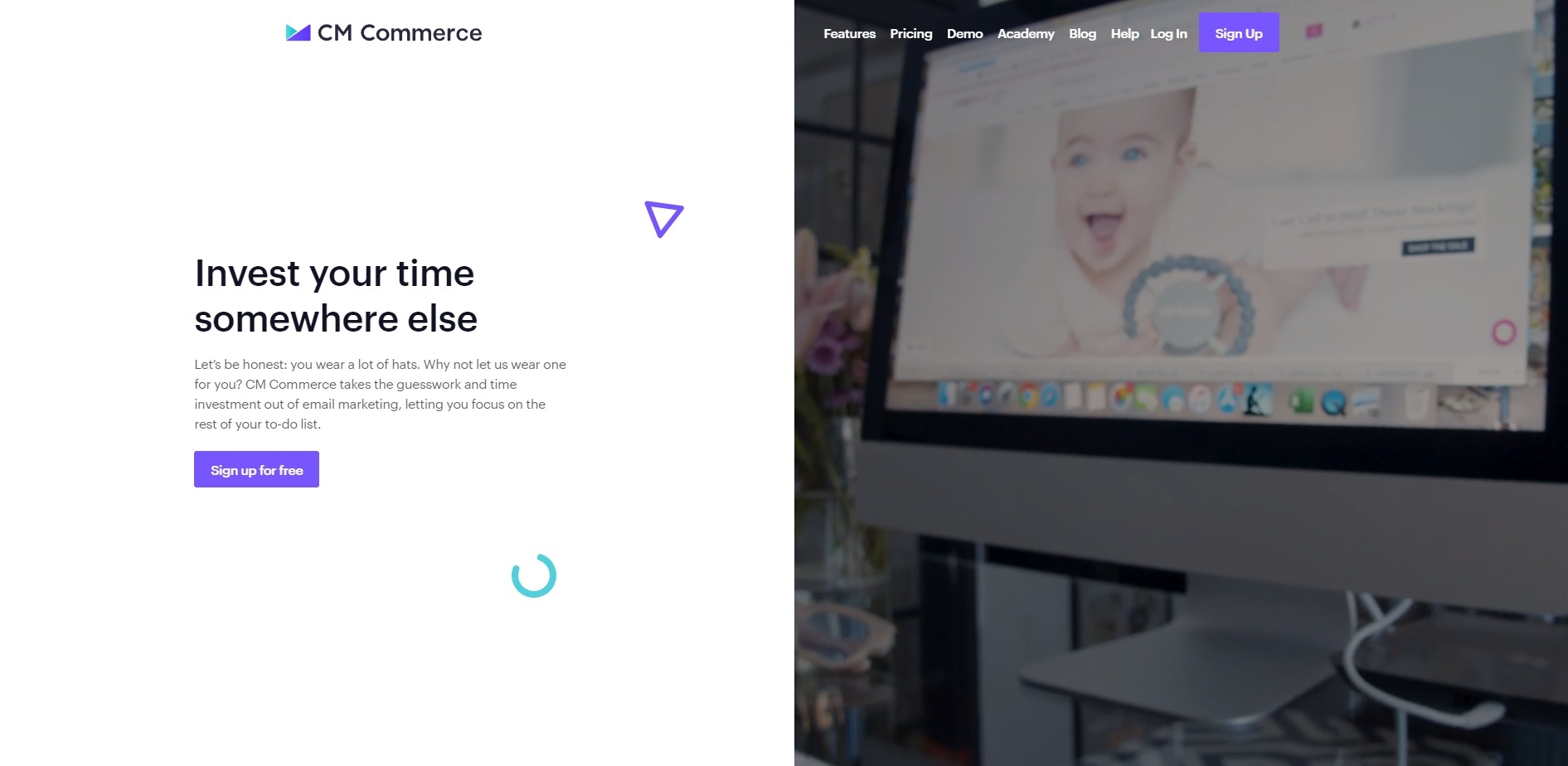 CM Commerce Email Marketing can quickly integrate with your Shopify store so you can get your new campaigns up and running. Of course, you can set up awesome automated campaigns that make the most out of your email list. With powerful segmentation options, the app helps you target customers with relevant offers and information and not send information to people who are irrelevant.
With the time saved through automated email campaigns, you can take care of your existing customers better to increase your sales and buyer lifetime value. Additionally, you can restore abandoned shopping cart emails to bring back potential buyers who had been interrupted during their purchase.
CM Commerce Email Marketing has all types of email templates you need, such as receipts, abandoned carts, follow-up, newsletters, product reviews, feedback, and more. Focusing solely on email marketing makes this app a good option to start with email marketing.
Pricing:
The app is free to install, and paid plans start at $9 per month. The price goes up based on the number of subscribers that you have on your list. For example, if your list has 50,000 to 75,000 subscribers, the price for the starter plan is already $699 per month. This pricing model makes CM Commerce Email Marketing one of the most expensive solutions on the market.
Starter: From $9 per month to send 5,000 emails to 500 people
Growth: From $29 per month to send unlimited emails to 500 people, adding visual product reviews, customer feedback surveys, social proof widgets, and Facebook audience sync.
Professional: From $49 per month to send unlimited emails to 500 people, adding priority support, a dedicated account manager, and onboarding consultation.
Reviews:
On the Shopify app store, CM Commerce Email Marketing has an overall rating of 4.6 stars. Most complaints come from the pricing model, which can feel overpriced if users can receive the support or features that they expect for such an amount of money.
8. Jilt email marketing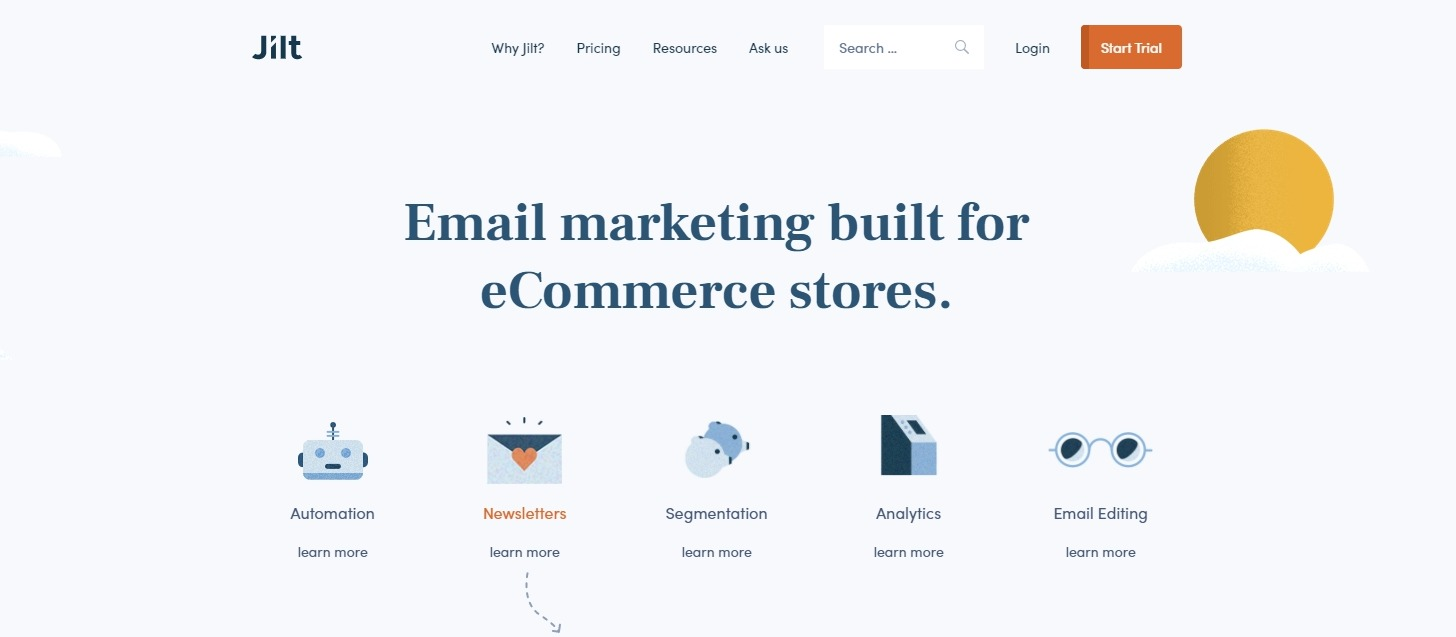 Jilt is a good Shopify email marketing app with many cool features that can increase customers' spending on your website. The developers claim that other major brands like The Economist and Tastemade use Jilt to automate their email marketing.
Jilt helps handle abandoned carts by sending emails to remind customers about their shopping carts and you can also send discounts offers. To make sure you're maximizing the recovery, the app has unique pop-ups that can collect emails from visitors as well.
When you want to increase customer engagement, there are plenty of options for you. You can ask for feedback, reward VIPs, and automate the customer lifecycle using emails. You can also create data-rich transaction emails like delivery confirmations and order receipts.
Pricing:
Free to start using with up to 300 active contacts and 600 emails per month. Growth plan is $29 per month with up to 1,000 active contacts and unlimited campaigns and emails.
For 50,000 active subscribers, you will need to pay $529 as the calculator on Jilt's pricing page suggests. This is a fair price, but you can still get a better deal with other options on this list.
Reviews:
Jilt has an overall rating of 4.7 stars on the Shopify app store with 665 reviews. It is a relatively new app, and I think there are many opportunities to have more advanced features. Let's just wait and see how their pricing would change over time.
Final words
Hopefully with my reviews and in-depth analysis of these eight best Seguno alternatives and competitors helped you pick your ideal tool for your online store's email marketing efforts. If you are still wondering what to choose, check out our other articles on email marketing tools for Shopify stores.
If you have any questions about Shopify's email marketing apps or setting AVADA Email Marketing, let me know in the comments. Also, feel free to share your favorite email marketing system for your Shopify store!
New Posts
Stay in the know
Get special offers on the latest news from AVADA.