Push Notification vs. In-app Notification: How Are They Different?
Quick question: Can you name a mobile application that doesn't send any interactive notifications to its users?
We believe that such applications don't exist any longer!
It's hard to imagine the modern world without push notifications and in-app notifications.
While push notifications already appear everywhere, their closest relative - in-app notifications - receive significantly less attention. That's sad because in-app notifications can play a vital role in the user's decision to stay with the app or not.
So, to give you an in-depth understanding of both types, we're going to find out how push notifications and in-app notifications are different. Besides, we are also highlighting their different use cases and how to use both of them effectively.
Let's get started!
What is a push notification?
Let's be honest, when we mention mobile app messaging, we all assume that we're talking about push notifications. But in fact, push notifications are essentially the standard run-of-the-mill messages that app users receive even without interacting with your app.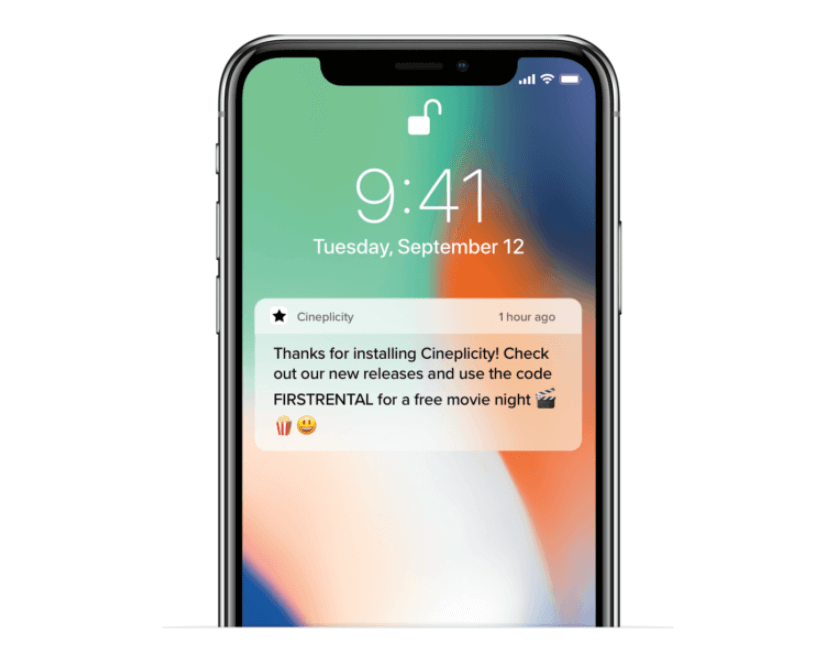 They often pop up on your screen or notification tray, and alert you of any ongoing activities. Pretty much all mobile marketers take advantage of push notification marketing because it is easy to implement, and it's an industry standard.
What is an in-app notification?
On the other hand, in-app notifications (or in-app messaging) are messages that users get inside the app after they've opened it. They can be used to better onboard new users, draw attention to new features, highlight special offers, and much more.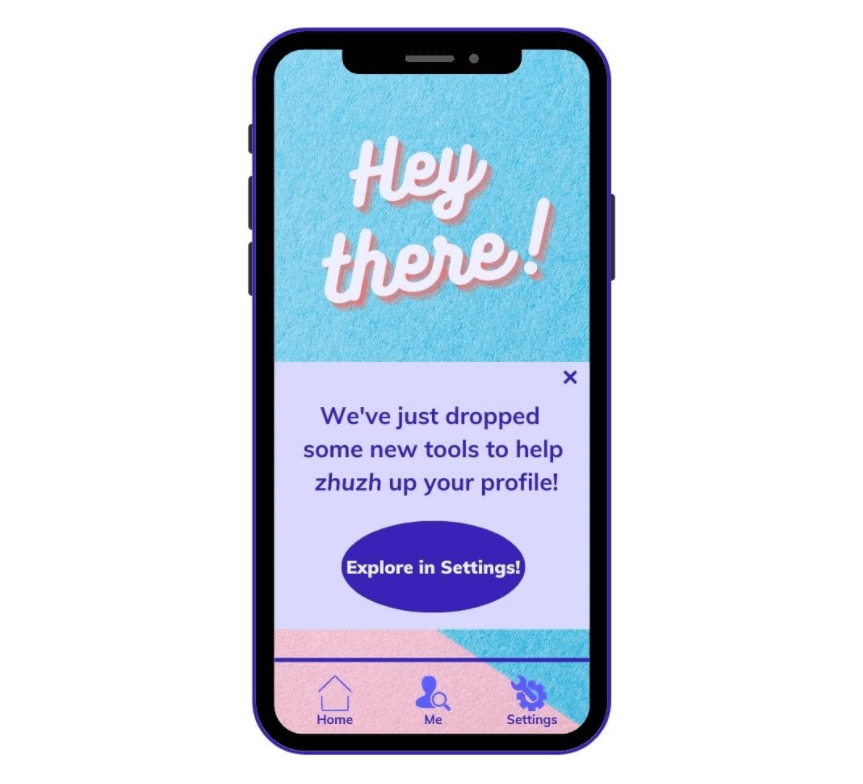 In-app messages are more context-specific and target the audience based on their habits and interactions. They are fairly new as a mobile marketing strategy, but they're gradually gaining steam as they offer granular targeting of users.
Some statistics floating around the industry say those who use in-app notifications realize around 30% increase in uptake of app launches and a massive four-time increase in app retention.
Push notification vs. In-app notification: Key differences
Note: Too busy to read all of the details below? We've summed everything up in a comparison table. Check it out!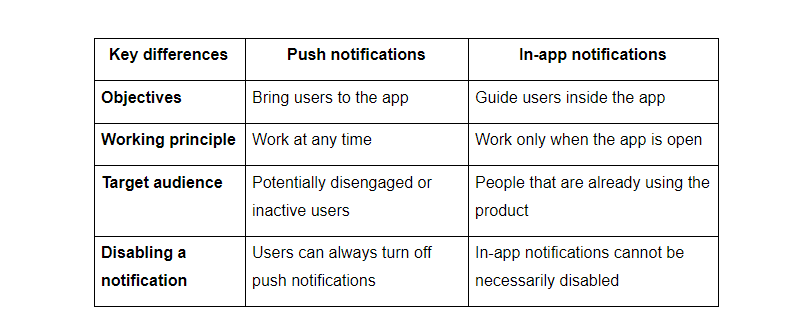 In addition to their location (outside vs. inside the app), push notifications and in-app notifications differ from each other in the following points:
Objectives
You can think of the role of push and in-app notifications as a relay action, with one leading the way for the other. Push notifications let users engage with your app, while in-app notifications take the interaction further - quite like transitioning through the stages of a sales funnel.
So, it can be said that push notifications help with app user retention. Think of a user who is growing cold towards your brand and app. You can use push notifications to communicate with them and reel them in through different mobile marketing strategies. But you need to send the right push messages at the right time to maximize impact and obtain the desired results.
Meanwhile, in-app notifications are more likely to interact with people who often engage with your app. And because they are not often limited by word count, you can design longer copies and add visually appealing elements to make them more attractive.
While you can customize both, push notifications and in-app notifications, the latter makes messages more relevant for your target audience as it's a direct result of the user's actions.
Working principle
Below are the different delivery mechanisms of how push notifications and in-app notifications work:
Push notifications run on Operating System Push Notification Service (OSPNS) that ties up provider servers to the app via an OS-linked network of the device. Even when the app is closed, delivery of push notifications takes place.

In-app notifications are integrated within the app itself, and as such, are an essential part of the user experience. So, the notification delivery takes place internally and only when the app is opened.
Target audience
Push notifications often drive inactive or disengaged users towards using the app. On the other hand, in-app notifications appeal to people that already use the product.
Disabling a notification
You can turn off push notifications through device or app settings, while in-app notifications, being a part of the app UI (User Interface), cannot be necessarily disabled.
Given the point-by-point differences between push notifications vs. in-app notifications, it may be quite clear when to use what. Nevertheless, to help you understand more about both of them, we've listed some conditions and use cases regarding when you should use push notifications and in-app notifications.
Use cases of push notifications
As we mentioned earlier, push notifications let users re-engage with your app, improve open rates, and prompt immediate actions. When it comes to push notifications, marketers have to be careful regarding the content, timing, and frequency. Sending too many push notifications can backfire as users uninstall your app for good.
With these things in mind, here are some use cases of push notifications in mobile marketing strategy.
Transactional push notifications
Notifications about order placements, delivery status, abandoned carts, payment success/failure, etc., are best served as push notifications because they need users' immediate attention.
Event-triggered push notifications
From stock alerts to cart abandonment, push notifications drive app users to return and review their activities.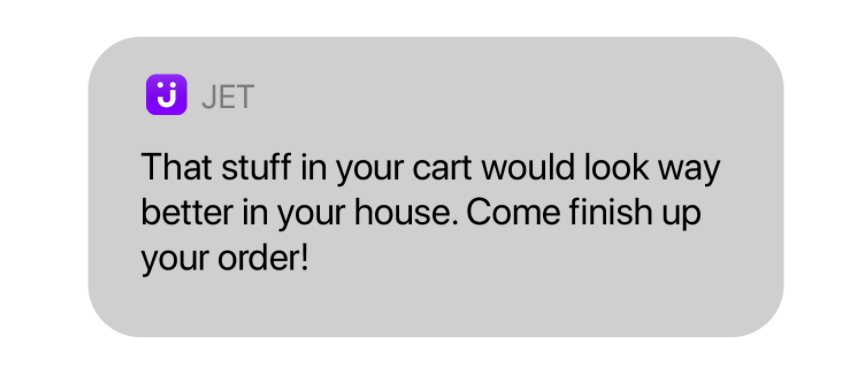 Promotional mobile marketing
Push notifications carry out the most basic mobile marketing tactics, such as delighting your customers through special promos, offers, and discounts. You can even use push notifications in order to promote the app itself.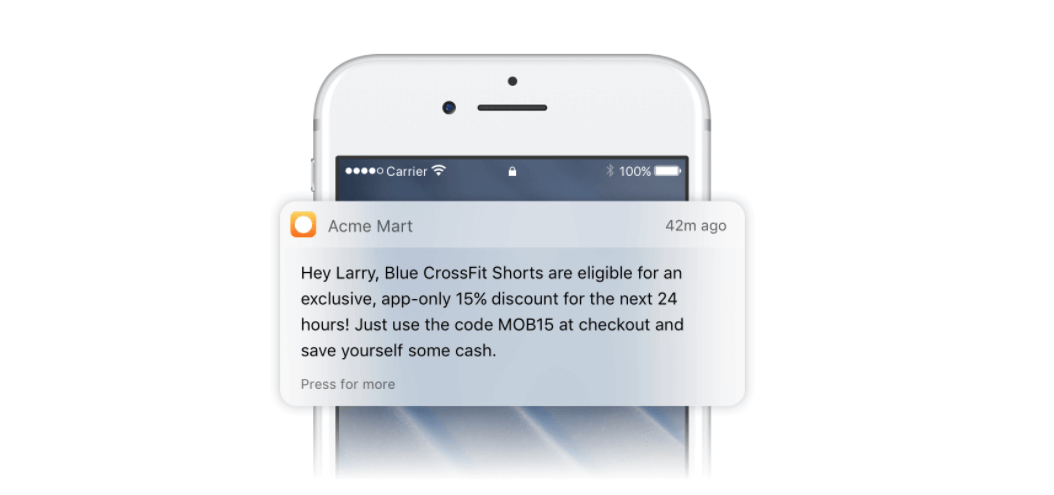 App reminders
Marketers can deploy re-engagement strategies to lure in disengaged or inactive users through actionable CTA-loaded push notifications that allow single-tap action.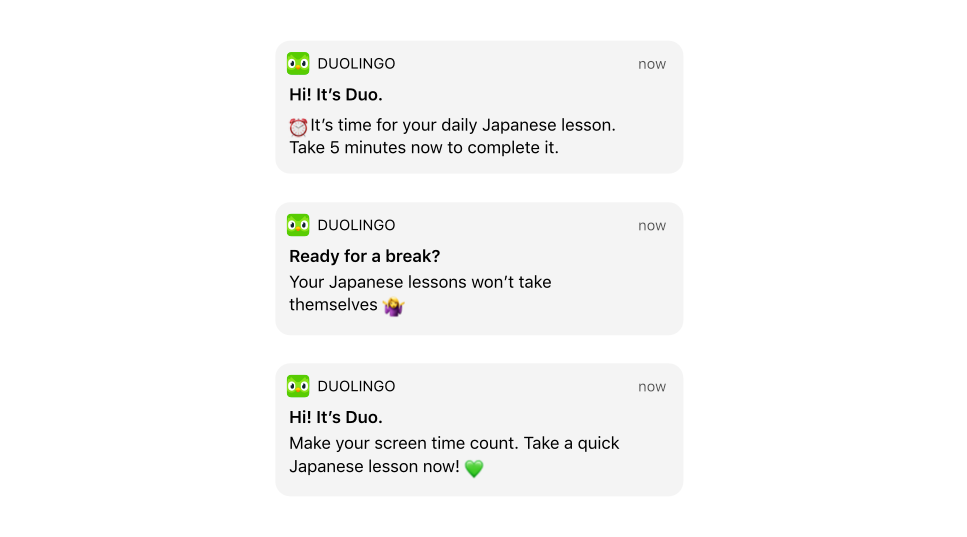 Geo-location push notifications
You can use the device's physical location in order to act as triggers for push notifications, such as ongoing events, weather or traffic updates, check-ins, and sales.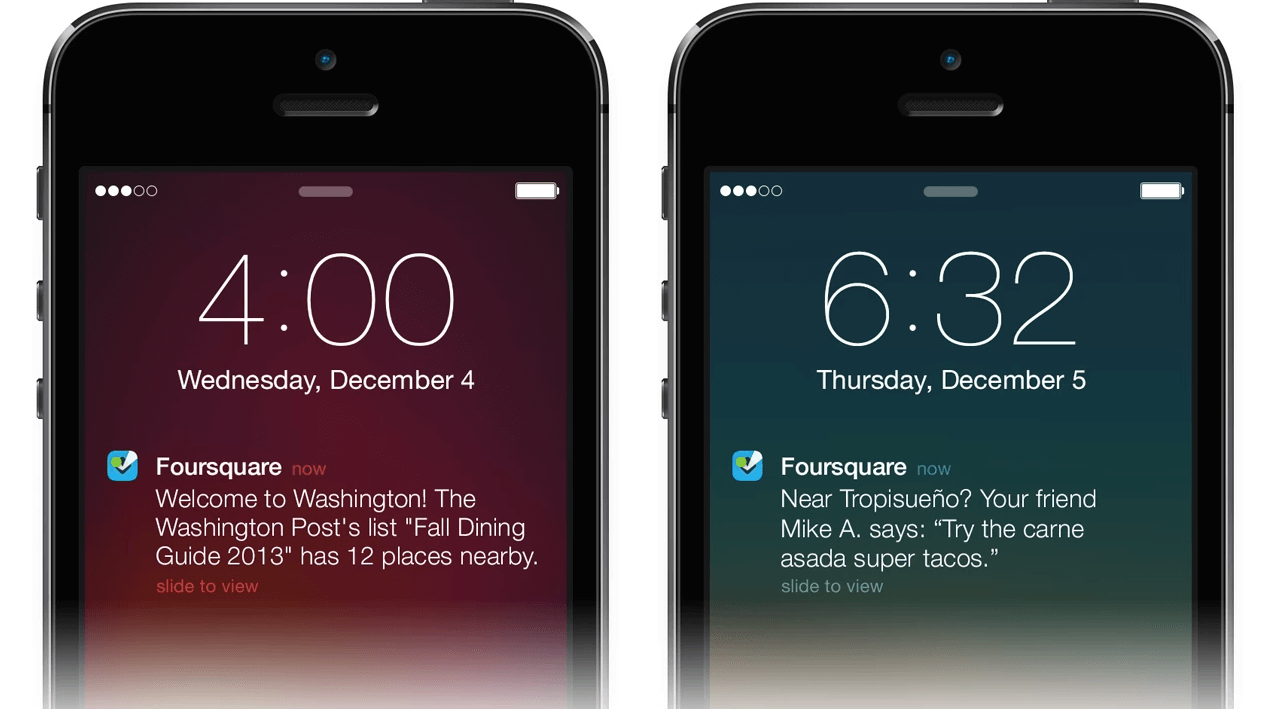 Use cases of in-app notifications
In-app messages, as you know, work best for people that actively use your app. You can use them to increase in-app session time as well as nurture customers in the process.
Below are some use cases that marketers can power up engagement rates through in-app notifications:
Onboarding messages
Recently, it's become popular to guide users with an app walk-through onboarding. This helps create a smooth user experience, especially whenever there is a change in UI.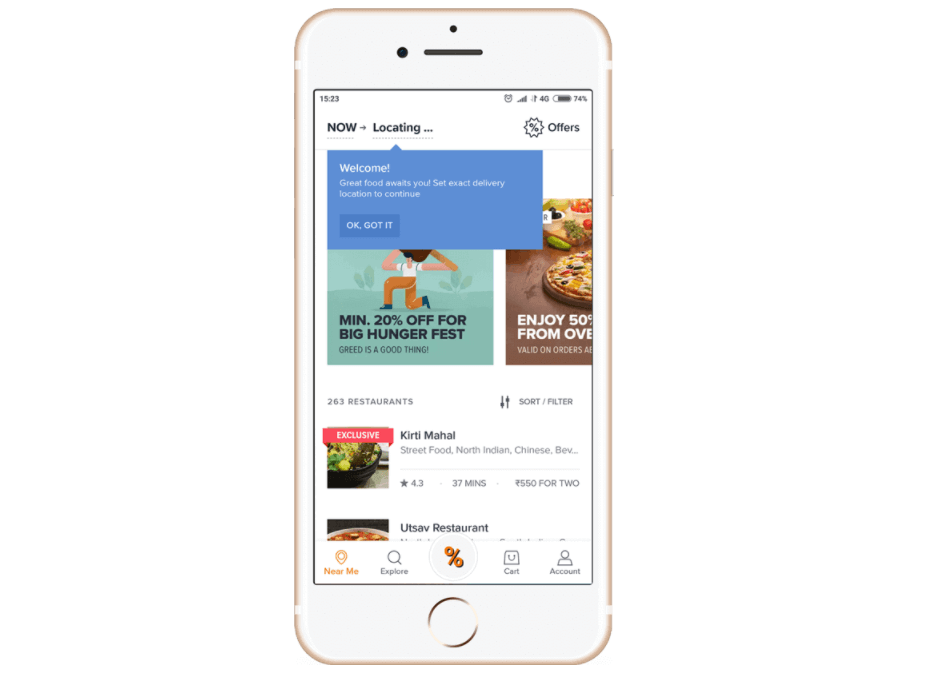 Special offers, deals, and promotions
In-app notifications are also used to announce sales or giveaways and offer discounts, coupons, freebies, etc. in order to cultivate customer loyalty. You can customize in-app notifications as per user behavior and profile.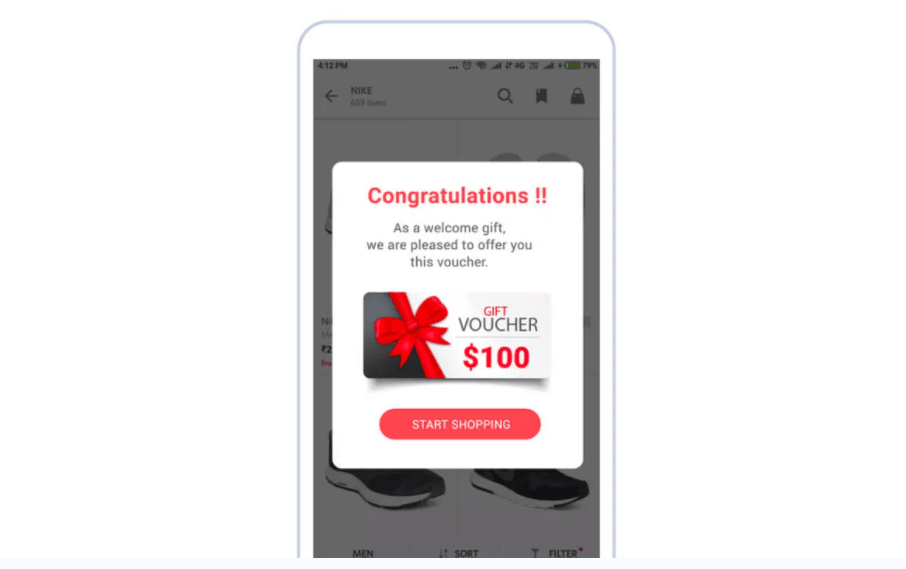 New features or updates
You can put your new features or updates in the spotlight by explaining them in detail while instructing how to avail yourself of its benefits.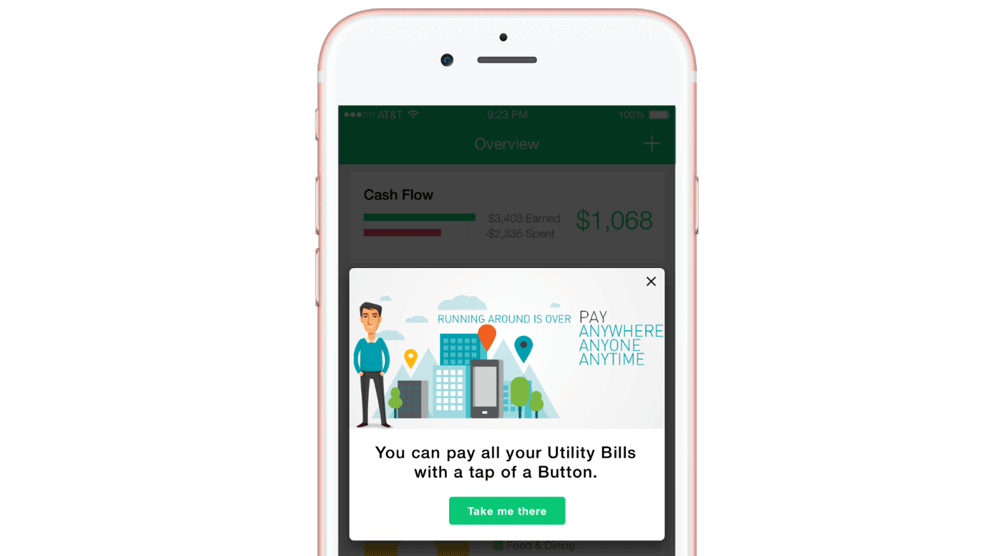 Recommendations
In-app notifications can open up many cross-sell and upsell opportunities. Even when the user is already active, sending relevant product recommendations will boost the chances of expanding your order size in monetary and volume terms.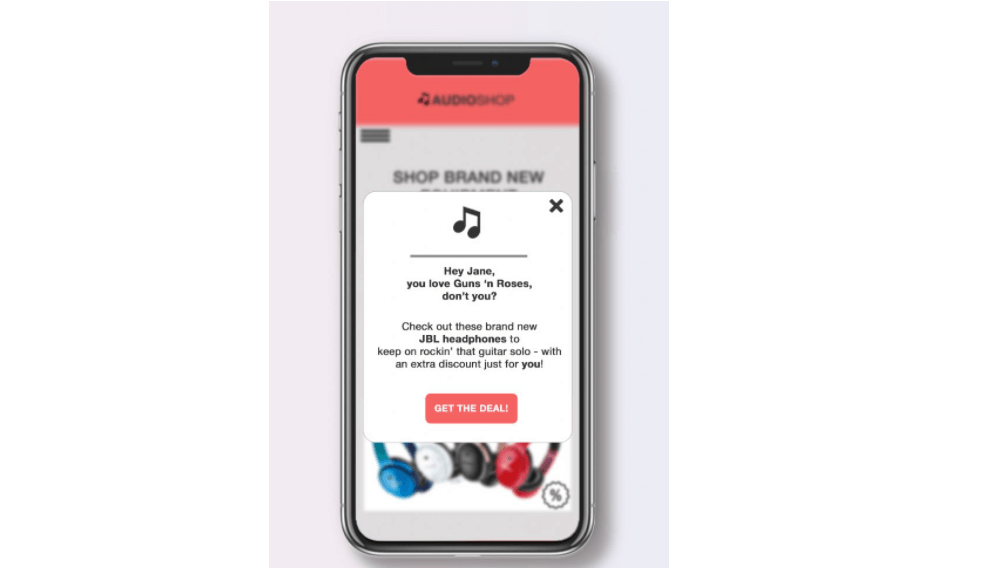 Feedback request
It's often easy to get users' feedback right when they are engaged or are using or have just used your app. In-app notifications work well to give you that valuable feedback from users.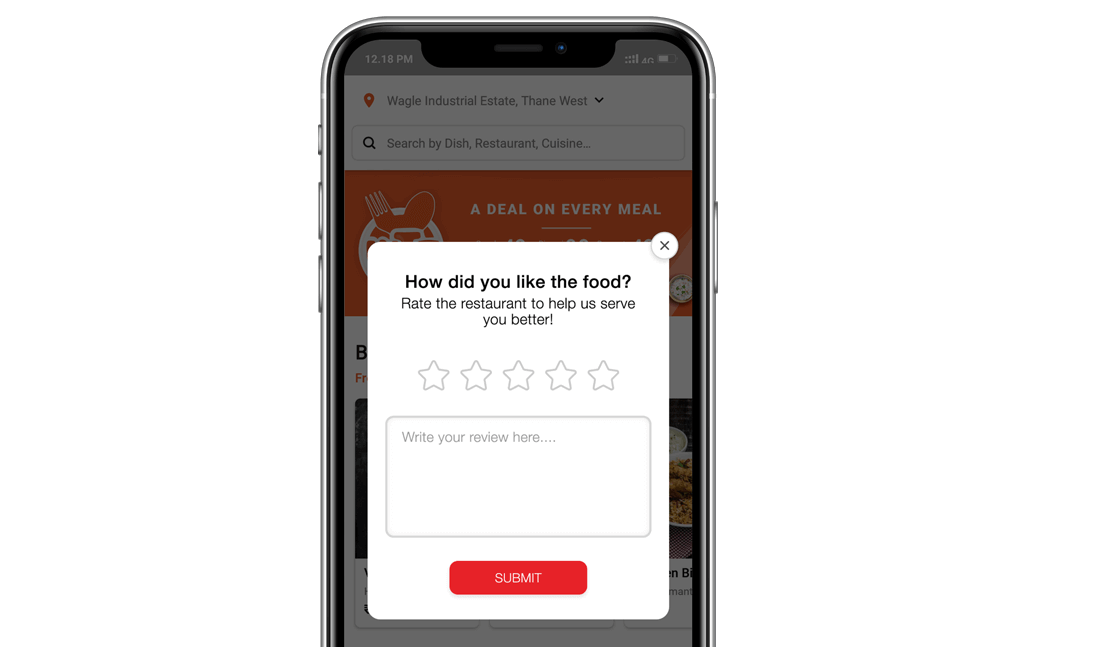 How to use push & in-app notifications in an effective way
No matter if you're using push notifications or in-app messages - or both - you should always strive to send meaningful and personalized messages to users.
According to the Head of Search and Learning & Intelligence at Slack - Noah Weiss, "A great push notification is three things: timely, personal, and actionable."
These elements should apply when you use push notifications and in-app messages in your service. Studies show that 30% of users will delete an app if they think they're receiving too many notifications. Let's break down each of the three elements that Weiss mentions:
Timely. You should send notifications when they're relevant. Collect data about the peak times of your data usage. Plus, see if you can identify pain points that users have while using your app. If there's data on users to pull from, take advantage of it to figure out when certain notifications might perform best for specific segmented groups.

Personal. This element can come in many forms, such as adding their first name in the title or description, understanding their preferences, or telling them their action had an impact.

Actionable. Whether you want a user to check out a new feature or fill out a survey, creating a sense of urgency lets them know their action or feedback is important.
The bottom line
Now you're aware of the differences between push notifications and in-app notifications. You're now in a favorable position to understand when to deploy push and in-app notifications to meet your business goals.
As a larger mobile marketing strategy, push and in-app notifications can excellently work in tandem to get more out of your app. The combination of push notifications and in-app notifications is a great way to support and boost the other. They can collectively improve app open rates while increasing engagement and retention as the app launches.
New Posts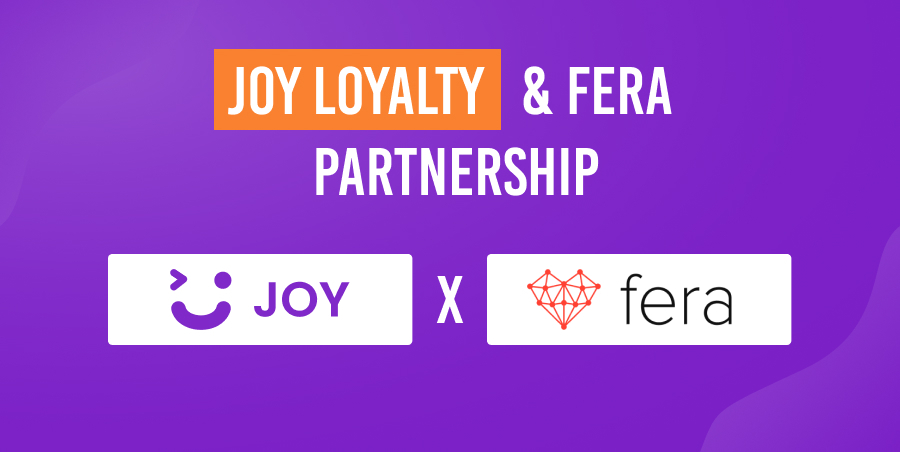 Subscribe
Stay in the know
Get special offers on the latest news from AVADA.
40k
subscribers has been joined!
Earn $10 in reward now!