Push Notification Marketing: A Simple Guide for Your Business
As we obviously know, the subscriber count can promote your brand's visibility in the online market and even drive more revenue.
However, to achieve that level and make your customers opt-in for push notifications, the road is often rocky with no clear direction sign-boards. So, how can you deal with this?
Here, in this article, we've written everything about push notification marketing, including definition, benefits, examples, and strategies. Let's explore!
What is push notification marketing?
Push notification marketing happens when marketers inform their target audience about products/services via browser notifications on an array of devices.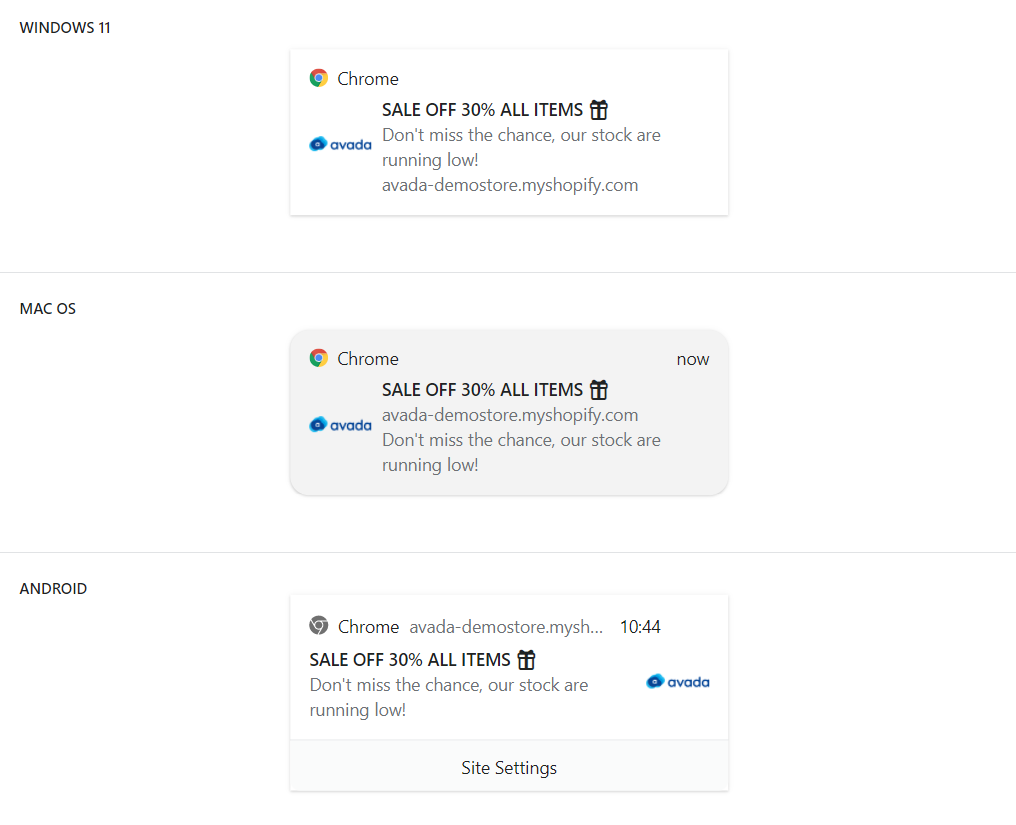 Push notification marketing aims to increase customer engagement and ideally lead to more successful transactions. So, having the ability to measure the impact of your push notifications on conversion rates can be extremely useful for you as a (digital) marketer or E-commerce manager.
If you carefully manage your push notification marketing channel, it can drastically transform your conversion rate. According to researchers, push notification marketing delivers an impressive ROI (Return on Investment) of 30%.
Making use of effective strategies in this guide will help you avoid the general errors and pitfalls of push notification marketing while establishing yourself as a valuable presence for your users.
Why should you use push notifications for marketing?
With push notification marketing, you can:
Reach more customers. The number of mobile phone users is expected to reach 7.26 billion in 2022. So, when businesses use push notification marketing, they can showcase their products and services to a more significant section of the mobile phone-using market.

Engage better. Push notifications let brands increase app engagement by up to 88%. Plus, they enable businesses to drive customers back to their website. Some of the ways you can engage with customers include sending relevant information, regular updates, and reminders.

Take advantage of useful insights. Push notifications provide helpful and valuable statistics regarding open rate and CTR (click-through rate) to improve your overall strategies.

Integrate easily with current strategies. Many marketing automation platforms let you integrate push notifications with other channels, like email or SMS marketing, to boost your revenue. For example, you can combine push notifications and email marketing in one automation workflow to restore abandoned carts to hook customers back to your E-commerce website to complete their purchases.
6 push notification marketing examples
In this section, we've listed 6 common push notification marketing examples for your reference. Please note that they are just common examples; you can use push notification marketing in many other situations to leverage your products/services.
1. Offer exclusive deals

One excellent way of showing loyal customers that you adore them is by delighting them with exclusive offers. It could be discount coupons, special offers, cashback offers, or reward points that are extended to customers for being loyal to your brand. The parameter to decide if someone is loyal or not might be different from one business to another, but the practice of giving customers something in return for being loyal is what keeps them that way.
2. Amuse customers with group offers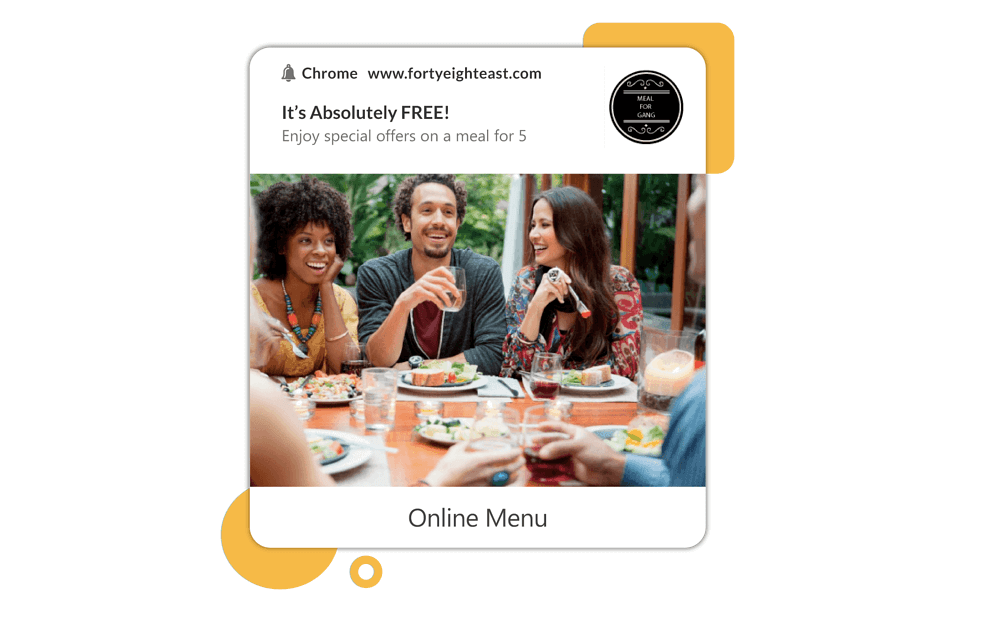 By providing group offers, you can tap into an innate human feeling - communal discovery. Try amusing customers by giving out offers that a group of people can use. Or, drive your customers and their friends to solve a problem, a challenge, or to win something. This actually remains a core concept in triggering chain reactions, thus creating variability.
3. Cheer customers with festive offers
Never miss out on any opportunity to lure customers to your website on special occasions and festivals. This is the right time to throw in offers and discounts to encourage customers to make a purchase from your brand.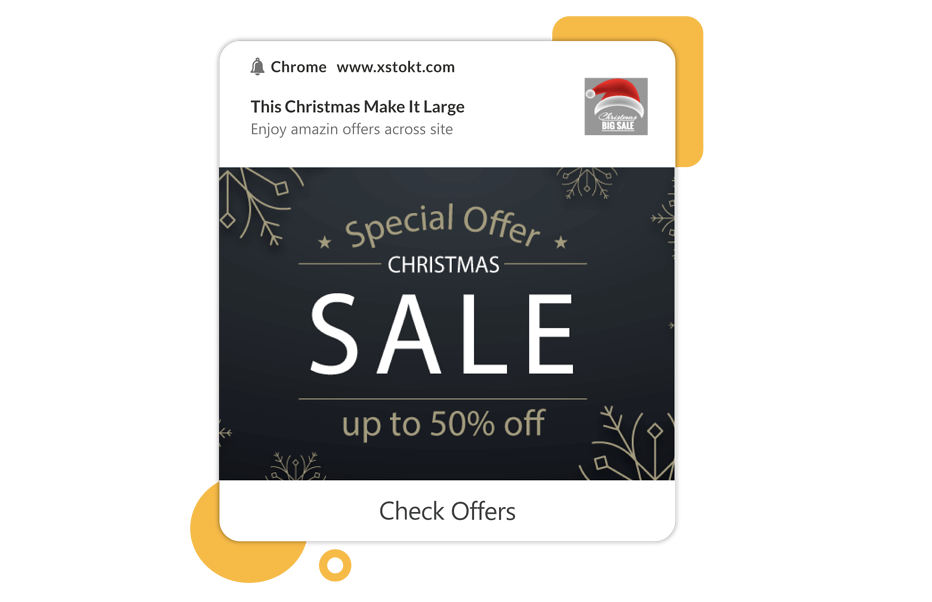 Craft a push message that not only highlights your product/service or the ongoing deals that you have, but also has a sync with the occasion. Such communication helps your customers relate better to your message, thus boosting the chances of high CTRs and subsequent sales.
4. Upsell based on customer behavior
It seems that H&M really understands how to touch a woman's heart (and wallet!) by using customized recommendations and upsell offers. H&M uses past purchases to suggest additional items via push notifications.
For instance, if a customer purchased a new jacket from H&M, a push notification may pop up encouraging them to grab a cute pair of boots that would go nicely with it.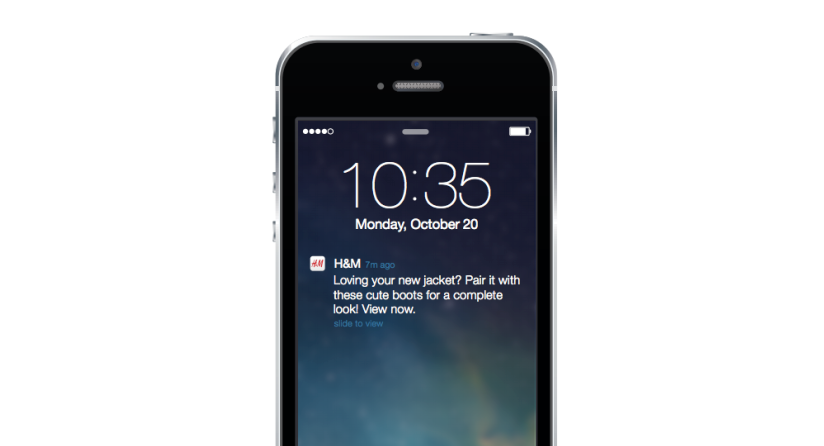 5. Use location-based targeting
With mobile internet becoming more and more accessible, hyper-local targeting plays an essential role in providing users with location-based notifications. Sending a winter sale push notification to users who are enjoying their summer vacation doesn't make sense. With location-based targeting, you can reach out to users with relevant updates and boost conversion by 2x.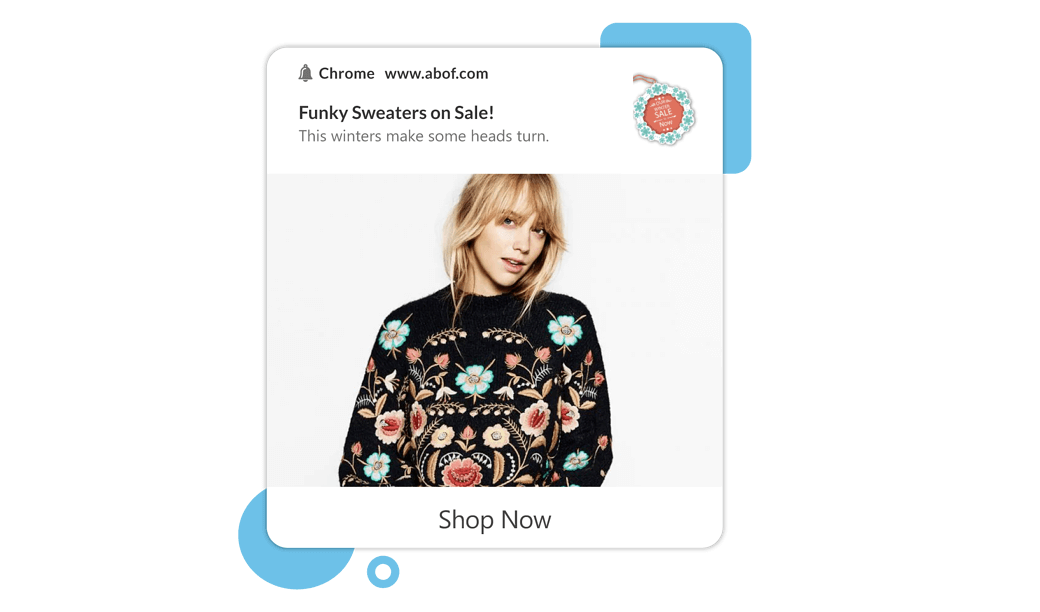 6. Create a sense of achievement
Let's be honest - everyone loves the feeling of winning something. And one of the ways to trigger that emotion is by wrapping it around an achievement. Give your audience reward points, cash backs, e-books, vouchers, guides in a way that makes them believe that they've achieved something big, something good.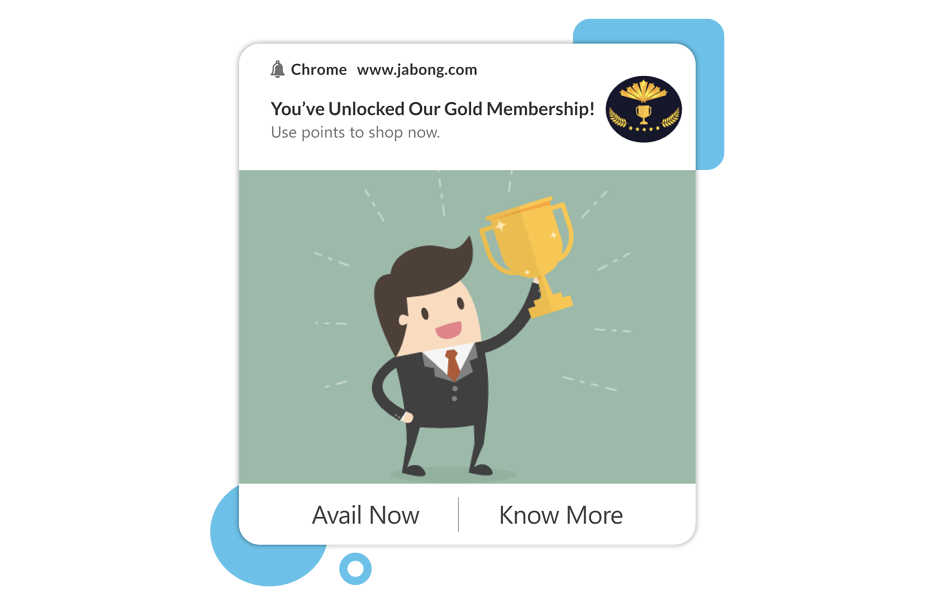 6 push notification marketing strategies
Now comes the most important part of this guide - push notification marketing strategies. Read on to learn how and when to use them in a way that engages your customers and boosts your sales.
1. Carefully plans for getting opt-ins
You can't deliver push notifications unless people subscribe to them from your mobile app or website. Specifically, for website-based push notifications, you need to ask every visitor to subscribe to your alerts. That's how push notifications work.
Luckily, Android allows people to subscribe to app-based push notifications by default when they install an app. But iOS doesn't get this liberty; you need to ask for permission once the app is installed.
Now here is the thing: Android & iOS users and web push notification subscribers can easily unsubscribe whenever they want.
You need an action plan that not only entices users to opt-in but also motivates them to stay subscribed. The best way to do that is to customize your opt-in box to make it as informative as possible.
When designing the box, ensure that it informs the potential subscriber about the consequences of making each of the two choices. Let's see an opt-in box for a blog that posts health tips.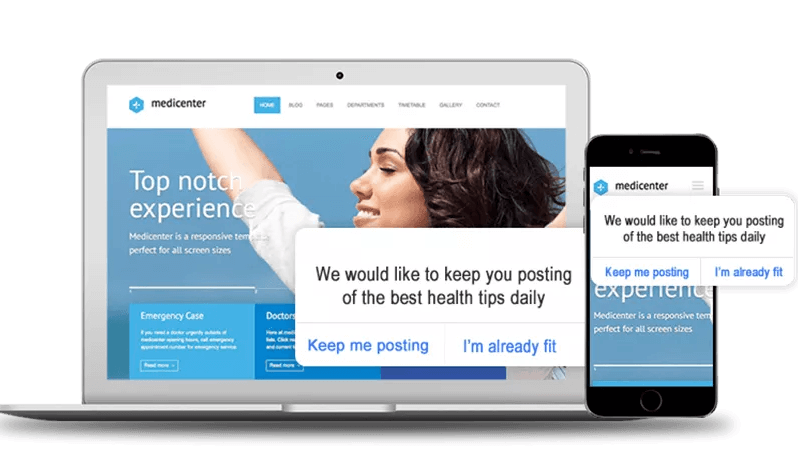 It offers a clear comprehension of what subscribers would get after opting-in and what they would miss if they deny. Depending on your business, you can come up with many such fancy opt-in box ideas. For instance, if you own an E-commerce store, you can inform customers with a push notification like this:
Text: "We keep you posted about the latest offers and purchase details through push notifications."
Two choices include: "Keep me informed" - "Not required"
To be honest, most of the websites are still stuck with the generic opt-in boxes. This is the best opportunity to make your push notifications unique and stand out from the crowd.
2. Do audience research and segment subscribers
In order to make your push notification perform remarkably, relevancy is the key to success. And segmenting subscribers into various groups is the best way to do that. You can create groups based on:
Geo-location in real-time
Time zones
Browser type: Chrome, Firefox, Safari, etc.
Browsing behavior
Purchase history
Device type: mobile browsers, mobile apps, desktop web browsers, etc.
Traffic source: direct or referred traffic
Visitor's type: frequent or infrequent
You can also target people on various types of devices, such as:
Web push alerts to both desktop and mobile users
In-app alerts to app users
Notifications to Chrome users with dedicated buttons, which are only available in Chrome push notifications
Or, segment them based on the notification type to feed them information, such as:
Weather forecast
Price drop of a product
Change in the flight schedule
New movie
3. Think about preference and behavior-based notifications
Many marketers track in-app user behaviors to trigger corresponding alerts. There's no doubt that behavior-based triggering is essential, and it helps you automate the notifications without manual intervention.
However, according to a survey by Localytics, up to 58% of respondents said that behavior-based notifications are annoying, harassing, and make them feel nervous. That means if you're entirely relying on automated push notifications, 58% of your alerts seem to be ignored by subscribers.
For example, someone chooses to discontinue watching a movie on Netflix, as they don't like it anymore. Now, in case Netflix sends its popular "Resume Watching" push notification to this viewer, it'll only irritate them. The automation can't judge if the movie was interrupted due to circumstances or willingly discontinued because of disliking.
Also, in the survey by Localytics, 49% of people believed that preference-based notifications are helpful, and actually caused them to use an app more. So, instead of utilizing behavior-based alerts, you should give some attention to preference-based alerts too. Allow subscribers to control what type of alerts they want to receive and what to block.
Let's say, if you're running a news app, you can let users choose the categories or topics they wish to stay informed about, such as science, economy, sports, or anything else.
Below is how Facebook gives in-app options to allow users to choose which alerts to receive and which to block. By doing so, Facebook encourages people to stop receiving certain notifications without blocking the whole alerts in one go.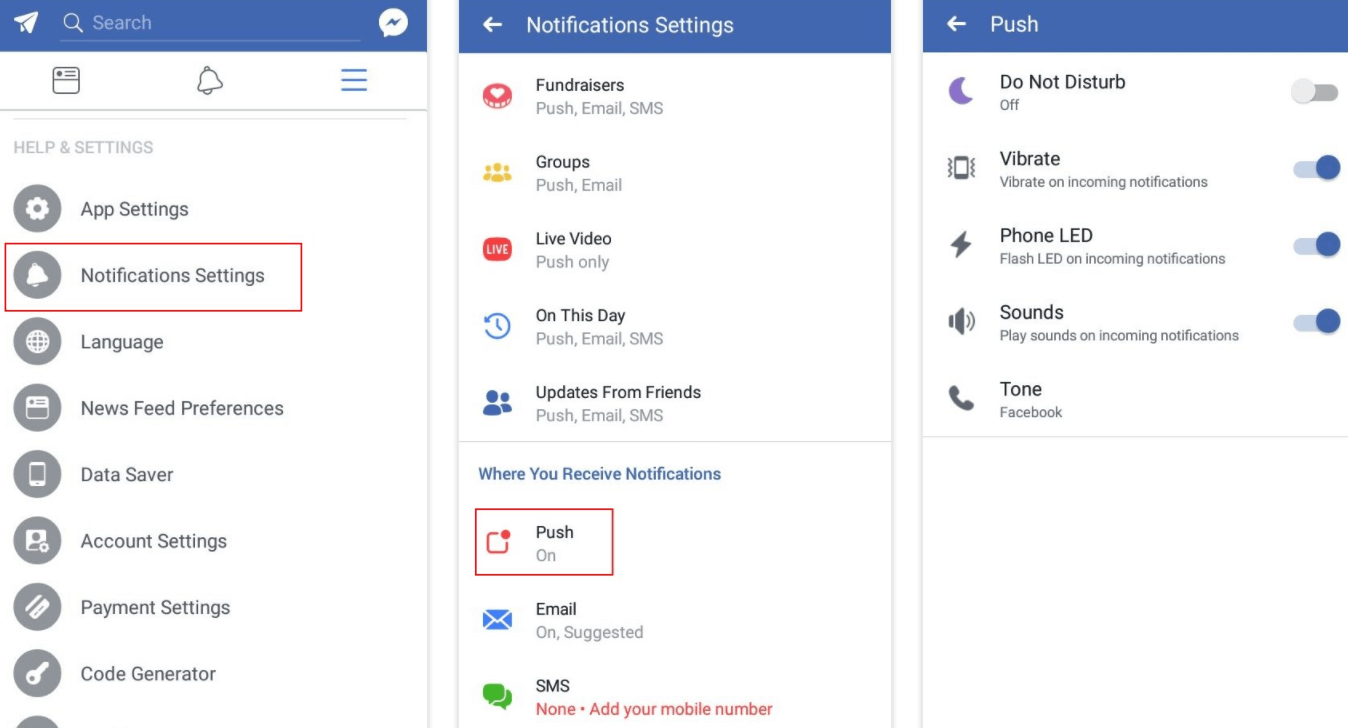 4. Geo-fence with push notifications
Traditionally, marketers believe that geo-fencing is only applicable when your business is available in physical locations. For instance, you might geo-fence your physical cosmetics store and trigger deals and discounts to every subscriber entered in the fenced area.
However, even a business without physical locations can equally utilize geo-fencing to engage their customers. Many use geo-fencing to track the real-time location of subscribers to send alerts relevant to people in that specific location only.
That's how Uber uses local-fencing to send location-based offers in only the areas where they're applicable. This helps them target the right audience, without irritating other customers with irrelevant alerts.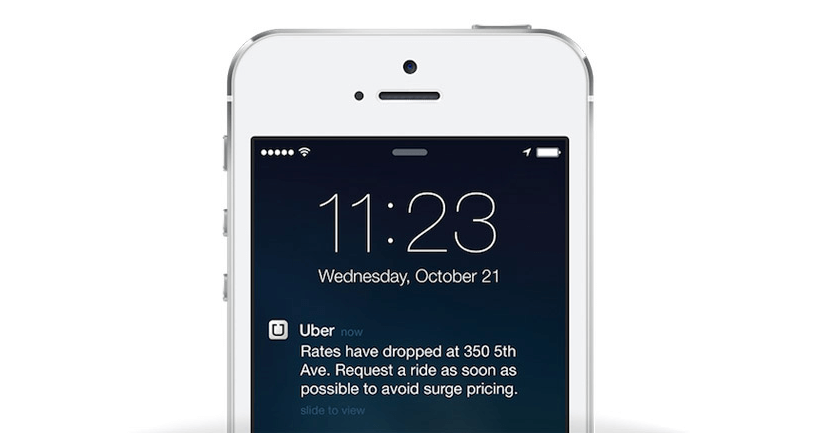 5. Find the best time to trigger marketing alerts
Push notification marketing is not just about sending alerts but also encouraging conversions or engagement-oriented actions. To ensure it's doing what it is meant to, you need to trigger your push messages at a perfect time and in perfect frequency.
To find the perfect time to trigger, you should consider:
Time-zones. You might have subscribers from various time-zones. Based on each time-zone, different subscribers engage with your push messages at different times. Thus, don't just trigger a single notification to all of your subscribers.

Time frame. Most people find it irritating when receiving notifications at midnight. You should avoid that by sending push notifications in the daytime.

Notification type. Different notification types are meant to be sent in different time frames. For instance, if you're a blogger who posts daily articles on health topics, you might want to send notifications in the morning time. That's when people love reading news and other stuff. The same goes for a news and beauty tips app.

Time gap. Bombardment of push notifications is not a bright idea. Ensure to keep a substantial time gap between two alerts to give your users enough time to think and react to your previous one. Irritating them with insanely frequent notifications will only encourage immediate opt-outs.
6. Test, measure, and analyze
The most efficient way to measure your success is by listening to your customers. The input you receive from them will come in the form of data.
Pay attention when:
Users respond
Updates inspire purchases
Updates result in site visits and how long users stay onsite
People unsubscribe
The time of the day that can work best
Keep an eye on your analytics to adjust your messages in a way that improves engagement and loyalty.
5 push notification marketing services
Choosing the right push notification marketing tool can make your engagement strategy much easier, as it will be easy to set up and send notifications to your engaged users. Below are the top 5 push notification marketing tools you should try now.
1. AVADA Marketing Automation
AVADA Marketing Automation is an expert not only in email and SMS marketing, but also in push notification marketing. With the help of AVADA Marketing Automation, you can create simple yet effective push notification marketing campaigns.
To be specific, you can:
Take advantage of its intuitive user interface
Craft easy-to-follow push message content, including title, main content, click action, logo, and image
Show your push notifications on various devices, such as Windows 11, Mac OS, and Android
Segment and send your campaign to only relevant users
Schedule to send messages at the right time
Measure your success with its in-depth reports
An outstanding feature of AVADA Marketing Automation is that you can combine push notifications with other marketing channels.
For example, someone abandons an item in their shopping cart, and you want to encourage them to come back and complete their order. You can create a simple automation workflow, including email marketing and push notification marketing, to effectively boost your sales.
The platform also lets you set appropriate wait times between marketing channels, so you don't need to worry that your messages are too pushy. The AVADA support team is well-known for being friendly, knowledgeable, and professional, so you can contact them any time via live chat or email.
GIVE AVADA MARKETING AUTOMATION A TRY
2. OneSignal
Another top-notch push notification marketing tool on the market is OneSignal. The platform supports web push, mobile push, email, and in-app messages.
OneSignal offers a free plan with 30,000 web push and unlimited mobile push subscribers. You can also get A/B testing, real-time reporting, and timezone delivery in the free plan. However, you cannot use advanced features in its free plan.
3. PushEngage
PushEngage is considered one of the emerging tools in the digital marketing world.
Unlike other top push notification marketing tools, PushEngage only provides web push notifications. But you can take advantage of its cart abandoned notification, trigger notifications, dynamic segmentation, advanced analytics, multi-browser, autoresponders, and multi-user support.
4. PushCrew
For anyone that hasn't built a mobile app, PushCrew would be an excellent solution as it focuses on web and mobile web push notifications.
As a result, personalization is available - even though it focuses more on the kinds of behaviors and types of triggers you would use on a website.
5. PushAlert
PushAlert includes a dedicated WordPress plugin, and it lets you deliver both desktop and mobile push notifications.
Some interesting features of PushAlert include Audience Creator (which lets you send notifications to the most engaged and relevant subscribers), A/B testing, and an API (which can link directly with your web and mobile app).
The bottom line
To create a successful push notification marketing campaign, you need to get to know your audience, understand their pain points, as well as trigger push messages that offer them a solution.
Besides, get a push notification marketing tool that lets you do the stuff mentioned in this guide. AVADA Marketing Automation is a wise choice that you shouldn't miss out on. Don't hesitate to contact us if you want to craft a relevant, professional, and high-converting push notification marketing campaign. We're always here to help you!
New Posts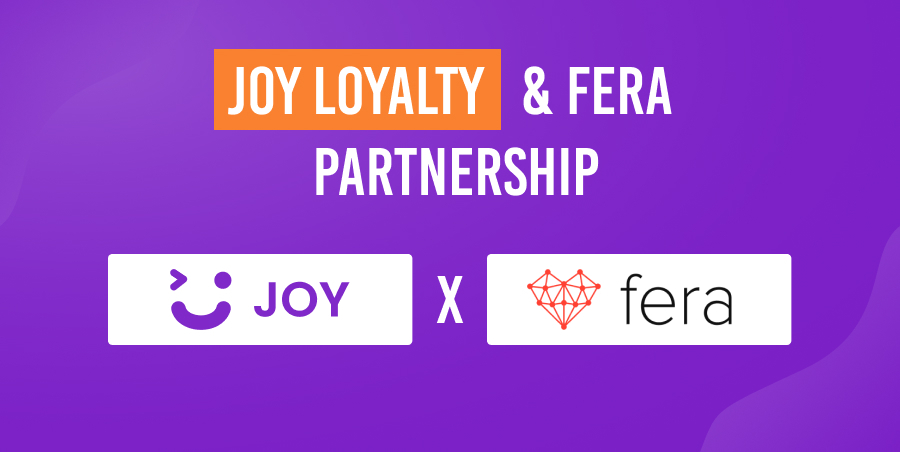 Subscribe
Stay in the know
Get special offers on the latest news from AVADA.
40k
subscribers has been joined!
Earn $10 in reward now!