What is Paypal Express Checkout? Paypal Express vs Standard and Pro
PayPal Checkout which is also known as PayPal Express Checkout, is a tool for online merchants. When using this, customers can easily and quickly buy goods or services without inputting their shipping and billing details. PayPal Checkout is trusted and used by a lot of users since they do not need a PayPal account to pay. It is advisory you should test PayPal in your store's checkout.
Therefore, we have this post today, which will cover all things you need to know about PayPal Express Checkout as well as a short comparison of Paypal Express vs Standard and Pro.
Let's get started!
What is Paypal Express Checkout?
PayPal Express Checkout is a tool designed for online sellers so that customers don't need to care about inputting their billing and shipping data when buying a product online.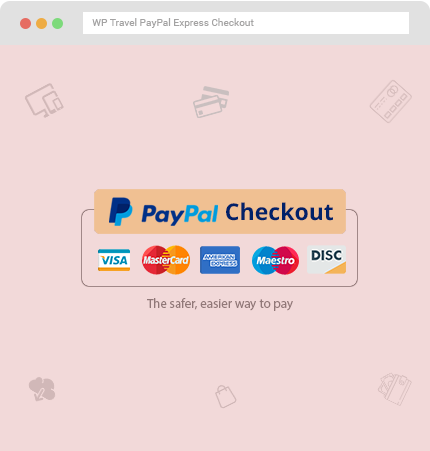 In PayPal Express Checkout, the personal information and payment data of customers will be moved securely to the merchant. It will not only protect the personal data of buyers but also save time. Shopping online turns easier and quicker than ever.
According to some surveys, many businesses experienced an increase in their sales and bottom lines by using PayPal on their site. Nielsen Online Buyer Insights reveals that PayPal merchants get a 27% increase in total customers by integrating PayPal in which the total amount spent by customers increases 15% and the number of transactions per customer nearly double.
Here are the most common reasons why you should add PayPal Express Checkout to your store:
Optimized conversion: Shopping online and payment is simpler with the help of Express Checkout. Customers will see all details related to order and dispatch, and move to the checkout stage faster.
Ease of use: It is really simple to use PayPal Express Checkout since customers coming to your store can buy directly from the item description pages or their shopping cart.
Customer confidence: Customers buying your items can pay with confidence and review transaction details immediately as the payment keeps them on your site.
No need for a PayPal account: You can use your bank account or credit card to finish the checkout without a PayPal account to pay via PayPal. But you can use your PayPal balance with an account.
No monthly fees: Although PayPal Express Checkout is beneficial for both merchants and buyers, it's free for merchants. You just need to pay when you get paid which is a 2.9% fee, plus $0.30 per transaction. There will be no startup fees or monthly dues when opening a PayPal business account.
Available on all devices: When using Express Checkout, customers coming to your stores can purchase a product on mobile, tablet, or desktop.
How Paypal Express Checkout works
PayPal Express Checkout works in a very simple way with just 4 stages:
Stage 1: A customer visits your website with PayPal Checkout enabled and normally selects the items they want to buy.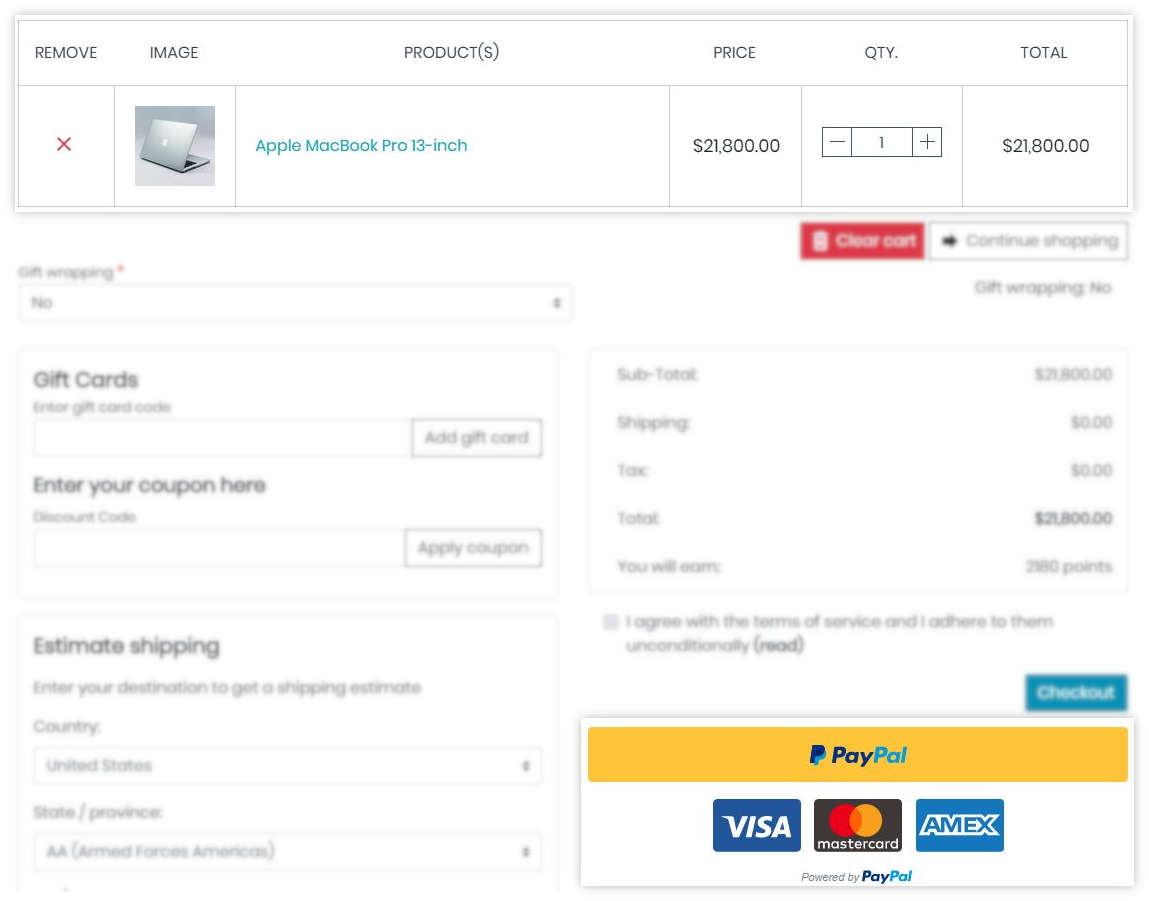 Stage 2: The customers simply log in to their PayPal accounts by entering their usernames and passwords.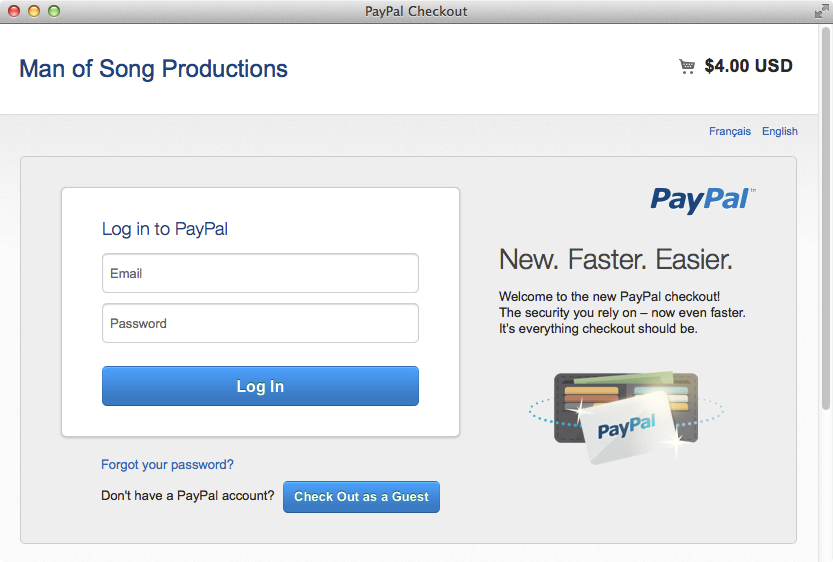 Stage 3: The customers select the payment method already connected to their PayPal account and confirm their purchases.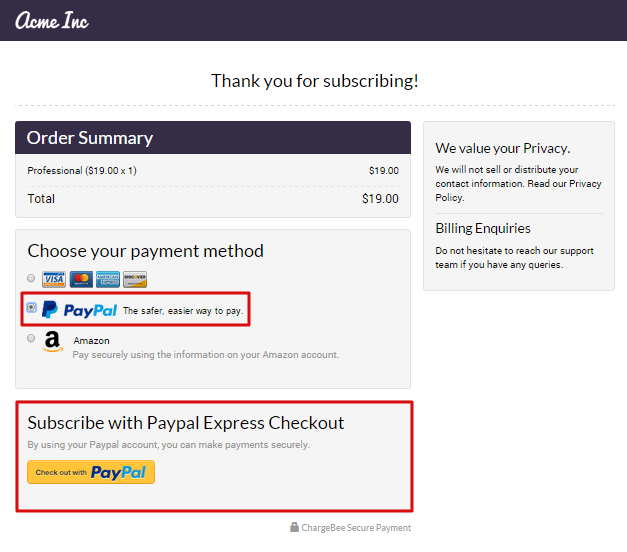 Stage 4: The purchase is completed! Customers don't need to do anything since PayPal will then send all the needed payment data to the business, so the chosen items can be shipped.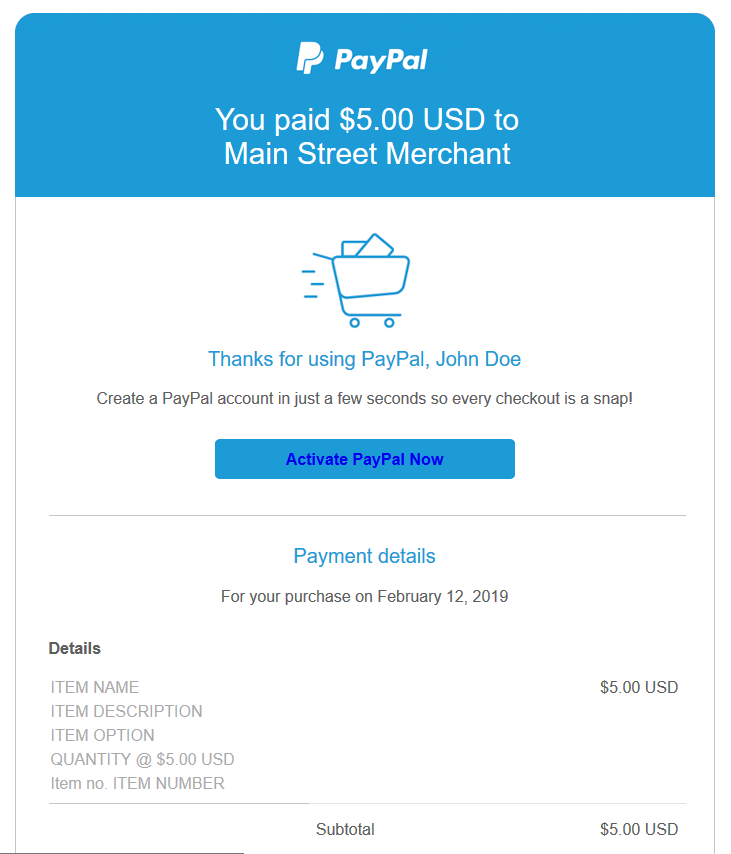 Paypal Comparison: Express, Standard and Pro
First, we want to disclaim that we will not include the feature of the SSL certificate in the next comparison. PayPal Pro asks for one SSL certificate while other plans will not require it. However, in our opinion, once you have an eCommerce website, an SSL certificate is a must-have condition to get success. Thanks to this, you will save your payment data and prevent the login information of yourself and your customers from being sent in plain text to your server. What's more, the more customers trust you, the higher sales and conversions you will get.
Now, we will give you a brief comparison of PayPal Express, Standard, and Pro. Hope that you can rely on it to decide which PayPal service is right for you to spend money on.
PayPal Standard
Let's come to PayPal Standard. Being so familiar for merchants, PayPal Standard requires no fees for the setup process, the termination. What's more, you don't even need a merchant account to get set up. You need to register for a PayPal Business account. One more reason why PayPal Standard is very popular for online merchants is that it is being available in 190 countries, and every seller can approach it.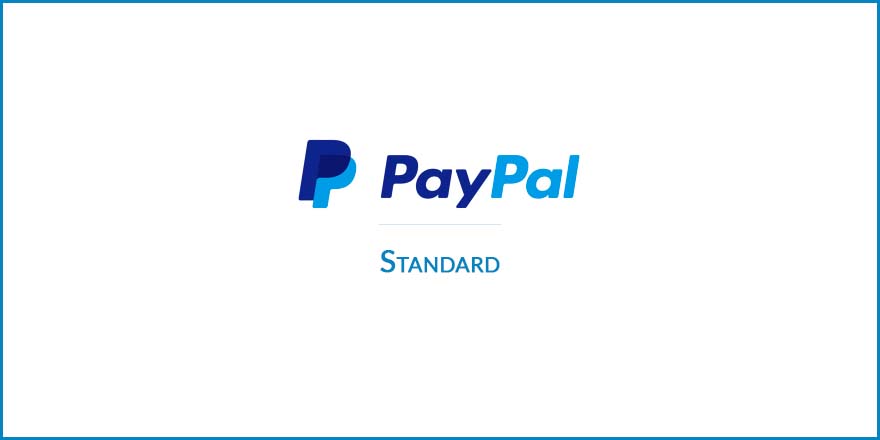 The transaction process of PayPal Standard is made via the following stages:
The transactions are processed on PayPal's site instead of yours. That means customers will be ordered to pay with a PayPal balance or credit card.
They will then be sent from your checkout screen to PayPal. It's vital to notice that you will have to pay the standard transaction fee for these payments, which includes 2.9% + 30¢ per transaction.
After the PayPal checkout process is completed, customers will then be sent back to your website. In case you process more than $3000 in transactions with PayPal every month, PayPal will send to you a volume discount code.
After the checkout process is done via PayPal's site, you will need to base on the date provided by PayPal to send payment success and failure notifications back to your store for completed orders.
To do this, you will need to look at IPN, which is an Instant Payment Notification. However, you need to review carefully before relying completely on PayPal IPN. According to some user's reviews, PayPal IPN sometimes brings about the wrong results, which means the orders are not completed correctly on your store. The drawback of PayPal IPN is also the drawback of PayPal Standard in general.
PayPal Express
Very similar to PayPal Standard, PayPal Express is available in 190 countries and charges users the same 2.9% + 30¢ per transaction with no setup or termination fees. However, the biggest difference between the two lies in the checkout flow.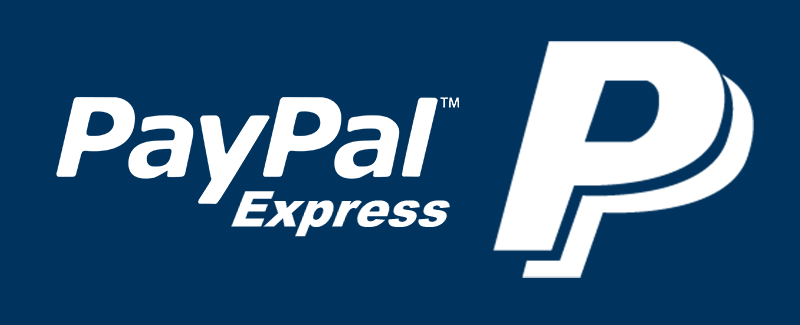 While PayPal Standard uses the IPN and makes its users face the mentioned problems, PayPal Express does not use that. Instead, its customers will be sent to PayPal from your site without completing checkout at PayPal. Customers will then approve a purchase at PayPal and be directed back to your site with a token.
This token is sent to your site behind-the-scenes. Also, the token is used to submit a final payment to PayPal by your site. It is processed when a certain customer clicks to complete placing the order on your site after they are directed back. Once the orders are completed, the token will be sent back to PayPal with the final order details.
As you can see, PayPal Express solves the issues of Express Standard so that it is more reliable. The checkout is finished on your site but the payment is completed on the servers of PayPal right after the token is taken back to PayPal.
PayPal Pro
While the two above solutions ask for no fee for the setup or termination process, PayPal Pro adds one more condition. That is a $30 monthly fee along with a per-transaction fee of 2.9% + 30¢. The volume discounts are still available when you process more than $3000 in transactions with PayPal monthly.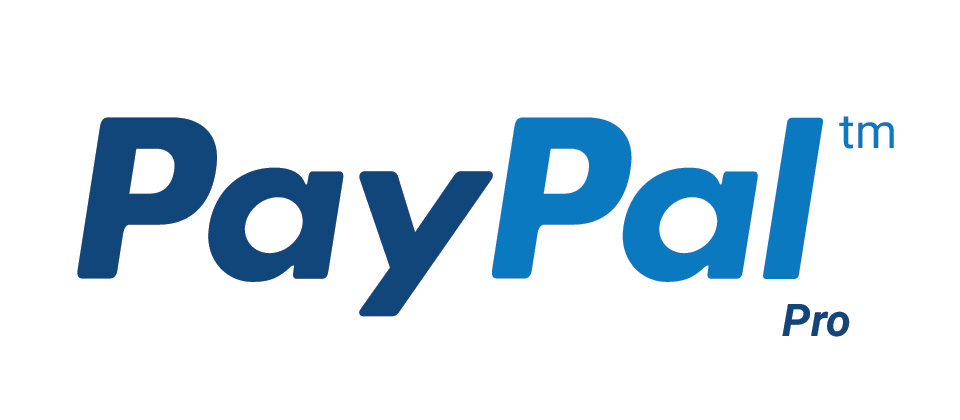 Though you have to pay a little more, you will receive the PayPal Virtual Terminal, enabling you to accept payments by using a phone. Also, it gives you a chance to accept bank transfers, online invoicing, and in-person payment.
What's more, you can also customize the entire checkout experience. It is the benefit of PayPal Pro, which is not offered in the PayPal Standard or PayPal Express. Your customers will not be directed to PayPal to finish the checkout process or to approve payments but stay on your site during the checkout process.
When it comes to available nations, PayPal Pro can be used in three large markets, which are the US, the UK, and Canada.
To sum up, although no solutions are perfect, PayPal always tries to bring about a solution that fits into almost any eCommerce business. You should look at all the above solutions and test them in your checkout flow to assess conversion rates and support the payment method that your customers prefer.
PayPal is well known as one of the most reliable eCommerce payment processors. Moreover, thanks to the WordPress eCommerce add-ons available, the setup and integration are easier than ever. Why don't you add this offering to your eCommerce store?
Common questions about Paypal Express Checkout
Why are the shipping amounts on PayPal Express different from those on the Checkout Page?
The order amount and estimated tax and shipping will be the foundation for the PayPal Express Checkout to rely on and give an approximate order total. In terms of the final amount, only when they choose a shipping method will it be calculated. That means the updated order total will be displayed on the one-page checkout before customers finalize their orders.
Can I use PayPal Pro and PayPal Express Checkout together in the same store?
Yes, you can use PayPal Pro and PayPal Express Checkout together with the same Volusion store. However, you cannot use the same PayPal Business account for both PayPal Pro and PayPal Express Checkout since they have different credit card gateways.
In particular, while PayPal Pro orders you to use an API certificate to integrate with Volusion, you need to you to use an API signature.
PayPal does not allow both API methods on a single PayPal Business account. Therefore, to use PayPal Pro and PayPal Express Checkout together in the same store, you will need two PayPal Business accounts.
In case you do have a PayPal Business account with other platforms like eBay or Amazon, you will have to set up a separate business account for Volusion payment purposes.
Can I separate billing and shipping address options?
Setting up separate billing and shipping address options is what many sellers want to process. By enabling customers to enter different billing and shipping addresses, you can then offer PayPal Express to them.
Check out to see if you enable the Allow Different Shipping and Billing Addresses config variable or not before enabling PayPal Express.
In order to settle this setting, you should go to your Admin Area first. Then, go to the Settings page which is continued by Config Variables. Next, you should click on the Searching bar to enter "different" in the name field. You then click Search again. If the variable isn't selected, check the box and click Save.
How does PayPal Express Checkout manage purchase orders and auto dropshipping?
PayPal will not automatically generate POS at any point by orders placed when you use PayPal Express Checkout. Instead, you will have to generate the drop-ship PO by hand. To generate it, you can choose the Apply to All Items Regardless of Status check box and click on the Go in the Drop Ship section of the order details page.
How can I send product keys with PayPal Express Checkout?
Again, Product Keys will not be automatically generated for orders placed using PayPal Express Checkout. You will need to manually send product keys by ticking Complete Order or by choosing Product Keys from the Email menu and clicking Resend.
What will happen if a customer uses PayPal Express Checkout for recurring billing products?
If a customer has a recurring billing or subscription product in their cart, they cannot use PayPal Express Checkout. If they try, they will receive an error message that says PayPal Express Checkout Unavailable.
As a seller, you can customize this message, too. To do this, you should go to the Design option and Page text. Then, let's find in the Search Page Text field by entering PayPal. Next, you should find the corresponding article as well as edit the message as you wish. Finally, click Save to save all customization.
Why does PayPal Express Checkout flag an order as "Awaiting Payment"?
You will sometimes see PayPal release a flag that includes suspicious orders based on their fraud protection standards. This signal means that funds will remain under review until PayPal processes the payment. Only when the payment is processed will the IPN (Instant Payment Notification) be sent back to your Volusion store. Also, the status of the order will be changed from Awaiting Payment to Processing.
Are there any transaction limit of PayPal Express Checkout?
Yes, PayPal Express Checkout has a limit of $10,000 per each transaction. However, you can easily increase this limit when you want by contacting PayPal directly.
Why do I receive an Insecure Content Warning on the Customer Checkout Page?
If you see an insecure warning on the customer checkout page, that means your images are using the non-secure "HTTPS" protocol. Therefore, remember to check whether your logo image and banner image links use the "HTTPS" (encrypted) protocol or not when customizing your PayPal Express Checkout page (in your PayPal Express account).
One more thing to keep in mind is having an SSL certificate installed on your store, which is important to have your images encrypted.
Where can customers find the PayPal Express Checkout on my store?
The PayPal Express Checkout will be displayed on both the shopping cart summary page (/shoppingcart.asp) and the checkout page. The positions make it convenient for customers to change to PayPal or PayPal when choosing their payment method during the checkout process as they wish.
Can I set PayPal Express Checkout as the only payment option available in my store?
Yes, you can use it as the only payment option for your store. Don't forget to disable any other payment methods by clicking on the Payment option of the Settings page.
Wrap up
In conclusion, PayPal Express Checkout is a great idea for you to try, especially when you are an online merchant. Having some drawbacks, PayPal always puts effort to correct those issues and gives out the most suitable solution. It is valuable to test out PayPal Express Checkout in your store.
Hopefully, you have got some useful information from our post ranging from the definition of PayPal Checkout, the differences, and similarities of PayPal Standard, Express, and Pro. You can totally base on our articles to decide the best solution to apply to your store.
If you have any questions, be free to leave a comment in the section below and share this post with your friends in case you find it interesting. Thank you!
New Posts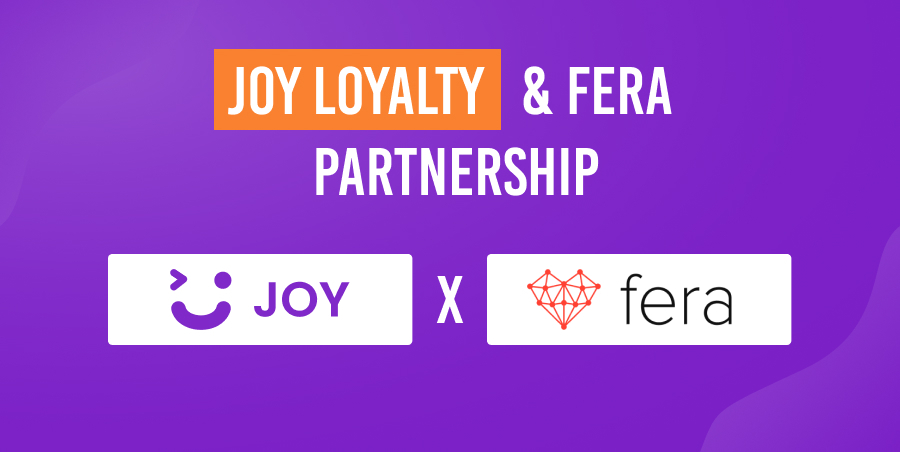 Subscribe
Stay in the know
Get special offers on the latest news from AVADA.
40k
subscribers has been joined!
Earn $10 in reward now!