60+ High-opened Email Subject Lines for Black Friday Cyber Monday
Some things keep coming back much faster than you expected them to…
As soon as the temperatures become cooler, stores magically become filled with holiday decorations; suddenly, you are thinking to yourself, "Oh, right, it is that time of the year again!"
Yep, it's high time to take your brushes and tools out to craft your Black Friday & Cyber Monday (BFCM) email marketing campaigns.
While we don't know exactly how customers will shop this year, we have a pretty good idea that online holiday sales will be significantly higher than previous years, and the competition will be fierce.
That's why we've compiled the 60+ highest converting subject lines for Black Friday & Cyber Monday, and are now ready to share them with you. So, without further ado, let's explore!
(FYI: If you are still new to using subject lines for any event or occasion, make sure to check out this guide on creating the best email subject lines.)
60+ high-opened email subject lines for Black Friday Cyber Monday
1. Pre-BFCM subject lines
The days leading up to BFCM are precious.
Whether you want to generate excitement around your big sale, create mystery, or offer information, you should use these days wisely with well-thought pre-BFCM emails.
For instance, you can give a sneak peek at what is about to come or gradually reveal your sales. Or, inform subscribers of when you will hit the start button, as Drunk Elephant does: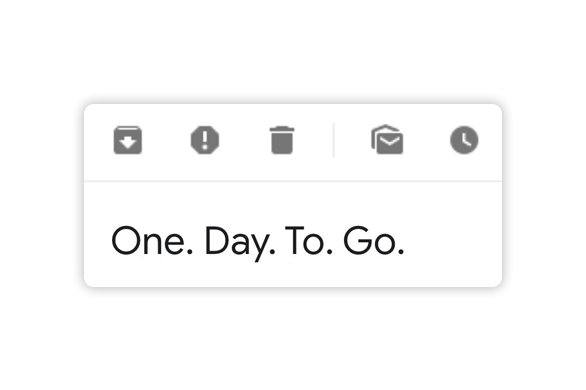 You can get from the context that Drunk Elephant is counting down to Black Friday. Besides, its subject line evokes curiosity.
If you are interested in their Black Friday, which begins in one day, you open its email to see this:
In this email, the brand lets you know that Black Friday is coming, and a 20% discount is coming with it too.
Just notice its CTA (call to action) button, "Prep Your Cart." When you prepare your shopping cart in advance, you will be ready to buy as soon as the sale starts.
Some pre-BFCM email subject lines for you:
Turkey can wait. Our BLACK FRIDAY sneak peek won't! (Legacybox)
Get your Black Friday shopping bag ready (Calvin Klein)
Black Friday starts tomorrow! Fill up your cart NOW! 🛒 (L'Occitane)
Black Friday Preview - get a head start! (Macy's)
BLACK FRIDAY starts tonight at 19.00! (Boozt)
It's coming! In 3 days (Bellroy)
Can't wait until Monday?
Wake Up! It's Cyber Monday!
Cyber Monday SALE Starts in 1 Hour
Our Cyber Deals are here! Why wait until Monday!
Psst… Cyber Monday Starts Tomorrow. Use These Secret Discount Codes!
Set your alarms right now for our Cyber Monday sale!
2. Urgency-driven subject lines
Black Friday & Cyber Monday are built on FOMO (Fear of Missing out).
Customers are eager to garb too-good-to-miss deals that won't come back for another year. That's why you should use scarcity and urgency in your Black Friday Cyber Monday subject lines.
However, the key is to use them in moderation - without driving shoppers into a panic.
Let's look at this subject line by Snakehive:

While their sale is about to end, the company sends out an urgency-driven message, but in a subtle way. Rather than say "HURRY UP," Snakehive uses a gentle tone, simply reminding you that this is the best deal to get at least until next year's shopping holiday.
The brand offers gifts worth £25 with every purchase and emphasizes by saying "free is better than discounts."
This email is full of persuasion elements, such as its countdown timer, "subscriber exclusive," "don't miss out," "ends soon." And the email subject line successfully drives a sense of urgency, without sounding annoying.
Some urgency-driven email subject lines for you:
🥺 Black Friday deals end in mere hours (Crocs)
Say 👋 to Black Friday Week. 30% off ends tonight. (Bonobos)
The Final Hours of Black Friday (Michael Kors)
You're running out of time - Black Friday sale ends today (The North Face)
⏰ Black Friday: The Clock is Ticking… ⏰ (Foot Locker)
Don't walk. Run! 3 hours left to save big for Black Friday!
Your secret deal is expiring… (Esqido)
Our black magic will vanish at midnight ⏰ (Paperchase)
you are MISSING OUT (Brooklinen)
Time is ticking, [recipient's name]… (Esqido)
It's Almost Over… (Kina & Tam)
Don't wait until next year for a deal like this again
Hey, Night Owls. Cyber Monday Ends at Midnight
Is this goodbye? 😢 (Torrid)
SEND URGENCY-DRIVEN EMAILS WITH AVADA FOR FREE
3. Sale subject lines
When your Black Friday & Cyber Monday sales start, you likely notify your audience via email. While many brands simply go with the "Black Friday is on" subject line, we know you can do better.
Instead of saying your sale has started and driven people to your homepage, you can give them a better starting point, as Frank and Oak does:
The brand knows that a lot of companies are competing for attention when Black Friday and Cyber Monday start. That's why they make it much easier for their subscribers to decide and start shopping from their store, instead of others.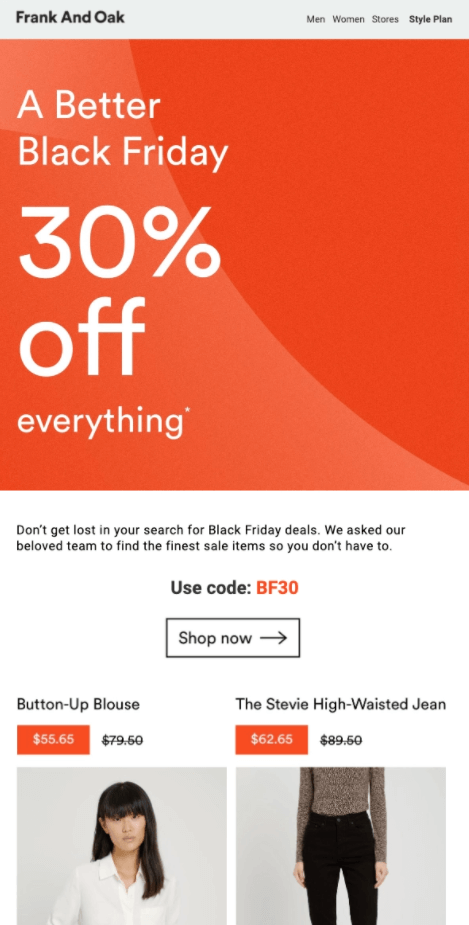 On what the brand calls "a better Black Friday," they don't want you to get lost while looking for good deals. In the email, they curate several products that their teams selected for you, so you can quickly click through and start shopping.
Some sale email subject lines for you:
📞 Hello, Black Friday is calling: 25% off sitewide! (Urban Decay)
Black Friday Weekend = Half Off Everything (American Apparel)
Black Friday $8.88 Sale (Rebel8)
Happy Black Friday: 30% off EVERYTHING! (H&M)
50% off for [recipient's name] 👈 (Torrid)
The perfect gifts are on sale (Framebridge)
$5 STEEEEEALS (Old Navy)
4 days of 40% off
Up to 70% off. One day only.
Up to 80% off all appliances for the next 24 hours only!
20% OFF CYBER MONDAY! Ready for this?
Our BFCM Deal: 40% Off All Sale Items
Save 30% with "CM30". Today Only!
Don't forget: Cyber Monday Sale 40% Off
4. Incentive subject lines
If everybody is discounting during Black Friday & Cyber Monday, what sets your deals apart from the crowd?
Consider incentivizing your offers with an extra gift, an additional coupon, free shipping, or gift wrapping. That means more incentives, more revenue, without hurting your profit margins.
If you are offering any additional benefits, ensure to use it in your email subject line. Below is how KVD Vegan Beauty does that:
While other brands are focusing on discounts, KVD highlights what they offer - and it is more than just a sale.
The brand expands on its gift offer in its email, which is only applied for orders over $7. Cleverly enough, the brand writes the dollar value of the gift set, making it much easier for customers to make a rational decision.
Some incentive email subject lines for you:
Black Friday: 20% Off Storewide + Free Monogramming (kikki.K)
It's Black Fri-Yay! Get 25% off. Plus, a free gift. (MAC Cosmetics)
25% off AND pick a full-size eye ends soon. (Bobbi Brown)
FINALLY Black Friday!! 50% off + free shipping! (Pura Vida Bracelets)
Free in-store goodies for the first 100 Black Friday shoppers!
Free Shipping. Check. Up to 50% Off. Check. Black Friday. Check
Re: Your Free Pattern (Wool and the Gang)
Can we send you a gift? It's an extra Glam Bag (Ipsy)
$10, $20, $30. Which will you pick? (Dr. Axe)
Enjoy a stress-free holiday season with great gifts, extended returns, and more (Ervine)
It's Cyber Monday! Get a free Premium Travel Case
BOGO - Buy One, Get One? Cyber Monday Deal
Still not enticed? How about we throw in free shipping!
Who still charges for shipping? We don't!
Get your Cyber Monday bargains shipped free 🚢
5. Extended subject lines
Black Friday might be over. However, let's be honest, the sale doesn't stop right away!
Your sales may make a comeback, either in the form of Small Business Saturday, Cyber Monday, or even an extended Black Friday weekend.
It's an excellent opportunity to follow up on Black Friday and convert shoppers who haven't bought from your sales yet. Ensure to give a good reason for why you are extending your sales. Otherwise, your emails will be unnoticed, or worse, you will risk losing credibility.
Let's see how The Spinsterz does this:
In the subject line, the brand informs you that they extended their sale, and the reason is a "stupid website glitch."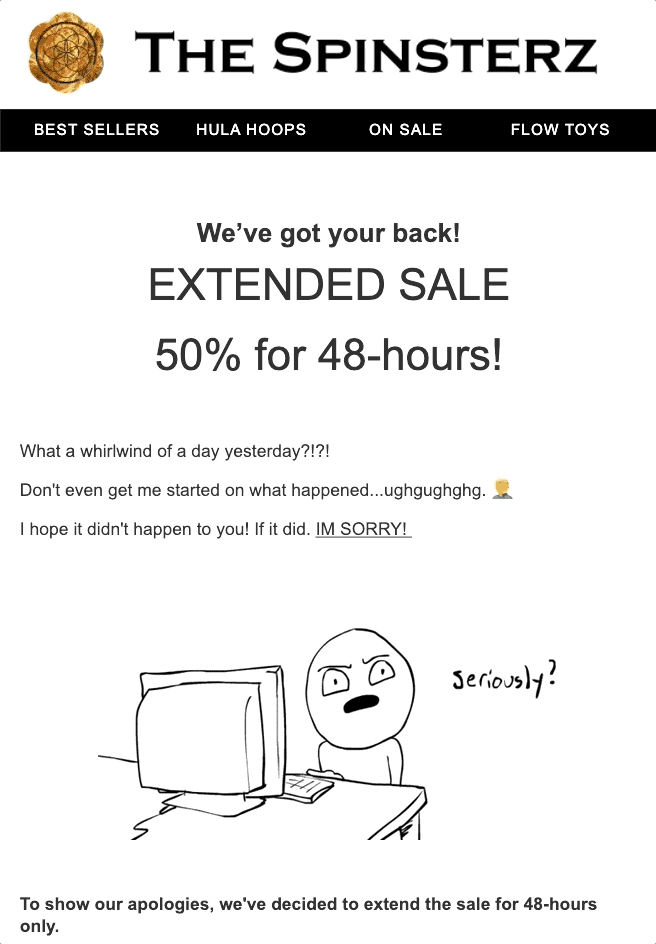 The brand relates how its customers might have felt when they experienced a technical issue due to high Black Friday traffic. They apologize for what went wrong and let you know that's why they extended their sale for 48 hours.
We can't tell if this really happened. But many stores experience technical issues during Black Friday, and being honest about this might do the job in your email subject lines.
Some extended email subject lines for you:
Surprise! Black Friday Extended (Marc Jacobs)
Black Friday continues! (PatPat)
ONE MORE DAY. Black Friday now extended (Urban Outfitters)
Did ya miss Black Friday? It's Back! (Legacybox)
Forgot to shop on Black Friday? NBD (Pura Vida Bracelets)
EXTENDED: Sale ends today at Midnight 🕛 (Dollar Shave Club)
[EXTENDED] just for you (Brooklinen)
offer extended… need we say more? (Kate Spade)
Second chances don't come along often… (Esqido)
Our extended return policy makes Cyber Monday shopping stress-free!
You deserve something special! ❤️
6 tips for writing the best BFCM subject lines
There are some helpful tips to follow to get excellent email open rates while creating a subject line for a Black Friday Cyber Monday email newsletter.
Use a familiar sender name. Your recipients want to feel like your emails are coming from a human and not an automated system. That's why you should change the sender's name to YOUR name or someone in the company. For example, we use "Alice from AVADA." You should avoid the "no-reply" sender name, as it makes your email feel unfamiliar and less personable.

Keep it short and straightforward. If your subject line is lengthy, it could impact your recipient's chance of opening your email. The rule of thumb (for both desktop and mobile) is to keep your email subject line under 50 characters.

Add personal touches to your email subject line. If you have information about your subscribers (i.e., name, location, etc.,), consider using this to benefit your email subject line and catch your audience's attention. It is essential not to go overboard here, but adding the simplest touch, like their name, can build trust and rapport.

Make it numerical. Everybody loves big numbers. The bigger, the better. If you have an impressive number to brag about, then do it. Be specific about your sales, do not hint about discounts.

Avoid making any false promises. Your email subject line makes a commitment to your audience, so it's vital you don't stretch the truth just to get more opens and clicks. Just don't make your readers lose trust in you by making any false promises.

Give a sneak peek of what's inside. Telling your recipients what's inside helps with opens and clicks. For instance, if you provide your reader with a free e-book, consider making your email subject lines something along the lines of: "Your FREE email marketing e-book awaits!"
The bottom line
Whether you desire to promote upcoming Black Friday & Cyber Monday offers, appreciate your audience with exclusive deals, or boost sales, your email subject lines play an essential role in capturing attention in this hectic month.
Even when you don't know where to get started with your Black Friday Cyber Monday email subject lines, you now have 60+ high-opened examples for inspiration.
Have you seen other examples of creative Black Friday Cyber Monday subject lines? Share with us, and we can discuss together!
Thanks for reading, and happy holidays!
New Posts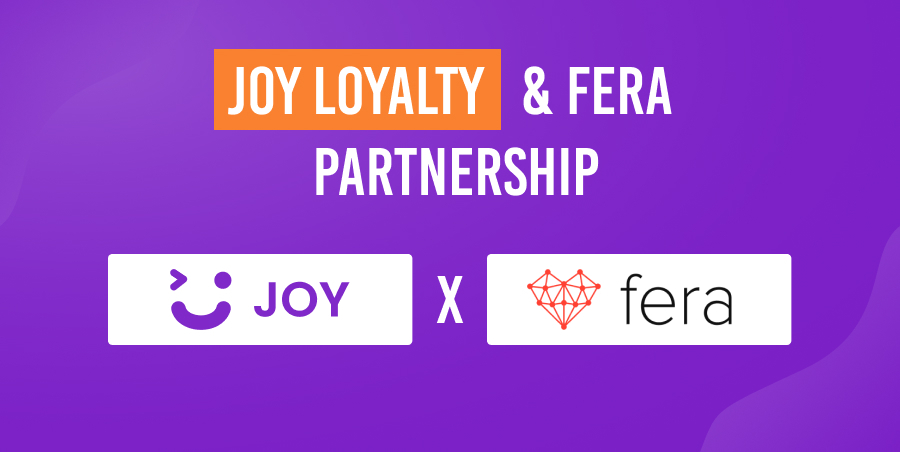 Subscribe
Stay in the know
Get special offers on the latest news from AVADA.
40k
subscribers has been joined!
Earn $10 in reward now!