10+ Best Email List Management Tools & Tips To Boost Your Campaign
The bigger your company becomes, the larger your contact database is. Let's imagine you have more than 1000 email addresses; how can you organize them well.
Managing an email list is essential to save your time and efforts. What's more, it prevents you from sending emails to the wrong customer group.
Understanding the importance of email list management, we have this post today that will cover all things you need to know about email list management and the top 10 best tools to help you organize your messy Excel files.
Let's dive in!
What is email list management?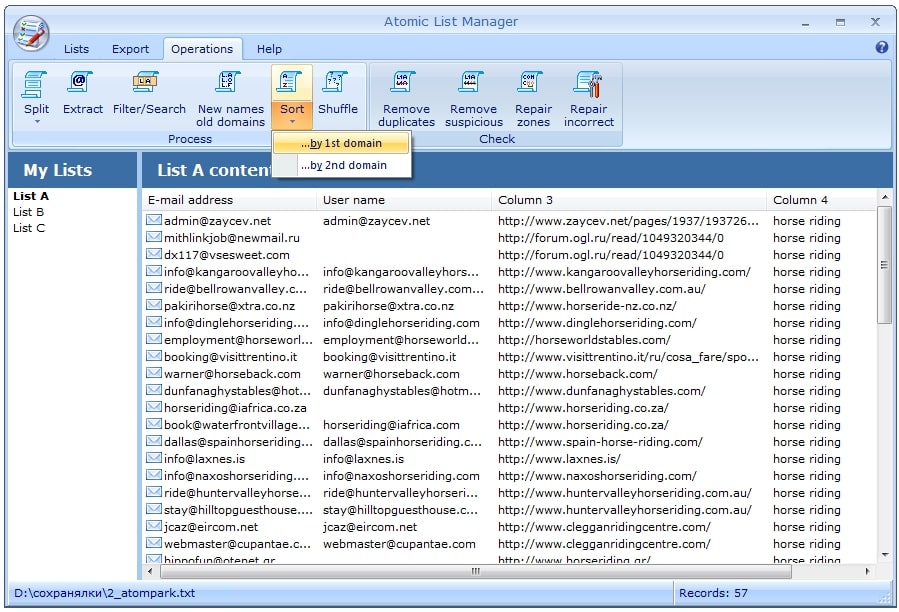 Email list management is the practice of organizing and managing contact databases in segments or lists. The purpose of managing your email list is to make sure your team sends the targeted and personalized content to each sub-group of your larger contact inventory.
A business can organize its email lists based on the following factors:
Behaviors
Engagement level
Places within lifecycle or who they are (blog subscribers, customers, trial users, lead magnet downloaders, new visitors, and more)
Interests
For example, if you manage your email list, you will organize your potential customers in a segment and only send offers to that segment.
Sometimes, businesses need to rely on email management tools with their metrics when having too many email contacts. They will assist companies in collecting data, bringing about robust insights, giving suggestions on how to increase marketing ROI, and so on.
Why is email list management important?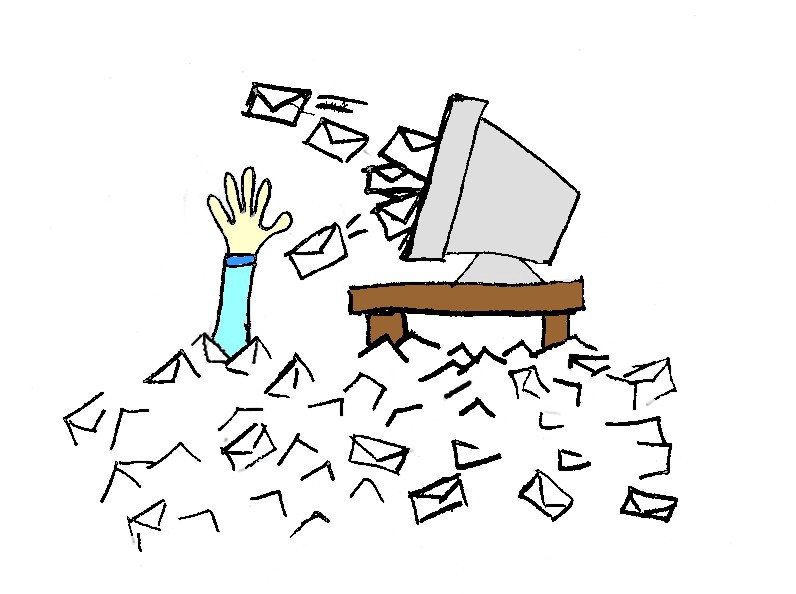 An email list includes contacts and email addresses of your customers who subscribed to your site or those who bought from you before. They may be interested in the items and services you offer and have the demand to know more about your offerings.
When growing with more customers, many businesses face the problem of having a messy contacts database. When they want to send a specialized email to specific contacts or customer segments, they have to look for customers' email addresses from a very lengthy Excel file.
Extracting the contacts you want to send email to is not only time-consuming but also effort-wasting. What's more, to send an email to a specific group, you have to copy and paste it from your long list.
Therefore, managing your email list is the key to get a proper email file and turn all these troubles into some simple steps.
With the help of managing email lists as well as some email management tools, businesses can:
Personalize marketing emails
Keep ROI in check
Save time and efforts
Generate leads
Build up a more exciting and personalized buying experience for customers
Have time to spend on other tasks which are more important such as the format and content of the email
10 best email list management tools for your business
AVADA Email Marketing
AVADA is an all-ine-one marketing automation platform that tailored for eCommerce businesses. AVADA currently supports Shopify and Magento stores with the outstanding functions:
Automation campaigns based on customer behaviours: Abandoned Cart, Welcome email, Order Follow Up, Cross-sell/Upsell and more
Newsletter campaigns: sending mass emails to subscribers or a specific segment to promote sales, new products or deliver valuable information
Sign up forms: Collect leads easily with various form types: Newsletter popup, Add-to-cart popup, Spin to Win, Inline form
Smart segmentation: Devide customers into different groups to bring more relavant and personalized experiences
Advanced reports: Know how successful your campaigns are with deep reports at multi-levels
SMS automation/SMS newsletters: Send text messages to any countries with the best price
AVADA offers 2 plans: Free plan is upto 1000 contacts and 15,000 email per month. With Pro plan, you can send unlimited emails and pricing is calculated based on your active contacts only.
ActiveCampaign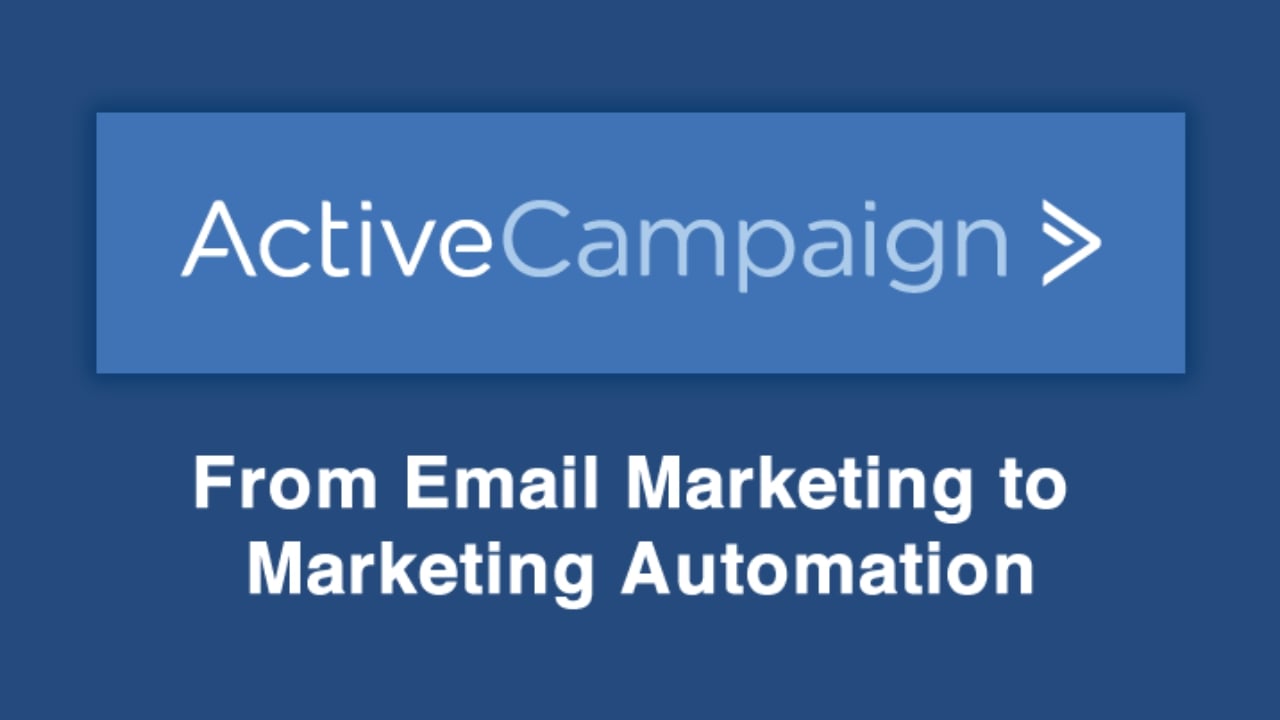 Another platform we want to recommend is ActiveCampaign, which is suitable for all kinds of businesses, especially those who have problems with campaigns.
When using ActiveCampaign, you will be guided to create a complete campaign from A to Z. To be more specific, here are what you can get from this platform:
The campaign creation wizard is the tool you can rely on to design, create emails and segment lists.
The reporting capabilities for you to keep up with ROI.
Testing the emails before sending.
Reporting and analytics.
Setting up auto-response emails
To use ActiveCampaign, you can start with the 14-day trial for free. In terms of paid plans with additional features, they will start at only $9 per month for the Lite plan which is also called the Base plan. With this pricing plan, you can send unlimited emails to a list of up to 500 subscribers. This option seems to be the most suitable for small businesses or start-up companies.
If you want to have more functionalities, ActiveCampaign provides you with the Plus, Professional, and Enterprise plans.
When it comes to customer support, the platform brings about email support, online chat, and phone support that you can ask for help directly.
In general, ActiveCampaign is great for building up complex automation because these steps are much easier than others. However, some users said that the design interface is rather bulky that has a wide variety of stages to take.
OptinMonster

Being a template-based option for all kinds of businesses, OptinMonster brings about an email form template that you can decide the way to build up your email.
It's also the most competitive function of the platform, allowing customers to choose the way to opt-in to emails and track their progress. Besides, its interface will help support many campaign structures.
OptinMonster is suggested for those who want to design their workflows, or those WordPress integrations are critical for. At the same time, the platform has its plugin creating lightboxes and subscribe forms.
In terms of pricing, its plans range from $19 to $49 per month.
HubSpot
The second tool we want to recommend to you is HubSpot. The company has an email marketing functionality that plays as a part of the Professional CRM.
Thanks to HubSpot, you can save much time and effort. With some simple clicks, you can build up a professional draft of the email. If you want to make changes to them, it is also easy to come back and refine anytime you wish.
HubSpot is useful in sending personalized emails to specific customer segments since it allows you to freely tailor every detail in the email within your campaign to target receivers in any lifestyle stages. You are also enabled to depend on any other contact data to target audiences. With the help of A/B testing and analytics that HubSpot provides, you don't have to worry about the sending and tracking process.
Whether you are a big company with a huge number of email contacts or a small team, or just a small-volume business, HubSpot will fit all demands. It seems to be a useful email marketing tool option for businesses from whatever stage of their journey.
HubSpot does offer a Free plan for those who want to test before using it officially. Or else, you have to spend $800 per month.
GetResponse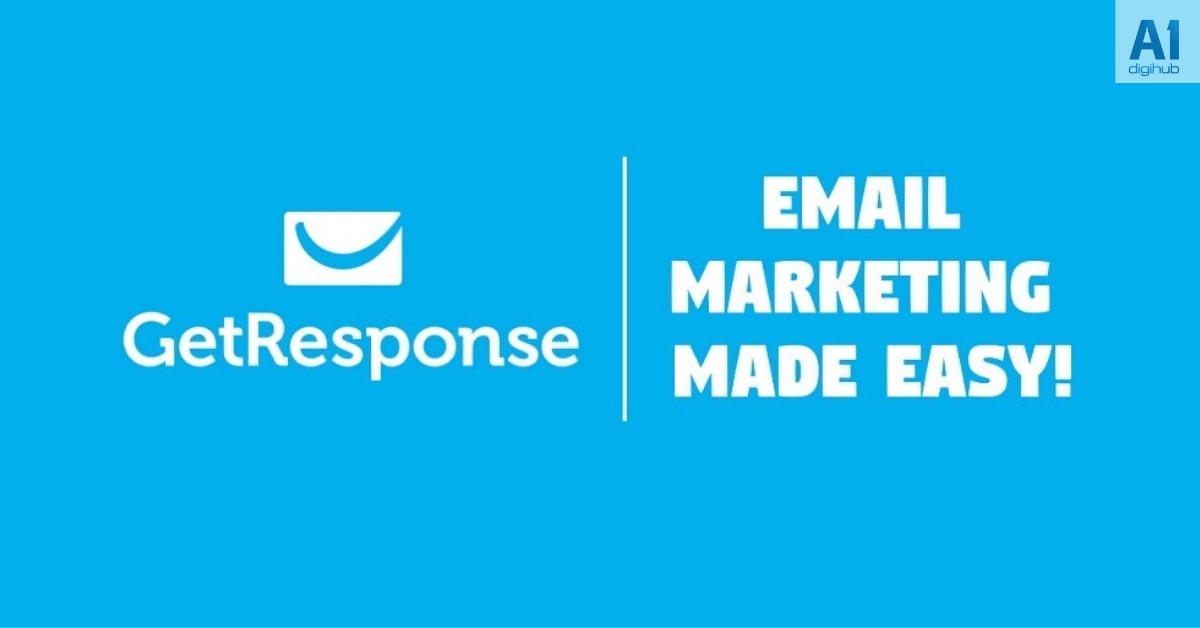 GetResponse is a great marketing tool for your business that conducts email marketing campaigns. If you choose this platform, you can use its drag-and-drop feature, multiple templates, a landing page creator, tracking and reporting feature, autoresponders, inbox preview, and so on.
The free plan is available on GetResponse but if you want to reach up to 1000 subscribers and more amazing functionalities, you can pay from $15 per month for other pricing plans.
Whatever plan you apply for, you still can approach some basic features like responsive email designs, in-depth reporting, split testing, comprehensive autoresponder, messages based on time, and messages based on action. What's more, now you have a chance to use a landing page creator which is hardly provided by other platforms. Also, you can send an email, chat online, or directly contact the support team when using GetResponse.
In case you want to use other additional features like webinar hosting, templates for creating automated sales funnels, you need to pay more to apply for the Plus plan, Professional plan, or Enterprise one. Moreover, eCommerce tools in higher-priced plans are worth trying. The automated builder tool of these pricing plans enables you to make changes to autoresponder sequences as you wish. The Plus plan brings about 5 automation and the amount is unlimited when it comes to higher plans.
Consider carefully before choosing the pricing plan. If you just need some basic functionalities, don't overthink but choose its 30-day free trial. If you want more features and reach up to thousands of subscribers, choose higher plans. If you use GetResponse long enough, the platform will surely give you decent discounts for paying for one or two years up front.
Constant Contact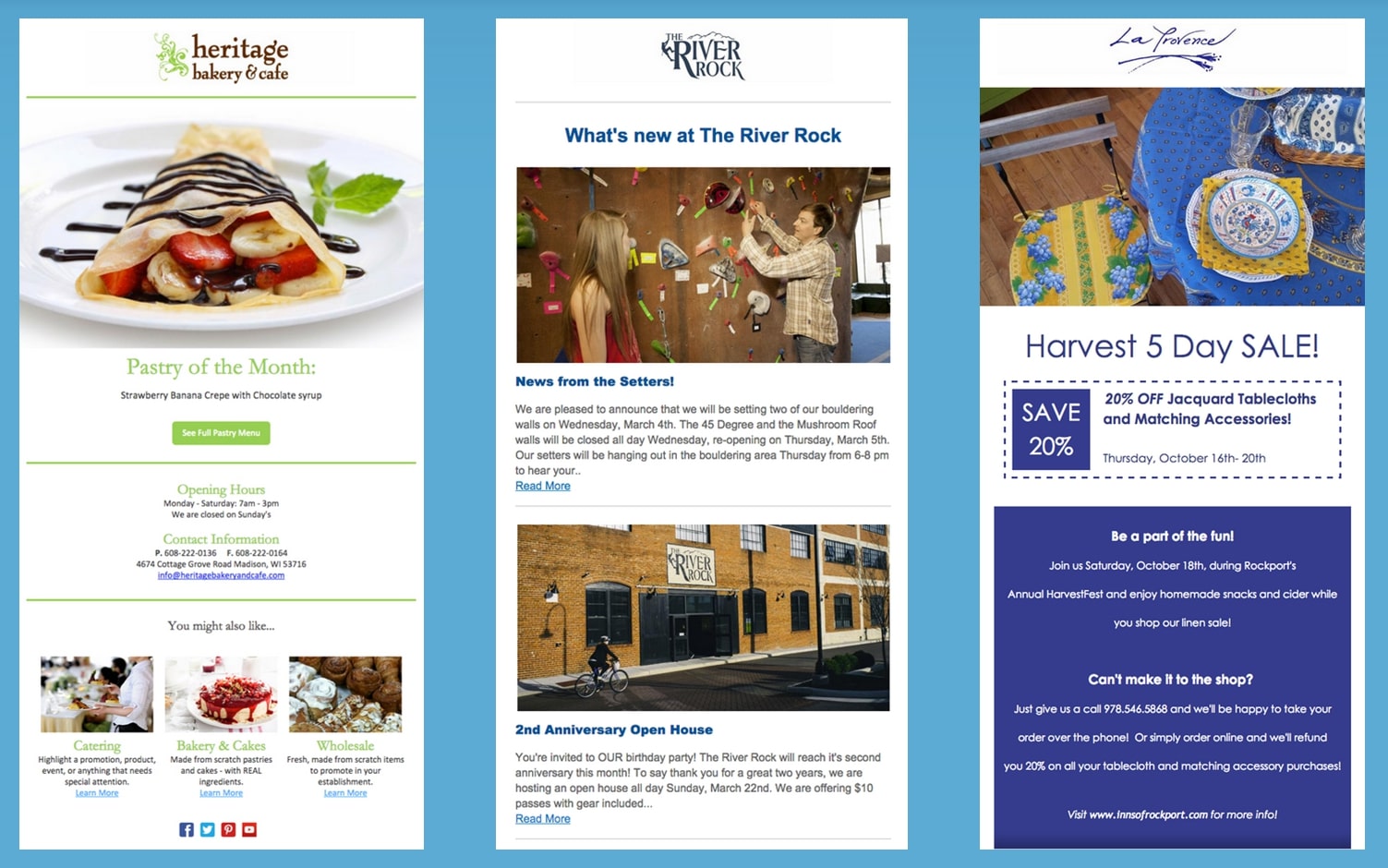 Next, we want to recommend Constant Contact with which you can freely customize. With the help of this software, here are functionalities you can make use of:
Open rate tracking
Click rate tracking
Drag and drop customizable templates
Social media integration
Anti-spam checker
To use its templates, you just need to take some basic clicks and steps. As you can see, in terms of email marketing purposes, you are enabled to create emails and take advantage of many marketing tools.
Besides, you will be provided a Partner Program in case you want to re-sell Constant Contact to your customers. You can email, directly call, or chat online to ask for more. They are also customer service that the platform offers.
You canimport data from Gmail and Microsoft Outlook spreadsheets as well as personalize email sign-up forms on web pages or social channels.
We have used Constant Contact before and find that it is super easy to use. Being simple for every business owner and having great tech support, the platform is worth using. However, there seems to be a limit in functionalities and design tools.
When it comes to pricing plans, users can start with its free trial in up to 60 days with lists of 500 subscribers. If you aim to get more, you can pay for paid plans which start at $20 per month. Finally, the Email Plus with the highest price of $45 per month will give you more features like advanced commerce marketing, customizable pop-up forms, more user permissions, coupons, surveys, and so on.
MailChimp

The most noticeable advantage of MailChimp is its ease of use. Thanks to its user interface which is well-designed, you can learn all its tools in less than half an hour. Moreover, you are enabled to make use of many features and free options until your subscriber list reaches 2,000.
Besides, MailChimp provides its users with many expressive features like list-building features, list-segmenting, automated emails, email templates, auto-responders, campaign-analyzing. Also, you can use RSS to email campaigns, and analytics to track your campaigns.
MailChimp seems to fit every demand of every business even those who have a limited budget. Small-volume businesses can have a good variety of email templates. You can rely on the template builder to create and customize your own template without knowing about coding. Support tools and in-app tips are valuable assets for beginners.
When it comes to pricing plans, the free plan is available for lists of fewer than 2,000 subscribers and email sending numbers of up to 12,000 emails per month. There are, of course, some features that users can use with the free plan such as autoresponders and the MailChimp badge.
In case you want to reach more than 2,000 subscribers or send more emails per month, you should pay more for the paid plans which start from $30 per month. When you reach 2,501 subscribers, you will have to pay $35 per month. MailChimp will not automatically charge you when you move to a higher-priced plan but send you a warning in advance. By this, you can be prepared and decide whether to continue or not.
There are helping solutions like 24/7 support, phone support, and website posts in terms of customer service. Once you pay for paid plans, you can receive 24/7 support. Moreover, only when you apply for the highest level plan, which costs $299 per month, will you receive phone support.
It doesn't mean the platform gives no support for free plan users. You will be directed to searchable help articles if you get problems. These posts are detailed and helpful enough to solve your basic troubles. What's more, MailChimp's setting up process is very simple to use, so don't worry much about asking for help.
Campaign Monitor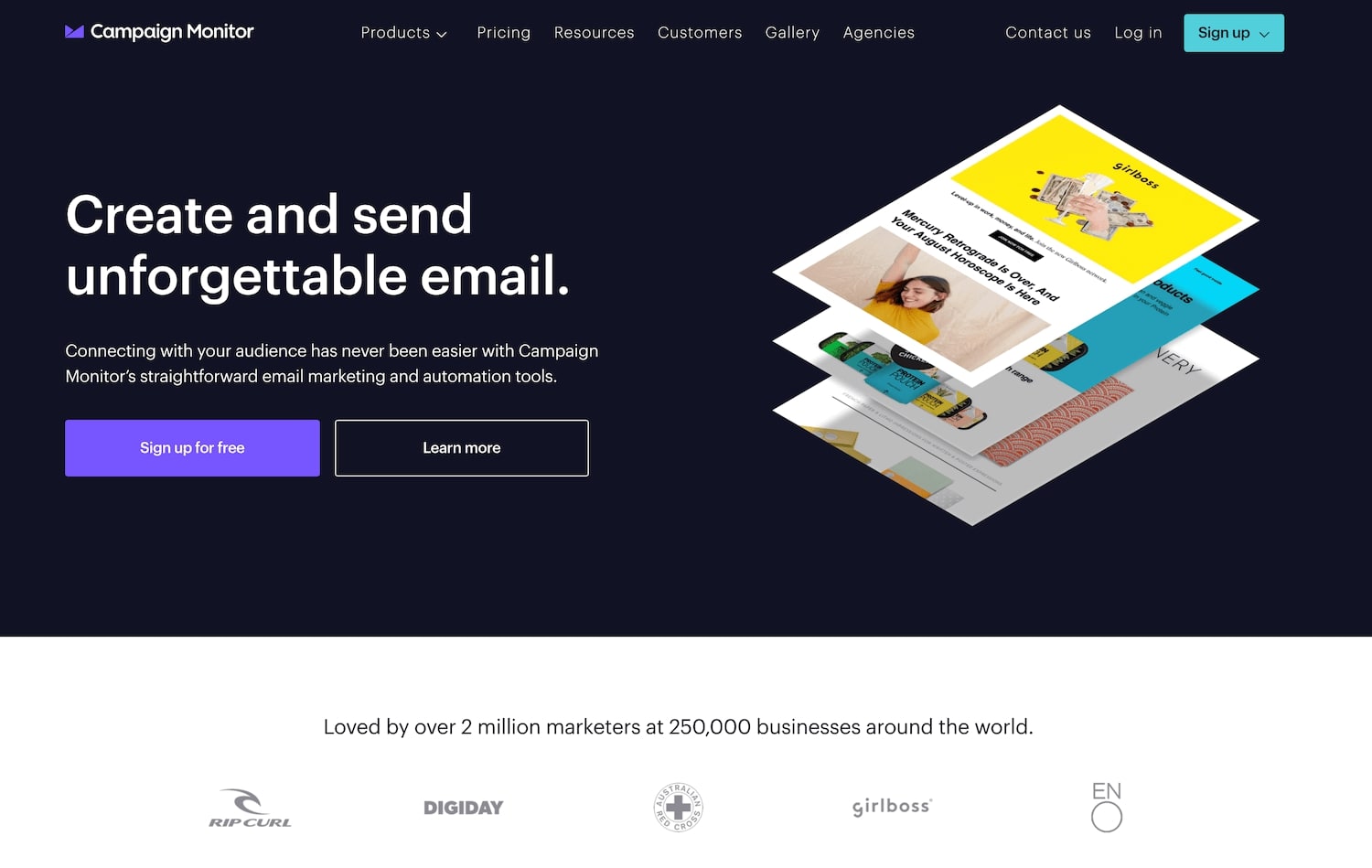 Campaign Monitor is listed as the favorite platform of many freelancers and agencies who have to manage email marketing campaigns for customers. In fact, Campaign Monitor is designed to suit the creative professionals and enable them to manage all their clients with only one account no matter if they are different companies or social media accounts.
Here are features provided by Campaign Monitor:
Brand personalization when you can rebrand the platform with your own logo to match your brand.
Price determination when you can have control over your clients' prices to pay to get the service. You can then get money from the difference between the price you offer and the base pricing plans of Campaign Monitor.
The template builders when you can build email templates without coding
RSS to email
A/B testing
Autoresponders
Spam testing
Analytics and reporting
List segments
If you are going to launching email marketing campaigns from multiple accounts, I'm sure Campaign Monitor is a great idea.
You can pay $9 per month for a list of 500 subscribers and 2,500 emails sent in terms of pricing. If you want to send more, you can apply for the $29 pricing plan with unlimited emails and a list of 500 subscribers.
One special note is that you can use the unlimited free trial version. It is when you can try out all the features provided but not sending the emails. You do not need to provide credit card information or download the app to run it on your computer since it is cloud-based. When you decide to join, the platform will save your data, and your email will be sent upon payment.
One more advantage of Campaign Monitor is its customer service. You can get help from its 24/07 support service, including the support team, who are responsive and replying fast.
Mad Mimi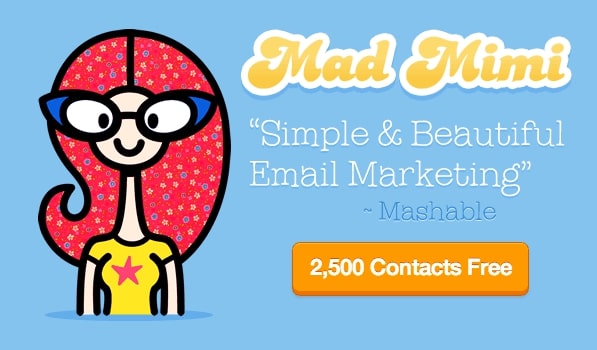 Mad Mimi is perfect for beginners because it's so easy to handle and create emails. With the help of Mad Mimi, you will get well-designed and professional emails or newsletters without spending much time editing. What's more, the pre-designed templates of Mad Mimi are not outdated but modern and easy to use. Here are what you can get from the platform:
The theme designer for creating the design or layout of the emails.
List segmentation
Tracking and reporting
Drip campaigns
RSS to emails
However, there are still some comments saying that Mad Mimi's formatting choices are limited and the Add-ons of the platform is not affordable.
You can pay from just $10 per month to apply for the cheapest pricing plan with a list of up to 500 subscribers and unlimited emails sent.
Customer support of Mad Mimi only includes email support and online chat.
Adroll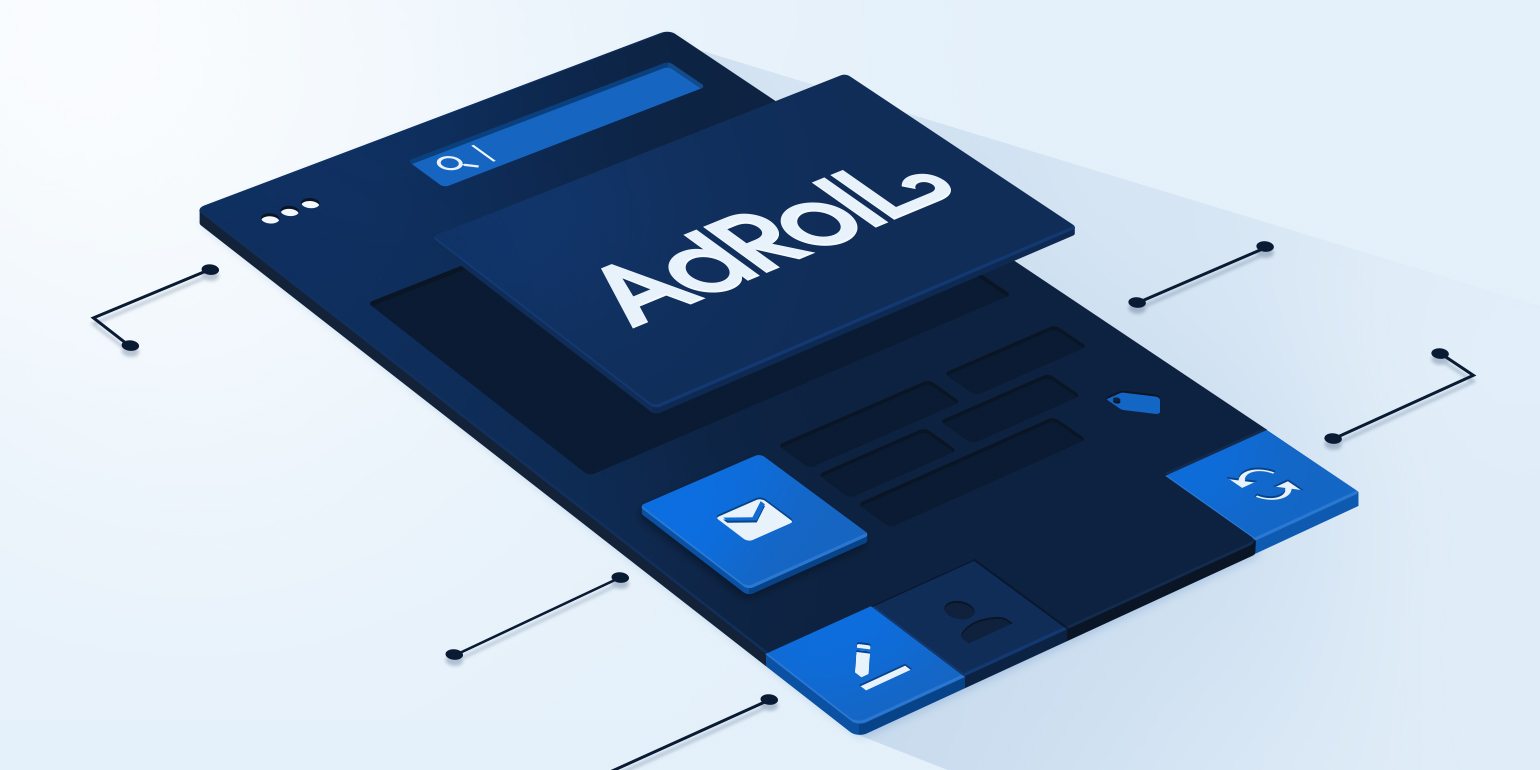 If you try Adroll, you will save much time and effort. Moreover, Adroll will combine email marketing and display advertising practices with social media planning. Therefore, you can have a complete overview of your email marketing performance.
AdRoll is well known as a broad system so you can receive additional tools to customize campaigns easily. The platform is especially suitable for those who want to target customers and send them the most relevant emails. That's the reason why AdRoll will automatically upload subscriber lists from other platforms to itself and support you in increasing leads.
AdRoll allows you to manage and organize segmented lists smoothly due to its well-designed software and technology. I highly recommend this platform to you if your business is a medium-sized one that is combining several marketing efforts.
To use AdRoll, you need to pay a pretty high price. Pricing plans of the platform start from $300.
iContact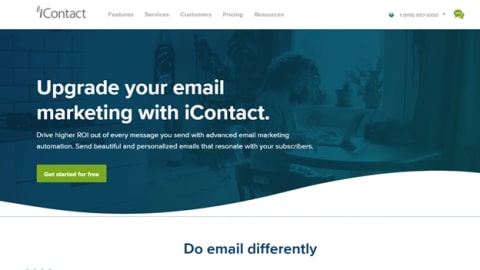 The advantage of iContact is its ease of use. It is said to lack some features or functionalities. However, if you are a newbie or a small business, I believe iContact is a great choice.
You can look at the following features which are provided by iContact:
A wide variety of templates are designed well before.
A drag-and-drop MessageBuilder.
A MessageCoder to import the HTML templates
The SpamCheck for you to lead the messages to the inboxes of customers
Tracking feature
Split testing tool
An Agency Solution to manage the email campaigns of the customers and re-brand it if you want
iContact offers a free trial for those who want to test first. In terms of paid plans, you can pay from $14 for a list of 500 subscribers. You should consider carefully before choosing the plan to spend money on. Remember that Premium membership will provide many favorite features for customers while others don't.
Customer support of iContact includes email support, online chat, and phone support.
Tips to manage your email list effectively
Create a good first impression
You should send a welcome email to those who first subscribe to your business. In the first email, you should include your appreciation for their joining your list, your request to let them whitelist your email in their address book and inform them about how you're going to contact them and how they can contact you.
Make it clean
Keeping your list clean is an important step to manage your email marketing campaign better. After some months, you need to clean your list by deleting duplicate addresses, deleting addresses with typos, updating invalid addresses, or removing invalid ones.
Deal with old contacts
Once you clean your list after a long time, you may find a lot of old contacts who have not engaged with your services anymore. You need to deal with them instead of letting them out there. Firstly, you can remove them from your list. Secondly, you can start some strategies to make them re-engaged again.
Avoid making your audiences annoyed by sending a surplus of emails
One of the reasons why audiences decide to unsubscribe from email lists is that they get too many emails quickly. Each audience has his or her frequency. Therefore, prevent sending a bunch of emails but let them choose their frequency. Besides, you can allow them to adjust the frequency and the type of content they can receive so that you can send the most relevant emails.
Don't hide the unsubscribe button
Yes, we all know keeping customers on the list is the goal of any email marketing campaign. However, if you challenge your audiences by hiding the unsubscribe button, they will mark you as spam. Instead, you should make it easy and make them happier. If they are not interested in your content and have no demand for buying your product, you should let them unsubscribe so that you can send emails to more relevant audiences.
Don't buy lists
Finally, remember not to buy lists no matter how hard your problems are. You may suffer from paying up to $16,000 in fines for each email sent if you buy lists because it is illegal. What's more, purchased email lists are of low quality and not for your businesses. Using the email lists you buy will be just sending emails to as many audiences as possible but get no positive result.
Conclusion
Now you have understood the importance of email list management. Thanks to this, you can not only save your time but also find it easy to send emails to correct customer segments.
Keep in mind that a good email list is effective in increasing your email marketing ROI and enhancing your position within the market. Quality is always more important than quantity. Focus on how to make your list clean and never buy any list.
Hopefully, this post gives you a useful guide on how to manage your email list and some tools to maximize the process. If you have any questions, be free to leave a comment in the section below. Please share this article with your friends and visit us for more in case you find it interesting.
Good luck with your email marketing campaign!
---
Mike is a content writer at Avada, with a love for video games, gadgets, and software. He has been writing about the industry now for over 7 years. He likes to keep up-to-date with the latest software releases. He's also an avid reader, and he enjoys spending time outdoors with family and friends. When he's not working, you can usually find him playing video games or exploring new outdoor activities.
New Posts
Stay in the know
Get special offers on the latest news from AVADA.