Top 7+ Best Campaign Monitor Alternatives in 2023
You have just started a business. You just got the funding and are about to move on to the next level. It all looks set. But you need to reach out to as many people as you can to let them know about your product. How are you going to bring in revenue and profit if no one knows about your product? If you were a well-established company, you could employ a marketing gurus team to do some hard work for you. You can buy advertisements and run tailored campaigns. But you can't afford those luxuries as the founder of a small startup, so you decide to turn to the tried and tested medium: email marketing.
However, unless you're a marketing expert, it's hard to execute and manage a good email marketing campaign. Luckily, there are so many tools on the market that you can run campaigns for you. In fact, there are so many tools on the market that selecting the right one can be daunting. You have come to know Campaign Monitor, and after having found out more about it, this tool doesn't seem to be a good fit for your company. Don't worry! If you're looking for alternatives to Campaign Monitor, you've come to the right place! In this post, we're going to introduce you to what other great options you can use if you don't find the Campaign Monitor suitable to your company. Let's just get straight into the specifics!
Why is Campaign Monitor not a good choice for some online stores?
Campaign Monitor is an email marketing tool that provides a good number of features for its users to create, run and monitor marketing campaigns. Although this tool is well-known for the high quality and flexibility of its email templates, many people don't see it as a good fit for their businesses.
There are many reasons why some people want to look for an alternative to Campaign Monitor, the most common reasons are:
Campaign Monitor is relatively expensive compared to some of its competitors on the market.
Its split testing is limited to two variants only.
There's no free trial.
The report features are basic.
If you are not on the most expensive plan, email is the only customer support option.
The app doesn't have a landing page creator.
The user interface is harder to navigate than that of some other tools.
CM Commerce alternative & competitors
1. AVADA Email Marketing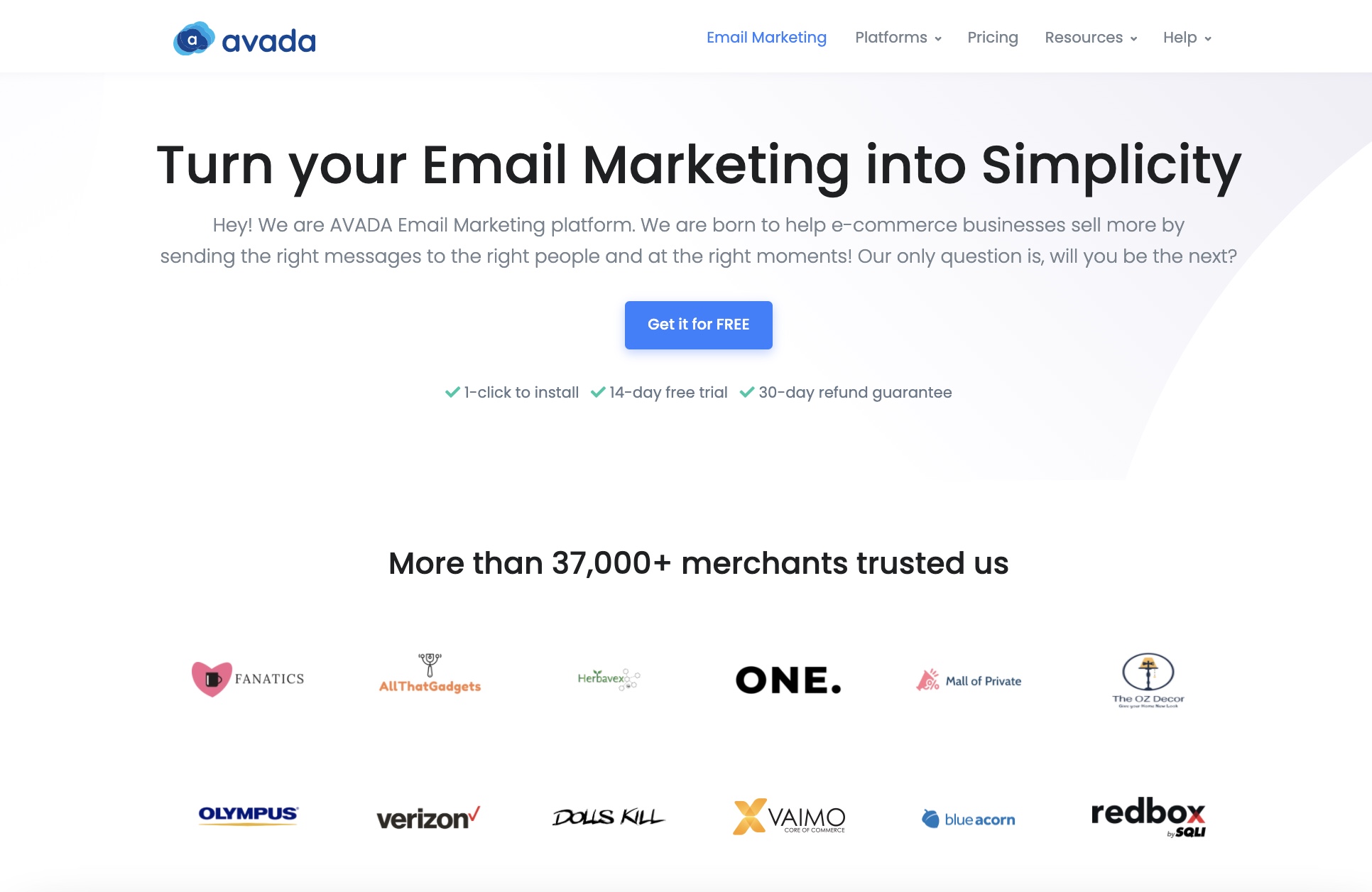 Avada Email Marketing is an amazing email marketing tool that is surprisingly easy to use. It provides some of the most professional email templates you can find. These templates can be easily modified using its drag-and-drop editor that uses a more intuitive interface than many of Campaign Monitor's alternatives.
All Avada Email Marketing plans also include mobile responsiveness, desktop and mobile email previews, email workflows, advanced analytics, and cart abandonment recovery. The entire tool is designed with newbie marketing in mind. One downside is that you can use AVADA Email Marketing if you're on Shopify.
The Basic plan starts free of charge for 1,000 subscribers and 15,000 emails.
Free plan: Yes
Price range: $0-9 a month.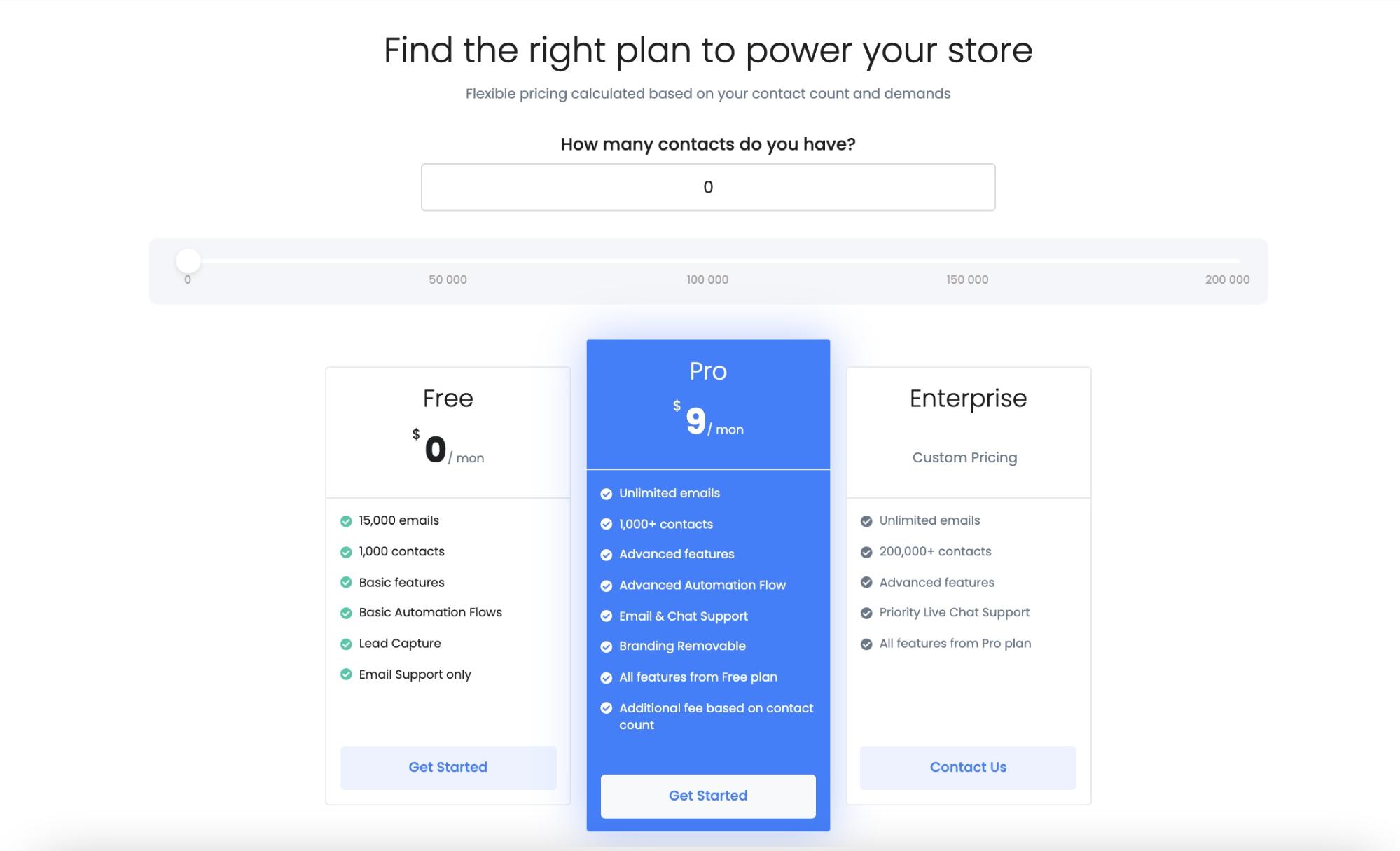 Who this tool is best for: If you have a small budget to get started with email marketing and your main concern is ease of use, Avada Email Marketing is one of the best Campaign Monitor alternatives to consider.
2. Moosend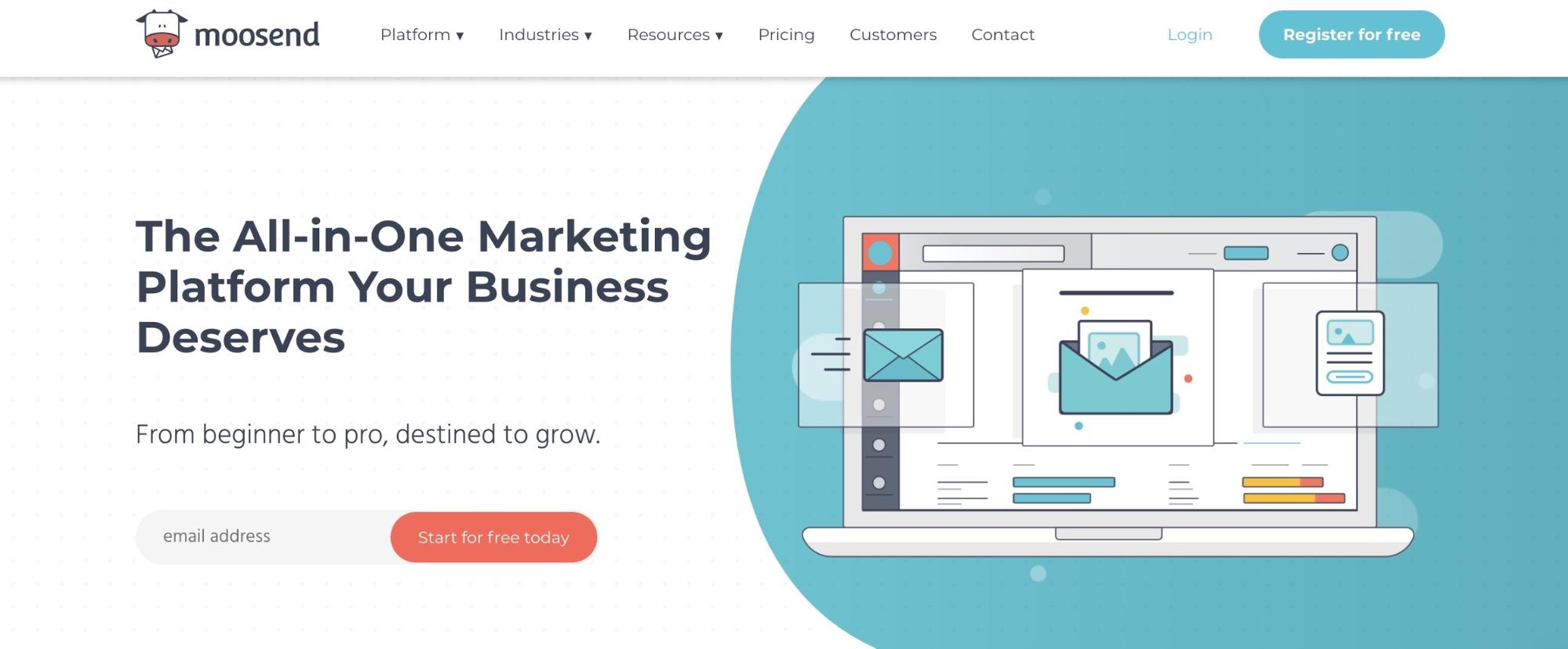 Moosend is another email marketing provider with a high quality free plan, which makes it a great alternative to Campaign Monitor. Businesses with less than 1,000 subscribers can send unlimited emails, run automated workflows, use segmentation to target specific audiences, and A/B test each email before they send it. It also provides templates for automated workflows, making automation easy—even for someone who has never sent an email campaign before.
Like MailerLite, Moosend also provides integration with a number of tools, including Shopify, WordPress and WooCommerce. The only real downside of Moosend is the restricted choices for registration forms. The platform doesn't allow you to build opt-in popups, only HTML types.
Free plan: Yes, with unlimited emails and 1,000 subscribers.
Price range: Paid plans start at $10/month for 2,000 subscribers, and go all the way up to $3,650/month for 1,000,000 subscribers. Moosend also offers a pay-as-you-go plan, which enables you to buy "credits." Each credit is one email you can send.
Who this plan is for: Moosend is a great choice as a Campaign Monitor alternative, particularly for small businesses. Almost all of its functionality can be accessed on the free plan, and prices are increasing at an affordable rate.
3. Sendinblue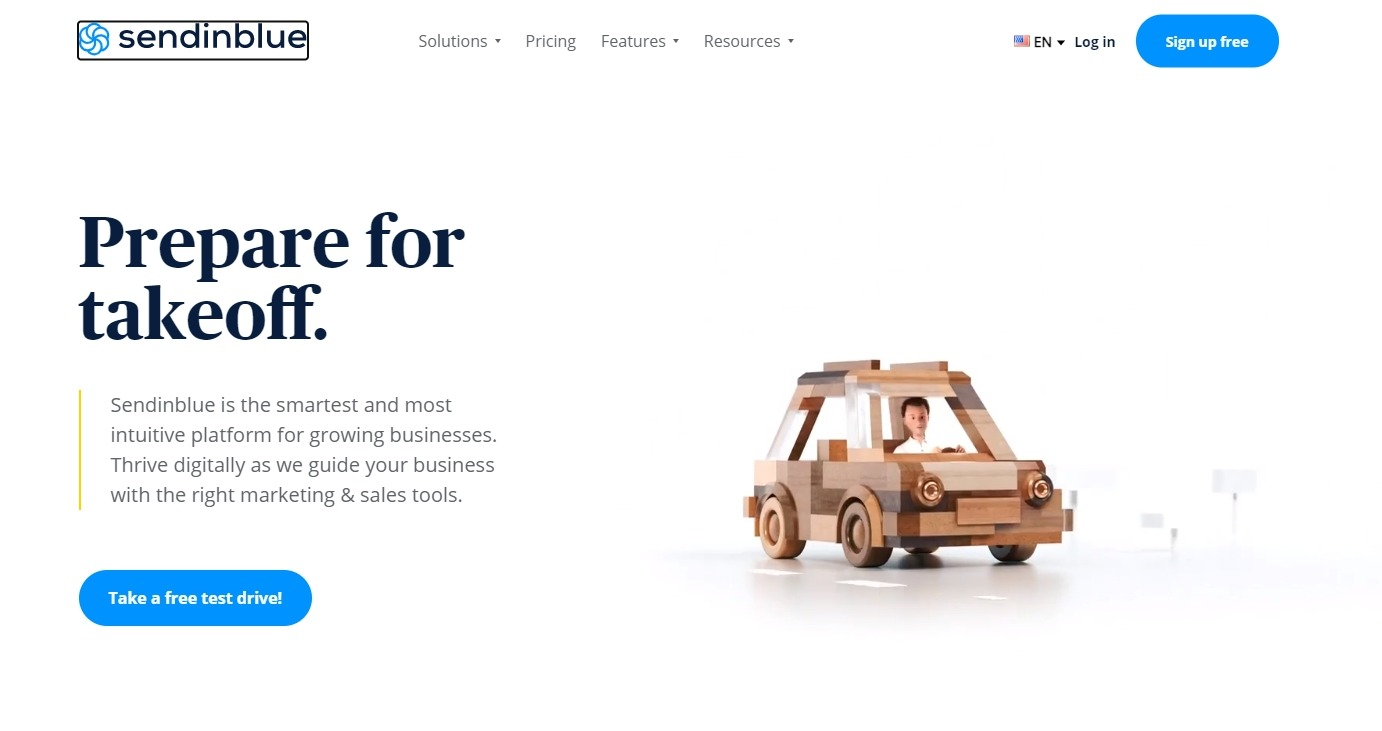 SendinBlue, one of the best email marketing tools on the market, is a great alternative to Campaign Monitor. The best part is that you can access almost all of its functionality with a free account. This includes automated promotions, advanced segmentation, A/B testing and complete access to your email template collection. You can also have unlimited contacts without paying a penny.
The email marketing tools offered by SendinBlue are also linked to its CRM tools, allowing you to easily manage all your customer experiences in one location. The only possible downside of SendinBlue is that when you reach 2,000 customers, the tool starts to get costly and you need to pay at least $25 from that point on.
Free plan: Yes, with unlimited contacts (2,000 contacts for marketing automation workflows) and up to 300 emails a month.
Price range: Free, $25/month, $39/month or $66/month.
Who this tool is best for: SendinBlue is a great option for small businesses that want to remain small and want free and comprehensive email marketing tools. We also suggest SendinBlue to more bigger businesses who want email newsletter resources integrated with CRM and have a budget to maintain a premium package.
4. Mailerlite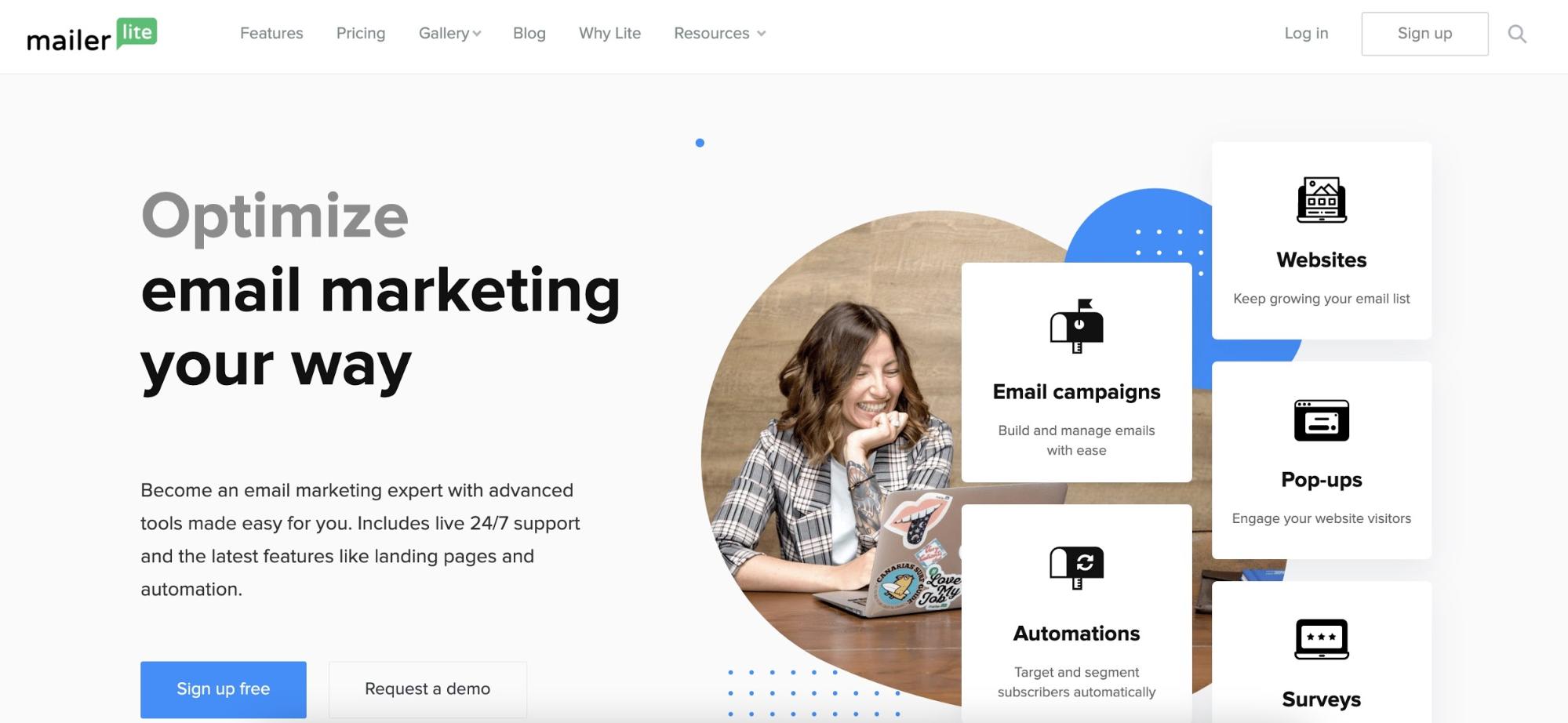 MailerLite is an easy-to-use email marketing tool with a comprehensive free-plan. Free users can send automated emails, use segmentation to create more targeted campaigns and explore the potential of each email with A/B testing. Also, this tool makes it easy for you to add surveys to your emails.
MailerLite can also be incorporated with a range of website platforms and marketing tools, including Shopify, WordPress and WooCommerce. On the other side, there is a lack of advanced features, also at the premium level. The ability to customize content and create automated workflows is minimal. Its email template library is also limited compared to other options on this list.
Free plan: Yes, with 1,000 contacts or 12,000 emails per month.
Price range: Free, $10/month, $15/month, $30/month or $50/month.
Who this option is best for: MailerLite can be a great alternative to Campaign Monitor for businesses with small budgets and simple email marketing needs. If you want to run more advanced email campaigns, you may want to consider other options on this list.
5. Getresponse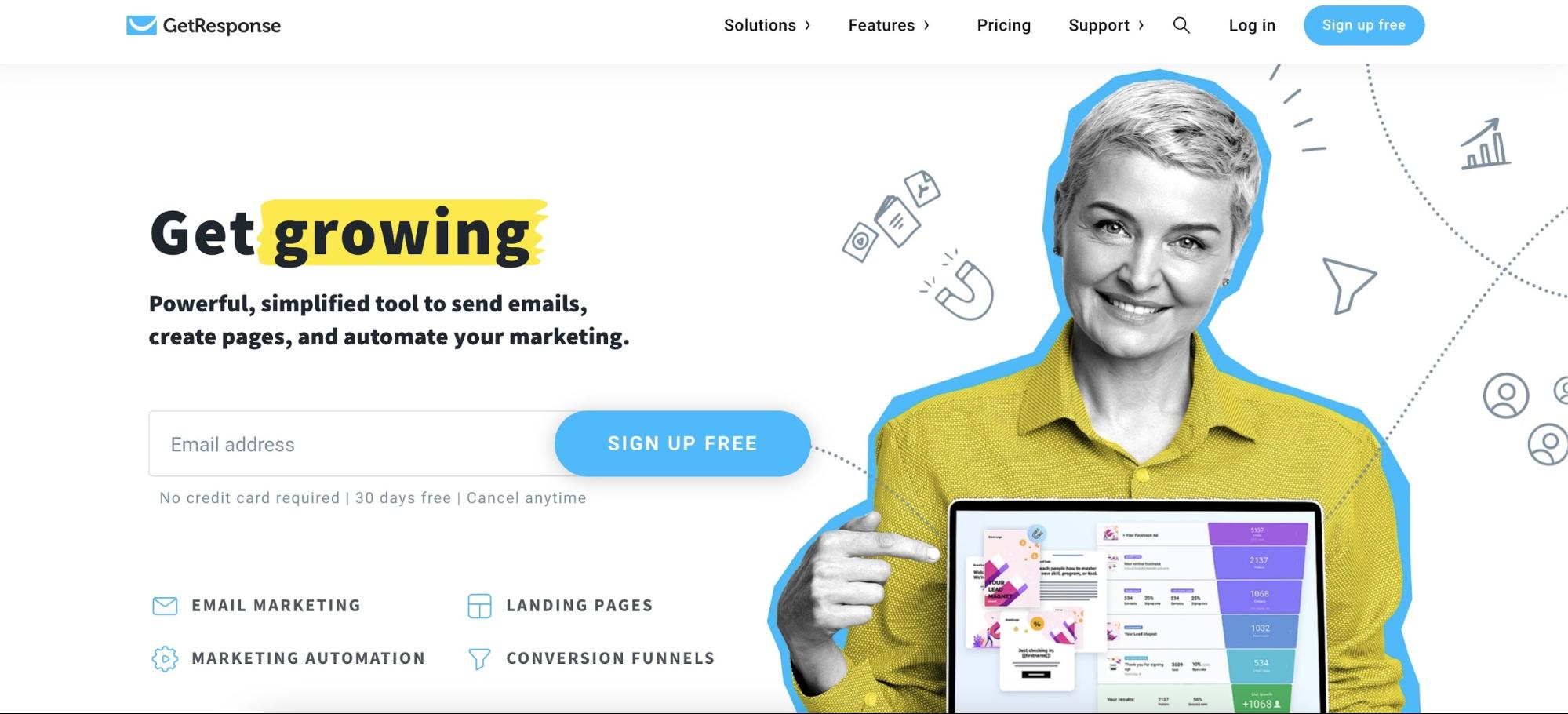 GetResponse does not offer a free plan, but it does offer some of the best advanced features available from any Campaign Monitor alternative. In addition to the basic features, such as segmentation and A/B testing, GetResponse provides sales funnels, as well as the ability to sell e-products directly from your newsletter. It also offers some of the most sophisticated automation options around, with a wide variety of triggers for tailored promotions.
At a higher level, GetResponse helps you to host webinars and collaborate with team members to organize your campaigns. The GetResponse plan layout is a little different, too. Most newsletter providers let you pay for a high-priced package with a small newsletter, but will automatically bump your newsletter to a higher cost when the number of subscribers reaches a certain point. This means that you can automatically get any extra features that come with a higher-level package.
GetResponse, on the other hand, changes your cost based on the number of subscribers without changing your plan. This means that if you begin with a thousand subscribers and reach 2,000 subscribers, you won't get any extra features, but you'll pay more. The cost difference between plans remains essentially the same regardless of the size of your list.
Free plan: No.
Price range: $15/month to $1,199/month.
Who this choice is best for: If you want the ability to build multiple and complex automated promotions, multimedia solutions, and the ability to sell online items directly from your mailing list, GetResponse is the tool you need.
6. Aweber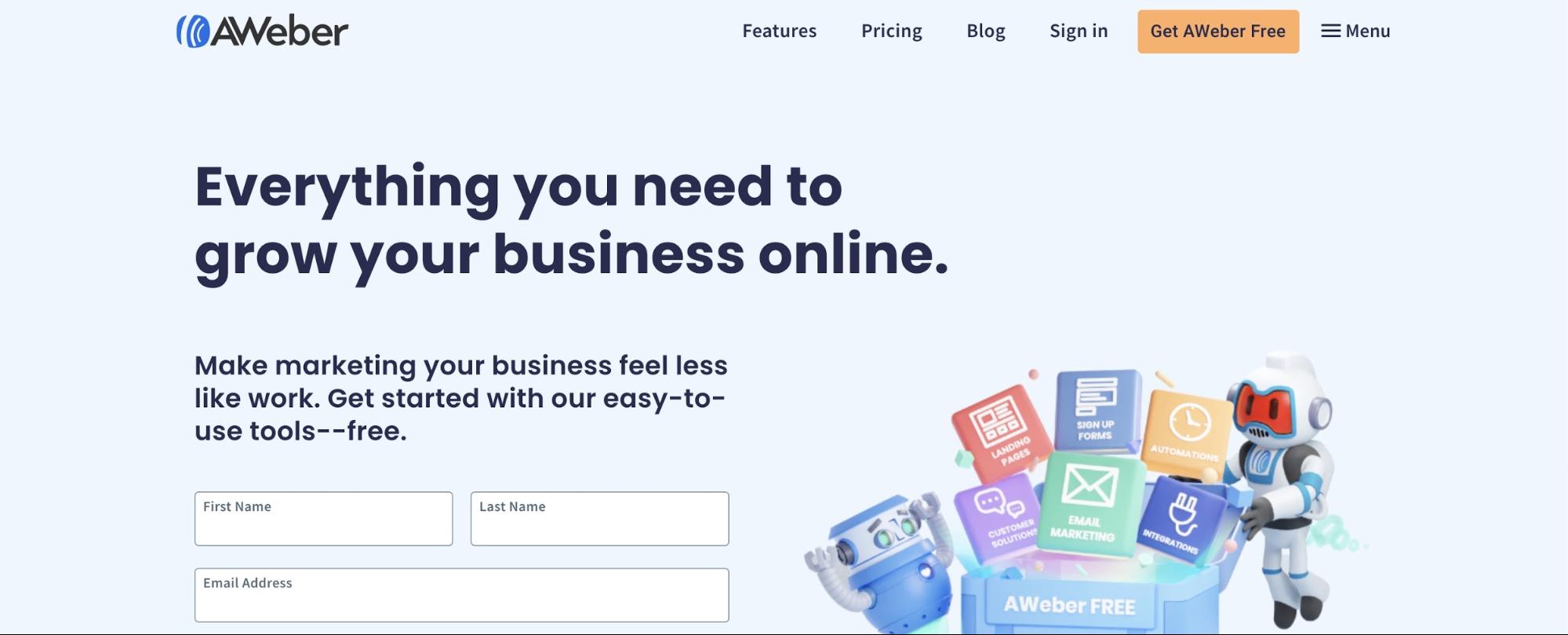 AWeber is one of the veterans in email marketing. All plans allow users to send unlimited emails, build automated customer journeys, use advanced segmentation to target their audiences, and access comprehensive analysis. Users will have access to more than 700 email templates and 6,000 photos in stock.
AWeber also provides hundreds of integrations with platforms such as WordPress, WooCommerce, Shopify. It also has a WordPress AWeber plugin that simplifies the process of acquiring the subscribers. AWeber has two slight drawbacks. First, many of the email templates are out of date, so you may need to browse for a while before you find a suitable one. Second, several parts of your list cannot be included or removed from one newsletter.
Free plan: No.
Price range: $19/month, $29/month, $49/month, $69/month or $149/month. A custom quote is required if your list has more than 250,000 subscribers.
Who this tool is best for: AWeber is a great choice for business owners who want to have maximum flexibility from their email marketing provider.
7. Constant Contact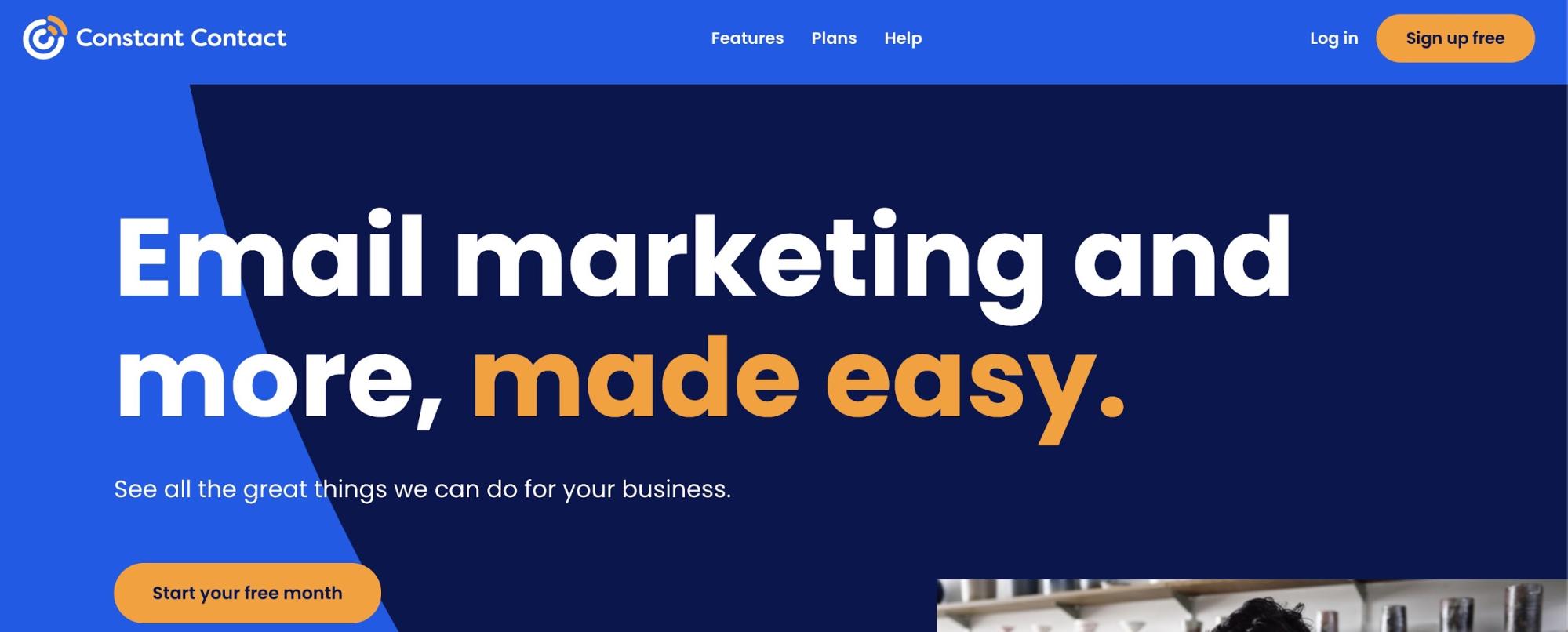 Constant Contact is another veteran in the world of email marketing, established back in 1995. Constant Contact provides an incredible number of features, including a coupon template right inside your newsletter and the ability to collect donations via email. You can also find hundreds of email templates and a user-friendly drag-and-drop email builder.
Constant Contact also provides more than just an email. Its free website builder helps you to create a dynamic website in minutes, including a free online store of up to three items. Hosting plans are also very inexpensive, starting at £6 a month.
Unfortunately, continuous touch is limited in a somce significant ways. Its automation does not allow the use of event triggers or other advanced features. The ability to configure opt-in forms is also severely limited.
Free plan: No, but there's a free 60-day trial.
Price range: The basic plan begins at $20/month for 500 subscribers, and goes up to $225/month for 15,000 to 25,000 subscribers. Custom quotes are required for larger lists.
Who this choice is best for: Constant Contact might be 'old reliable,' but it's not really one of the best Campaign Monitor alternatives on today's market. However, if you are looking for a solution that also includes web hosting, Constant Contact can work for you.
8. Omnisend
Omnisend stands out as an excellent email & SMS marketing automation platform, making it a compelling alternative to Campaign Monitor in 2023. Small and medium-sized businesses seeking top-notch features will find it a perfect fit.
With its user-friendly interface, even those new to email campaigns can navigate the platform with ease. Users can target specific audiences using segmentation and conduct A/B tests to optimize their emails before sending them out.
Free plan: Caters to businesses with less than 250 subscribers, granting them the power to use all of Omnisend's ecommerce-focused features without any limitations. This includes the powerful abandoned cart and welcome automated workflows.
One of the platform's notable strengths lies in its seamless integration with various tools, including Shopify, WordPress, and WooCommerce, offering users flexibility and convenience in managing their campaigns. However, Omnisend has a limitation when it comes to creating registration forms, as it does not support opt-in popups, only HTML types.
The pricing structure is quite reasonable, starting at $16 per month in its Standard plan. Its Pro plan comes with free global SMS credits each month, and unlimited email sending.
Omnisend is an ideal choice for small businesses seeking an effective Campaign Monitor alternative. Its robust functionality, accessible free plan, and affordable price increments make it a compelling option for those looking to boost their email and SMS marketing efforts.
Final Words
That's it! I hope you have found a suitable Campaign Monitor alternative for your business from this list. Please feel free to leave comments below for further recommendations on this topic. :-)
New Posts
Stay in the know
Get special offers on the latest news from AVADA.