10 Best Shopify Bots To Help You Get More Work Done
Shopify is an e-commerce platform that allows you to create an online shopping website with shopping cart and checkout features, order processing, and multi-channel sales, all integrated into Shopify.
By August 2020, more than 1,000,000 customers are using the platform, making Shopify the # 1 e-commerce platform in the world.
With Shopify's rapid growth, Shopify bots are also receiving more and more attention. Therefore, in this article, AVADA will provide you with useful information about Shopify bots and 10 Best Shopify Bots, which can bring you powerful support.
What are Shopify bots?
If you've ever heard of sneaker bots, you probably already know these bots help you protect the sneakers in your store. A Shopify bot is pretty much the same; however, it can also help you grab and secure other items apart from sneakers. With Shopify Bot, you can rest assured that your product is in a safe zone until it sells out.
Most of the Shopify Bot is used to match expensive and limited sneakers. You will need to learn and use it when you want to sell sneakers because it offers so many benefits. There are many famous brands that have joined the Shopify team, such as Fear of God, Con Concept, Alife, etc. In particular, Jon Wexler, who is behind the amazing brand Yeezys also decided to leave Yeezy and Adidas to start on Shopify.
Going beyond their origins, the top 10 Shopify bots below help you do the business tasks you need to do every day such as writing content, sending messages to customers, or helping you keep track of related data. related to the store. With the bots we introduce below, you will be like having wings to go to success faster.
Top 10 useful Shopify bots for your online store
Kit
Every Shopify Bot is like a virtual employee. The Kit is no exception. Virtual staff Kit will help you do things like email customer thank you every time you perform a task. In particular, you also do not need to manually set up and run ads on social networking sites like Instagram or Facebook because Kit will take care of it. Furthermore, Kit also creates discount codes and advertises your products to help you increase sales and sales.
Wondering how Kit will listen to your commands? It follows up with you via SMS or Messenger and recommends daily marketing. If you feel the proposal is reasonable and want to work, all you need to do is answer "Yes" and Kit will take care of the rest. The Kit is compatible with several apps in the Shopify App Store, and better yet, it's recognized as an official Facebook Marketing Partner.
I quote from The Wicked Vault review of the Kit so you can see how the people who have used it have experience: "Kit has been an amazing addition to our business. The app has helped launch our business tremendously through targeted marketing and wonderfully written product details. Very much worth having with any new business. The Kit team is always very helpful and easily available."
Price: The virtual staff Kit is awesome, but you know what's more overwhelming? That's completely free. However, you should note that you must purchase a $ 29 Shopify plan or higher package to be able to use the Kit. Also, if you asked the Kit to do things like run ads, you'd need to pay for that.
Engati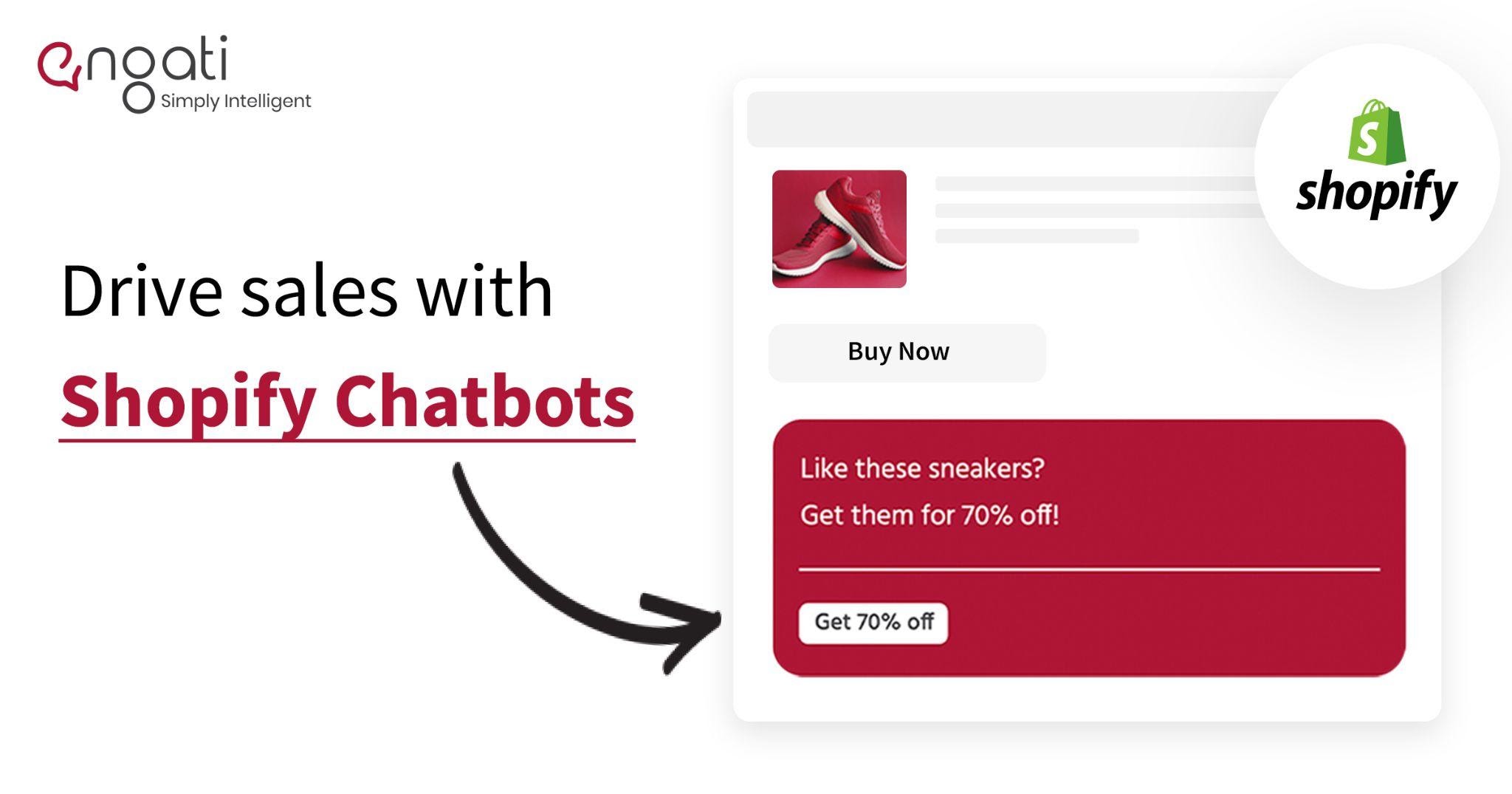 Isn't it just annoying when your customers add products to their cart and never end up buying them? Your Engati chatbot goes beyond the traditional role of chatbots and helps you convert those shoppers to your Shopify store. It can trigger a promotional message along with a discount code when shoppers add items to their cart or perform other actions that you want them to.
It's a pre-configured bot with domain intelligence for eCommerce, so you just have to do some minor customizations for your store instead of building a bot from scratch. It also lets you engage your customers on Instagram, WhatsApp, Facebook Messenger, and 10+ channels in 50+ languages.
Engati also plays well with your existing marketing, sales, and support software, integrating with Google Sheets, Google Calendar, Salesforce, Hubspot, and much more. It even lets you incorporate the human touch by supporting live chat and video calling.
Price: Engati's Shopify Chatbot is free for 1 month. However, if you need greater capacity, you can opt for respective plans.
Social Share Bot
If Kit takes care of running the app and doing some related tasks, the Social Share Bot helps you create the content for your Pinterest and Twitter social media accounts.
This is usually a full-time job that you'll need to hire someone to do. Because besides writing engaging content, you also need to interact with your audience, manage your accounts well to increase traffic, and build branding.
These are very important things that directly affect your business. However, the Social Share Bot can also help you with some. Whenever you post a new product in your Shopify store, this Bot will automatically generate content by randomly selecting from a set of your recordings. After that, the Social Share Bot will customize posts with the product URL from the app dashboard.
Price: Social Share Bot allows you to try 5 days for free. Then, if you're impressed with it, you can hire it for $ 3 / month.
NumbersBot
With NumbersBot, you can access store data so you can keep track of your store's best performance, anytime, anywhere. In other words, you can easily tell your average shopping cart value, conversion rate, sales, etc. Just like the Social Share Bot, NumbersBot executes your commands according to the same process. This bot will recommend to you daily via Facebook Messenger or Telegram. In particular, if the bot recognizes you interacting a lot with the app, it will give you more reports.
Price: You will need to spend $ 9.99 a month to hire NumbersBot.
FB Messenger Remarketing by ShopMessage
This is a very interesting bot because it will help you eliminate abandoned carts. Instead, it turns them into real sales via Facebook Messenger.
ShopMessage is smart because it can personalize messages to individual customers who left your store and abandon orders added to their carts previously. These messages will be sent out automatically and remind customers about the items they have been interested in and put in the cart. In particular, the message with a discount will be a powerful weapon to help you bring them back to your store.
You may be concerned about problems surrounding ShopMessage sending messages to customers automatically and not being assured of the content it sends. However, you should feel secure because you can fully monitor the performance of interactions by looking at the ShopMessage dashboard. This is a really useful bot that you should consider.
Mint & Lily who has used this Bot review: "You can see exactly how much revenue you're getting from the app in real-time, so you can see the awesome ROI for yourself. We saw the sales start to flow in on Day 1."
Price: I'm glad to tell you this. FB Messenger Remarketing by ShopMessage is completely free. In particular, it's available in a premium version if you expect something more professional.
Zapier
Tired of getting tons of shares on new blog posts? Today, there are many marketing tools to serve your work effectively, and Zapier is one of the typical, easy to use tools to help you automate your marketing. With more than 100,000 integrated applications to automate and build a workflow of various tasks. If every day you have to spend a lot of time updating emails, filtering, and sending emails to students, with Zapier, you only need to install 1 time and let Zapier do daily tasks for you.
I will take a simple example for you. Let's say I want to do marketing for my Fanpages on Facebook and Instagram. But every day, just posting on Facebook and then posting on Instagram is too inconvenient. I use Zapier to publish through a Google editor, for example. My task is to connect Google with Facebook and Instagram through Zapier (this guy is an intermediary). Then I need to go to Google to import the photos and information. 5 minutes later it automatically posts on the 2 biggest social platforms. Too simple, right?
In short, Zapier is a tool that automatically links to all of your favorite apps, from which you can create tasks that include many daily tasks that are consuming your time. By combining over 500 different apps, covering most of the major social networking networks, you can also proactively schedule your post and post engagement.
Price: On Zapier, there are currently two types of accounts: free and paid ($ 100 / month). When a new user registers an account, that account will be activated to a full-featured VIP account in 15 days. After 15 days, if you don't upgrade, the account will automatically switch back to the free account.
Simple Shop Automation by Hextom
You can rely on Simple Shop Automation to have it automate your day-to-day businesses. All you need to do is set criteria, and it will perform tasks based on them. Thanks to this, you don't need to do it manually. The special thing about this bot is that it is capable of handling complex jobs. For example, when you set multiple criteria, it will combine them to create a series of tasks.
Look at the following examples:
Hide product from the store as soon as it is sold out.
Tag "VIP" customers every time someone spends more than 1000 dollars.
Increase product price by 20% if the quantity is less than 10.
Email customer information about an order every time it is updated.
Email your sales report today at 6 pm every day.
Price: It's free
Shoppy Bot Smart Assistant
With the Shoppy Bot, you have in hand a powerful assistant that helps you keep track of your data by providing the reports you want. For quick and easy access to your store data, you can ask the Shoppy Bot a question. More than 30 custom reports will present these data, and you can choose which view you want.
According to Wellen Surf's experience, Shoppy Bot helped his team save more than 10 hours per week. Also, it helps to access data quickly. Interestingly, you can have the Shoppy Bot team build custom reporting solutions specifically for your business.
Slack is integrated with the Shoppy Bot. Therefore, you can question the data by typing @bot.
Price: Totally free for you.
Tidio
This is one of the very popular Shopify Bots for its benefits. Thanks to it, you will be able to get more leads. Furthermore, Tidio helps you provide excellent customer service that will make every customer feel satisfied with your in-store experience.
Tidio brings more than 20 attractive chatbot templates and is especially suitable for e-commerce businesses. Also, it gives you Shopify chatbots, making your store automated and modern. You will save a lot of money, time and manpower thanks to that. For example, these chatbots can remarket your product to avoid cart abandonment, respond to customer queries, and offer discounts as needed, etc.
In short, Tidio is an efficient and reliable business communication app. You can take advantage of email marketing tools, chatbots, and a professional live chat feature with it.
Price: You can get Tidio for $0. Besides, it gives you a custom package and you can activate more chatbots from $ 18.
Gobot
The greatest benefit that Gobot gives you is that it helps you increase conversion rates and sales. At the same time, the average order value also increased. With Gobot, your customers will be brought to the exact product they're looking for.
In case there is an abandoned cart, Gobot will be very helpful for you. It will help you convince customers to come back to your store and buy the product. Moreover, Gobot answers frequently asked questions and offer discounts. You'll have the opportunity to engage with multiple customers through Gobot's automated email collection.
Shopify users give Gobot a very positive rating (4.7 / 5). However, there is some dissatisfaction with the customer service and the difficulty of using this app.
Price: Gobot is free for you. However, if you need greater capacity, an Enterprise plan is available.
Tobi
With Tobi, you will be amazed at traffic to your Shopify store because it focuses on promoting and getting people into your online store to buy products. To do that, Tobi sends attractive promotions via Messenger and SMS to customers. What's more, when the customer's order is updated, it also informs the customer. Naturally, Tobi will remind when customers abandon their shopping cart.
You can also use Tobi to automatically send other messages to customers, such as order receipt, discount code, etc.
You need to keep in mind that you need the customer's contact information to use this bot effectively. Because this bot only works on two main methods: via Facebook Messenger and SMS.
Price: You can install Tobi for free and have a free 7-day trial. However, the higher your sales earned through this bot, the higher the amount you have to pay for it. If you want a better experience, you can sign up for the premium version for $ 8.99.
What are the pros and cons of using Shopify bots?
Pros
Most Shopify bots are free or cheap and are easy to install. Therefore, if any bots are not working as you want, you can delete them without worrying about getting into trouble.
Help you save a lot of time, effort, and money. Thus, you can focus on what you are good at.
Customers will have a good experience thanks to the quick response and reminder messages to discount, abandoned cart, etc.
You don't need to plan much. All you need to do is set up a few simple commands, and the bots will take care of the rest.
Cons
You don't actually own this tool. This means developers or publishers can take down bots, change anything such as privacy, settings, etc. Surely this can lead to the consequences that people will suffer will be you.
Bots can still make mistakes because they don't have great artificial intelligence yet.
You will not be able to customize these bots to fully optimize the way you want it to perform its tasks.
Conclusion
Above all, these Shopify bots can give you a good experience at a cheap, even free. Many tasks, including warehouse handling, social media marketing, customer inquiries, or presenting store data to you are done automatically and quickly.
One thing many people like to use Shopify bots for is because they are available 24/7. Thanks to this, shop owners will not miss any sales opportunities.
Above are the Top 10 Shopify Bots that AVADA recommends for you. I hope that this post is helpful to you. See you in other posts!
---
Mike is a content writer at Avada, with a love for video games, gadgets, and software. He has been writing about the industry now for over 7 years. He likes to keep up-to-date with the latest software releases. He's also an avid reader, and he enjoys spending time outdoors with family and friends. When he's not working, you can usually find him playing video games or exploring new outdoor activities.
New Posts
Stay in the know
Get special offers on the latest news from AVADA.