Top 12 Banggood alternatives for a whole new drop-shipping experience
More and more online shops from across the world, including those in the United States, are fighting it out to get a piece of the sales pie. Banggood.com, a Chinese online shop, is one of them, claiming to deliver the "greatest value for your money."
Banggood, like Amazon, sells a wide range of products, including clothing, toys, gadgets, and more. Even industrial, scientific, and automotive products are available for sale. However, Banggood focuses on consumer cross-border sales and claims to be committed to bringing China's "high-quality items" to the rest of the globe, unlike other budget shopping sites from China.
However, many worry if Banggood is the ideal alternative for legitimation when they see their low prices. As part of this article, we'll provide you with a list of the 12 top Banggood alternatives so that you can make better-informed decisions.
What is Banggood, and how does it operate?
Banggood was established in 2006, and it originally operated as a research and development company for computer applications. Eventually, it became a multinational e-commerce company. Two words, one in Chinese and one in English, were blended together to create the company's name. For Banggood, the English word "good" can be translated as "Bang," so it would mean "good + good."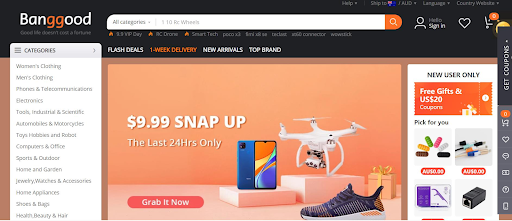 Everything from electronics to clothing to home and garden to beauty products may be found at this one-stop-shop. The store buys from vendors in over 100 Chinese regions and emphasizes the importance of only purchasing high-quality items. There are no products that can be sold on Banggood. A typical brick-and-mortar retailer like Banggood mostly sells products made by other firms or imported from other companies.
Guangzhou, Shenzhen, Hangzhou, and Yiwu are the four Chinese locations where the corporation claims to have strong purchasing links. Retailers like this Hong Kong-based company are able to find the best suppliers in these cities, which allows them to pass along savings to their customers.
While it is possible to be scammed on Banggood, this usually does not mean that you will not receive your purchase. As a result, you could be conned into purchasing a poor or defective product from Banggood because the things advertised there aren't truly created or owned by the site.
Top 12 Banggood alternatives to consider for your drop-shipping business
A Banggood product can be sold on your Shopify store for a considerably greater price than the original Banggood pricing, allowing you to make a substantial profit. As a drop-shipper, you may not be able to sell Banggood products on eBay because of a lack of inventory or because too many other dropshippers are using it.
We've put up a list of the most popular alternatives to Banggood.
AliExpress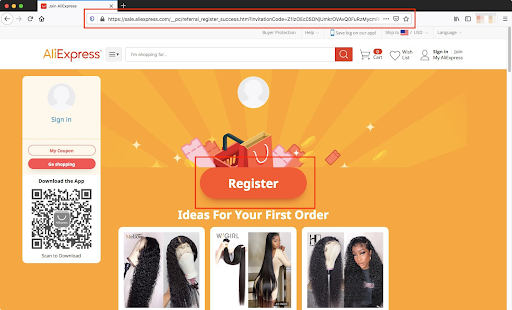 AliExpress is Alibaba's consumer platform for overseas purchasers, which is accessible through the internet (while TaoBao is for domestic Chinese). SMEs in China may now reach clients around the world thanks to this service.
Everything you could possibly want is available at Amazon.com. There are no third-party vendors on AliExpress, unlike Amazon, where all of the sellers are third parties. Your experience may differ greatly because it only serves as a marketplace. You may find everything from men's and women's apparel and toys to electronics and hair care goods on AliExpress. You can even buy vehicles or motorcycles there. Product categories that you won't be able to purchase on AliExpress include weapons, software, and ebooks.
Unlike Amazon, the bulk of merchants selling products on AliExpress are headquartered in China and source their merchandise directly from Chinese producers. As a result, companies are able to offer free or low-cost shipping, which saves them money in the long run.
AliExpress, like Banggood, has several drawbacks, such as the fact that things sometimes take a long time to arrive. ePacket shipping is a must, thus you should hunt for products that do. This is not fast by today's eCommerce standards, but it is a significant improvement over the typical AliExpress shipping time.
Gearbest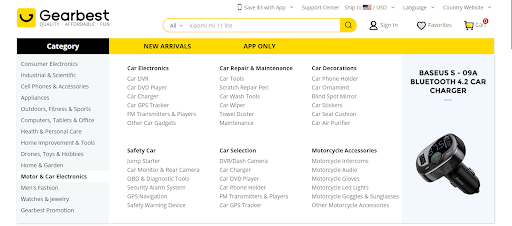 Gearbest is a great alternative to Banggood if you're looking for high-quality products at low prices. Quality assurance is a claim made by this international online retailer. If you're looking for accessories, cell phones, watches, jewelry, etc., you'll be able to find them all in one place.
DHL, EMS, and FedEx are among the shipping services used by Gearbest. It takes between 1-3 business days for their products to arrive, and 3-5 business days for smaller-quantity orders to arrive.
Multi-currency transactions are also available for customers and businesses from across the world at Gearbest.com. Consumers can use PayPal, Visa, Mastercard, and wire transfer to pay for overseas transactions, while local customers can use Yandex and other wallets.
DHGate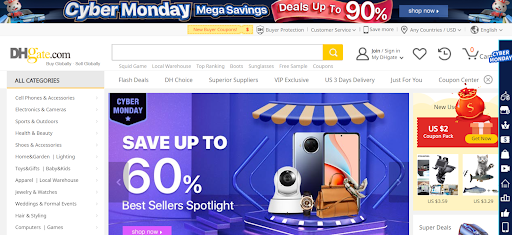 Online retailers and dropshippers alike are familiar with the DHGate platform. Because it is both a B2C and B2B cross-border platform, you may find a wide range of products in each category. DHgate has a huge product catalog because each category includes a lot of subcategories. In addition to fashion accessories, computers and networking products are also available. Other product categories include apparel and jewelry from the Fashion Collection.
As a B2B and B2C e-commerce platform, DHGate is a wonderful option if you wish to buy some products wholesale rather than dropshipping them. Minimum orders of 20, 50, or 100 are required for some products, making them unsuitable for dropshipping. Other products, on the other hand, require only a single order, making them ideal for dropshipping.
Make sure to keep in mind that the more you buy at once, the cheaper it is. In other words, if you're dropshipping, you'll pay more per product if you order one at a time rather than 100 at a time.
In most cases, DHgate shipments arrive between 3 to 15 working days. In terms of availability and shipping method, it depends. Despite the fact that DHgate ships internationally, several nations have restrictions in place because of the current scenario.
Geekbuying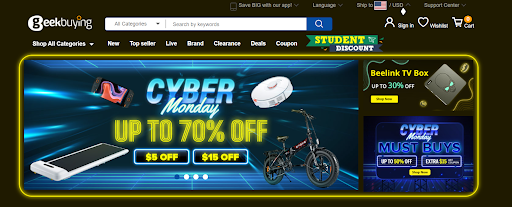 Online retailer Geekbuying caters to the needs of tech-savvy customers. Geekbuying has a smaller audience than most of its competitors. You can shop for a wide range of things, including electronics, clothes, and more, at Amazon.com. A wide range of products can be sold via GeekBuying's suppliers, including electronics (such as phones), fitness equipment (including exercise bikes), and cleaning supplies. You can also sell automobile and motorcycle gadgetry.
GeekBuying's prices are among the best in the industry. Most products are shipped from China or Hong Kong, although there are some that are shipped from Europe or have free shipping. You can have your purchases transported anywhere in the world, no matter how many you order. The typical processing period for each product ranges from one to three days. Five to eight business days is the typical delivery time for their regular shipping method. Airmail can take up to 30 days to arrive, whereas expedited shipment can arrive in three to five days.
DealeXtreme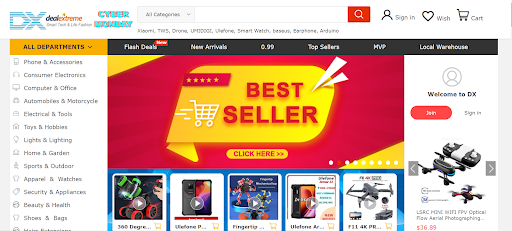 DealeXtreme is a Hong Kong-based eCommerce store where you can find a wide range of cool and affordable products, making it another one of our top AliExpress alternatives. However, due to the current scenario, the delivery time is taking a lengthy time. However, there are some fantastic offers to be had on this marketplace. Phone & Accessories, Consumer Electronics, Toys & Hobbies, Shoes & Bags are some of the product categories to look at.
On DealeXtreme, you'll find a wide range of products at surprisingly low costs. For limited-time offers, check out the "Flash Deals" area of the main menu. For dropshippers, DX is a wonderful alternative to Banggood because they actively seek out dropshippers to promote their products.
DealeXtreme does not use its own branding or packaging on drop-shipped products, so your clients will never know that the delivery is truly arriving from the DealeXtreme warehouse and not from your own warehouse under their free drop shipping service. In spite of the company's guarantee of speedy delivery, some items can take up to 30 days for delivery. Over 250 countries are covered by DealeXtreme's shipping policy, which includes international delivery.
Tomtop
Tomtop has been in business since 2004, making it a well-established retailer. A trustworthy wholesale and retail website where you may find the most up-to-date designs is available. It's one of the best Banggood alternatives for a wide range of products. TrustPilot and other review sites give Tomtop high marks. In addition, their inventory is always being updated so that you can get your hands on the most recent updates
You can get everything from sports and outdoor gear to jewelry and apparel to electronics and toys at Tomtop.com, which is a great alternative to Banggood.com.
Selling products that can be rapidly delivered to your consumers is made possible thanks to Tomtop's global network of local warehouses. Customs clearance can take a long time, so shipping from a nearby warehouse will help you avoid that. Aside from China, Tomtop operates warehouses in the United States and Canada as well as in countries such as France and Germany.
Tomtop's shipping timings are a little on the slow side. UPS and USPS both take 2-5 business days to deliver packages from a US warehouse to an address in the United States or Canada. If you're ordering from outside the United States, you should expect slightly longer shipping delays from regional warehouses.
LighTake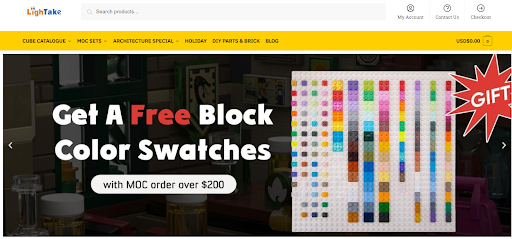 LighTake is an online retailer that mostly focuses on children's products, but they are gradually expanding into other areas. Before making a purchase, you'll be able to browse a wide selection of high-quality products. A few product categories to look into are Magic Cubes & Puzzles, Musical Toys, Sports Toys, Painting Toys, Hobbies, and other similar items of interest.
Toys as low as $0.99 can be found, and if you're in a hurry, you can also shop from the US warehouse's inventory. LighTake's shipping time varies depending on the customer's location. Deliveries to the United States, the United Kingdom, France, Germany, Spain, and Canada take anywhere from three to 15 days, depending on location. It could take up to 30 days for nations like Brazil, Mexico, Ukraine, and others.
Focalprice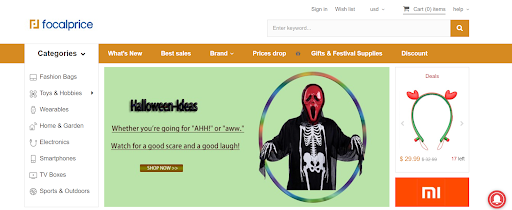 Over 700,000 distinct products are available on Focalprice, one of China's most popular e-commerce sites. It's a terrific choice for people who are looking for great prices at clearance sales. Many interesting product collections, such as Fashion Bags, Electronics, Toys & Hobbies, and many more may be found on this website despite the limited product categories.
For the time being, they're just shipping to European countries from their Hong Kong and China warehouses, but that could change in the future. Based on the shipping method you select, the delivery time can range from three to 30 days. Focalprice's goods prices don't fluctuate often, which is a pity. It's best to keep your eyes peeled for price reductions and limited-time offers.
The Kole Imports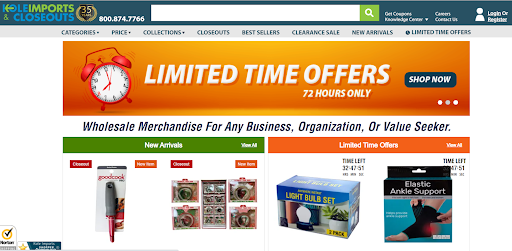 The Kole Imports is a US-based competitor to Banggood that has a lot of positive online feedback. For wholesalers and closeout suppliers, however, they are ideal.
Most of their products (from three to four) must be purchased in bulk, however, some of them can be purchased individually. As a drop shipper, you need to find products with one-piece minimum orders from Kole Imports. Things that cost less than one dollar are typically required to be purchased in multiples of at least one; this is true of most products that cost less than a few dollars.
Products towards the upper end of the pricing range are more likely to meet your needs. In most cases, the minimum order quantity for things that cost more than $10 is merely one. Dropshipping a "two-pack" is also an option. eBay or your Shopify store might be used to circumvent the minimum order quantity of two for many things in the $5-10 range.
Kole Imports ships to more than a hundred countries around the world. If your shipment weighs more than 100 pounds, you can get an exact quote by calling. Because the company is situated in the United States, the delivery is swift and cost-efficient. FedEx or UPS are frequently used to ship them within two days. There are only a few options for making a payment. Visa, MasterCard, American Express, and Discover are all accepted. PayPal is an option, but dropshippers are not eligible.
CJ Dropshipping
For dropshippers, CJ Dropshipping is a wonderful alternative to Banggood. CJ Dropshipping has a wide variety of items, starting at $0.30. Dropshipping service CJ Dropshipping offers a wide range of products from laptops and routers to bags and shoes.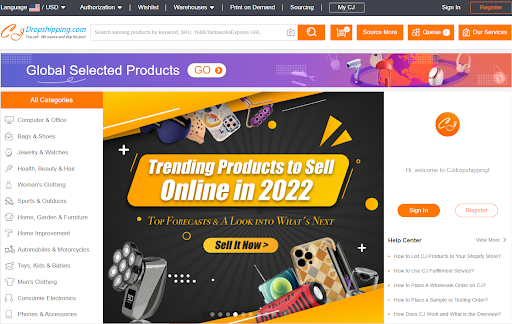 All kinds of things for your car or motorcycle: electronics for your vehicle, clothing, and more.
The print-on-demand department of CJ Dropshipping provides products you may sell with your own branding or logo. Everything from automatically creating a product list and syncing it with other stores to uploading CSV files and managing numerous businesses is possible with the software. Custom packaging is one of the additional services offered.
Each warehouse's shipping times are different. Additional warehouses in the US, Germany, and Indonesia provide for shorter delivery times in addition to the Chinese facilities. A print-on-demand service allows you to sell branded products without having to acquire stock in advance, and it has numerous warehouses across the world. If you sell CJ Dropshipping products on your own store, you can also optimize your dropshipping operation using the app.
Light In The Box
Light In The Box is a website where you may buy and ship things to your clients. When it comes to dropshipping, you'll find everything you need at Light In The Box.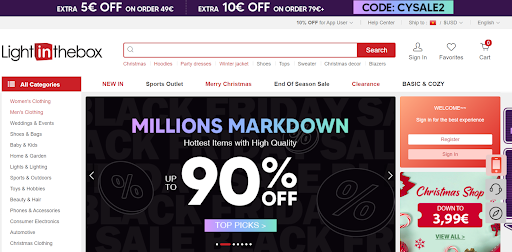 Light In The Box has a wide variety of products that cost just a few dollars. Flipping and dropshipping those products to Amazon or eBay buyers shouldn't be too difficult to generate a profit from. There are often clearance sale items offered at a discount. Clearance discounts are a terrific way to generate money, but you have to make sure that you don't post an item after it's out of stock.
Multiple delivery options are available through Light In The Box. Global postal delivery via expedited service takes only 5-8 business days, while delivery via ordinary service might take anywhere from 10-20 days. The global accelerated express service is even faster now. Using FedEx, UPS, and DHL, the delivery time is just 3-4 business days.
Newegg

Newegg is a wonderful alternative to Banggood if you're seeking fast-shipping merchandise. Newegg's products may not be as inexpensive as those on Banggood, but they are still reasonably priced and the speedier shipping periods make up for that.
If you want to get things to your customers quickly, Newegg has next-day shipping. In addition, there are two-day and three-day shipping alternatives. If three-day shipping is too pricey for you, there are other options available. Standard Newegg Ground delivery, which takes between one and five business days to arrive, is available.
Electronics dropshipping is an excellent fit for Newegg if you're seeking an alternative to Banggood. On Newegg, you may get a wide variety of PCs, smartphones, and other electrical devices for surprisingly low costs. Newegg carries a wide range of products, including televisions, monitors, routers, and headphones.
Final word
Is Banggood a secure place to be? Yes. Is it the best way for you to shop online? Maybe. It all depends on what you're looking for, what you're purchasing, and how long you're willing to wait. Before you begin buying, do your research to ensure that you are getting what you pay for.
When it comes to finding a replacement for Banggood, there isn't a one-size-fits-all solution out there. It all depends on what you're looking to buy and how you want to pay and receive it.
In this case, verifying the seller you're dealing with is the most critical consideration. Before making a purchase, thoroughly research the product's online reviews. As a result of the current global situation, the dispatch of your order may be delayed.
New Posts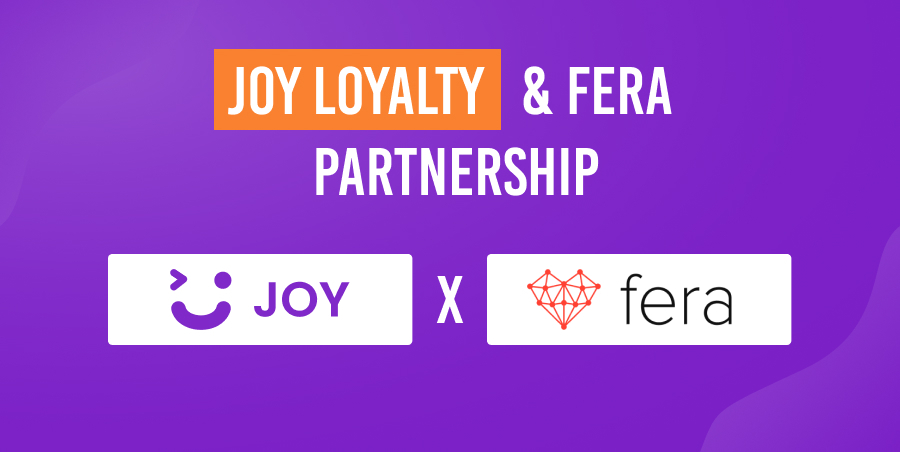 Subscribe
Stay in the know
Get special offers on the latest news from AVADA.
40k
subscribers has been joined!
Earn $10 in reward now!