Why PDF Invoice is Must-have
More professional
Invoice is not only the way to show the order information but also the profession in the after-sale service of the store. Therefore, customers will feel safe and relaxed about the store's trading activities when they see a professional PDF invoice in design and details.
More convenient for buyers
PDF Invoice app allows shoppers to download, save in their devices and print documents out with specific purposes. Customers can actively get the PDF invoice paper any time they want without waiting for the admin to send manually. This is convenient and time-saving for both sides
Cut down admin's workload
In case there are a lot of requests of customers for invoices, it takes much time and workload of admins to create and send one by one. Besides, the massive task can cause unexpected mistakes during the process.
Start free for life. * No credit card required.
PDF Invoice Highlight Features
Various ready-to-use PDF templates
There are 12 available PDF templates supported in the app corresponding to four billing documents:
Admin can edit the default templates or create new templates unlimitedly and quickly via a few clicks.The template style and design are suitable for any business case because they are all clear, well-organized and professional.
Freely customize PDF templates
Customize any template fast and simply using two tools:
Component checkboxes: admins can choose to show/hide specific elements on the PDF templates include both content and design components.
Liquid, styles and variables: for editing small details in the template, admins can modify the coding in Liquid, Styles, and using Variables references.
Multiple languages for Email and Invoice document
If you are operating a global business with customers, invoicing them with well-tuned documents written in their preferred language is an utmost necessity. Using a language that is automatically detected by the customer's billing address or specifically assigned by store owners is entirely possible with PDF Invoice. PDF Invoice supports nearly 70 languages worldwide, include English, Chinese, French, Germam, Spanish and many more. Multiple language selection applies to:
Email template: Change labels used in your template into a language that you wish
PDF invoice document: Print one or mass orders with a specific language selected right from the Order Details page without having to change the Translation section.
PDF Invoice Delivery
Manually saving invoices one by one can be quite time-consuming and inconvenient for store admins in many ways!
However, with AVADA PDF Invoice, all invoice documents are automatically and safely saved to your Google Drive, FTP, or SFTP server whenever a new order recorded, paid, or delivered. Moreover, it is incredibly easy to create and manage invoice delivery right at the admin backend.
Download/print mass order templates
AVADA PDF Invoice integrates the order grid right on the app. This helps store owners to easily:
Filter the orders by order status, payment status and fulfillment status.
Download orders in bulk
Print orders with multiple selected templates
Instead of going to the Shopify order section, now admin can directly and instantly save and print the billing documents within the app.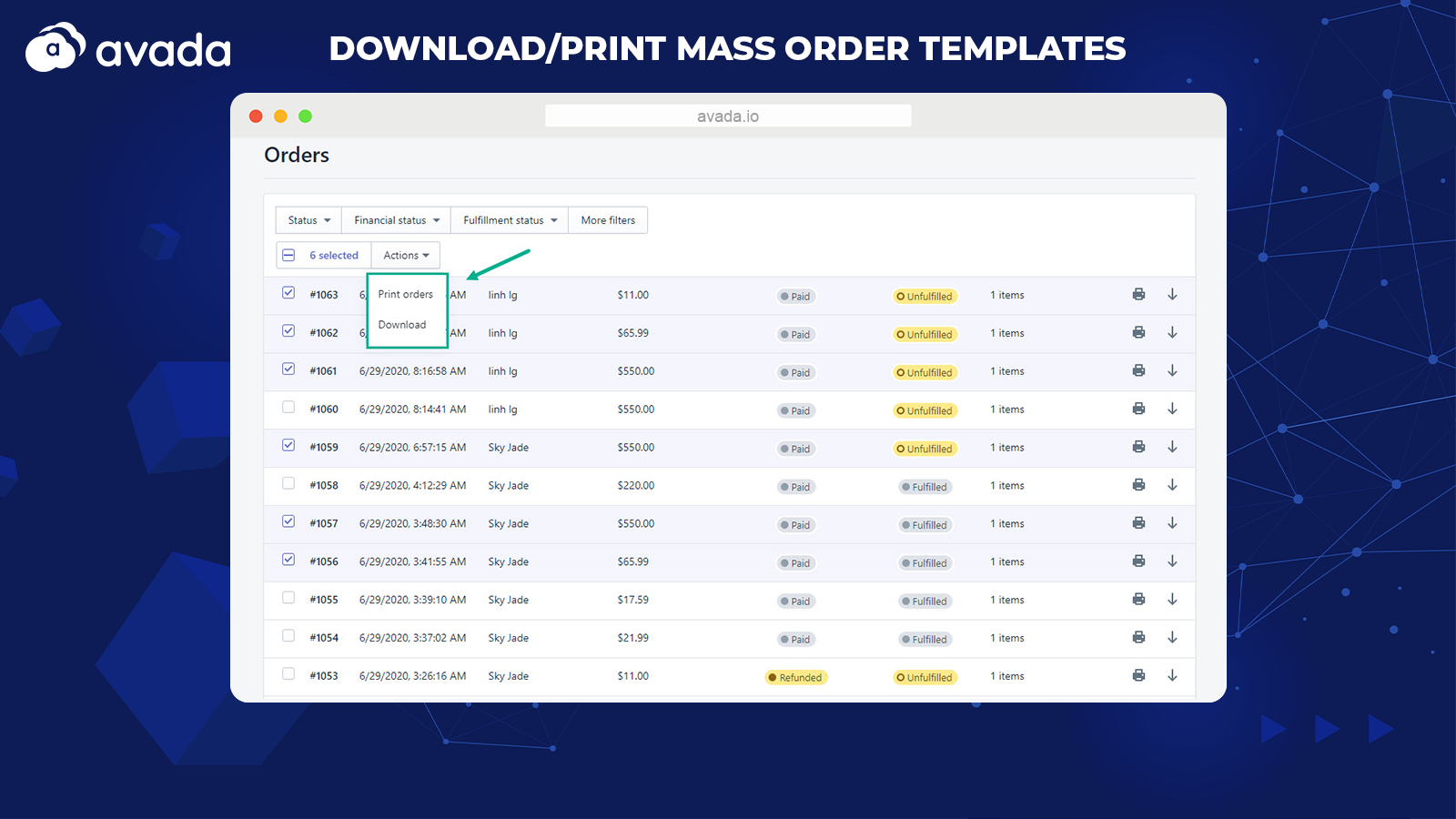 Automation emails with PDF files
Another helpful function of the app is auto-send order confirmation emails attached with relevant PDF documents. An email will be sent whenever a new order recorded, paid or delivered.
Thanks to this, shoppers are always noticed of their order status and can have detailed billings whenever needed.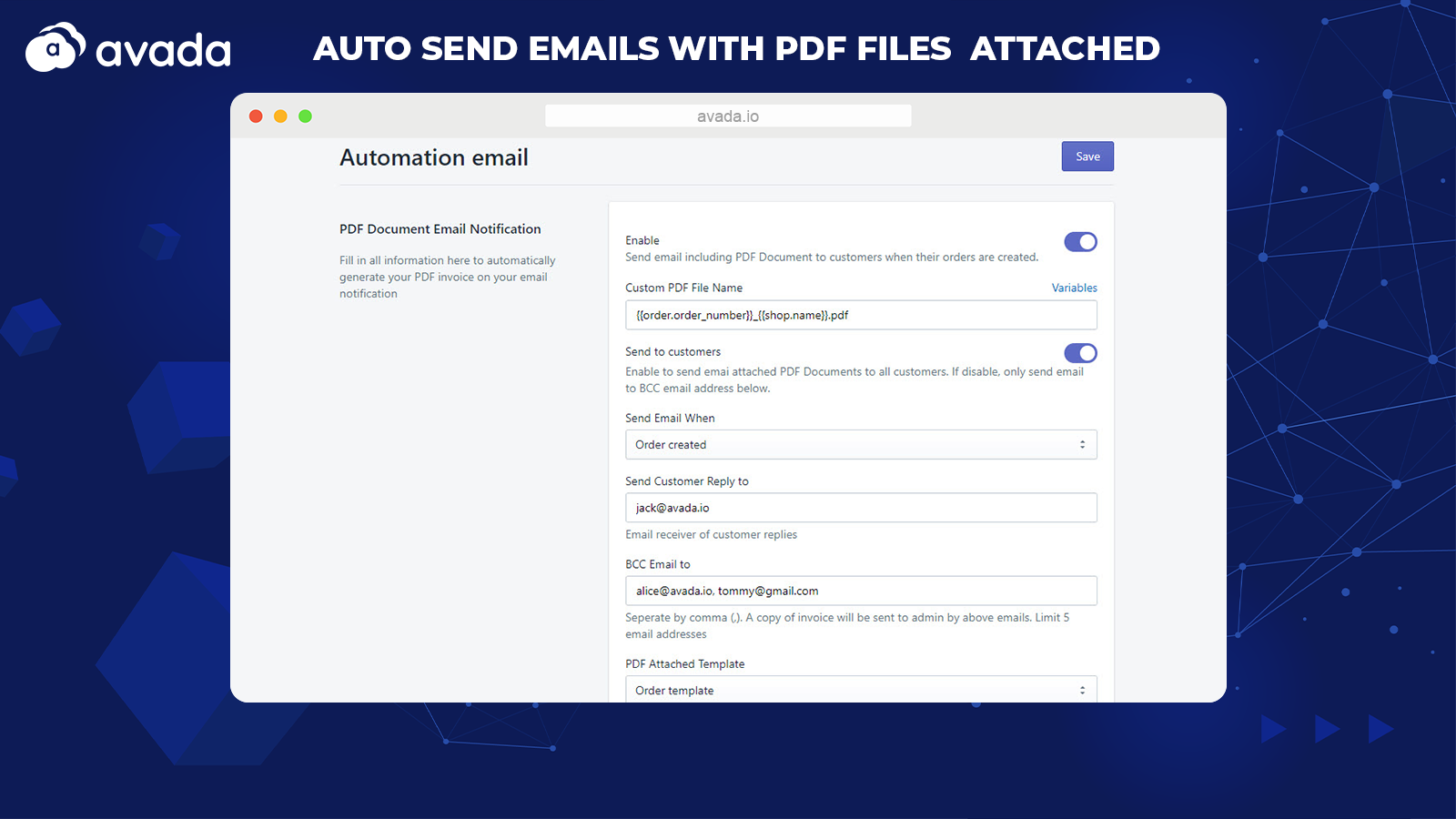 Find the right plan for your site
All kinds of plans that inlucdes unlimited usages
Unlimited templates
Unlimited order prints
Print order at storefront
Basic templates
Automation emails
Support POS
Install now
FAQs
Yes, you can have 14-free trial. During your free trial period, you'll get the full experience of your chosen plan
No. There are no setup fees or any other hidden costs.
No, AVADA billing is monthly payment. You can cancel the subscription anytime so the next month you will not be charged anymore.
From the day you start to subscribe to a plan.
No problem. You can cancel your subscription or move between plans at any time.
For Shopify store, payment will be processed by Shopify billing (You will receive Shopify invoice)