How To Start A Shopify Store With No Money
Last updated: October 01, 2023
In the digital age, everything from daily shopping to cash payments has already moved to some types of online platforms, resulting in a great reduction in cost to start a business. And the new online homes for stores? It is probably a familiar name: Shopify.
Why? Having worked with a lot of store owners over the years, one of the most common problems that I see in starting a business is the budget at the start mark. Shopify can offer a solution with little cost and completed features too.
So let's start rolling the eCommerce gear and see how to start a Shopify store with very little to no money.
Exclusive Offer: Get Shopify 93 days for just $3 + The Online Store Starter Kit
Start a 3-day free trial, then get Shopify 3 months for $1/month plus the premium package designed especially for new Shopify merchants!
Start Free Trial
Shopify overview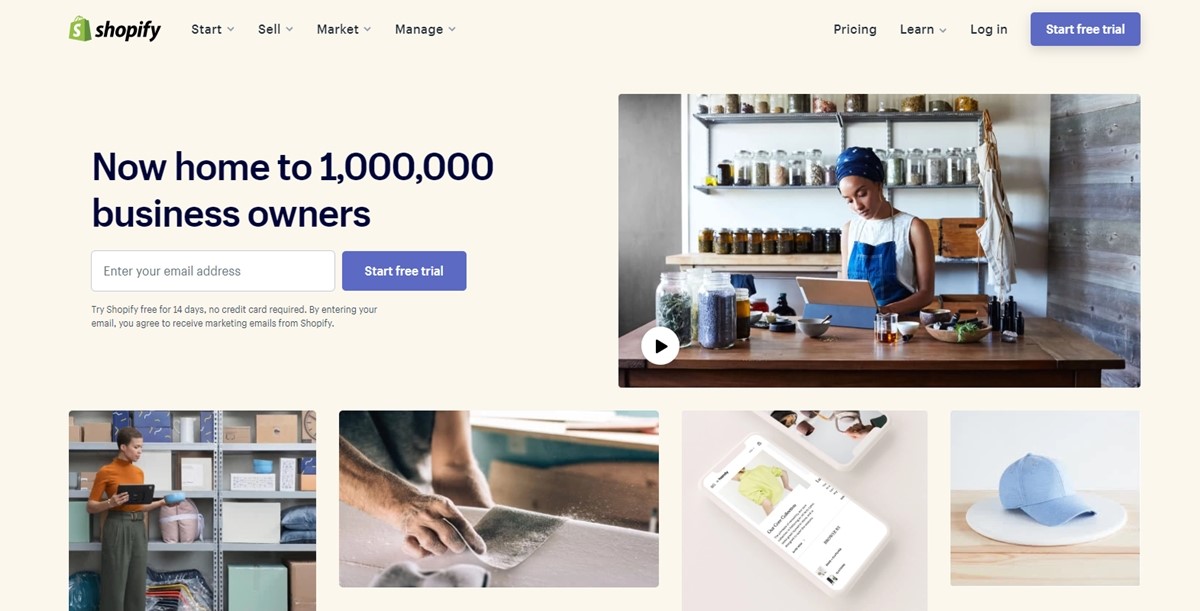 Shopify is one of the most famous choices for small and new businesses since it provides a convenient way to build a store without learning all the technical aspects needed to build one.
Today, there are over 800,000 active Shopify stores in the world, which generate over $100 billion worth of sales.
Besides the friendly interface, Shopify is also popular for the low startup cost, ranging from $5/month to $399/month for regular plans. The pricing is very transparent, as you can find all the details here.
You can also upgrade and downgrade the plan at any time, so it is easier to scale the business. That said, some stores spend thousands of dollars per month on Shopify since it is simply suitable for them.
But you came to this guide, so that may not be the case (yet). With that in mind, let's see how to start selling with Shopify at minimum cost.
How to start selling with very little to no money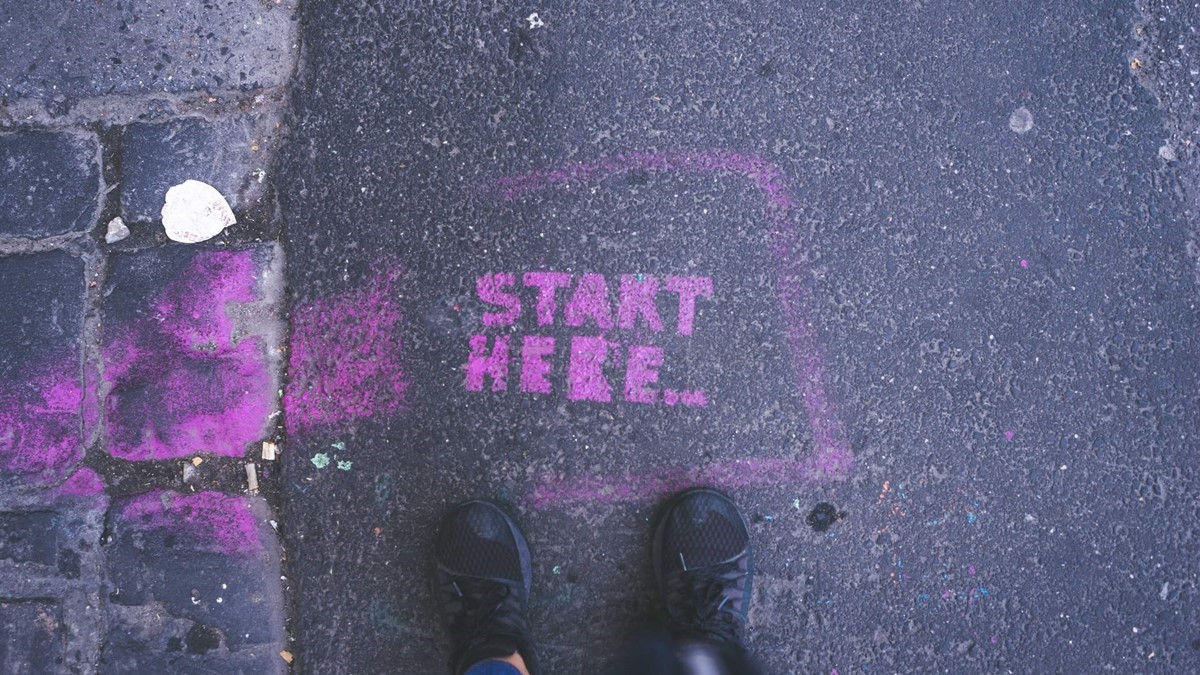 Speaking for real, eCommerce is not a walk in the park; both success and failure can come in the blink of an eye. But with small, careful steps that I will take you through now, your online store can have a good start at a little cost.
Build a business plan
A business plan is a document made by you to describe your business, products or services, how to earn money, the leadership, and staffing, operation model, the financing, and other essentials to success.
So why do you need a business plan? Well, for several benefits:
If you are just trying things out: Your business plans can help you set clear goals and have an action plan to achieve them. This will also help you realistically estimate budget and cost.
If you are looking for funding: The business plan is a standard way that who potential investors why they should bet on your business.
If you are considering going big: If you want to make your eCommerce business a full-time job, you need a business plan to see the options you have and what to do if things fail.
Since you are looking for the least cost possible way to start a Shopify store, this business plan will help you keep things organized nicely and reasonably for the long run.
These are the questions that you would want to answer with your business plan:
Overview: Who are you and the business you are owning?
The Opportunity: What is the current customer's problem? And what is your solution to it?
Target Market: Gender, Age, Characteristics of your prospect? How are your products better than competitors? How much fund is needed? and for what?
Sales and Marketing: What channels should you use to reach your prospects? With what marketing activities? Current and expected Sales, Expenses, Profit? What are the milestones?
Team & Key Roles: Who are they? What do they do?
Partnership & Resources: Who can help you? and which services to go when you need something?
Through time, your business plan can always expand and change, but the key thing is it helps you see what you do, keep you on track, make clear goals to achieve.
Decide on your niche
The choice of products has a crucial role in determining the success of your online business. You can focus on a single product line, then expanding to multiple lines depending on your budget and resources.
For the purpose of having little cost but still making progress fast, try not to get stuck in a loop of always looking for something better. Validate your product with data (Google Trends) and make decisions on a deadline to keep things on track.
In case you want to have a more detailed guide on how to find products to sell online, read our resource on What To Sell Online.
On another hand, dropshipping allows you to switch between ideas quickly, so you can easily try other things later. And it cost very little too, let's see what it is!
Dropshipping with Shopify - the perfect choice to start with no money
In a way, dropshipping is like an eCommerce hack for entrepreneurs without money. You don't hold inventory, you order the product from the supplier to ship directly to the customer under your name. Which means:
No warehouse cost
More items on your eCommerce store
No money needed to purchase the items in the first place
No picking and packing all the orders
With a system like that, anyone can get into eCommerce with little to zero cost, and of course, you can too!
However, there are still some drawbacks to this:
Product shortage: You don't have controls over fulfilment, so if the suppliers are out of stocks due to high demand on their ends, there is not much you can do. Make sure you communicate with them well to know when items are running low and keep your customers updated.
Customer service concerns: You have little visibility of your order status since the product is shipped from the suppliers. Communication keeps being a key thing here to solve the challenge and keep your customers happy. Technology is developing to help, as well.
Cost so far: 0$.
We invite you to join the free on-demand webinar below, which covers all the basics of starting a Shopify dropshipping business. Also, you'll learn some tips and tactics on how to get more sales from Corey Ferreira - a Shopify educator and dropshipping expert who built a 6-figure dropshipping business.
Free Webinar: How to Get Started with Dropshipping in 2023
Learn how to source top-selling products from thousands of suppliers without paying for products upfront, worrying about inventory, or shipping a single package yourself
Steps to start a Shopify store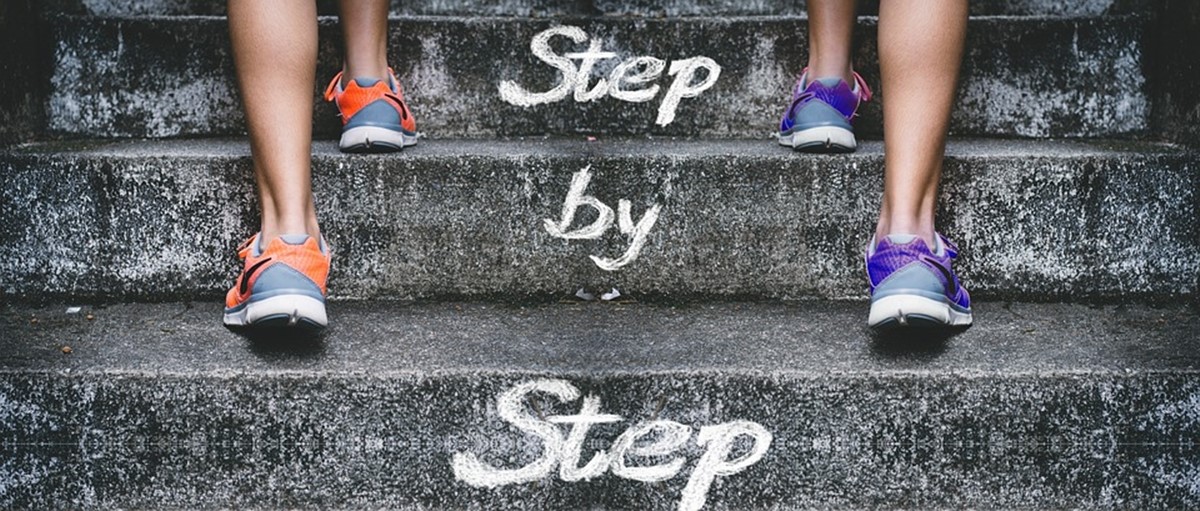 With that said, you still need to have a front store so customers can see the products. You can do this on Facebook, eBay, Amazon… but we want a nice and trustable site, so Shopify is the choice here.
We will go through all the steps to start building your store, so get your gears ready!
1. Set up the account
The first step you need to do is to register an account on Shopify. For starters, it is good to begin with a free 3-day trial first. This won't require a credit card to sign up.
Click here to directly go to the signup page and get your 3 days free on Shopify.
This will allow you to test and play around with the tool before really spending some money. This account will be automatically cancelled at the end of the trial's duration; reactivating it requires purchasing a plan.
Your store's name is important at this point. You will receive an error message like below if your store name has a duplicate. This Shopify store name will become your primary domain, but you can always alter your domain name as you please.
Once you've created your store name, you will be prompted to answer if you're already selling or not. In case you're already doing business, you will also be asked for your current revenue. This is a skippable part, but Shopify can recommend the best course of action for you through this.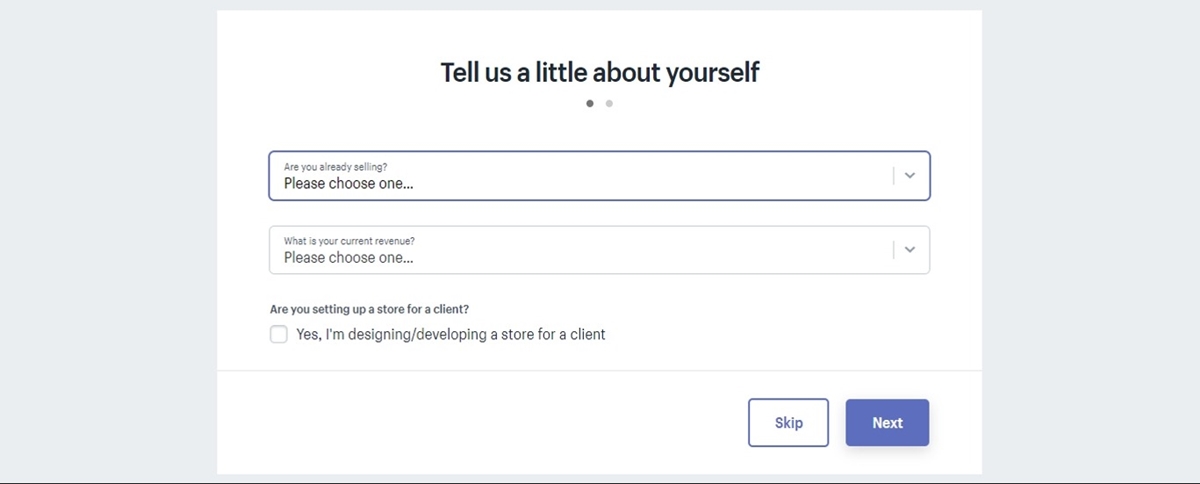 Next, you will be required to add your default business address, like in the image below.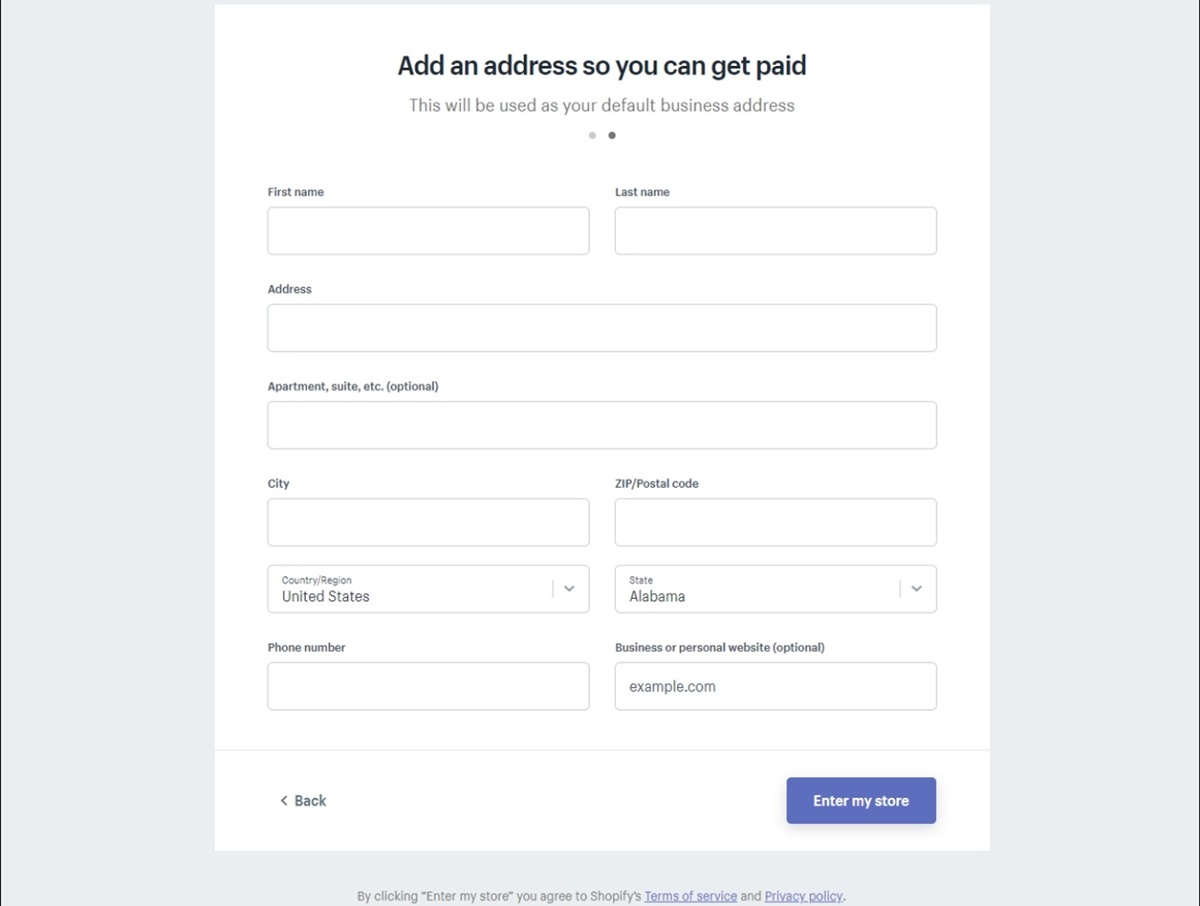 After that, your store will be created, and you will be taken to the admin panel. Congratulations on your first Shopify store! This homepage allows you to add domains, add product, customize themes, and more.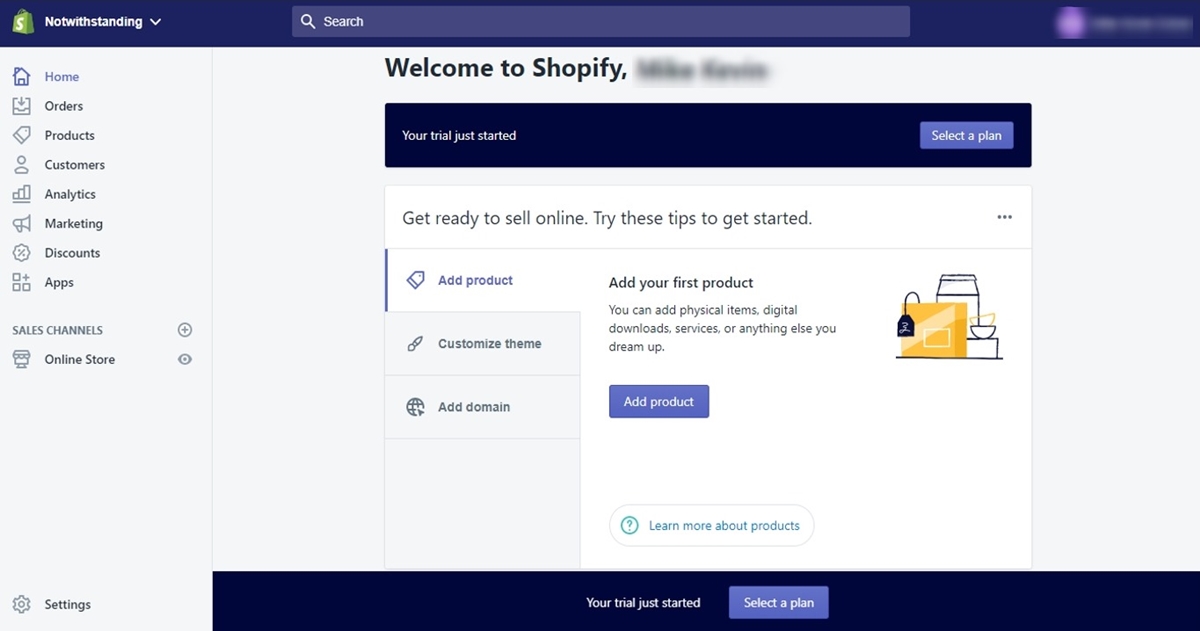 Now let's go to the next section, where you add your domain to the store.
2. Choose a domain address
The domain address is the URL that links to your site and through which customers can access your store. As a default setting, Shopify will give you a primary domain written as examplestore.myshopify.com, but you can always purchase or connect your own domain.

You can only have one primary domain, so should you need a new one, go to Bluehost or Godaddy. Some characteristics of a good domain name that you should look at are:
Easy to spell out: Stay away from using punctuation marks like a hyphen ( - ). Also, watch out for repeated letters.
Short and easy to recall: Pick an acronym or a word with less than 10 characters so people can quickly remember.
Keyword relevant: Look for the relevant keywords that people may use when they're searching for you online. Your domain will give the idea of your products even before one enters your site. Additionally, it will also positively impact your SEO ranking later on.
Further Reading: The Complete Guide on How To Choose A Domain Name
3. Select a theme
A theme is like the outfit of your store, and it is what your visitors will see when they visit the site. Therefore, picking an attractive and smoothly functional theme is essential in making sure you have a high-quality store.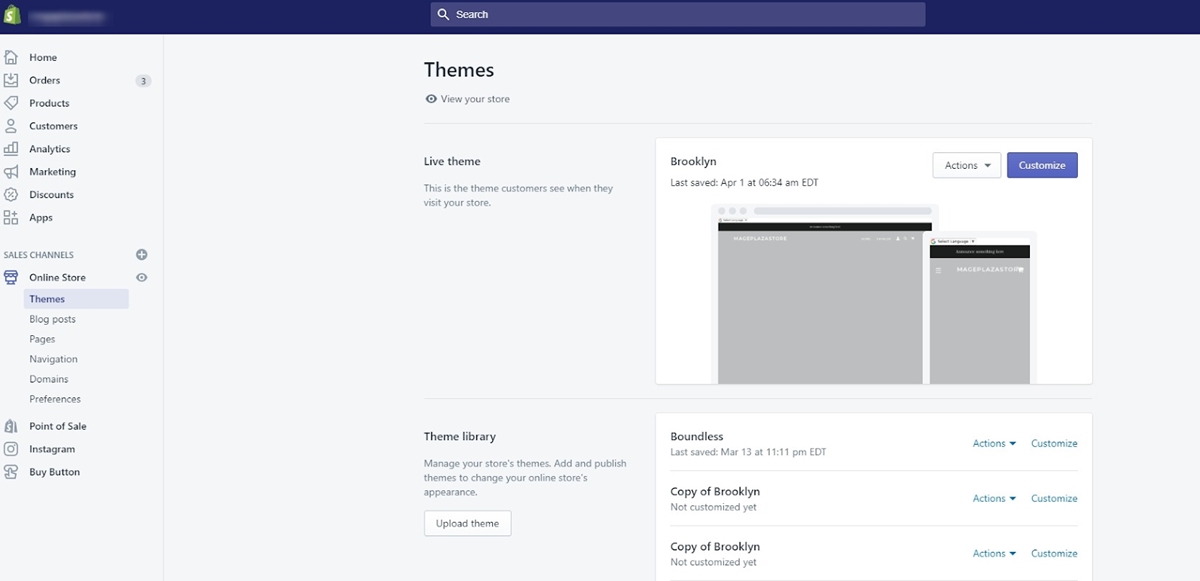 In Shopify, you can do the following:
Customize your own theme: Shopify will provide you with a basic but functioning look, but you have to create and optimize your Shopify store for every detail.
Select a pre-designed theme: Shopify Theme has a large selection of both free and paid themes.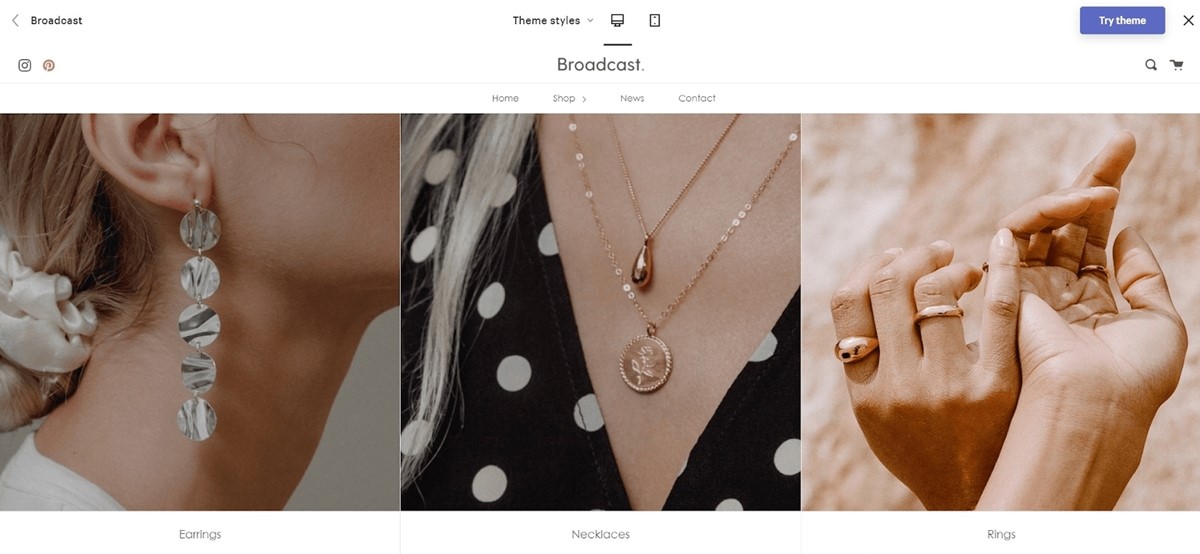 For the purpose of saving money, you should try a free theme, it is economical and provides enough features for anyone to start. Just make sure they appear nicely on mobile devices as well for a good shopping experience.
Premium themes are still really considerable since they allow more functions and features to stand out, but that is still up to you to decide.
While you are there, check out the Shopify App Store too. From sales, marketing, inventory, analytics - there are 2600+ apps and plugins to explore. And have I mentioned over 1300+ of them are free?
4. Add products
Now that you've got a good looking store let's get to another important section: your products. This step requires full attention since it directly affects your revenue. With that in mind, let's go to the admin panel.
Click on the "Products" tag to view your inventory.

You have options to:
Manually add a product: If you have a few products, this is fine and detailed. You will need to fill out product details like name, product type, vendor, description, etc, and upload the product images.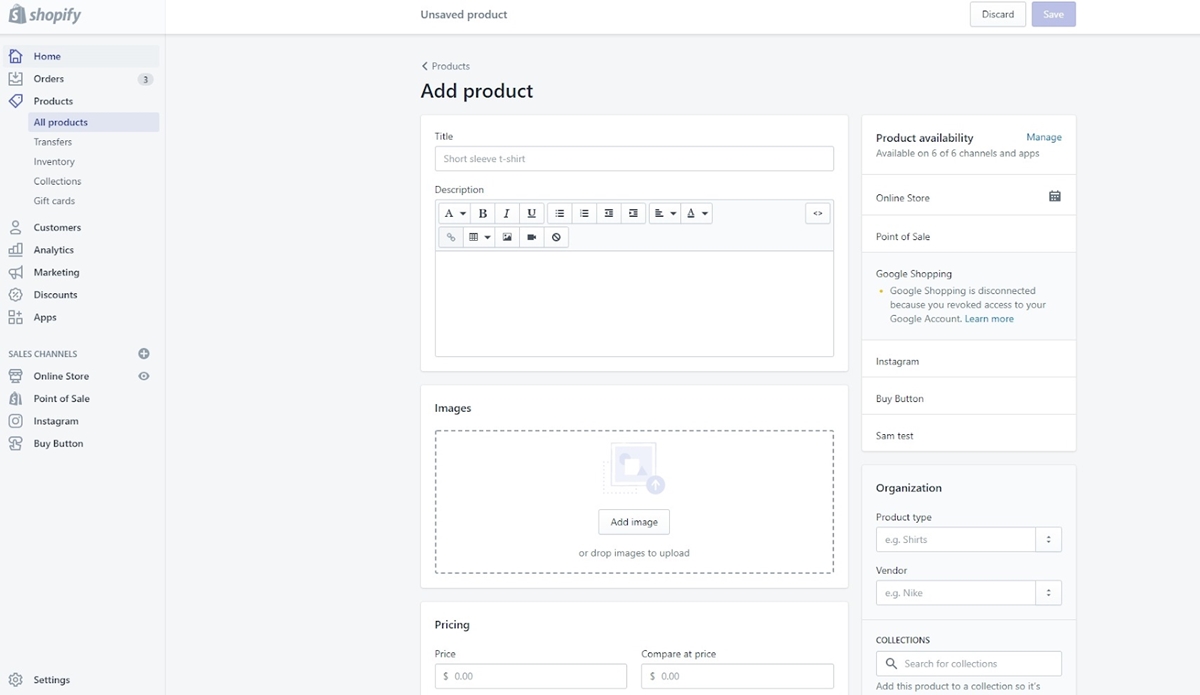 Import product by a CSV file: If you want to bulk upload many products, importing a CSV file is a better alternative. To know all about making a CSV file and importing into Shopify, read our guide on How to import products with a CSV file.

Free Download: Dropship Business Starter Kit
Get the complete set of high-impact resources designed to help you with every step of your dropshipping journey + Get Shopify 93 days for just $1(Remember to check your email daily)
5. Market your business
This is your endgame, where you need to promote your store and get your customers coming in lines. So I will show you some marketing and optimization techniques.
This will bring a steady flow of traffic to your site, and make sure you always aim for optimization and increase conversion. Visitors will turn into one-time customers, and one-time customers will turn into loyal customers!
Here are what you need to do
Advertise on social media: If you want to grow your Shopify store, then investing in social media is a must. The two most go-to social media platforms nowadays are Instagram and Facebook. And if done well, content can attract organic traffic without spending a dime on ads. Twitter is considerable too since you can showcase your brand's personality there.
Build your email list: Even in the new digital media, email marketing is still one of the most vital channels for online stores. You should strategically place an email subscription form on your website to capture visitors. When they subscribe, you can nurture them into paying customers.
Improve your product page: You don't just want people to visit your site, your ultimate goal is to get them to buy. So make sure to optimize the product page and your visitors will be compelled to convert as soon as possible.How much have we cost so far?
Still 0$!
You have a 3-day-free trial for your store, a free tool to dropshipping and add products, and no cost at all of building a gorgeous website for your eCommerce. Try setting a goal in those 3 days to see how much you can achieve, and maybe you will get enough to pay the $39/month fee for Shopify without a sweat!
Ready to go!
With no coding requirements, Shopify helps you administrate inventory, manage orders, create a powerful online store, and all that takes just a couple of hours. This is a great platform to start for any eCommerce out there.
From the ground up you build with Shopify, and the sky is the limit of your store's potential. This tutorial is a surefire way to help you begin the incredible journey as an entrepreneur with little to zero cost.
And don't worry, if you have any questions, leave them in the comment section and I will try to help you out!
Related Posts:
---
Mike is a content writer at Avada, with a love for video games, gadgets, and software. He has been writing about the industry now for over 7 years. He likes to keep up-to-date with the latest software releases. He's also an avid reader, and he enjoys spending time outdoors with family and friends. When he's not working, you can usually find him playing video games or exploring new outdoor activities.