How to import products from WooCommerce to Shopify
Introduction
If you are looking for a solution to import products from WooCommerce to Shopify, look no further as in this article, we will be covering all the possible methods to do it. After that, you can select the most optimal option that suits your needs. Detailed steps are all included.
Now, let's get started with the first option!
Exclusive Offer: Get Shopify 93 days for just $3 + The Online Store Starter Kit
Start a 3-day free trial, then get Shopify 3 months for $1/month plus the premium package designed especially for new Shopify merchants!
Start Free Trial
Read more:
Manual Import
The most popular way is to import your products from WooCommerce to Shopify manually in the Shopify Admin. Shopify allows store owners to import products directly into the Shopify store through a CSV file.
Export WooCommerce products
As Shopify only supports importing products by CSV files, you need to export your WooCommerce data into a CSV file format.
Step 1: From the WooCommerce admin, click Products > Export products
Step 2: Choose the columns, product types and product category you want to export.
Step 3: Click Generate CSV
Import products to Shopify
After you've finished exporting products from WooCommerce, you need to import the data into the Shopify store.
But before that, make sure the exported file meets the requirements of the Shopify product CSV file format. In case the format doesn't match, or if there are any missing headers, several errors may occur that can destroy your store. You can easily download and use Shopify sample CSV file as a template. Moreover, your product CSV cannot exceed 15MB. If you get an error when trying to upload a new CSV file, then check to make sure it doesn't exceed the size limit.
Step 1: From your Shopify admin, go to Products > All products
Step 2: Click Import
Step 3: Click Choose File in the Import products by CSV file window
Step 4: Locate your CSV file, then click Open.
Step 5: Click Upload file.
Once you've uploaded successfully your CSV file, you will receive a confirmation email from Shopify. After that, you need to check whether your products are completely transferred from WooCommerce to Shopify.
You should notice that there will be some general errors when uploading your product CSV file, for example, fulfillment service can't be blank or Invalid CSV header: missing headers, etc. You can check whether your problems are listed in the Shopify document to find the proper solutions.
In conclusion, although this option is free, it entails many possible risks, you need to consider carefully when choosing this way to import products from WooCommerce to Shopify. If you can't handle those problems, you can contact Shopify Support for further assistance.
Using import products apps
If you are not a tech-guru and looking for an automated product import app, here is a reasonable solution: Smart Woo Product Import app!
About Smart Woo Product Import app
Basically, Smart Woo Product Import app has been developed by Webdesk Solution to offer businesses a quick way to import and migrate products from WooCommerce to Shopify with a detailed pricing plan for both small stores and big businesses.
| Price | Number of products |
| --- | --- |
| 8 USD | 200 |
| 20 USD | 500 |
| 30 USD | 1000 |
| 50 USD | 2000 |
| 100 USD | 8000 |
This app can offer other robust features including importing all the exported WooCommerce products with its images, even assigning proper collection and setting up WooCommerce's retail price into Shopify's compare price.
Requirements
Before starting the process with this app, make sure that you fulfill the two below requirements:
Free 1:1 Shopify consultation & 30-day all-app trial FREE
Shopify Plus Strategy and Consultation
Personalized E-commerce Solutions
Conversion Rate Boosting Techniques
Inventory Management Hacks
How to run Smart Woo Product Import app
There are 5 important steps to run the product import process using Smart Woo Product Import app, be careful not to miss any details:
Step 1: Install the Smart Woo Product Import App after setting up your Shopify store.
Step 2: By entering the WordPress URL and API details that you had prepared, you will import the total numbers of products from your WooCommerce store onto the App.
Step 3: To run the process, click on "Start import"
Step 4: Smart Product Import will download the products from your WooCommerce website and start importing them into your Shopify store.
Step 5: After completing the product migration process, Click on "view log" button to download the log file. A log file will display all imported products with product imported status.
Overall, this Smart Woo Product Import app seems very reasonable for WooCommerce store owners who are planning to transfer products to Shopify's store because of its easy-to-use and straight-forward import process. And, don't forget to choose the right pricing plan which suits your needs the most.
Use automated migration service by LitExtension
The third solution to move products from WooCommerce to Shopify is using an automated migration tool by LitExtension. It helps transfer not only products but also customers, orders and other related data from WooCommerce to Shopify automatically, securely and accurately, only from $49. LitExtension services are rated 4.9/5 on Trustpilot by their customers.
In order to help you visualize the whole migration process, you should take a look at the WooCommerce to Shopify migration guide flow chart by LitExtension team.
Basically, there are 6 steps that you need to follow to perform complete data migration from WooCommerce to Shopify store. However, with the Shopify product migration procedure, you only follow 4 of them. Let's dive into each step to see what you need to do!
Preparation
Step 1: Set up Source Cart and Target Cart
First of all, you need to log in or register an account on LitExtension website. Next, click "Create New Migration" at the top right button on the screen on the Migration Page. Then you will see a setup page.

From here, choose WooCommerce from the drop-down list of source cart type then enter your store URL. Follow the instructions to download the "le_connector" file which will set up a connection between your WooCommerce store and the tool. Unzip the file and upload it to WooCommerce's root folder on your server. Right here, the Connector Installation will be automatically checked and informed on the screen without manual checking.
Move to the Target Cart setup, choose Shopify and fill your store's information including URL and the API password to the blank spaces. In case you don't know where to get an API password from your Shopify store, you can follow the instructions of LitExtension FAQ.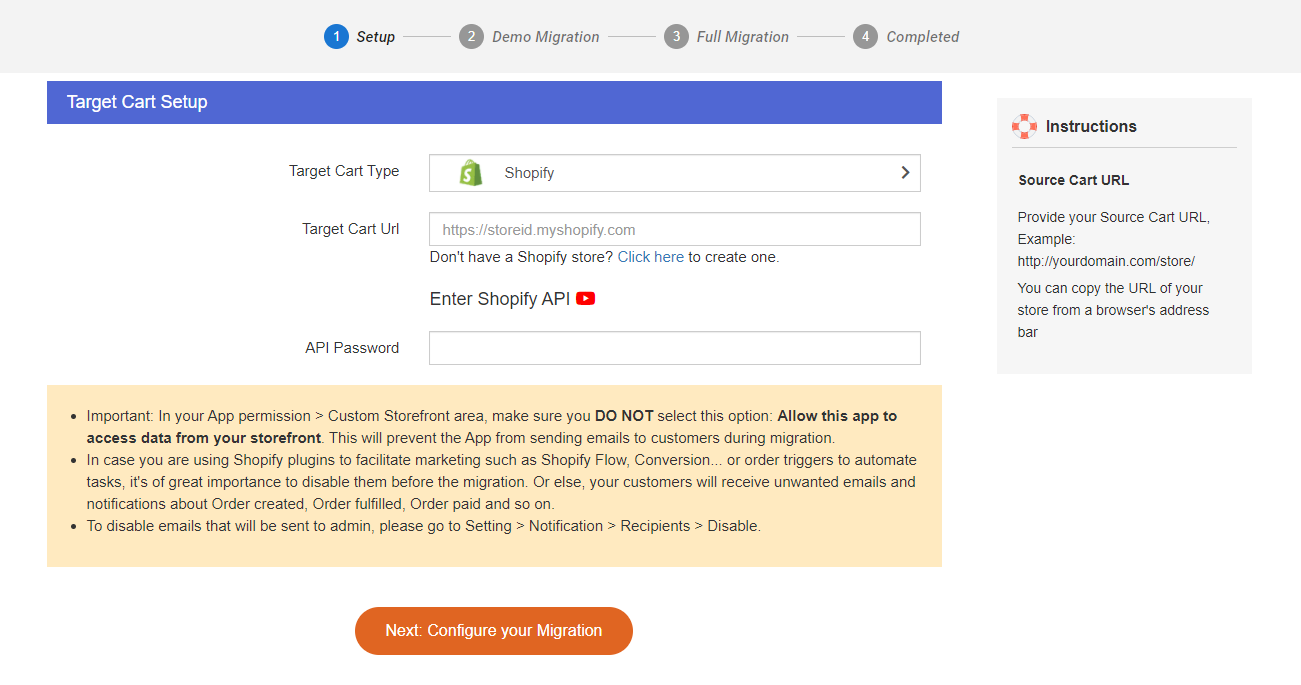 Hit "Next" to proceed to the next stage of the migration procedure.
Step 2: Configure migration
In this part, you can choose entities that you want to migrate from WooCommerce to Shopify. You can click "Select all" to migrate all data. Now, we are transferring products only, so you can just tick "Products". By choosing this box, all your product reviews, categories, images and variants will be migrated automatically to Shopify.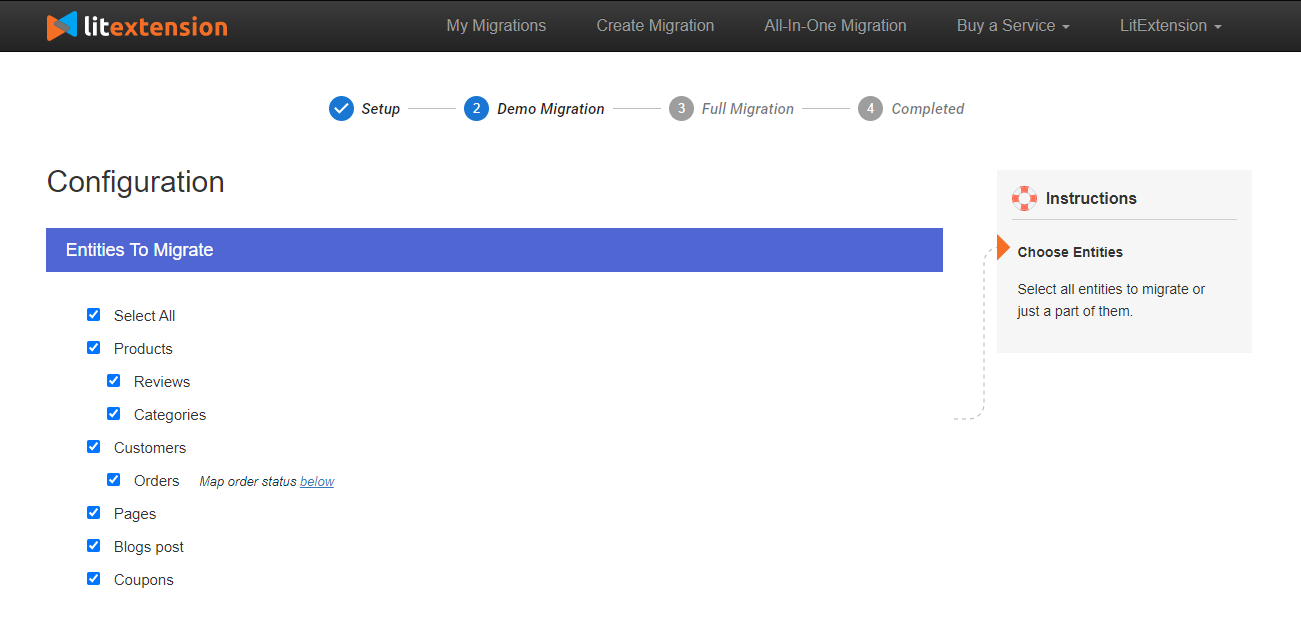 Don't forget to choose the additional options, especially the 2 important options when importing products: Strip HTML from category, products names and Migrate Source Store categories into Shopify Smart Collections.

After that, choose "Next" to proceed.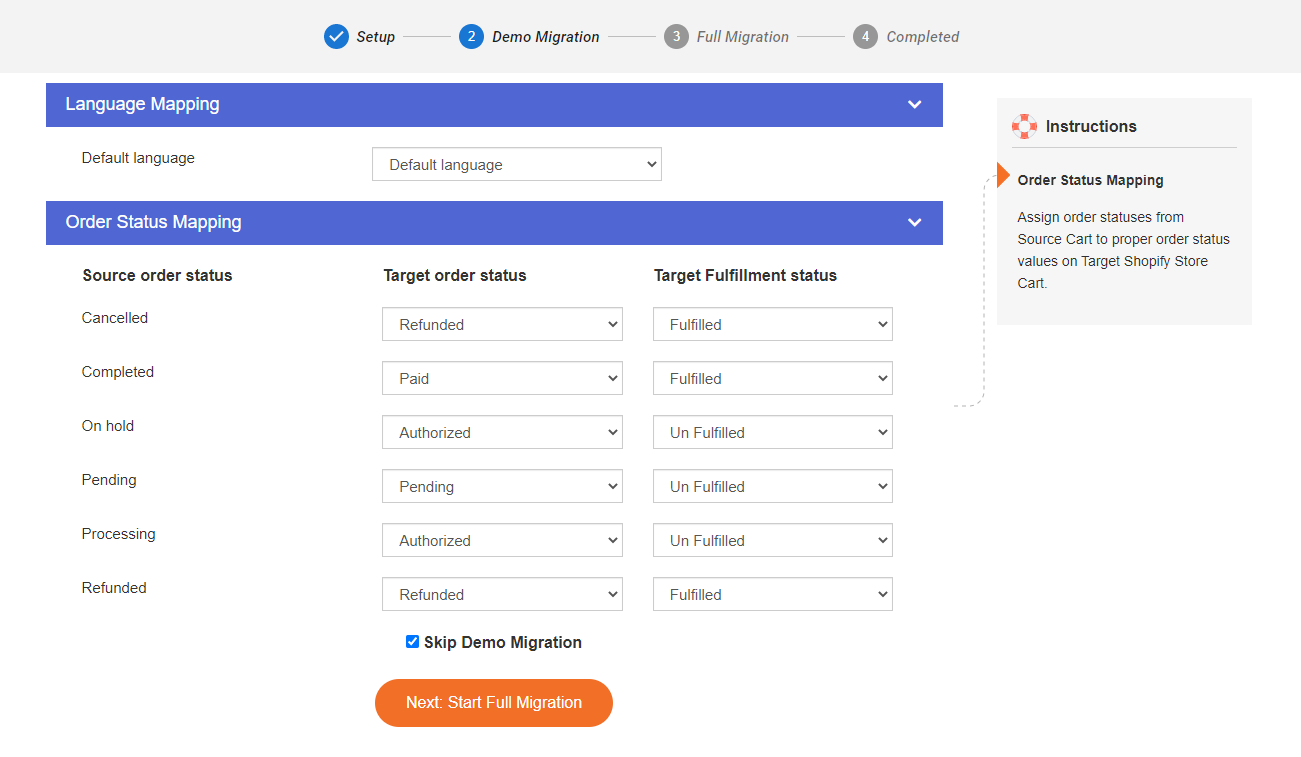 Step 3: Perform migration
Now you are ready to run the migration. We highly recommend you to run the FREE DEMO migration first to see how the migration process will be carried out by LitExtension.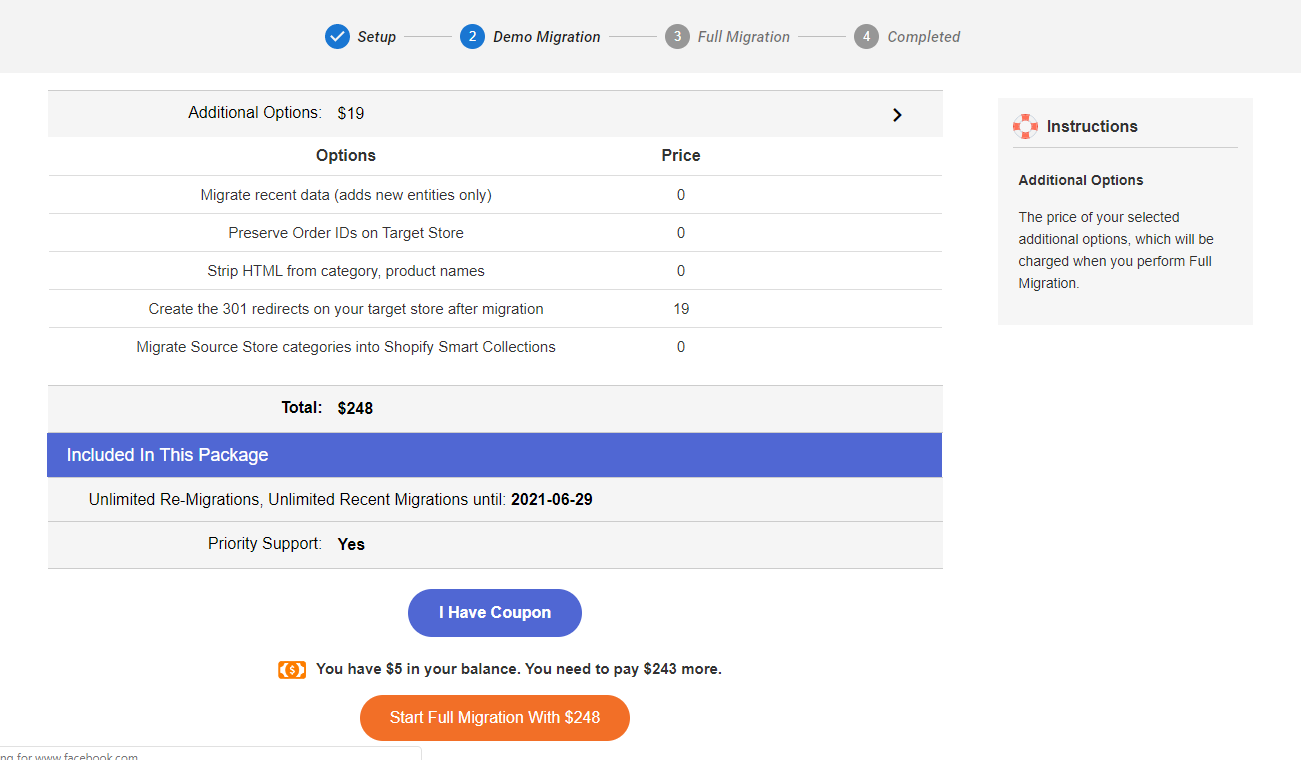 Once the migration starts, it will run seamlessly on the server. Therefore, there's no need to keep your PC on while the data is being transferred. It is completely safe to turn it off! Take a break, have a cup of coffee and your email will receive notification when the process is completed.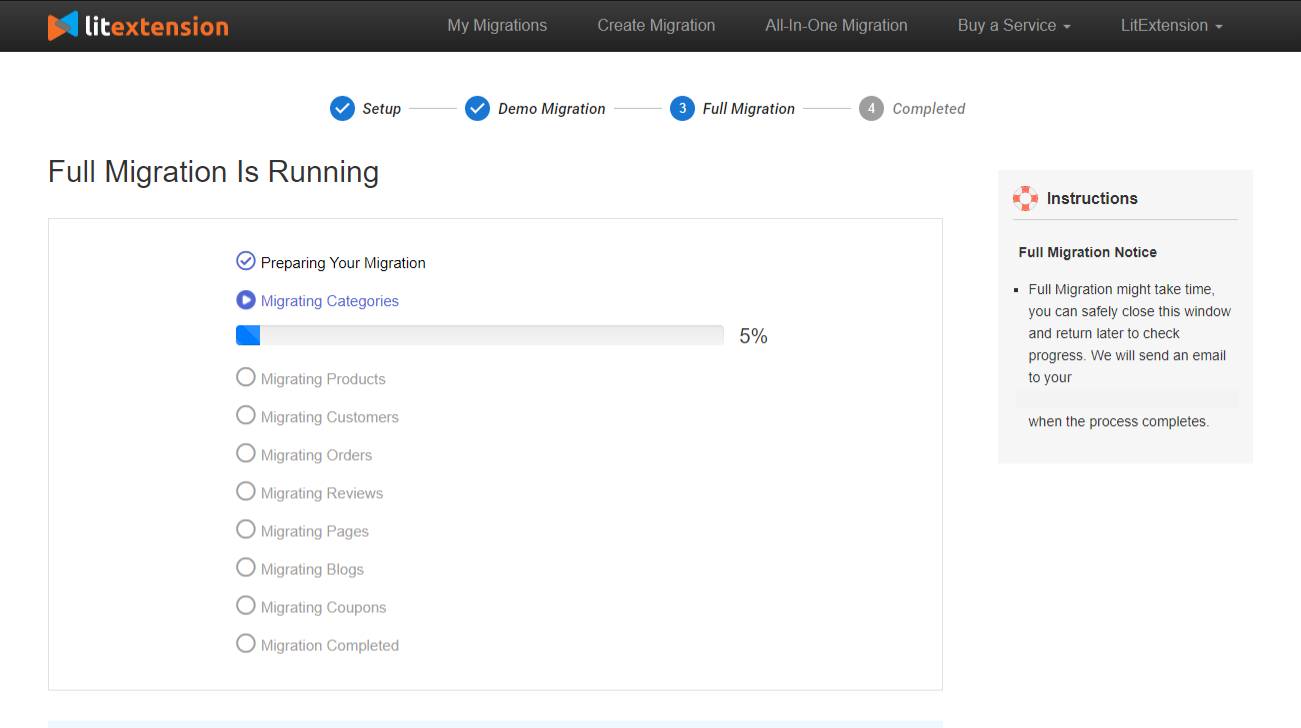 Step 4: Check result after migration
Once the migration is completed, all of your products, except for those which are out-of-stock, will be displayed on the storefront. Therefore, you can easily find them from the catalog or by onsite search. You should check your product details carefully including product descriptions, images, variants, and meta descriptions.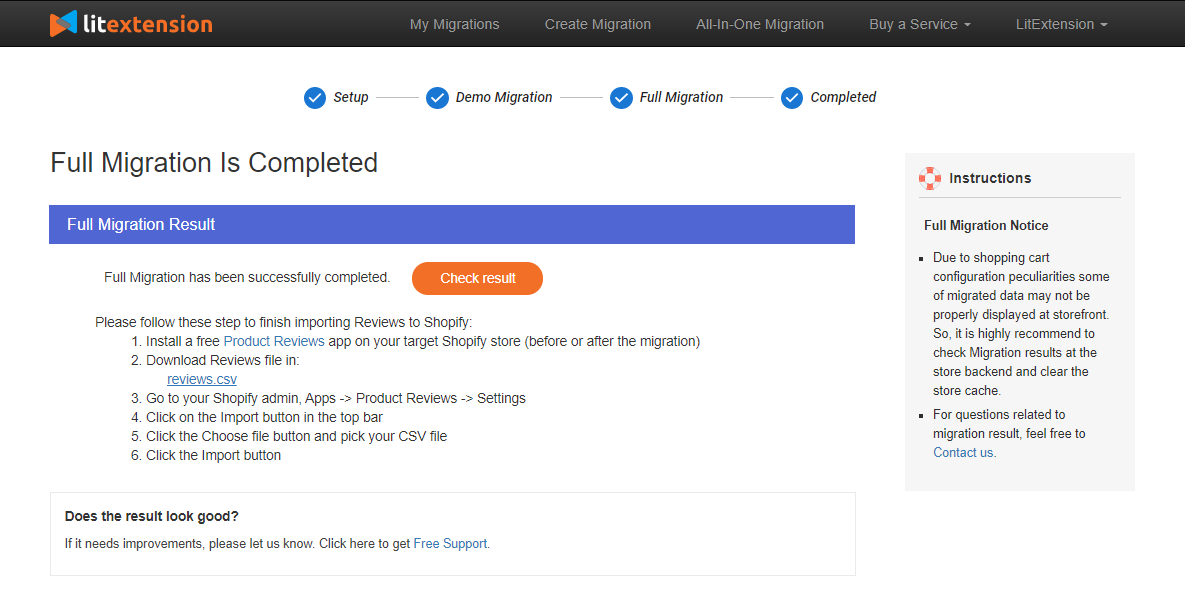 There is one thing you should be aware of if you're new to Shopify, that is there aren't categories and subcategories here. Instead, you will have collections and product tags. As a result, data in categories and subcategories on your Source store will be moved to corresponding collections and tags on Shopify.
Related posts:
Conclusion
I have shown 3 main methods and walked you through a step-by-step guide to transfer products from your current store on WooCommerce to Shopify.
Each method has its own advantages and disadvantages and I hope this above-mentioned guide will help you to make the right decision in finding the best way to perform the Shopify import product process.
Thank you for reading and hope your product migration from WooCommerce to Shopify will be successful!
New Posts
Stay in the know
Get special offers on the latest news from AVADA.