YITH WooCommerce Multi Vendor: A Complete Guide
YITH WooCommerce Multi Vendor: A Complete Guide
When it comes to creating multi-vendor marketplaces, WooCommerce is the go-to option. A multi-vendor market's primary concept is to unite multiple sellers onto a single platform so that buyers may pick from a range of merchants' offers. Following the success of prominent marketplaces such as Amazon and Alibaba, this business model is gaining traction.
To make the transformation become even easier, a plugin is all you need. In this article, you will be introduced to A complete guide of using YITH WooCommerce multi-vendor - an excellent plugin when it comes to maximizing the multi-vendor features. If you want to know more, keep reading because it is worth it!
Why should any eCommerce business work as multi-vendor platforms?
Running an eCommerce multi-vendor means that many online shops may sell their products via your website. To put it another way, your WooCommerce store now will work as a large store with a smattering of smaller ones, each managed by a different vendor. The online marketplace has become the current trend in catering to the demands of clients as a result of the advancement of technology. As a result, a WooCommerce multi-vendor will allow customers to pick from a variety of alternatives before making a purchase.
Other than that, transferring into a multi-vendor marketplace also has the following advantages:
Automatic process: Massive efforts are required to maintain an eCommerce business when considering the logistics, upgrades and additions of products, stocks, price and numerous factors. On the other hand, in a WooCommerce multi-vendor, each vendor is given responsibility for a certain job, and everything is handled in real-time. As a result, automating and simplifying manual operations benefits company owners on both sides.
Smooth management: The most difficult aspect for every eCommerce start-up is managing warehouse costs and human resources. A multi-vendor marketplace makes it easier for suppliers to manage their inventory and deal with any issues that may arise from it.
Money-saving: For the shop owner, a multi-vendor marketplace solution reduces costs by eliminating the need to hire additional staff to manage each vendor's selling department. Members of the administration team might answer Marketing-related questions. The cost of website maintenance may be minimized by working with a team of experts.
An introduction to YITH WooCommerce multi-vendor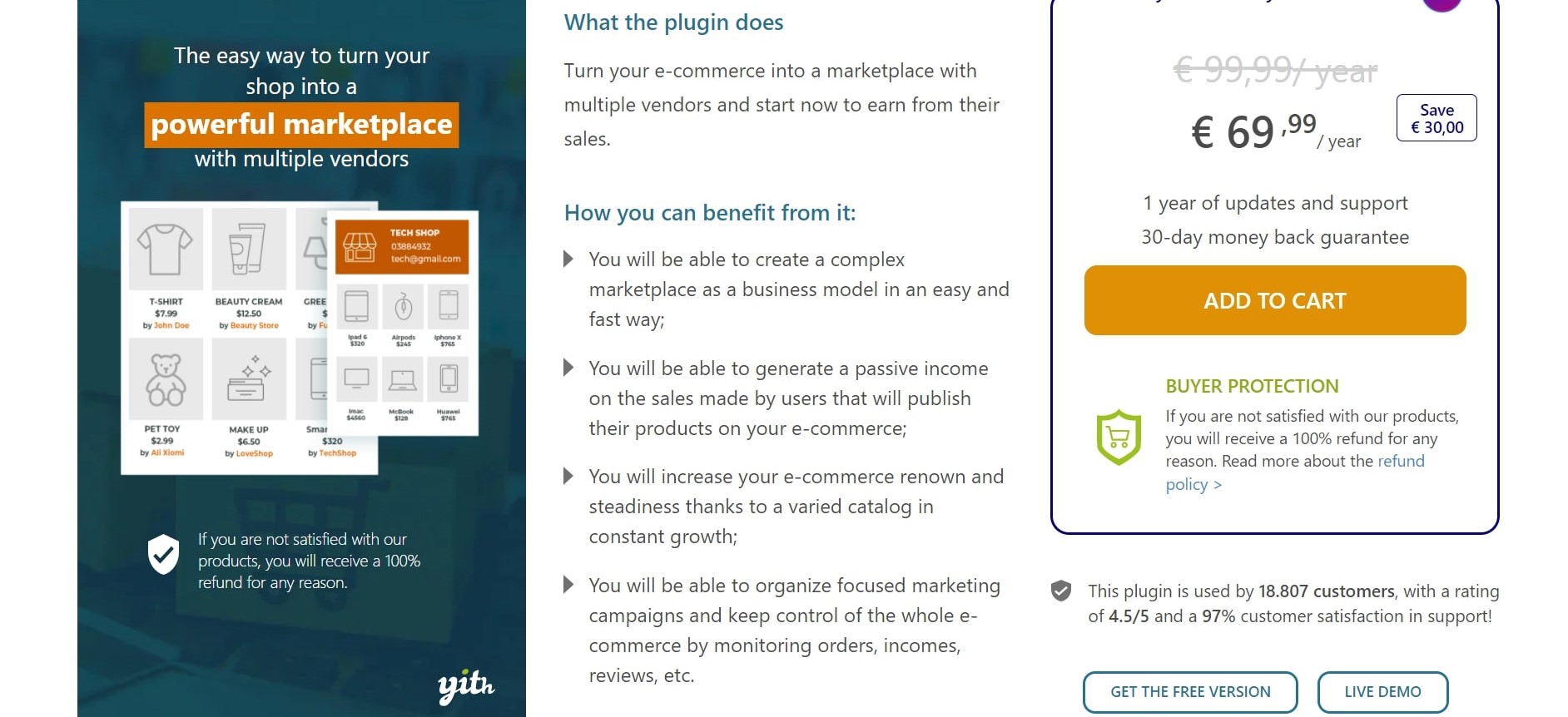 YITH WooCommerce multi vendor is a good choice if you want a plugin that does all the work for you and helps you to make a lot of money from your commission. Allow your merchants to manage their media galleries, goods, and personal information with this plugin's help. In order to utilize your platform, sellers must agree to your commission payout terms when they sign up. The vendor's name will appear next to the product name on both the WooCommerce single product page and the shop page when buyers are looking at particular goods.
Additionally, YITH WooCommerce Multi Vendor may be purchased in English and Italian languages. The WPML compatibility implies that you may completely translate your plugin using WPML. Moreover, you will gain access to YITH's variety of features, including:
A separate order management system may be set up for each of the store's vendors using this plugin.
In the marketplace, merchants may generate discounts and manage their items.
Vendors may establish product catalogs, monitor orders, earnings, and product reviews without the permission of an administrator.
Each vendor's sales may be enabled or disabled by the super admin.
Detailed sales and commission reports are provided
The sophisticated shipping module allows vendors to define delivery zones, calculate shipping costs, add extra charges, and set refund and shipping policies.
Payments will not be accepted below a certain amount established by the marketplace administrator.
Up to the present, YITH WooCommerce multi-vendor is available in two versions: Free and Premium. The latter will cost online store owners $69,99 annually, along with 1 year of updates and support.
A complete guide to using YITH WooCommerce multi-vendor
Now that you have acknowledged the benefits of running a multi-vendor website and how YITH WooCommerce multi-vendor can help with the management, we will come to a more detailed section - the installation. The tutorial has been divided into small basic steps, allowing online store merchants to make the best of the plugin.
No more beating around the bush, let's get started!
Step 1: Install the plugin
If you have worked with WooCommerce for a while, this must be the easiest step and you must have performed it multiple times before. However, for those of you who are newcomers, then follow our guidelines and it will only take a few minutes. First of all, we need to download the .zip file by finishing the transaction.
After that, open a new tab directed to your WooCommerce Dashboard and choose the Plugins > Add New page located on your left-hand sidebar, click on "Upload Plugin" button just like what we did below: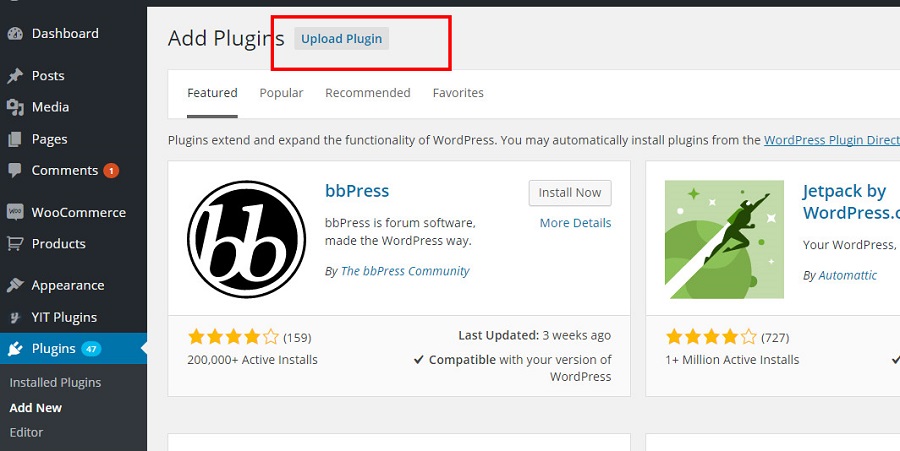 You may activate the plugin after uploading it. To activate a plugin, go to "Plugins", pick the plugin, and then click "Activate".
Step 2: Activate and renew license (premium version only)
The plugin must be installed in accordance with the preceding procedures in order to function properly. If you are using the premium version of YITH WooCommerce multi-vendor, then it is necessary to activate and renew the license.
Get your license key from yithemes.com and activate the plugin by clicking the "Licenses and Downloads" link in your member section: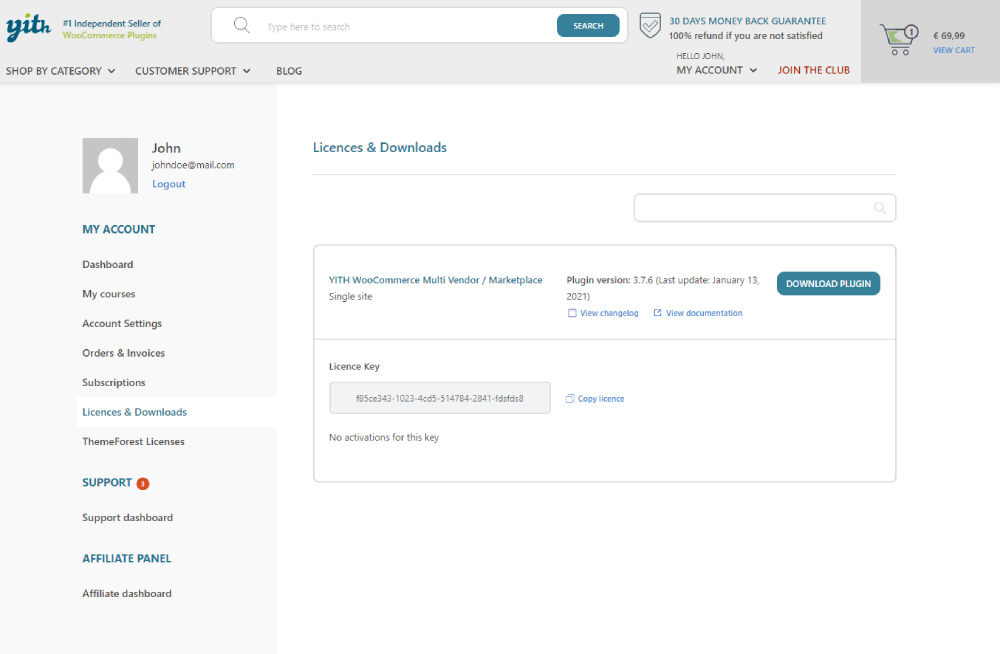 Then go back to your YITH > License Activation page on your WooCommerce Dashboard and make sure that the YITH plugin is selected, then input both the email address linked with your yithemes.com account, as well as the license key: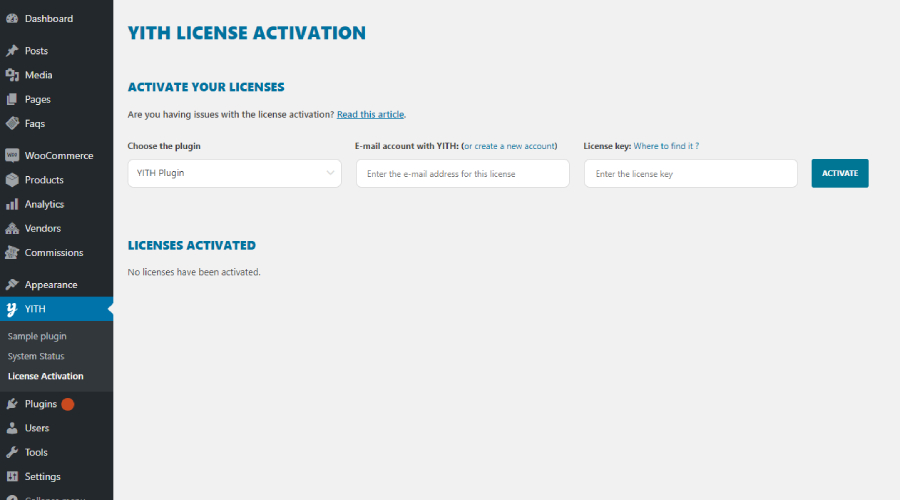 A screen like this will appear if the activation procedure went well: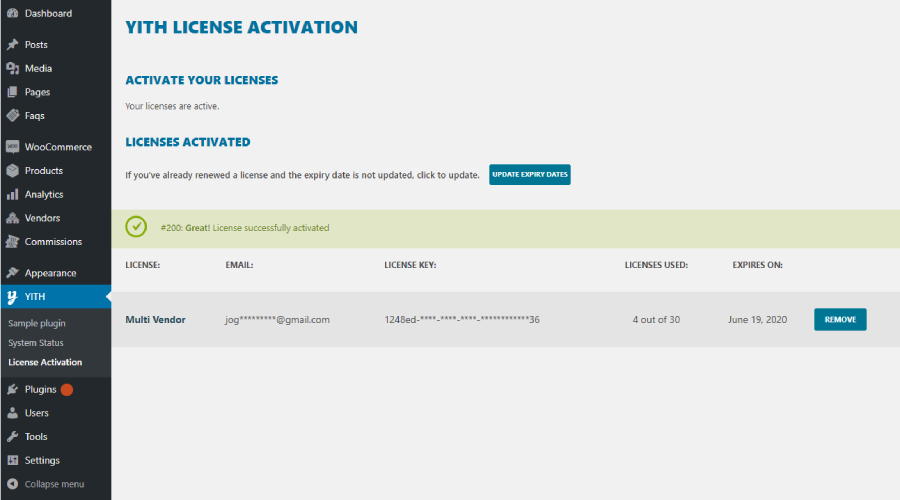 At the purchase price, all YITH plugins will automatically renew for another year each time. To put it another way, the system automatically generates a recurring payment throughout the purchase process so that the user may continue receiving support and updates. To find out when your plugins' next renewal is due, just log in to your site and go to the YITH > License Activation area of the dashboard: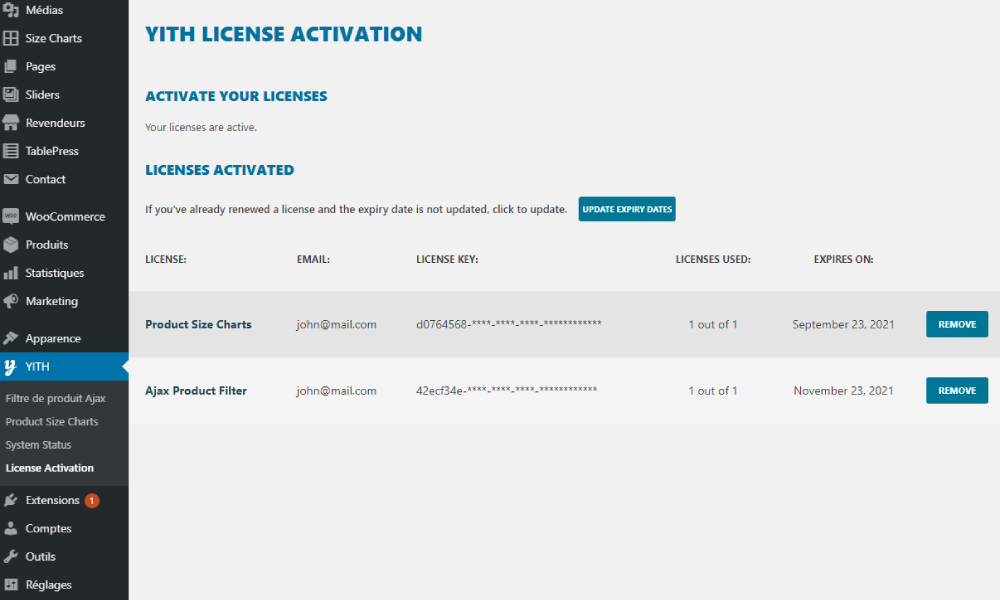 The user may deactivate automatic renewals at any time. After logging into yithemes.com, go to the "License & Subscription" area and turn the automatic renewal to "Off" as seen in the following picture: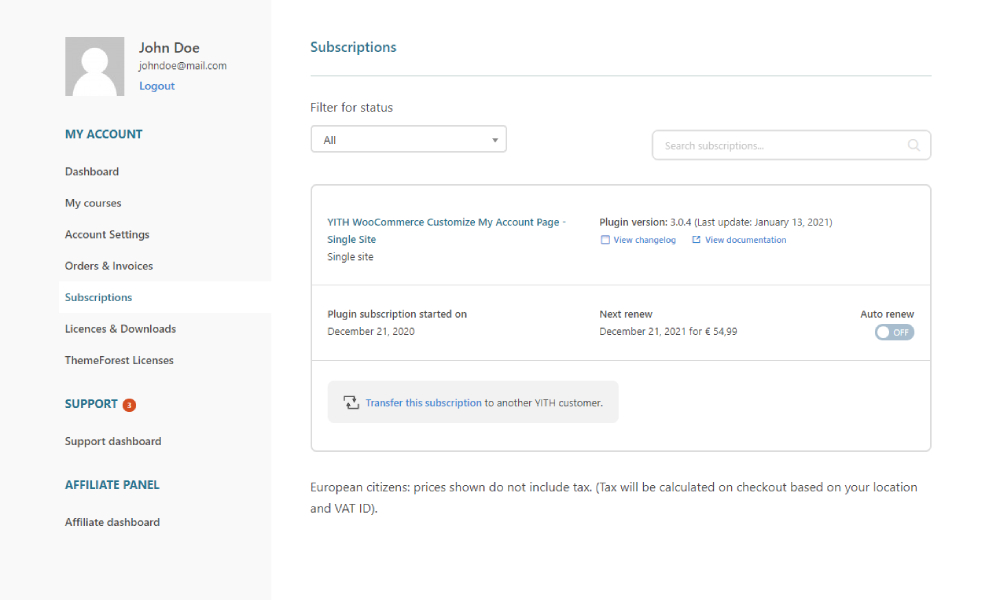 Step 3: Create and label new vendor
Because you are operating a WooCommerce multi-vendor store, it is important to create many vendors for your customers to choose from. Using this plugin, you can open as many vendor stores as you like. A registered user must have access to all of the website's features. Go to the "Vendors" page to add a new vendor.
Each vendor will require the owner to fill in the following information: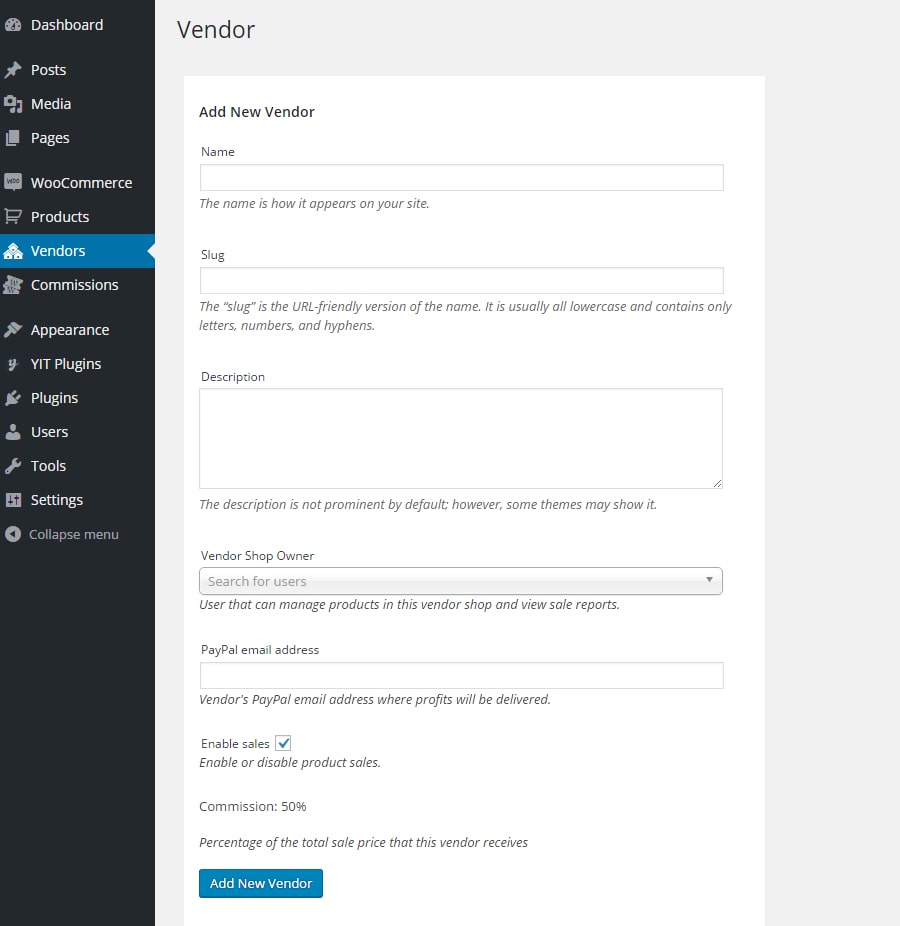 Name: how your consumers call the vendors
Slug: if this field is left blank, WooCommerce will create a slug for the vendor's page.
Description: description text for the vendor's store (displayed on the product detail page's "Vendor" tab).
Vendor Shop Owner: the owner of the store that will be connected with the current vendor; owners will be able to update items, information about their shop, and examine a list of commissions earned. The field is required since it is required to build a legitimate store. If no owner is specified for the store, it will be deactivated, and users will not be able to see the items.
PayPal email address: The vendor's PayPal email address
Enable Sales: When this option is turned off, items related to this seller aren't shown in the shop. This does not mean they have been deleted from the shop; rather, as long as this option is disabled, they will be hidden from users.
Commission: For each sale of a product related to the seller, a commission proportion is payable to him/her. This value must be the same for all suppliers and may be set under YITH Plugins > Multi-Vendor plugin parameters.
The "Vendor" role in WordPress will be assigned to all vendor users in the store: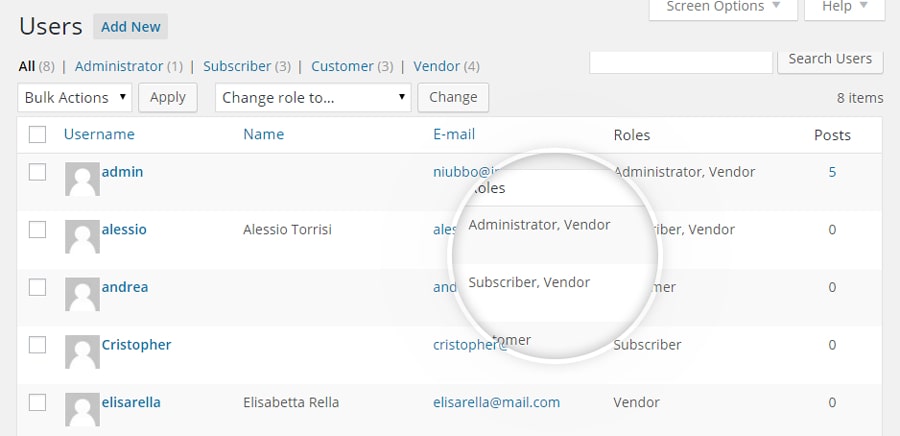 Step 4: Add a new product
When going to the Products > Add Products section on WooCommerce, each vendor has the ability to build and establish new items in his or her own management reserved area: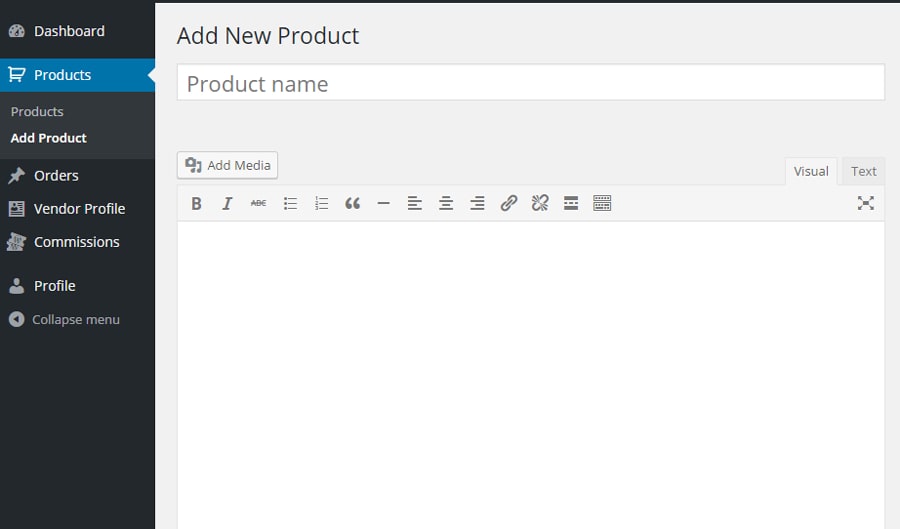 As you can see in the example, fill in the product information and hover the mouse over "Submit for Review" button to wait for the administrator's approval: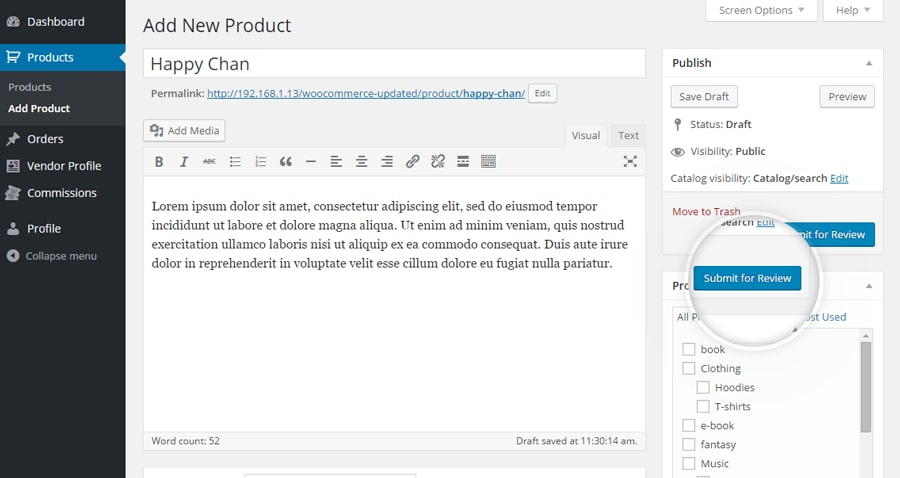 The system sends a notice to the "Products" field for each new product that is awaiting approval: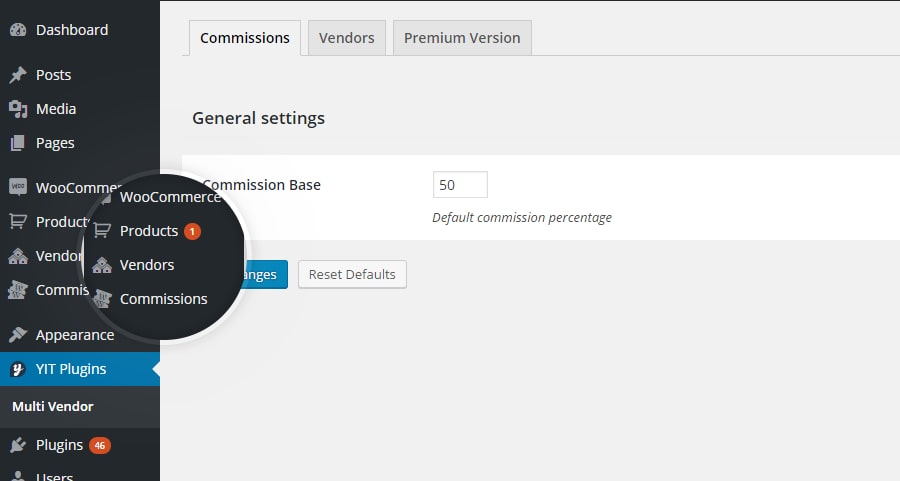 At this stage, the administrator may publish the product with a "pending" status: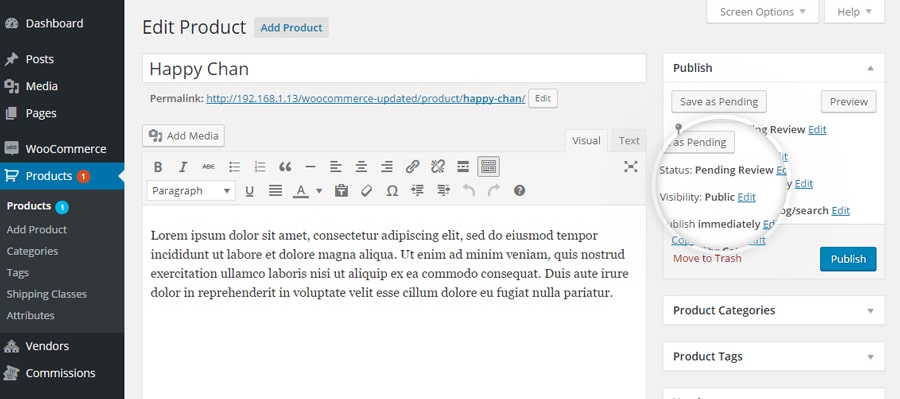 Step 5: Managing your orders
Vendors will be allowed to handle their orders independent of the administrators if the "Enable order management option" is enabled. If administrators choose the "Order synchronization" option, any changes made to a general order will also affect the single vendor's order: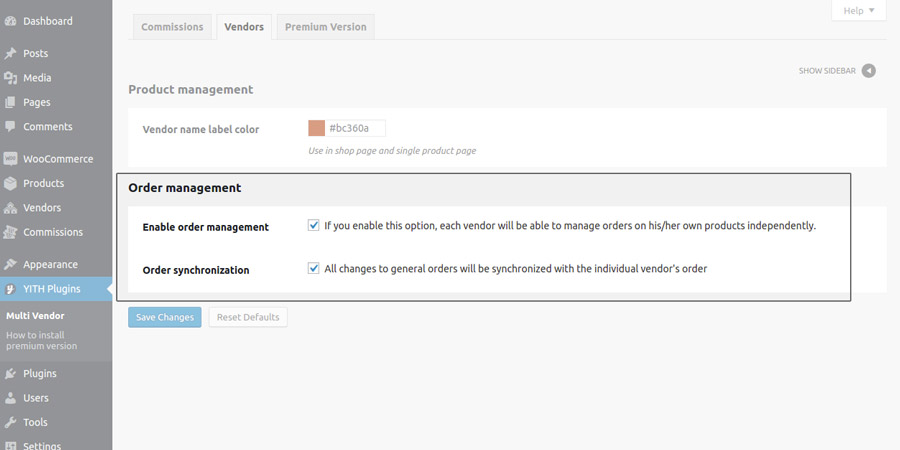 Every order recorded in the store is separated into as many suborders as the number of vendors associated with at least one of the goods in the order on the administrative side: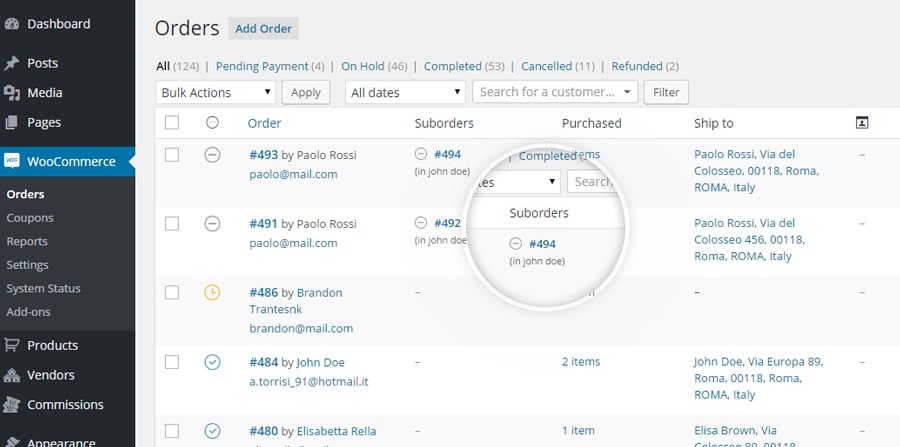 The seller, on the other hand, could only look at suborders that were relevant to him/her:
Step 6: Managing the commissions
Each vendor owner will be paid a commission on sales of items linked with them, and the proportion of that commission may be adjusted in the plugin settings panel. This depends on whether the administrator specifies a number for the "Commission Base" field under YITH Plugins > Multi Vendor > Commissions setting or not: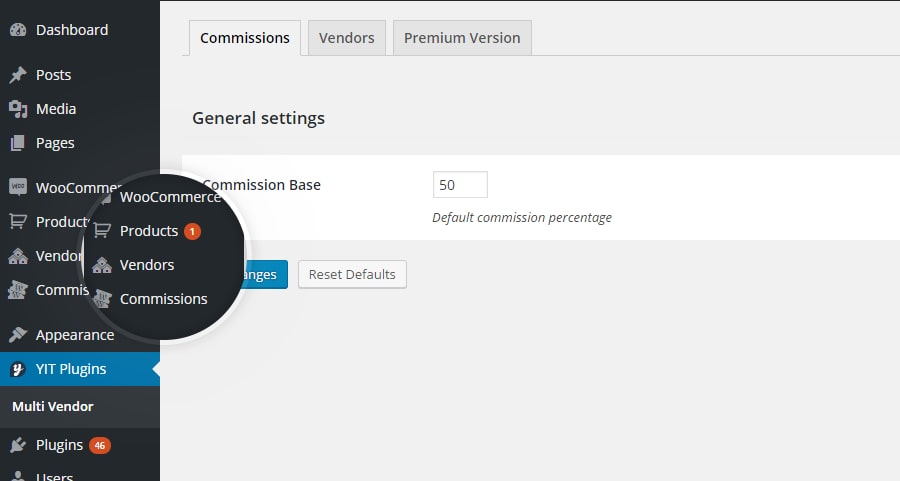 The number in the box will represent a commission % on product pricing for all of your vendors. Navigate to the "Commissions" tab from your Dashboard and you will see a full list of all commissions owing to each vendor: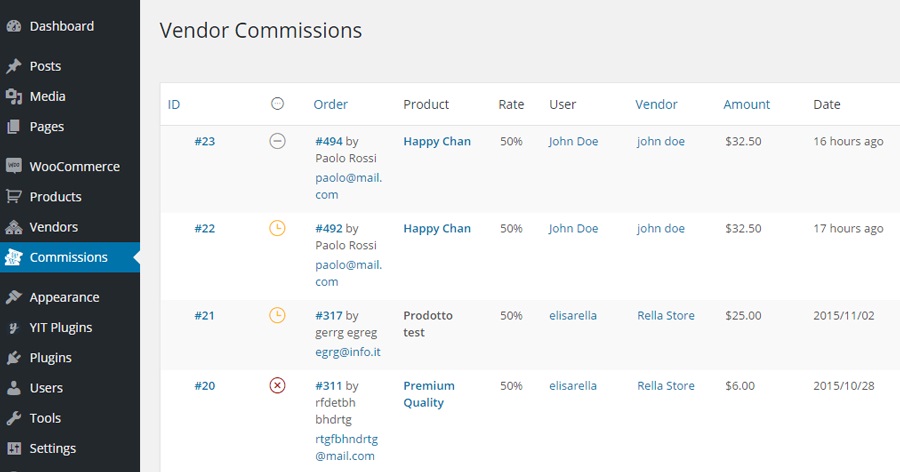 The commission connected with each completed order will be added to the page. It's critical to understand the following concept: commissions are based on the state of the order to which they're linked; when order is "completed", the commission becomes "pending". The shop administrator must next determine whether and when to change the status.
You can easily update the commission status by changing the "Actions" into "Paid" whenever it is necessary: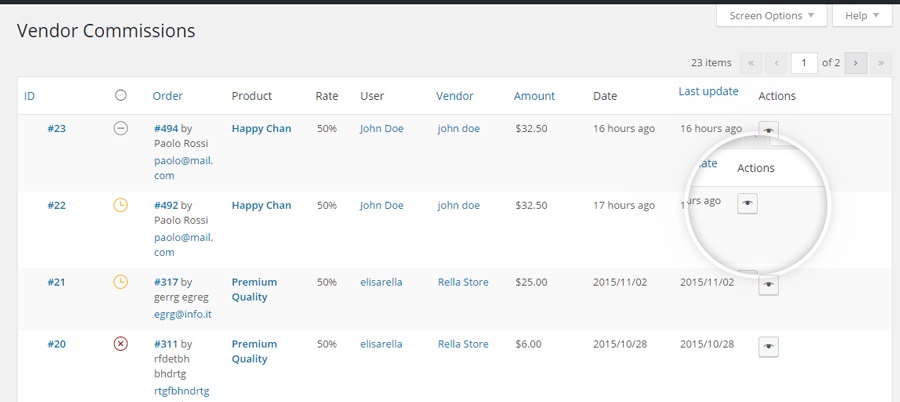 Other options available in the "Actions" drop-down are "Pending", "Unpaid", "Cancelled" and "Refunded".
Step 7: Translating your multi-vendor
If you wish to operate a WooCommerce multi-vendor website in a plethora of languages, then quickly access the translation platform of YITH in this link and follow the instructions below: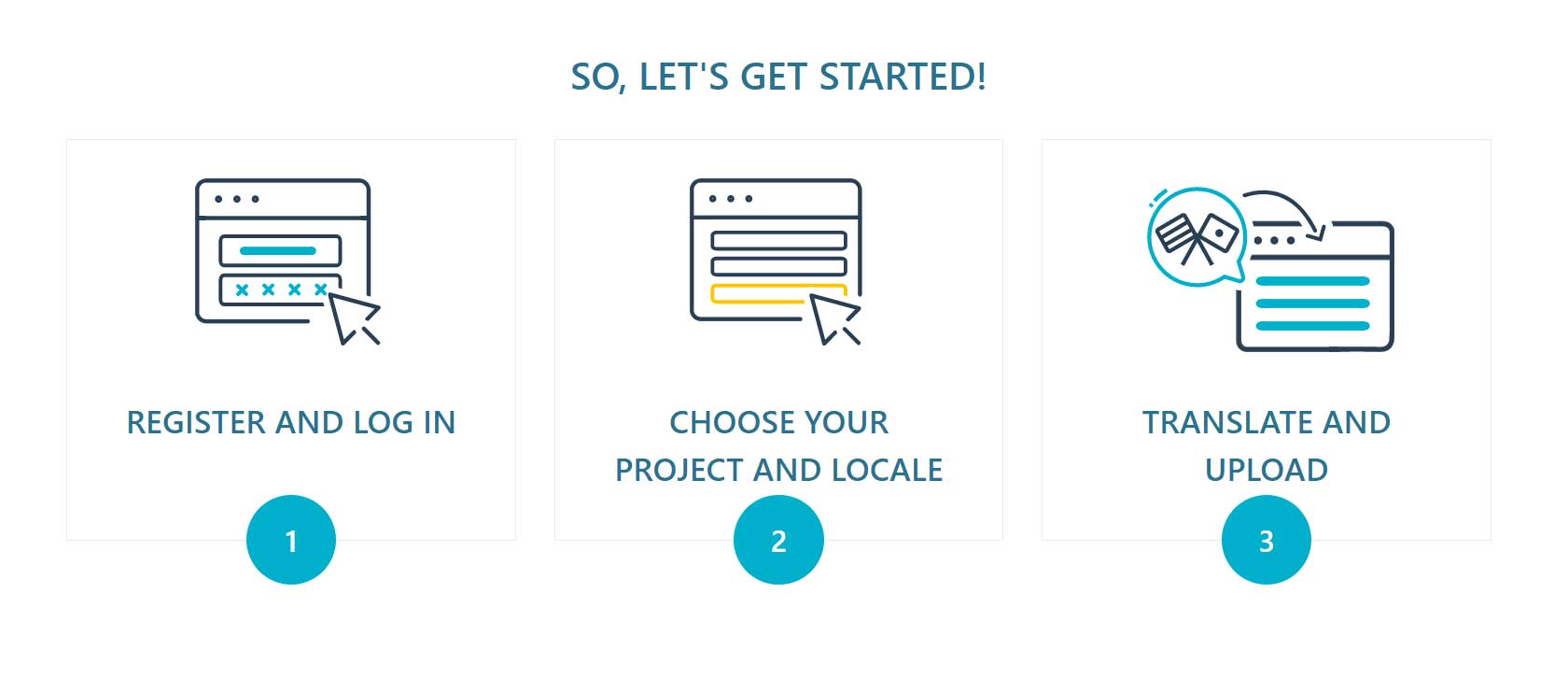 Once you've finished translating, you'll be able to export your translation as a file that can be published to your plugin package's languages folder and used right away. To ensure that you have turned on the site language, enter the Settings > General > Language to update this field: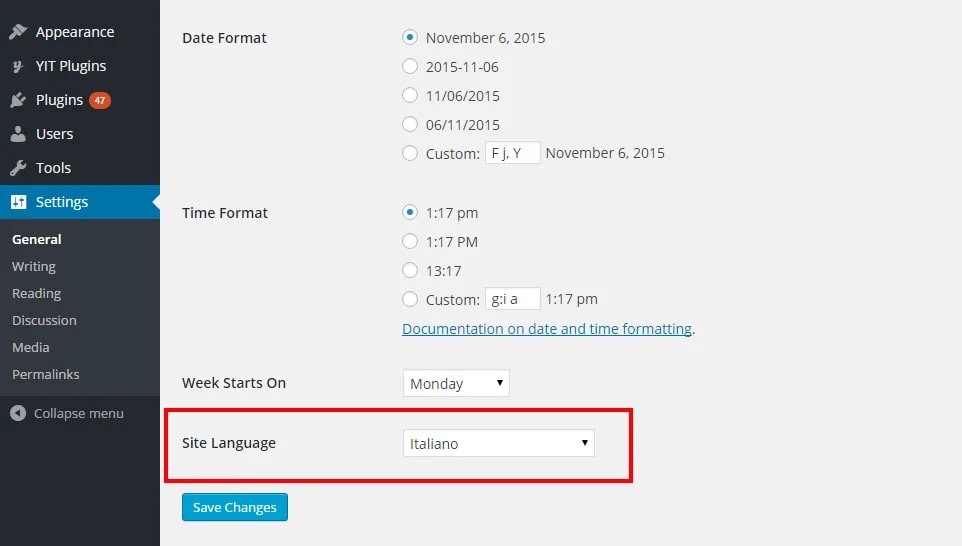 To complete the whole process, click on "Save Changes" and go back to your website to check out the final results!
Final thoughts
In conclusion, if you are attempting to widen your online business, YITH WooCommerce Multi Vendor will be a great addition! We hope that today's article has provided you with the advantages of running your own multi-vendor and gaining higher profits thanks to the YITH WooCommerce Multi Vendor plugin. If you have any questions related to the topic, feel free to leave a comment below, we are here to help!
New Posts
Subscribe
Stay in the know
Get special offers on the latest news from AVADA.
40k
subscribers has been joined!
Earn $10 in reward now!