YITH WooCommerce Gift Cards: A Complete Guide
Last updated: September 01, 2023
People who buy your stuff like gift cards as well. You will be able to get new clients and significantly enhance your revenue by allowing your users to purchase a gift card to use in your business. We'll go over all you need to know about YITH WooCommerce gift cards in this article.
What are the advantages of installing WooCommerce gift cards to your store?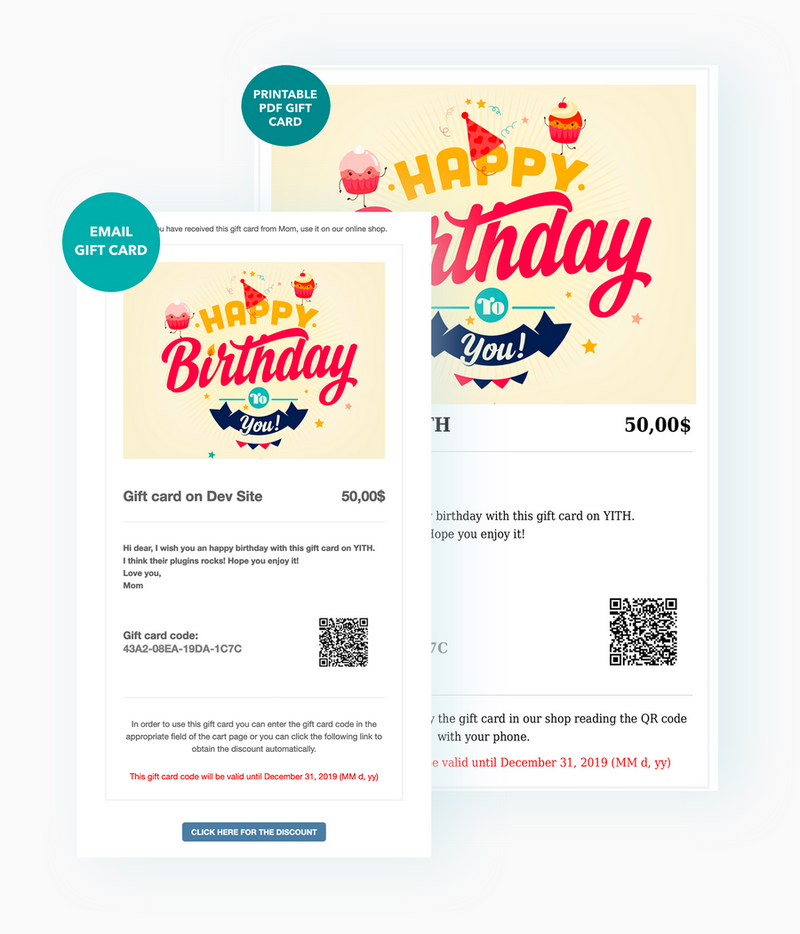 WooCommerce gift cards provide a number of advantages to your shop, the most important of which is increased client loyalty. Loyal customers are essential for a WooCommerce business since they help stabilize earnings and introduce new clients to your store by giving gift cards.
According to a recent survey, almost 70% of consumers who got gift cards spent 40% more than the actual value of the gift card, resulting in a spontaneous increase in sales.
The best part about giving gift cards is that the recipients always come back to the business to make further purchases.
Yith WooCommerce Gift Card: A full instruction
Features of Yith WooCommerce Gift Card
This plugin offers many efficient features for your store, such as:
Gift-card is a new product category that allows you to customize your own gift cards.
Decide how much you wish to spend on each Gift Card.
All gift cards are shown on a dashboard (to check balance, related orders, and so on)
From the Gift Cards dashboard, you can create and update Gift Cards.
Virtual Gift Cards can be created and sold.
Create as many real or virtual gift cards as you want;
Allow the purchaser to fill up the recipient's information and email the gift card.
Once the order has been finished, email the gift card to the recipient.
Create a gallery of photographs from which consumers may select one for the gift card design.
Make the Gift Card coding pattern your own.
How to install YITH WooCommerce gift card
Download the free or premium version
Download the plugin's free version or upgrade to a paid version.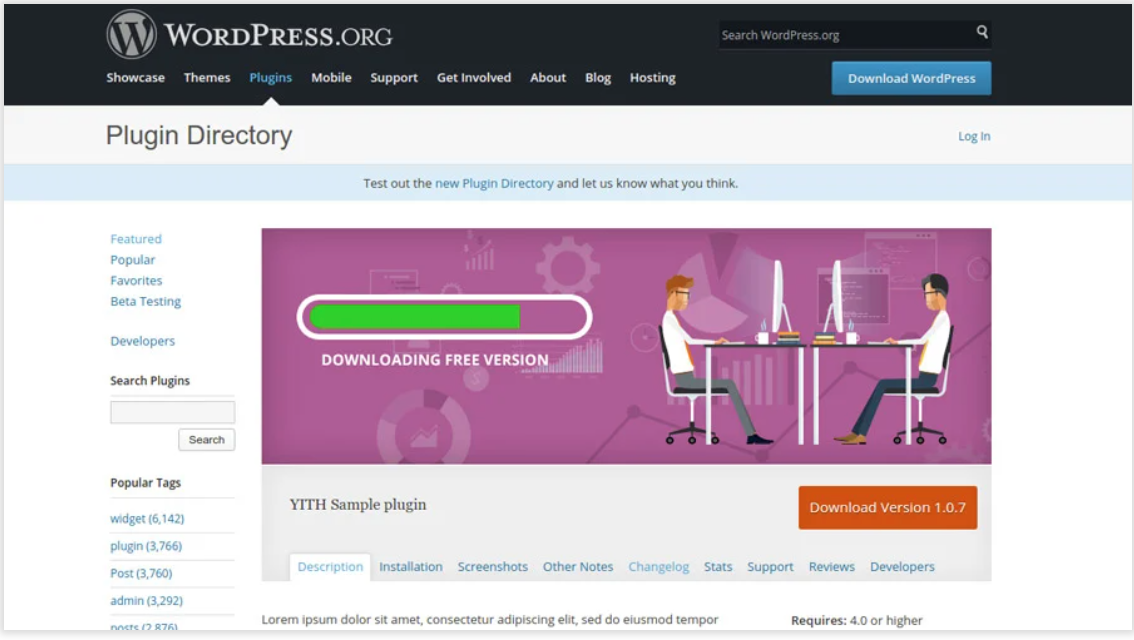 To get the premium version, log in to your yithemes.com account and go to your member area.
Then go to "Licenses & Downloads" and choose the plugin you want to download and click the "Download plugin" button next to it.
(Price of premium version: $129,99/year)
Installation
Install the plugin on your WordPress platform by uploading the.zip file to the WordPress plugins directory (wp-content->plugins). You may also use WordPress's upload tool to upload the Zip file and get the same result.
Then, in Plugins, click on the "Add new" option, and then on the "Upload Plugin" button.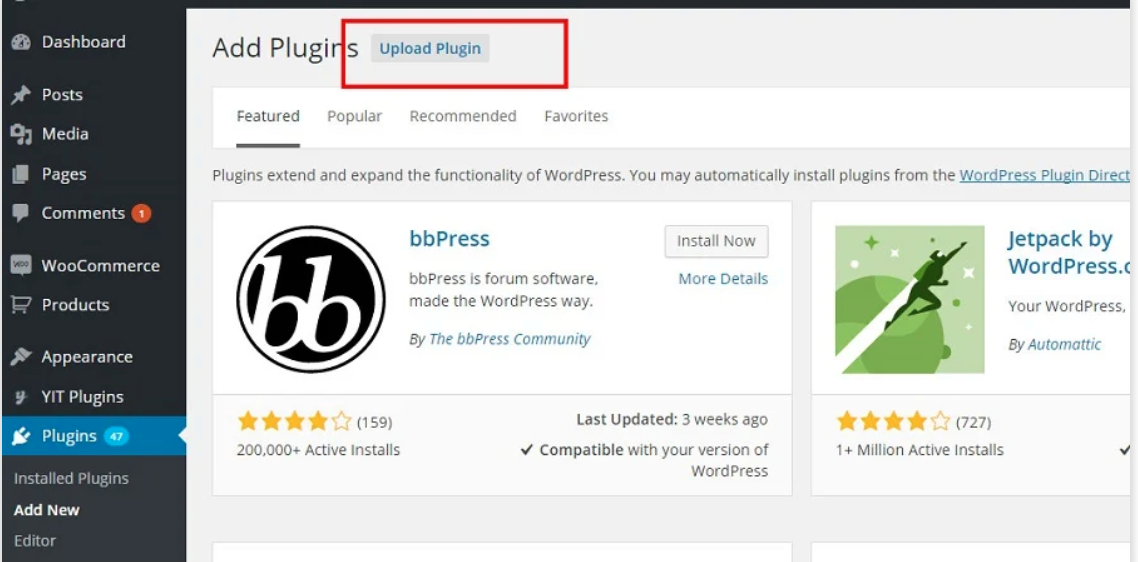 You can activate the plugin when you've finished uploading it. Go to "Plugins" pick the plugin, and then click "Activate."
License activation
The plugin must be installed in the manner described above in order to function properly. However, you must activate the plugin if you purchased the premium version and want to receive automatic updates from the development team or use the support portal to request assistance from our team.
To acquire your license key and activate the plugin, go to your member area on yithemes.com and click on the "Licenses and Downloads" page.
Now go to "YITH" and then to the tab License Activation on your WordPress platform.
Enter both the email address linked with the yithemes.com account and the YITH plugin for which you wish to enable the license.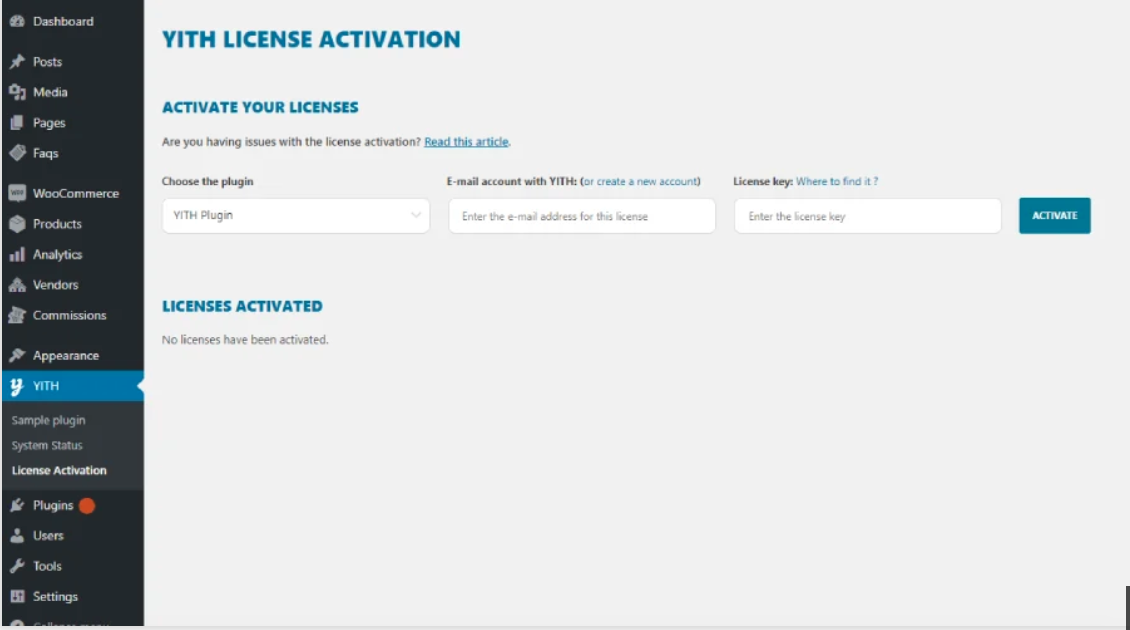 Note: the License tab will only appear if you have downloaded and installed the plugin's premium edition.
If the activation procedure went smoothly, you should see something like this.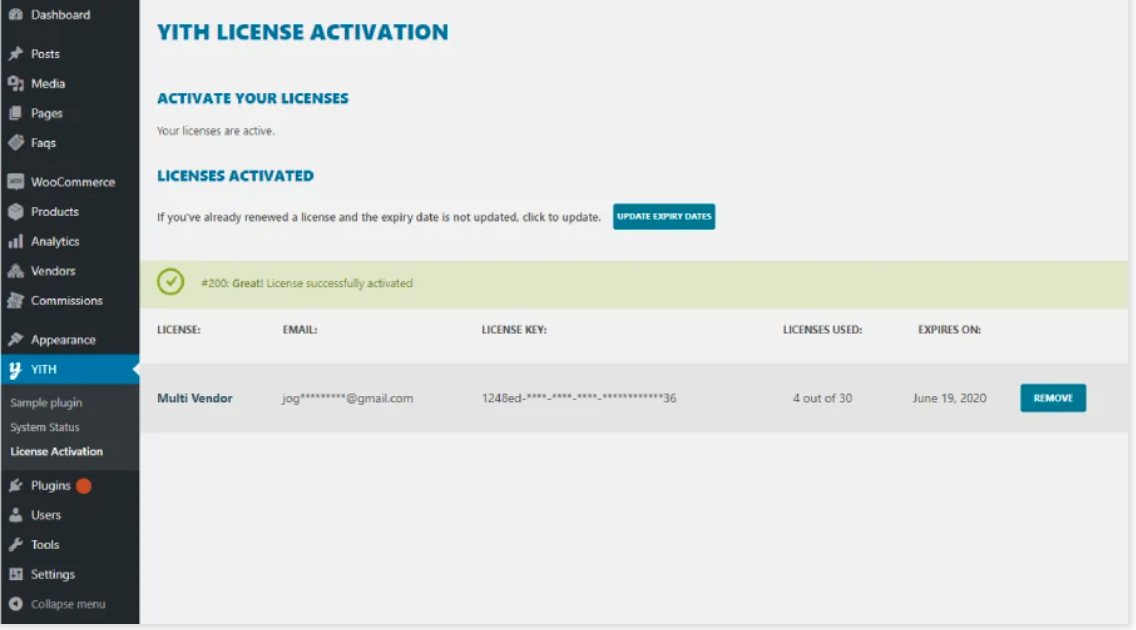 Renew license
Every year, at the purchase price, all YITH plugins will automatically renew.
It implies that the system makes a recurring payment during the purchasing process to automatically renew the license and allow the user to continue receiving support and updates.
To find out when your plugins' next renewal is due, log in to your site and navigate to the YITH -> License Activation area.
The user can manually disable automatic renewals. Simply go to yithemes.com, then choose Licenses & Subscriptions area and turn off automatic renewal.
PLEASE NOTE: If your license has already expired and you activate automatic renewal from our website's Subscriptions page, a new payment for the plugin will be handled immediately.
Deactivate license
At any time, you can deactivate and reactivate the license on a different site. Simply choose "Remove" from the "YITH -> License Activation" menu and enter the license key in the new site.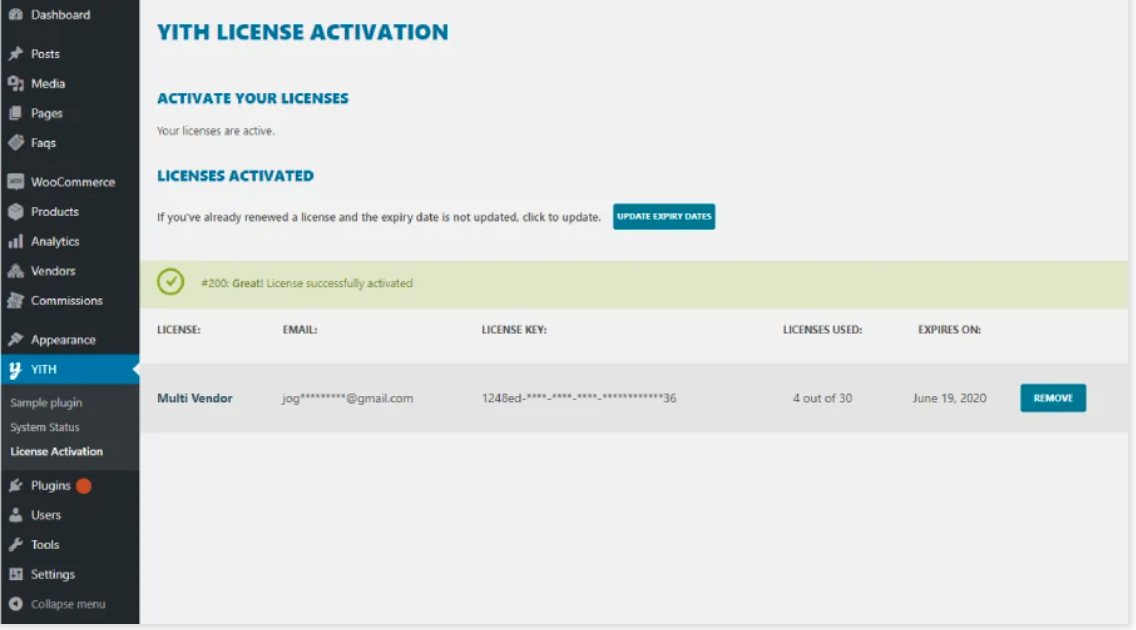 Conclusion
Customers choose gift cards over other choices because YITH WooCommerce gift cards are versatile to utilize. Gift cards may help you develop a stronger relationship with your customers, resulting in higher sales conversions. Install this WordPress gift voucher plugin in your business and begin selling gift cards in minutes, allowing your customers to share them with their friends on special occasions.
---
Roger has over 4 years of experience in SEO. While in college, he started learning about SEO and showed a passion for the field. Right after graduation, he embarked on SEO projects and achieved great success. After years of working, he has learned deeply about SEO. Currently, he is the SEO team leader at avada.io