Home
>
WooCommerce
>
Docs
>
WooCommerce vs Easy Digital Downloads Comparison: Which one is the best?
WooCommerce vs Easy Digital Downloads Comparison: Which one is the best?
Last updated: September 01, 2023
WordPress is an open-source content management system that enables the creation of any type of website. When it comes to an eCommerce store, there are two market-leading WordPress plugins that can make it challenging to decide which one to utilize for your store.
WooCommerce is optimized for developing physical goods businesses, whereas Easy Digital Downloads manages digital products like eBooks, MP3s, and video material. When deciding between WooCommerce and Easy Digital Downloads, there are other factors to consider in addition to the type of products you'll be selling.
That may leave you thinking about which plugin to use when deciding between WooCommerce and Easy Digital Downloads to develop your store. Because the answer is not always straightforward, we're going to conduct a thorough WooCommerce vs. Easy Digital Downloads Comparison: Which one is the best?. By the end of the article, you should determine which option is the best fit for your WordPress eCommerce store.
Brief overview
1. WooCommerce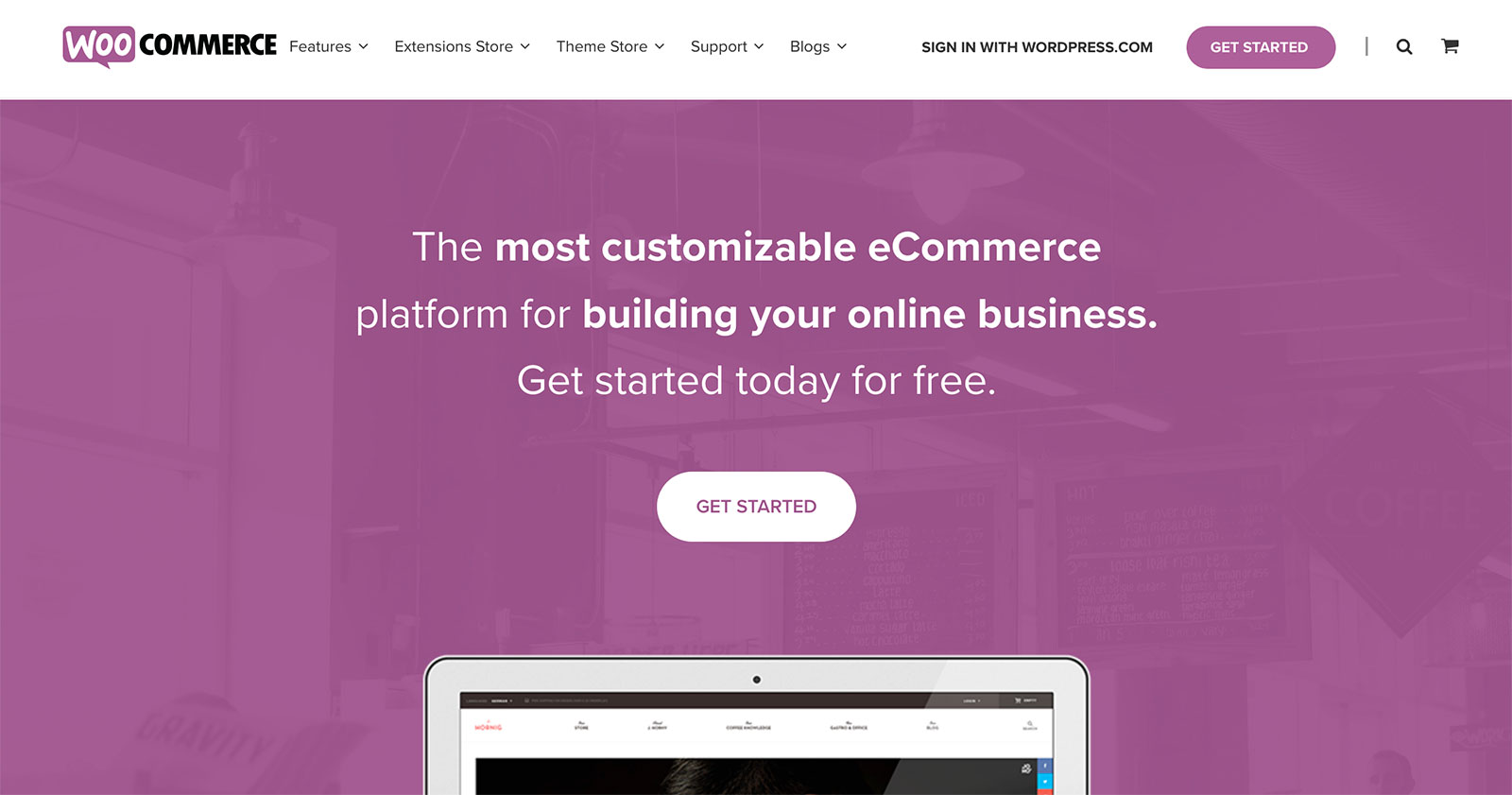 There is no denying that WooCommerce is the undisputed king of WordPress eCommerce. WooCommerce was acquired by Automattic for $30 million in 2015 and now accounts for 8% of all eCommerce sites on the Internet.
WooCommerce was originally designed to manage physical things, but it can now be used to manage digital products. Due to its popularity and the fact that Automattic endorses it, it entails the following:
There is a sizable marketplace for WooCommerce extensions that you may employ to enhance your store's functionality. Similarly, with WooCommerce themes.
It is constantly supported and developed. In short, it isn't going away anytime soon.
It's simple to obtain assistance or expert support if you encounter any difficulties.
2. Easy Digital Downloads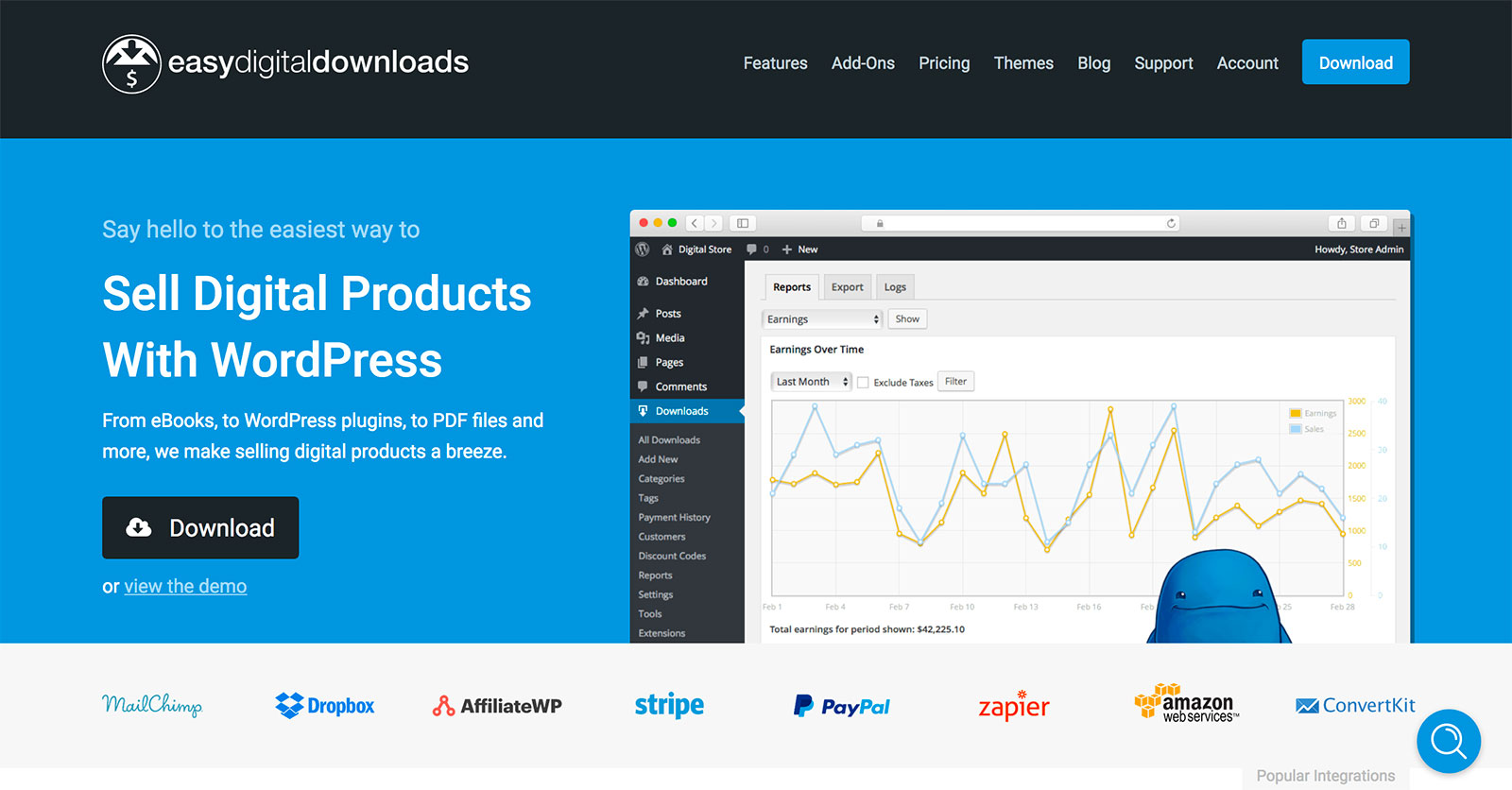 Easy Digital Downloads, or EDD for short, is not as well-known as WooCommerce. According to the stats, it powers less than 0.2% of the BuiltWith Top Million. However, this is not trivial, and it is quite popular among eCommerce companies that sell digital things.
As the name implies, Easy Digital Downloads was developed to manage digital products, while it currently includes some limited support for physical products. Similar to WooCommerce:
Easy Digital Downloads offers both official and third-party extensions in its marketplace. Easy Digital Downloads brought its hosted marketplace in-house in 2017, however, third-party add-ons are still available.
While Sandhills Development, the company behind EDD, is not as well-known as Automattic, it is nonetheless a well-established company. Apart from EDD, it includes the plugins Restrict Content Pro and AffiliateWP.
Pros and Cons of WooCommerce and Easy Digital Downloads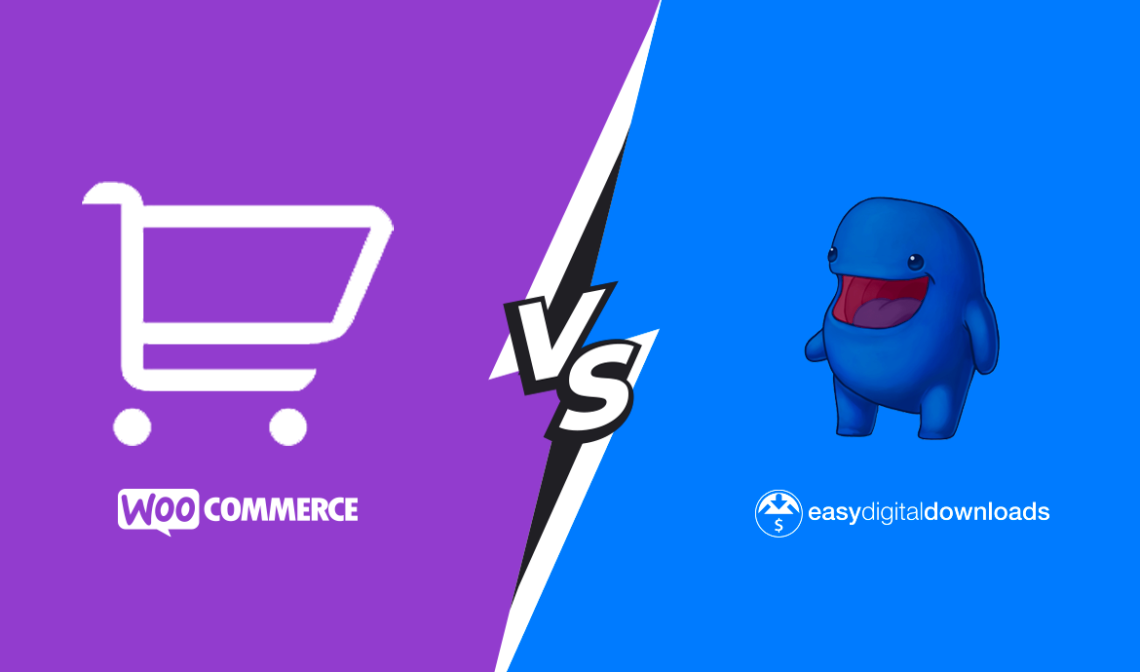 You don't have time to look through the tiny details of both plugins? Not to worry; a quick glance will provide everything you need to know.
1. WooCommerce
These are the advantages and disadvantages of Woocommerce.
Pros
It's completely free and simple to run a small store.
It includes a big library of extensions and themes.
It is compatible with Automattic's jetpack tools.
It has a sizable development community and consequently good support.
It is applicable to both real and digital goods.
Cons
Not everything is free in this location. While the built-in free extensions and themes are free, they frequently do not provide sufficient value, and you must spend money to have a better experience.
Woocommerce is an easy-to-manage platform for creating a straightforward online store. However, if you want to develop an extensive and comprehensive business, you must have sufficient experience. Additionally, large online stores built on WooCommerce require periodic maintenance and security checks.
2. Easy Digital Downloads
These are the advantages and disadvantages of easy digital download.
Pros
EDD is an almost ready-to-use plugin that enables you to quickly and easily create a digital goods store.
EDD's extensions, themes, and products are less expensive, and you can save money by purchasing extensions in bulk.
Although the support crew is small, they are all committed to providing you with prompt and practical assistance.
Cons
PayPal is the only payment method offered for Easy digital downloads. Regrettably, you must pay fees to integrate more gateways such as Stripe and 2checkout.
The assistance is fantastic and helpful, although you may have to wait a little while for an answer due to the small size of the crew.
WooCommerce vs Easy Digital Downloads Comparison
1. Easy-to-use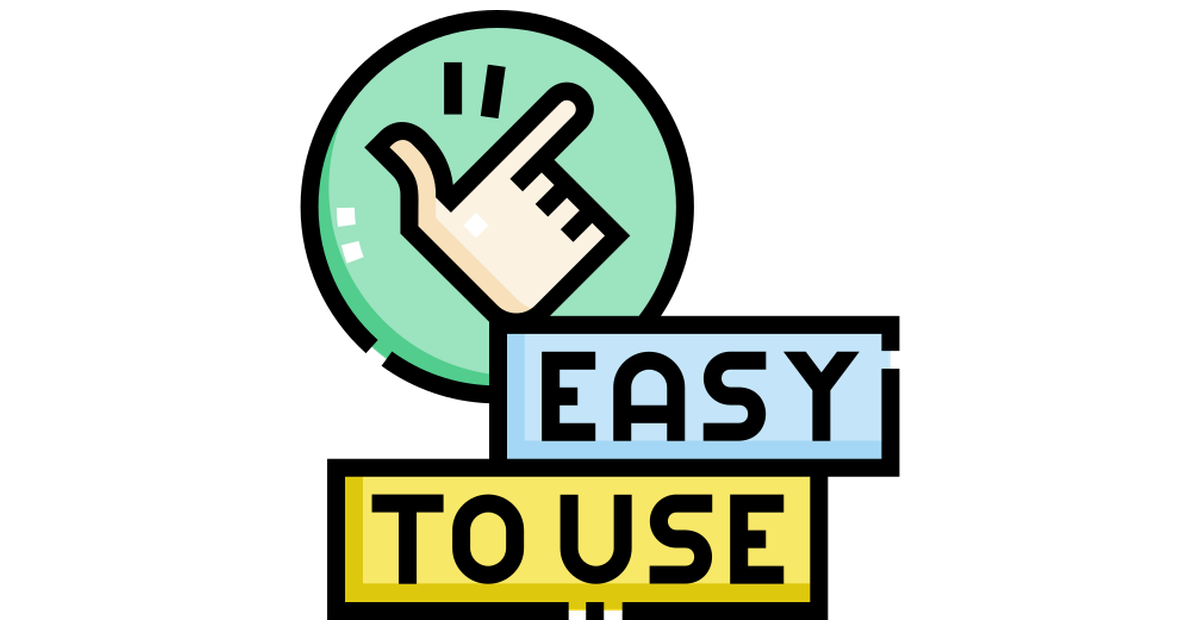 If you are familiar with WooCommerce, you should have no difficulty utilizing Easy Digital Downloads (and vice versa). Both plugins make it simple to construct an eCommerce store, and their usability is comparable. However, because WooCommerce is a large plugin, it takes time to grasp every aspect of it.
Easy Digital Downloads wins this battle because of the ease with which digital products can be added to it, as well as the ease with which extensions can be used. Nevertheless, this does not mean that learning WooCommerce would take an eternity. If you are passionate about creating an exceptional online store and have a creative streak in you, you can produce a masterpiece using Woocommerce with a little bit of effort.
2. Pricing
While both basic plugins are free, regardless of whatever plugin you use, you're almost certain to need at least a few expensive extensions.
Individual WooCommerce extensions are often slightly cheaper, or occasionally even free, as a result of Easy Digital Downloads' pricing increases in late 2016. For instance:
Payment gateways for WooCommerce are normally $79, but are $89 for Easy Digital Downloads.
The cost of licensing WooCommerce software is $129, and recurring payments are $199. Easy Digital Downloads charges $199 for software licensing and $199 for recurring payments.
However, Easy Digital Downloads also sells packages, which can save you a lot of money. For instance, you can purchase access to all extensions for usage on an infinite number of sites for $499 per year, which saves you a lot of money, especially if you manage numerous sites: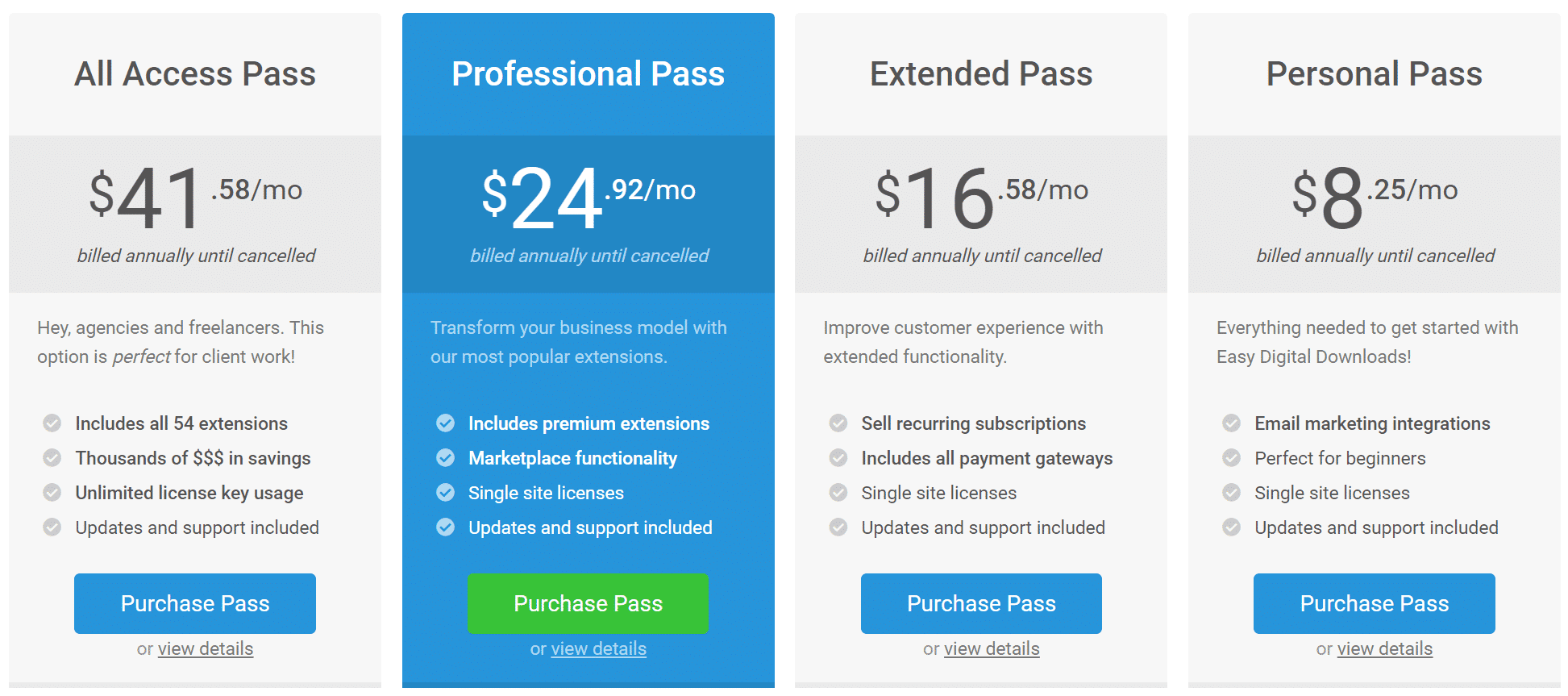 This bundle was once priced at $899, which was prohibitively expensive. However, the new $499 price tag makes it an excellent value. Additionally, you can discover much cheaper bundles if you do not require every extension.
While other WooCommerce bundles exist, none come close to the value offered by Easy Digital Downloads' bundles. Therefore, if you need to employ a large number of extensions, particularly on several websites, Easy Digital Downloads' bundle strategy may actually make sense.
3. Templates and Themes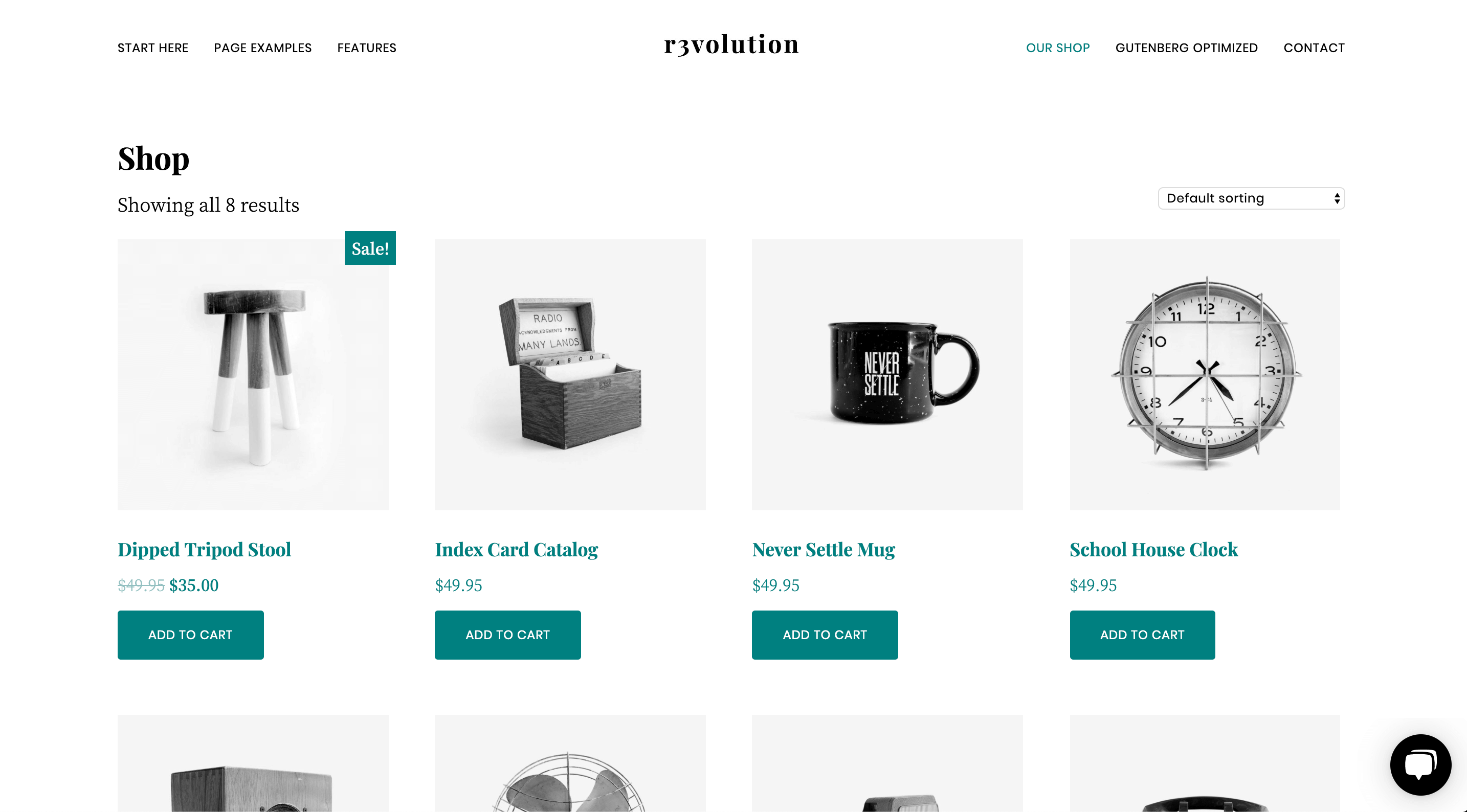 Your online store's theme design must be visually appealing to keep visitors on the website for a refreshed experience. If you can afford to employ a developer, any theme can be created for both plugins. However, if it is out of your budget, WooCommerce includes a large collection of pre-built themes for various product kinds and store types. For instance, themes with varying layouts are currently available for other products such as shoes, gowns, and watches.
Unfortunately, Easy Digital Download does not include a selection of themes; however, this is unnecessary because you can find a decent choice of themes for digital items on Easy Digital Download, which we will utilize to create a digital product store.
When selecting a WordPress theme for your eCommerce business, the good news is that any current, well-coded theme should be compatible with both WooCommerce and Easy Digital Downloads. Due to the fact that WooCommerce is far more popular than Easy Digital Downloads, there are a bigger number of purpose-built WooCommerce themes available. That is not to say that you will have difficulty selecting a compatible WordPress theme for Easy Digital Downloads.
4. Core Features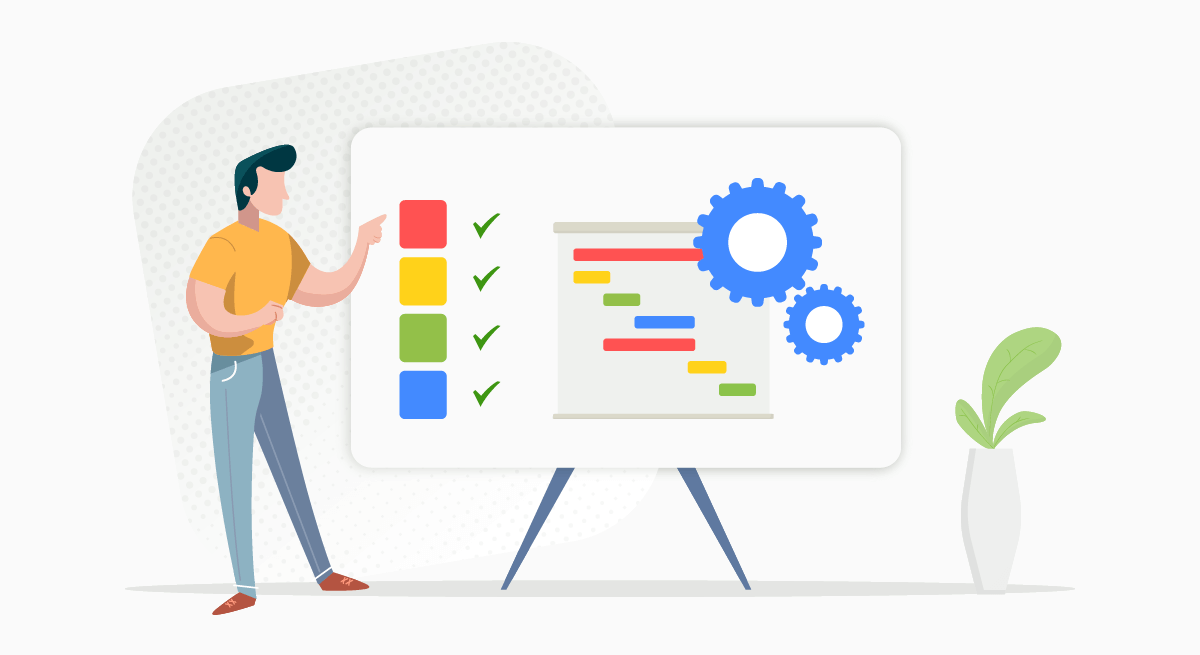 As previously stated, both the WooCommerce and Easy Digital Downloads plugins include everything necessary to integrate a shopping cart into your WordPress website, display things for sale, accept and handle orders, and collect payments from customers.
The primary distinction between the two plugins is that Easy Digital Downloads was designed exclusively for digital products, whereas WooCommerce accommodates both physical and digital sales. WooCommerce is the more powerful plugin of the two because of its enhanced capability — however, this increased functionality comes with some drawbacks.
It's worth noting that Easy Digital Downloads can be extended to handle physical products with the appropriate add-on. However, if your website is primarily focused on physical things, WooCommerce is the superior alternative due to its emphasis on developing this type of eCommerce business.
WooCommerce and Easy Digital Downloads have both been translated into various languages, with WooCommerce currently available in 51 and Easy Digital Downloads in 10.
5. Plugin Management
One of the most important things you may want to know is which plugins are simple to use so that you can use them even if you are not an expert, or as I like to call it, a quick picker.
To make things easier, we've included a quick tutorial for both plugins. You may have a different opinion based on your own experiences, but in general, you will encounter the following.
5.1. WooCommerce
Because Woocommerce offers an infinite number of possibilities, it is obvious that it requires the appropriate skill sets. When you enter the setup wizard, you are presented with all of the crucial information about WooCommerce, ensuring that you do not miss anything. Once you've completed the appropriate setup, you can begin adding products to your online store.
Managing the dashboard for order competition and additional features such as online assistance is also reasonably straightforward with WooCommerce. You receive a detailed report on sales and checkouts via graphs. In a nutshell, WooCommerce is an all-in-one solution for managing your online store.
5.2. Easy Digital Download
Easy Digital Downloads do not include a setup wizard. Rather than that, it is a tab-based arrangement that must be configured manually. After completing the appropriate configurations, you may begin selling your e-books.
It is likewise similar to WooCommerce up to a point. The editor page is remarkably identical to the WordPress blog post editing page.
You can manage your product statistics quite quickly from the dashboard. You can view the sales report and various other information, such as graphs and the number of people who completed the checkout process but did not pay.
Additionally, the dashboard contains an Apps and Integrations area, from which you may install the necessary extensions to do the necessary alterations.
6. eCommerce Performance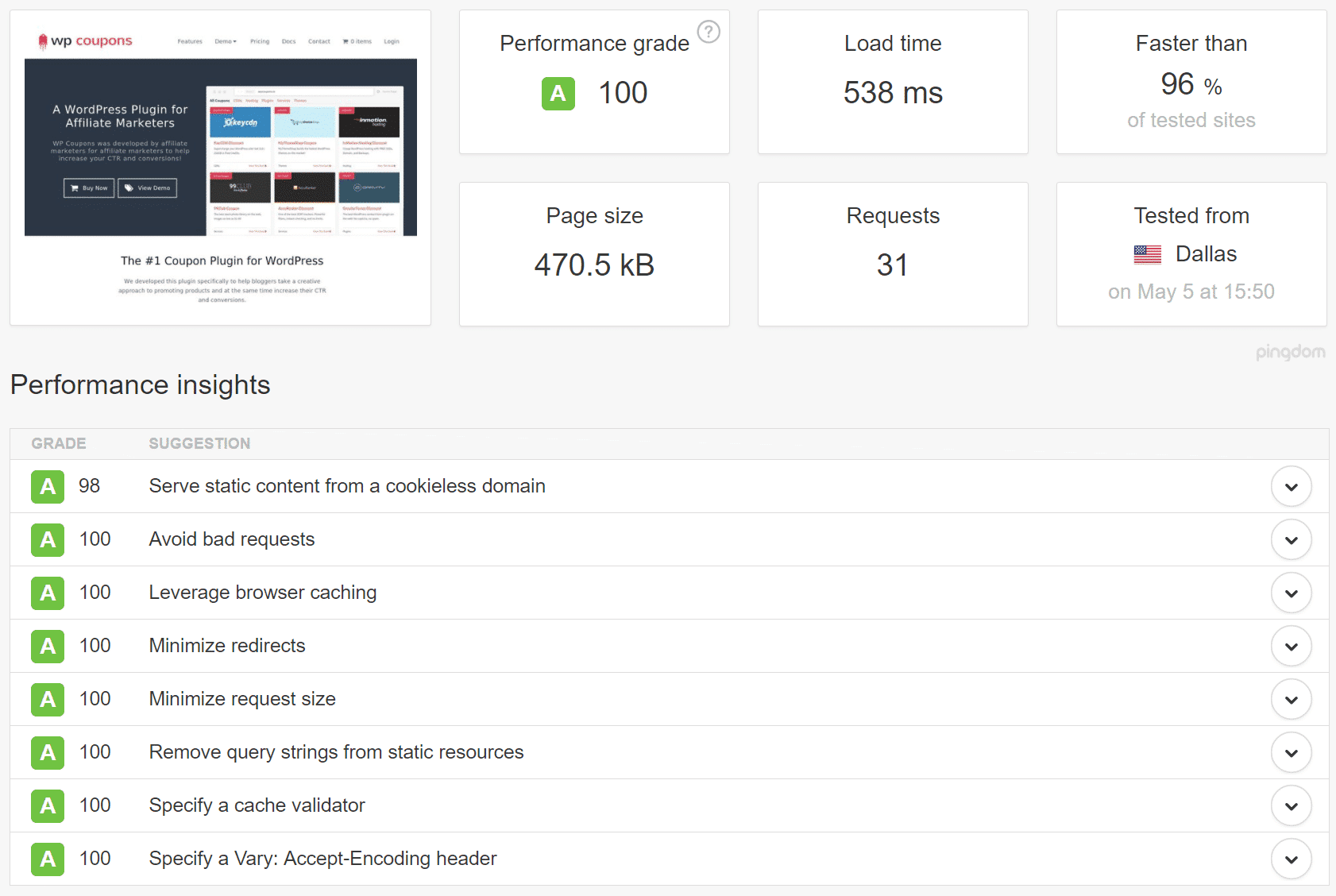 One critical factor to consider is performance. eCommerce WordPress sites are extremely resource-intensive and generate a large number of cache-busting dynamic page loads. They operate similarly to membership sites, for which we have a whole section dedicated to the hosting do's and don'ts.
Because Easy Digital Downloads takes a more targeted approach, it generally performs better out-of-the-box. For instance, an optimized Easy Digital Downloads store loads in less than 600 milliseconds on Kinsta.
Both Easy Digital Downloads and WooCommerce have the potential to load quickly if optimized properly. However, WooCommerce typically requires further customization and hosting optimized for WooCommerce. On a daily basis, our WordPress team optimizes high-traffic WooCommerce and EDD websites.
7. Payment Gateways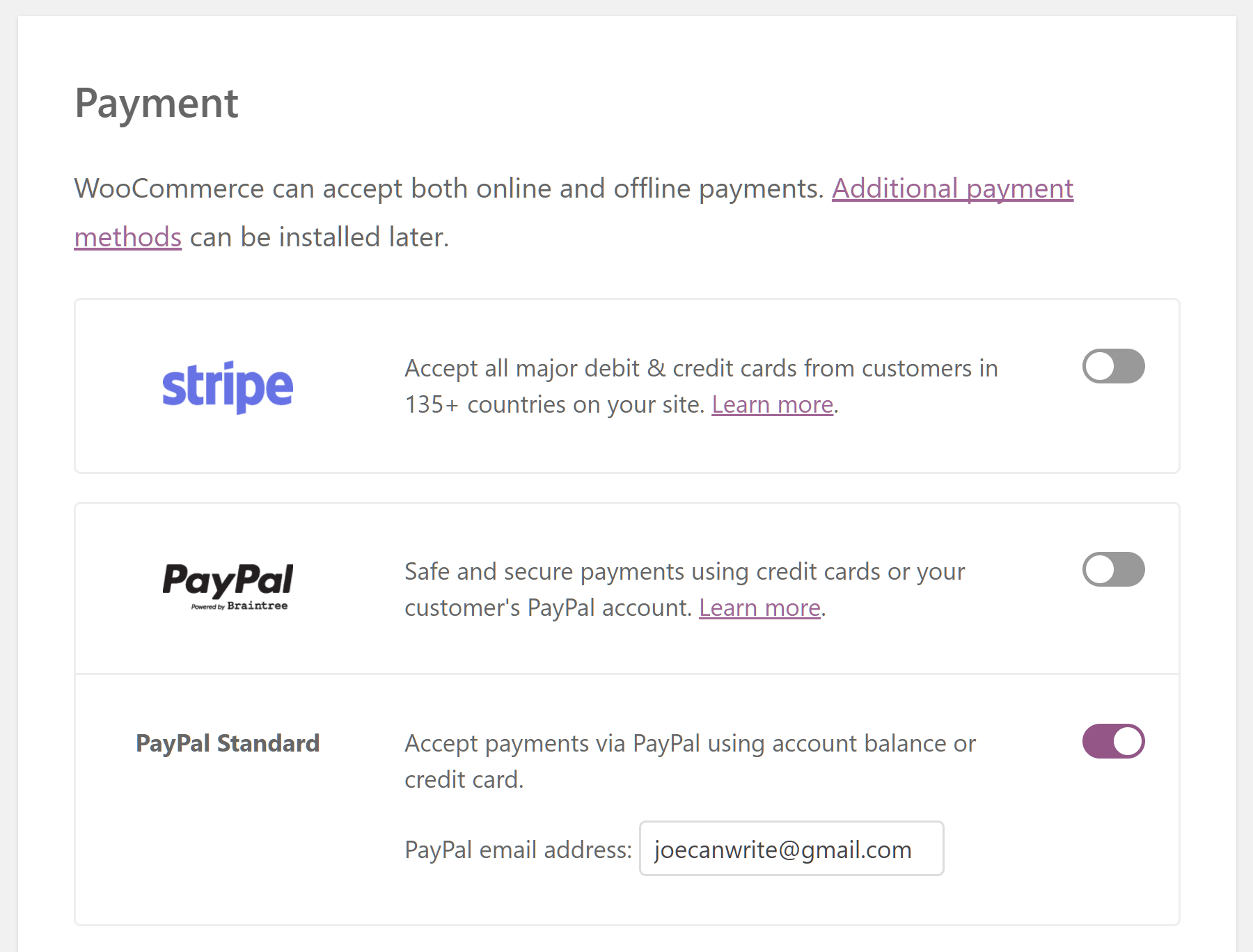 When it comes to well-known payment gateways, the difference between WooCommerce and Easy Digital Downloads is likely to be negligible. That is, both plugins support well-known brands such as:
PayPal
Stripe
Authorize.net
2Checkout
With that stated, WooCommerce's Stripe and PayPal gateways are free, but Easy Digital Downloads charges $89 for Stripe access.
Additionally, if you want a different payment gateway – such as a particular local payment gateway - WooCommerce's popularity has resulted in a broader collection of plugins.
Numerous third-party payment methods are available for Easy Digital Downloads; however, many of them are not well-maintained.
8. Add-Ons and Extensions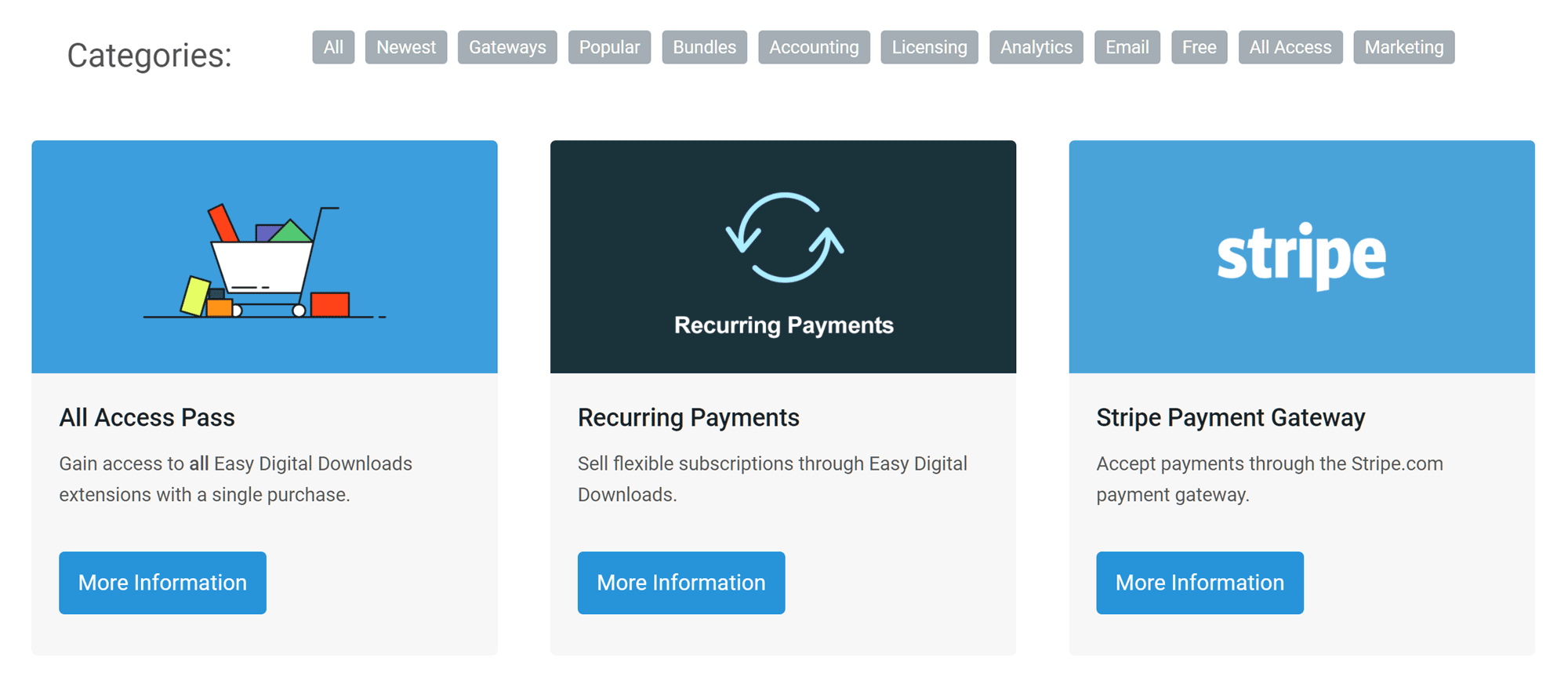 Both plugins are sufficient to launch a first online store, but there are numerous additional services that we may incorporate into our online store to improve the user experience. The question here is what kind of plugins are required to create a dynamic web store.
However, the majority of Woocommerce's add-ons and extensions, except for EDD, are often expensive and not worth the money most of the time. We may require some plugins for purposes like making deals, optimizing the page, and implementing a custom payment method, among others. Fortunately, both plugins provide all of these necessary additions. However, WooCommerce offers significantly more extensions and compatibility for third-party extensions than Easy Digital Download.
On the other hand, Easy Digital Download has all of the necessary extensions for creating an ideal digital products store. Additionally, you may take advantage of package offers to have access to all available extensions on EDD. Thus, there is no need to abandon WooCommerce based on extension availability.
9. Security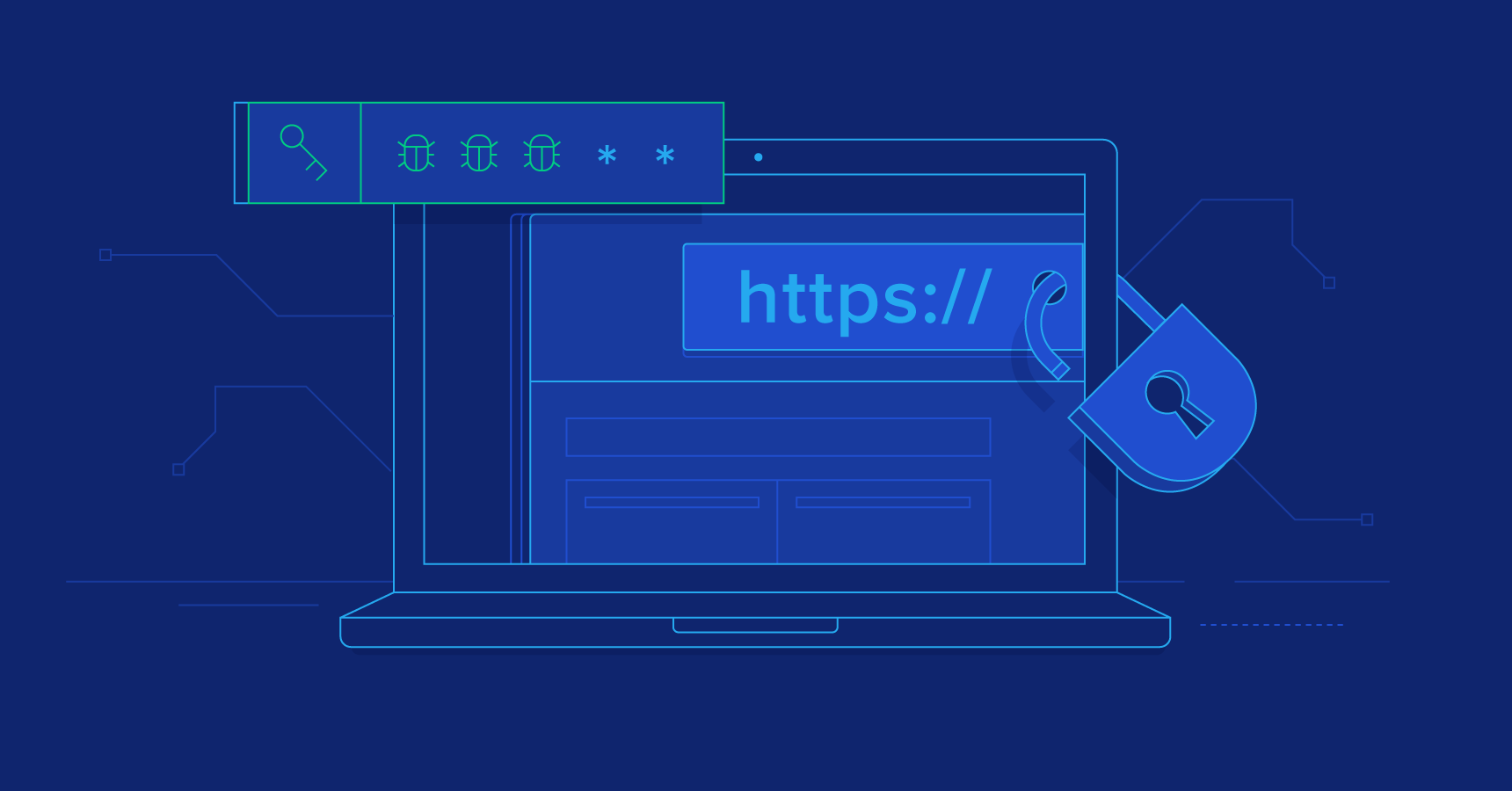 The security of a blog is determined by a number of things. Consider the contrast between WooCommerce and Easy Digital Download security. Both plugins have security and backup extensions. You can utilize these extensions, but they are all somewhat costly.
When it comes to an eCommerce store, security should be your top concern. Here are some pointers to help you maintain a firm grasp on your safety:
Avoid using cracked themes or plugins; the majority of them contain backdoors, which means you risk losing your cash.
Avoid using cheap hosting; they may be subject to DDoS attacks, which can result in the loss of thousands of dollars in revenue.
Conduct regular security tests to ensure that your store does not have a backdoor.
WooCommerce vs Easy Digital Downloads Comparison: Which one is the best?
When deciding which of these plugins to use, the obvious choice is WooCommerce if you're going to be selling actual things. Even if your store only sells digital downloads, WooCommerce may be an excellent option – it supports file sales and allows for easy expansion into physical products. Although Easy Digital Downloads includes an add-on for selling physical products, the capability is limited compared to WooCommerce.
Suppose you're trying to sell digital products, such as e-books and mp3s, or are searching for a more efficient approach to offer downloadable files from your WordPress website. In that case, Easy Digital Downloads is a good option to consider. Easy Digital Downloads' more minimalist design makes it simple to use. You can configure downloads in a matter of clicks and track sales and downloads precisely and transparently.
On the other hand, if you want to construct a professional eCommerce store, WooCommerce and its ecosystem of plugins, themes, services, and developers give you additional alternatives. Simply investigate the costs of any additional features your store may require to determine if Easy Digital Downloads, WooCommerce, or another eCommerce WordPress plugin fits your budget.
Final thoughts
The lengthy post clearly describes the advantages and disadvantages of each plugin and what you can choose based on your own needs. In a nutshell, WooCommerce is a complete solution for any eCommerce store, whether physical or digital. Woocommerce offers the most fantastic experience, plugins, and theme collection for creating the best possible online store. On the other hand, Easy Digital Downloads is the most outstanding plugin designed exclusively for digital products.
Do you find this article helpful? If yes, please do not hesitate to share our work with your friends and colleagues, as well as stay tuned for more useful articles from AVADA.
---
Roger has over 4 years of experience in SEO. While in college, he started learning about SEO and showed a passion for the field. Right after graduation, he embarked on SEO projects and achieved great success. After years of working, he has learned deeply about SEO. Currently, he is the SEO team leader at avada.io