Top 10 WooCommerce Products Compare Plugins
Top 10 WooCommerce Products Compare Plugins
Customers who shop on the internet have a lot of options, which makes it difficult for them to make a decision when they're about to purchase products. One strategy used by online stores to address this is to offer a product comparison option.
WooCommerce's standard functions, however, do not provide product comparisons. To give visitors this option, you must install WooCommerce product compare plugins.
This article will share with you our list of top 10 WooCommerce products compare plugins. Let's check them out!
Benefits of WooCommerce Product Compare Plugins
WooCommerce doesn't have any pricing or product comparison features by default. As a result, using product comparison plugins with product comparison functionality will:
Allow your consumers to compare products in the same category.
Increase the number of people who visit your website and the amount of money you make.
Assist customers in making well-informed purchasing decisions.
Improve your customer's satisfaction, especially if you have a huge number of products in your online store.
Top 10 WooCommerce Products Compare Plugins
Here we've collected a list of the 10 best WooCommerce products compare plugins.
1. WooCommerce Products Compare

WooCommerce Products Compare enables you to provide a product comparison option on your shop, allowing customers to examine product features in greater depth. On your category pages, it offers a product comparison function. Customers can choose from the options while evaluating products.
The comparison table will provide thorough information on product prices, descriptions, stock levels, and user ratings, etc. You can also add the product comparison option anywhere in your store.
Features
Direct product comparisons on category pages.
Display thorough comparison tables that include pricing, ratings, stock levels, and descriptions.
Add a comparison option to anywhere in your store.
Pricing
$49 annually.
2. YITH WooCommerce Compare

YITH WooCommerce Compare allows customers to quickly compare the features of similar products while shopping on your site. It can greatly improve the consumer experience and increase conversion rates. Rather than visiting individual product sites, the plugin allows buyers to compare features in a table. It will help buyers spend less time examining items and make a buying choice faster.
The plugin comes with a number of customization options for the product comparison function. You can also display related products to give customers a sense of what else is available in your store.
Features
Show the comparison on another page
Add an image in the head of the table
Show the related products immediately
Change style and colors
Show the list of products added to the comparison table
Show a counter of products added to the comparison table
Pricing
€ 69,99 per year
3. WooCommerce Compare Products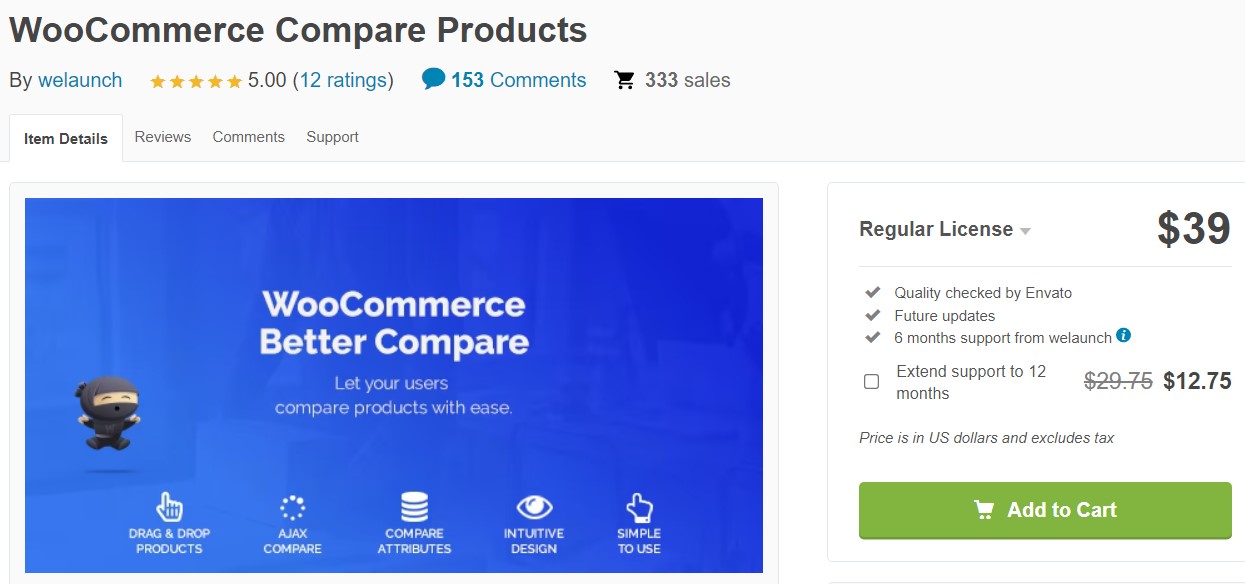 WooCommerce Compare Products by Welaunch plugin makes it simple to create a product comparison table and choose which product features your customers can compare. There is a " Compare Bar " on all of the plugin's pages, there is a "Compare Bar" where you can keep track of the products you want to compare.
The plugin also includes shortcodes for displaying comparison tables in various places on your website. Another main feature of the plugin is that it has a lot of options for customizing the comparison table. You'll be able to change the text, display styles, and the maximum number of products displayed, etc.
Features
Create product comparison tables quickly and easily in your WooCommerce store.
Use a comparison bar, a sidebar table, or both if desired.
The comparison table can now load products using Ajax.
You can choose which items to make available for comparison.
A wide range of customization possibilities
Pricing
Regular and extended licenses cost you $39 and $199 respectively.
4. Compare Products with WooCommerce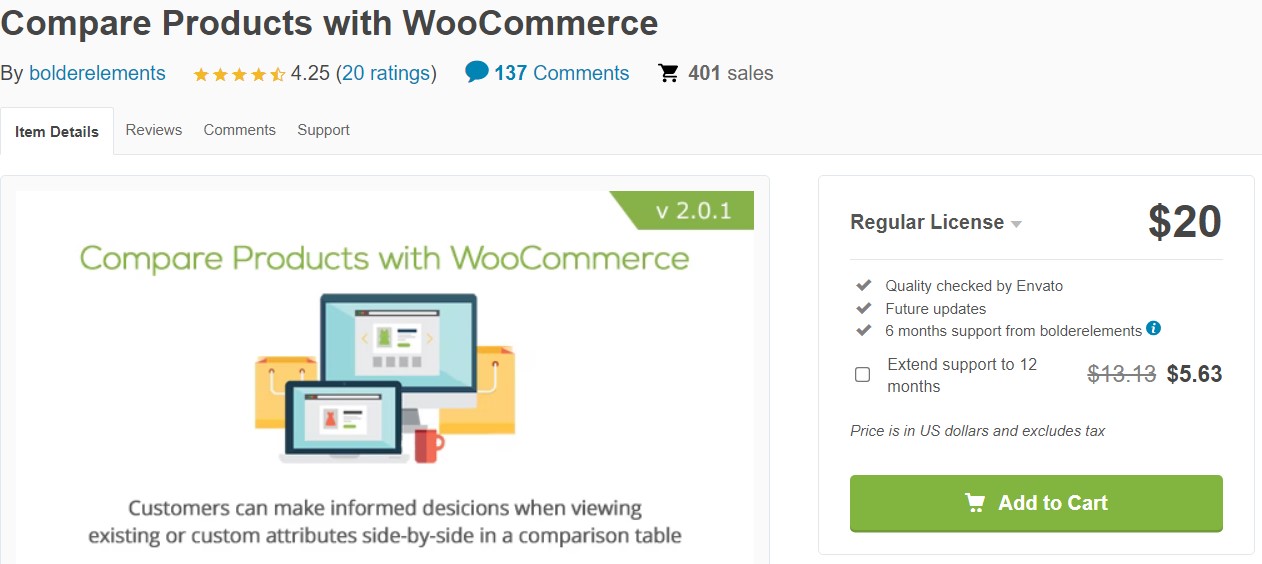 Compare Products with WooCommerce can help you make your business more customer-friendly by showing the features of your products in a comparison table. Customers will be able to select the products they wish to compare and examine in greater detail. You'll have complete control over the content and design of the comparison tables with this plugin.
You can show off your items' current attributes or create new ones. Furthermore, the drag-and-drop interface makes creating and modifying tables a breeze.
Features
Custom define the categories and features in each table
Custom define which compares group each product belongs in
Drag and drop interface allows easy sorting
Add, delete, and save without refreshing the page
Change where the "Add to Compare" checkbox appears
Show Compare Table on a page in your website or via popup window
Widget to display selected compare items
Pricing
The regular license costs $20.
5. WooCommerce Compare Products Premium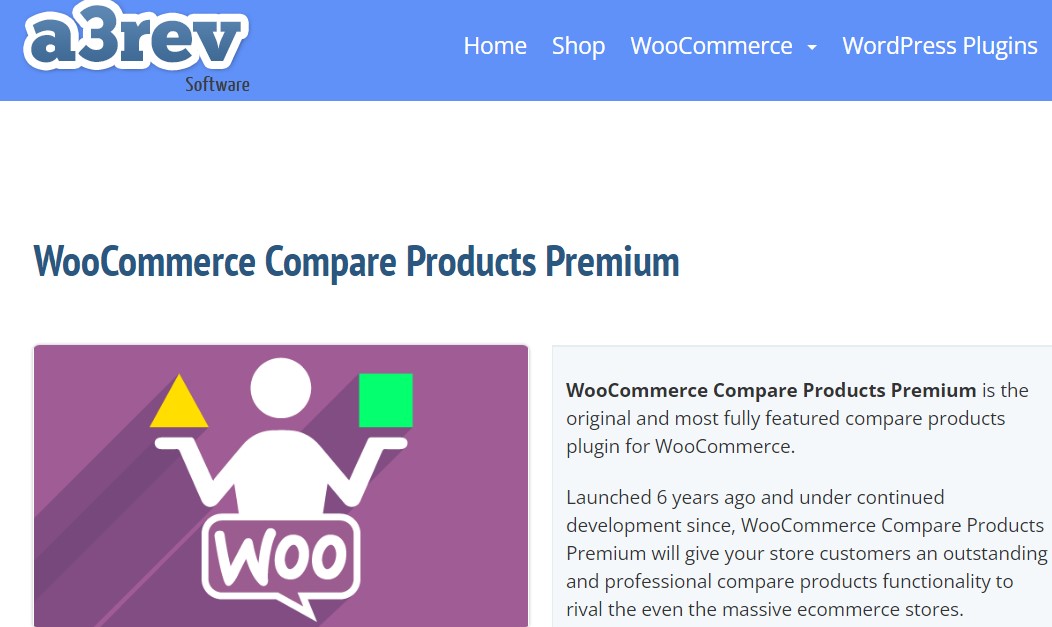 WooCommerce Compare Products Premium by A3rev is a powerful tool for displaying product comparison tables on your WooCommerce store. It works nicely with WooCommerce and gives you the ability to choose the categories and product qualities you wish to compare. The plugin provides numerous choices for displaying comparison tables in the most appropriate format for your target audience.
Features
Add to Comparison list from product cards & pages
Items added to the Comparison list widget
Add items to Cart from Comparison table
Save the Comparison list as a PDF or print
Full support for Video and Audio files in the comparison list
Product Page Compare Features Tab option
Fully customizable comparison table
Pricing
The single site, 5 site, and 25 site subscriptions cost $99, $149, and $299.
6. WPC Smart Compare for WooCommerce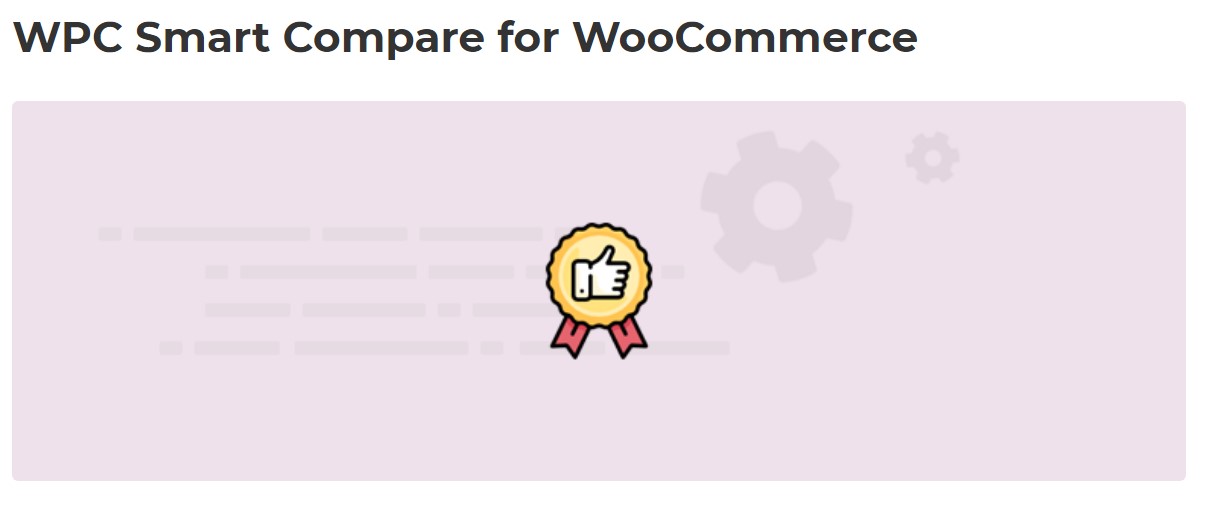 WPC Smart Compare for WooCommerce proves to be an essential tool for enhancing the effects of online store and shop sales strategies. It comes with a number of features that make it ideal for displaying product comparison tables on your WooCommerce site. Customers will add and delete features to create a unique product comparison view on your shop.
The Ajax-enabled interface will load products and features without slowing down the site's performance. Users can also pick between a vertical or horizontal view of the comparison table, depending on their preference.
Features
Drag and drop to rearrange product order in the comparison line
Adjust the visibility of Compare button for products in selected categories
Save login data for registered/subscribed users (same function as the Wishlist plugin)
Add new products to the comparison list instantly by pressing the search button
Compare advanced button settings: type, text, visibility, categories, product removal
Pricing
The single site, 5 sites, and unlimited sites licenses cost $29, $59, and $99 respectively.
7. Products Compare for WooCommerce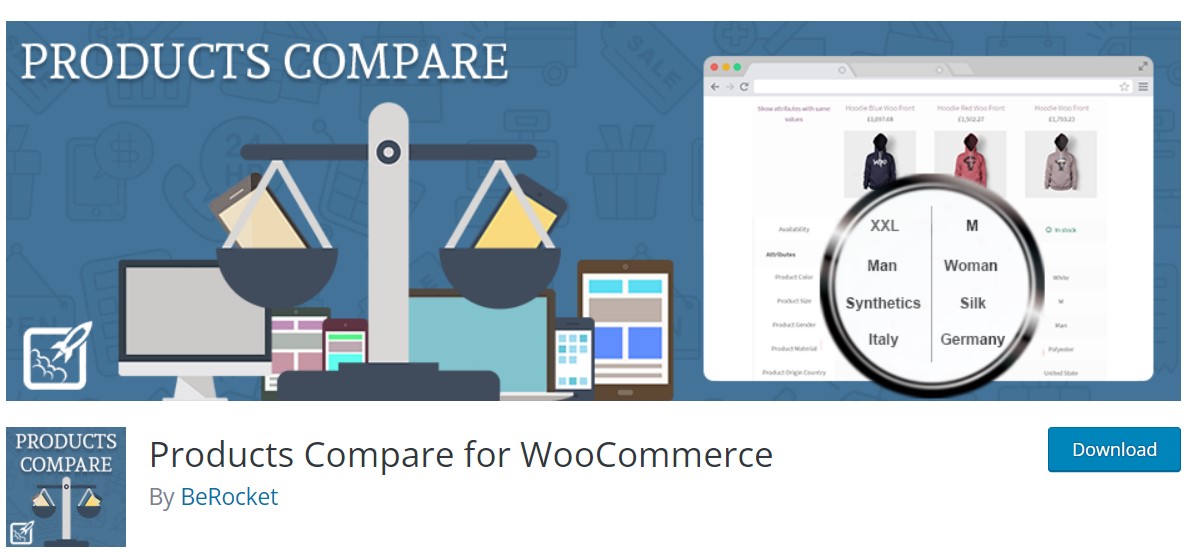 Products Compare for WooCommerce is a well-organized product comparison plugin for WooCommerce. This plugin's user-friendly features will make it easy for your consumers to add products to the comparison table and compare products without any difficulty.
Customers can add as many product features to the comparison table as they wish to help them understand the differences among items. You will also have the freedom to customize the comparison page to your preferences.
Features
Compare Page
Add to compare button
Widget with selected products to compare
Select attributes for compare
Customization for buttons and compare page
Set custom text on buttons
Different types of widget
Custom URL for product compare page
Fast compare on a popup
Pricing
Free
8. ShopEngine for WooCommerce

ShopEngine for WooCommerce is essentially an all-in-one solution that includes product comparison features as well as Variation Swatches, WooCommerce Builder, Pre-order, Quick Checkout, Wishlist, and other features. With the extensive widgets and modules library of this great WooCommerce comparison plugin, you can customize nearly anything. ShopEngine can create an appealing and modern design for your comparison table.
Adding products to the comparison table is as simple as clicking a button. Customers will notice a variety of items with all of the required features. Customers can quickly delete products from the comparison table that they do not wish to compare.
Features
Easy setup for any kind of product type
The product comparison modules include an On/Off switch.
Multiple product features can be compared in a side-by-side comparison.
Fast loading speed and lightweight
Flexible customization options
Pricing
The single site, 5 sites, and unlimited sites licenses cost $53, $104, and $179 respectively. (on sale).
9. Ever Compare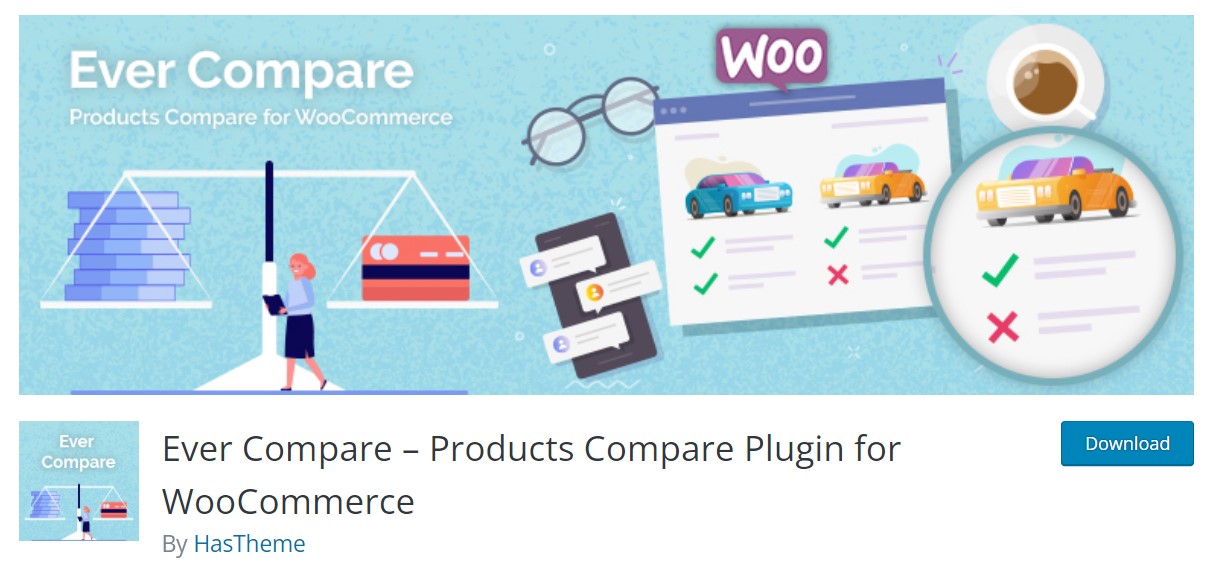 Ever Compare allows customers to compare different product attributes such as color, size, price, quality, weight, and others with this WordPress comparison table plugin.
As a comprehensive comparison plugin for WordPress, you'll find all of the trendy and conventional product comparison features that can help your consumers compare different products and make an informed purchase decision quickly.
The comparison tables will be completely under your control. You can pick the Compare Page as well as the table fields and also perform several tasks using various button settings such as Compare Added Button Text or even Compare Button Text. You will have complete control over where the button appears on both a single product page and a product list.
Features
Make a product table with the fields you want.
The code is completely responsive and well-documented.
Customize the text on your buttons, such as Compare Button Text, Compare Added Button Text.
Customize the attributes.
Enable and disable the open popup.
Pricing
Free
10. Compare Products for WooCommerce by a3rev software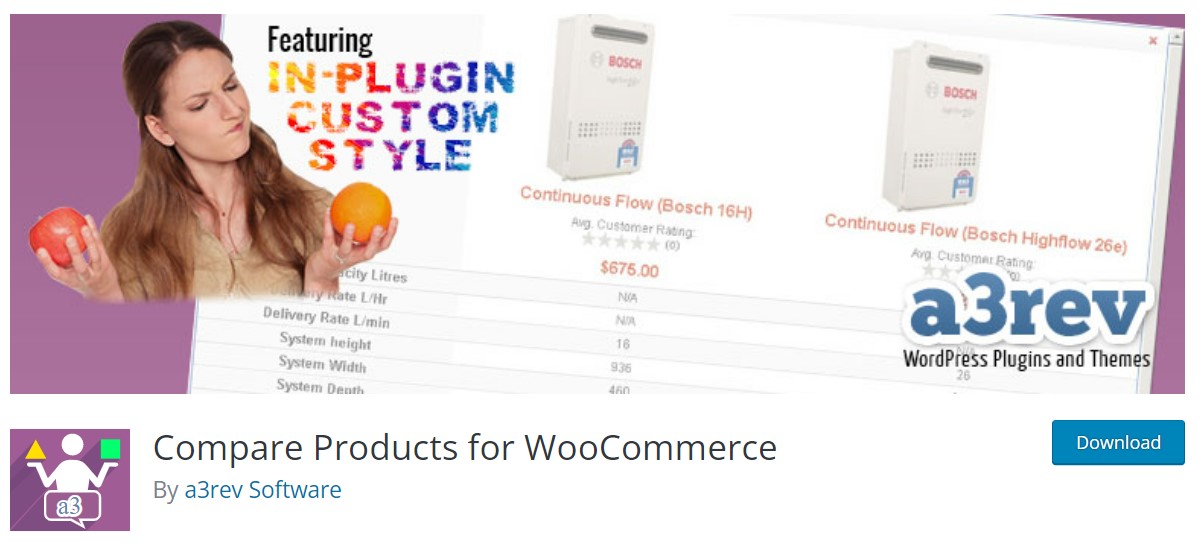 Compare Products for WooCommerce by a3rev software is a lightweight product comparison plugin that could be an excellent fit for any modern business.
After you've added all of the items to the widget basket, you just need to click the compare button to start comparing them. Products can be simply compared side by side, price to price, or feature to feature.
After comparing the items, you can delete the ones that aren't needed and save the compare list as a pdf for printing. The plugin also includes all of the features you'll need to complete the comparison process successfully.
Features
Add compare features by products
WooCommerce Product Cart Widget
Lightweight plugin
Save comparison list and Print options
Select attributes for product compare
Pricing
Free
Final Words
Allowing visitors to compare products is very useful for businesses with a large number of items since it generally improves visitors' experience.
We hope that our list of the 10 best WooCommerce product compare plugins has helped you find the finest product for your business.
Thank you for reading, and if you have any more recommendations or comments, please feel free to let us know.
New Posts
Subscribe
Stay in the know
Get special offers on the latest news from AVADA.
40k
subscribers has been joined!
Earn $10 in reward now!