Shopify Vs. WooCommerce Vs. Magento: Which One Is The Winner?
Shopify Vs. WooCommerce Vs. Magento: Which One Is The Winner?
When it comes to creating an online store, three main options stand head and shoulders above the rest: WooCommerce, Shopify, and Magento. But, if you're attempting to decide between WooCommerce, Magento, and Shopify, how can you know which one is best for you? No platform is ever flawless. Most of the time, they come with a set of unique features as well as a set of limitations. The critical thing is to ensure that the platform you choose offers everything you require. Selecting the right eCommerce platform that meets your demands is essential to your success as a business owner.
Today's article will show you a detailed comparison of Shopify vs. WooCommerce vs. Magento to determine which one is the winner. There are several advantages and disadvantages of WooCommerce, Shopify, and Magento that should be considered before venturing into the industry of eCommerce. So, let's dive in!
Overview about Shopify, WooCommerce, and Magento
Shopify Overview
Shopify is web software that lets you build your online store. It offers a variety of 'themes' that may be modified to fit your specific branding needs, and it enables you to sell both physical and digital items. One of Shopify's main goals is to allow beginners to create their online stores — in other words; you don't need to know how to code to use it. The platform, however, caters to developers as well, as it provides complete access to CSS, HTML, and Liquid (Shopify's template language).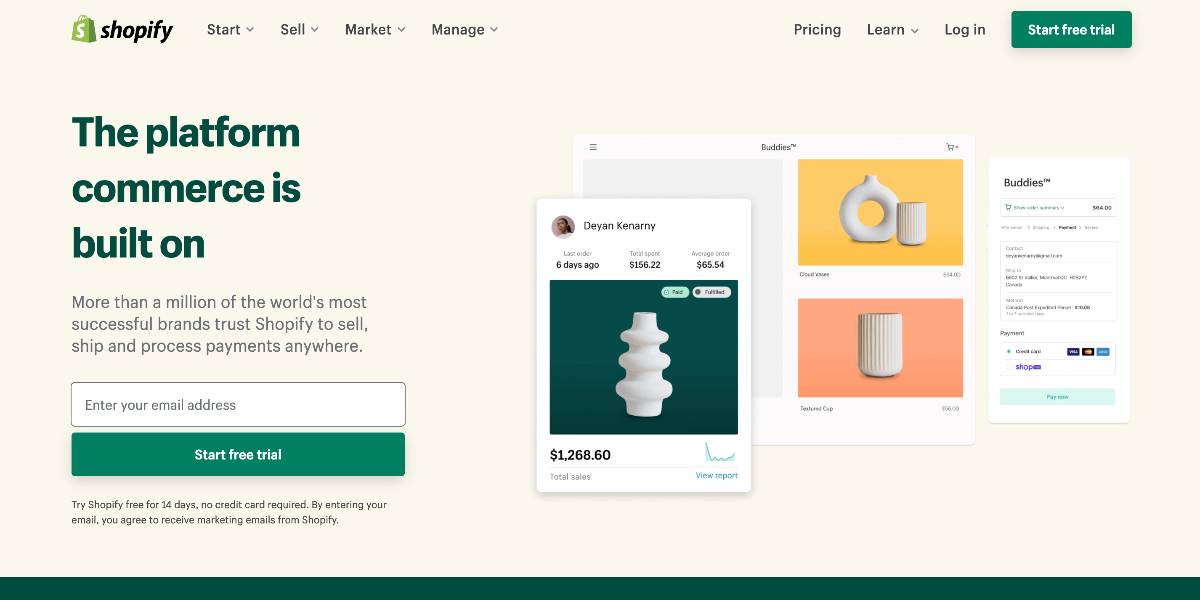 No matter how big or tiny your company is, Shopify is always a viable choice to explore. Its scalability is one of the aspects that contribute to user trust and reputation. With an incredible number of add-ons and integrated functionality, the eCommerce platform provides high pleasure even for massive shops. As soon as you join up, you'll have full access to the tools needed to develop and maintain an eCommerce website. Shopify allows you to personalize your design, build a product catalog, configure prices, payment methods, taxes, and add new functions with installable extensions.
learn more:
WooCommerce Overview
WooCommerce is a free, open-source shopping cart plugin designed specifically for WordPress sites. As a result, it gives you the most sophisticated content management system (CMS) for running an online business. Because it is open-source, you may modify every element of your shop and create unique extensions. The WooCommerce plugin has been downloaded over 123 million times since its debut in September 2001. Therefore, you might argue that people enjoy it. However, is it the eCommerce solution you've been seeking for?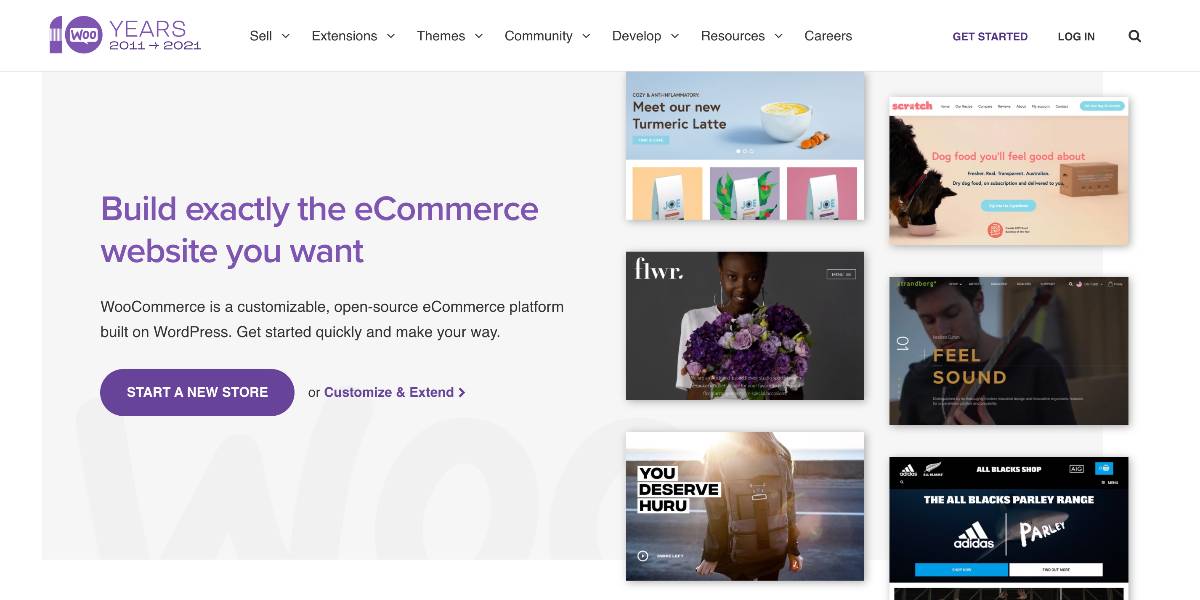 Although WooCommerce is free to download, running a WooCommerce shop is not a free eCommerce solution. You may anticipate paying a significant amount for site hosting as well as the extensions required to operate sophisticated features. Regardless, it's easy to see why so many businesses rely on WooCommerce for their online shop; WooCommerce provides the functionality you need at a cheap cost, and it connects with a platform you're already familiar with.
Magento Overview
Magento has a well-deserved reputation for its scalability, customizability, and powerful built-in capabilities and is known as an open-source platform owned by Adobe. Indeed, several industry leaders, such as Coca-Cola, Nike, and Ford, have Magento-powered stores that service millions of customers daily. Since its first release in 2007, Magento has seen several revisions and product upgrades. Magento now offers two eCommerce solutions: Magento Open Source and Magento Commerce. The two versions share the same fundamental capabilities of the Magento platform. However, Magento Commerce provides numerous advantages over the other.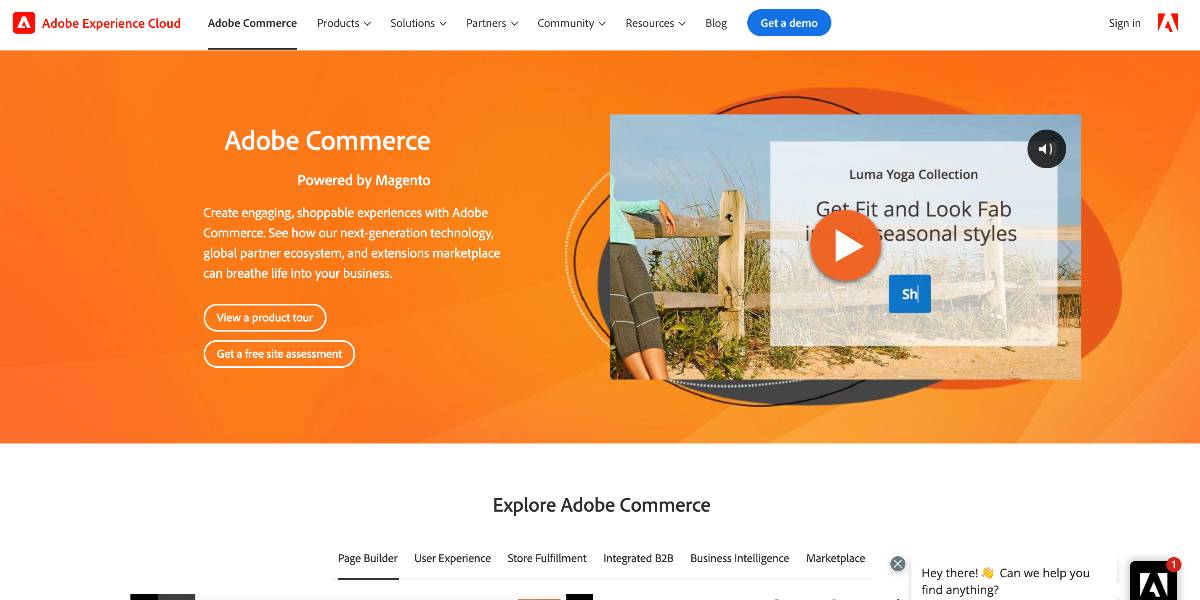 Furthermore, Magento Commerce offers an automated hosting version known as Magento Commerce Cloud, a comprehensive solution designed specifically for enterprise-level stores with significant sales volume or medium-sized enterprises looking to develop. As of April 2021, the most recent version is Magento 2.4.2, which includes bug fixes, actual speed, security improvements, and essential platform upgrades that benefit both developers and merchants. This new release also features code improvements that improve API speed and admin response time for large catalog installations. As a result, if you were using prior versions and were experiencing difficulties with the platform, you should consider upgrading Magento to latest version to enjoy improved speed and security.
Pros and Cons of Shopify, WooCommerce, and Magento
Pros and Cons of Shopify
Pros of Shopify:
An ideal eCommerce platform: Shopify's sophisticated backend editor and outstanding inventory management make it perfect for managing and expanding larger shops.
Selling on several platforms: Sell on numerous platforms, such as Facebook, Instagram, Amazon, and eBay.
Outstanding design utility and adaptability: Choose from a variety of free and paid themes, or if none are available, create your own from the start.
Extensive payment options: Shopify accepts over 100 payment methods and has its payment gateway, Shopify Payments.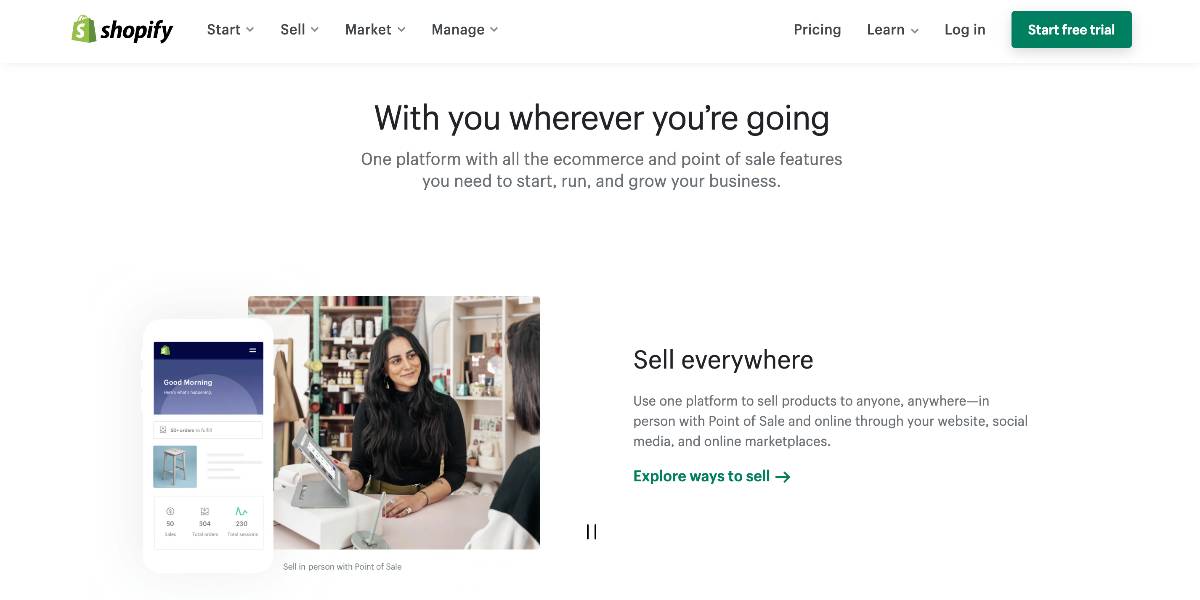 Cons of Shopify:
Not as simple to use as other platforms: Shopify's editor isn't as user-friendly as it might be, and it takes some time to get used to.
Poor built-in features: Shopify offers fewer built-in capabilities than other platforms, so you'll need to rely on applications to increase the usefulness of your business indeed.
High transaction fees: Unless you utilize Shopify Payments, you'll need to pay a high transaction charge on top of other payment gateway expenses.
More expensive than it looks: Transaction fees, as well as the requirement for different apps, can significantly increase the monthly cost of running your business.
Pros and Cons of WooCommerce
Pros of WooCommerce:
Customization through extensions: Because WooCommerce is open-source, anybody may create their website by employing themes, tools, widgets, or applications. As a consequence, you may design your own in any manner you choose.
Huge WooCommerce community: WooCommerce is used by millions of individuals to construct their eCommerce stores, and tutorials and articles are constantly available for new users.
Installing is entirely free: You must still pay for hosting, a site domain, an SSL certificate, and any premium eCommerce theme or widget. However, WooCommerce is technically a WordPress plugin that you can install for free.
Payment gateways: WooCommerce accepts various payment methods, such as PayPal, WooCommerce payments, Stripe, Square, and others. As a result, you are not restricted to using only one of these payment gateways.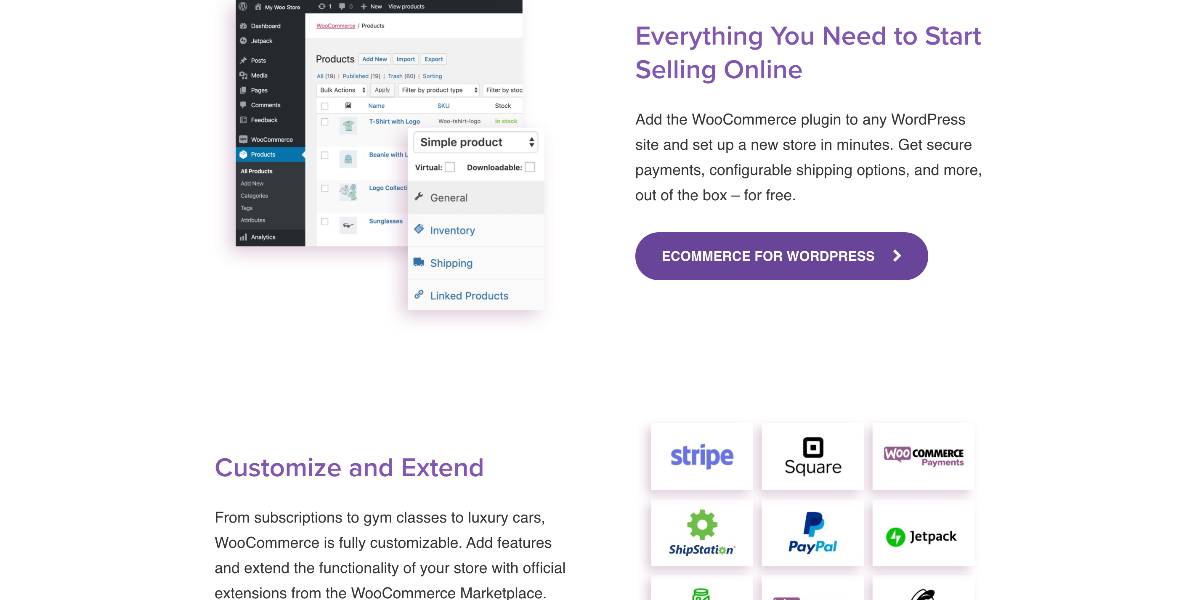 Cons of WooCommerce:
Additional costs: While the plugin itself is free, the others require investment. Hosting, web domains, and SSL certificates all need significant investment. Furthermore, utilizing premium themes or widgets will rapidly add up to your initial expenditure.
Conflicts in code: One of the most frequently mentioned disadvantages in the WooCommerce review is how coding might introduce problems or disputes to your website.
Browsing speed: WooCommerce is quick, and its ability to be very configurable is what sets it apart. It may, however, be a double-edged sword.
Customer support: WooCommerce does not have central support for its users, despite having a fantastic community eager to assist. And, on occasion, the difficulties are too harsh for people to handle on their own.
Pros and Cons of Magento
Pros of Magento:
Optimal Scalability: Scalability is crucial to Magento, and their strategies are meant to support this growth. It stands to reason that it should be. Magento provides a solution that fits its clients' demands like a glove.
Its flexibility: Magento is an open-source platform. Therefore it is incredibly adaptable. This implies modifying the source code to meet our needs and desires, allowing us to change formats and achieve maximum utility.
Advanced Testing Capabilities: Magento offers a robust testing enablement suite that can segment your pre-discharge abandons. That means fewer bugs and dissatisfied customers, which saves you time and money.
It is mobile-friendly: Magento is mobile-friendly because it lets you easily construct a mobile site and provides the most outstanding mobile viewing experience possible to your customers. This has contributed to an increase in sales and a decreased bounce rate.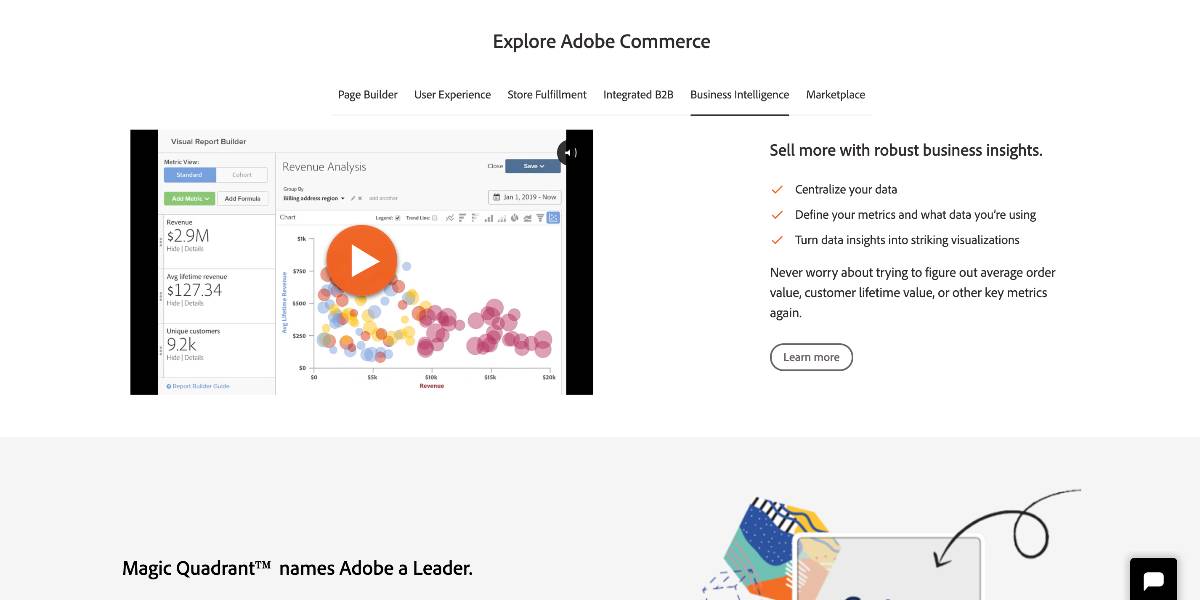 Cons of Magento:
Expensive: Magento comes in a variety of price levels. The community edition of Magento is free, but the business version of Magento costs more than $15,000. Furthermore, the Premium Enterprise edition of Magento, which is aimed towards large enterprises, costs more than $50,000 each year.
Poor product support: Magento's product support is costly because developers and consultants charge significantly more for Magento than for WordPress. Furthermore, Magento forum assistance is not what you would expect. Because of a lack of coordinated monitoring, the Magento official help forum has become inundated with spam.
It is time-consuming: Magento has a slow loading time. As a result, modifications are more complex to implement than on other e-commerce systems. It is also challenging to migrate from another e-commerce platform to Magento since the data imports at a very sluggish rate.
Shopify - WooCommerce - Magento - A detailed comparison
1. Ease of use
Shopify - Ease of use
Shopify, like other hosted systems, is quite simple to use. It is intended for everyone, from eCommerce specialists to complete newcomers. You don't need any website development skills to set up a fully functional online store with Shopify. While open-source systems need several steps, such as purchasing a host and uploading the source code to your server, Shopify simplifies the process of building a website. It is not an exaggeration to claim that you can have your store up and operate in minutes.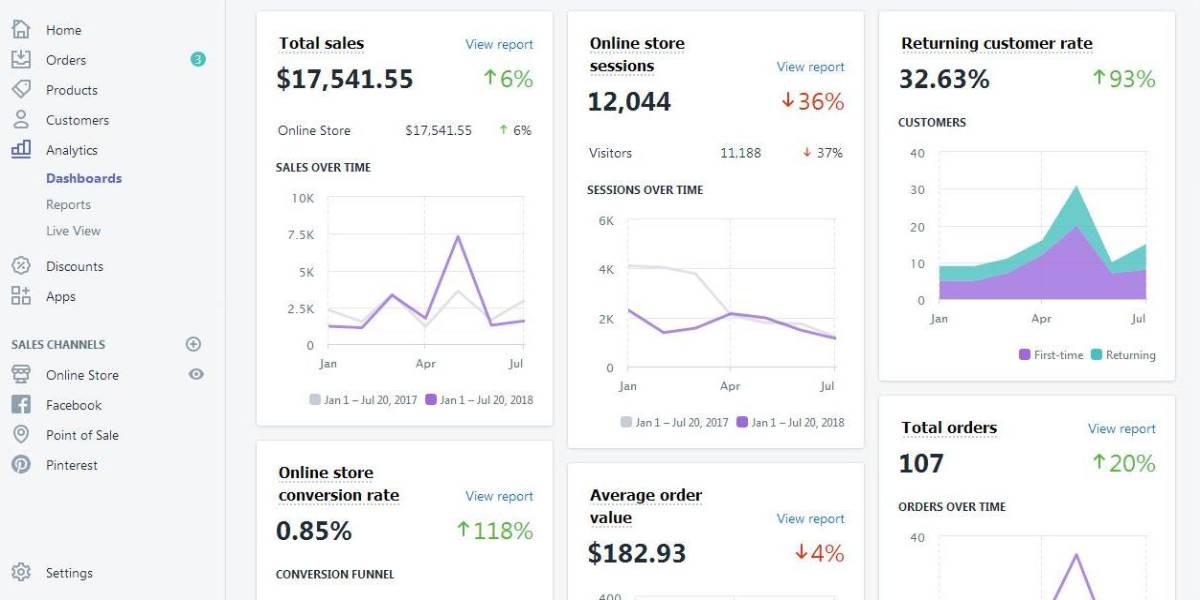 You may simply build a Shopify store by following a few easy steps. Shopify leads you to the first setups after providing your email address, a password for your account, and a store name. There won't make much difference in spending time looking around for what you need. Shopify walks you through the necessary steps to completely functionalize your store when you register an account. The main page includes shortcuts for adding your first goods, customizing your theme, adding a new domain, or transferring an existing Shopify domain.
WooCommerce - Ease of use
WooCommerce, as an open-source platform, requires you to install, handle upgrades, make backups, and optimize everything on your own. As a result, using it necessitates a certain degree of expertise or a willingness to spend some time researching. WooCommerce installation is not as straightforward as that of some other hosted alternatives. If you don't want to become engaged in any coding, this may be a difficulty. Before downloading a package and installing it on your server through FTP, you must first establish a database.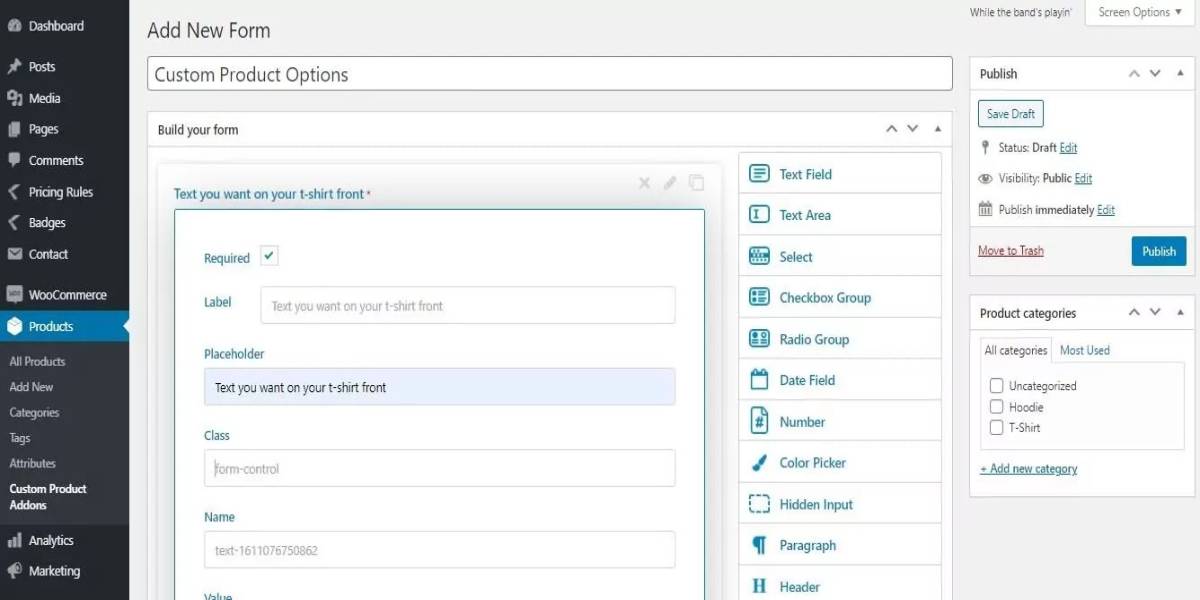 But that's where all the hiccups end up. The procedures are just as straightforward as you expected once WooCommerce is installed. A setup wizard will appear before you get into the depths of customization and walk you through the initial setups. Despite the lack of a drag-and-drop design-builder, the UI is very user-friendly owing to the WP-Admin dashboard. Using a side control panel lets you design, update, and personalize your website layout with as little code as you like. If you've previously built a WordPress site, using WooCommerce won't be much of a challenge.
Magento - Ease of use
As previously said, Magento is intended for intermediate to expert levels of web development. As a consequence, Magento is a stumbling barrier for both beginners and non-techies. Because Magento is installed locally, you must set up FTP and transfer Magento Archive to your hosted system. Magento is indeed difficult to set up and configure. Even though there are several configuration guides and tutorials available, the Magento shop setup procedure might be complicated for novice users (most are written for developers and not for DIY users). Because it is not straightforward, you will need to invest time to figure out how to set up extensions and modify themes after installation.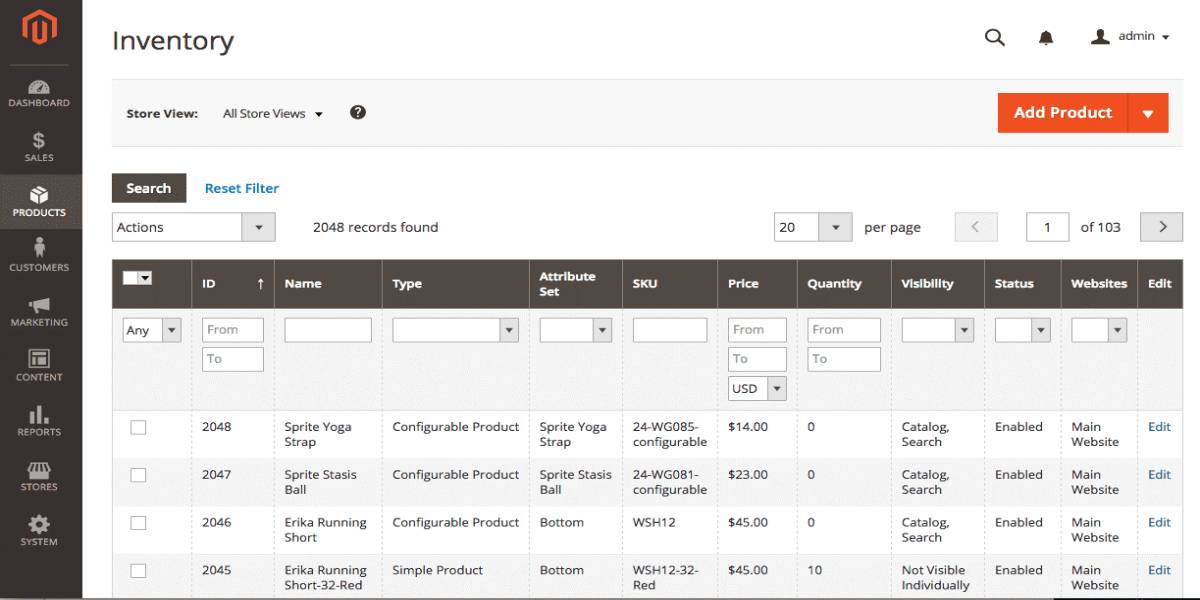 The troubles seem to be over once you've completed the setup process. In reality, Magento's administration and day-to-day operations are not overly complex. Managing content on your Magento shop is no longer a complicated process, thanks to the page builder. Furthermore, Magento offers an excellent user interface to retailers. Everything you need to manage, from the product, customer, marketing, and content management, is presented on the sidebar for easy access. Magento's developers are putting in increasing effort to provide comfort and simplicity of use for its consumers.
2. Pricing
Shopify - Pricing
Shopify makes it extremely simple to launch your online business. Their base plan is $39 per month, and you can upgrade to the Shopify plan for $109 per month or the Advanced Shopify plan for $399 per month. Each of these options comes with an SSL certificate as well as web hosting. It will include a Shopify-branded subdomain (for example, https://ex.myshopify.com). If you wish to use your own.com domain name, you must buy it separately. A standard.com domain name typically costs $14 per year. The basic Shopify subscription includes enough functionality to launch a new online business. You can add an infinite number of goods, two user accounts, an unlimited amount of file storage, and other features. This cost, however, does not include any third-party tools or add-ons that you would require to take your Shopify business to the next level.
WooCommerce - Pricing
hoosing the best WooCommerce hosting service from among the many available is a critical decision since it has a significant influence on the performance of your business (speed, security, and stability). Prices will vary depending on the hosting provider and the services you want. In general, hosting expenses are anticipated to vary between $5 and $30.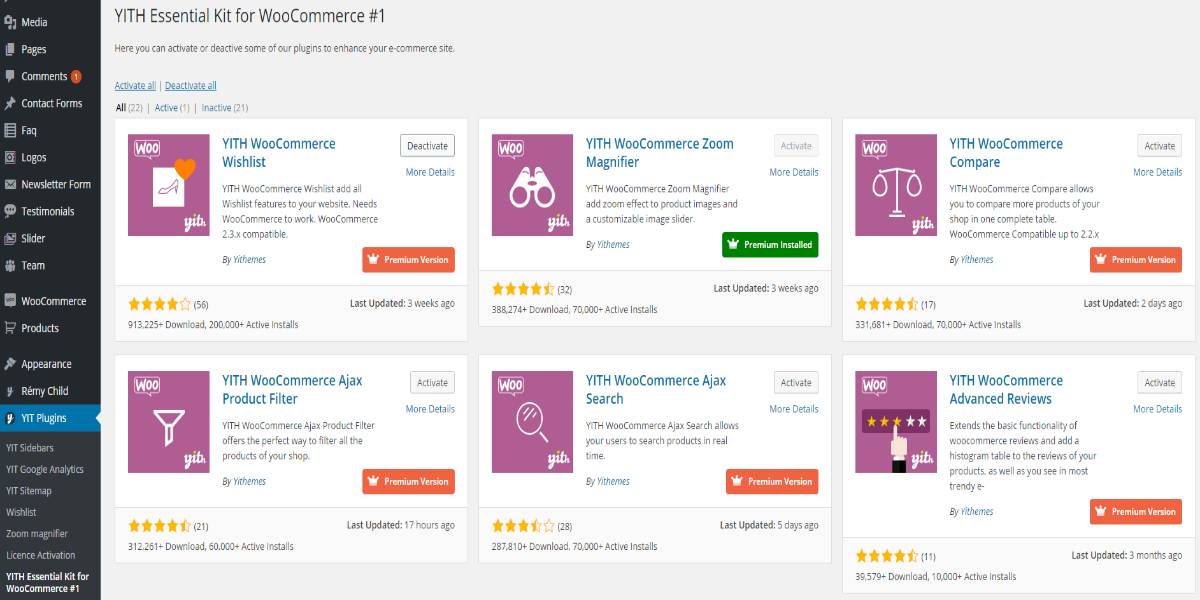 Another significant expense you'll have to endure is the purchase of your domain name. A professional domain name may be purchased in two ways. The second option is to purchase your domain separately, which means you may buy a domain name from one provider while hosting your site with another. A Secure Sockets Layer (SSL) certificate that encrypts sensitive information, such as credit card data or other financial information, between a customer's browser and your server is critical for online shops. In most situations, your server will give SSL for free.
Magento - Pricing
Let's start with Magento Open Source. It is the most popular version on the market, accounting for 83 percent of all Magento websites. This version is free to download and install. However, you must still pay for your hosting, domain, and security, as well as any web development assistance if you lack the time or ability level necessary to personalize your site the way you desire. A Magento shop with standard functionality, a simple free theme, and no interaction with external systems or services costs approximately $15,000. Magento Commerce, formerly known as Magento Enterprise, is best suited for enterprise-sized organizations. Magento Commerce price is determined on your annual total sales income. You may also test drive the Magento Commerce package for free. This version provides a free demo, but you must enter your complete contact information.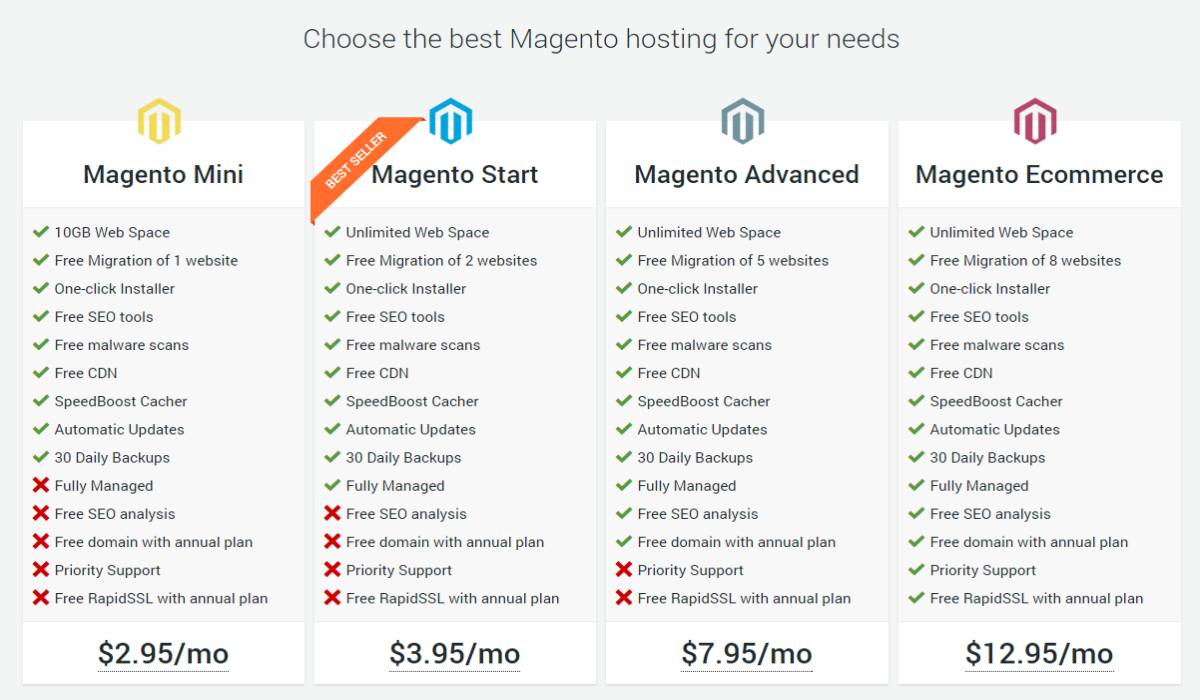 3. Themes and Design
Shopify - Themes and Design
The look of your store also influences the conversion rate. Having a friendly theme increases the likelihood of a consumer returning for more, resulting in more significant income. In general, Shopify themes are neat, beautiful, and appealing. Because expert designers create them, you don't have to worry about their practicality and usability. If you are unclear whether investing approximately $180 on a premium theme is the correct decision for your shop, you may try out free themes first. Of course, they will be inferior in terms of usefulness and appeal to the premium versions.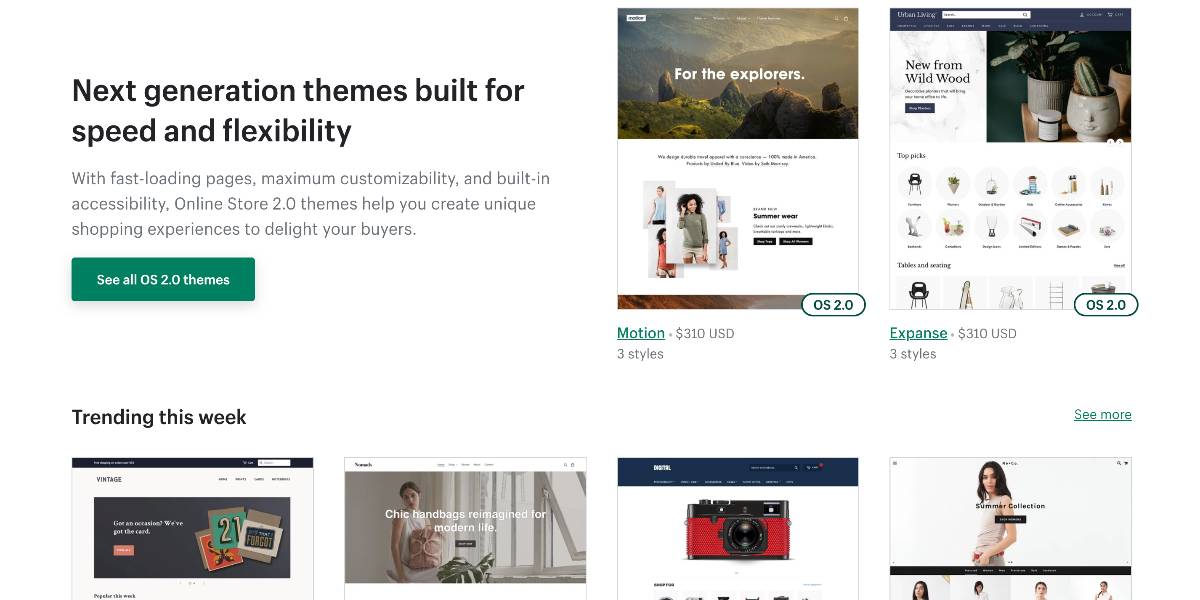 We still recommend upgrading to a well-designed premium theme if your company makes a considerable amount of income. The cost may be slightly greater for new firms, but it is not prohibitively expensive when seen as a one-time payment. Furthermore, the premium themes are created by UI-UX experts. As a result, you can anticipate high-quality, highly configurable templates for your shop. It should be noted that the Liquid code allows for complete customization of any themes. You may customize any themes by altering the colors, fonts, social media buttons, and other elements. Once again, Shopify's ease of use makes things a lot easier because you can add, delete, or relocate parts with just a few clicks.
learn more:
WooCommerce - Themes and Design
Choosing an appropriate theme is critical in the WooCommerce setup process. A beautiful appearance and exceptional performance add significantly to the value of your store. Regarding WooCommerce's style and template, it's associated with a whole new universe opening up in front of your eyes, with a plethora of attractive options to select from. WooCommerce has been designed to function with nearly all themes on the market, which means that in most situations, you can use any WordPress theme and have it work with WooCommerce.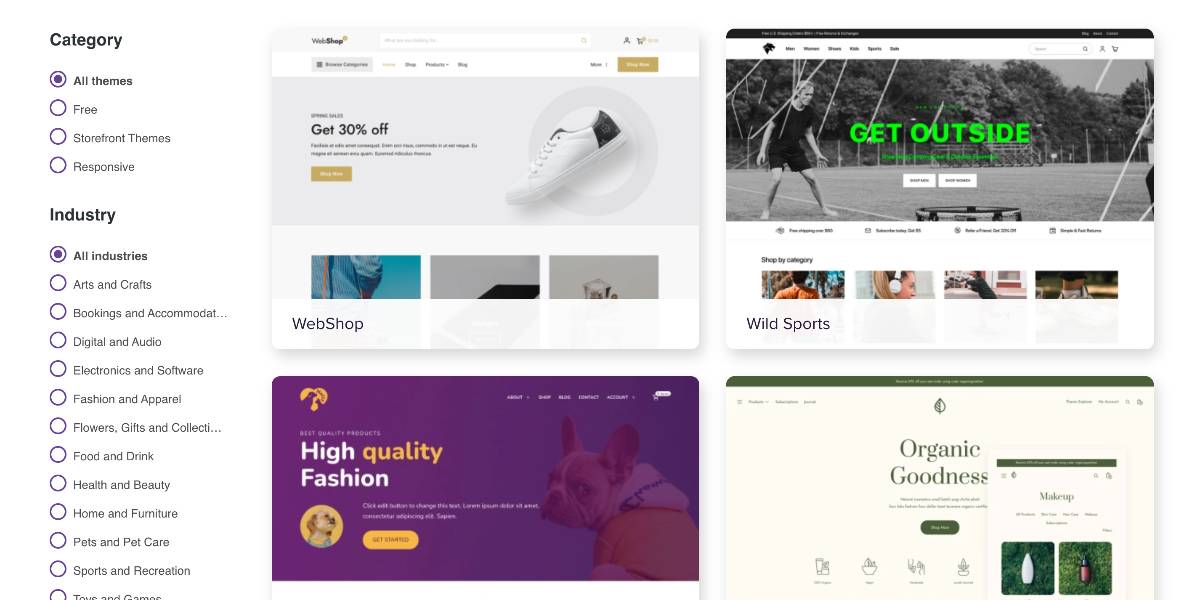 With annual fees ranging from $20 to $100, you can ensure that your store stands out from the crowd. Aside from WooCommerce's theme store, you can also choose from various other stunning themes created by third parties. You can, of course, switch to another theme if the one you've decided no longer meets your needs. However, there are some precautions you should take before flipping the switch to avoid losing your data.
Magento - Themes and Design
Magento's marketplace also provides more alternatives, including both free and premium themes. Store owners may utilize them as prebuilt templates that can subsequently be customized. If you're looking for more, have a look at our list of the Top 10 Best Magento Themes in 2021. For even more ideas, go to Themeforest, where you can get over 500 Magento themes ranging in price from $29 to $200.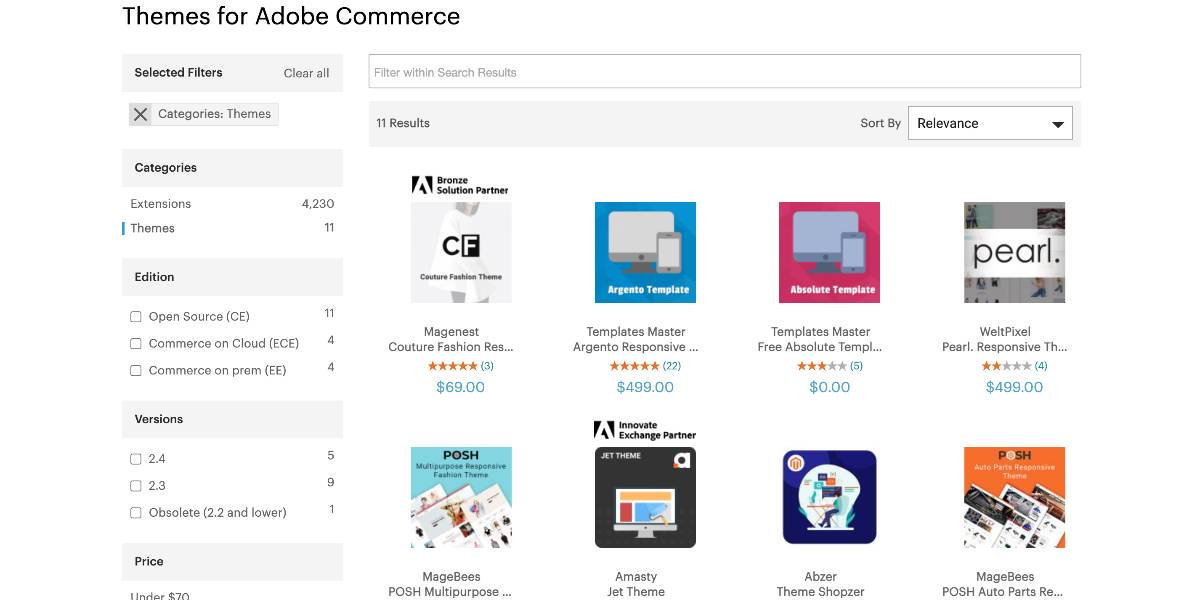 Default Magento comes with two design themes: Luma, which serves as a demonstration theme, and Blank, which serves as a foundation for custom theme construction. The Luma theme exemplifies Magento's strength and adaptability. It's beautiful, clean, and simple to use, with limitless customization options.
4. SEO Support
Shopify - SEO Support
To sell items, most (if not all) eCommerce shops rely significantly on SEO and marketing. No matter how much effort and money you put into building your website, poor Search Engine Optimization and marketing will permanently damage your sales since consumers are the lifeblood of any business. Thankfully, Shopify's SEO is highly effective. When used correctly, it is sufficient, straightforward, and may help you rank well. Once again, Shopify's simplicity of use works out great since you can easily access most built-in functionalities. The site's speed is excellent. Fast loading speed is not difficult to achieve, especially if you select a primary and light theme. You may also organize your site by categories, which improves SEO and makes it easier for people to explore.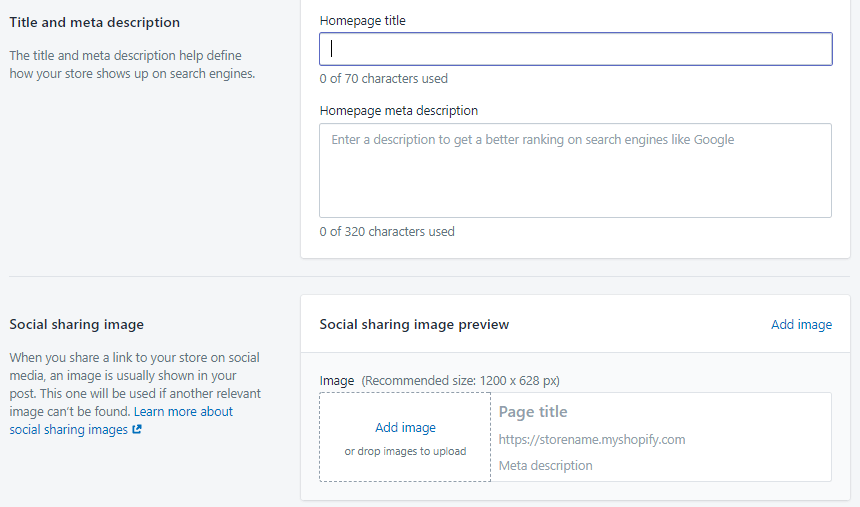 As seen in the image, adding a title, meta description, and pictures to your pages is simple. Shopify also allows you to establish custom URLs and 301 redirects if you alter a URL to avoid 404 problems. However, there is still space for development. Specific URLs have a required string, which is terrible for SEO. Product pages, for example, have '/products/' and posts have '/posts/' immediately after your domain name.
Furthermore, the Robots.txt file and Sitemap are not editable, making Shopify SEO a bit unpleasant if you're serious about site optimization. Fortunately, things aren't all that awful. These are minor irritations that are compensated by the numerous benefits that Shopify provides.
WooCommerce - SEO Support
WooCommerce is the most powerful plugin on WordPress – recognized for its Content Management System, SEO, and Blogging functions – is something store owners should consider while reading WooCommerce reviews. Search Engine Optimization (SEO) is critical since it influences where a website appears in search results. When consumers use search engines, ranking higher makes it easier for them to locate your items. WooCommerce is SEO friendly, which means that it has tools that will assist you in optimizing your product pages for search engines. It is your job to establish product categories and organize your items into them. Use the WordPress editor to effortlessly modify the text, permalinks, and other page components to optimize your product pages.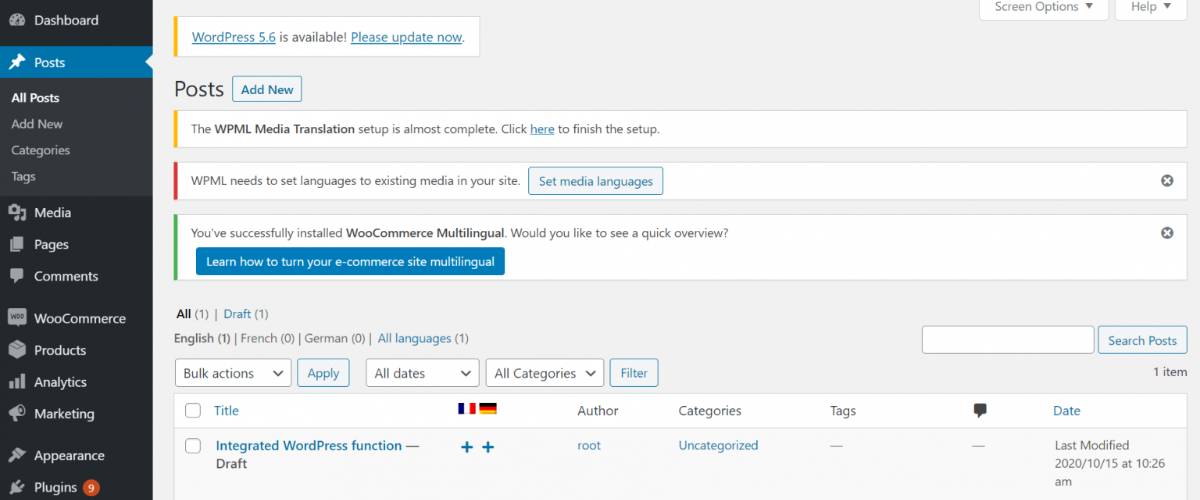 At the same time, WooCommerce provides a plethora of SEO plugins to help you optimize your store. WooCommerce appears to be powerful as a WordPress plugin in blogging creation and administration because it inherits WordPress's great blogging features. In other words, you can quickly establish a WooCommerce blog by going to the Posts category and creating one from the WordPress Admin panel. WooCommerce doesn't come with a lot of marketing tools out of the box. When someone makes a purchase, automated emails are sent out, and you can undoubtedly utilize those for branding and informing customers about additional items. However, using an email marketing provider like MailChimp and integrating an opt-in email form is your best approach.
Magento - SEO Support
Magento SEO is configured automatically, but you can constantly adjust meta keywords, meta descriptions, image alt-tags, product descriptions, and snippets. Additional capabilities such as Google sitemaps, no-follow links, and redirects make it easier for search engines to index your site. Aside from that, mobile optimization and regular Magento SEO are included in all Magento 2 editions. This means that everything appears correctly on consumers' mobile phones, and your site may still be accessed without requiring too much time and work on your part.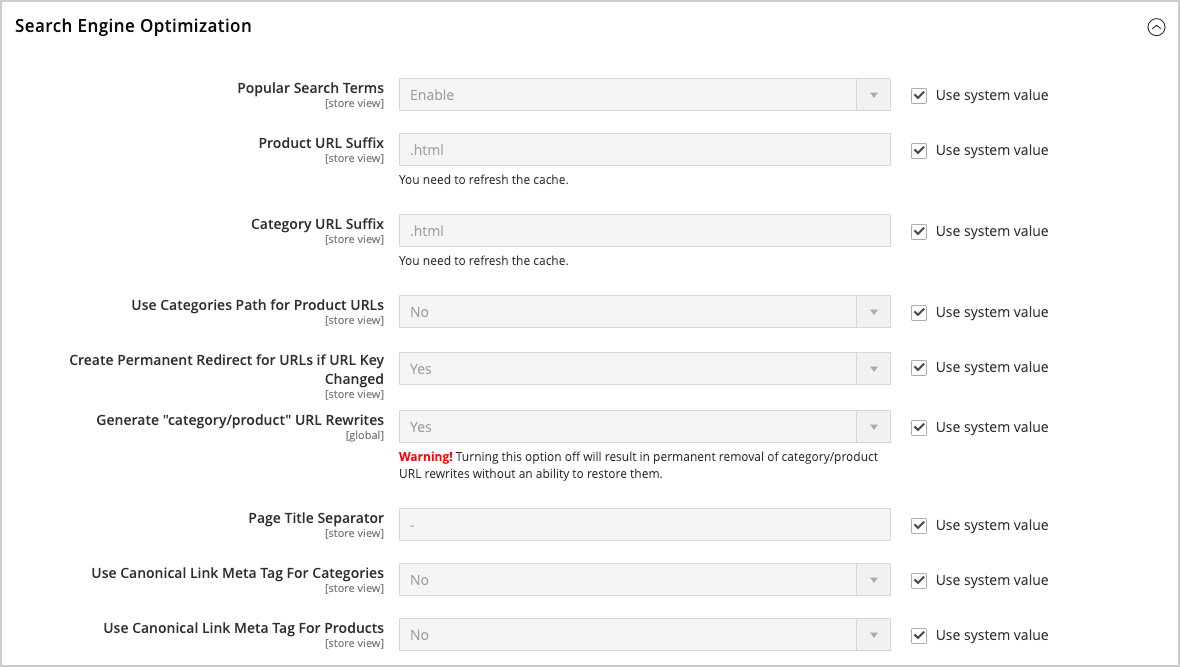 Magento may undoubtedly assist you if your brand focuses on creating articles that benefit your readers and effectively convert them. Magento CMS has all of the features you'll need to manage your content and its quality simply. Of course, you may always use third-party extensions to take advantage of the blogging functionality. Magento's marketing capabilities include upsell items, give special prices, and create customizable coupons for various uses. However, the benefits mentioned above are dependent on the plan you're using. If you are presently using Magento Open Source, you may need to upgrade to Magento Commerce or Magento Commerce Cloud to access additional features. However, the great thing about this platform is that you can always create your features to meet the needs of your online store.
5. Customer Support
Shopify - Customer Support
Shopify is a fully hosted platform, which means they manage the software and are the most knowledgeable about their platform. Shopify offers live chat, phone, email, and Twitter assistance 24 hours a day, seven days a week. Shopify provides substantial documentation, how-to instructions, a knowledge base, video lessons, and forums for users who wish to repair difficulties independently. The specialized support team provides essential assistance in terms of information quality as well as reaction speed.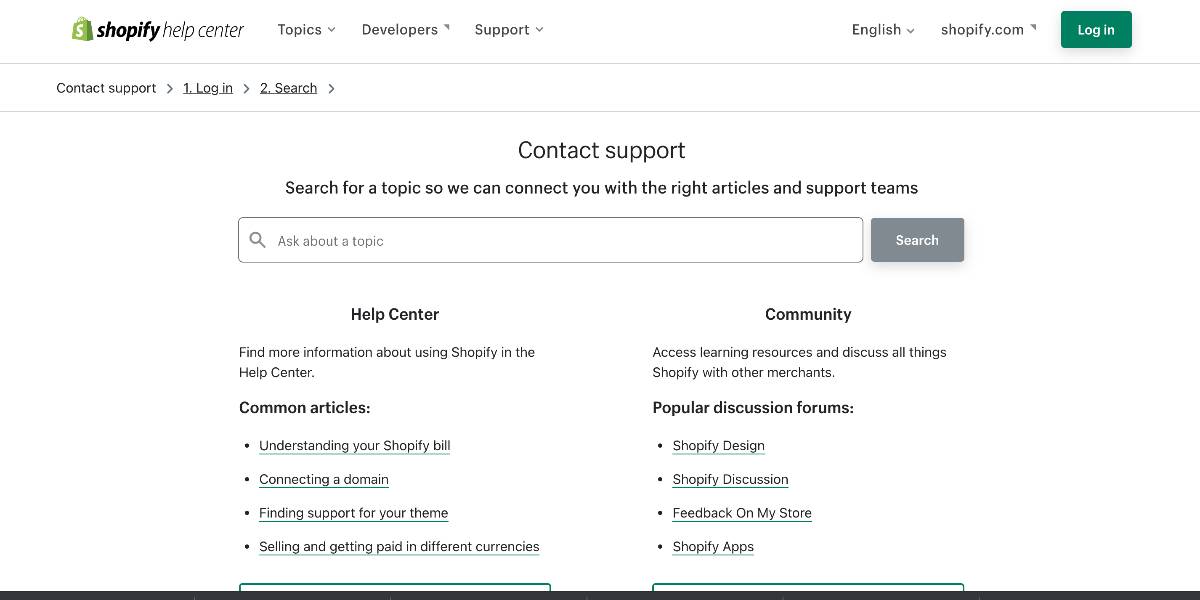 Aside from that, you'll get access to its community forum, support center, and other video lessons. Hiring professional certified Shopify specialists to assure optimum problem resolution and flawless business operation is the highest assistance. On the other hand, Shopify does not provide support for any third-party applications or themes that you may be utilizing.
WooCommerce - Customer Support
WooCommerce does not provide direct assistance because its product is available for free. However, this does not preclude you from resolving issues with a bit of study. For example, WooCommerce has an excellent documentation website, and you can send in emails if you have a specific question. Another good news is that while WooCommerce does not provide the same level of support as other store builders, it will assist with difficulties. As soon as the firm notices a flaw in the product, it will be fixed immediately. They can also give a via the Helpdesk for minor issues to assist you in getting over any problems before a scheduled upgrade.
WooCommerce's support service does not include any support for plugins and add-ons supplied by third parties who are not specific resellers of WooCommerce technology. Before they can assist, the company may need corporations to disable third-party goods installed alongside the WooCommerce solution. Many blogs and forums are also dedicated to the WooCommerce plugin, so most of the time, you can discover what you're searching for with a fast Google search. WordPress works in the same way. Most of the time, you must figure out the bugs yourself and ask questions on forums. To ensure that you can solve a problem, we generally recommend starting with Google and then moving on to some of your favorite sites.
Magento - Customer Support
Magento does not provide live chat, phone, or email support as a self-hosted solution unless you sign up for the Magento Commerce Cloud plan for B2B. Instead, Magento users may make use of an active user community. You can get helpful assistance from Magento professionals from all over the world right here. Because both Magento and WooCommerce are open-source systems, they benefit from a vast user base and community. Both platforms offer a large global community to help business owners if they come across any issues.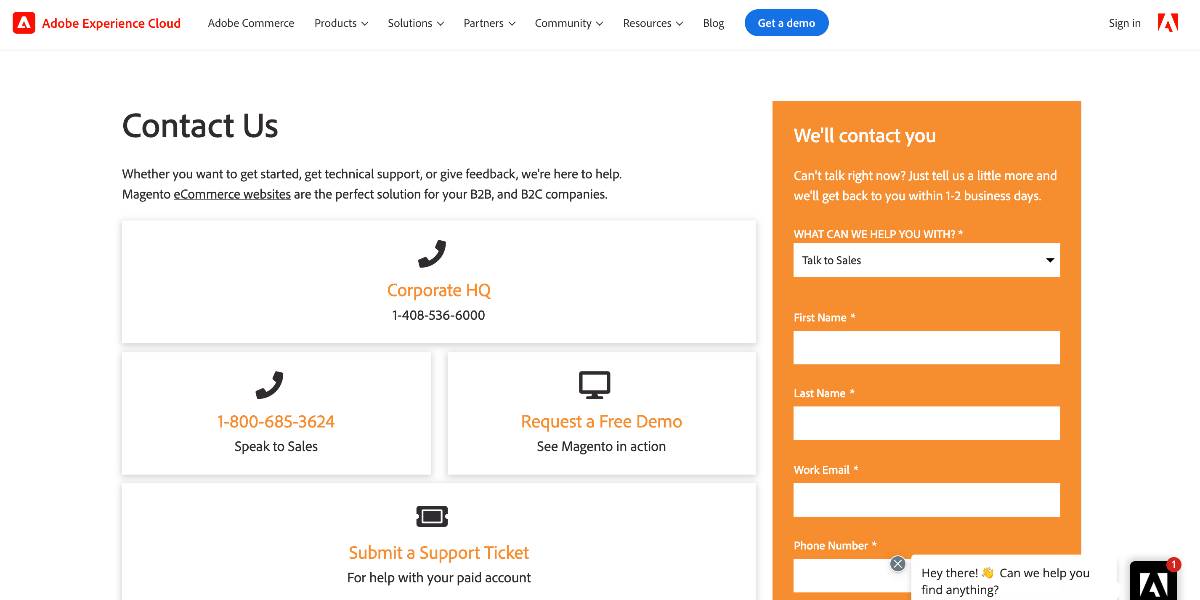 The level of customer assistance provided by Magento Community Edition and Magento Enterprise Edition vary significantly. Magento Community Edition support is relatively limited as an open-source platform. Users only consult and seek assistance in the Magento forums and communities. On the other hand, Magento Enterprise users will receive official full-fledged service, including email and live help.
6. Main Features
Shopify - Main Features
Shopify provides a good set of reporting capabilities, which may be improved with higher-tier subscriptions. Basic Shopify provides you with a real-time snapshot of crucial metrics such as revenue and consumer preferences. Additional upgrades include detailed sales and customer reports, and Advanced Shopify and Shopify Plus also offer extensive analysis via filters. Shopify allows you to add products manually or import them using CSV files. Customers, orders, and other types of data can also be loaded. Adding products is a piece of cake. On the main dashboard, clicking on "Products" takes you to the page where you may manage your products. Shopify will display a large button right in the center asking you to add one if you haven't had any.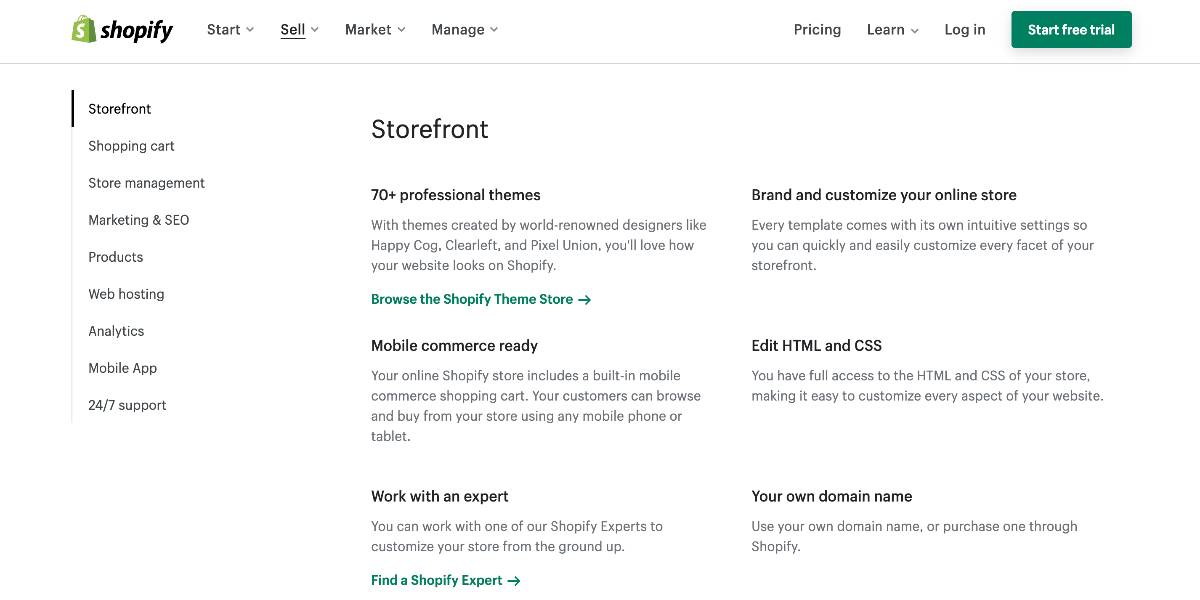 If you're searching for a solid eCommerce solution that allows you to use multichannel and omnichannel to increase sales, Shopify is an excellent choice. Shopify offers merchants a total of eight sales channels, including Facebook, Instagram, and others. You can simply track your items, orders, and customers by linking each sales channel to Shopify. Aside from social media and POS, Shopify allows retailers to connect with some of the world's biggest eCommerce marketplaces, such as Amazon. Furthermore, if you select the Shopify Plus subscription, you will have access to a separate wholesale channel.
Last but not least, the Shopify Multi-languages feature allows you to generate distinct URLs for your original content in each language. When a consumer visits a translated URL, your website will display the translated version. Following that, your customer will be able to view the product, place an order, check out, and receive notifications in their native language.
WooCommerce - Main Features
The WooCommerce inventory management tool makes it simple to manage your supply and track inventory. You can do simple activities such as producing inventory reports and making adjustments to any aspect of your items. You may also build and manage variable goods, as well as additional quantities for distinct versions. WooCommerce Grouped Products can comprise the primary and extra products as a handy alternative for up-selling and improved inventory management. One advantage of WooCommerce is that there are no restrictions on the number of items and variants you may build. However, maintaining inventory with WooCommerce may necessitate the assistance of third-party support is a great choice to maximize your store's performance.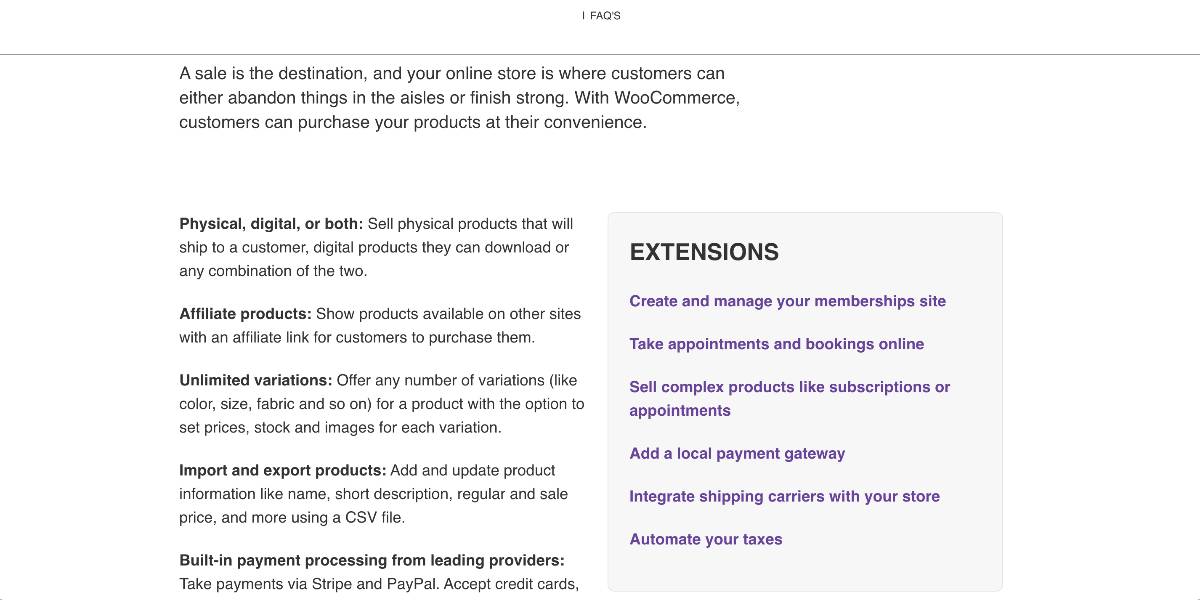 WooCommerce Analytics generates comprehensive reports on your income, orders, items, categories, discounts, taxes, downloads, and stock. Begin by going to Analytics on your dashboard, where you may examine and export data in charts and graphs for various information. You may also modify your reports to certain product kinds and categories. Furthermore, WooCommerce allows you to export your data in CSV format for use in spreadsheets. Moreover, WordPress Multisite is a powerful tool that will enable you to set up a network of websites, blogs, or online businesses. Indeed, WooCommerce is compatible with WordPress Multisite, which means you may establish a WooCommerce Multisite network in which each site in the network can be an online store. You may not only save time by managing multiple locations in the network at the same time with WooCommerce Multisite, but you can also offer various items in each region and change the currency for each store accordingly. As a result, your orders are kept separate, making it easier to monitor and track all of your different orders.
Magento - Main Features
One of the factors that contribute to Magento's dominance in the eCommerce platform solution industry is the diversity of its capabilities. Other simple platforms, such as WordPress, need you to install hundreds of extensions, which wastes a lot of time worrying about plugin compatibility, maintenance, and updates. On the other hand, Magento saves users a tremendous amount of time by including all necessary features within the primary system. This certainly made use of its out-of-the-box features, which is a competitive advantage.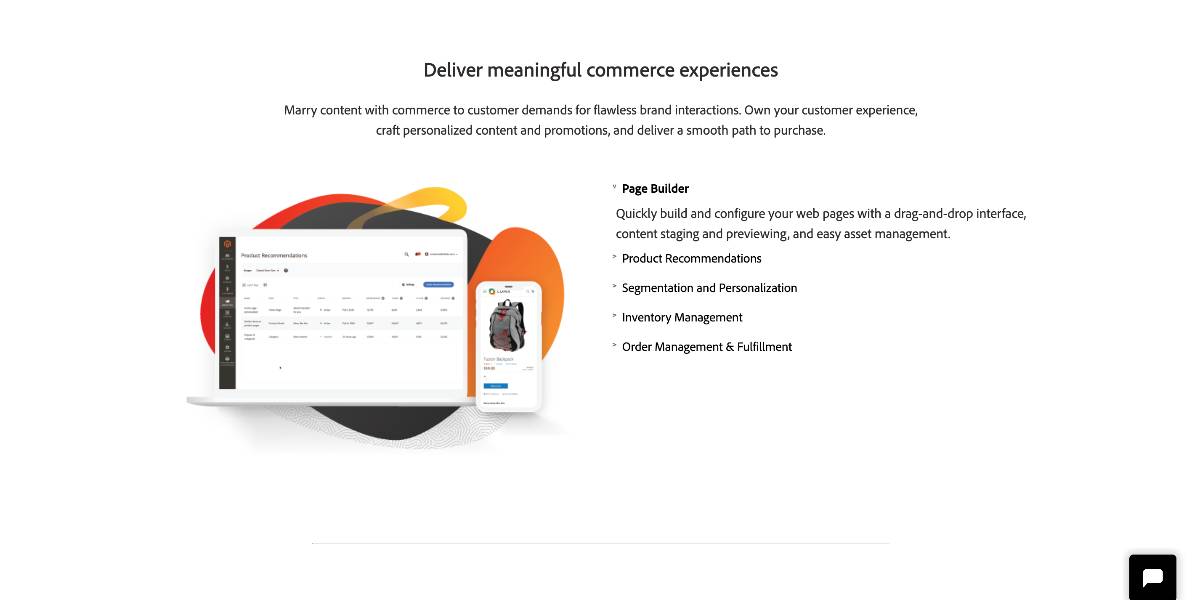 Magento's feature list is enormous, but in this article, we'll break it down by sector so you can get a sense of how you can sell using Magento:
Create easy, adjustable items (e.g., pick the size, color, etc.), package, grouped, virtual, and downloaded (with examples).
Create product templates to create new goods with a specified set of properties easily.
Assign items to specific groups automatically depending on their qualities. This means you no longer have to assign a product to a category manually; all you have to do is set up characteristics for your goods.
Sync catalog, inventory, and order information between Amazon and Magento automatically.
Magento may be used to create Google Merchant Center and Google Ads accounts. Admin
Google Smart Shopping ads can help you reach more customers.
Examine Magento's performance and ROI reports.
7. Plugins and Integrations
Shopify - Plugins and Integrations
Shopify is the platform with the largest app store on the market, with over 2000 apps. Essentially, you can find nearly everything there. While Shopify currently includes the majority of the capabilities required to satisfy basic demands, the App Store expands the possibilities for your eCommerce site. The Shopify team does a beautiful job of guiding you through the massive shop by allowing you to explore by categories or collections. They're even enthusiastic enough to provide a "Staff picks" section with applications hand-picked by the developers.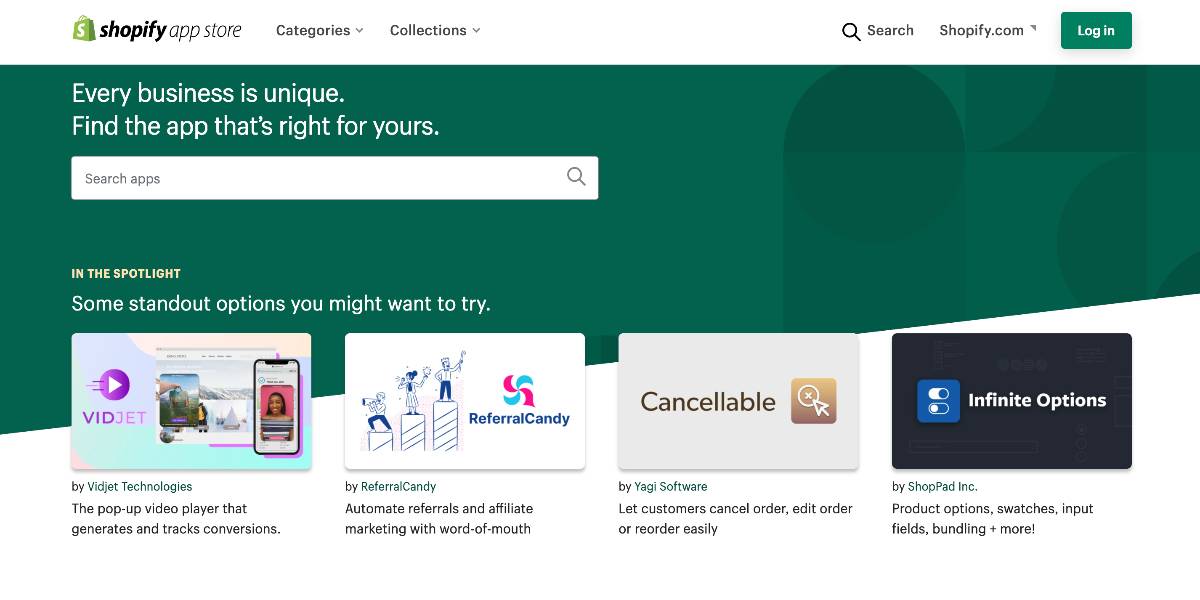 One of the most popular features of Shopify is dropshipping, which is not included by default. As a result, if you want to use this functionality, you need to get it from the plugin store. Fortunately, there are several applications for this, with Obelo being one of the top choices. Aside from that, you may search the app store for more marketing tools, order & inventory management systems, shop design tools, and so on. Some applications allow you to connect to social media sites to advertise your company and improve traffic to your website.
learn more:
WooCommerce - Plugins and Integrations
Installing plugins from WooCommerce's extensions shop can help you increase the functionality of your site. Currently, this platform provides over 400 free and paid plugins separated into several areas such as Store Management, Marketing, Payments, etc. They not only improve the look of your store, but they also boost conversions by monitoring consumer behavior. You may also choose extensions depending on price, rating, and country. More comprehensive features, setup directions, and WooCommerce reviews are available for each plugin. One extension will cost you between $29 and $299 each year.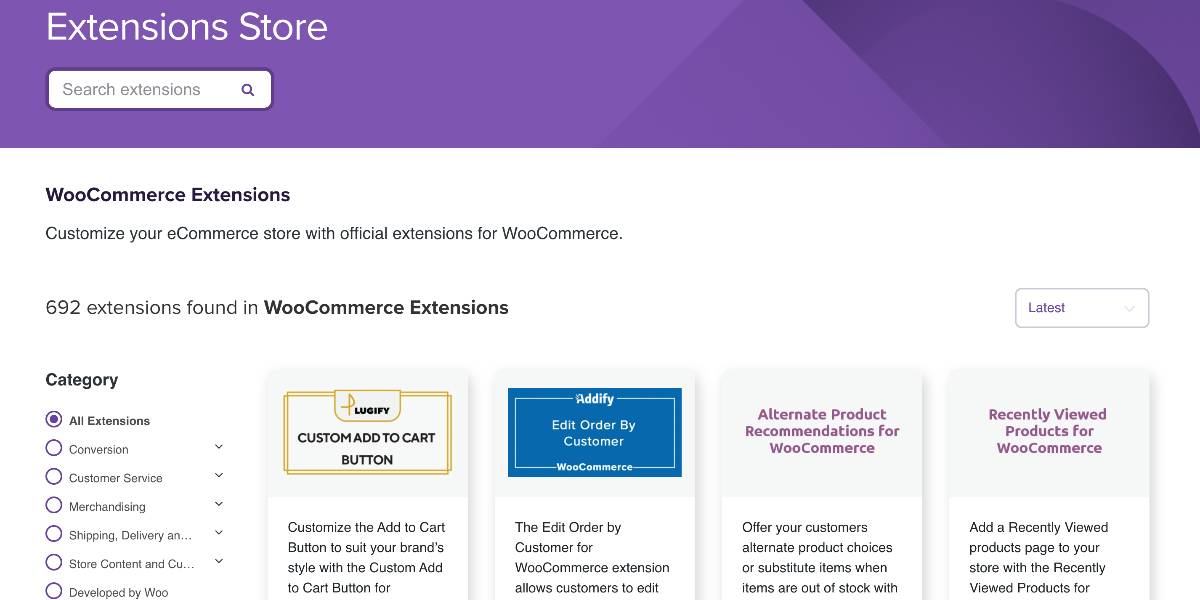 WooCommerce may also be integrated with other eCommerce systems to expand its functionality. WooCommerce integrations come in various flavors, such as putting your WooCommerce items on eBay, adding Shopify's Buy Now button to WooCommerce, and so on. These will assist you in making the most of the beneficial WooCommerce features from several major eCommerce businesses. For example, integrating your WooCommerce store with Amazon, a marketplace, will provide you with significant benefits.
Magento - Plugins and Integrations
Similarly, Magento uses a wide range of commercial and free third-party extensions since it has a thriving community of developers, agencies, and freelancers. At the moment, Magento Marketplace includes approximately 6000 extensions for accounting and finance, marketing and sales, payment and security, content and customization, site optimization, reporting and analytics, and customer care. There are specific highlight extensions that are beneficial. Mageplaza, for example, allows you to promote items by offering unique discount choices or by utilizing plugins. Product Pre-Order may automatically send an email to your potential consumers whenever a new product becomes available.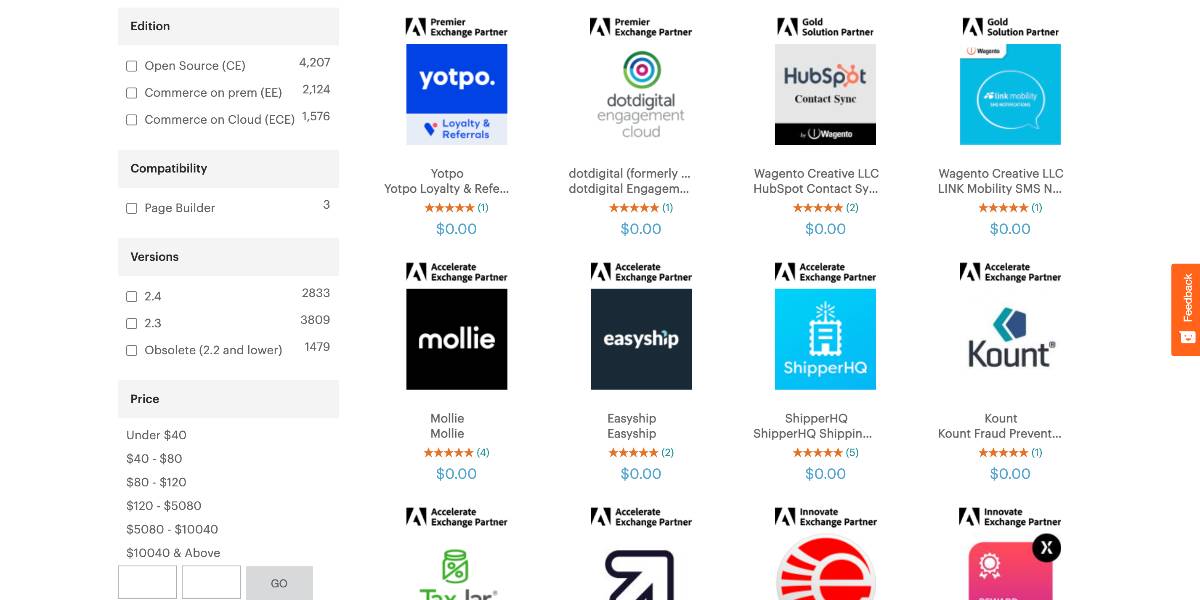 When it comes to eCommerce integration, working with the proper solution partner is critical to a smooth and successful deployment. A Magento integration specialist will be able to demonstrate a proven track record of customizing the correct integration solution to suit your company's demands, ensuring a perfect match with the way your organization runs. Choosing a solution that is not adaptable and cannot be modified to meet changing business requirements might result in additional stresses on IT infrastructure and process problems down the track. The Magento integration solution works with both Magento and Magento 2.
8. Security
Shopify - Security
When it comes to security, it indicates that using a hosted eCommerce solution rather than developing a shop with open-source platforms is less risky. You don't even need to do anything because Shopify handles all security procedures in the background.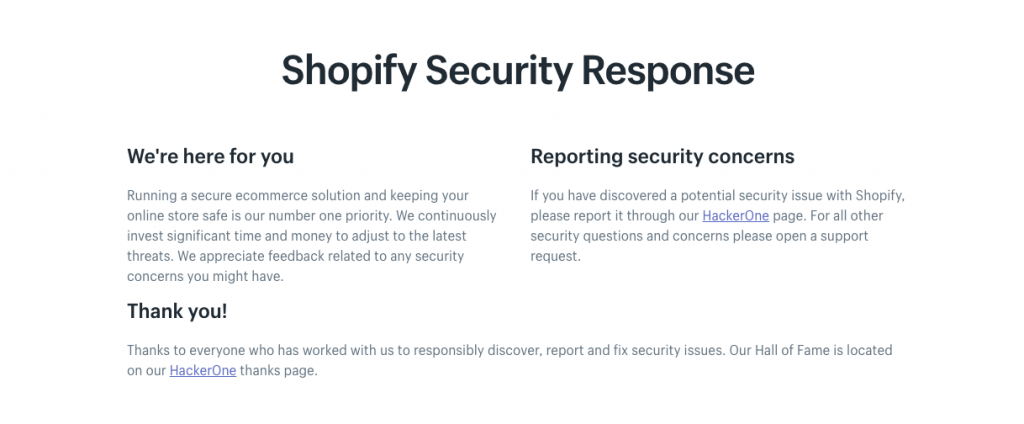 All data exchanged between you and your clients is encrypted using SSL Certificates for every Shopify site. This improves trustworthiness since critical information, such as credit card numbers, is safe. Shopify is also PCI certified, which means it adheres to security requirements while processing credit card and debit card information.
WooCommerce - Security
It's easy to lose sight of security in the process of launching your shop, but it's critical. Maintaining the security of your store's data should be a key concern from the outset. A solid server and domain are the foundations of a secure website. Therefore you must maintain them. In general, WooCommerce is pretty safe. You may use this platform to implement two-step authentication. It is a method in which you utilize two of the three available elements to establish your identity rather than one. As a result, you don't have to be concerned if your password slips into the hands of others.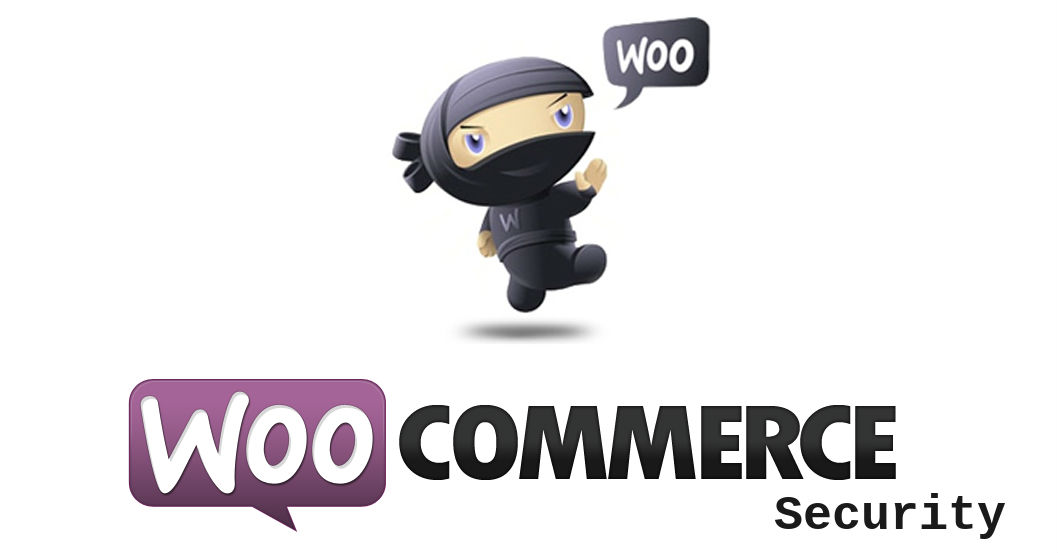 You will also be responsible for PCI compliance with WooCommerce, a set of actionable standards designed to encourage the widespread adoption of consistent data security procedures throughout the world to decrease credit card theft. To make your website PCI compliant, you must rigorously follow 12 essential standards. However, if third-party software has been used, you may encounter security concerns. If you don't pay enough attention to enhancing your site's security, your hosting and themes are also at risk.
Magento - Security
Meanwhile, Magento can make its shops very secure. Magento provides online shop owners with enhanced security through specialized security updates that are provided regularly. Furthermore, various built-in security measures are available to assist in the protection of Magento installations and maintenance. These steps may, for example, improve password management, eliminate cross-site scripting vulnerabilities and clickjacking exploits, and implement more flexible file system ownership and permissions.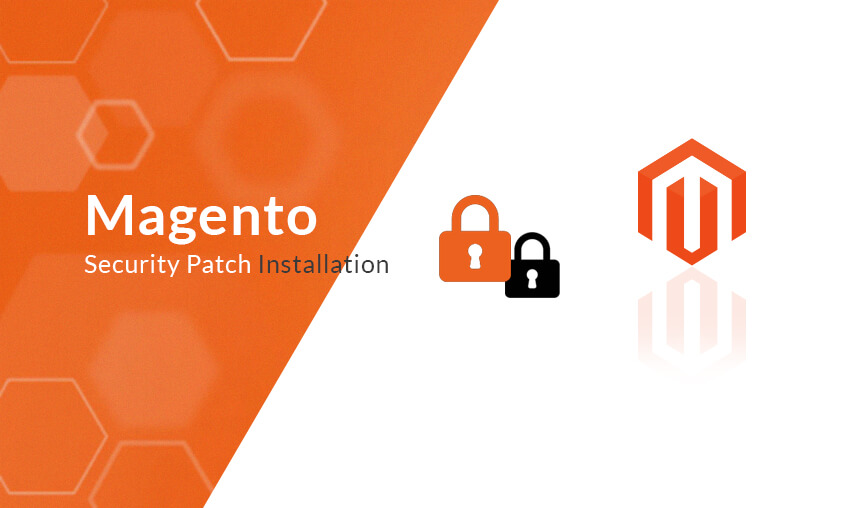 As previously stated, Magento primarily targets medium to enterprise-sized enterprises. As a result, a high level of security for their website is undoubtedly a vital requirement. Magento has prioritized security from its inception. They offer a whole Security Center dedicated to ensuring the safety of your website. However, the cost is not insignificant. SQL injection vulnerabilities are charged between $1,000 and $5,000, and this service is not accessible for Magento Open Source.
9. Payment Gateways
Shopify - Payment Gateways
Shopify provides a plethora of payment alternatives for consumers to choose from throughout the checkout process. It offers its payment system, Shopify Payments (powered by Stripe), and major third-party payment channels. Only Shopify Payments provides the ability to take payments in various currencies. The system will automatically convert the price based on current currency rates. If your target market grows internationally and your location is on the list of areas where Shopify Payments is available, you should certainly explore this option.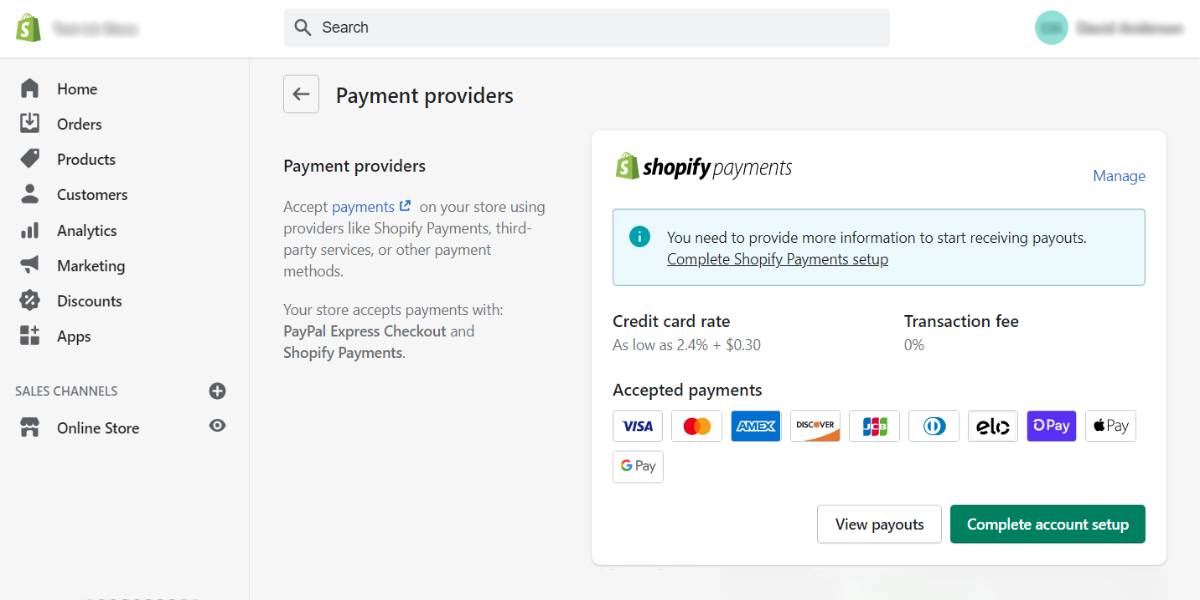 The issue is that Shopify charges an additional 2% fee for each transaction completed using third-party payment gateways. This is one of the most expensive additional fees for the payment gateway's transaction costs. By paying $399 per month for the Advanced Shopify plan, you may lower the price to 0.5 percent. There are credit card charges in Shopify Payments but no additional transaction fees. Credit card interest rates begin at 2.9 percent + 30 for the basic plan and decrease for supplemental plans.
WooCommerce - Payment Gateways
In terms of payment gateways, WooCommerce is a significant participant. This platform offers a payment method that is exclusive to WooCommerce stores. This payment plugin is entirely free to download and use, with no setup or monthly costs. Credit or debit card payments may be made securely by your consumers. Allowing customers to pay you directly without leaving your business can help you improve conversions. WooCommerce accepts payments via PayPal and Stripe, two well-known payment processors. The majority of WooCommerce online shops should be at ease with any of the two solutions straight away.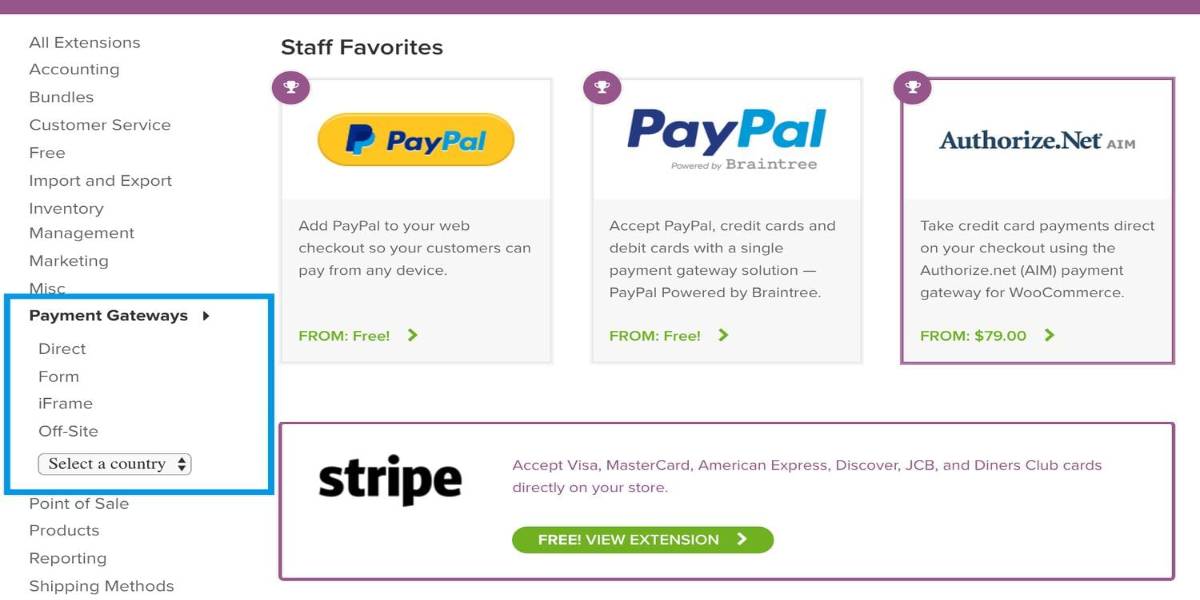 As a result, you don't even need a bank account to get started. If you wish to experiment with another service, WooCommerce is more than ready to let you do so; it also supports all other prominent payment service providers via add-ons. WooCommerce offers payment gateway compatibility for various regional and less popular payment systems. Because there is no barrier to entry, any payment firm may create and support WooCommerce add-ons. Your payment gateway or bank will only charge you transaction costs. WooCommerce will never charge you a percentage of the transaction fee; the appropriate payment processors do this.
Magento - Payment Gateways
Magento offers out-of-the-box capabilities to take purchase orders, checks, and money orders. However, you must link with a payment gateway to take card payments from most consumers. Magento offers an in-house processing option available through a collaboration with PayPal/Braintree, but you are not restricted to that. A simple search for payment integrations for Magento Open Source 2 on the extension marketplace yields 544 results, so you'll have plenty of options. The prices vary from $0 to approximately $3,000, with all but a few add-ons costing less than $699.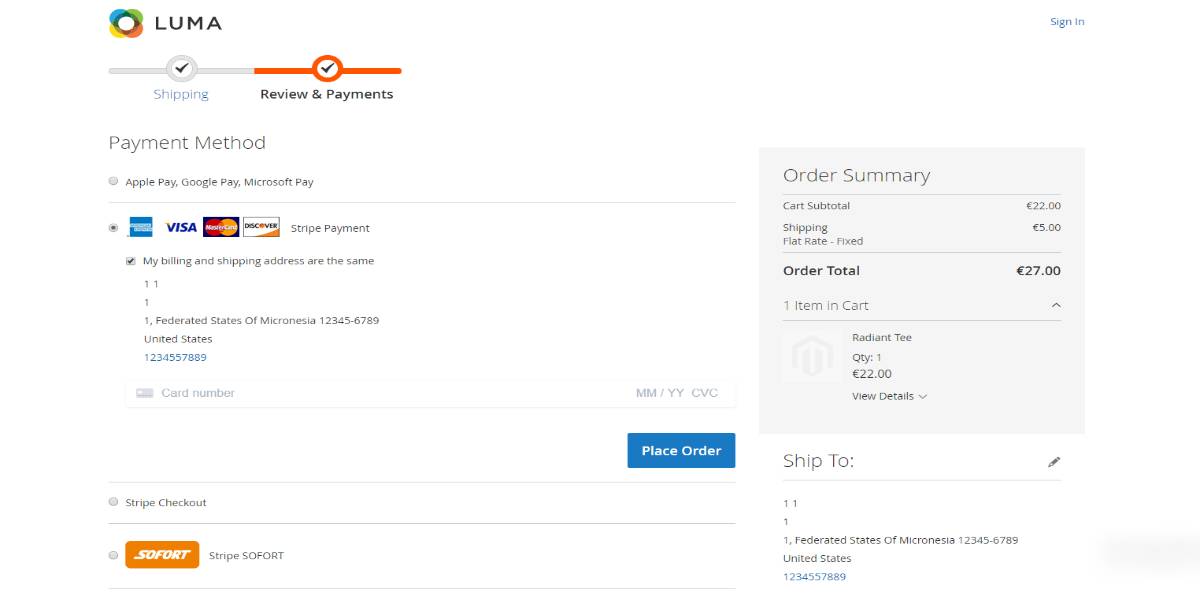 While around 225 results were free, don't forget to look into each processor's price structure. Payment processing with credit and debit cards is not free. You may also hire a developer to establish an integration for you. Square, PayPal, Stripe, Braintree, and other major payment processing systems are among the prebuilt processor connectors available with Magento Open Source.
10. Scalability
Shopify - Scalability
Shopify manages your store's technical aspects, so you never have to worry about performance, security, or scalability. When your company expands, you can simply upgrade your Shopify subscription. Their infrastructure is capable of handling your expanding business without the need for downtime, backups, upgrades, or security. As part of the Shopify Plus package, they also provide enterprise services.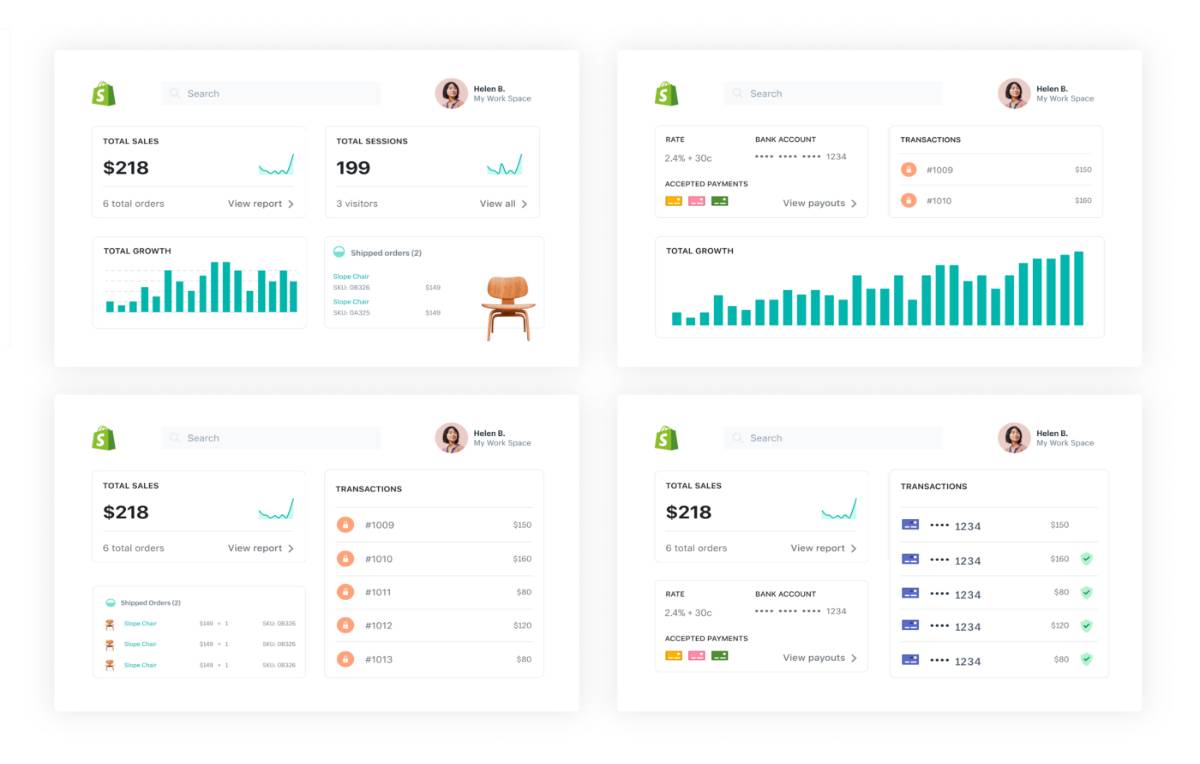 This eliminates the unpleasant aspect of growing, but it also raises your business costs. Your costs will rise, and you will need to budget appropriately. The good news is that you will save money by not recruiting or managing a technical team in-house.
WooCommerce - Scalability
The unrivaled scalability potential of WooCommerce is maybe the single most crucial element that makes it the most acceptable choice in CMS systems. Your WooCommerce website can easily accommodate any amount of traffic, whether it's ten or a million people, thanks to premium hosting services like WP Engine and Kinsta. As a result, WooCommerce is a suitable platform for almost any application (blog, business, government, personal, enterprise, etc.).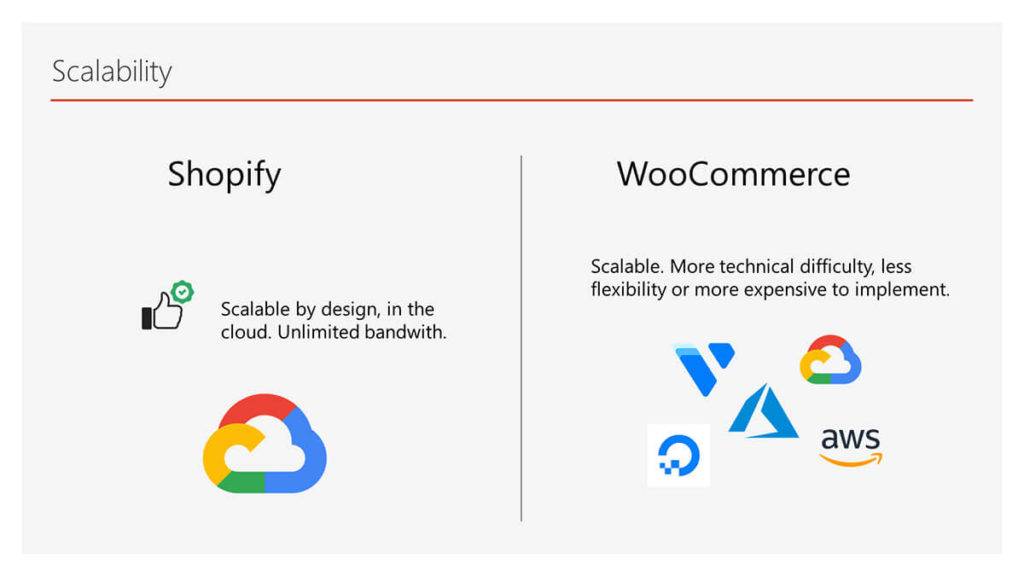 An excellent hosting company will enable your website to flex to handle large numbers of users effortlessly. Spikes of 10 to 100 million users are practically unavoidable at the corporate level of hosting. Server availability and uptime are unchanged, data protection and backups continue as scheduled, and your clients and visitors are happier than ever. Caching plugins enable your visitors to load content lightning-fast, search functions would allow customers to retrieve any search query almost instantly (regardless of how large your site is), and an easily integrated CDN network enables your customers to retrieve website data from several network relay centers around the world, effectively speeding up the browsing experience. All of this is feasible due to WordPress's extensive application/plugin network!
Magento - Scalability
Market research is essential if you intend to develop and operate an online shop. This allows you to understand your potential consumers and their demands better. Furthermore, the information you obtain may be utilized to design the scope of your website. It is critical to realize that Magento allows you to create both small and large websites and everything in between. If you want to offer 50 goods, for example, you may make a framework that accommodates that volume of inventory. This sort of framework may be created with Magento's modular system.
In reality, hosting 50 goods is a simple task for this platform because it may cost hundreds of thousands of things all at once. But it all starts with a single module. In this case, this module assists you in defining your budget and development timeline to sell 50 goods. When the time comes for an expansion, additional modules may be readily incorporated in a short period. Almost all aspects of Magento may be scaled up or down. This level of adaptability is unrivaled in the world of eCommerce systems.
Wrapping Up - Which One Is The Winner
So, when comparing Shopify vs. WooCommerce vs. Magento - which one is the winner? As is frequently the case with these sorts of inquiries, the honest response is: It depends. When selecting which eCommerce platform to employ, several considerations come into consideration, including your technical abilities, budget, shop size, and necessary functionality, to mention a few. However, there are three circumstances in which the answer is obvious:
If you have low technical abilities and are just looking for the quickest method to build your store with the least amount of trouble, Shopify is the best solution to go.
If you have a significant budget to work with and want the most potent option for launching an enterprise-sized shop, Magento is the most suitable one to go.
If you aren't scared to learn how to do things on your own and want a solution that will grow with your business without restricting its possibilities, WooCommerce is your ideal platform to go.
But what if you don't fit neatly into one of those three groups? We think WooCommerce is a wonderful place to start. As previously said, it falls somewhere in the center of these two solutions, providing some of the best of both worlds in terms of simplicity of use, cost, and greater versatility than Shopify. Of course, we are not alone in feeling this way - recall that WooCommerce has the largest market share, outperforming both Shopify and Magento (though Shopify is tight on its tail). Anyone who has used WordPress before should have no trouble learning WooCommerce and setting up an online store. Anyone who hasn't? WordPress is considerably more user-friendly than Shopify or Magento, and far more helpful WordPress resources are available. If you want many unique features (and much more via extensions), a reasonable cost, and a short learning curve, WooCommerce is the best choice.
New Posts
Subscribe
Stay in the know
Get special offers on the latest news from AVADA.
40k
subscribers has been joined!
Earn $10 in reward now!