How to Set up a WooCommerce Quantity Based Pricing
Last updated: September 01, 2023
For eCommerce store owners, offering discounts is an important promotional approach. Quantity-based pricing and discounts are frequent in successful eCommerce sites because they offer a number of advantages. This method can be used if you need to sell inventory quickly or clear out the current stock of a seasonal product. It will also assist you in increasing the average order value of your store and implementing a strong wholesale selling strategy.
This article will show you How to Set up a WooCommerce Quantity Based Pricing to upgrade your online store.
Benefits of WooCommerce quantity based pricing
WooCommerce comes with tools to assist you set up sale prices for your products by default. However, this is pretty straightforward and leaves little room for improvisation or experimentation. However, with the help of a powerful dynamic pricing plugin, you'll be able to create a variety of discount rules that will aid you in achieving various business objectives. Listed below are a handful of them.
Boost your revenue: Discounts on your online store will, of course, result in an increase in revenue due to higher sales volume. Many stores flock to discount deals when they need an immediate income boost. With the help of a dynamic pricing module, however, you will be able to set up store-wide discounts based on factors that will help you achieve your business objectives.

Increase the average order value: One of the key measures that will give you insight into your store's performance is average order value. You may increase the average order value of your store by configuring cart discounts on your store.

Pricing that is tailored to you: You are focused on a customized pricing strategy on your store when you offer personalized pricing for customers or customer groups. This will go a long way toward enhancing consumer satisfaction and simplifying pricing administration, particularly for wholesalers. The majority of WooCommerce dynamic pricing plugins allow you to create personalized pricing based on user roles in WordPress.

Increase the number of sales of specific products: You might desire to enhance the sales of a low-performing product in your store from time to time. Dynamic pricing plugins allow you to set discount conditions for certain products, allowing you to offer them at a cheaper cost without sacrificing profitability.
How to Set up a WooCommerce Quantity Based Pricing
Step 1: Plugin installation
From your WooCommerce account, download the WooCommerce quantity discounts.zip file.
Go to Plugins > Add New in the Admin Panel and Upload Plugin with the file you downloaded after purchasing.
Install the extension and activate it.
Step 2: Set up quantity based pricing for each case
1. Discounts for specific products
You may need to consider several configurations when setting up a discount deal for a product. Offering a set price or a percentage reduction may not be sufficient in the long run. As a result, setting up a quantity-based discount for a product that is underperforming or whose stock has to be cleared could be a terrific solution.
Go to the plugin settings page for the ELEX WooCommerce Dynamic Pricing and Discounts plugin.
Create a new rule by going to Product rules.
Give your rule a name and specify the conditions. You can specify the product for which you wish to provide a discount and the amount of the product that must be purchased to apply the discount. Finally, you have the option of specifying the discount amount or percentage.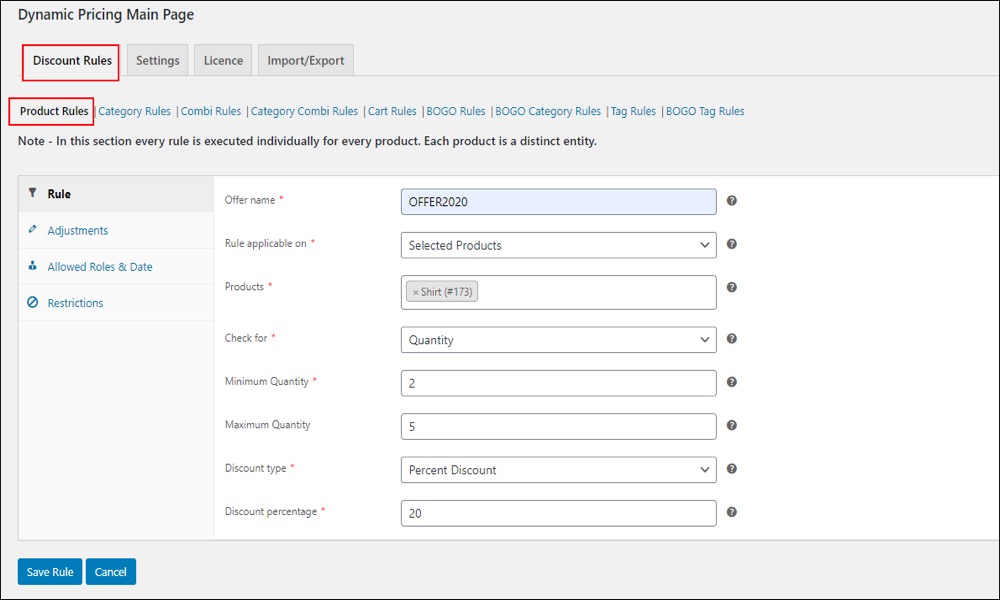 When a buyer adds a quantity of this product to their cart that is between 5 and 25, they will receive a 20% discount.
2. Discounts for specific categories
You will want to set up a discount rule for an entire category rather than a single product in many circumstances. This is especially important for apparel retailers who organize their products by season.
Let's look at how to set up a quantity-based discount for an entire category.
I got the ELEX WooCommerce Dynamic Pricing and Discounts plugin's settings page. Go to the section on category rules. Add a name to the offer, as well as a minimum and maximum amount of products to buy and a discount percentage.
In this case, we've put up a 30% discount for customers who buy between 10 and 50 products from the 'Summer Collection' category.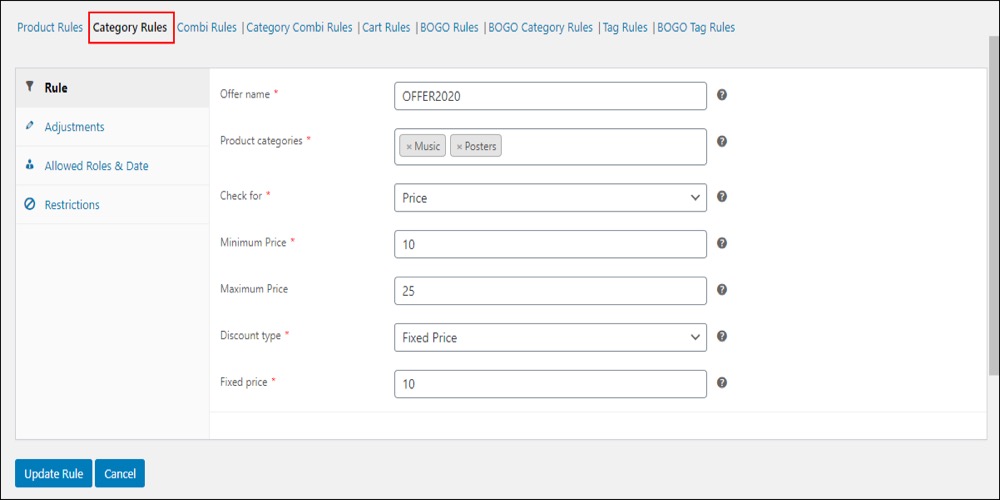 A discount will now be applied if a consumer purchases more than 10 products from that category.
As you can see, once the conditions are met, the discount will be applied instantly. Also, if a product from a different category is in the cart, the discount will not be applied to that item.
3. Combinational discount rules
Creating discount rules based on two separate categories is another highly intriguing dynamic pricing and discount method. When you can exploit the popularity of one category to promote sales for another, this may be extremely beneficial. Consider the scenario described above: your 'Summer Collection' is still in stock, but your 'Fall Collection' is already attracting customers. In this case, you might provide a discount for the Summer Collection if a certain number of products from the Winter Collection are purchased.
When you wish to increase sales of related products, you can also employ combinational discounts. If you sell running shoes, for example, you might wish to give a discount on running accessories that are related to the purchase of the shoes.
Let's look at how to give your WooCommerce store a quantity-based, combinational discount. Consider how quickly you'd like to move things from the 'Summer collection' category. In this case, you can use your fall collection to establish a combinational rule. To receive a discount, purchase one item from the Fall Collection and two items from the Summer Collection.
What is the best way to do this? You can retrieve Category Combi rules by going to the plugin settings page, as shown in other examples. You can indicate both the categories you wish to combine as well as a discount % in this section.
In this example, the quantity for the Fall Collection will be 1 and the quantity for the Winter Collection will be 2.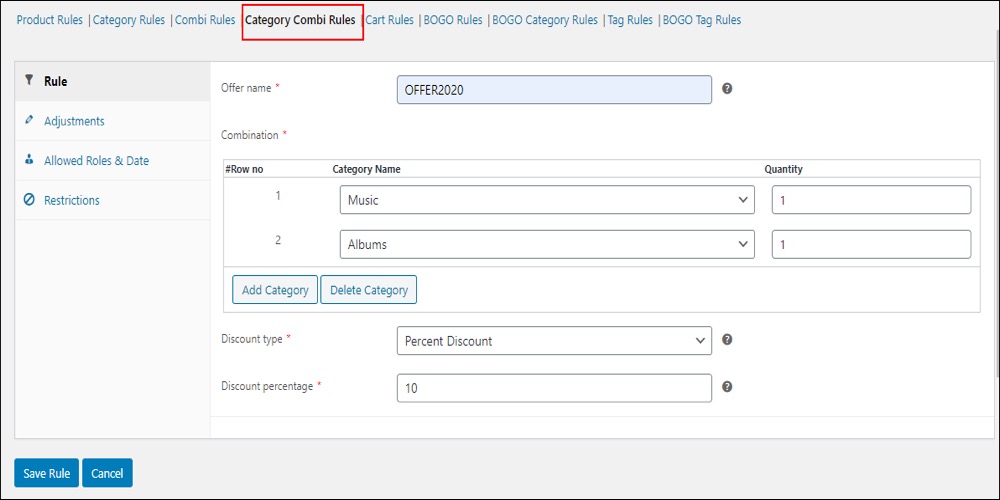 When a buyer purchases two items from the Summer Collection and one from the Fall Collection, they will receive a 40% discount.
4. Discounts based on cart items
What if you are not concentrating on any specific products or categories? You aim to increase your overall sales or average order value. The solution will be a quantity-based discount configured simply on the cart items. Create cart-based discounts that are limited to purchases of a certain quantity using this method.
For example, you might wish to give a 25% discount to any purchases that include three to ten different goods in the cart. You may easily set this up with the plugin mentioned above.
Simply go to the plugin's settings and select Cart rules.
Give the rule a name and define the minimum and the maximum number of products in the cart to receive the discount. Also, indicate the discount amount, which in this case is $25.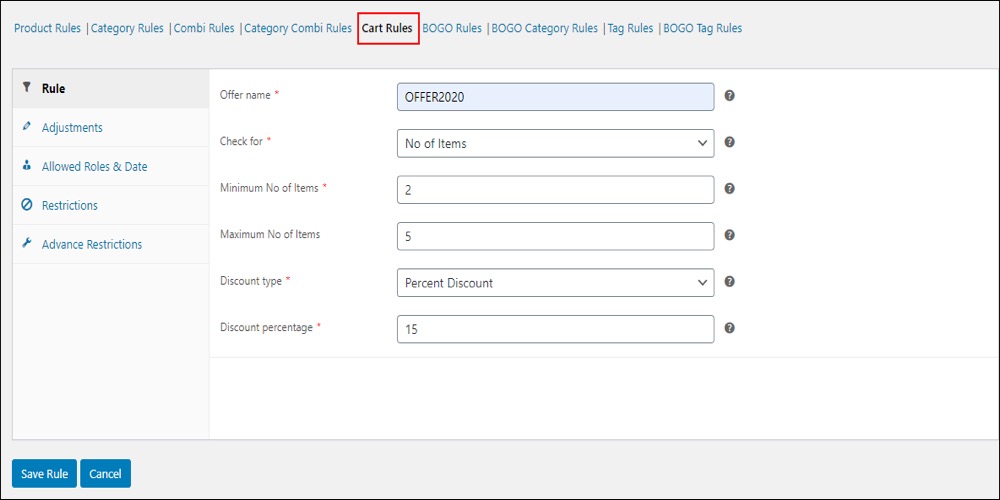 You can now see that when a consumer adds more than three things to their cart, the 25% discount is applied regardless of the products or categories.
5. User role-based discounts
You can also provide discounts and special prices to a subset of your clients. Role-based pricing and discounts are a great way to reward your most loyal consumers. Any of the discounts you create with this plugin, for example, might be limited to specific user roles. If you wish to limit the above cart rule to a specific user role, for example, you can do so under the authorized rules section. Simply go to the Allowed rules & Date section and limit the rule to the user roles you wish.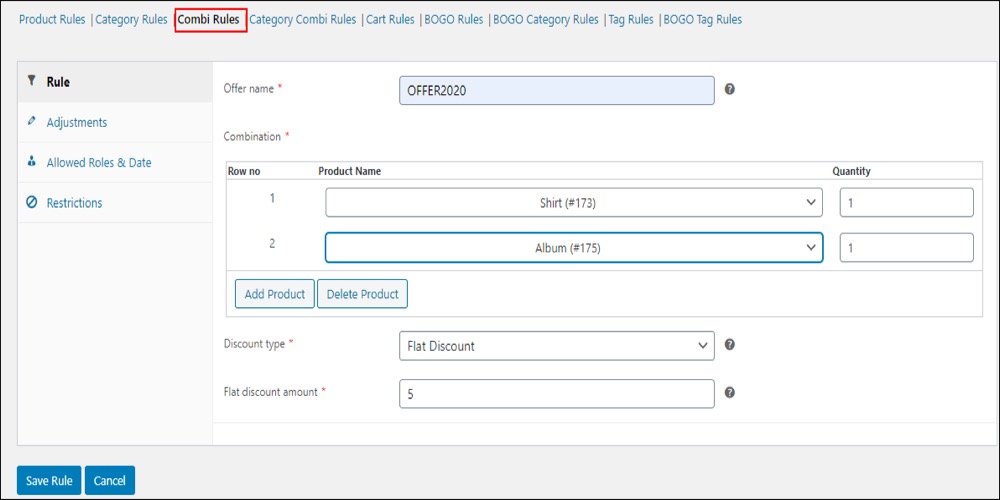 Only customers who have this user role will be eligible for this discount when they shop at your store.
You can also use role-based pricing plugins to define individual product pricing for a WooCommerce wholesale store.
If you don't want to pay for the premium version, the ELEX WooCommerce Dynamic Pricing plugin's free version is also highly useful. You'll be able to create quantity-based dynamic pricing and discounts, as well as specify the product and category-level restrictions. Also, take a look at some of the other popular WooCommerce dynamic pricing and discounts plugins, which will assist you in creating a variety of price policies.
4 Best WooCommerce plugins for setting up Quantity Based Pricing
1. WooCommerce Discount Rules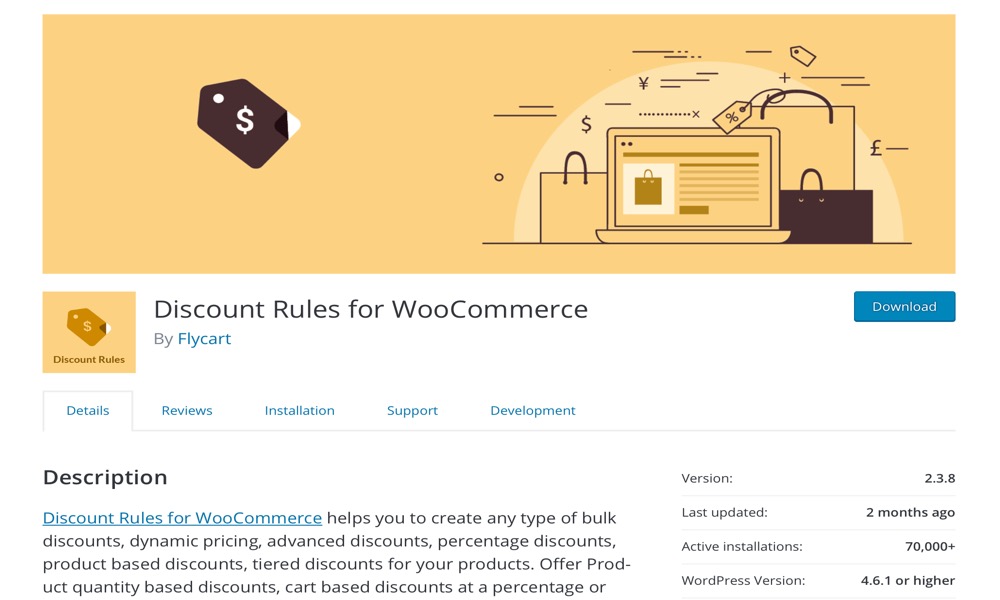 You can use WooCommerce Discount Rules to generate over 100 different types of dynamic pricing and discount rules in your business. It could be a cart discount, a dynamic pricing discount, a bulk discount, a percentage discount, a user role-based discount, a total order discount, tiered pricing discounts, or a purchase history-based discount. It also allows you to establish discounts based on the overall amount of your order, the delivery location, and other factors. With over 50000 active installs as of January 2021, it is one of the most popular and well-performing discount plugins for WooCommerce.
Features:
On the product pages, there is a discount table.
Discount table layout with advanced formatting
When a discount is applied, an alert appears in the cart. It can be customized.
Discount rules do not apply to products that are on sale.
For discounted items, look for the SALE badge.
Rating: 4.3/5
2. WooCommerce Bulk Discount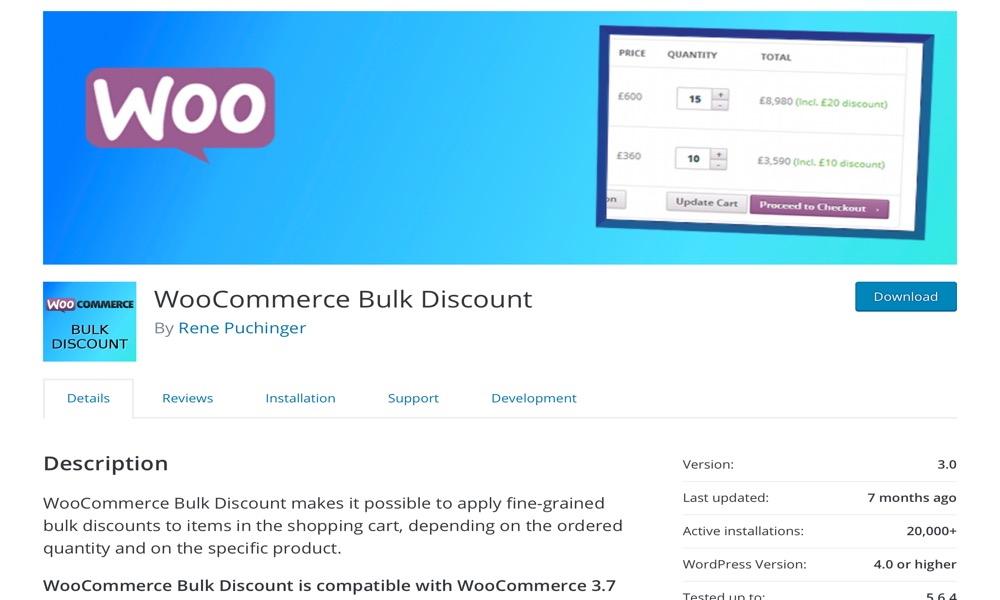 WooCommerce Bulk Discount app allows you to set WooCommerce discounts based on how many goods a user intends to buy. You can set a percentage discount that can be used if consumer orders more than, say, ten things. Based on the order quantity, you can optionally deduct a certain monetary value from the total. Despite the fact that the plugin has good functionality, it was last updated two years ago. This plugin is a nice place to start if you give simple bulk discounts in your WooCommerce store.
Features:
It is possible to set the discount per product separately and global discount for all products.
When it comes to bulk discounts, it's best to treat product variations independently or by shared quantities when discounting.
On the Checkout page and Order Details page, the discount is visible.
WooCommerce order e-mails and invoices also show the discount.
Depending on the settings, a bulk discount can or cannot be applied if a coupon code is used.
Rating: 4.1/5
3. WooCommerce Advanced Discounts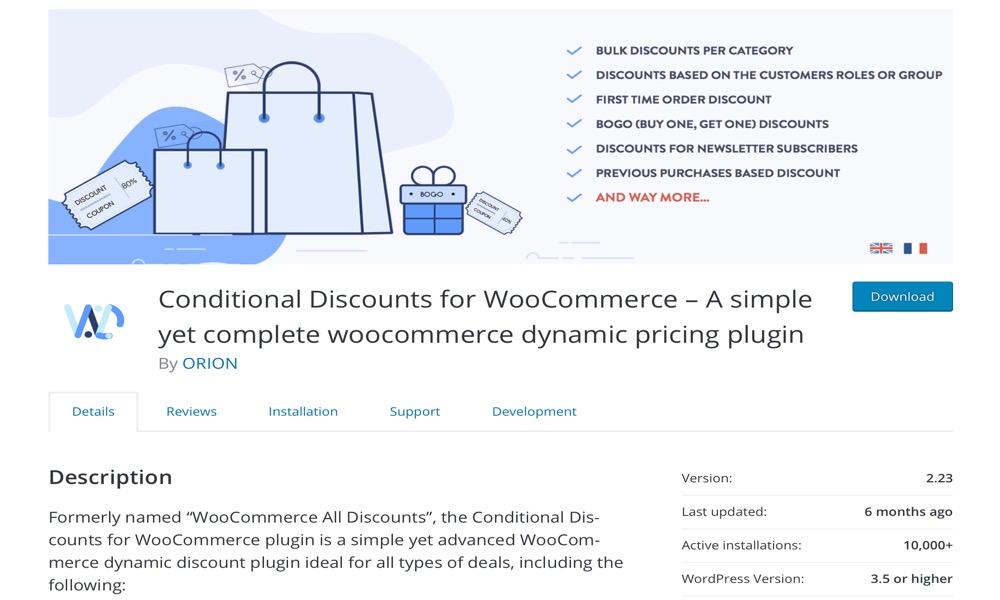 Another easy plugin that allows you to offer percentage-based and fixed-rate discounts in your store. WooCommerce Advanced Discounts plugin is available in both free and premium editions. You can assign discounts based on the customer role, the subtotal, the number of goods in the cart, and the products in the free version. In your eCommerce business, you can also define bulk discount policies.
Features:
You can configure newsletter-based discounts (discounts for subscribers), quantity-based discounts, and group price options with the pro version.
The premium edition also allows you to provide discounts to users who are members of your online social networks, live in a specific country, or use a specific payment method.
The pro edition of the plugin allows you to easily arrange BOGO deals, affiliate discounts, and shipping-based discounts.
Rating: 3.8/5
4. WooCommerce Dynamic Pricing and Discounts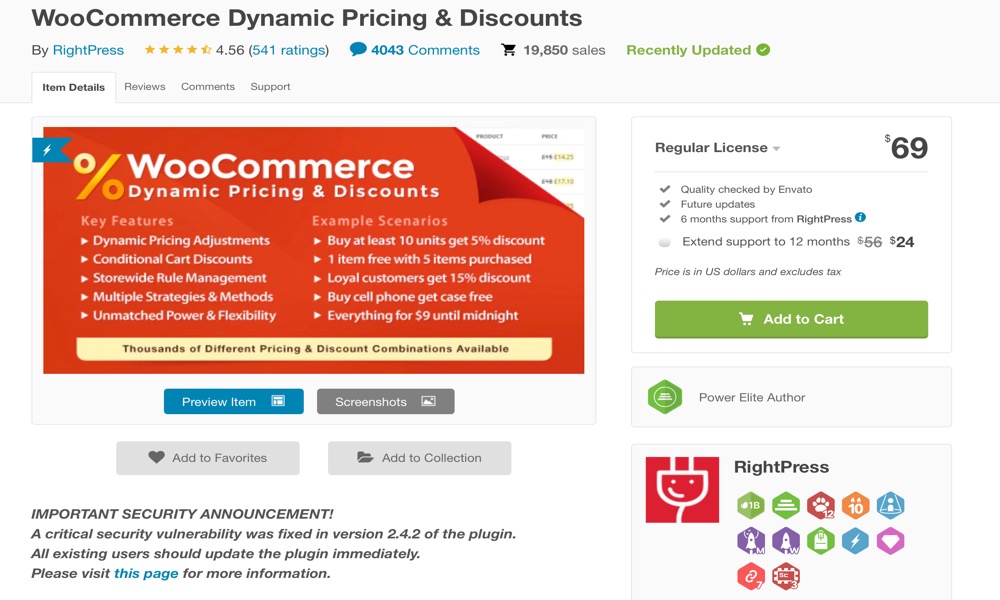 WooCommerce Dynamic Pricing and Discounts is a flexible pricing and promotion tool for online merchants. Its strength comes in its adaptability; it may combine a variety of price methods and circumstances to meet almost any pricing strategy. Use it for regular sales, promotions, special offers, bulk pricing, tiered pricing, bundle pricing, deals of the day, flash sales, wholesale pricing, member pricing, individual pricing, loyalty programs, behavioral pricing, location-based pricing, and more. You can also charge extra fees or adjust pricing on a conditional basis.
Features:
Create any pricing discount rule and use the rule editor to decide which rules are applied first.
Any discount strategy can be supplied at any time of pricing methods and conditions.
Percentage discounts, set discounts, and price discounts are all supported.
Rating: 4.2/5
Conclusion
One of the most effective strategies to increase conversation in your online store is to provide discounts. Create sales promotions such as dynamic pricing, bulk discounts, buy one get one free offer, and quantity-based discounts to attract more customers and inspire them to spend more.
I hope you will find this article about How to Set up a WooCommerce Quantity Based Pricing fundamental!
---
Roger has over 4 years of experience in SEO. While in college, he started learning about SEO and showed a passion for the field. Right after graduation, he embarked on SEO projects and achieved great success. After years of working, he has learned deeply about SEO. Currently, he is the SEO team leader at avada.io