How to Set Up Order Tracking in WooCommerce
How to Set Up Order Tracking in WooCommerce
Effective order tracking is critical in most organizations' operations since it directly affects the level of customer satisfaction with the business. Customers expect the whole order management process to run smoothly, from the time they check out to the time a delivery arrives at their doorstep. Therefore, WooCommerce store owners should think about setting order tracking for their store so that every order delivery to the client can be closely followed.
If you're still confused about how to set up order tracking in WooCommerce, this post is for you. In this tutorial, we'll provide details on why you need to set up order tracking, how to set up order tracking in WooCommerce as well as the best plugins for setting up WooCommerce order tracking.
Now, let's get started!
The benefits of setting up order tracking in WooCommerce
Order tracking begins when a customer places an order and ends when the product or service is delivered. Order tracking has a direct influence on how customers perceive a company or brand. Customers always want a consistent experience. For example, customers expect to receive email-like updates while on the go.
Here are the reasons that you should set up order tracking for your Woocommercer store:
Confirm purchase orders are received
Know the location of the order
Keep track of multiple delivery dates
Ensuring the purchase order is delivered on time
Simplify the purchase order reporting
How to set up order tracking in WooCommerce
You should keep in mind that each stage of the order tracking journey provides a chance to deliver an outstanding client experience while increasing retention and revenue. This procedure is simple to carry out if you follow the procedures below.
Step 1: Installation
So first, we offer you the Shipment Tracking extension. The Shipment Tracking extension makes it simple for consumers to track orders by including a link in emails and purchase pages. This extension allows you to include order tracking information in the emails sent to customers.
In the first step, you need to download the extension from your WooCommerce dashboard
Next, go to Plugins > Add New > Upload and choose the ZIP file you just downloaded.
Then, click Install Now > Activate > Configure
Step 2: Adding tracking information to orders
Shipment tracking information is included in the "completed order" email when an order is marked as done.
To add tracking information to the order, go to WooCommerce > Orders. Then, on the edit order screen, a new write panel for order details will appear.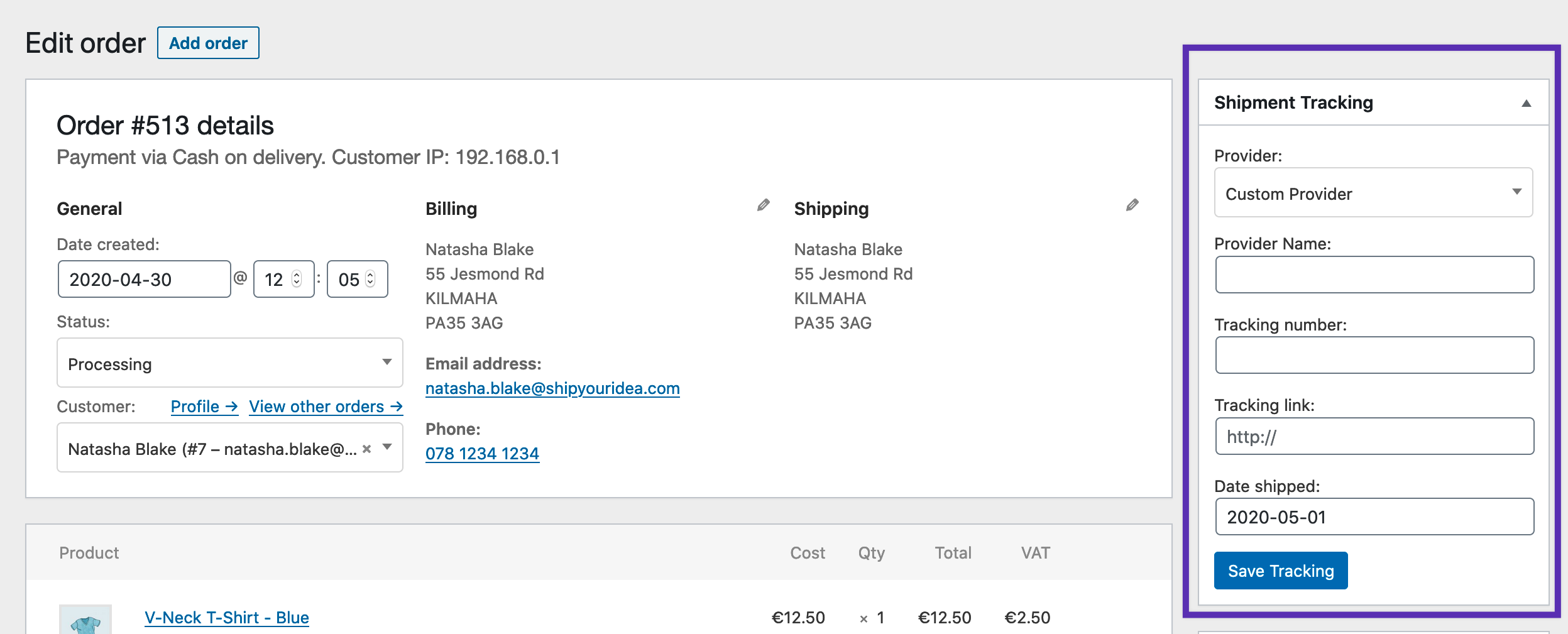 You need to fill out the following information:
Provider: This should be the shipping company you use. If your provider isn't listed, select Custom Provider.
Tracking number: Include the tracking number supplied by the provider.
Tracking link: In the tracking number box, if you choose the custom option, you must provide the complete URL of the company's tracking website (if applicable).
Date shipped: Choose an optional shipment date, which indicates when the product was shipped.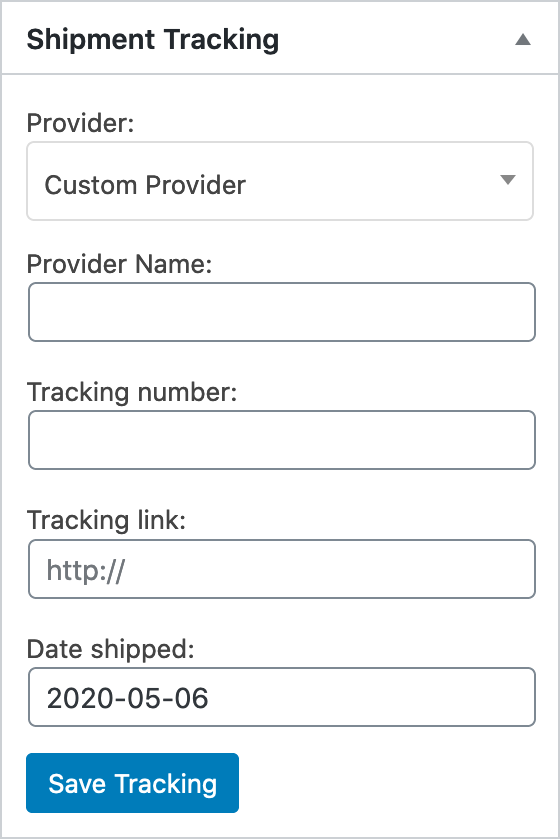 Step 3: Save the order tracking
After filling in all the necessary order tracking information, click Save Tracking. When the order is marked as Complete, the customer will get the Completed Order email, which includes the shipping tracking code.
Note: Issues to avoid in the order tracking
Many WooCommerce stores owners discover that there are several issues that arise when doing business, such as late or incorrect delivery. These things can damage a company's reputation and make consumers dissatisfied. To reduce delivery delays and mistakes, as well as higher selling prices, avoid the following mistakes.
Errors in data input and human mistakes (such as misrepresenting orders) can both result in performance problems.
Manual procedure errors
During the ordering process, inventory information is not updated in a timely manner, resulting in excess or shortage.
Top 4 plugins for setting up order tracking in WooCommerce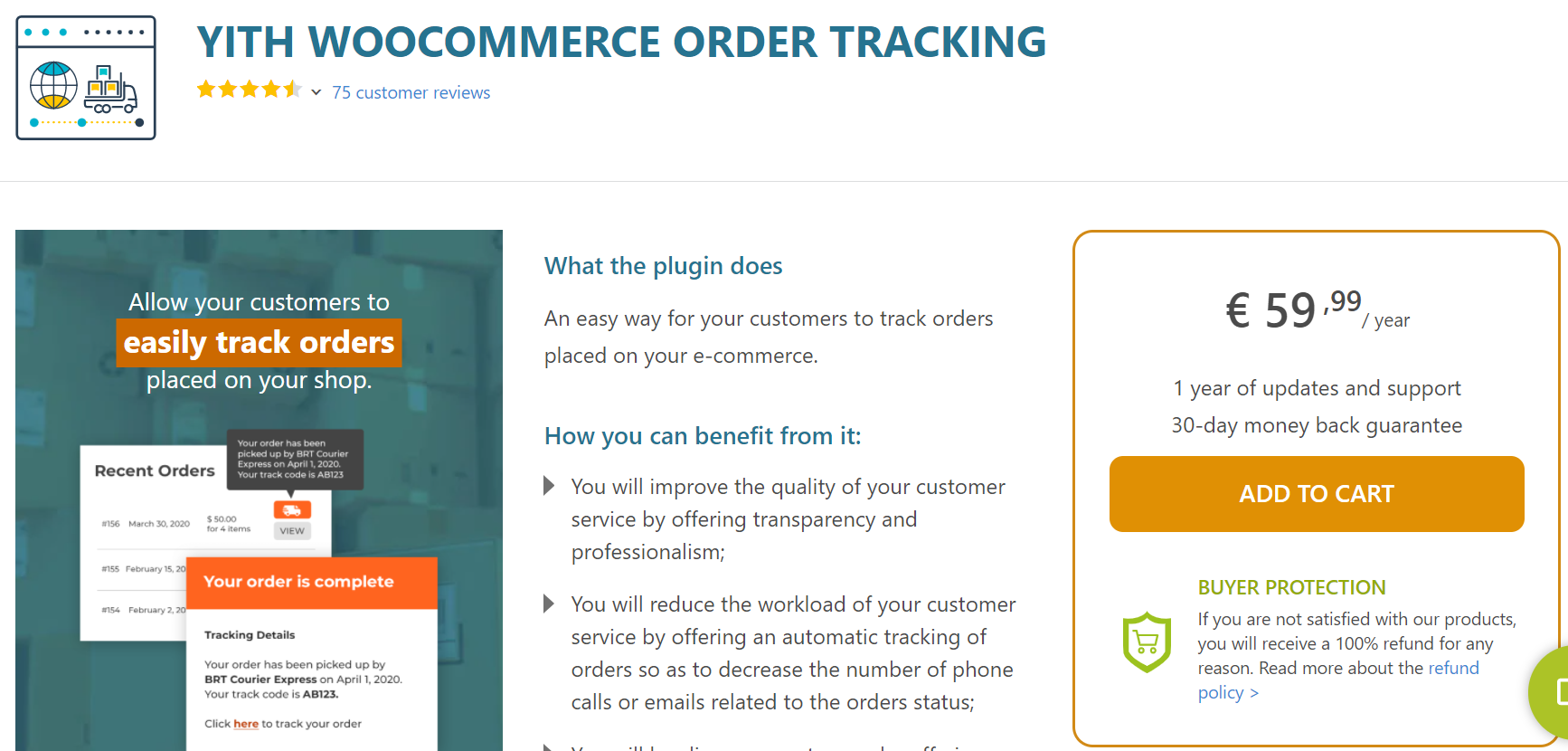 YITH Woocommerce Order Tracking is a WordPress plugin that allows you to simply manage shipping information for your orders and notifies your customers when their purchases ship. This order tracking plugin integrates with over 90 shipping providers. Moreover, the shipping provider will provide you a tracking ID, which you can then add to the order in the WooCommerce menu.
Highlight features:
Automatically arrange the default carrier for every shipping
Customize the message that shows to your users in the details of your WooCommerce orders.
Fill in the carrier's information, the tracking code, and the shipment date with placeholders.
Manage shipping tracking information simply from the relevant page in the WooCommerce back end.
Select the place on the order detail page where the tracking message will be shown to your WooCommerce users.
Price: $59.99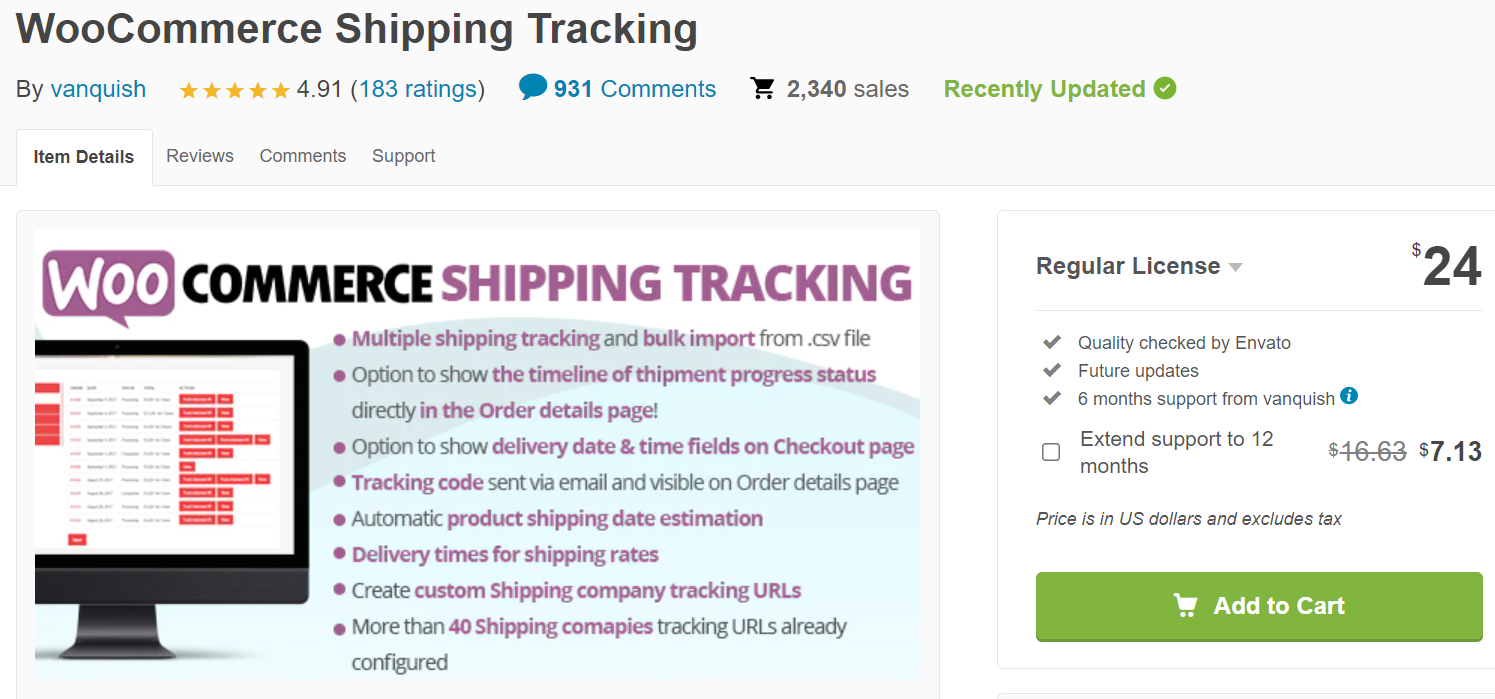 The WooCommerce Shipping Tracking plugin will display tracking info directly in the WooCommerce notification emails and in the Order details page. Optionally, you can also display the timeline of shipment progress. You can choose your carriers and make calculations for estimated shipping costs and delivery dates with this plugin. Moreover, when a buyer completes their purchase, it displays when it departed, arrived, and was processed at each location.
Highlight features:
Allow associating multiple tracking codes and shipping companies per each order
Allow customizing templates directly from the admin menu
Tracking info on all outgoing WooCommerce emails and Order details page
Assign an estimated delivery time for each shipping method
Allow you to import order tracking info from the .csv file
Price: $24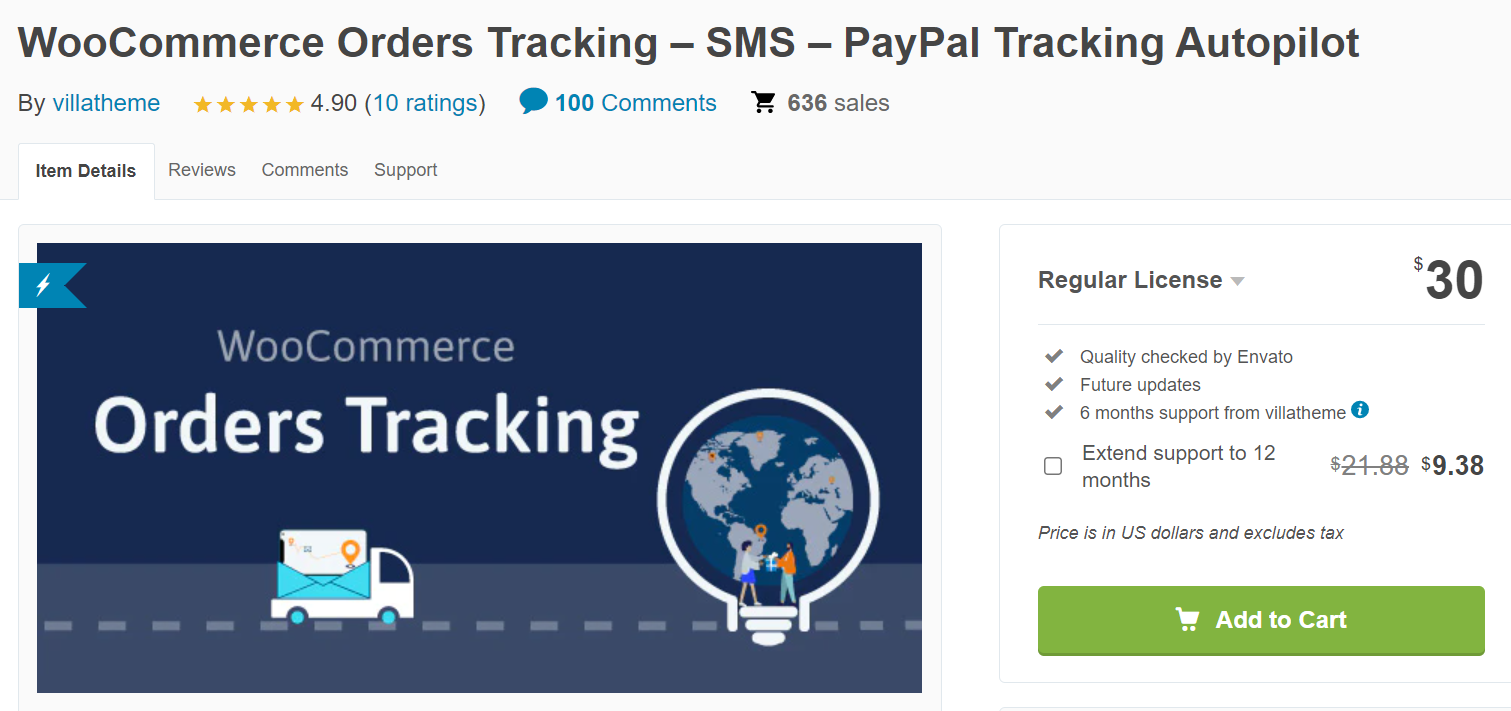 WooCommerce Orders Tracking connects with a variety of shipping companies, allowing you to create tracking links and share them with consumers automatically. This plugin enables shop owners to add, edit, import, and export tracking numbers and URLs for each item and order. Besides, this plugin can send order tracking emails and SMS, as well as add order tracking information and tracking URLs to PayPal transactions.
Highlight features:
Allow creating custom shipping carriers by entering the carrier name and tracking URL
Including shortcodes for displaying the customer's name, order ID, and shipping details in emails
Allow informing the customer by SMS with a tracking URL
Automatically add carrier names and tracking codes to your Paypal
Allow selecting orders and export them as a CSV file and add tracking codes to the exported file
Price: $30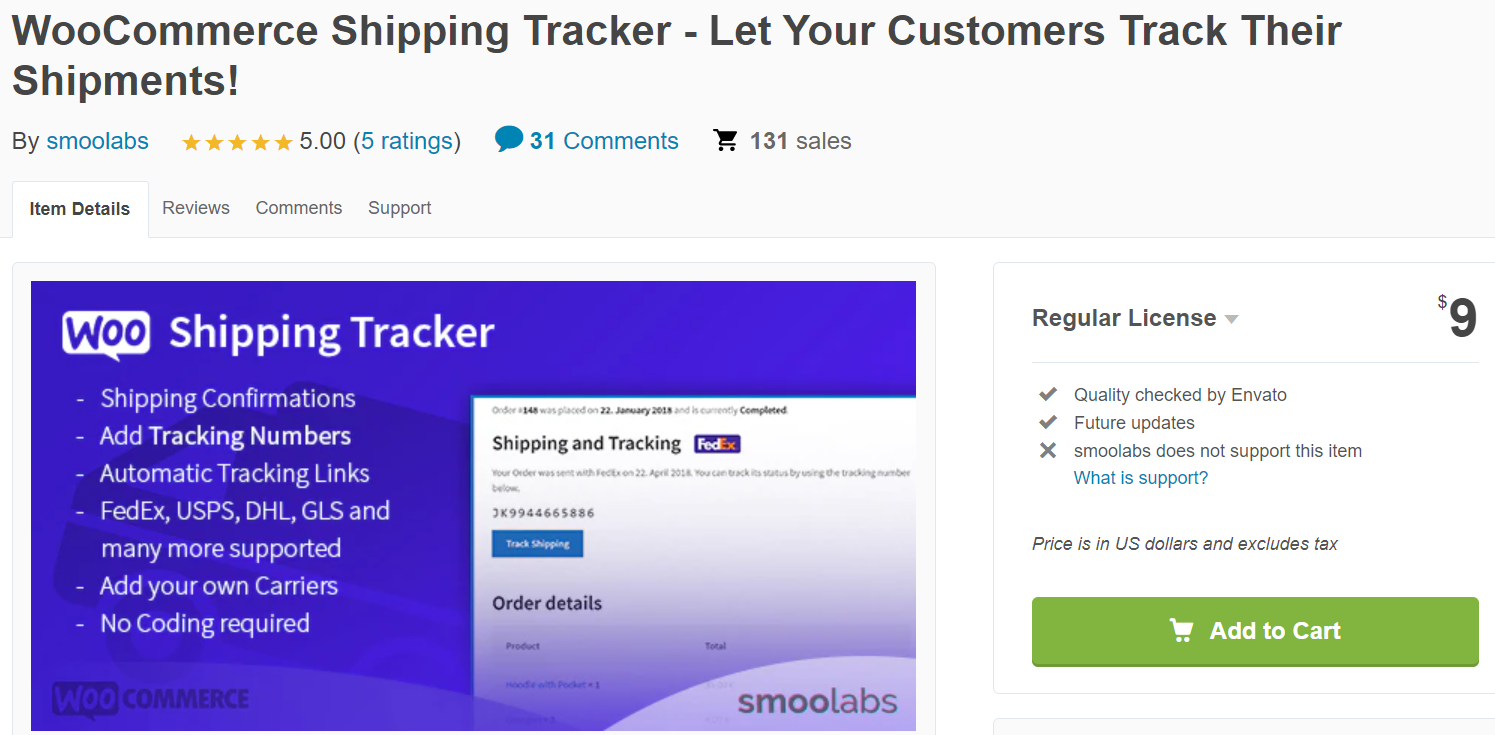 WooCommerce Shipping Tracker provides a straightforward method for adding order tracking to your store that will only take a few minutes to configure. You can edit an order by selecting the shipment carrier and adding the tracking ID. This plugin will then automatically fetch the tracking URLs from the carrier's page for you. Customers can see their purchases on your site and see which carrier is sending their order as well as a button that takes them right to the tracking page.
Highlight features:
Automatic generation of tracking links
Provide many carriers supported such as FedEx, USPS, DHL, GLS, and more
Allow you to add your own carrier
No coding required
Provide clean and beautiful email notifications
Price: $9
Final words
To sum up, order tracking is seen as a key factor in online business, since it improves accuracy and brand trust, eventually leading to consumer happiness. If you don't want to lose your competitive advantage, you should consider using technological solutions in order tracking, such as developing an order tracking system.
As you can see from this post, it is not a tough task to do with the assistance of the plugins we have recommended. After reading our post, we hope you have a clear idea about how to set up order tracking in WooCommerce.
If you're still concern about something, leave a comment below!
New Posts
Subscribe
Stay in the know
Get special offers on the latest news from AVADA.
40k
subscribers has been joined!
Earn $10 in reward now!