How to set up Local Delivery in WooCommerce
How to set up Local Delivery in WooCommerce
COVID-19 has had significant implications, not only in terms of health, but also economically. Due to the fact that the majority of people are remaining at home and engaging in social media, businesses that rely on in-person transactions are shifting online.
When it comes to switching a business to online, small business owners should consider an aspect of crisis management: offering curbside pickup and delivery to clients. No-contact collection, store pick-up, click and collect, and local delivery are frequently the only ways for many enterprises to operate when a local government decides to restrict or even lock down an area. By allowing shoppers to place orders online and receive their things with little interaction, you may contribute to community safety while maintaining revenue.
This post will discuss How to set up Local Delivery in WooCommerce in the easiest way possible.
Why should you Set up Local Delivery?
While the obvious motive is to boost earnings, some businesses rely more heavily on this choice than others. Consider groceries, flowers, and skip-hire that are obtained locally. This is frequently a lifeline for many firms as a result of local and national limitations or closures.
Of course, it's worth noting that you'd need to manage this aspect using vetted and insured delivery personnel. Nonetheless, various possibilities exist, ranging from engaging same-day delivery professionals to directly employing workers. However, let us not forget that numerous firms may be located in the same building or across the street.
Offering same-day delivery can be a significant competitive advantage. It can foster loyalty by cultivating positive consumer interactions. Of course, balancing economic gain and costs can be quite difficult, but having sound processes in place and limiting the number of deliveries per hour and available days is a critical first step.
How to set up Local Delivery in WooCommerce
Step 1: Set up a Local Shipping Zone
The first step is to select a WooCommerce shipping zone that corresponds to your local location. This will restrict a shopper from placing an order for pickup or delivery which is not inside your service region.
Navigate to WooCommerce > Settings > Shipping in your WordPress dashboard.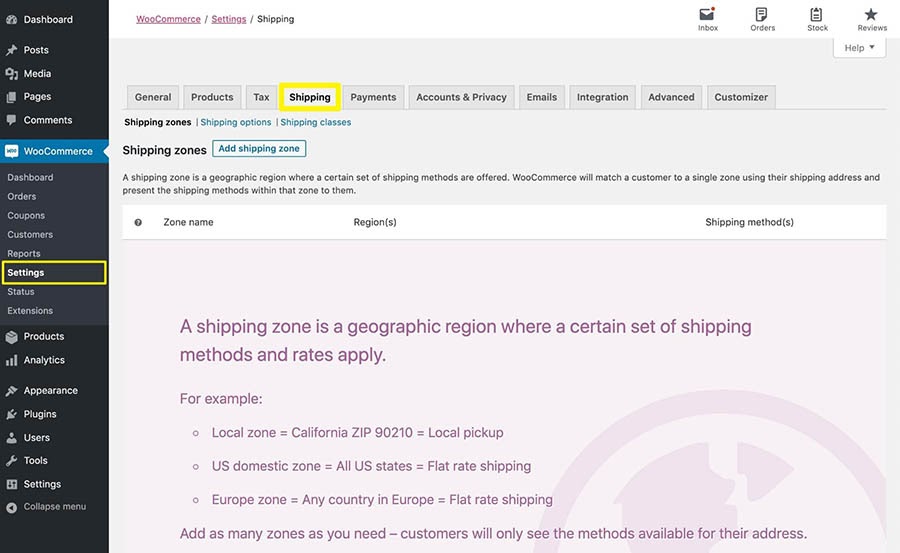 Then, you should select Add Shipping Zone.

Give the shipping zone a descriptive name and then choose your region.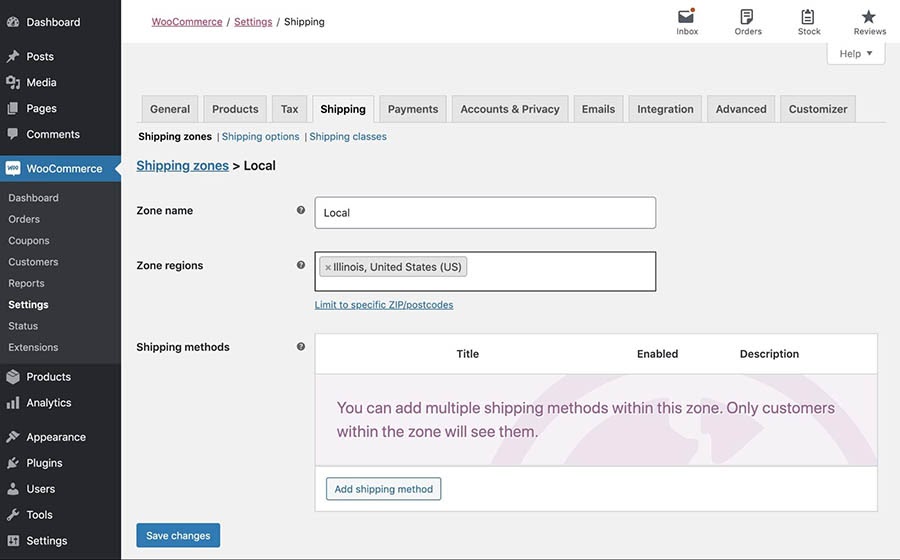 Adding a new WooCommerce shipping zone by specifying local ZIP codes. When finished, remember to save your modifications.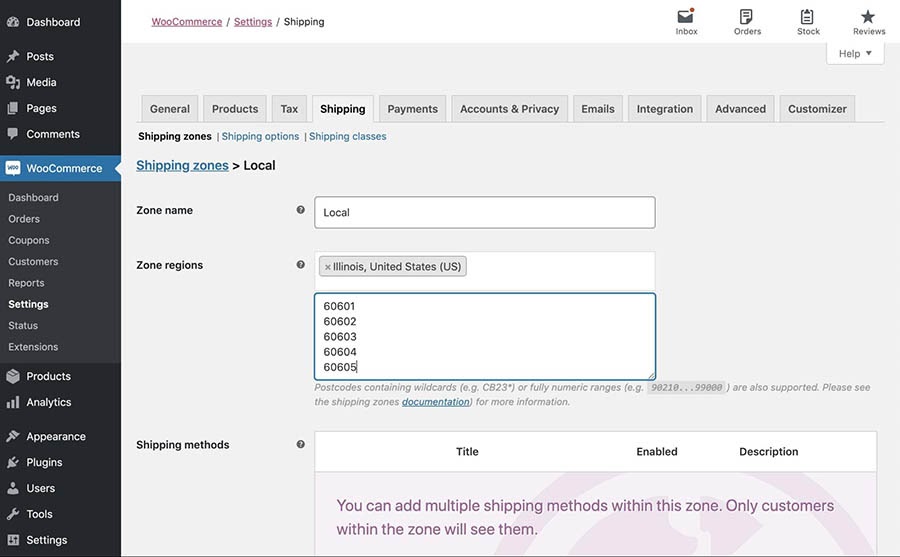 Step 2: Enable Local Pickup
Following that, while staying on the page for your local shipping zone, pick Add shipping method.

WooCommerce comes pre-configured with a local pickup option. Click on the Add shipping method button after selecting it from the drop-down menu.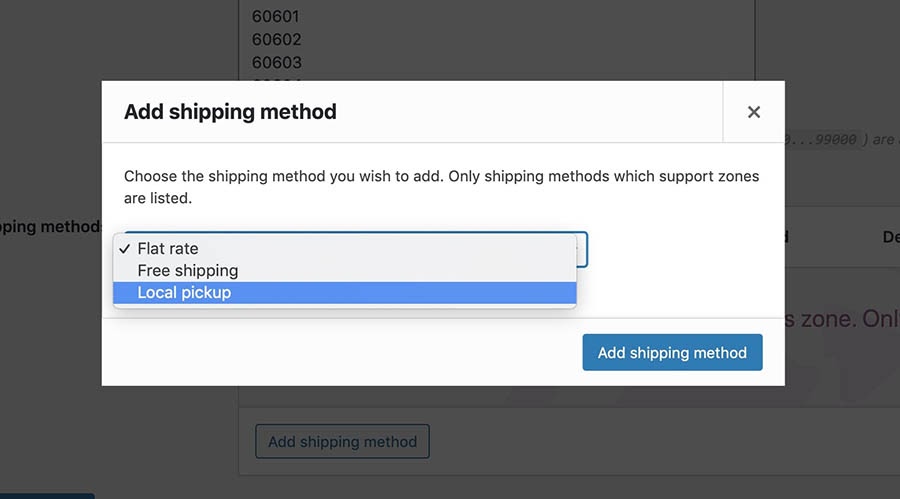 That is all that is required to enable curbside pickup for your neighborhood business.
Step 3: Include a Flat Rate Shipping Option
WooCommerce no longer supports Local Delivery. Nonetheless, you can configure one without using an additional plugin.
Add a second shipping option to your local shipping zone page and select Flat rate. Then, for that shipping method, choose the Edit option.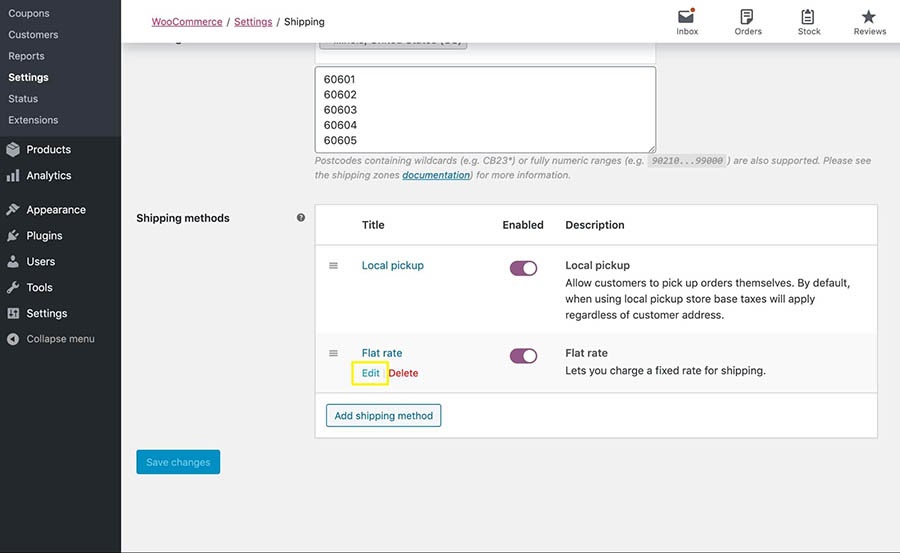 Change the name to "Local Delivery" in the Method title (or however you want to present this option to your customers at checkout). You can optionally include a flat-rate shipping fee if desired.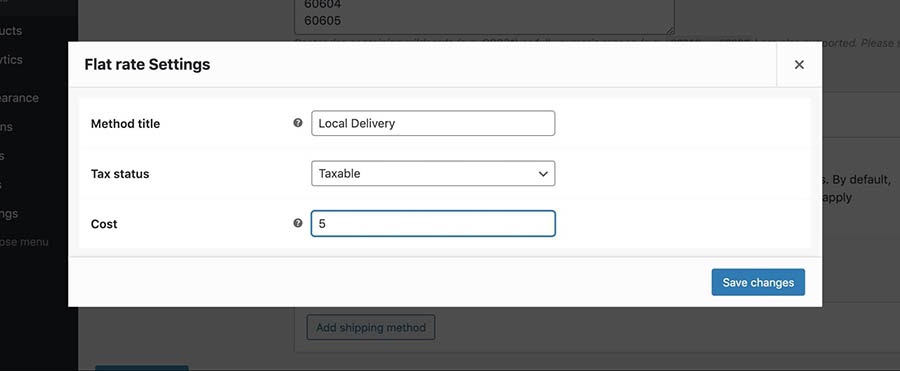 Finally, click Save changes. Local pickup and delivery choices will now appear on your site's checkout page, where clients can choose their preferred method.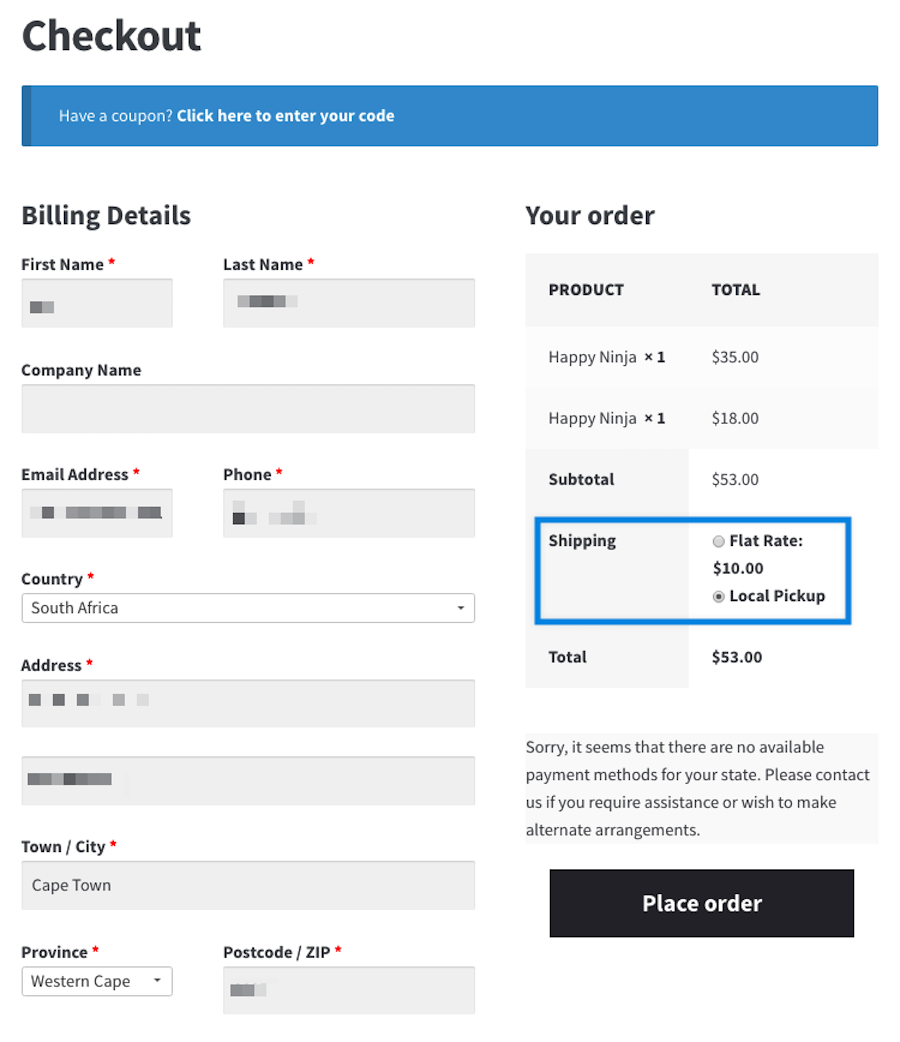 That is all that is required to enable Local Pickup/Delivery for your neighborhood business. However, if you want to have more functionality, move to the next step of this instruction.
Step 4: Manage Request with Plugin
While you may potentially set up curbside pickup and delivery for your business using only WooCommerce, its core features do not include order management or scheduling capabilities. This could cause complications if numerous clients place pickup and delivery requests concurrently.
One solution to this problem is to allow clients to schedule pickups and deliveries. WooCommerce Order Delivery Date Plugin can assist your business with this.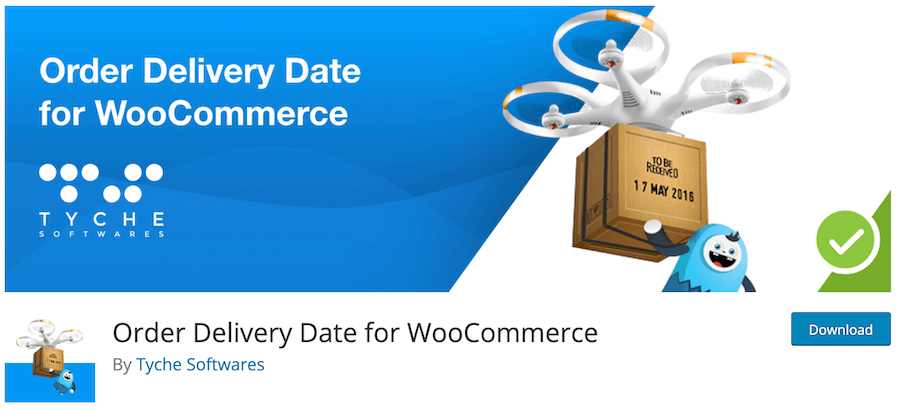 Navigate to Order Delivery Date in your WordPress dashboard after installing and activating this plugin.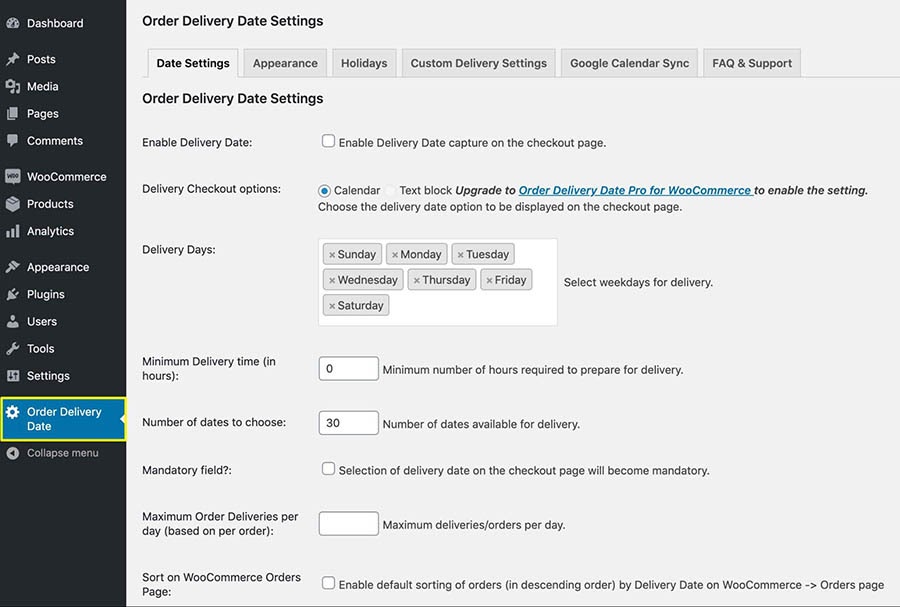 Then make the following configuration:
On the checkout page, click the box next to Enable delivery date option.
Select the days on which you are available for delivery.
Establish the minimum amount of time required to prepare an order for delivery.
Indicate the number of days in advance that clients can schedule an order.
When the checkbox next to Selecting a delivery date on the checkout page is selected, this field becomes obligatory.
Set the daily limit for the number of deliveries you can handle.
On the WooCommerce > Orders page, select the box next to Enable default order sorting (in descending order) by Delivery Date.
Additionally, you may desire to change the Appearance and Holidays settings. When finished, remember to save your modifications. When customers reach your checkout page, they will now be required to select a delivery date.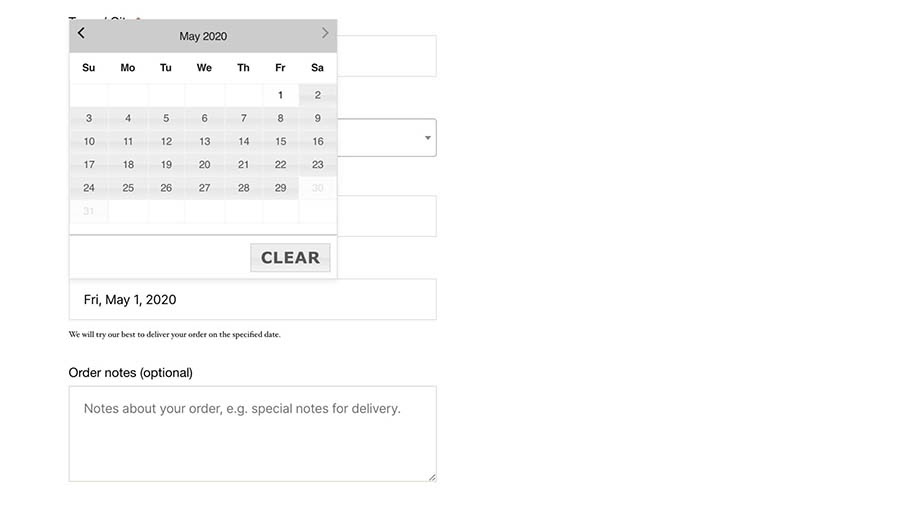 Once the maximum number of orders is achieved for a certain day, that date becomes unavailable in the calendar. This will keep you from receiving more orders than you are physically capable of handling at any given time. You can view the customer's specified delivery/pickup date for each order on your WooCommerce Orders page.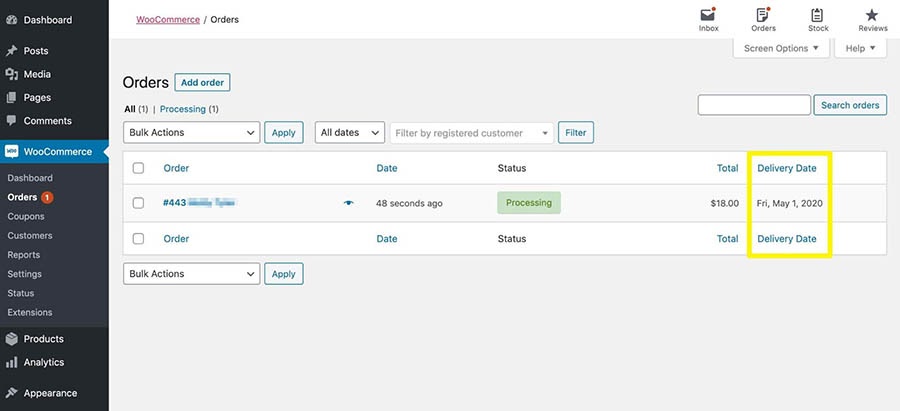 3 best Plugins to set up Local Delivery in WooCommerce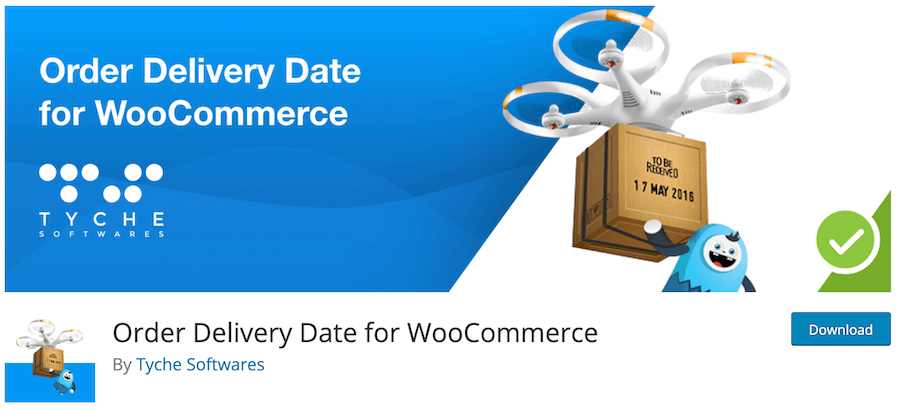 The post-purchase experience is just as critical as the acquisition process. That is why the Order Delivery Date plugin was created. It enables you to enhance customer service by delivering orders according to the client's specified delivery date and time. The plugin enables your customers to select a delivery date and time during the checkout and cart process. This significantly lowers cart abandonment, making it a highly effective WooCommerce order time delivery management solution.
Key features:
Enable the consumer to select their preferred delivery date and time on the checkout page.
Disable weekdays when no products are delivered.
Set the minimum delivery time necessary in hours.
Make the delivery date and time fields on the checkout page required.
Indicate the estimated date of order delivery or pick-up.
Limit the daily quantity of deliveries/orders.
Price:
This plugin has a free version which is ready to download right away. However, if you wish to have more features, you can purchase the Pro version with the prices of:
Single store – $99.00
Five stores – $199.00
Unlimited stores – $249.00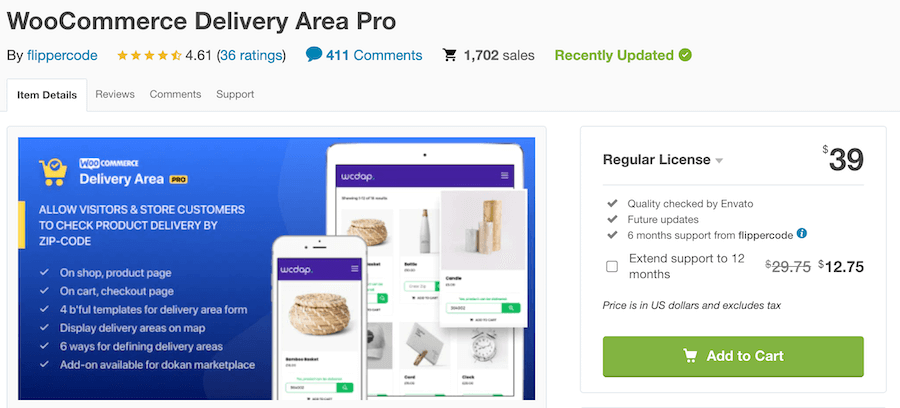 WooCommerce Delivery Area Pro is an incredible plugin. It's incredibly adaptable and enables you to specify precisely where each product is accessible for local delivery. Let us delve into the specifics.
With this local delivery plugin, you may specify a delivery area for an entire group, category of products, or individual products. The delivery area can be defined geographically, by continent or subcontinent, by country, by zip code, or by distance from the store. Alternatively, you can draw a shape on a Google Map embed to specify the precise location of your shipment. You have complete control over your delivery selections with all of these options. Orders for areas outside the authorized delivery zone can be easily disabled.
Key features:
Five methods for specifying the delivery location for your WooCommerce products via the backend.
Specify the delivery area directly using zip codes.
Possibility of associating specific delivery locations with specific products or with all products.
Possibility to include a zip code search box on product, shop, cart, and checkout pages.
Auto-suggestions are presented on the Google map for product availability to assist users in rapidly locating a location.
Price:
The plugin is available at the price of $39/year.

This plugin adds a new tab to the WooCommerce settings page for pickup locations, allowing you to add and edit a list. If you already have a prepared file containing the addresses, you may simply import them using CSV. Additionally, Local Pickup Plus gives you complete control over which products are accessible at which locations.
When editing a location, you have the option of specifying which products will be available. Alternatively, you can give particular pickup locations to your products throughout the editing process. Additionally, you can choose to make them unavailable for pickup. Additionally, there is a menu where you can specify pickup hours and designate particular days as holidays when package pickup is unavailable. Finally, you may configure email notifications to notify your warehouse or shop employees whenever a purchased item is tagged for pickup, allowing them to prepare it for the customer.
Key Features:
Create various pickup locations and allow the consumer to select one during the checkout process.
Determine whether each product can be picked up at a separate location or if each order is limited to a single pickup location.
Restrict which products are available at a place.
Fixed fees or discounts for package pickup.
Export and import CSV files containing pickup locations.
Define business days and hours to allow for or require pickup date selection.
Price:
The price of this plugin is $79/year.
Final thoughts
With so much uncertainty surrounding global localized lockdowns and quarantine regulations, delivery of products can occasionally be a challenge. Local pickup and delivery solutions enable your consumers to make purchases from you with little interaction. This could assist your firm in surviving the COVID-19 pandemic and its economic consequences, as well as serve as a helpful tactic for increasing client loyalty. Additionally, you may encourage consumers to place pre-orders and then fulfill them once the items are back in stock or pay a deposit to demonstrate commitment and secure the order.
New Posts
Subscribe
Stay in the know
Get special offers on the latest news from AVADA.
40k
subscribers has been joined!
Earn $10 in reward now!