How to Send a WooCommerce Invoice
How to Send a WooCommerce Invoice
WooCommerce is a well-known framework for online merchants to manage all aspects of online sales. In today's post, we'll go over all you need to know about the necessity of delivering invoices, as well as an in-depth guide to completing the process and the best 4 WooCommerce PDF Invoices plugins.
Why should you send invoices to customers?
Manually creating and producing invoices is both advantageous and required. You may save a lot of time by keeping this task up to date so you can focus on other things. Why do we always recommend that you produce and send invoices? The following are the reasons:
Enhance the purchasing experience of your customers.
Create a compelling brand identity for your company.
Save money and time by using this method.
Organize your invoices
Simplify the auditing procedure for tax returns.
How to send an invoice in WooCommerce?
Step 1: Install a WooCommerce invoice plugin
Go to your WordPress dashboard and install and activate the WooCommerce PDF Invoices and Packing Slips plugin to get started.
Go to WooCommerce > PDF Invoices to see the plugin's settings in your WordPress dashboard.
To begin, select Run The Setup Wizard from the menu bar.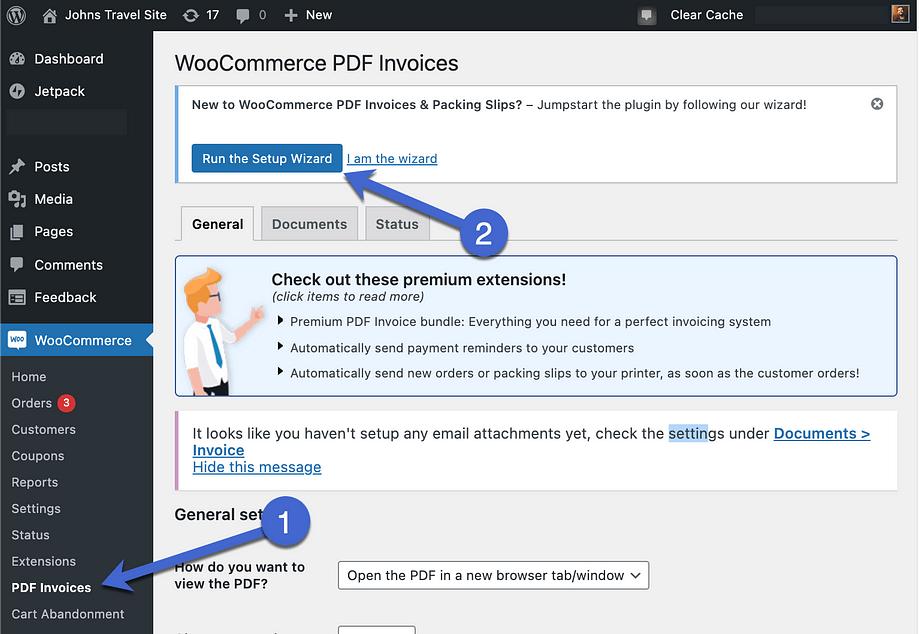 Step 2: Put information on the invoice
The setup wizard guides you through the most critical parameters for a regular WooCommerce invoice.
For example, the first step requires you to enter your shop's name and address. These data will appear on your invoice, thanks to the plugin.
Fill in the required information and then click Next.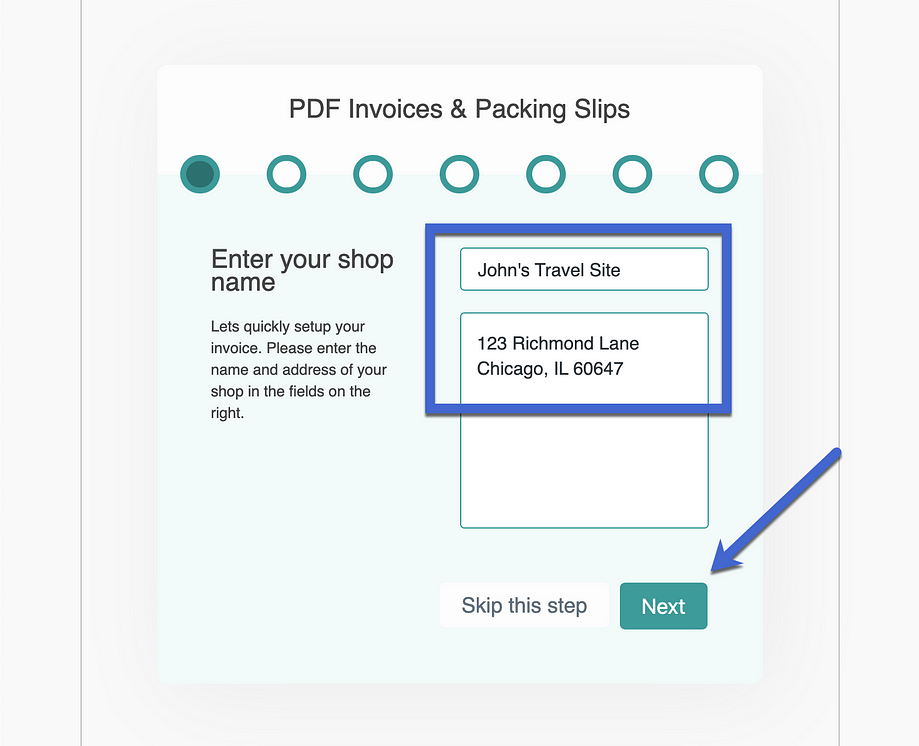 It's also crucial to include your business's logo on the invoice.
To upload a logo, continue to the next window and click the Set Image option.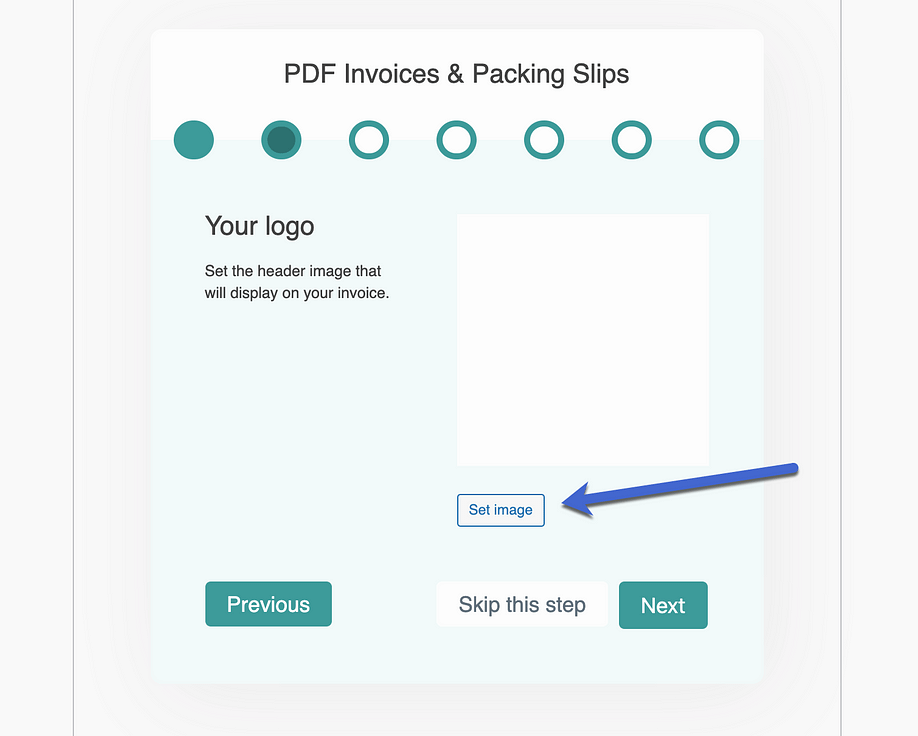 This logo is displayed as a preview on the screen, and it is also included in your PDF invoices by the plugin.
Next should be selected.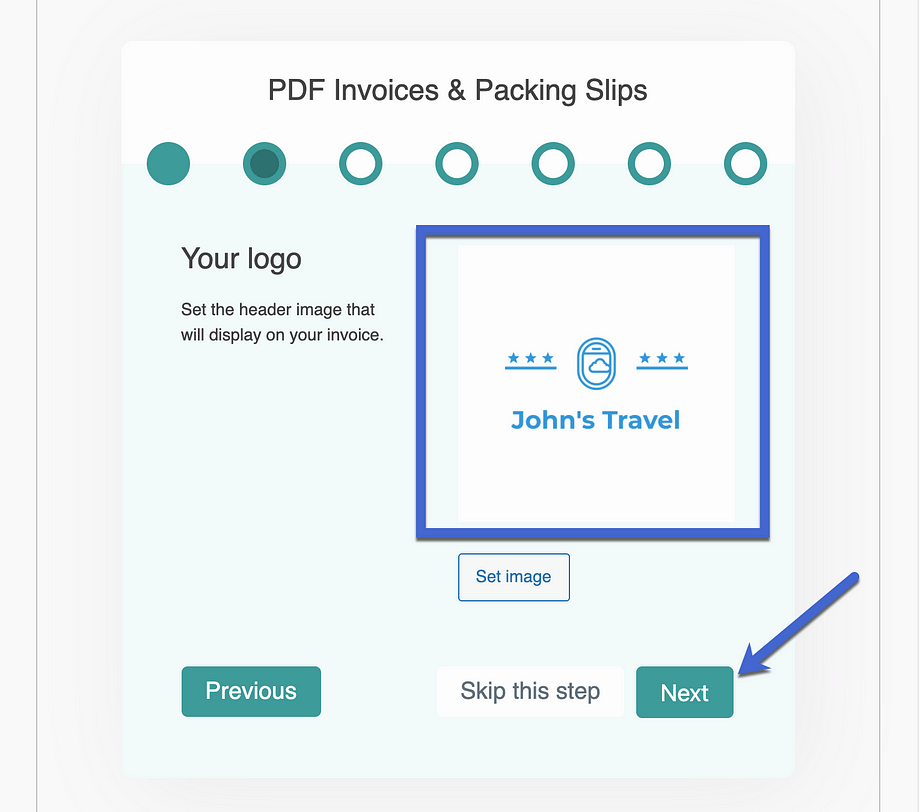 Step 3: Attach the invoice to specific eCommerce emails
WooCommerce currently sends out emails for important events like new orders, cancellations, and refunds.
However, none of them have a downloadable, PDF invoice connected to them, so now is the moment to identify which ones should.
Attaching the invoice to every email sent out for an order is a good idea. You can, however, choose to exclude the WooCommerce invoice from particular emails if necessary.
To continue, click Next.
*Note: The Customer Invoice / Order Details (Manual Email) option is one of the most critical to check, since it is one of the simplest ways to manually deliver your PDF invoices.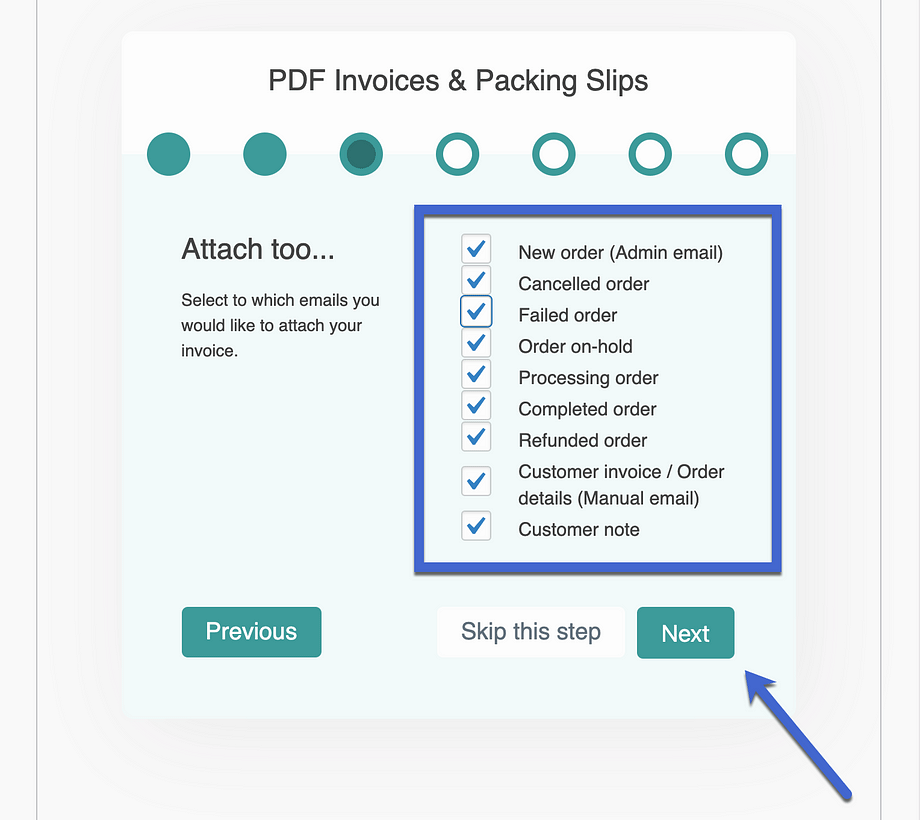 Step 4: Choose display options, the paper format, and to show action buttons on the invoice
The Display Options section contains a list of elements that you may add to your WooCommerce PDF invoices, such as contact information and billing information.
Unless you don't want the customer's phone number or email on the invoice, we recommend putting them all.
Next should be selected.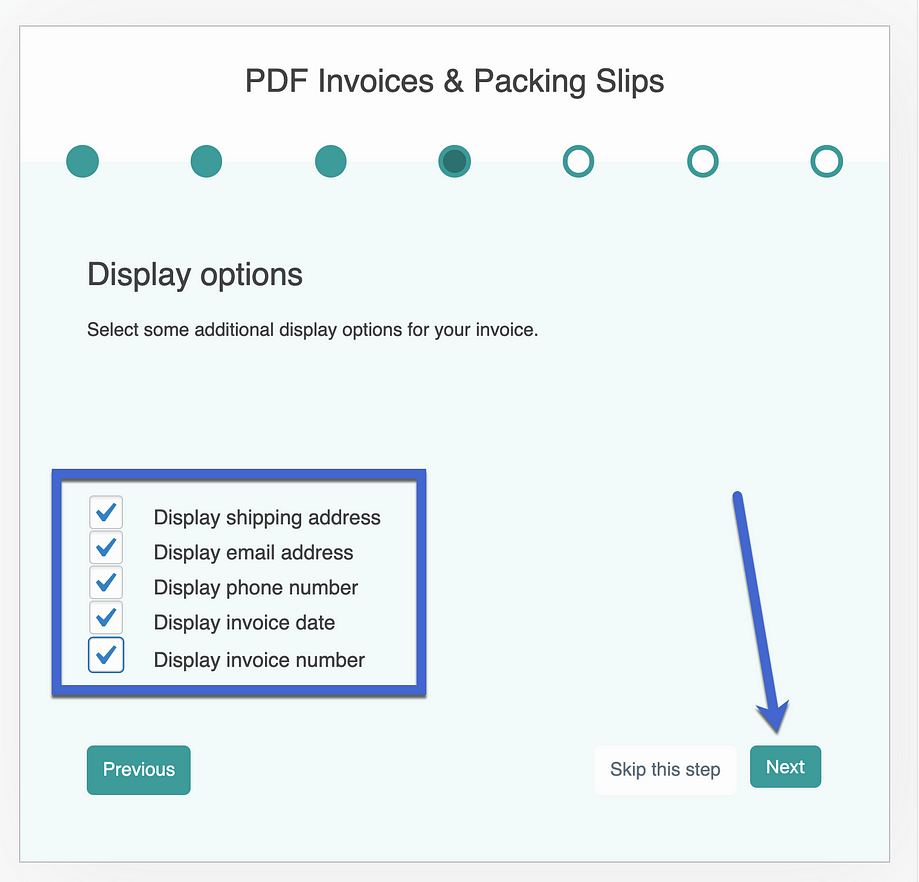 You may also choose the sort of paper format you want the invoice to be printed on. These determine how the invoice will be printed.
Select A4 or Letter as your format, then click Next.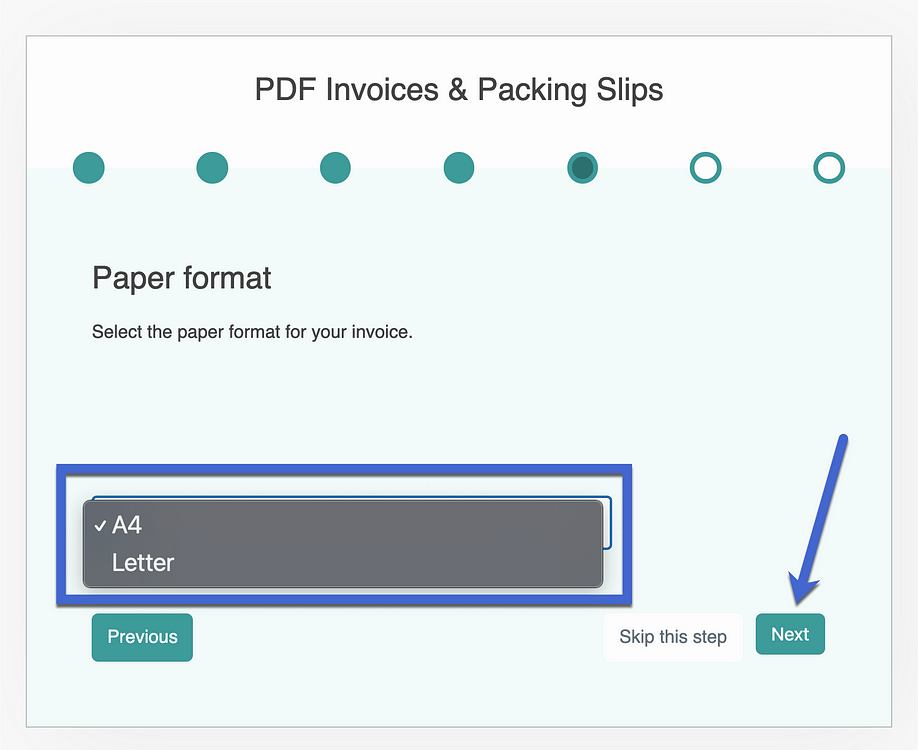 You may need to send an email manually on occasion. In B2B sales, this is a widespread technique. It's also fantastic if a client misplaced or didn't get an invoice the first time around.
Whatever the cause, you may use this area to trigger action buttons. When you activate action buttons, a new option appears in the WooCommerce order list that allows you to manually send an invoice to certain clients with a single click.
You should absolutely select this option if you anticipate you'll need to manually send invoices on a frequent basis.
Click the Next button after checking the Show action buttons box.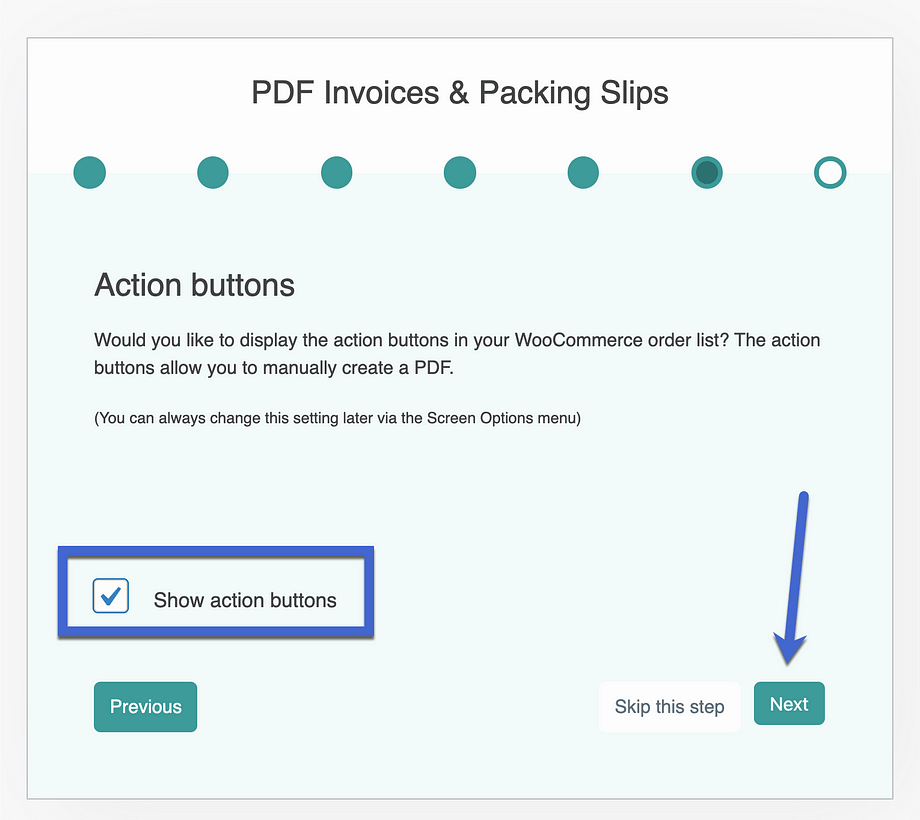 That's all the setup wizard has to offer. Most of your WooCommerce invoice settings are now complete.
To return to the dashboard, click the Finish button.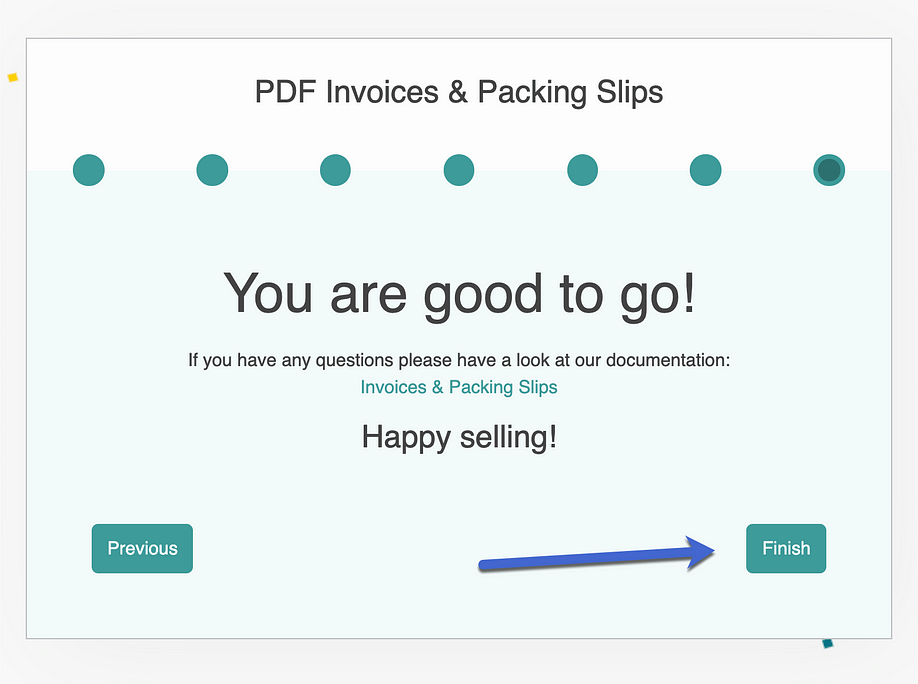 Step 5: Change the order actions to send email invoices
After you've set up your invoices, two things happen:
All automated order emails you specified in the setup process will automatically have PDF invoices attached by the plugin (such as order confirmations, cancellations, and shipment confirmations).
If you need to manually issue invoices, the plugin will offer new options to the WooCommerce order management interface.
So you may relax knowing that the PDF bills are linked to the automatic emails. You may also try certain orders to check whether they work.
You may, however, resend those emails and make changes to order actions with the PDF invoices included.
Open a WooCommerce order (go to WooCommerce > Orders and choose one order from the list).
Select the dropdown menu in the Order actions section.
The following actions are now available to you:
Customer's invoice/order information is emailed to them.
Send a new order notice again.
Permissions for downloading should be regenerated.
Using one of the first two choices, for example, is a wonderful method to resend or manually send an order email with an invoice.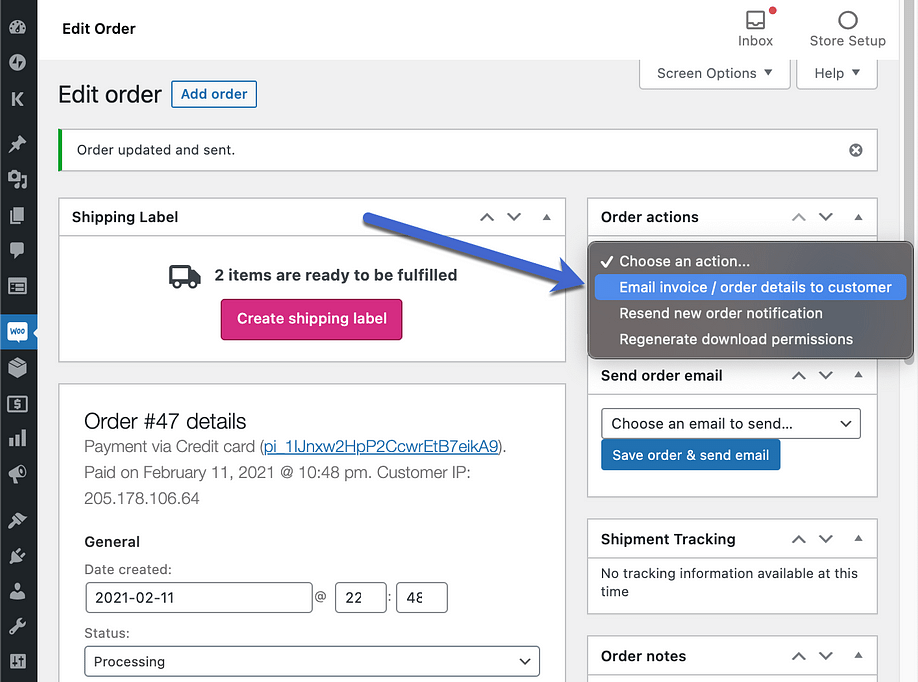 The WooCommerce email is delivered to the customer's mailbox as normal, but it also includes a PDF invoice.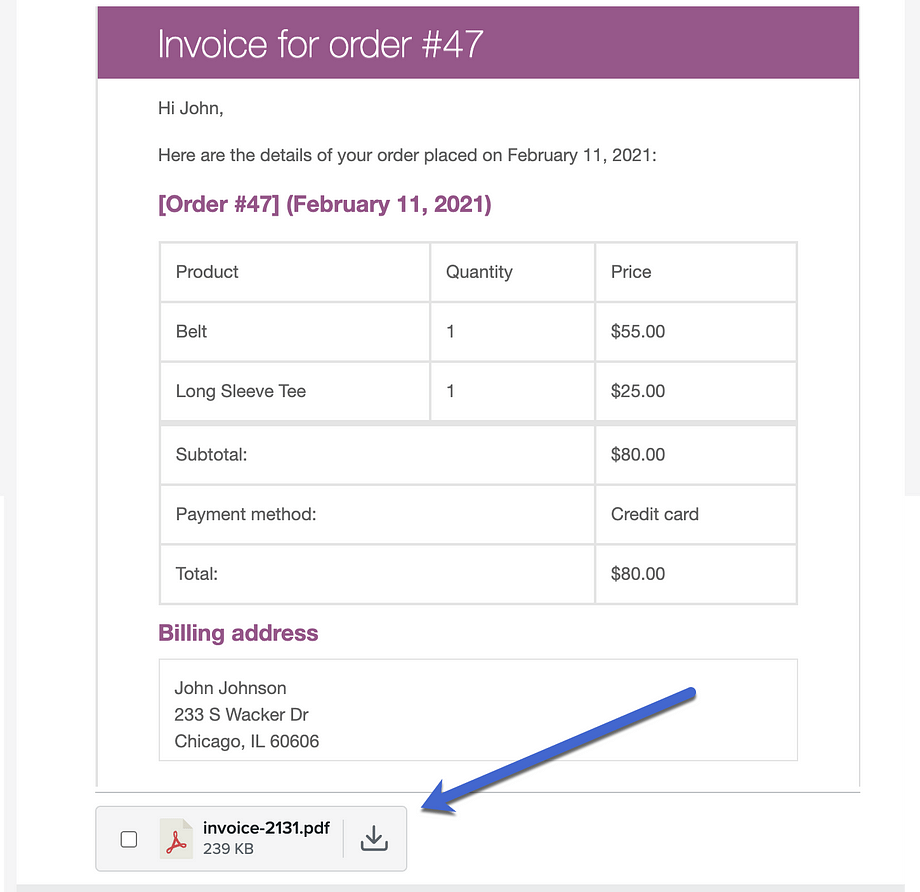 When a customer clicks on the invoice, it will either download to their computer or open in their browser.
As you can see, the plugin adds all of the setup wizard's features to the invoice automatically, including the Invoice Number, Invoice Date, Logo, and Company Address.
Later on, if you wish to alter the invoice template, you can do so.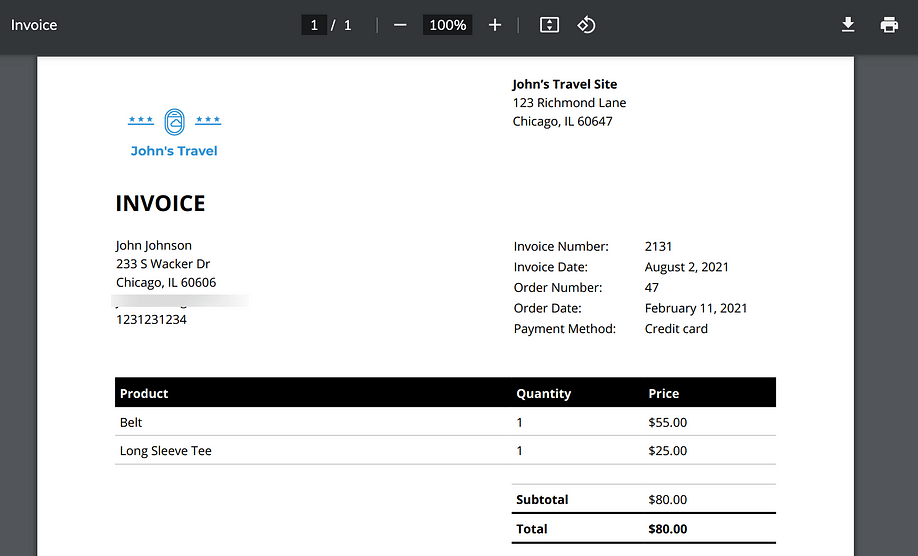 Step 6: Automatically or manually send out order emails with WooCommerce invoices
You may still utilize the Send order email module in addition to the order activities. This is identical to what WooCommerce already does, except that each email now includes an invoice attachment.
When you use the Send order email module to send a canceled order email, for example, if you enabled adding the invoice to order cancellation emails in the setup wizard, the plugin will automatically attach the PDF invoice: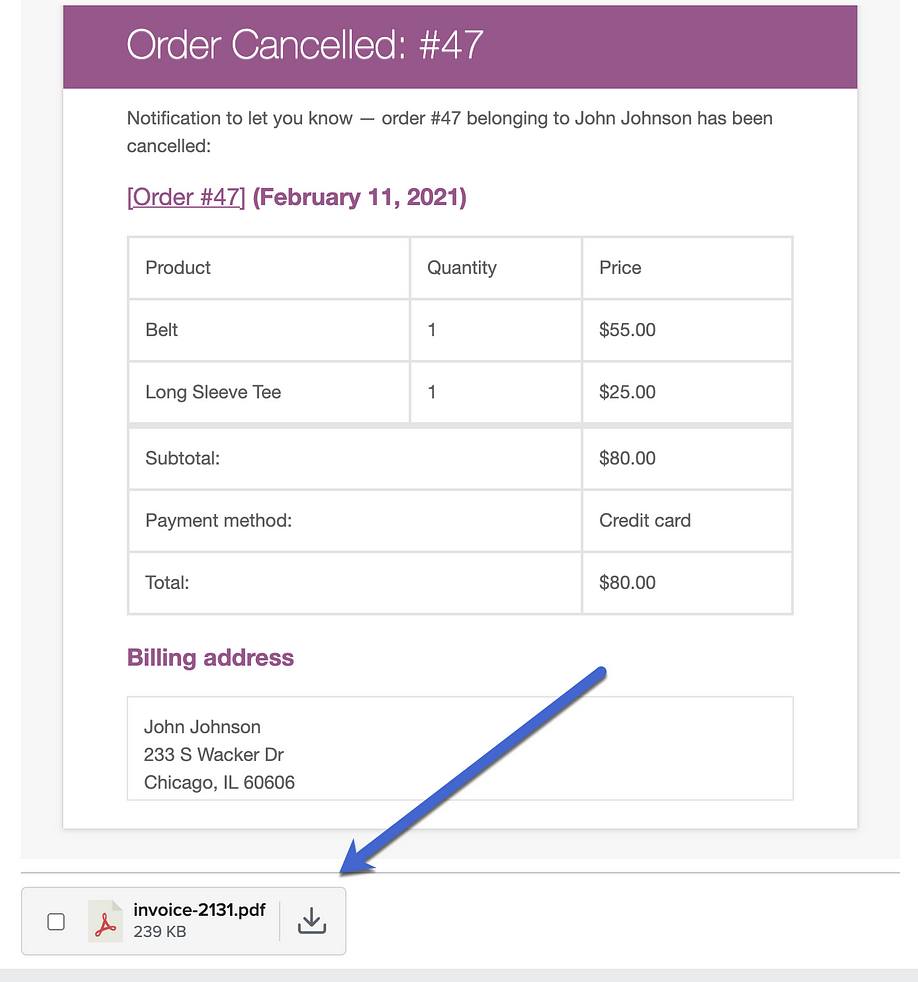 Step 7: Create a PDF WooCommerce invoice or packing slip for printing or downloading
Last but not least, you should look into printing or downloading a WooCommerce invoice to your PC. It's likely that you'll wish to save these invoices in your accounting software, or that you'll need to download and email them to customers.
You may also download and print PDF packing slips as an added bonus.
On any order page, look for the Create PDF module.
To get those papers, click the PDF Invoice or PDF Packing Slip buttons.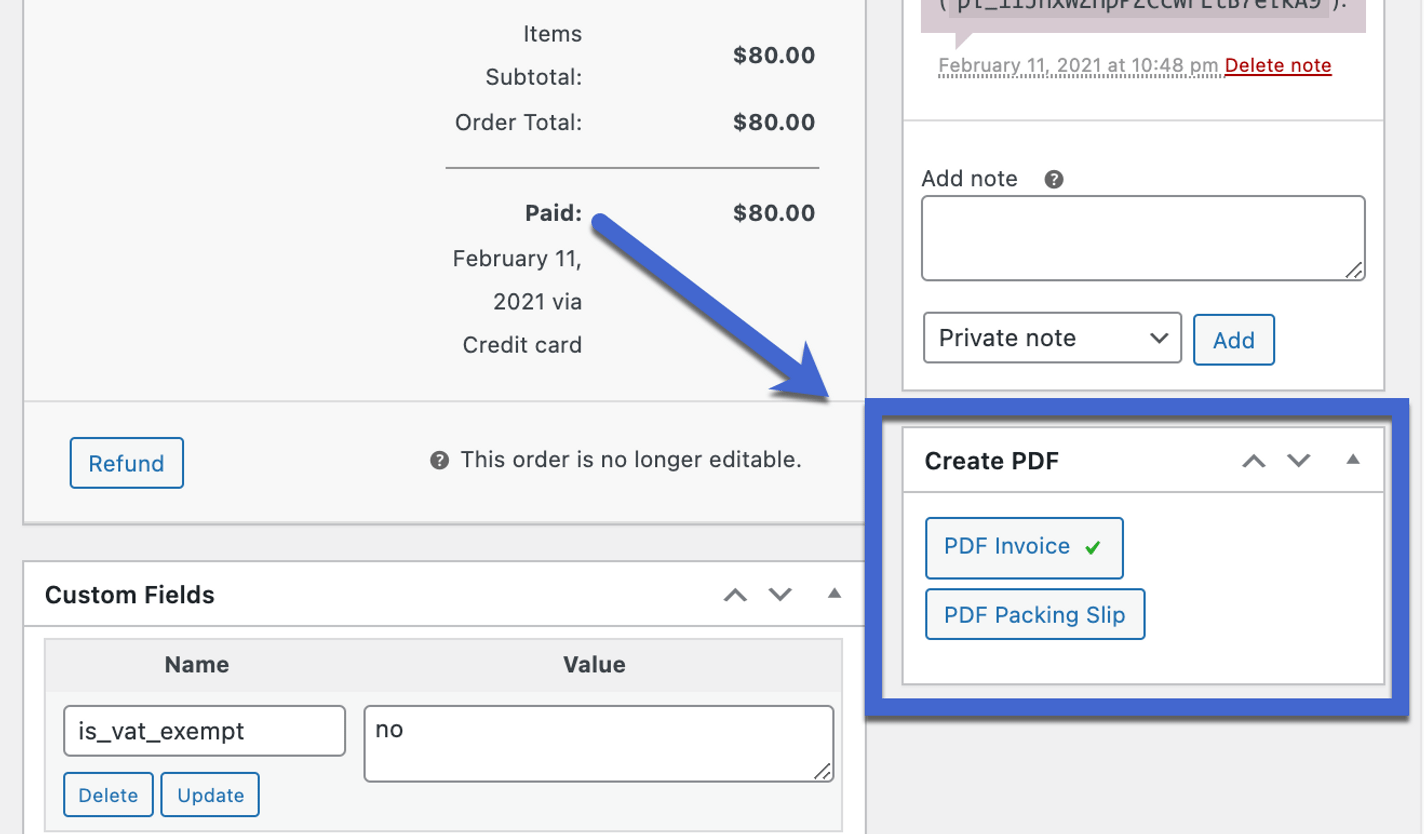 You can then save the file to your computer or send it to an associated printer by clicking the download or print buttons.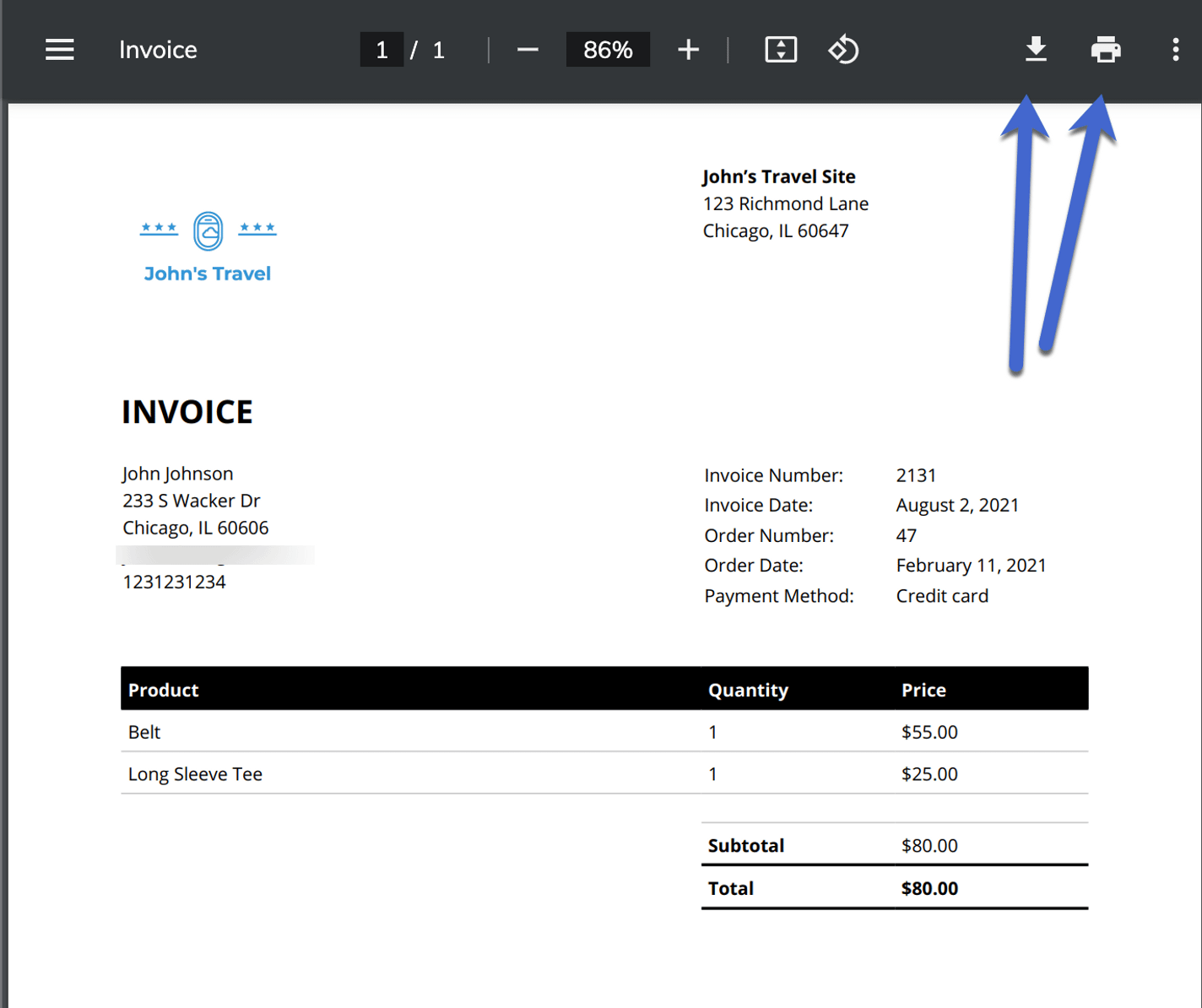 When it comes to downloading and printing choices, the packing slip is no different.
It's essentially a stripped-down version of the invoice that doesn't include information like price.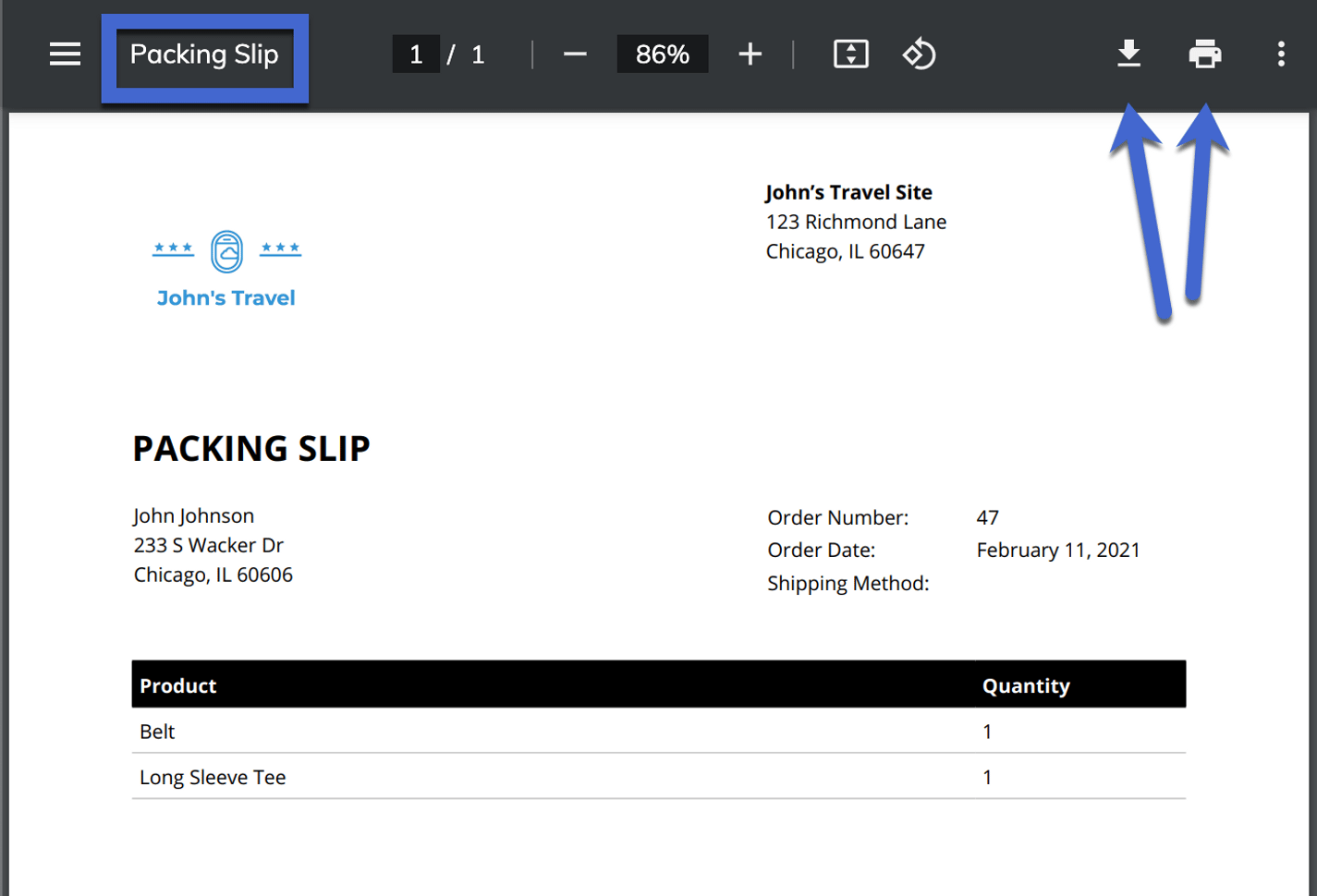 Step 8: Add optional notes to your invoices
Adding remarks at the bottom of your WooCommerce invoice is another option to personalize it.
When you've opened an order on your dashboard, you may make notes just as you do with other activities.
Click to modify the Notes field in the PDF document data section. Fill in any additional information you want the consumer to see, such as return information, a brief thank you, or specific product instructions.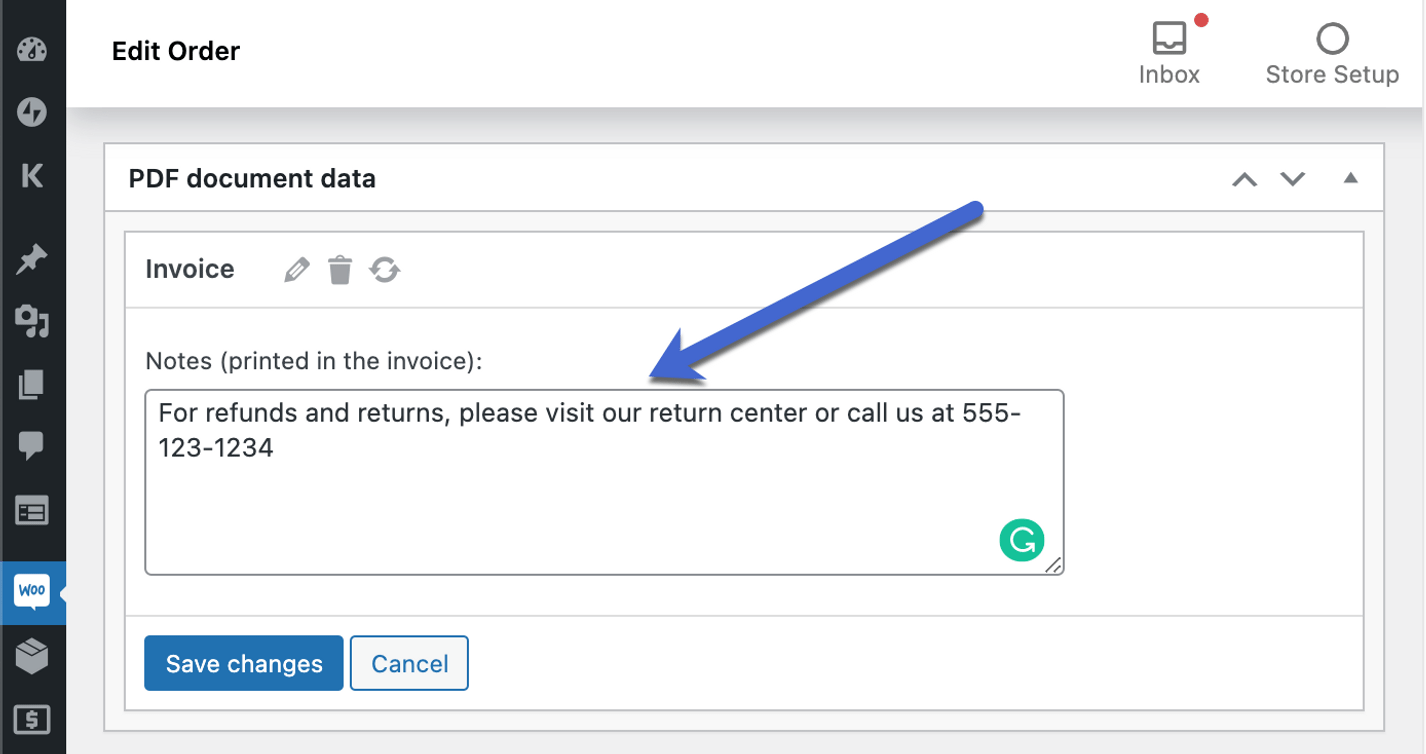 The plugin will now automatically put the message on the invoice when a PDF invoice is sent to the customer or when you print an invoice yourself.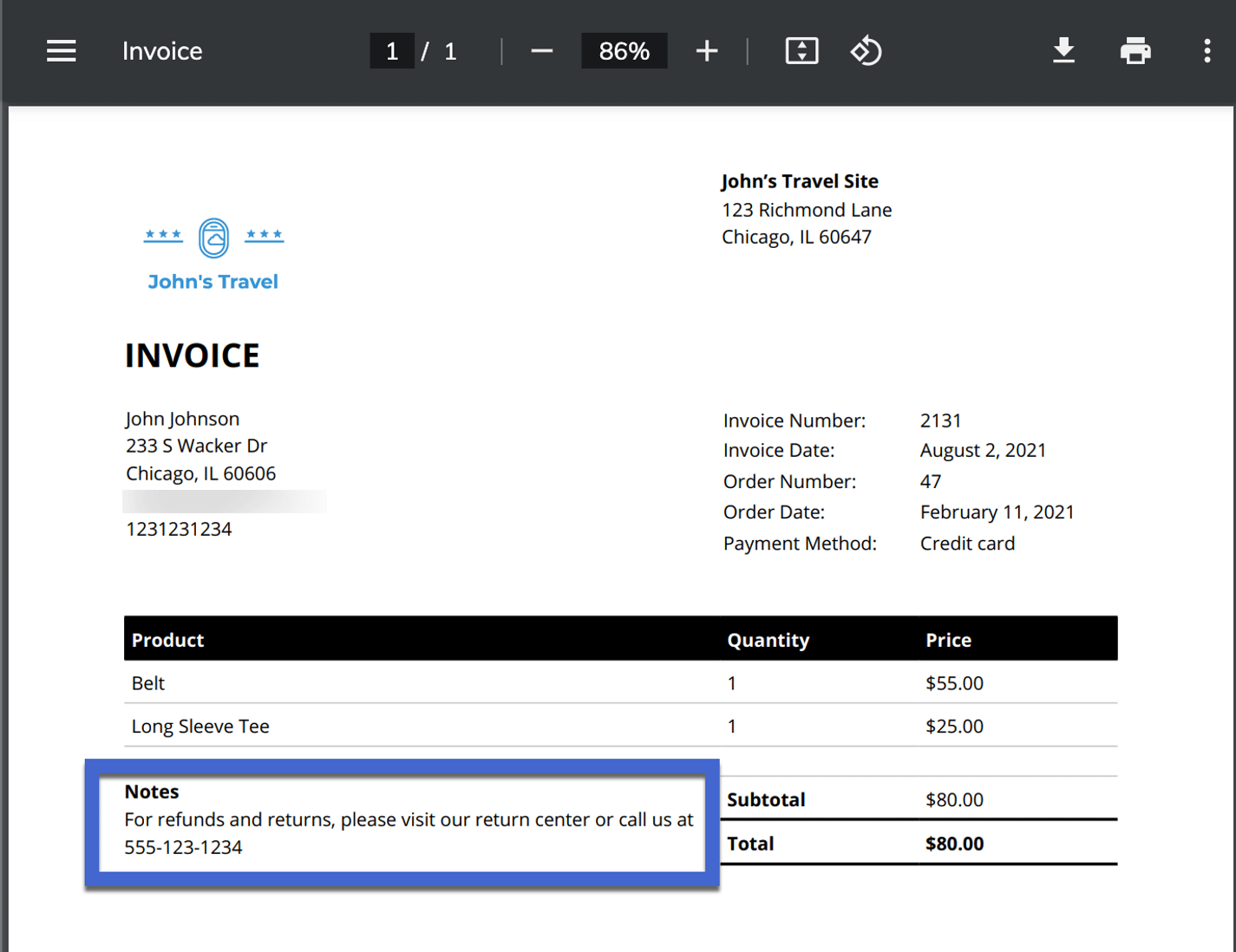 Step 9: Modify all settings (if needed) for your WooCommerce invoice and packing slip
Although the first setup procedure takes care of the heavy lifting, it's probable that you'll want to change or add to what you've already entered in.
Go to WooCommerce > PDF Invoices to manage everything.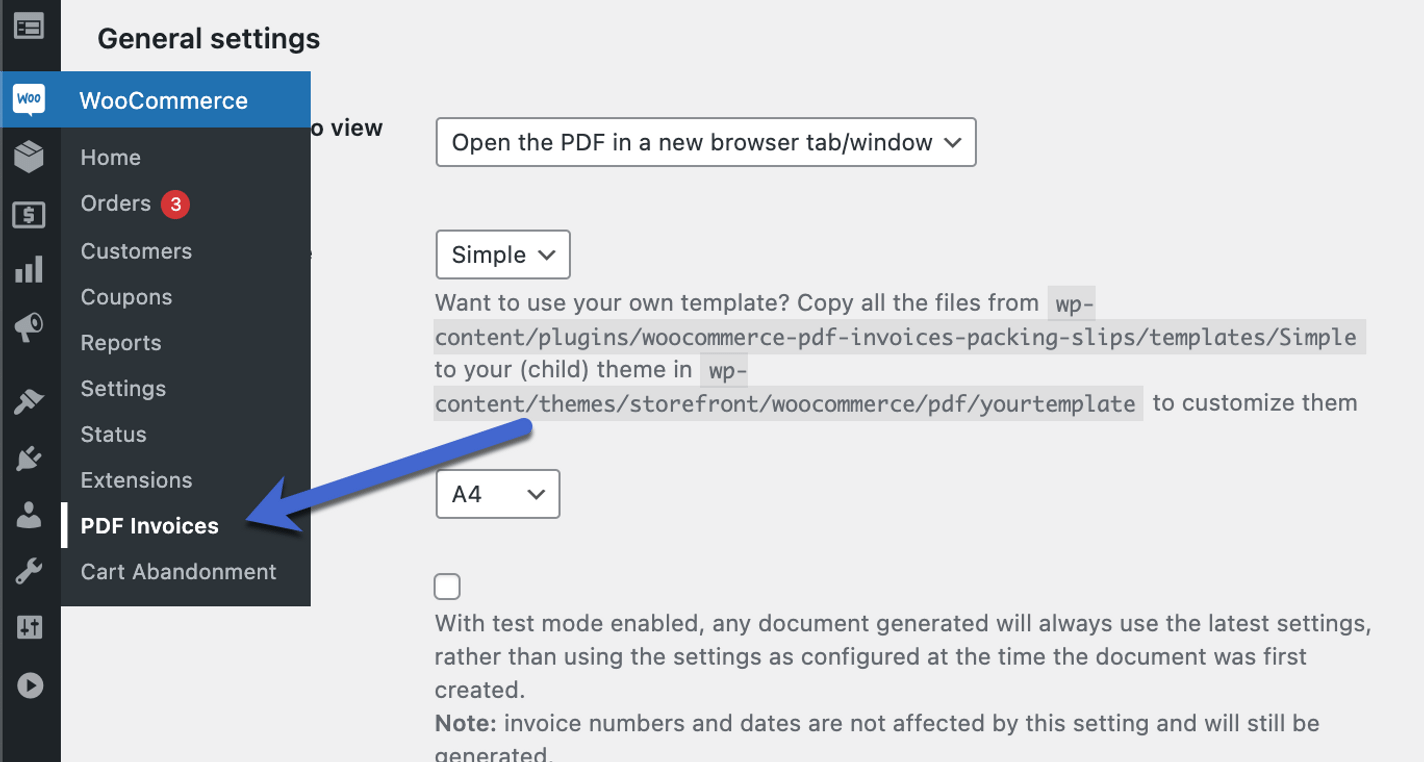 Additional options may be found on the General tab, including:
Changing the way PDFs are viewed.
A test mode is currently being run.
In the footer, including terms & conditions or policies.
Changing the design of your PDF invoice by selecting a new template.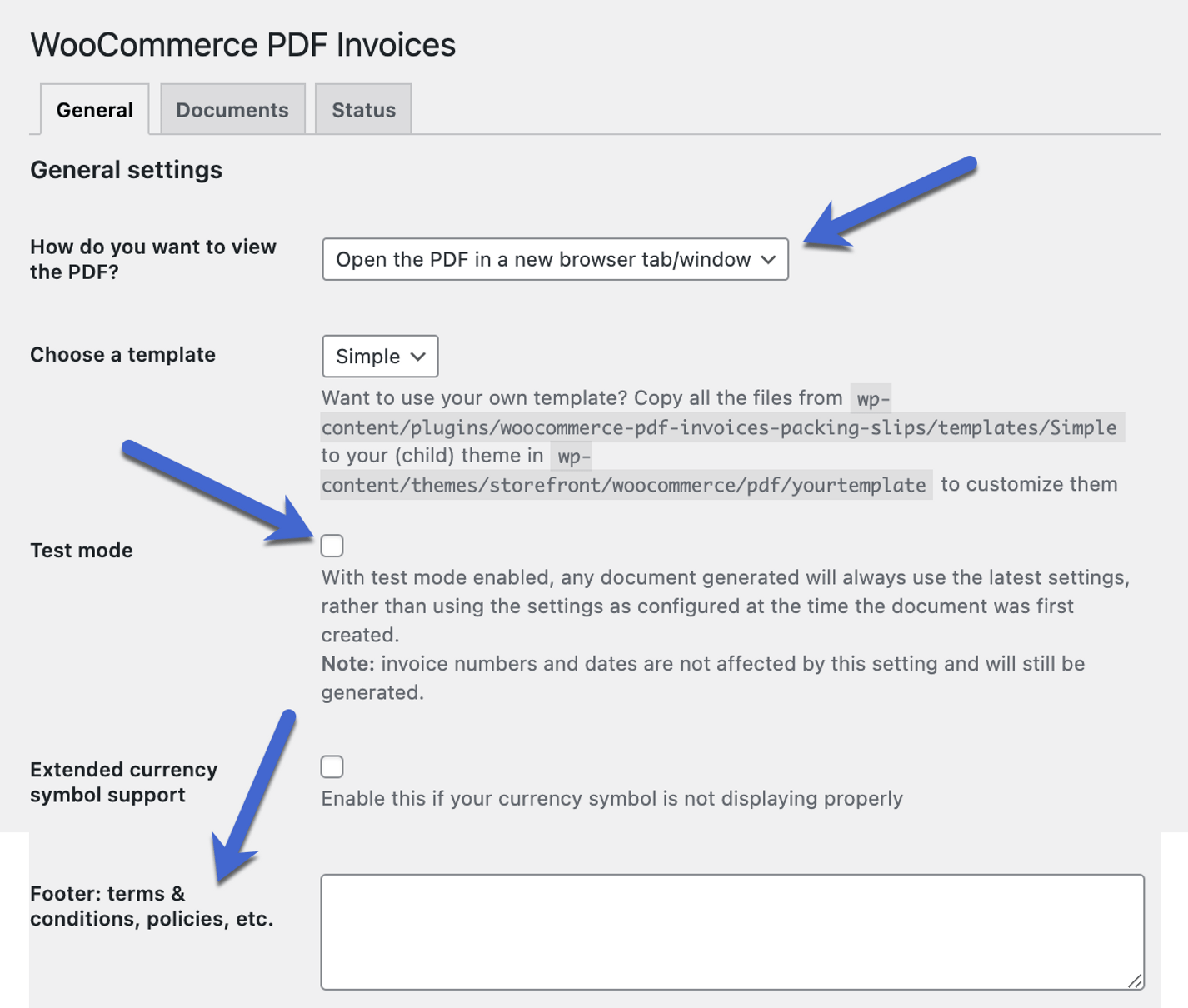 By clicking the Invoice link under the Documents page, you may update settings.
You can disable invoicing, show a shipping address, delete the email address, or alter the email address to which the invoice is attached.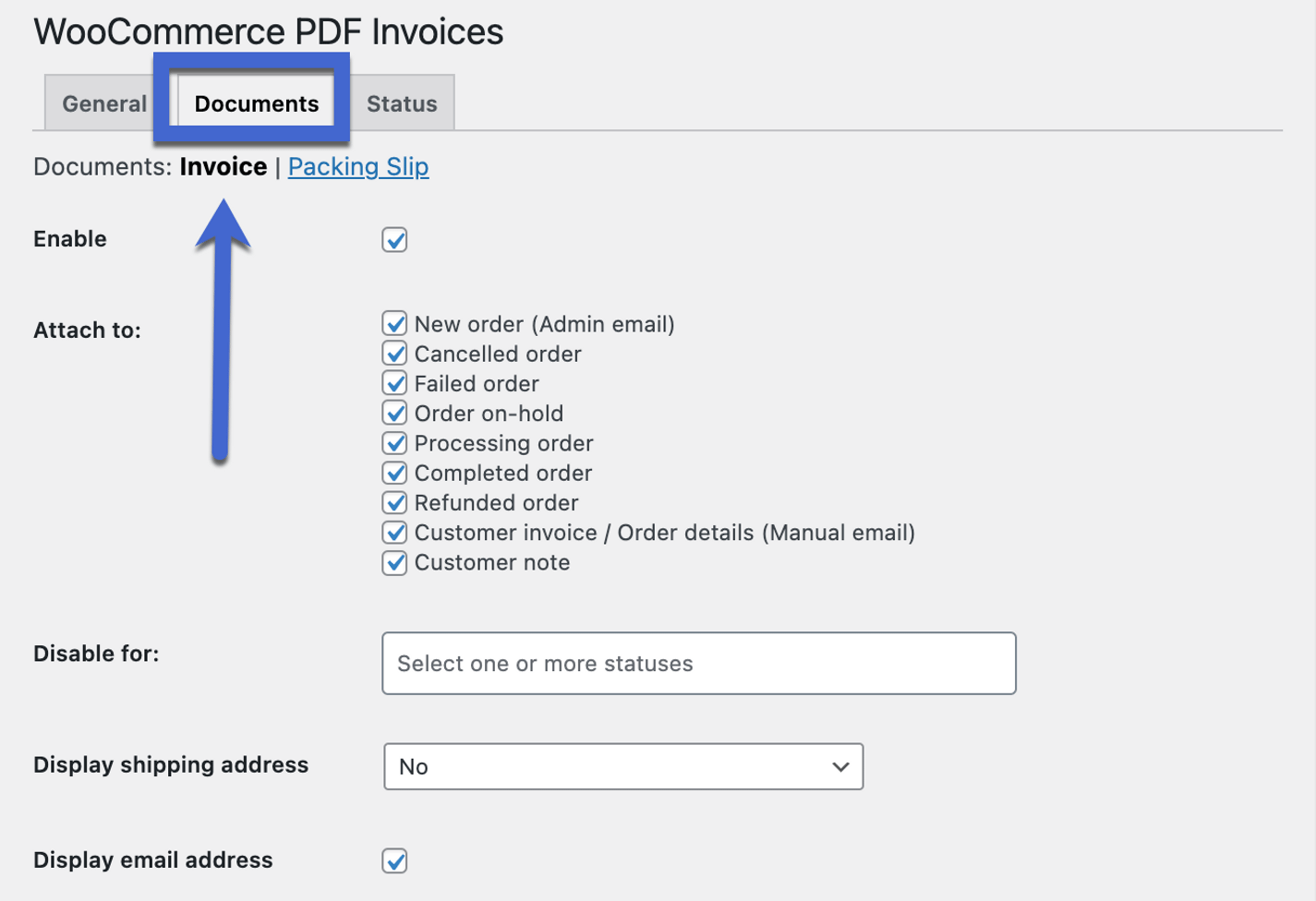 Finally, the Packing Slip section includes options for:
Packing slips can be enabled or disabled.
Putting a billing address on the screen
An email is being displayed.
A phone number is shown.
Notes are being displayed.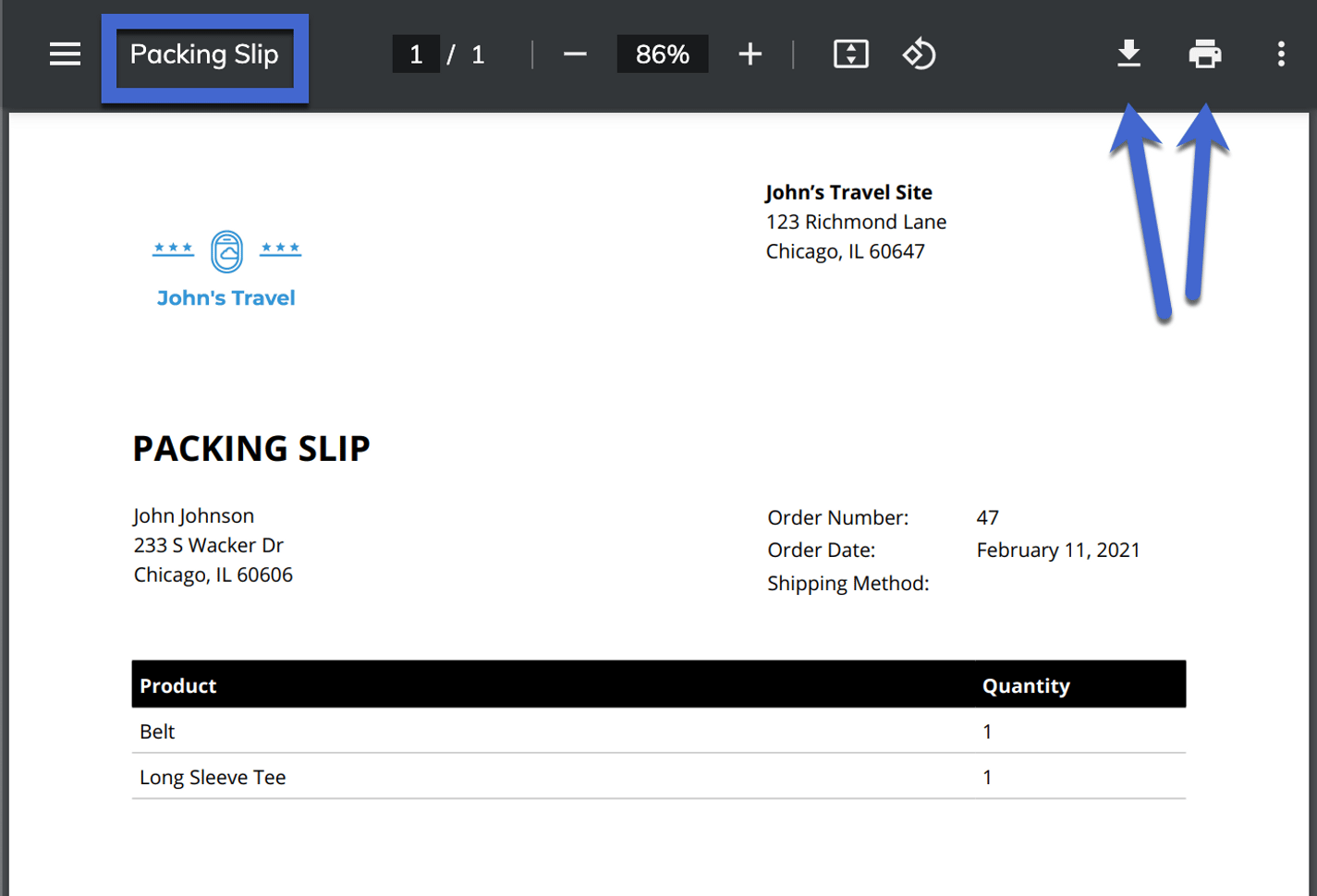 Some mistakes you can meet when sending invoice
Dates that are incorrect
The invoice's top date should reflect the day it was created. The dates in the 'description' section should correspond to when the goods were delivered or when the service was rendered.
Incomplete Payee information
A customer needs comprehensive vendor contact information, which includes the contact's name, company name, address, phone number, and email address. Many bigger businesses have rules in place that prevent them from processing payments until they have all of the necessary information.
If a vendor accepts other forms of payment, such as credit cards, that information should be included on the invoice as well. It's possible that they'll be paid sooner as a result.
Purchase Order Number Is Missing
This is a significant issue. A purchase order number indicates that this transaction has been pre-approved by the client's accounting department. Accounting may simply get the purchase order and process the payment. If there isn't a number, the payment procedure comes to a standstill since accounting may need to obtain further authorization.
Total is incorrect
Is the invoice correct? This is a regular issue with invoices created using Microsoft Word. This typically indicates the vendor will have to rewrite and re-submit the invoice since the client is unable to make changes.
Details are hazy
Businesses must be extremely explicit about the services they offer and when they give them. This helps the client understand what the invoice is for right away, and it also helps if the vendor or the client needs to audit their accounts later.
Not include a subject heading line in an email
When submitting an invoice by email, this is an issue. Some small firms send invoices casually, often blending them in with other irrelevant items in an email.
4 Best WooCommerce Invoice Plugins for sending Automatic Invoice
WooCommerce PDF Invoice is the most professional and feature-rich invoicing plugin available for WooCommerce, and it comes with premium support. For people who are serious about their work.
Invoicing extensions aren't like other extensions; paperwork must adhere to accounting rules and laws, and the extension itself must be extremely dependable, as a single fault might result in more charges in the future.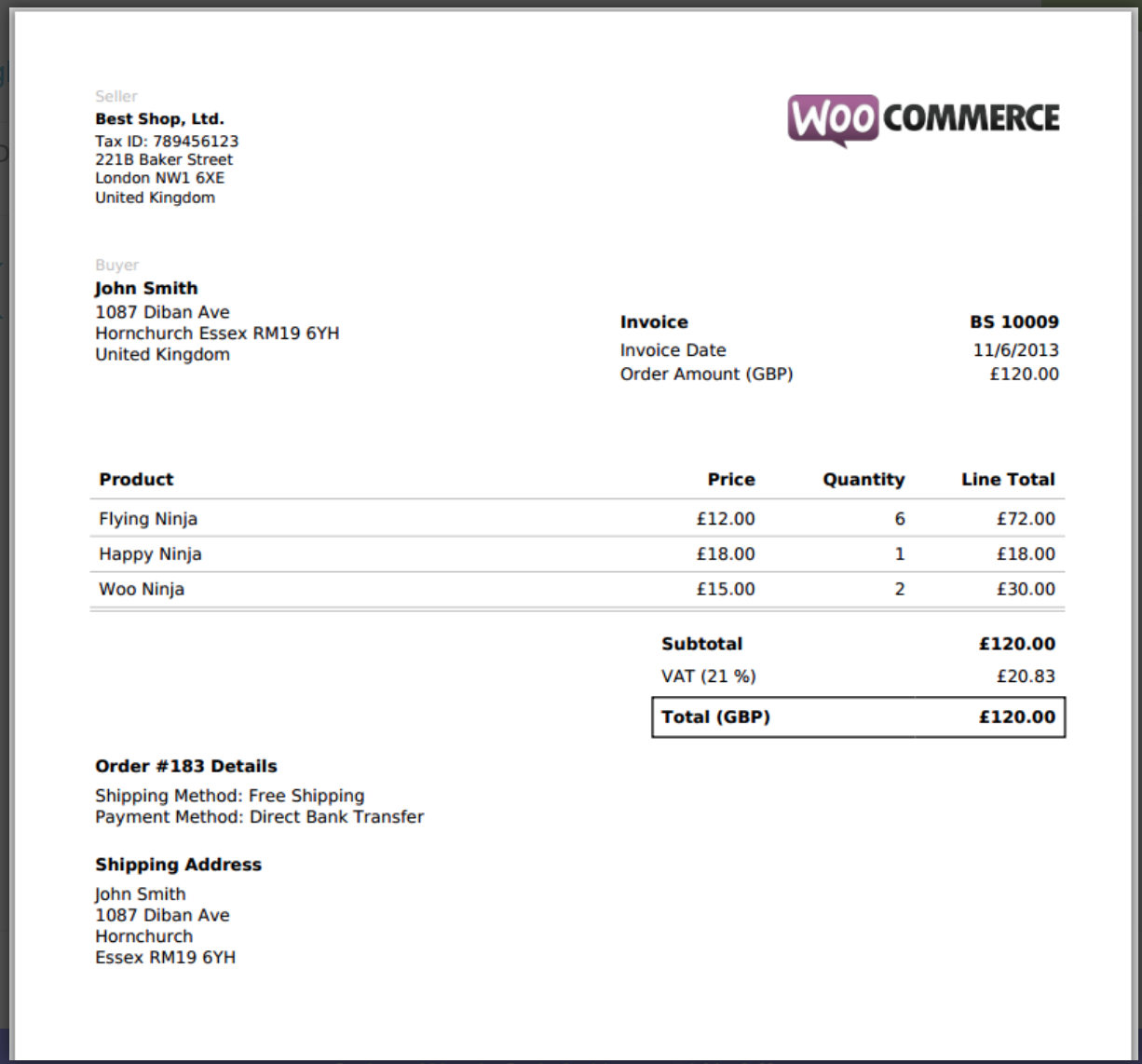 Feature
Customizable invoice template
Attach PDF to "New Order" email for admins
Add logo image to PDF
Customize invoice number format
Add / Remove columns from the invoice using filters
Invoice number column in order list
Resend Invoice or download invoice from the order list
Price
Regular: $46/year
Extended: $195.5/year
You can effortlessly print a customer's invoice to add in the package using this invoicing plugin. You'll also get printable packing lists that you can use at your warehouse to put each customer's order together. These two papers, when used together, may help you keep organized and ensure that you provide all of the correct items to your customer.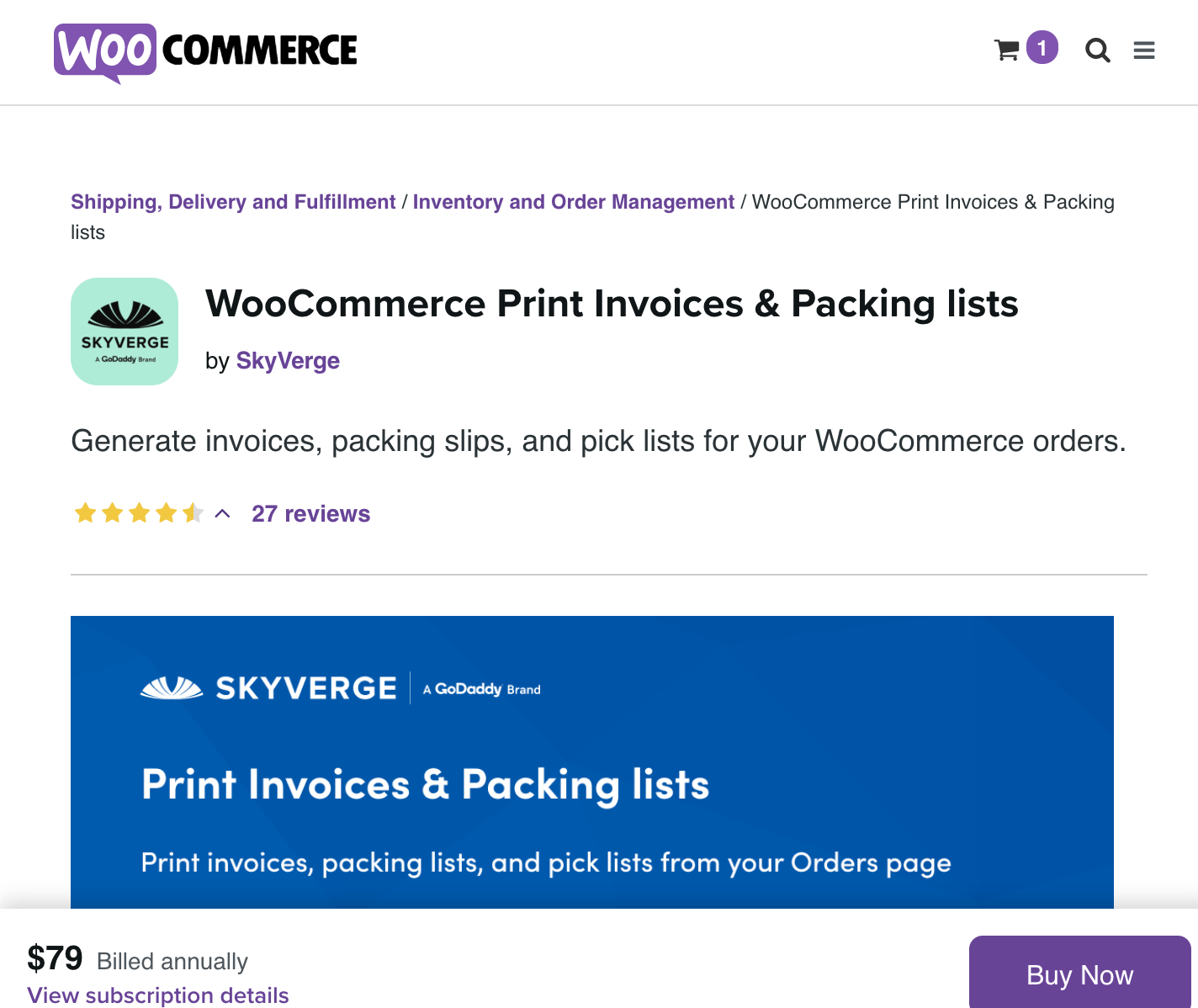 Feature
Customize document appearance and information with a live preview using the WordPress Customizer — no coding needed!
Let customers view invoices from the "My Account" page.
Sort items on packing lists by category for faster order fulfillment
Automatically email packing lists to shop admins for new orders
Print pick lists for multiple orders to help with mass order fulfillment
Optionally send professional-looking invoices as an HTML email to your customers
Price: $79/year
This is another wonderful choice to explore if you need warehousing and order management. This plugin comes with printed invoices and packing slips to assist you and your workers in properly packaging things for your clients. Even better, it is really inexpensive, making it an excellent deal.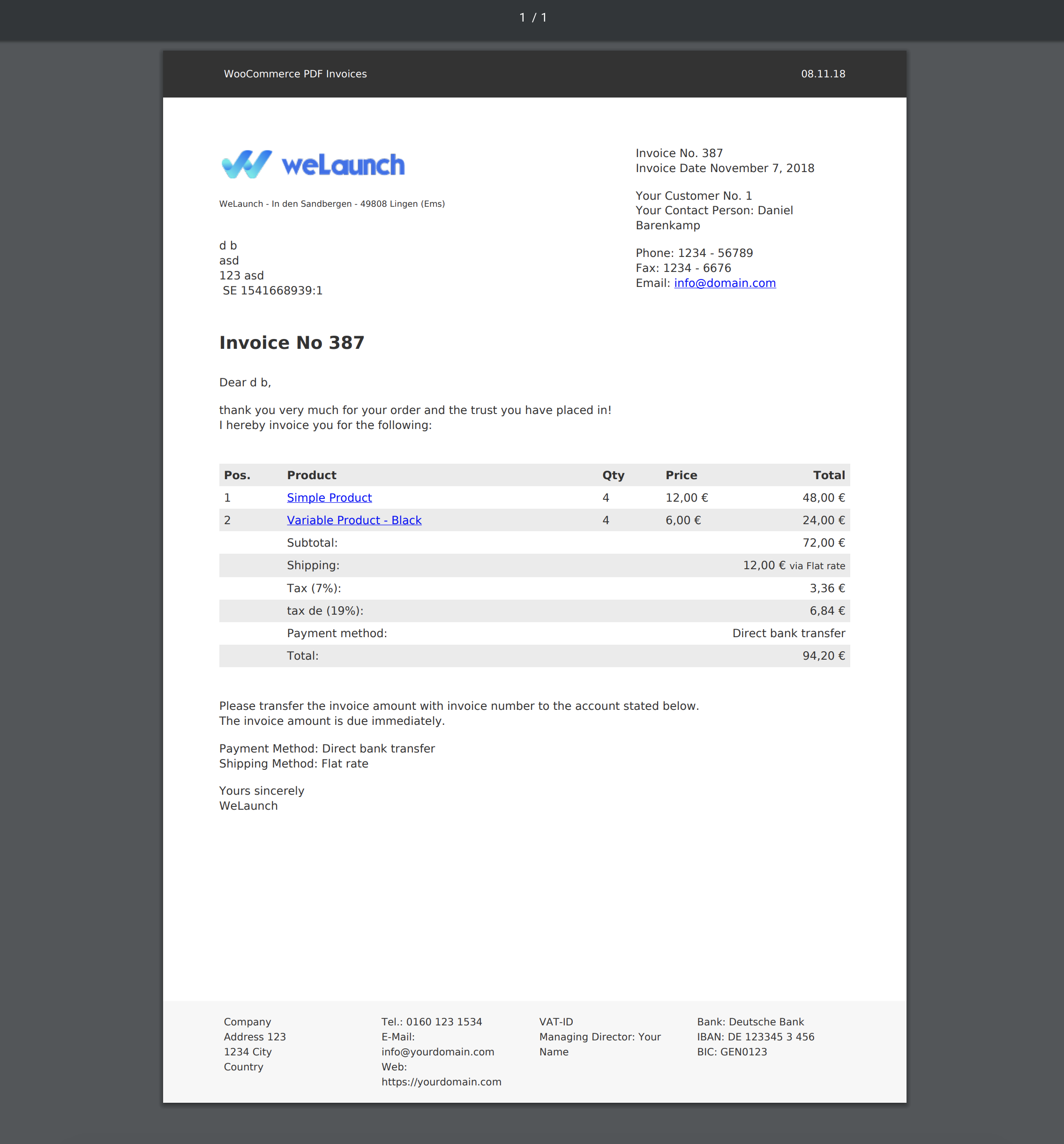 Feature
Automatically attach invoice PDF to WooCommerce emails of your choice
Download the PDF invoice/packing slip from the order admin page
Generate PDF invoices/packing slips in bulk
Fully customizable HTML/CSS invoice templates
Download invoices from the My Account page
Create/email PDF Proforma Invoices, Credit Notes (for Refunds), email Packing Slips, automatic upload to Dropbox & more
Price:
Regular: $38/year
Extended: $209.25/year
YITH's PDF Invoice and Shipping List plugin is another option to examine. Unlike some of the other plugins on this list, this one has separate choices for printing invoices and packing slips.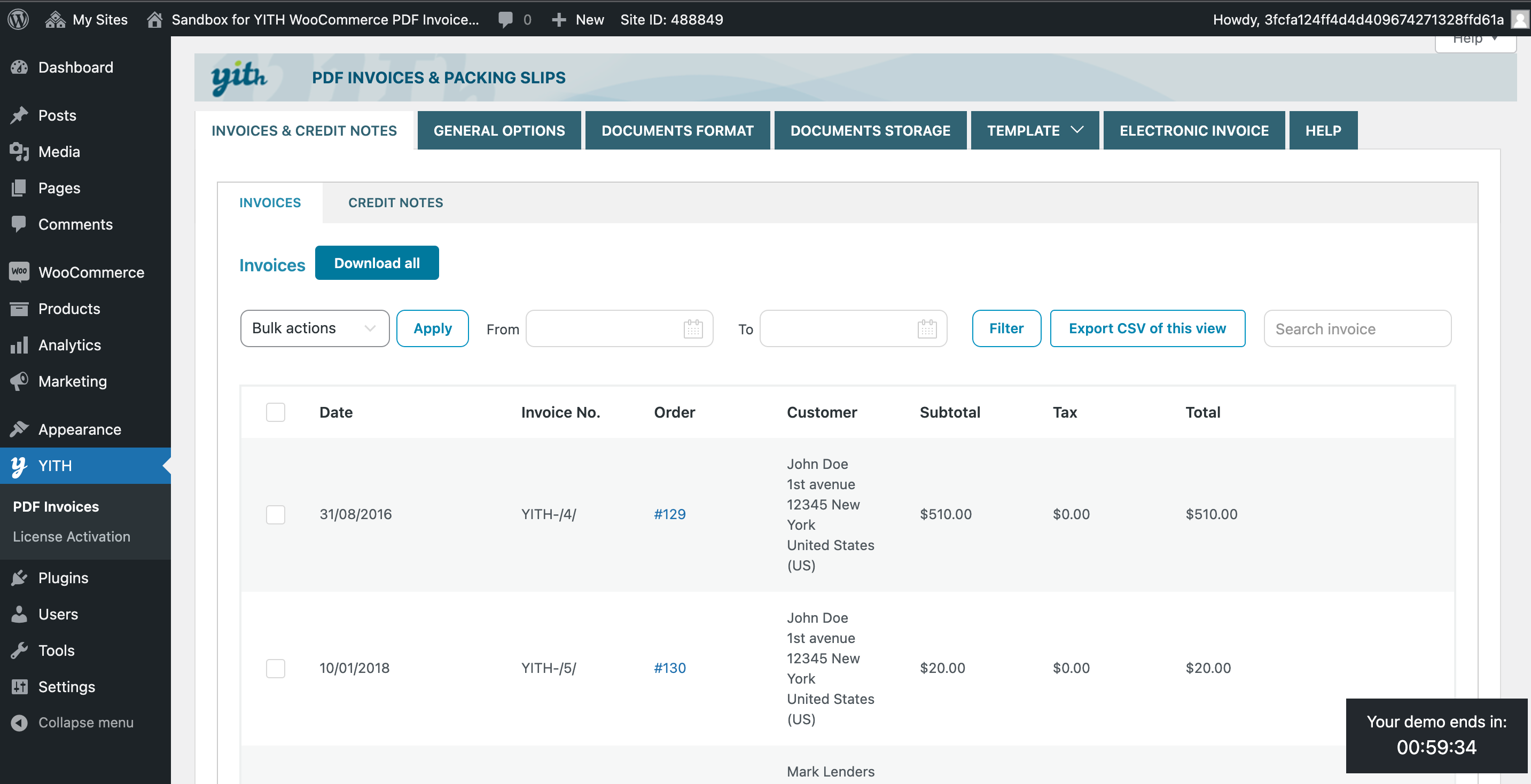 Feature
Create PDF invoices and shipping list documents from WooCommerce orders
Easily customize templates
Generate email templates, manually or automatically
Generate a proforma document
Manage invoice generation
Generate packing slips & credit notes
Customize document filename format
Price: $79.99/year
Conclusion
Hopefully, this post has provided you with instructions on how to produce and deliver invoices to clients, as well as fast introductions to the finest invoice management plugins to assist you. If you fiound this useful, please share it with your friends and come back to see us for more.
New Posts
Subscribe
Stay in the know
Get special offers on the latest news from AVADA.
40k
subscribers has been joined!
Earn $10 in reward now!