How to Enable/Disable Quick View in WooCommerce
How to Enable/Disable Quick View in WooCommerce
WooCommerce is a fantastic plugin for setting up an online store. Some native capabilities, however, do not give an out-of-the-box option for showing your products at their finest. The better the customer's experience on your online business, from identifying products fast to smooth checkout processes, the more likely they are to make a purchase.
By presenting a brief overview instead of going to the product details page, the quick view function makes it easier for your clients to view crucial product information such as features, photos, and variants.
In this article, I will show you How to enable/disable quick view in WooCommerce to upgrade your online store ultimately!
What is Quick View?
A quick view, as the name implies, gives the buyer a "quick look" at the goods. A lightbox displays the details, such as the description, photos, and variants (a popup). In a typical online business, you'd probably browse the many things on the store page and then click on a certain product to learn more about it. You'd return to the store page and continue your search if you weren't satisfied with the product description and features.
Reasons to use Quick View in WooCommerce
Quick view plugins allow consumers to quickly access information about products they're interested in, such as a description, price, specifications, and photos. They provide various advantages to both customers and store owners in this manner:
Shoppers can get a quick and clear overview of the product.
Users can add products to their shopping basket without leaving the shopping page to go to the cart page. As a result, they'll be able to look at other products and possibly buy more.
Enhance the purchasing experience
Increase the number of conversions
There are a plethora of quick view tools available, but not all of them are equal. As a result, we've compiled a list of the top WooCommerce quick view plugins to help you improve your users' experience and boost your sales.
How to enable Quick View in WooCommerce
Step 1: Plugin Installation
Download the.zip file from your WooCommerce Personal Account
Select Upload Plugin from the WordPress Admin > Plugins > Add New menu, then Choose File and select the file you downloaded.
Install and activate the extension right now.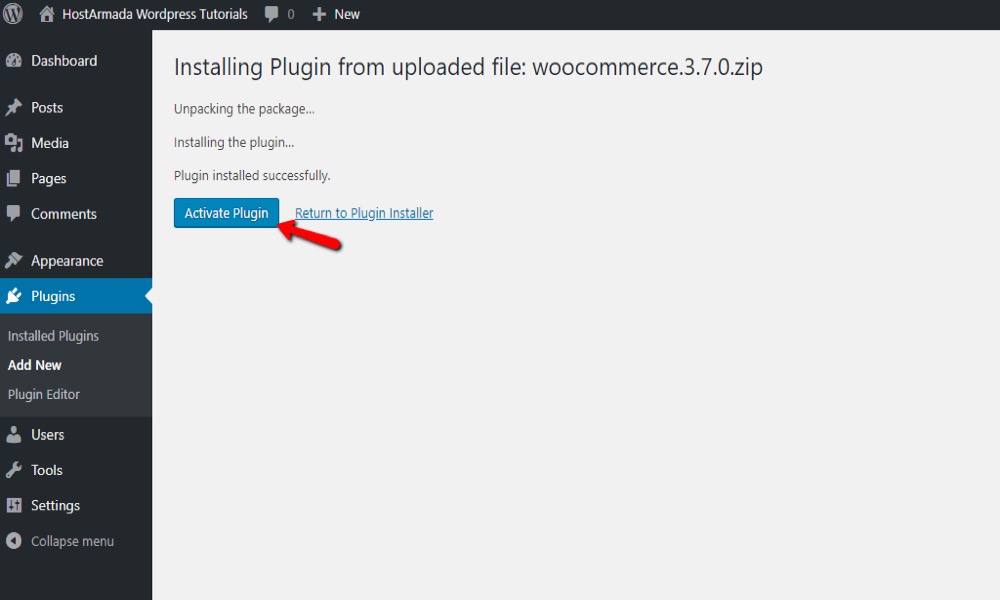 Step 2: Configuration
Go to WooCommerce > General > Settings

You can enable one of two methods for showing the Quick View pop-up by scrolling down to the Quick View section.
Button for Quick View. To be added to the product loop, add a Quick View button.
Any add-to-cart button that isn't ajax, such as variant cart buttons
Changes should be saved.
How to disable Quick View in WooCommerce
Step 1: Set up the plugin
In your hosting cPanel, go to File Manager.
Open the folder "wp-content/plugins/cherry-woocommerce-package/includes" in your WordPress installation: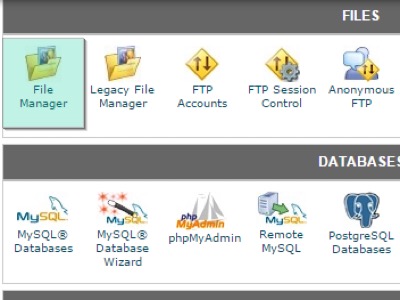 Step 2: Edit the plugin's file
To edit the cherry-woocommerce-package.php file, locate it and click the Edit icon: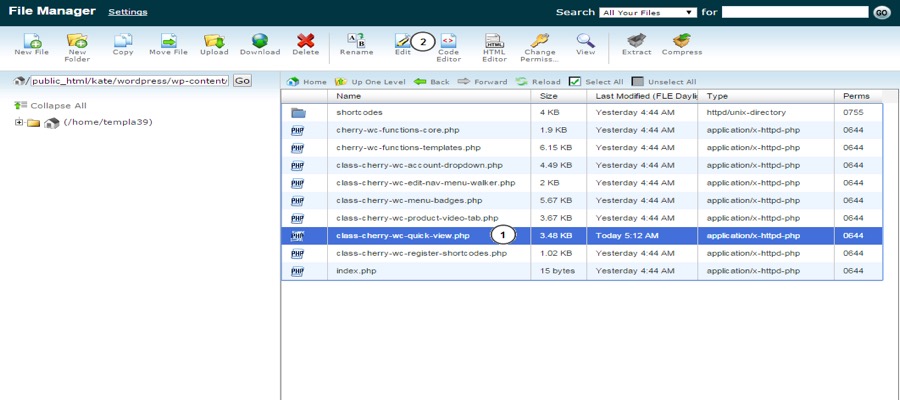 Locate and remove the following code: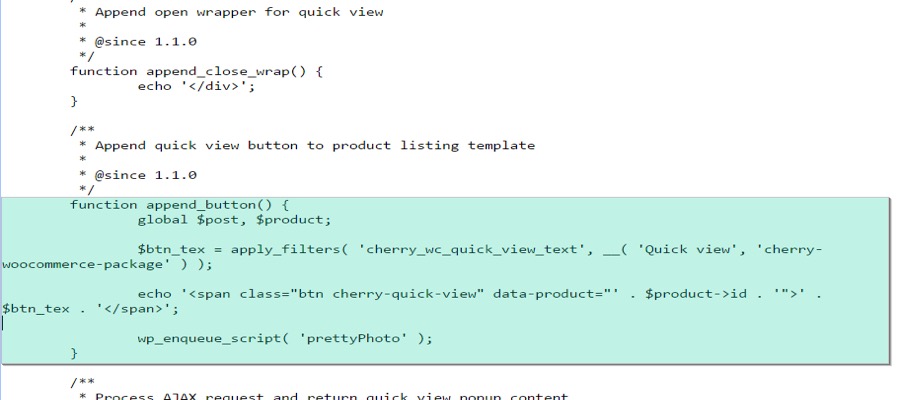 To save your changes, click the "Save" button: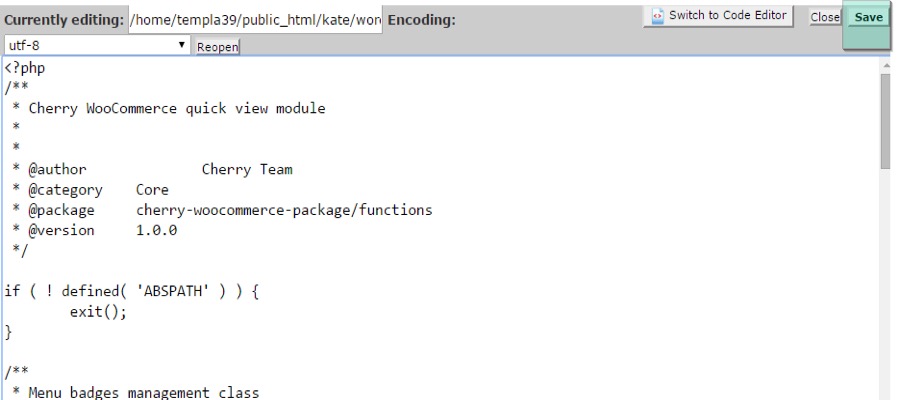 To see the changes, go to your website and refresh it. The quick view button has been deleted successfully.
4 Best Quick View Plugins for WooCommerce
1. WooCommerce Quick View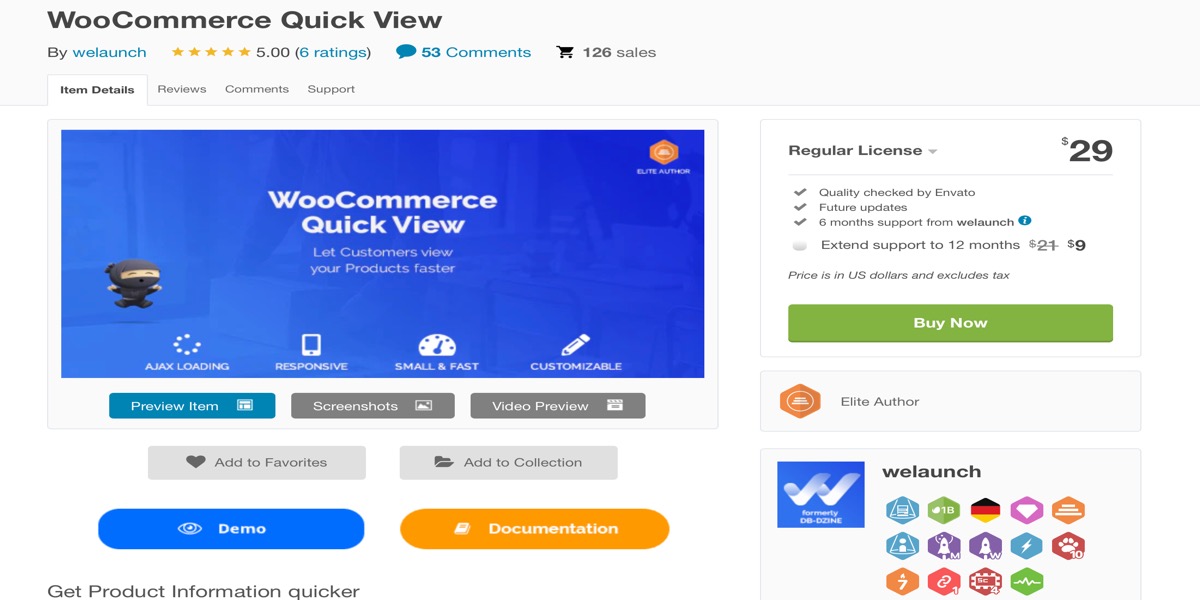 WooCommerce Quick View is the most basic and straightforward of all the quick view plugins. A 'Quick View' button is immediately added to all of the products on your store page when you install the plugin. You also have the option of enabling mobile device quick view.
Features:
Show the title, image, price, and quantity of the product.
Included is a button to add to the cart.
Slider options for next and previous are provided.
The stylistic options make it simple to customize (colors, background)
Both desktop and mobile users can easily enable/disable the quick view button.
Price: $29
2. WooCommerce Quick View Lite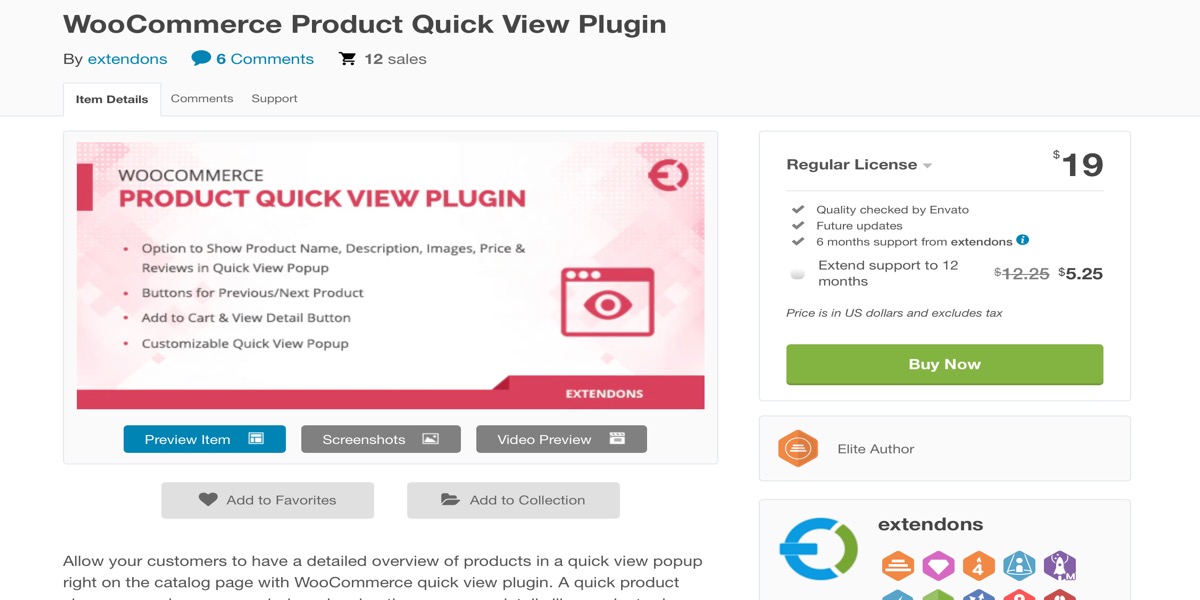 WooCommerce Quick View Lite is another plugin that makes it simple to add a quick view button to your products. Social shares are one of the plugin's functions, and it's a terrific method to share your brief thoughts on social media. This function, on the other hand, is only available in the premium version.
Features:
On the fast view, there is an option to allow product navigation.
The type and label of the quick view button can be customized.
Positioning the quick view button is an option.
Style options abound. (Color of quick view button, background color, etc.)
Sharing products on social media is possible.
Price: $19
3. WooCommerce Quick View Pro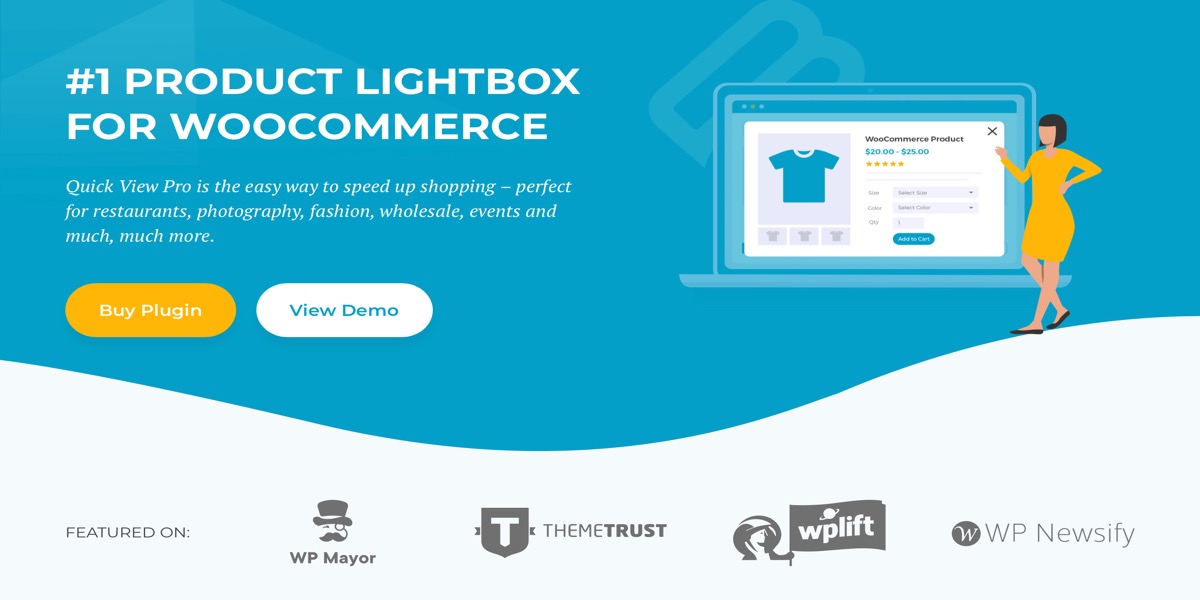 WooCommerce Quick View Pro is a premium quick view plugin for WooCommerce. Customers can access the fast view by clicking a persistent button or a product image in the plugin. Customers may examine larger images, choose quantities, variations, add to cart, and other actions by displaying the fast view in a dynamic lightbox.
Features:
Allows for quick ordering by allowing you to add a product to your cart and then return to the product to make another buy. Customers are also directed to the cart when they order quickly.
Enable quick view for all products in your store automatically, or use a shortcode to add a quick view button to any page.
Using many photographs in the Quick View, create a product gallery within the lightbox. Use the zoom option to improve it.
The quick view button text can be changed.
Price: $79
4. WPC Smart Quick View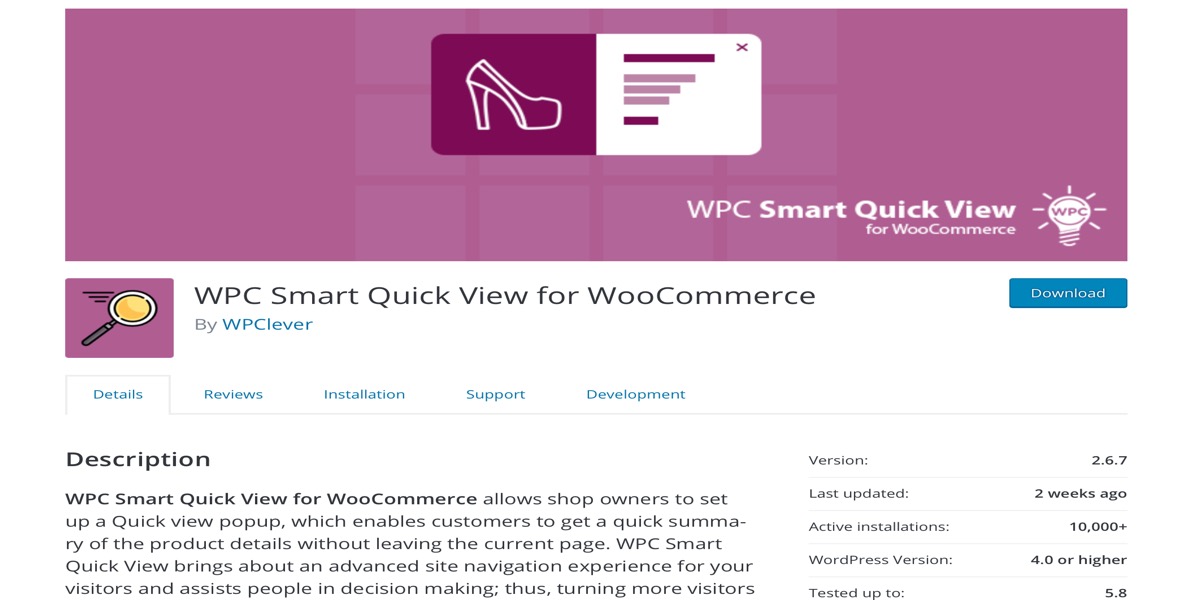 Store owners may set up a quick view popup with WPC Smart Brief View for WooCommerce to get a quick summary of product details without leaving the current page.
WPC Smart Quick View is SEO-friendly, works with any WordPress theme, and includes the WPML (WordPress Multilingual) plugin for site translation. Your site will appear beautiful on any device, thanks to the plugin's strong flexibility.
Features:
Quick view can be displayed as a button, a link, or a popup.
The button label can be edited and translated.
Using the next and previous buttons, you may navigate through the products.
There are eight distinct popup effects to choose from.
Using shortcodes, you can manually add the quick view button to any page.
Customize the quick view button for specific categories.
Price: $29
Conclusion
Customers can browse product details without leaving the current page if you install a fast view plugin for your WooCommerce store. This improves the user experience, allowing them to make decisions more quickly.
The quick view option also aids in converting more infrequent visitors into potential clients. You will also lower your store's bounce rate, which will help you enhance your site's position.
I hope you will find this topic about How to enable / disable quick view in WooCommerce fundamental!
New Posts
Subscribe
Stay in the know
Get special offers on the latest news from AVADA.
40k
subscribers has been joined!
Earn $10 in reward now!