How to Password Protect WooCommerce Categories?
Last updated: December 01, 2023
Protecting product categories with a password isn't a typical feature in WooCommerce stores, and it's also not a WooCommerce default setting. Whether you want to offer wholesale products to a particular market segment, create members-only products, this feature can have a remarkably significant impact on your company's business strategy.
Therefore, in this article, we'll show how to password protect WooCommerce categories.
Let's get started!
What are WooCommerce Protected Categories?
A WooCommerce protected category indicates that unless a user has the appropriate rights, he/she won't be able to access particular categories or products on your WooCommerce store. This category is sometimes referred to as "private" or "restricted".
Therefore, a protected category requires users to do one of the following to be able to access your WooCommerce site or products:
Enter a password.
Be logged in.
Have a specific user role.
Why Should You Password Protect WooCommerce Categories?
You might wish to password-protect WooCommerce categories for a variety of reasons. Some examples are listed below:
Wholesale stores: If you work as a wholesaler, you don't want your prices or product list to be visible to the general public, thus password protection helps limit access to just permitted clients.
Private client areas: You may create various categories for individual consumers to market a unique product.
Members-only store: Using password-protected categories, you may create a complete store that is only available to members.
Mix-and-match: You may make the great majority of your store "public" as normal, but employing a password to secure restricted products that you don't want everyone to see is a good idea.
How to Password Protect WooCommerce Categories?
WooCommerce does have a password protection feature, but it only allows you to restrict access to a single product. You can check out this feature in WooCommerce by going to the Visibility option.

The downsides of utilizing the Visibility option include the following:
You won't be able to protect the entire category at the same time.
You must restrict each product individually, which might be time-consuming if you have more than ten products.
Rather than providing each user a distinct password, you can only use a single password for all products.
Therefore, we will show you how to password protect WooCommerce categories in the section using PPWP Pro and its PPWP Access Levels extension.
Step 1: Install and activate the plugins
First of all, you need to purchase, install and activate two plugins: PPWP Pro ; Password Access Levels .
Step 2: Configure settings
After being activated, the plugins and their extensions will be added directly to your WooCommerce admin navigation menu.
You just need to go to Password Protect WordPress > Access Levels sub-menu from the WP admin dashboard to access the plugin's settings.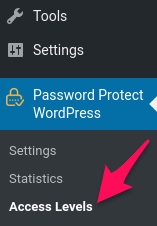 Step 3: Password protect your WooCommerce product categories
Click Add New Base and give the base a name and a description.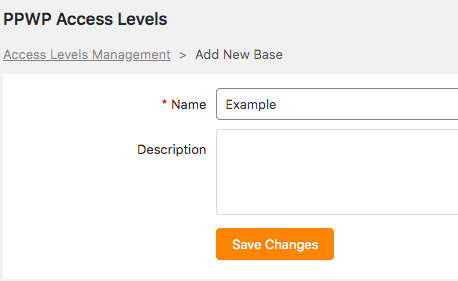 Edit the levels.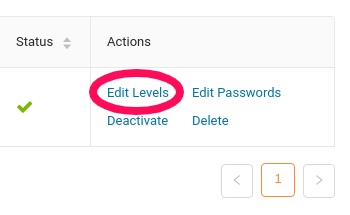 Choose Products from the Post Type option and select all the categories you wish to password-protect.
It's worth mentioning that Products isn't displayed by default under the option Post Type. To protect Products, go to the PPWP Pro settings page and add it to the Post Type Protection option.
Arrange the levels for these groups. "Cat B," for example, has a higher level than "Cat A." Level 0 is allocated to categories that do not belong to any of the levels by default.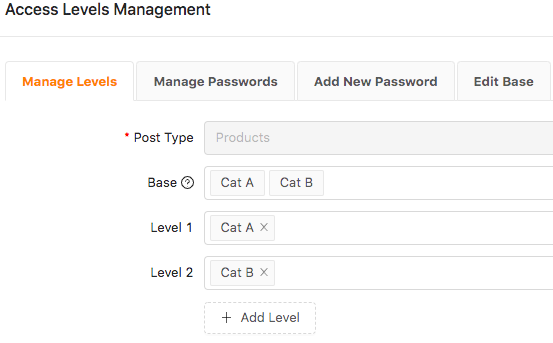 After that, you need to click the Add New Password tab. In this box, you will need to enter your password as well as additional information such as password level and password type.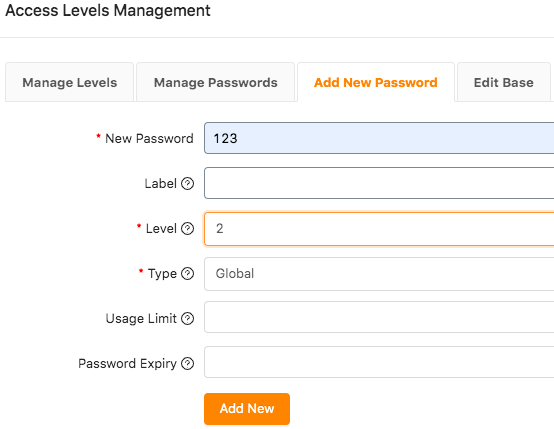 Therefore, passwords at a higher level can unlock all products in the same or lower-level categories. Thanks to global passwords, all user roles will have access to the private categories.
Anyone attempting to access a password-protected category in WooCommerce will see something similar on the screen.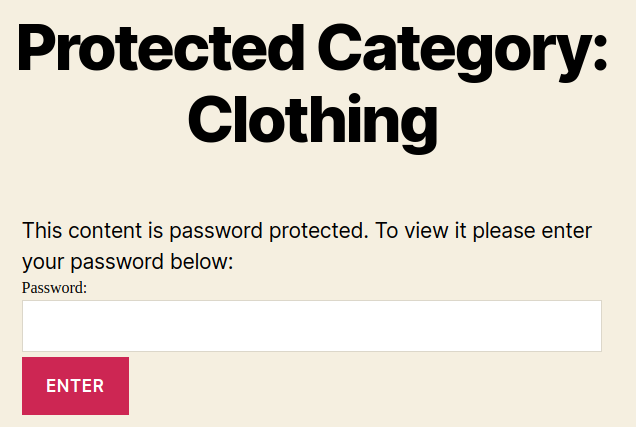 This form can easily be customized using the WordPress Customizer and CSS styling.
4 Plugins to Password Protect WooCommerce Categories
Apart from the two plugins that we introduce to you previously, in this part, we'll share with you our list of the 4 best plugins that would help you password protect your WooCommerce categories.
1. WooCommerce Protected Categories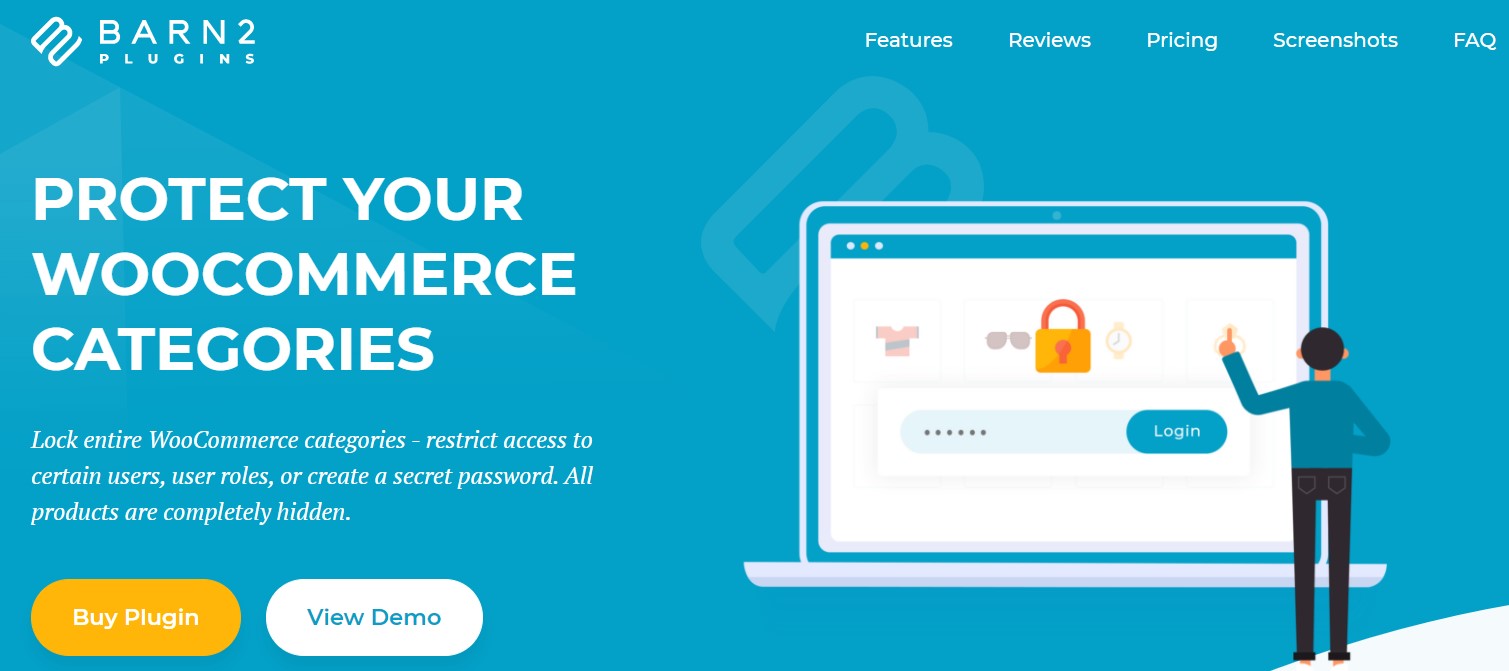 WooCommerce Protected Categories by Barn2 enables you to lock entire WooCommerce categories, restrict access to certain users, user roles, or create a secret password. This plugin is especially suitable for private wholesale areas and customer-specific products.
Features
Create a private area for each client
Wholesale or members-only shop
Role and user restricted categories
Protect products and subcategories
Show or hide your password-protected categories and their products.
Hide protected categories from menus and widgets.
Pricing
The Starter, Business, and Agency versions of this plugin cost you $89, $149, and $299 respectively.
2. Password Protected Categories & Store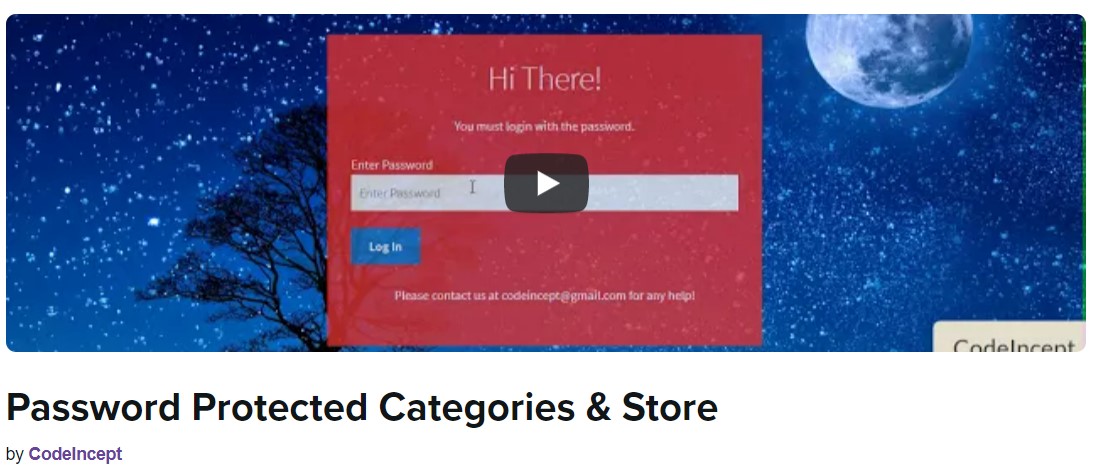 Password Protected Categories & Store enables you to password-protect product categories, product tags, pages, products, or your whole website. Customers will be required to log in in order to see protected pages, and store administrators can create multiple passwords for different products, pages, or terms.
Features
Password protect products, pages, product categories, product tags, or complete websites.
Add multiple passwords for each category, tag, product, or page.
Enable password protection for specific countries.
Supports password protection for hierarchy of product categories.
Products belonging to password-protected categories will inherit the protection of related categories or tags.
Pricing
$49 per year.
3. WooCommerce Password Protected Categories & Shop Plugin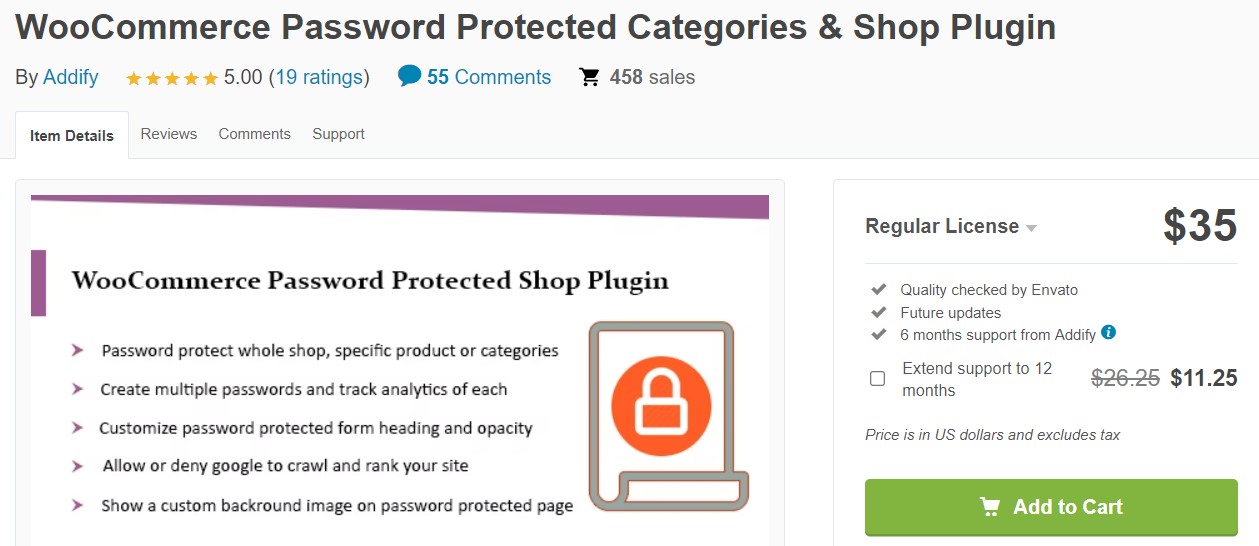 WooCommerce Password Protected Categories & Shop Plugin allows you to protect your entire WooCommerce website, store area, individual categories, products, and pages with a password.
You can establish a password and hide the desired content from the general public, while only sharing the password with a limited number of people. Additionally, allowing Google to crawl your password-protected sites can also help you rank them higher in search results.
Features
Create multiple passwords with comma separated or CSV Import.
Rule-based plugin to create different passwords for different pages.
Show a custom background image on the password-protected pages.
Customize password protect form heading & form opacity.
Allow/Disallow Google to crawl & rank your password protect pages.
Create multiple passwords with comma separated or CSV Import.
Pricing
The regular and extended licenses are charged at $35 and $155 respectively.
4. WooCommerce Password Protected Private Site & Categories

WooCommerce Password Protected Private Site & Categories by IgniteWoo allows you to create a private store and password protect categories. Whether you want to make a whole password-protected private shop or just a few categories private and password-protected, this WooCommerce plugin allows you to customize your hidden store however you want.
Features
Make your entire store private
Hide and lock specific product categories
Hide store-related menu items and widgets
Discourage search engine indexing
Automatic redirects
Custom password entry form
Pricing
The 1 site, 2 sites, 5 sites, 25 sites licenses of this plugin are charged at $75, $99, $129, and $249 respectively.
Final Words
Password-protected categories can have a huge influence on the business strategy of your business. We hope you found our instructions on how to password protect WooCommerce categories useful in managing your WooCommerce store.
If you have any questions regarding this topic, please feel free to contact us via the comments section below. Thank you for reading and we'll see you in the next article.
---
Roger has over 4 years of experience in SEO. While in college, he started learning about SEO and showed a passion for the field. Right after graduation, he embarked on SEO projects and achieved great success. After years of working, he has learned deeply about SEO. Currently, he is the SEO team leader at avada.io