How to Generate a PDF Invoice in WooCommerce
Last updated: December 01, 2023
Payment documents are required not only to verify the purchase or sale, but also to confirm the debt owed by the consumer to the supplier. They are also needed since the seller provides the product or service to the client. For WooCommerce stores, the regulations require the release of invoice or price documents by email in a suitable format.
In this case, the PDF format is recommended because it is simple, lightweight, and particularly difficult to edit by the end customer. Having a PDF invoice with every online transaction has become the standard, and all store owners should jump on board. Every order placed in your store should include a WooCommerce PDF invoice.
But how to generate a PDF invoice in WooCommerce?
This question is commonly asked. In this article, we'll walk you through the importance of attaching a WooCommerce PDF invoice with every order, how to generate a PDF invoice in WooCommerce and offer you some best plugins to do this task as well.
Now, let's get started!
The importance of attaching a WooCommerce PDF invoice
In your WooCommerce store, you should set up a system that ensures the customer will receive the PDF invoice when an order is completed. Currently, a PDF invoice is an expectation of the customers because it contains important order information, such as the purchased products and payment information.
There are several reasons to include a PDF invoice with every purchase in your WooCommerce store. We'll highlight a few of the more essential ones for you here.
Improve the efficiency of your business
Enhance customer experience
Create a brand identity
Show your professionalism
Save time, money and the environment
Deal with tax compliance better
How to generate a PDF invoice in WooCommerce
Now, follow these steps in this tutorial to create a PDF invoice for your WooCommerce.
Step 1: Install the plugin
So first, you need to install a plugin in your WordPress site. Head to your WordPress Dashboard, go to Plugins and select Add New.
Type the name of the plugin in the search bar. In this tutorial, we select the Flexible Invoice plugin as an example.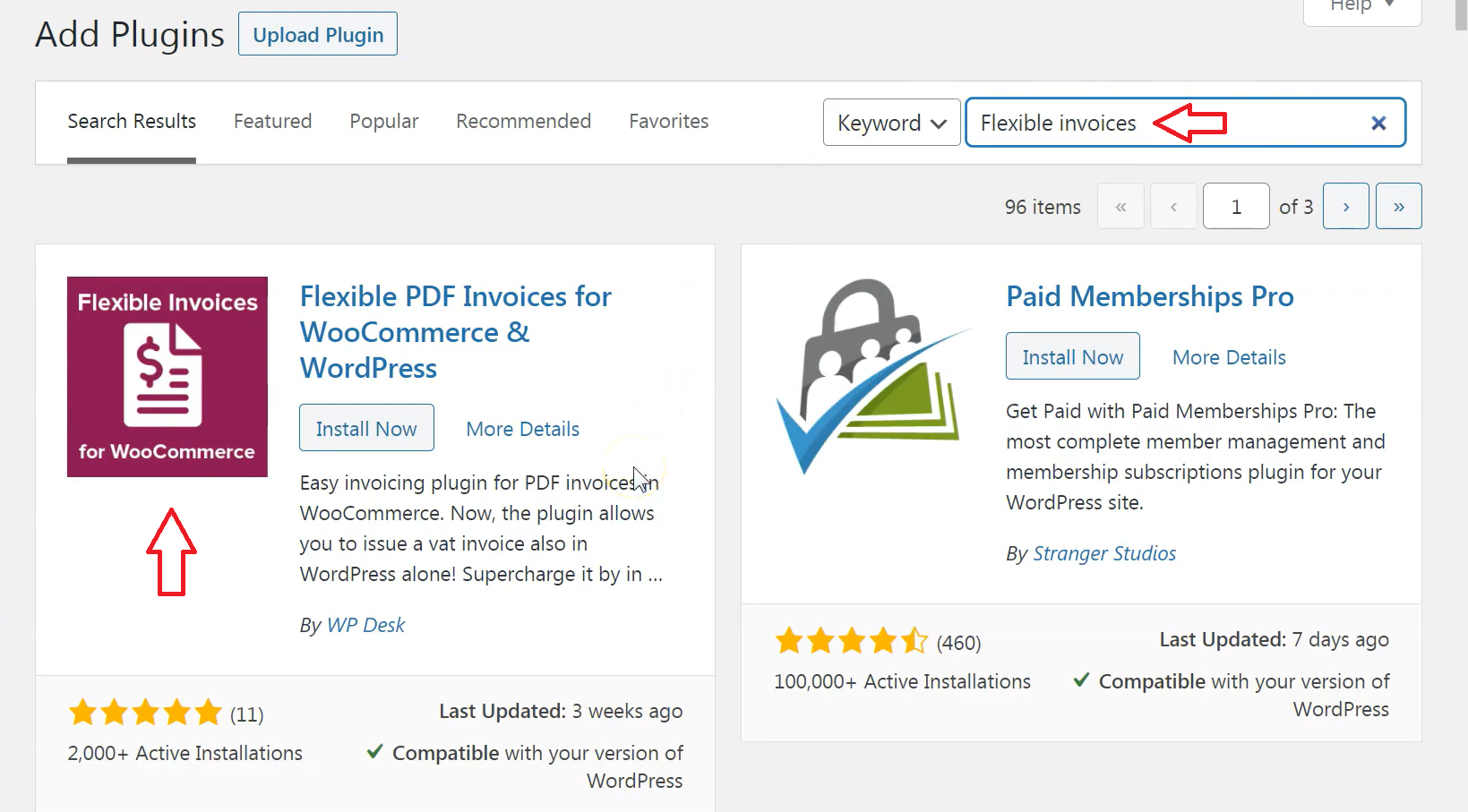 Click Install Now and after a few seconds, the plugin is installed. Then, activate it by clicking the Activate button.
Step 2: General settings
After installing, there is a new submenu in your WordPress admin panel - Invoices. Go to the Invoices menu and click Settings.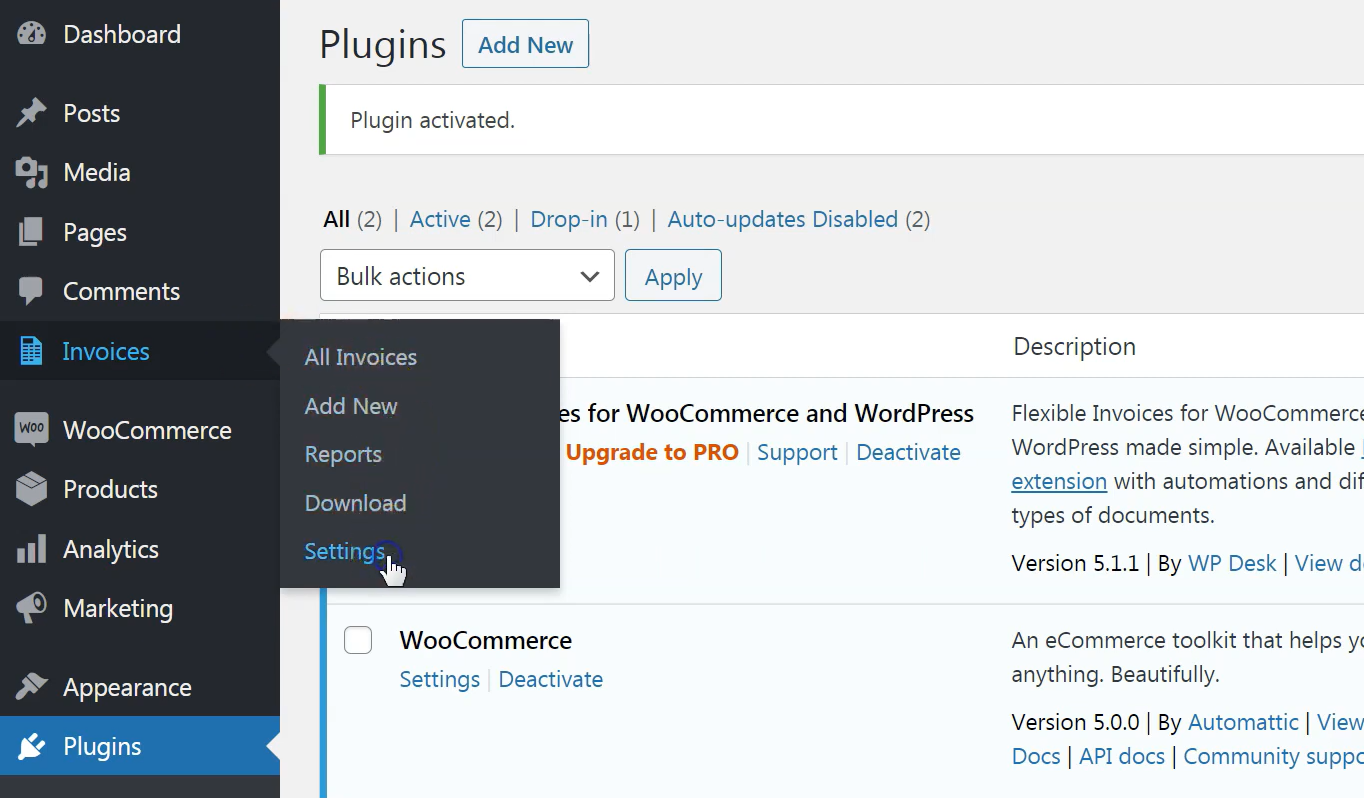 You can add your company information on this screen, which will be presented in the Seller section of the created invoice. Fill in your name, address, VAT number (if you have one), and bank account details.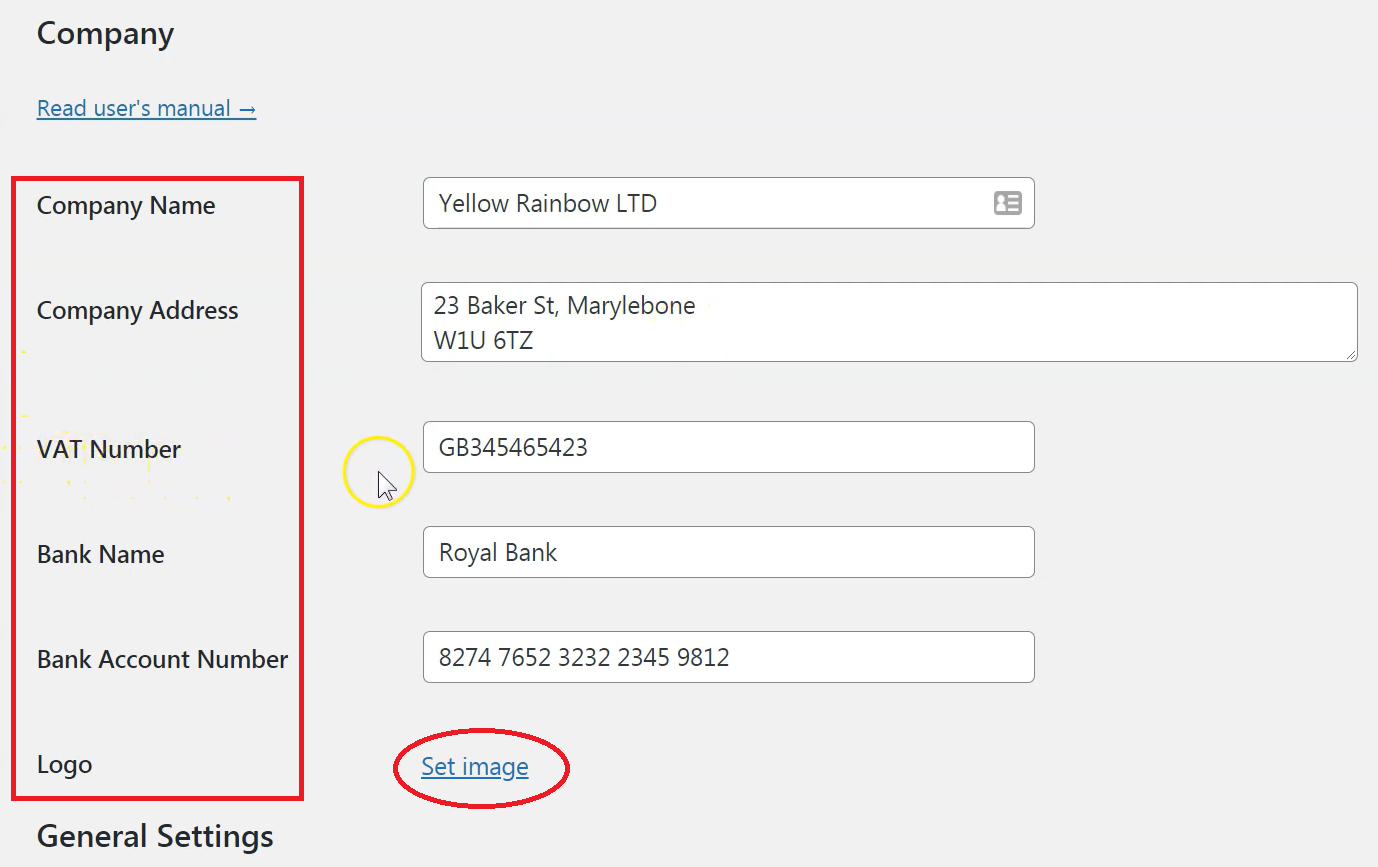 You can also add your own logo, which will be visible on every generated document. Next, click on Save Changes. For the additional settings, you can complete them later.
Your WooCommerce shop is now ready to generate PDF invoice documents for your customers.
Step 3: Issue a PDF invoice for a WooCommerce order
To generate your first PDF document, go to WooCommerce order. You will see a new invoice metabox has been added by the plugin. Please make sure that all the order information is correct and click on the Issue Invoice button.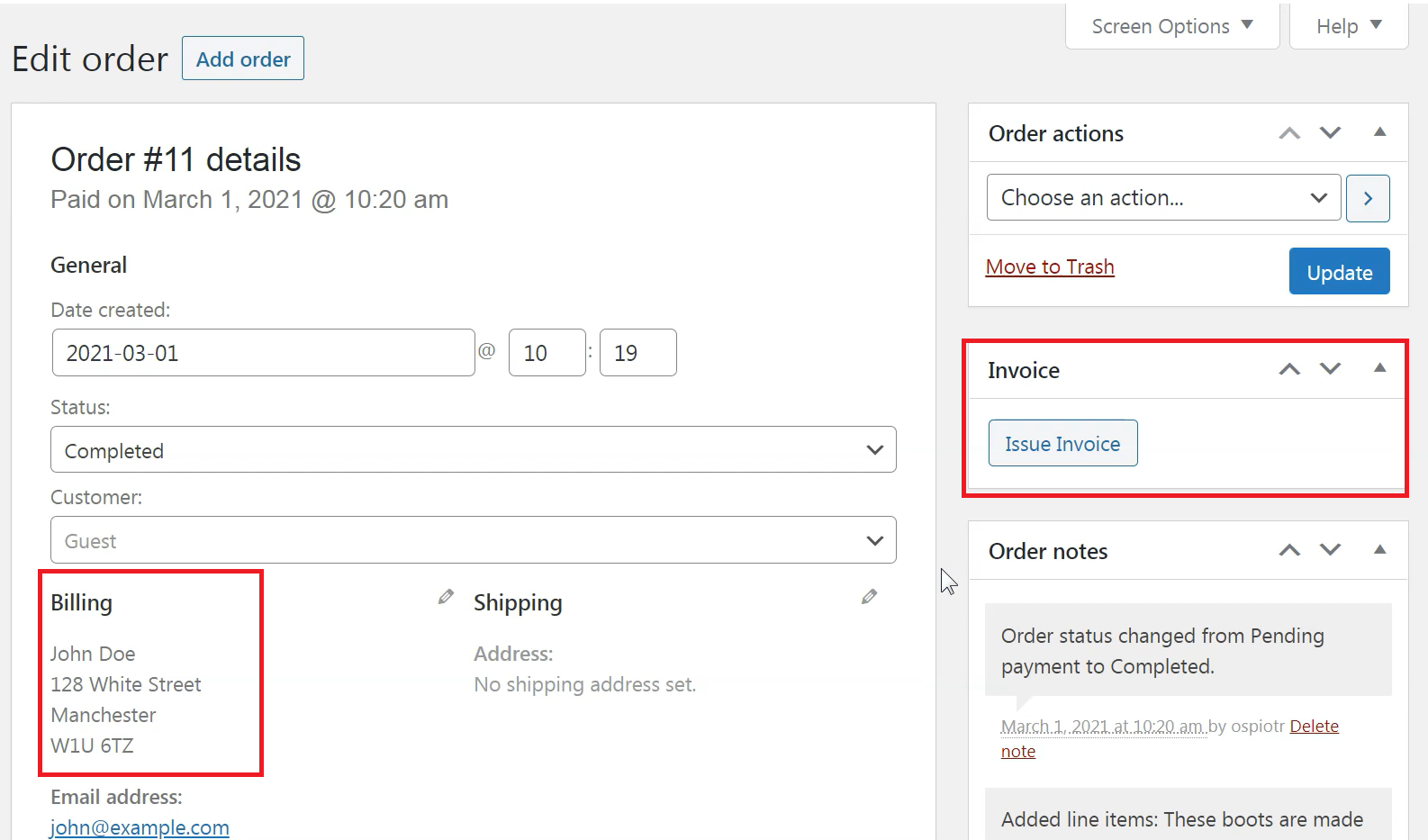 You will get a PDF document with the generated invoice. Using the button, you can either view the PDF file in your browser or download the file to your computer by clicking on View or Download.
Step 4: Editing an invoice
You can also edit the document. By clicking its title, you will go to the Edit invoice screen.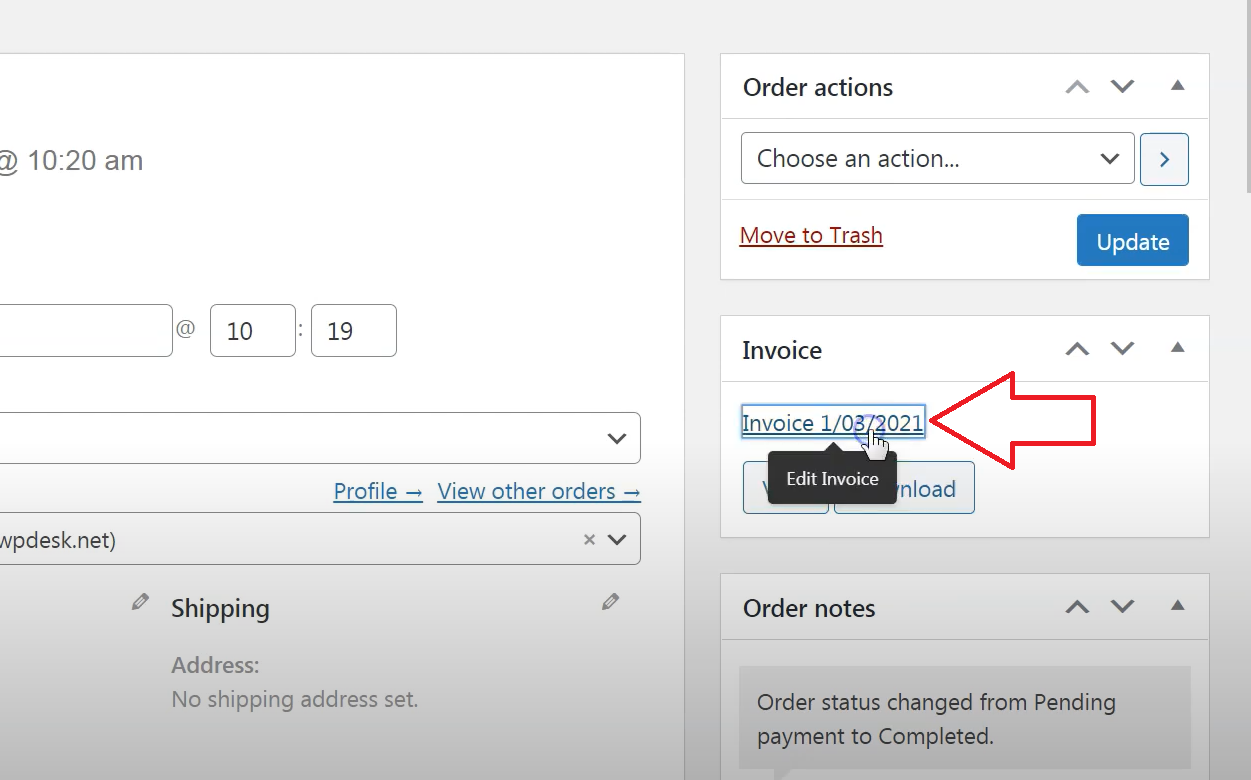 There you can correct all data, including name, dates, products, and more.
Step 5: Sending invoices by email
Send the PDF file to the customer by clicking the button Send by e-mail.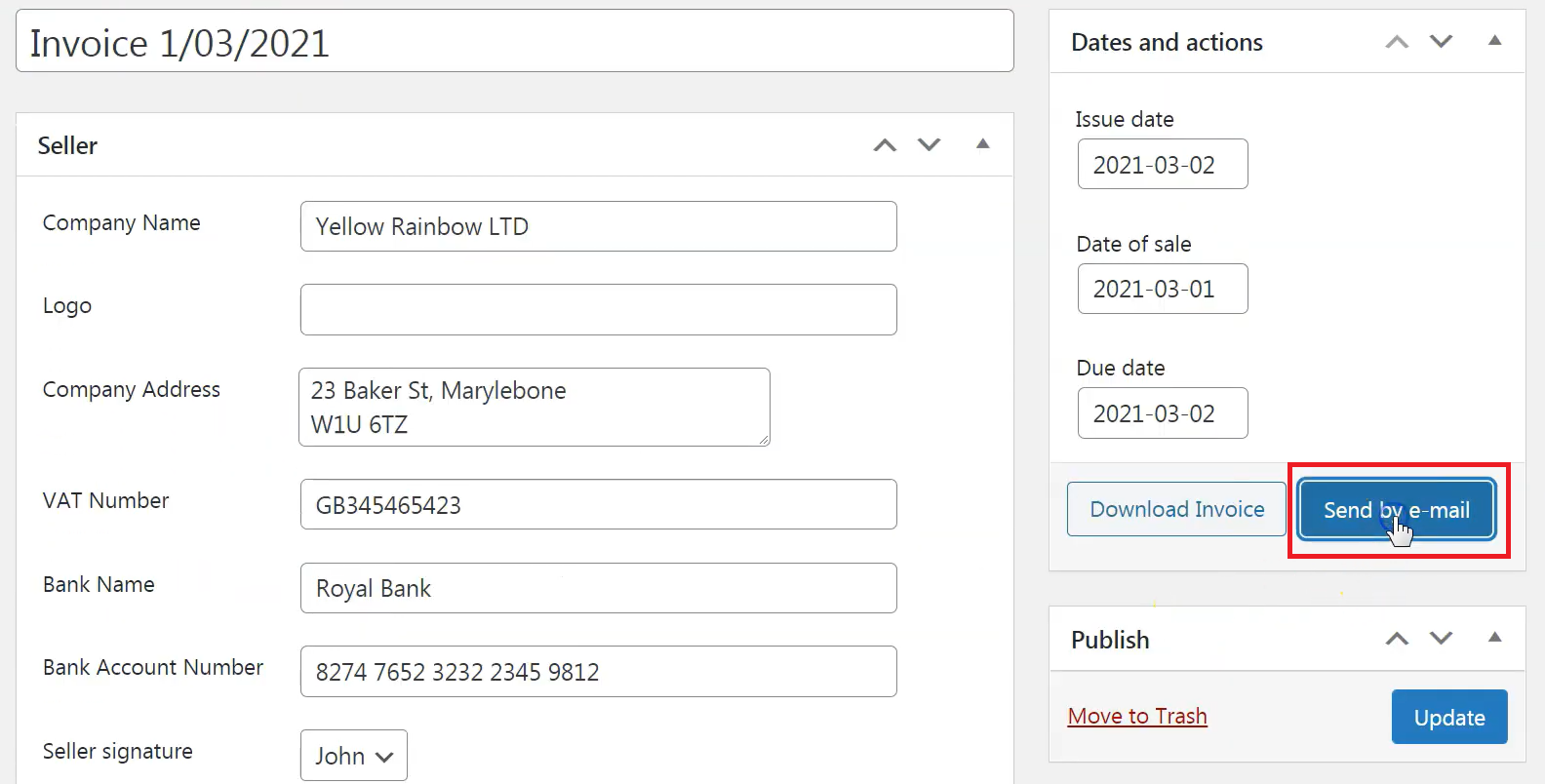 As a result, customers will receive an email containing the link for downloading a PDF invoice. Your customer will be able to access the generated document in the My Account section of your site. All they need to do is go to My account and select the specific order. You will find the link to the PDF file.
Top 4 plugins to create WooCommerce PDF invoices
Below are the top 4 WooCommerce invoice plugins that will help you auto-generate an invoice in PDF format. Let's look through each of these WooCommerce plugins one by one and see what they offer, so you can decide which one is best for you.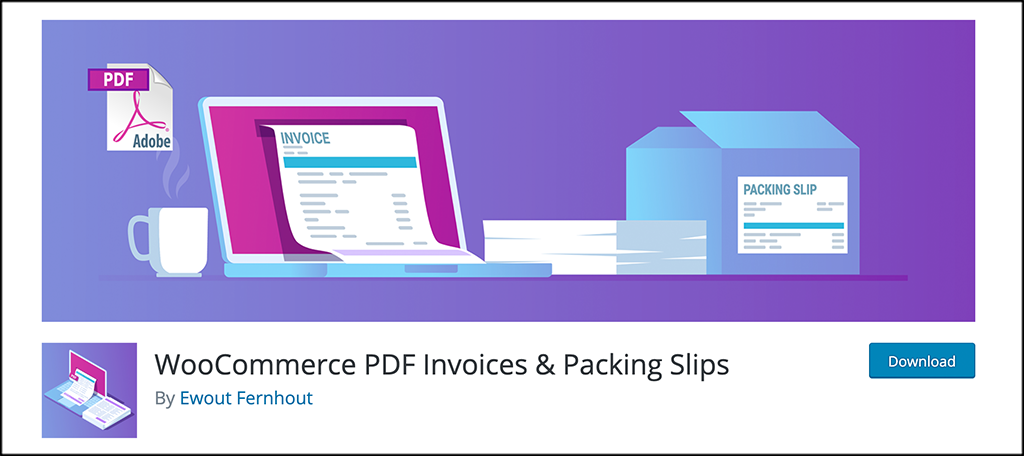 This is a great WooCommerce invoice plugin for creating professional invoice emails, and simplifying the invoicing process. This plugin automatically inserts a PDF invoice into the order confirmation email that you send to your customers. It not only includes basic templates but it also allows you to customize your own.
Highlight features:
Attach invoice PDFs to WooCommerce emails of your choice automatically
Download the PDF invoice / packing slip from the order admin page
Generate PDF invoice / packing slips in bulk
Customize email templates
Provide invoice numbers in sequential order with customized formatting
Price: Free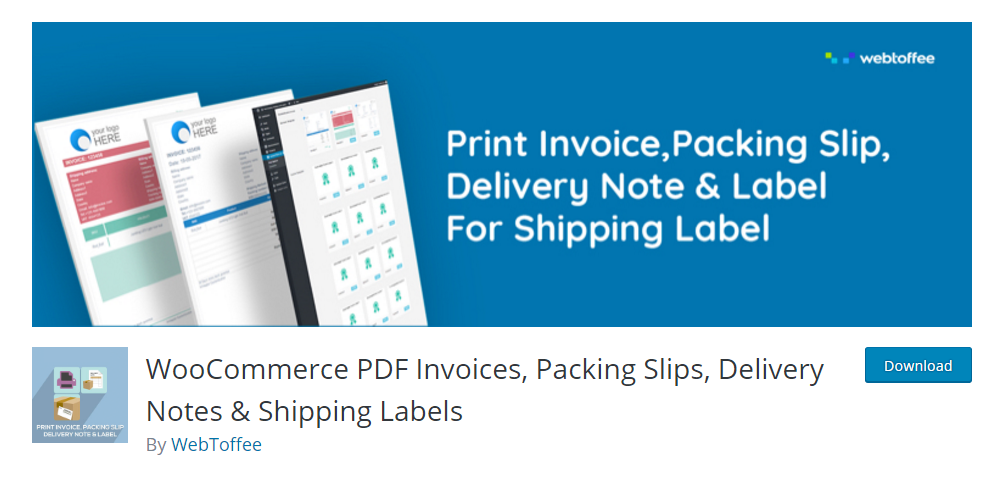 This is another great plugin that helps you to customize and print invoices, packing slips, delivery notes, and shipping labels. It also helps to generate these documents automatically based on changes in order status. This one stands out from the other competitors due to its simple setup and numerous customization options.
Highlight features:
Easily download PDF invoices and packing slips from your order admin page
Allow customizing invoices by adding store logo, store name, and more
Allow customizing shipping labels by adding barcode, tracking number
Allow logged-in customers to print their invoice from the My account page
Enable stores to send PDF invoices by email
Price: Free
PDF Invoices is the premium plugin by WooCommerce that automatically creates and attaches a fully customizable PDF invoice to the order completed or processing emails. Your customers can access their accounts and download previous invoices, while administrators can resend the PDF or download a copy.
Highlight features:
Attach PDF to 'New Order' email for admins
Add / remove columns from the invoice using filters
Include your corporate logo in the PDF invoice
Customize date format and invoice number format
Resend invoice or download invoice from the order list
Price: $79
Conclusion
As can be seen, we can not deny the importance of using PDF invoices in WooCommerce. As previously stated, WooCommerce PDF invoices provide a lot of advantages, including improving customer experience, showing professionalism, creating brand identity, etc. Attaching a PDF invoice with every order seems to have become the norm these days for WooCommerce stores. If you run a WooCommerce store, you should do the same thing to avoid disappointing your consumers.
It can be concluded that generating a PDF invoice in WooCommerce is not as hard work as you think. Creating a PDF invoice is now easier than ever, thanks to the assistance of several handy invoice plugins. We hope you can choose the ideal plugin for your needs based on the plugins mentioned above.
Eventually, with the instructions in this post, we hope that you will find it useful and understand clearly how to generate a PDF invoice in WooCommerce.
Thanks for reading! Please leave a comment if you are still unclear about something!
---
Sam Nguyen is the CEO and founder of Avada Commerce, an e-commerce solution provider headquartered in Singapore. Sam aims to support more than a million online businesses to grow and develop.