How to Filter Products by Category in WooCommerce?
Last updated: December 01, 2023
A typical WooCommerce store could stock hundreds of types of products and inventory items. As a store owner, you should be able to assist your visitors in easily finding what they're looking for, rather than having them switch to another store due to your seemingly endless list of product variants.
That's when a quick and easy WooCommerce category filter comes in handy. In this article, we will show you how to filter products by category in WooCommerce step by step.
Let's get started without further ado!
Why Use Product Filter by Category in WooCommerce?
Having a WooCommerce filter by category boosts customer satisfaction by providing a better user experience. Customers will only see a long list of products if there is no product filtering option, making many visitors feel impatient.

Configuring a WooCommerce product filter by category improves customer product discovery. Visitors may see something similar to what they are looking for right now. This is yet another excellent method for boosting sales and revenue.
How to Filter WooCommerce Products by Categories?
In this part, we will show you how to filter WooCommerce products by categories using the plugin JetSmartFilters .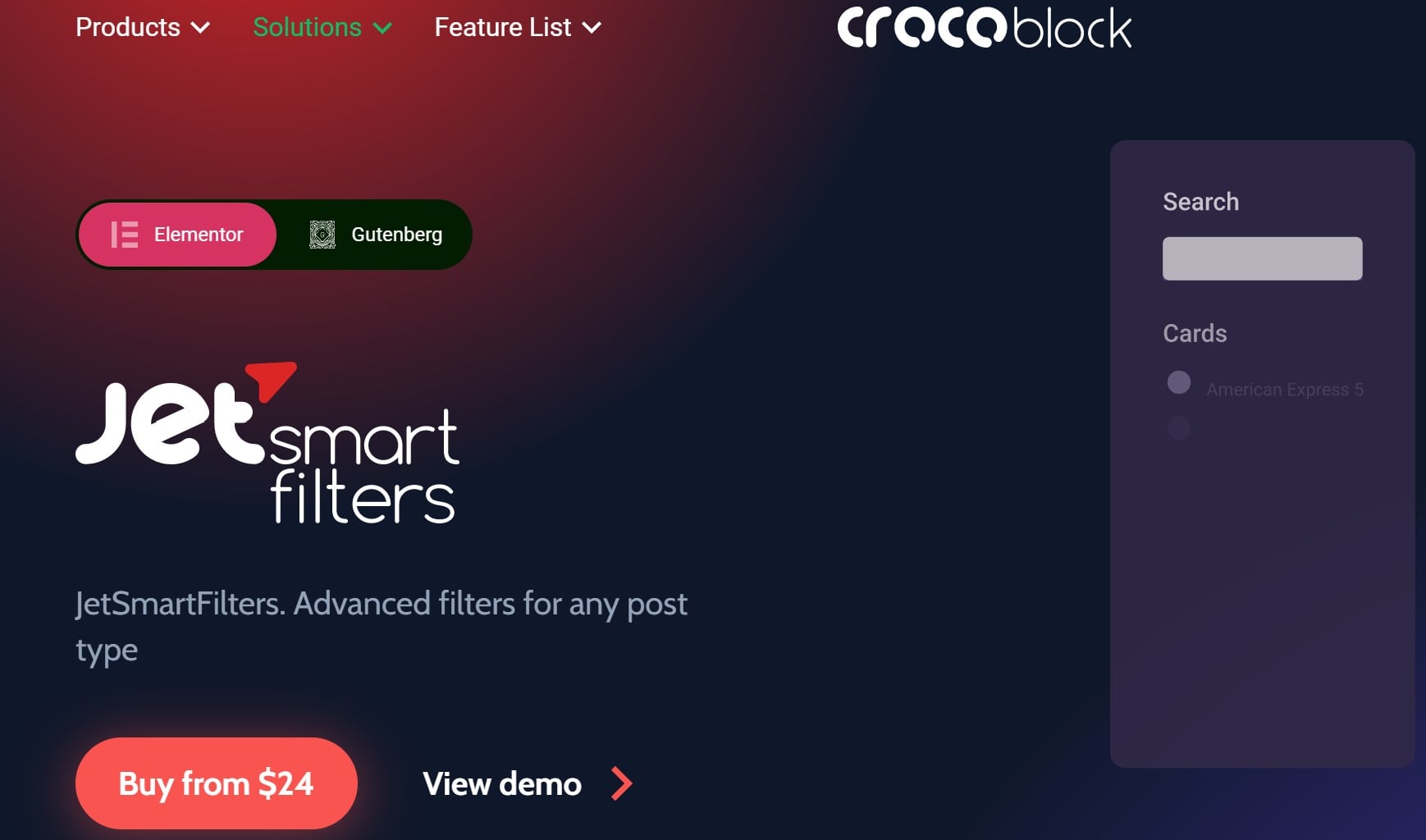 It is important to note that in order to work with WooCommerce products, you will need to purchase the JetEngine or JetWooBuilder plugins.
Step 1: Establish product categories
Navigate to Products > Categories from your WordPress Dashboard. Here you can see all of your product categories and how many products are assigned to them.
You must assign at least one product to the category in order for it to appear in the sorting list. As a result, in order to add a new category, you must first click on New Categories.
Then, for this new category, fill out the required fields. After that, click Add new category.
Step 2: Create a filter
Then, go to Smart Filters and click the Add New button to make a filter.
You must give your filter a Name, a Filter Label, and an Active Filter Label.
Under the Filter Settings field, in the Filter Type bar, select "Checkboxes List," and in the Data Source field, select "Taxonomies."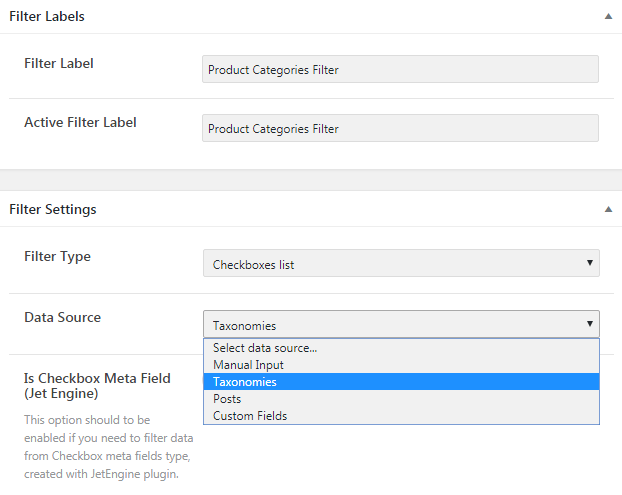 Now in the Taxonomy field, select "Product categories." Then, click the Publish button to finish creating a filter.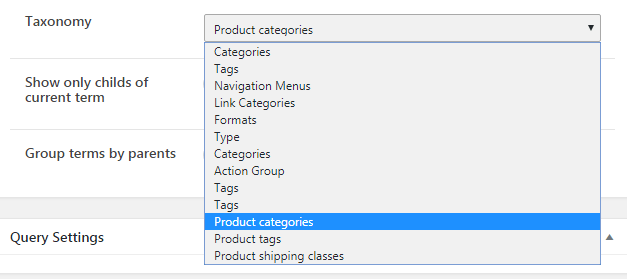 Step 3: Add the filter to the page and connect it to the Products Grid
Now you need to open the product page to which you want to add the filter and click the Edit with Elementor button. You can also use the Product Grid widget to highlight your products.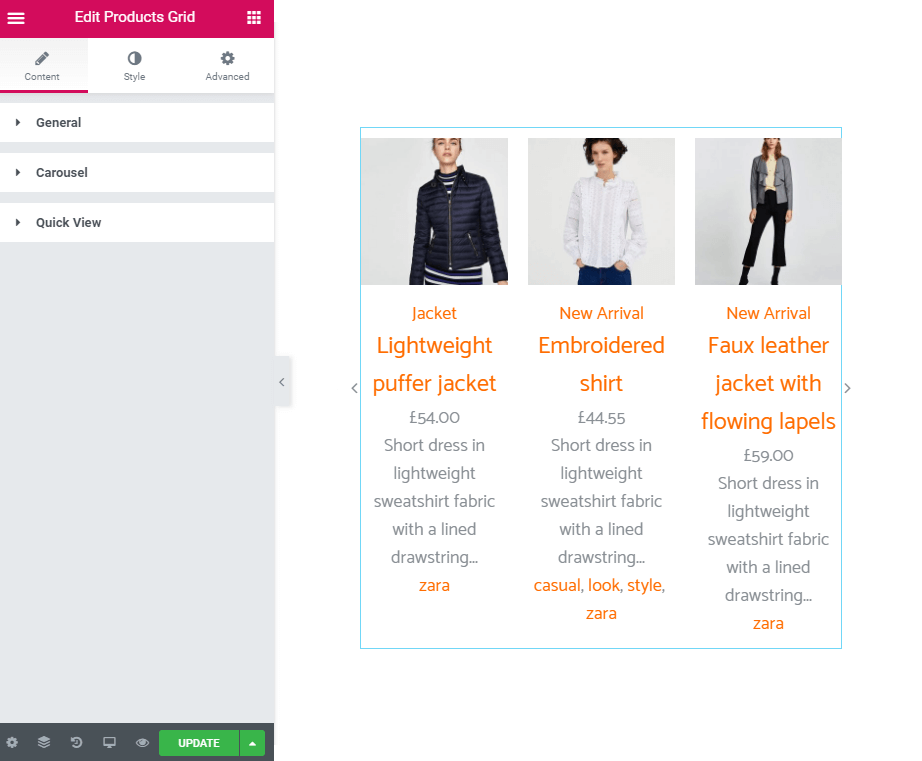 Then, drag the Checkboxes Filter widget to the section where you want it to appear. Move to the Content settings section and select your filter from the Select filter section. Select JetWooBuilder Products Grid in the This filter for field.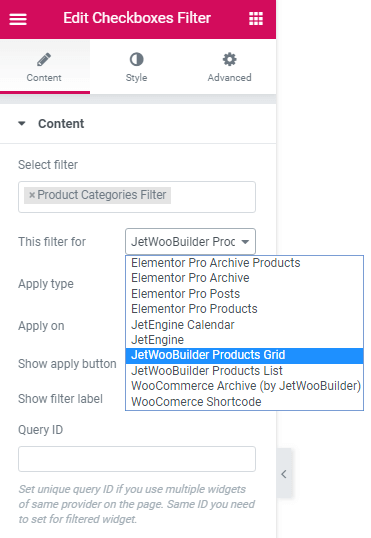 When you're finished, click the Update button.
4 Recommended Free Plugins to Filter Products By Category in WooCommerce
Apart from the premium plugin JetSmartFilters, we'd like to introduce you to the top four free plugins that you should take into account when you want to filter WooCommerce products by category.
1. WOOF – Products Filter for WooCommerce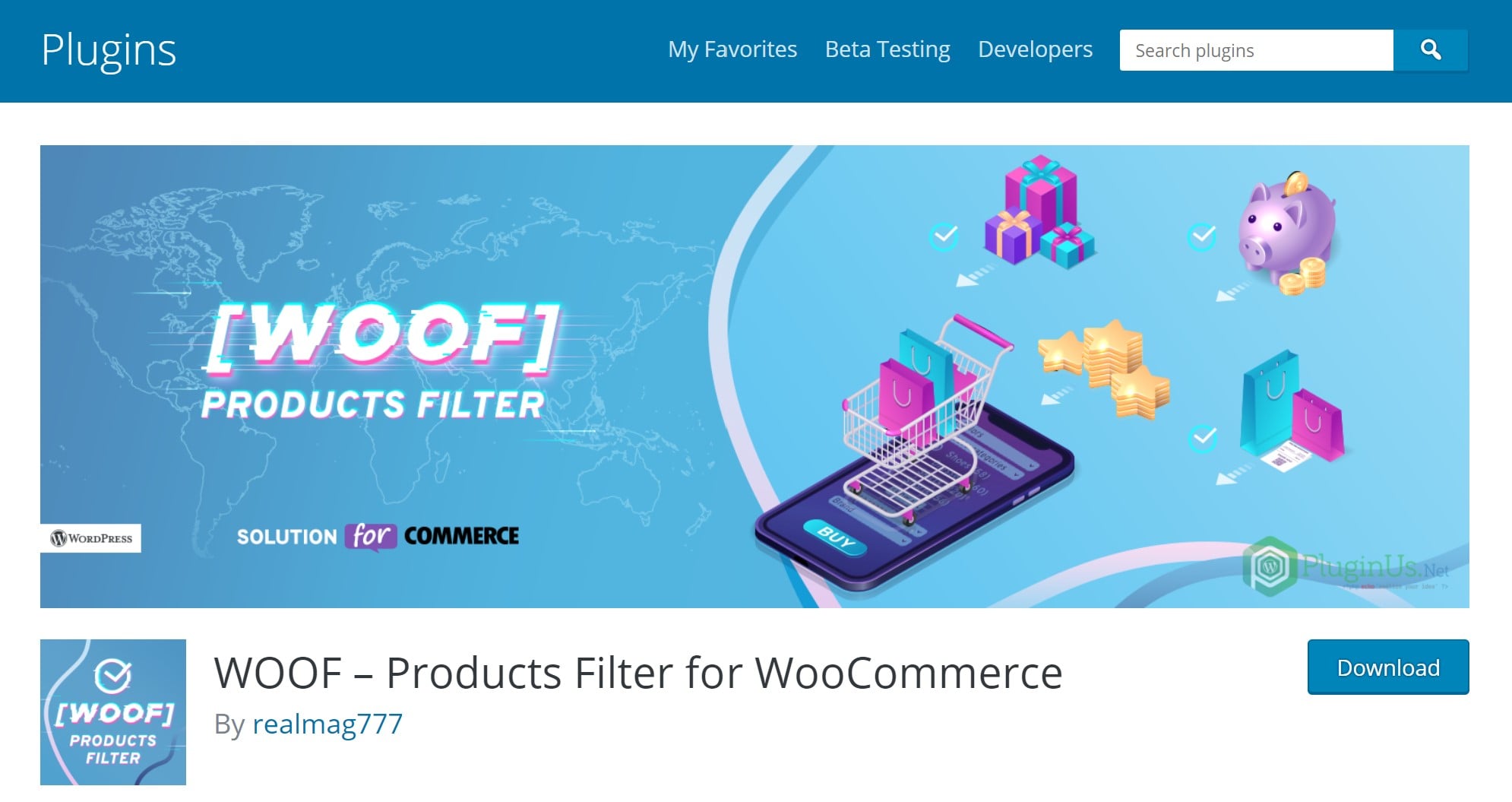 WOOF is a WooCommerce product search plugin that allows your shop visitors to filter products by categories, attributes, product tags, product custom taxonomies, and price. It is possibly the most popular free WooCommerce product filter plugin with more than 70,000 active installations.
Features
Shortcode and widget options available
Uses the native WooCommerce API only
Compatible with WooCommerce Currency Switcher
Compatible with WooCommerce Products Per Page
Visitors can filter the products by Taxonomies
Pricing: Free
2. Advanced AJAX Product Filters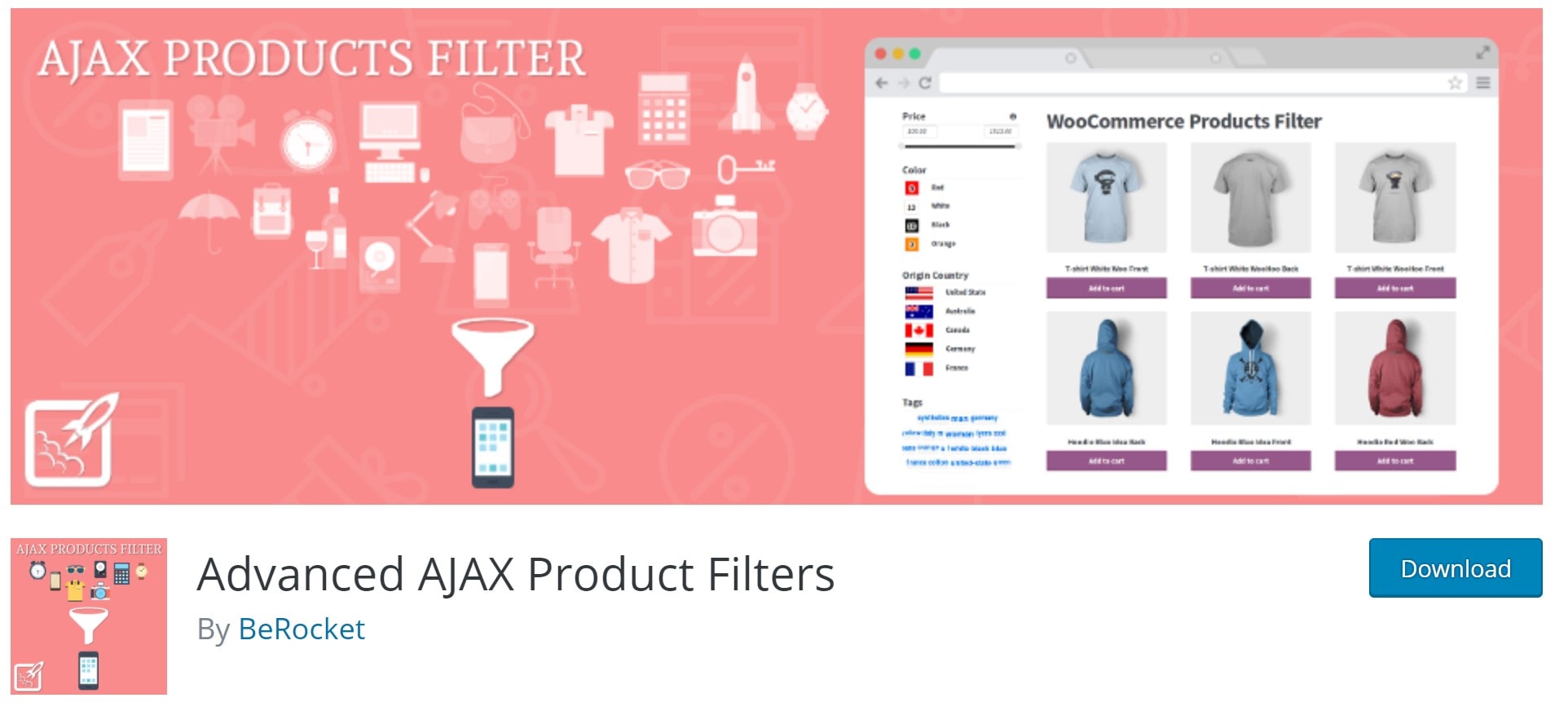 The Advanced AJAX product filters plugin lets you add an unlimited number of filters to your widget. It is a free plugin that is simple to use and has a lot of useful features. Products can be easily filtered by attributes, custom taxonomies, price, tags, and categories.
There are over 10,000 active installations of this plugin.
Features
SEO friendly URLs
Easy filters
Custom CSS can be added through the admin page
Filter by price, product category, attribute, product tags
Option to manually set values for the Price Slider
Drag and drop filter building
Pricing: Free
3. Ultimate WooCommerce Filters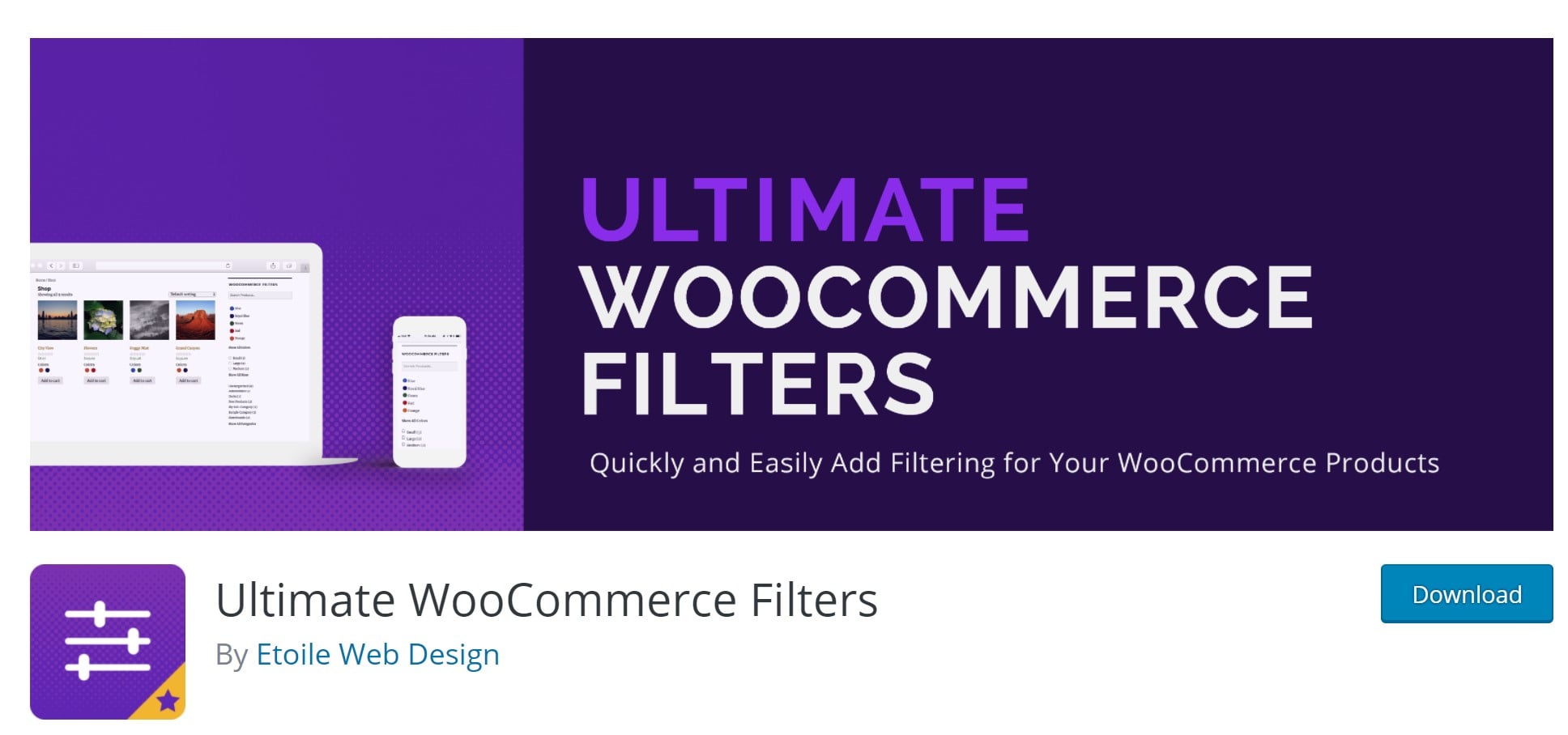 Ultimate WooCommerce Filters is a plugin for filtering WooCommerce products by color, size, attribute, category, or tag. With a straightforward WooCommerce filter widget and WooCommerce filter shortcode, it is simple to set up and utilize.
There are more than 3,000 active installations of this plugin.
Features
Filter products by WooCommerce categories, tags, colors, size, attribute.
Smart product search
A smart table format/ view
Fully compatible with WPML
Pricing: Free
4. Themify – WooCommerce Product Filter
Themify is a versatile tool for configuring product filter options in your WooCommerce store. This free WordPress plugin enables visitors to easily filter products by price range, tags, attributes, categories, and many other criteria. This is an excellent tool for assisting customers in quickly and easily locating any product.
There are over 10,000 active installations of this plugin.
Features
Live search results
Drag and drop option from builder
Multiple filter combinations
Set vertical or horizontal layouts for your WooCommerce store
Compatible with Divi, Elementor, Themify Builder product module
Pricing: Free
Final Words
Since you are aware of the great importance and enormous benefits of WooCommerce filter by a category, we encourage you to set up this function as soon as possible.
We hope that our tutorial on how to filter products by category in WooCommerce has brought you lots of helpful information and helps you build a thriving online business.
If you have any questions, please feel free to let us know via the comments section below. Thank you for reading, and we will see you soon in the next article.
---
Roger has over 4 years of experience in SEO. While in college, he started learning about SEO and showed a passion for the field. Right after graduation, he embarked on SEO projects and achieved great success. After years of working, he has learned deeply about SEO. Currently, he is the SEO team leader at avada.io